22 Best Running Shoes for Every Type of Runner
In a
Hurry? Editors choice: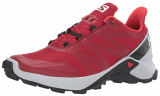 Test Winner: Salomon Supercross Trail Shoes

Best running shoes are paramount for your outdoor ventures. Whether you're an experienced runner, or just looking into starting picking running up as your preferred form of daily exercise, a high-quality pair of the best shoes for running is definitely going to contribute to your experience. With a wide variety of running shoes and other
running gear
available for purchase, it is possible that you are confused in terms of what you need, or that you're looking for some recommendations for models that will suit your personal preferences better than your current pair. We are here to assist you to narrow down your running choice with our reviews of the top 10 running shoes currently on the market, for every need and every runner.
Standout Picks
Criteria Used for Evaluation
Shock Absorption
Every time you land when running, a force that equals five times your entire body weight is generated. While you may not think much of it, this amount of shock can quickly add up. If you've ever experienced pain in your feet, such as in your heel or arch, if you tend to get tired, or your muscles ache, you may want to consider investing in a pair of shock-absorbing shoes for running.
For decades now, manufacturers are looking to find the best possible way of eliminating shock from traveling up your legs. Most often, they will design sneakers with midsoles made to eliminate large amounts of force, allowing you to run for longer, without experiencing pain or fatigue. Methods of doing this vary greatly, but most materials used to absorb shock are foam based. Each brand has its own compound, and even these can vary greatly between models. Nonetheless, there are a few shock-absorbing methods that are most often found in running footwear.
EVA: This foam was first used in running gear about 50 years ago, seeing that it's a material that is very lightweight, but still absorbs and disperses force. It has a number of variants that can be lighter, bouncier, or more durable. It is often combined with traditional rubber to give a product that's both cost-effective and functional.
GEL: Developed by ASICS in the mid-80s, GEL cushioning units are most often placed inside a foam midsole to increase comfortability and durability. They're made with a material that helps absorb shock, preventing it from affecting the foot, thus making it possible for runners to train longer. It's most likely found in the heel area, but flagship models will also feature it in the forefoot.
AIR: The idea to place air pockets inside a pair of running sneakers came in the late 70s from an aeronautical engineer. Since then, most of Nike's high performing footwear has included this type of cushioning, especially running and basketball shoes. At first, air pockets were only inserted into the heel, but nowadays, they often come in a full-length size. They're always caged in a foam unit to maximize durability.
Wave Plate: Mizuno is a brand that does shock absorption quite differently. In the late 90s, they found a way to use a TPU construction in order to disperse generated force, without the usual downsides of foam-based materials. The Wave plate doesn't flatten or pack with use, and offers a great amount of energy return, helping with long-distance runs.
Grid: Saucony's shock absorbing system includes a grid structure underneath the heel that allows for the runner's weight to be placed on more than just one spot, thus decreasing the amount of force that is transferred to the skeletal and muscular structure.
One thing that should be considered with cushioned running sneakers, however, is that you should never go with footwear that is too soft, as it will decrease the speed that you're able to develop. Too much shock absorption can also negatively influence stability, especially at great speeds and when moving in a lateral direction. Heavier users, as well, need to make sure they purchase firmer footwear that will be able to support them.
Support
Just like with your everyday footwear, you need to make sure your running gear supports your foot in the right places. Joint pain, especially in the knees and back is often the result of insufficiently supportive shoes for running, which is why everyone needs to determine the type of shoe they need. In running footwear, sneakers are categorized as one of the following:
Neutral: these shoes have the same density (softness) of midsole both on the inside and the outside of the arch, and are made for users with neutral pronation (normal arches). They don't limit the way in which your foot lands or pushes off, and are the most widely available type. They often come with removable insoles that can be replaced with custom orthotics for those who want a more customized feel underfoot.
Stability: Users with low arches will often need a more supportive shoe that will hug their foot from below, preventing it from rolling inwards. If you tend to overpronate, you may want to invest in a pair of stability running sneakers, as this will prevent issues that arise from daily training.
Motion Control Running Shoes: Users with flat feet will need to wear motion control shoes which are the firmest type of running shoes. These direct the movement of the foot to be anatomically correct, preventing you from putting too much pressure on your joints, or developing injuries.
There's another type of shoe that's made for running, and that's the minimalist running shoes. These are made for speed workouts and competition days, and provide the person using them with a barefoot feel, offering only the most basic type of protection in terms of traction and coverage.
Outsole
Before you spend $100 on a pair of shoes for running, it's highly recommended that you consider the type of outsole that is used on your selected model. Running is an activity that can be done anywhere, at any time (and in all weather conditions), but not all gear is made the same. The outsole on your shoe serves two main functions. On the one hand, it needs to protect you from the obstacles underfoot such as rocks and pebbles, hot or cold terrain, but it also needs to deal with the type of surface you're running on. Asphalt is quite different from the treadmill, hard natural ground found on dry trails, or mud and snow. You will also find that not all shoes will work well in rain or snow, which is why you may want to consider having different running sneakers for different weather conditions.
The first thing you want on your shoes is a traction pattern that's appropriate for your running conditions. Road shoes will work best with minimal lugs and abrasion-resistant rubber compounds that won't wear out from the hard surface, while trail models need to have more aggressive lugs that will help you keep a secure footing on soft, wet or even muddy terrain.
The two most commonly used materials in running shoe outsoles are blown rubber and carbon rubber. Carbon rubber is a hard compound that has great durability, however, it weighs a lot, which is why it's most often used in the heel section of shoes. Blown rubber is softer, contributes to the cushioning you get from your shoes, and weighs less. However, it is also less durable and may wear down with use quicker.
Fit
The way a running sneakers' upper is designed has a lot to do with the overall fit. A well designed upper will have the ability to conform properly to the contours of your foot. Uppers are usually made of mesh that is durable and breathable and can stretch to a degree. This is sometimes a hard feat to hit as too much material can make the mesh stiffen, not allowing for a proper wrap-around of the foot, but too little can leave the shoe with durability issues. This is especially true for the road, and has less of a priority in trails, as they are usually made of thicker, layered materials that are naturally stiff, and needed for rougher environments.
The way it fits the foot not only affects the overall comfort level, but it will also provide a much more stable platform in which to run on. A loose or improperly fitting shoe will wiggle, leave room for rubbing, and cause blistering. Some are manufactured bigger or smaller than others, and in which case we will let you know if you need to size up or down to get that perfect fit. The thing is, you will need extra space in the toe-box for when your toes splay, and we've considered this as well.
Comfort
There's a number of things you should consider before making a purchase, but the most important is that your shoes for running are comfortable enough for you to run in them. In the long run, there's nothing worse than a shoe that your feet do not agree with. Aching feet and general foot pain are a leading cause of calling a run off short of the distance, or not going out at all. Shoes with inefficient cushioning can cause a multitude of complications and even lead to bad injuries that can be avoided.
Common injuries that can be prevented with adequately cushioned running sneakers:
Stress Fractures: Stress fractures are hairline cracks in your bones that occur as a result of the constant impact and shock. Shoes with high cushion can soften the impact of your foot to the ground, thus preventing such issues.
Runners Knee: This is an injury that occurs with constant running over-training where the cartilage in your knees deteriorates. There are several ways to contract this issue, but in general, softening the impact of force that your knees are subjected to will help prevent it in some cases.
Shin Splints: Shin splints is another way, to sum up, the intense throbbing of your shins due to swelling or other complications which stem from beating up your legs. They are common when subjecting your legs to the shock of changing routines without being gradual with it or training too hard. Of course, you can ease the beatings your legs take by having adequately cushioned shoes, and they will help.
Achilles tendinitis: As the trend goes, this is another injury that stems from beating up your body. Its signature is inflammation of the Achilles tendon, which leads to stiffness, extreme pain and a bad day. Adequately cushioned options will help in preventing this issue.
Plantar fasciitis: This is perhaps the most well known and common injury. It's characterized by the inflammation of the tissue that extends the bottom of your feet. Although there are many causes of this complication, and many ways to prevent it, having worn-out footwear, without enough underfoot padding is one of the several known contributors to it.
The inner cushioning of the upper, the shoes' footbed, and other cushioning aspects such as a padded collar are just as important as a soft, shock-absorbing midsole — the more cushioning, the better, in general. Your feet take a pounding out there, especially if you constantly run double-digit miles. In the case of a shoe with inadequate inner cushioning; long miles will result in brushing off the inner layer, and if too rough, will lead to blisters. The same occurs with the collar. A properly padded collar will ensure constant rubbing does not lead to skin irritation. You want something that your feet will be happy with. Make sure they have adequate cushioning and are comfortable enough to get you through the miles.
Breathability
A shoe that does not allow adequate airflow will leave a runner more susceptible to a number of problems, including a build-up of heat as it's not able to escape easily or efficiently, which then leads to even more issues. Overheating is regulated by airflow that is allowed through the mesh upper of a running shoe, if there is no proper ventilation the temperature inside your shoe will build causing excessive sweating which will ultimately lead to blisters and allow bacteria to grow, yielding the perfect environment for unwanted odors.
Weight
In an endurance run, every ounce counts, and every shed ounce makes a difference — no need to carry around any more weight than needed on your feet. Models nowadays are made of quality materials that are both durable and lightweight, so finding running shoes that weigh close to nothing but still provide ample protection and last is completely possible. An example of such advanced materials is the EVA (Ethylene-vinyl acetate) compound that is used in the midsole make-up of a large number of running sneakers. It is a material that is soft but durable and very light in weight. When looking for lightweight choices, our sights were set on models that were lightweight in comparison to most others. For road, the average weight would be around 9.5 to 10 ounces for a single shoe with anything under 8 ounces extremely light. For the trail, the average weight is around 10.5 to 11.5 ounces as they usually contain more protective features that raise the weight.
Best Running Shoes Reviews in 2020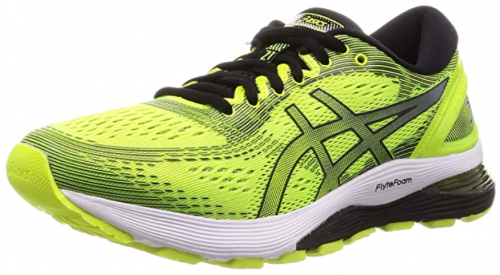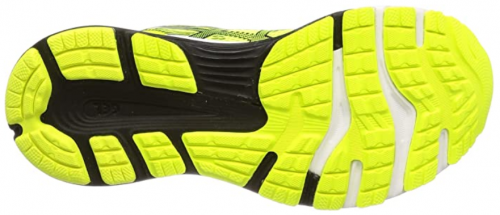 If you're looking for responsive support that provides good stability for different issues like overpronation and plantar fasciitis, the Gel-Nimbus 21 from Asics is a solid pick. It's also a good shoe if your dealing with shin splints. You'll get that needed stability and support, without sacrificing too much ground feel and responsiveness.
As far as cushioning and support goes, this is at the top of the list. The overall stability, as mentioned, is ideal for multiple issues, including plantar fasciitis. The cushioning is noticeable, but you still get great responsiveness on the road. This is a bulkier shoe, but they are very lightweight. Much lighter than they look.
The durable upper material is a clear improvement to the previous version, allowing even more breathability than before with the knit mesh construction. The overall design is also a bit sleeker looking the version 20, not looking quite as big and bulky as before.
It also seems like there were some changes made to the overall fit as well. The toe box on this version offers a little more room. Asics did what we often like to see. They took an already great shoe and made some subtle but noticeable improvements to make this next version even better. We definitely recommend for longer runs, as the cushioning and stability will take you all the way through.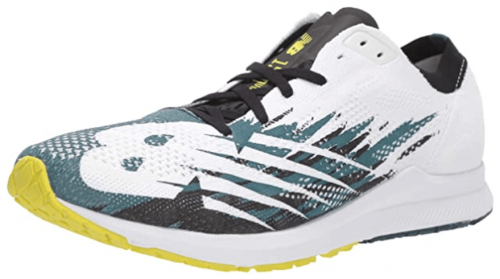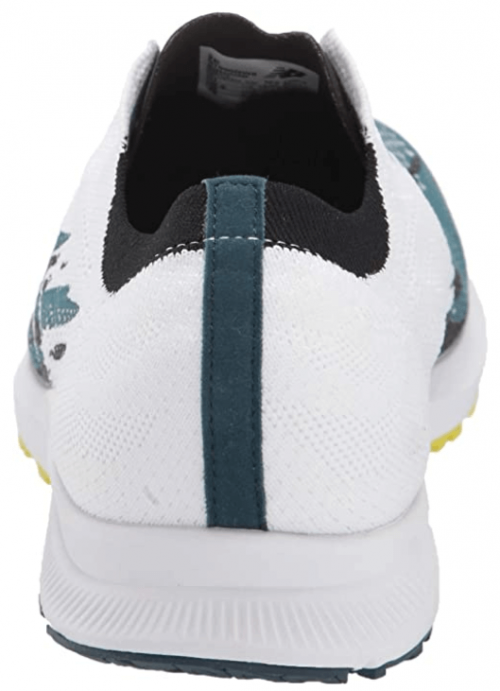 New Balance's 1500v6 is the newest update to this racing shoe, which we tend to categorize as a well priced performance shoe for budget conscious runners. Right out of the box, this version is made from even lighter weight materials, which does reduce the overall weight on your feet down the road.
They went with the knit upper with this version, which continues to be a common trend. the knit upper seems to conform better to different feet, giving a bit more of a custom fit. Overall breathability is improved in v5 as well, mostly as a result of the knit constructions of the upper.
At first glance, the 1500 fits somewhere in between low profile and cushioned design. The sole seems like there has been a tiny bit trimmed, but you still get decent cushioning with good responsiveness, if you get the size right. This model of New Balance running shoes seems a little longer than the previous one, so perhaps consider going down a half size. This one also seems a bit more narrow, but all feet are different, so you would have to try them on and judge for yourself.

3

. Salomon Supercross Trail Shoes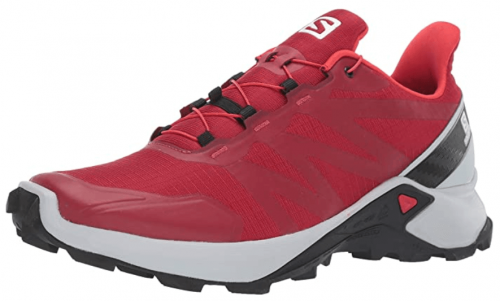 Salomon's Supercross seem like they took key points of their different shoes to put these together. And it works. The grip is as aggressive as what you get with the Speedcross, with an upper design that has positive attributes that you'll find in a few other great shoes from the brand. If you can take the best parts from different shoes and put them all together, why not do it!
You can run these over some pretty rough terrain, which is kind of what Salomon is good for. The Supercross have visibly aggressive lugs on the bottom that will dog into trails and help to keep your footing uphill or over rocky surfaces.
The upper shares some similarities with the Speedcross, with a bit less protective overlays. The material is that same rip-stop fabric that is actually a lot more breathable than it looks like it would be in a picture. Although not as heavy-duty looking, we could tell that durability was one of the priorities in the overall design.
The Contagrip sole mixes good response with good cushioning and protection from rougher terrain. The Energy Cell midsole offers comfort that will last through your run, without bulking up the inside of these trail running shoes, letting your feet have some needed space.

4

. HOKA ONE ONE Clifton 6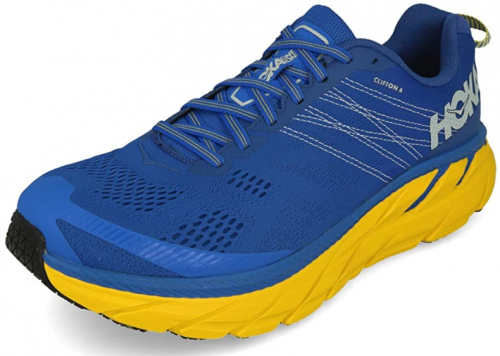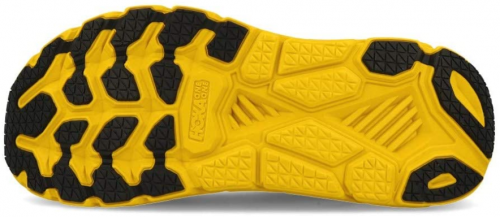 A lot of runners ponder whether or not to try Hoka One One, simply based on the obvious difference in the profile of most of their shoes. They are thick, much thicker than other running shoes out there, thus giving an appearance of bulkiness. But most people are surprised when they finally give them a try. The Clifton 6 carries along, and improves upon, the lasting success of the Hoka Clifton line. We think it goes without saying that you'll get a decent amount of cushioning here.
If you're looking for a cushioned and supportive road shoe, The Clifton line, in general, has been a great choice. This version of course has updates and improvements made to add to this already solid model. This is a great option for long distances, as well as runners who need a bit more support and impact protection from the hard road.
You can spot Hoka shoes from far away, almost immediately, with the distinctive thicker sole and wider toe box. These attributes are what seem to keep runners coming back for more once they finally give in and try them out. The wider forefoot allows better splaying of your toes, which in turn allows more natural movement of your feet.
When is come to how these look compared to how much they actually weigh, people are often surprised at how lightweight they really are when you pick them up. A lot of that is in part due to the lighter weight materials used in the upper. The upper material is durable yet light enough to offer decent breathability in warmer climates. There is also an adequate amount of give in the material to allow your feet to move just enough to be comfortable, without sliding around inside the shoes. Overall flexibility is surprisingly good as well. They just keep doing it right with this one.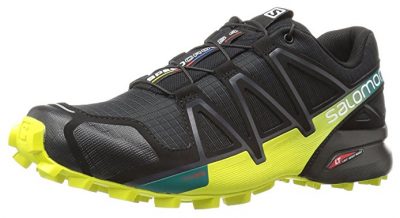 The Speedcross 4 shoes for runners display a plethora of improvements from their previous version, such as a precise foothold with the combination of Sensifit technology. This also incorporates a quick-lace system that allows for easy fastening and a perfect fit, with a lace pocket for easy storage. This easy-on and the easy-off product is sure to get you going when the going gets tough and the trails get rough.
Sensifit cradles the foot from the midsole to the lacing system, providing a secure, snug, and virtually customized fit all around the foot and weighs only 10 ounces to decrease fatigue and with an end result of overall top performance. The Ortholite foam creates a cooler, drier, healthier, adequately cushioned environment under the foot. These best running sneakers have an anti-debris mesh liner that proceeds to keep debris out from in between your foot and the footbed, which also helps airflow to stay consistent.
The Salomon Speedcross 4 running sneakers can be considered a bargain compared with some other similar trail runners that don't even compete with its performance. Coming in at an average price for this list, below the midpoint, with the performance of a Salomon trail runner, you have a steal.

6

. Brooks Adrenaline GTS 19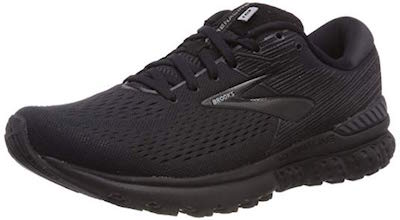 A stability runner for those who like a plush ride, the Brooks Adrenaline running shoes line has been a go-to for overpronators for years now. There are several things that the brand does exceptionally well making them one of the best running shoes for men, one of which is providing a great fit to a variety of foot shapes, and this is mainly due to the availability of their models in four different widths: narrow, normal, wide and extra-wide. As for the looks, these are pretty simple shoes for running, with colorways mainly being based on white, gray, blue, and black.
The biggest update to the Adrenaline running shoes is the GuideRails Holistic Support System which now focuses on ensuring proper alignment, not just in order to stop foot pain, but also to prevent damage to the knees which so often happens for those whose foot tends to roll inwards. The cushioning system still uses the environmentally friendly BioMoGo DNA which is responsive and provides energy return that's proportional to the pressure that's put on it, as well as the DNA Heel Loft System that helps protect users who tend to land with the back of the foot.
The upper has been updated as well with an engineered mesh construction that's lightweight, breathable and fits the foot like a glove. The tongue and collar feature generous padding, and the 3D printed overlay at the midfoot helps get the best lock-down for performance. As for the outsole, it is also made with shock absorption in mind, using blown rubber, but it also takes flexibility into consideration, allowing you to move naturally without constraint. As for the price associated with the Adrenaline GTS 19 shoes for running, it's only slightly above average, making it a great investment for most users.

7

. La Sportiva Bushido II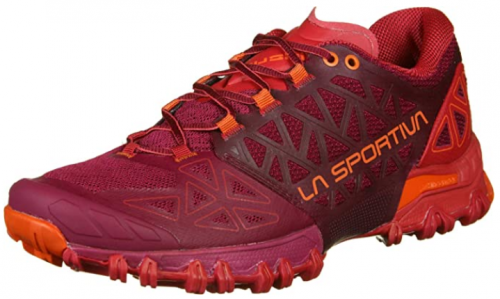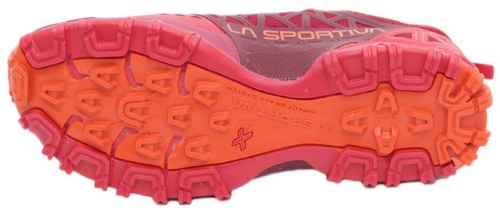 A lot of people think of climbing shoes when they hear the name La Sportiva, but they make some awesome trail runners too. The Bushido II is the new and improved version of an already great trail shoe, which got some updates and improvements on an already solid platform. The design, overall, isn't too different to an extreme, but there are some noticeable differences to the upper construction that will help of rougher trails.
At first glance, you can tell this is not a road shoe. The outsole and tread are not overly aggressive, but definitely have that "made for off-road" design. The most notable feature about the bushido model, in general, is the durability. The increased protective overlays on the upper help keep the shoe from getting snagged and messed up in rougher terrain. It also keeps that stuff from hurting the top of your feet when going through sections of brush. Though there are increased overlays applied to this second version, the breathability doesn't seem to be affected much, compared to the previous design.
It is a lace up shoe, but it fits more like a slip on. There are no noticeable pressure spots from the tongue, which is one less thing to have to stop and adjust. The tongue is gusseted, so you won't have that movement and problems with it sliding down while you run.
We also like the traction. You get some added stability from how they have extended the lugs to wrap around the sides of the outsole a bit. This really helps when crossing the rougher uneven terrain like dried creek beds. They also made some improvements to the rubber itself. They call it FriXion XT V-Groove2, which is a fancy way to say that is is a bit stickier to help stop and go easier. It also provides a bit more confidence with movements. We recommend this one for rough and dry locations.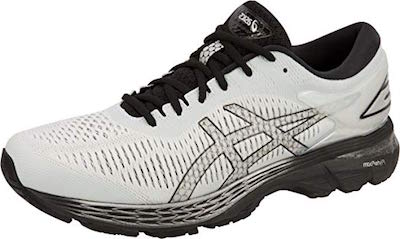 One of the best running shoes that have been around for 25 years, the GEL-Kayano 25 by ASICS is a stability model made for road conditions, with an upper that's been updated to provide users with a better fit. These are shoes for runners that come in two widths and they are an overall good choice for most overpronators who like the brand's GEL cushioning. It uses a number of technologies that are already familiar to fans of the previous models, but with welcome updates to the upper.
The GEL-Kayano 25 shoes for runners are made with a Jacquard mesh upper that's lightweight and breathable and allows for slightly more toe room than previous versions. Synthetic overlays on the sides of the shoe help achieve a locked-in feel, as does a sturdy external heel counter named the Meta Clutch system. This portion of these good running shoes is lined with a double layer of memory foam in order to provide users with a personalized feel, as well as a higher level of protection from rubbing or blistering. The Discrete Eyelet system allows users to comfortably tighten the laces without feeling too much pressure over the top of the foot, while the padded mesh tongue allows hot air to escape while running.
In terms of cushioning, you can expect a lot from these shoes for running- it features a triple-density midsole, with a highly cushioned heel and slightly less material in the front. The Forefoot and Rearfoot GEL help eliminate force from impact, while the FluidRide foam, with the addition of FlyteFoam ensure excellent energy return that is manifested through a more powerful toe-off phase. As for support, the inner portion of the shoe (below the arch) features a Dynamic DuoMax system, which is, essentially, a wedge that provides arch support. The outsole uses abrasion-resistant AHAR rubber and works well on asphalt, light trail, and treadmills. As for the associated cost, these treadmill running shoes fall into the more expensive category but can be found on sale, which allows you to get it at an average price.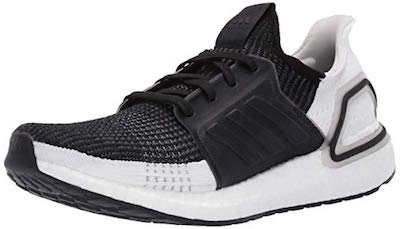 When it first appeared in 2015, the Adidas Ultraboost running shoes took the running world by storm, and not just because Kanye chose to rock it on multiple occasions. These Adidas shoes for running featured cushioning that was developed in collaboration with NASA, and is still one of the softest running sneakers can choose. A look that had been unchanged for 4 years got an update in February 2019, and it was definitely worth the long wait. The Ultraboost 19 is even more comfortable and supportive shoes for running, with a look and functionality that work for all types of uses.
The biggest update in the 19 is definitely the bootie construction. The collar is less bulky, with the construction that resembles that found in the Uncaged versions, with a true sock-like feel in the ankle area, and a more flexible fit. The TPU midfoot cage was also updated to with a more lightweight saddle that helps get the security you need to form the lacing system, but overall, you'll find that the sock itself is supportive enough. The external heel counter has also been updated, now using less material, while still providing a great locked-in feel.
As for the midsole, it remains pretty much the same, with full-length Boost to keep you cushioned on long runs. The integrated Torsion Spring improves stability, both during landings and toe-off, while the removable insole allows you to add custom insoles in case you prefer a higher level of arch support. As for the outsole, it's a Stretchweb Continental rubber unit that's flexible and works great both in wet and dry conditions. As for price, be ready to pay top dollar for this model, seeing that it's one of the more expensive running shoes listed in this guide.

10

. Saucony Peregrine ISO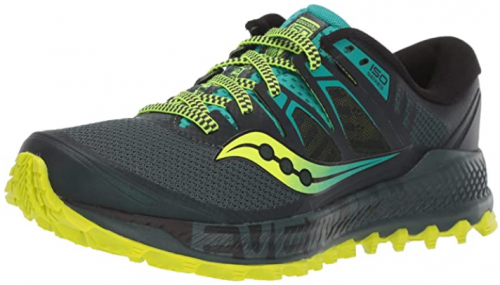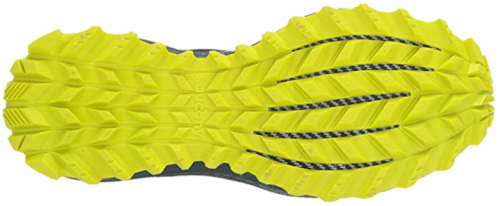 Another pair for you trail runners, Saucony did a great job when they designed the Perengrine ISO. They make good solid shoes anyways, so it's not surprising to us that these are as durable and supportive as they are.
Saucony markets this as a competition trail shoe, and we think it fits right into that category for sure. The overall design of this revolves around durability, comfort, and distance. This is definitely a trail runner that you can wear on long runs with little to no issues. There is a little breaking in period needed, but other than that, we really haven't seen much legitimate negative feedback regarding performance overall.
You get their Everun topsole, which provides decent long range support, combined with the added comfort of Saucony's Pwrfoam midsole, which is comfy, but not overly squishy, allowing good responsiveness overall. They also have a pretty confident grip on most off-road surface with their fairly aggressive tread.
The upper layered mesh material is decently breathable. There have been some reports of the material over the toes tearing, however we don't have the full stories on how it happened, so we can't judge too much on that. There is quite a bit of upper area that is reinforced with protective overlays, which also aid in providing a bit of extra upper support. This is another one of those solid shoes that you can't go wrong with.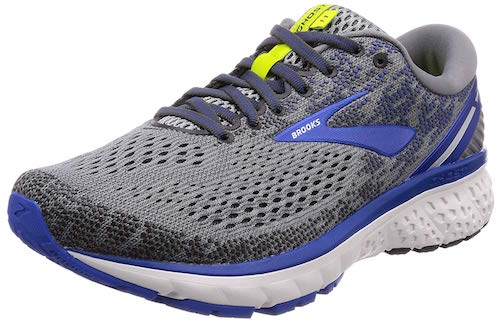 With a stretchy mesh upper that is both flexible and supportive, you will enjoy the experience of taking out for a run the latest edition of Brooks Ghost running shoes. The 2018 running sneakers feature improved cushioning, especially in the heel area which often receives the most shock during hard landings, but updated parts also include the outsole which allows for more grip than the model's predecessors. What remains the same is the fit as well as the midsole stack and heel to toe drop.
Made for runners with normal to high arches, the Brooks Ghost 11 is a pair of neutral running shoes with some of the best cushioning available. Featuring a BioMoGo DNA midsole with a DNA LOFT addition to the heel, you can expect a soft feeling underfoot that will absorb shock, and that provides a more fluid transition than model 10.
Removing the sewn-on toe bumper found in the previous version, the Brooks Ghost 10 shoes for running have an upper made entirely out of mesh, with inner reinforcements that mold to the foot and stabilize your movement without imposing any constrictions. Furthermore, the lacing system has been improved to put less pressure on the metatarsal area, ensuring that you can lace these up as tight as you need, without feeling discomfort in any part of the foot. Ranking average to slightly above average on this list of running shoes when it comes to price, the Brooks Ghost 11 is a pair of flagship shoes for runners that you are bound to love if you're a fan of the brand. The improved heel crash pad and transitions ensure that the level of cushioning is brought to a higher level, while over the rest of the foot these running sneakers remain just as comfortable, if not more, like its predecessors.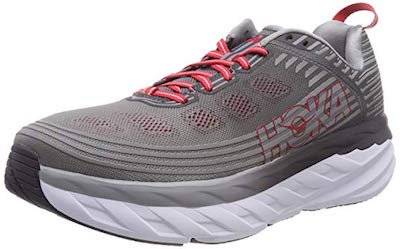 If you want maximalist shoes for running, the Hoka One One Bondi 6 are excellent running shoes. This is one of those rare pairs of footwear that will work for almost anyone, considering that it does a lot of things really well. First and foremost, you shouldn't let the 36mm heel height (32mm toe) turn you away - this is a model that packs considerably less weight than a number of other running sneakers featured in this list. It works really well for daily training, but also for recovery days. The colorways are limited and loud, but for the comfort you're getting, you will happily make that sacrifice.
In the upper, the Bondi 6 shoes for runners use mesh, combining closed and open weaves to promote airflow without sacrificing support, while 3D printed and sewn reinforcements in key areas ensure durability, as well as a more secure run. The heel area is covered with lycra which is not only soft to the touch, but also moisture-wicking, and it will conform to the shape of the foot, seeing that it's a stretchy material.
As for the midsole, these running sneakers use EVA foam for maximal impact protection and a good amount of energy return, while the Meta-Rocker construction helps you through the gait cycle, encouraging smoother transitions. Only parts of the outsole are covered in a high abrasion rubber compound, keeping weight down, but still preventing the EVA foam from deteriorating with use, and you will find that this design works really well on asphalt. Price is quite high, this being one of the more expensive top rated running shoes available for purchase, but if you want something that's very plush, we definitely recommend trying it out.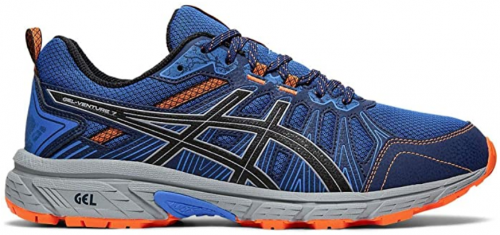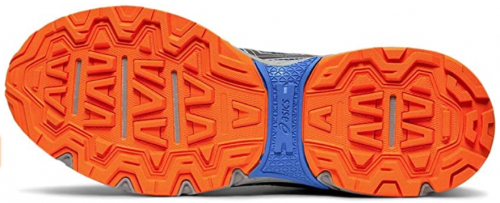 If you're into park running or on smoother trails, and a lot of the trail shoes out there seem like they have tread that is a bit too aggressive for what you need, Asics' Gel-Venture 7 fills that gap. They're super supportive, and even a helpful option for alignment issues.
One of the great things about the Venture 7 is that they need very little breaking in, for most people. This avoids that annoying blister period of getting a new shoe. It really takes some fun out of training temporarily.
The provided support is one of the key points to this shoe. If you need something that will provide a little more stability and help hold proper alignment, this is a great option. The cushioning from the rear-foot Gel system also helps with absorbing impacts better, while allowing good responsiveness.
Overall, the affordability and stability are some of the key reasons people choose these. However, there is a small question about how many miles you can get out of the upper in some sections. As long as you run these shoes where they are intended to be used, you should be in good shape.

14

. Nike Zoom Pegasus Turbo 2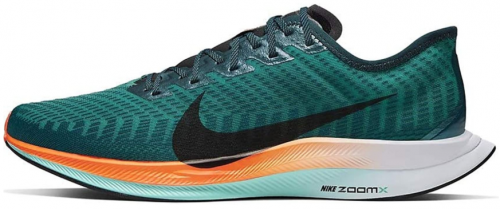 Nike's Pegasus line has been around, in general, for a long time, but you wouldn't be able to fairly compare the originals from where they are today. The Zoom Pegasus Turbo 2 built on a fast platform with a minor yet effective evolution to the design.
The Turbo 2 does have decent energy return. The shape of the sole also helps all the way through transitions, for less impact and a smoother run. The outsole and midsole work well in unison to provide good cushioning and support, without sacrificing responsiveness and ground feel.
As far as the upper portion goes, you get decent breathability, as well as a snug seamless fit. The material itself is a rigid mesh, which as far as the overall breathability is concerned, might be the best they've ever done to date. Although it does come with a catch. The material is super thin, and seems to not be great under rougher conditions. It can rip easily.
Overall, this is a great shoe, or it wouldn't be on our list, but there are some good and not so good points. These are expensive. If you aren't worried about the claims regarding the durability of the shoe's upper material, and you don't mind spending the money, we say go for it.

15

. Nike Air Zoom Pegasus 35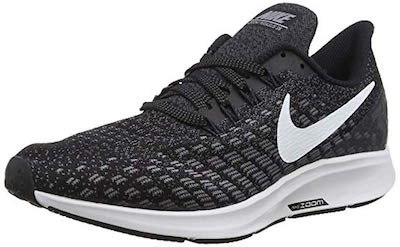 Marketed by Nike as running shoes for everyone, the Nike Air Zoom Pegasus is a line that's been around for over three decades, and the 35th editions is quite a good one. It's a neutral road runner that will work best for daily runs but can even be used on full-length marathon race days, and though these marathon shoes for running were made for road conditions, the will actually perform well on the treadmill too, as well as the hard trail. In true Nike fashion, these are shoes for runners that come in several fun colorways, with some even looking good enough for everyday wear, but you can also make it entirely yours and unique by going with an iD version.
In terms of fit, the Pegasus does quite well. The upper uses breathable mesh, but the best part about it is the collar which is high, yet turned outwards to protect the Achilles. The lightweight profile upper prevents bulkiness, while the Flywire cables wrap around the foot from the arch up, for that distinct fit you can only get from Nikes. The back features a reflective strip, making this a good model to use on night runs.
The midsole features a full-length Air Zoom unit which contains air and cushions each of your landings without sacrificing weight. Caged in a Cushlon carrier, you will benefit from these running sneakers that have a shock absorption system that doesn't degrade with time or use, but that provides excellent energy return. The outsole of these Nike running shoes uses Duralon, a durable rubber compound that will prevent the midsole from getting damaged, and that'll provide great traction. It's also shock-absorbing, contributing to the bouncy ride you get from the Pegasus. Averagely priced, the Air Zoom Pegasus 35 is a good investment for Nike fans, but also those are looking for a unique look.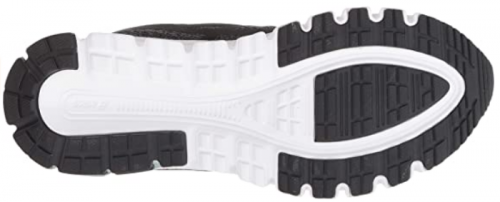 Asics' Gel-Quantum 90 is an affordable road shoe that has that famous "Gel" responsive comfort. The Quantum 90 has some great support, although it is designed as a neutral running shoe. Let's take a look at the whole thing.
Starting from the top, the upper is super breathable, with its synthetic mesh material. The construction is seamless inside to help eliminate rubbing and irritating interior points. The tongue is pretty similar to the way it is designed in their GT-2000 7, which is also a great road shoe.
This shoe is all about its cushioning, which Asics' Gel feature helps a lot with. Though there is a lot of good cushioning that will last way down the road, The sole, overall, isn't overly thick and allows decent responsiveness on road surfaces. They do have that rear-foot Gel cushioning, which does seem to help with some of the heel rebound.
In all, we like this as an affordable option with good traction on various types of pavement. You get some great features for the price, as well as a shoe that seems to last how it should.

17

. Merrell Trail Glove 4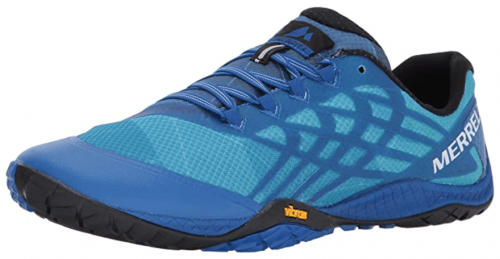 If you're into the minimalist thing, the Trail Glove 4 from Merrell continues the line of super low profile trail runners. Sized correctly, as the name says, these literally fit like a glove. The thinner sole allows more ground and responsiveness off-road. If you like the barefoot or minimalist type shoes, consider giving these a try.
Designed with a little more upper protection than the trail glove 3, Merrell upped the off-road game for this version, allowing a bit more reach into the woods and perhaps heading off trail a bit. The tread isn't super aggressive, but you won't have trouble getting a decent grip, due to the lower profile of the shoe's outsole and super flexible design overall.
Even with the overlays over the upper, the breathability is really good, primarily due to the light yet sturdy mesh material. It allows for decent airflow, which facilitates good ventilation and moisture control.
If you're looking for a lot of cushioning, stop here. These are absolutely minimalist running shoes. That doesn't mean there's no cushioning or support. On the contrary, the actually provide more support than you know just by looking at them. The EVA foam midsole, along with the microfibre footbed with Merrell's M-Fresh not only provides decent cushioning for this type of shoe but also helps keep your feet cool and dry.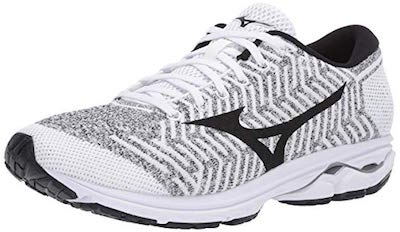 Essentially the knit version of the highly regarded Mizuno Wave Rider 22, these shoes for running are for those who enjoy the brand's unique shock absorption and supportive technologies but prefer an upper that's slightly more advanced than simple mesh with overlays. This version of the running sneakers provides a better fit than ever before, thanks to the stretch fibers woven into the upper, so you can count on flexibility just where you need it, without sacrificing support.
These neutral road running shoes boast a relatively low-weight, and a ton of breathability which will definitely be appreciated by those who like long runs, or tend to work up a sweat. Airflow is maximized through the more open knit tongue, while the inner is lined with a premium sockliner that hugs the arch and contributes to a more supported feeling. However, the biggest benefits of investing in a model such as this come from the midsole and outsole which will make you feel like you're running on soft ground, even when you're actually on asphalt.
The midsole of the Waveknit R2 uses the brand's U4ic midsole which is lightweight and responsive while doing a great job at absorbing the shock which is not dispersed by the Parallel Cloudwave. It's an energy-returning PEBAX insert in the heel of these Mizuno shoes for running prevents shock from travelling up your leg, all while keeping weight down to a minimum. The entire shoe is quite flexible, including the midsole and outsole, and taking care of traction, is a combination of blown and carbon rubber for great grip and durability. In terms of cost, these are averagely priced sneakers for running, with attractive color options and gender-specific features, so it's a great investment for most runners.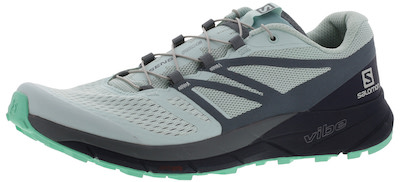 The latest flagship shoes for running by a company that focuses on trail running, the Salomon Sense Ride 2 have, so far, received a number of great running shoes reviews thanks to the cushioned sole and protective features, as well as an improved fit. It comes both in a regular, as well as a Gore-Tex version, so you can choose the one that fits your needs best. They are best used by neutral pronators, they come in a couple of simple colorways, and these are surprisingly lightweight shoes for running at just 270g.
The upper uses a stretchy mesh that allows for the foot to remain dry and cool, but printed overlays ensure protection as well as stability. Enveloping the entire foot, from the heel, to midfoot to the toes, these lightweight printed overlays ensure that you get a customized feel, while the seamless EndoFit sleeve ensures a premium in-shoe feel. The lacing system utilizes QuickLace with a lace pocket for easy on and off, while the OrthoLite sockliner gives an added layer of shock absorption underfoot.
One of the best things about the Sense Ride 2 running sneakers is the Profeel Film on the chassis that protects the foot from the unpredictability of the trail, preventing pebbles and sharp rocks from disrupting your run. A VIBE shock absorption system, combining energy return with plush shock absorption in the heel and forefoot areas for a softness that's rarely available in trail models. As for the outsole, it uses Contagrip rubber with hexagonal lugs for great traction even on soft terrain. The price of these shoes for running is, surprisingly average, so if you're after running sneakers that will work best in rugged settings, it's definitely highly recommended.

20

. Skechers GOrun Razor 3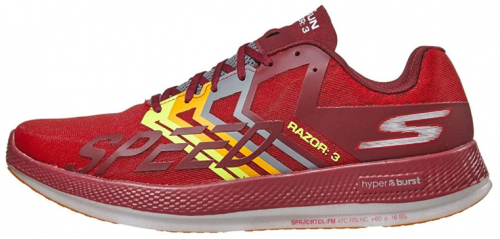 Skechers actually makes a few good running shoes, and GOrun Razor 3 is one of them. We typically think of Skechers as a comfort casual sneaker brand, but they make shoes for just about everything, including running. In fact, The GOrun series has a few models that we like.
We'll start this off with the fact that the GOrun Razor is sold as a unisex model, so you really have to double-check the sizing. As long as you double-check the sizing, you should be good to go.
The rip-resistant mesh upper actually looks more like a sheer material from a distance, but it is pretty well made. There are some overlays added to the upper, but they seem to have more of fit purpose, rather than added durability. In all, the breathability and overall construction of the upper are pretty good.
As far as overall comfort and support go, Skechers' Hyper Burst midsole gives a decent amount of cushioning, without being too squishy. The support is pretty nice too. You can comfortably finish a long run without any problems. These have good responsiveness as well. When you compare to the price of other shoes from the same brand, the Razor 3 is surprisingly a bit more, but we think this is a decent pick.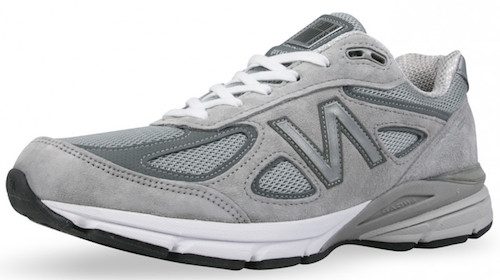 Stability shoes for running, perfect for runners with low arches or slight overpronation issues, the New Balance 990v4 is one of the most popular options when it comes to footwear made for running. Made with pigskin and mesh upper, produced in the USA, these shoes for runners are for those looking for quality over all else. In addition to 9 different color schemes, it also comes in 6 different widths to suit all types of feet, making it a common choice for everyday wear as well as for running.
Using both leather and mesh in the upper, this is a pair of running shoes that will adjust to the foot while still providing the wearer with the necessary stability and breathability. One of the best features, however, is the dual-density foam collar which cradles the ankle and provides soft cushioning in order to prevent chafing, rubbing and any Achilles tendon issues that may appear with other footwear.
Users with low arches, flat feet or related issues such as plantar fasciitis can greatly contribute from wearing the New Balance 990v4, seeing that it was made to provide excellent midfoot stability, and to prevent overpronation, ensuring that the foot is properly aligned so as to absorb as much shock as possible.
Being the most expensive shoes for runners on this list, the New Balance 990v4 may not fit everyone's budget. Nonetheless, these running sneakers are a model to consider if you're in the market for a pair of stability shoes, especially if you value a high quality make - these were entirely made in the USA, which partly explains the high price tag.

22

. Xero Shoes Speed Force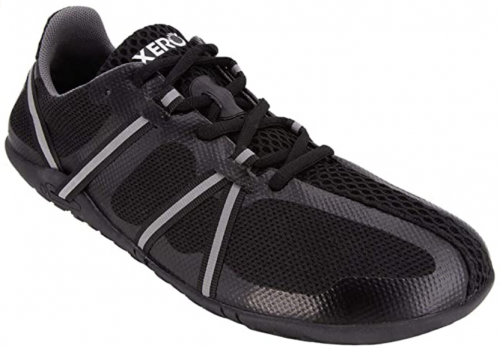 While we have a long list of cushioned shoes, we haven't forgotten about the minimalists and barefoot runners out there. Xero Shoes makes a few different barefoot shoes, but Speed Force is one of our favorites. Rather than a ton of cushioning or a specific type of support, these are more about having as little of that as possible, while providing good protection, grip, and safe stability in a shoe that is as minimally designed as possible.

Subscribe to our Newsletter