Best Minimal Running Shoes Reviewed & Rated
last updated:
May 11, 2020
The minimalist craze is certainly set in stone within the running industry; thereby, these best minimalist running shoes are particular in their design and aren't going anywhere soon. Studies show that these running shoes have the ability to provide benefits for the runner, making them a fantastic addition to have on hand. With each step, you submerge into a vibrant world bringing a wonderful, more-natural feel to your feet. Moreover, there's a chance of improving your overall foot health. For those preferring a natural run, without the clunkiness of conventional running shoes, we have you covered with the top-rated minimalist running shoes of 2019.
This is the best product on our list that is currently in stock: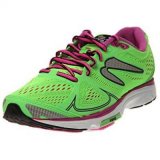 Newton Running Fate
Why is it better?
Seamless Construction
Zero Drop
Lightweight
Stability Overlays
Anti-Bacterial Treated
In a
Hurry? Editors choice: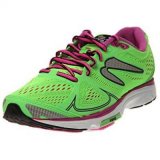 Test Winner: Newton Running Fate

21
Researched Sources
2466
Reviews Considered
106
Hours Researching
20
Products Evaluated
Breathability
Comfort
Materials
Flexibility
Effectiveness
By Default
10 Best Minimalist Running Sneakers
Maximum Toe Protection
Good Ground Fee
Lightweight
Good Temperature Control
High Breathability
Attractive Design
A low volume toe box that may not fit wide feet runners
Delicate upper material
A new update from the Vapor Glove 3, the 4th minimalist running shoes are both light and breathable and have been designed particularly for runners who want to experience minimalist barefoot running. It offers a very, secure fit and the flexibility mimics the natural movement of the feet. Its toe is well protected; making it perfectly suitable for running on rugged trails
The upper unit of this pair of shoes has an air mesh which is highly breathable and lightweight. This allows a runner to go for miles without experiencing hot or sweaty feet. Moreover, you will do so with lower fatigue levels when compared to the norm in minimal running shoes.
Since minimalist shoes are not known for much cushioning at the midsole, the Merrell Vapor Glove 4 offers a durable cushioning for the underfoot. Even though the traction is not like that of working boots, it features a lightweight Merrell Barefoot 2 construction to give enhanced proprioception and stability while you move through difficult terrain.
Trail Sneaker
Zero Drop
Breathable
Rugged Sole
Traction
Altra is another solid brand of minimalist running shoes and zero drop sneakers that have made waves in the running community. The Lone Peak 4 is a trail runner style sneaker, keeping true to minimalist style with a contoured footbed, promoting toe splay, comfort, and has a rugged sole for conquering the trails. Slightly heavier than other road runner sneakers, a Sandwiched stone guard tech helps protect the uppers, and your feet, from rocks or other debris. Take your runs off the road and see for yourself how good freedom feels!
At the base of these minimalist trail running shoes lies a carbon rubber trailclaw outsole, mimicking toe grip when running, this sole has sturdy lugs medial to toe for uphill battles. Aggressive styling allows you to feel confident in your pursuit to the top with the Sandwiched stone guard to prevent debris from catching you off guard. Ventilated mesh uppers give ample breathability to stay cool during hotter days on the trail.
A dual-layer EVA midsole lies within the Lone Peak 4 for a comfortable cushion. New and improved outsole construction gives superior shock absorption, and a 5mm Contour footbed will keep you going stride after stride. Foot-shaped toe box promotes proper toe splay when running, and with a zero-drop differential, you're free to run to your heart's content in these minimal running shoes.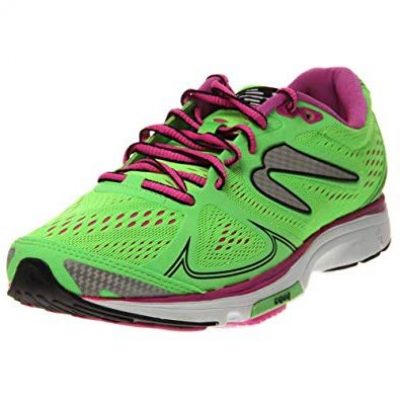 Seamless Construction
Zero Drop
Lightweight
Stability Overlays
Anti-Bacterial Treated
Price
Lack Arch Support
Durability
Made in the USA, Newtons have becomingly grown in the minimalist runners' community. Super lightweight mesh construction gives these minimalist trainers an airy feel, but it also has synthetic overlays in the appropriate anatomical positions to give a snug fit. Packed full of cushioning technology and constructed with runners in mind who love the feel of barefoot running, it has an anti-bacterial sockliner should you choose to go without socks. Minimal differential gives that natural gait feels, and allows performance without restriction.
Designed with seamless mesh, the Fate minimalist running shoes allow for breathable lightweight running without worry from chaffing or irritations due to seams but maintain structure in key areas for support. These Overlays give structure to the shoe which supports lateral movements and torsion. Newtons' Heel lace lock provides a snug fit, to help lock down the heel and Achilles to help transfer power to motion.
In addition to the ETC sock liner, the footbed is treated with anti-microbial and attaches to the uppers with a Strobel Last, providing all-around comfort and barefoot feel. The midsole utilizes a dropped EVA midsole compound to give shock-absorbing support, and Action/Reaction Technology on the sole provides smooth strides from heel to forefoot. In addition, tapered lugs recess into chambers of the shoe filled with air giving a cozy and responsive feel in these minimal running shoes.
4

. Merrell Bare Access Arc 4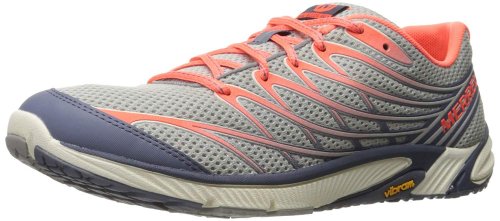 Natural Barefoot-Like Feel
Sock-like Fit
Textured Mesh Inner Sleeve
Stride Adaptability
8mm Offset
A Bit Pricey
Minimal Color Variety
This pair of minimalist running shoes from Merrell is vegan-friendly and machine washable. The EVA midsole is flexible but, also, keeps your feet far enough off of the ground for protection. Additionally, the breathable mesh lining and TPU upper give your feet the right about of breathability to keep your feet comfortable. Lastly, with an 8mm heel-to-toe drop, your feet will have a natural feel to them.
With traditional lace closure, you'll have the adjustability to secure your feet in comfortably. The reflective details help to give you increased visibility in low light while you're out on those early mornings (or late night) runs.
The EVA Midsole in these minimalist running sneakers will form to your foot to give you additional comfort. The 8mm heel cushion adds even more cushion while still remaining minimalist so you can feel the ground beneath your feet.
0 mm Heel-to-Toe Drop
10.5mm Stack Height
Wet & Dry Surface Traction
Omni-Fit Lacing System
The Merrell Trail Glove 4 is an update of the previous Glove 3 model and is among the top-rated minimalist running shoes prescribed for adventure running. These minimalist shoes are for runners who want comfortable running while feeling that natural pleasure of running barefoot; even during winter. The heel-to-toe drop is low, and the Vibram outsole is well-designed for greater ground sensitivity; as well as, flexibility.
It features a durable Vibram outsole which is mainly known for its guaranteed excellent grip on many minimalist shoes. There is a unique trail-protect plate on the sole for shielding your feet while running on both rough and stonier surfaces.
The upper in these minimal running shoes is a durable air mesh for maximum ventilation while running for long hours.it has an anti-microbial footbed that plays a big role in keeping the foot dry and prevents it from smelling.
6

. Vibram FiveFingers KSO EVO
Very, Minimal Construction
Extremely Lightweight
Quick-lace System
High Breathability
Easily Washable
Not good for rugged terrains
Not ideal for extreme weather conditions
The Vibram FiveFingers KSO EVO is a minimalist running shoe that offers the best combination of protection and surface connection. The grip and traction are outstandingly perfect, especially for people who are getting into barefoot running. These minimalist running shoes for men are very light and give a runner that feeling of running on bare feet. For instance, the men's size 10 weighs 4.9 oz. They can be easily folded up for packing in small areas while travelling or hill climbing.
These minimal running shoes are not designed for running on rugged trails. Unlike the Bikila Evo WP, precaution should be taken by runners running on rugged terrains off-road, as medium-sized rocks and roots can be felt by the foot.
These best low profile running shoes, particularly, shine in this category. There is a maximum connection between the runner and the surface, as this shoe features minimal-construction responsiveness; only comparable to that of the best lightweight shoes available.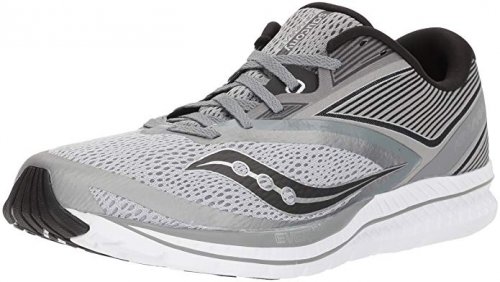 Mesh Uppers
HydraMax Lining
XT-900 Carbon Rubber Sole
PowerGrid Midsole
Price
Color Options
Tongue Can Rub
Well known for their running sneakers and attire, Saucony is upping the game with their minimalist style sneaker, the Kinvara 9. With a 4mm differential for near-zero drop running, a carbon rubber outsole for durability, and lightweight breathable mesh, it's sure to keep you going for longer bouts of training. As the 9th edition of the Kinvara, it's been upgraded from previous models with new technology for moisture-wicking capability and durable stability.
Flex Film overlays are molded to the uppers of the minimalist running sneaker, helping to reduce layers, improve stability, and reduce weight and overall foot fatigue. Mesh uppers are flexible and lightweight, promoting toe splay and ventilation. Pro-Lock technology utilizes supportive straps which help to encase the foot in place, so each step will feel stable and supported. HydraMAX lining provides the moisture-wicking capability, made from a piece of fine fabric, and sure to keep you dry on the hottest of days.
At the base of the Kinvara 9 minimal running shoes lies the XT-900 carbon rubber sole, made to be durable and extend the wear of the sneaker, even for long-distance athletes. An EVA midsole has enhanced properties to not only add comfort and support but maintain the integrity of the sneaker from abrasions and use. Padded tongue and collar help prevent blisters and chaffing, and a PowerGrid midsole provides a smooth transition during the gait cycle as well as cushion.
Speed Lace Closure
CloudTec Cushion
Flexible
Lightweight
Breathable
If you've not yet tried ON footwear, you're in for a Swiss-made treat with the Cloud. It keeps a 6mm differential from heel to toe, keeping it minimalistic for near zero drop, but is full of cushioning technology to help you go long, and with bright colors to choose from, these minimalist running shoes simply put a smile on your face when lacing up. Extremely breathable and lightweight, the design promotes a more efficient running form with a forward foot strike, helping to keep you energized and going long.
CloudTec cushioning activates with each foot strike, and upon transition off, each 'cloud' tightens up ready for the next step. This technology utilizes hollowed tubes, or 'clouds,' similar in function to little 'stability balls.' They absorb impact and reform to help stabilize your next step but cushion you for a barefoot feel during your run. This technology also helps to protect the heel and stabilize movements.
To keep you firmly fastened, a speed lace system closes the sneaker, and flexible heel straps adjust during movement to your unique gait, cutting down on heel lift. The CloudTec sole adapts over time to each individual's movements and provides a fit tailored just to you. Plus, with their colorful array of options, you'll want to wear these minimal running shoes when out and about on the town, not just your next training session!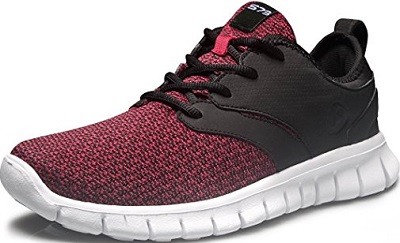 Flex Groove Outsole
Multi-Surface Traction; Wet & Dry
Multi-Directional Stability
Knit Vamp
Budget-Friendly
Size may run larger than normal
These shoes are great. They are lightweight, provide excellent breathability, have great multi-surface traction capabilities, and are budget-friendly running shoes. Furthermore, the heel loop band allows you to put these shoes on without crushing and/or damaging the heel counter. In addition, there are full-length insoles in place to ensure a comfortable day. Moreover, these shoes have a nice visual aesthetic to them and have a wide range of color availability.
Vamp material is a step above your average knit. This allows an improved environment conducive to further breathability. With this pair of minimalist running shoes, you will remain cool while you enjoy your run.
With these minimal running shoes, you do not have to worry about traversing multi-terrain types. They are designed, specifically, for both wet and dry surfaces. Moreover, the multi-directional groove pattern helps to promote stability when transitioning. As great thin running shoes, these are an excellent choice when going for a run during summer or spring.
10

. New Balance MT10V1 Minimus
Bungee Lacing
Antimicrobial Treatment
Acteva Midsole
4 mm Drop
Vibram Outsole
Minimal Color Variety
Size may run smaller than normal
These mens minimalist shoes can be a wonderful addition to any runner's arsenal. They are lightweight, have a 4 mm drop, and are ready for rocky terrain. With a Vibram outsole, Acteva midsole, and a midfoot wrap, you are taken care of within the areas of comfort and stability. Additionally, this pair of minimalist running shoes has bungee lacing; security within the tie.
The midfoot wrap and lightweight foam work in conjunction to provide you with both comfort and the added bonus of a personal fit. Furthermore, this pair of shoes takes stability into consideration; at least, with regard to transitioning.
The Vibram outsole is created with the trail runner in mind. There are flex grooves and lugs to help with the demanding pressures of rocks under your feet, per se. Moreover, this design helps to promote better traction and stability. We ranked these as best minimalist trail running shoes on the market so if you want to hit the trails with lightweight design footwear these are your number one choice.
Criteria Used for Evaluation


Breathability
Breathability is a term in relation to airflow. Those suffering from tinea pedis (Athlete's Foot) can benefit highly from shoes which promote a breathable environment. Feet sweat. It is not the sweat, however, which causes smelly feet and/or tinea pedis. It is the resulting dampness left behind when feet do sweat; microbes enjoying their new environment, per se.
Runners are, especially, prone to foot sweat. Miles upon miles are being chased down; thereby, body heat remains elevated for long periods. Furthermore, sweat is pouring from your head down to your toes, in a literal sense. Therefore, shoes for minimalist runners must have high breathability; otherwise, an unhealthy environment is begging to take over your feet. Minimal running shoes are no different, in this regard.
A breathable shoe will contain an element of airflow circulation within the upper. A highly-breathable shoe will contain a lot of airflow in the upper. Also, there may or may not be an element of breathability within the lining. Shoes, with a high-breathability factor associated with them, tend to implement both lining and upper as part of the airflow construction. In doing so, they create a shoe which promotes a healthier environment for your feet. Furthermore, a highly-breathable shoe can help raise comfortability factors, as well.


Comfort
Running causes fatigue levels and other sorts of issues quickly. Usually more quickly than other types of exercise, especially if you're new to the sport.
Comfort, in terms of the minimal running shoes, is essential. These running shoes are made to be more comfortable than traditional running shoes because it mimics our natural foot without any shoes. When you're comfortable you can better focus on your running technique, or, better yet, focus on anything else while you're getting in that cardio.
When focused on running, you are more likely to catch the hints your body may give you. Those hints might be that an injury is looming or that you can change your stride for better performance. If you want to focus on something other than your run (because not all of us love running), it's really difficult to do so when you're feet ache, or you're getting a blister.
Fit is one important factor when it comes to the comfort of a shoe. If a shoe is too big, added stress could be placed on the ankles. You can probably tell that this is a very bad thing. Added stress can lead to ankle sprains or dislocations. A shoe that is too small can cause skin irritations and bruises in the short-term. In the long-term, you might actually change the shape of your foot which could cause deformities like corns, calluses, bunions, or hammertoes. Not only are these painful but surgery may even be needed to correct the problem.


Materials
"Barefoot running has a number of documented benefits. It has been shown that removing support (as provided by modern footwear) from the arch of the foot during running strengthens the foot. This is evidenced by an increase in the cross-sectional areas of both intrinsic and extrinsic foot muscles following a period of running in minimal shoes that mimic barefoot running," this according to a research article written by the Journal of Sport and Health Science (2017. Vol. 6, Issue 2).
This article furthers the concept of minimalist shoes in that it is better for the overall health of our feet to run with an FFS (forefoot strike) upon harder surfaces. The problem for runners, however, is the fact that non-minimalist shoes can cause runners to run with an RFS (rearfoot strike, or heel strike), more times than not.
So, when we are discussing cushioning in the realm of the minimalist running shoes, we are talking about the bare minimum. This is in order to provide you with sufficient protection from sharp and/or dangerous items you might, otherwise, pierce your foot with when running barefoot. But at the same time, there needs to be a likeness to barefoot running. This is to allow our feet to handle the cushioning factor. As such, our body becomes stronger and more efficient. Luckily, minimalist shoes (especially, those with a little-to-no drop) do help in returning us to our roots of an FFS; a method our ancestors have proven works well in maintaining healthy arches, stronger ankles, and an overall increase in foot health.


Flexibility
The best minimalist shoes must be able to move as your feet do; folding at the metatarsal, turning with the toes, and having enough room for the toes to freely move. The minimal running shoes come in many awesome styles and colors with high levels of breathability and sturdiness. Flexibility is not sacrificed; regardless, of whatever style you choose.
Flexibility can be described in the realm of pivoting. Without shoes on, you can pivot your foot up-and-down or side-to-side, generally speaking. Also, when you are standing flat-footed, you can shift your weight from heel-to-forefoot with generalized ease.
When it comes to flexibility in shoes, however, your foot becomes more-restricted just by putting them on. For example, a more-flexible shoe might be found in a ballerina shoe; whereas, a more-restricted shoe might be found in a pair of cowboy boots when the two are compared. Dependent on the job and the corresponding correct shoe, flexibility must fall into the correct mathematical amount. In other words, a cowboy boot which flexes like a ballerina shoe might cause more harm than good; especially, when the person wearing the shoe is knee-deep in their hard day of work and/or play. Likewise, I can't recall ever seeing a ballerina team wearing cowboy boots.
The job dictates the type of shoe you need. Furthermore, the type of shoe dictates the correct amount of flexibility for security, comfort, and stabilization. The wrong shoe for the job, in essence, means the wrong amount of mathematical flex for your feet; thereby, negatively impacting your ankles, knees, and hips. The correct shoe for the job matters.
So, when it comes to the best minimalist running sneakers and the corresponding flexibility factor, we are searching for a shoe which naturally flexes. More so, a shoe which flexes in a barefoot-like manner while running barefoot. After all, the point of minimalism is to return to the roots of our ancestors; barefoot racing; only, without the sharp rocks cutting our feet.


Effectiveness
Minimalist running shoes should be 125 grams (4.4 oz) and not over 325 grams (11.5 oz). Although 'running' sandals do exist, you should avoid the idea of 'running in sandals,' as this can cause your risk of injury to elevate. You should, also, exclude any excess utilities and gimmicks which may appear in other running shoes; that is, minimal is better. The 'foot gloves' are a good example of how light the minimalist running sneakers can be.
The Thickness of a Sole (Stack Height)
The soles need to be less than 8 mm and not to exceed 32 mm. (Here's a nifty measurement sidenote: An inch is about 25.4mm). Less than 8 millimeters, however, seems to be pushing it; especially, when considering a sharp object like a loose Lego piece, sharp nail, broken glass, and/or a wayward weed which could slice through your outsole and into your skin.
Heel-To-Toe Drop
The Heel-To-Toe Drop MUST be less than 1 mm. Minimalists want to be able to feel their whole feet on the insole as they hit the ground running. (This is a good opportunity to remind everyone that running in high heels is not good for your feet and lower legs overall)
The Absence of Motion Control & Stability
The idea of minimal running shoes is to avoid relying on cushions; that is, you are training yourself to use the muscles, naturally, within the realm of shock absorption. So, any Michael Bay-directed explosive-sounding gimmicks, podiatristically loud bells and whistles, and/or futuristic athletic technologies will not exist in these running shoes. In other words, they are minimal in design.
Expert Interviews & Opinions
Most Important Criteria
(According to our experts opinion)
Experts Opinion
Editors Opinion
Users Opinion
By Default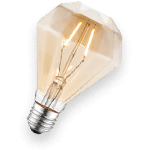 Minimalist Adjustment
Most minimalist sneakers and footwear maintain a zero drop from heel to toe, which can tend to stretch the Achilles tendon if you're more used to shoes that have more than a 12mm drop.
If you're just switching over to running or walking in minimalist shoes, ease into your regular regimen.
If you notice any pain in the Achilles tendon, decrease your mileage until you are more used to the feel of the shoe.
Lightweight And Functional
Best minimalist shoes usually use lighter weight materials, which still hold solid support features, and flexibility. Search around for different manufacturer's unique technology when it comes to the build of the upper, as this can help increase durability substantially, even with light materials. Newer methods for cushion and shock absorption are available for each particular brand as well, so although your footwear keeps a minimal feel, it doesn't lack on support, comfort, or protection.
Other Factors to Consider


Bottom Line
If you ever want to get yourself a perfect pair of best minimalist running shoes consider the cushioning, comfort, breathability, weight, stack height, flexibility, transitioning, heel-to-toe drop, and the absence of motion control and stability. Oh, and of course, pricing. You should, also, consider the surface on which you are going to use the shoes. Some specific minimalist shoes are perfectly adapted for wet conditions; whereas, others work in dry and rough trails. With all of these factors in mind, be sure to get a perfect pair of Minimalist running sneakers from the list above. After all, these minimalist running shoes made our 'best of' list for a reason.
Frequently Asked Questions
q:

Who should/can wear minimalist running shoes?

a:

The 'minimalist;' those who want 'less shoe' for the sake of strengthening their ability to run but they still want enough of the shoe to protect their feet from the elements. And while this isn't some magic bullet for the ailments suffered by those coming from more traditional running shoes, anyone who'd want an alternative to 'running with absolutely nothing on their feet' should understand they do have a choice.
q:

Is cushioning important?

a:

Those who buy, or plan on buying minimalist running sneakers choose some form of cushioning over the 'barely there' type of minimalist shoes. They wish for some sort of protection, because this is not the age of Rome, as it were. Anybody who gets a 'runner's high' may stop paying attention to their surroundings. As such, they are more likely to step on some broken bottle glass, sharp object, or something even worse. Within this regard, cushioning is important.
q:

How long do they last?

a:

Because of newer technology, the treading on the shoes (the material used for the shoes) tend to break down before the soles do. It's been reported that minimal running shoes can go for about 1700 miles before they need to be replaced. An impressive improvement from the 300-600 miles one can get from regular running shoes.
q:

What are the trends for minimal running shoes?

a:

As of 2013's writing; these running shoes consisted of only 11% of all shoe sales in the US running shoe market. The people who mainly buy those running shoes are those who are in need of guidance; people who, ultimately, care about 'running mechanics' and are looking to become better and stronger.
q:

Isn't this all just a bunch of crock?

a:

In 2009, Harvard's Dr. Daniel Lieberman started a "barefoot running movement" via Christopher McDougall's book: Born To Run. He stated there's no scientific backing behind most of the excess bells and whistles placed in running shoes at that time. "You can have trampoline outsoles and laces made [from the hair of goddesses]. But 50% of runners and 80% of marathoners get injured each year."

"You land on the cushions at the end of your feet, the shock from the landing will be absorbed in the wrong parts of the body. But if you land on the ground without anything covering your feet, the shock will be absorbed naturally; your muscles, tendons, and ligaments will absorb the shock."

This realization had caught many a runner or marathoner off guard; ditching their running shoes altogether in exchange for barefoot running. Of course, what's been going on had naturally and financially hurt the shoemaking industry. So, while they're having press releases about how "running barefoot is actually bad for you," they, simultaneously, created 'minimalist running shoes.'

And despite cries of: 'This ain't backed by science, either,' people were buying them and doctors did recommend using them. The small heel-to-toe drop, lack of arch support, wiggle room for toes, and etc.; that's what the American College of Sports Medicine stated as the requirement, but not the norm.

The panels about 'minimal running shoes' and their practical uses were less "pitch-forky and lynch-mobbish" than one might assume. There was hardly any expert (or so-called expert) who was against running barefoot; at least, without the experience or research to back it up.

To answer the question, minimalist running sneakers are just like everything else; a ride on the bandwagon of companies who don't want to go out of business. But this bandwagon still manages to get success stories; albeit, though phoenixes are rising from someone else's ashes.
Subscribe to our Newsletter