Best Lightweight Boots Reviewed & Rated
In a Hurry? Editors choice: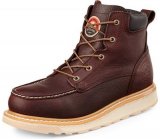 Test Winner: Irish Setter Ashby

Boots are, first and foremost, designed with protection in mind, and weight and comfort are usually secondary properties. Whether you are looking for a work boot, an equestrian, a hiker or a winter boot, you may have already resigned that your chosen option will be heavy. But that doesn't have to be the case. More and more, manufacturers are looking for smart ways to take the weight out of boots, making them protective and non-fatiguing at the same time. They are helped in this regard by the development of lighter but tough materials that can replace traditional, heavier components.

Lightweight boots can be used for many different activities such as work, hiking, or casual everyday wear. We've compiled the top ten lightweight boots below to help you choose one perfect for you!
Standout Picks
Criteria Used for Evaluation
Weight
Weight is obviously the most important factor when choosing a lightweight boot because it needs to be light enough to allow for great mobility, while not being too cumbersome when used on a day to day basis. There are many advantages to having a low weight boot – mobility and flexibility being something that you don't usually get when purchasing a full-size model. Lighter boots, in general, are usually more low profile, allowing for fantastic all-around versatility which makes them an excellent choice for working as well as recreation.
Boots, of course, come in many form factors, and if you may have noticed, some of the items on this list of lightweight boots can be as low as 18 ounces and as high as around 28 ounces.
17-22 Ounces:
These are going to be your lightest options available, usually having features tailored more towards comfort and mobility. Often mesh and lightweight leather materials are going to be used on these types of lightweight boots. In addition to feather like materials, designs that ease the user's experience are often going to be implemented as well. Ultimately, boots of this caliber are designed for lighter workloads typically being used for recreational activities such as hiking. Lighter boots, due to their mobility, make a great work and day to day boot wear, just without as much durability.
23-30 Ounces:
Boots on the higher end in terms of weight are going to still be light enough to allow for more mobility than your average boot, but will, however, be a bit more durable, and pack a bit more of a punch when wearing. The Merrell MOAB 2, for example, features a waterproof build mixed with a bit of leather and mesh to continue being fairly light, providing a nice medium between super lightweight and super heavy, a great option for hunters and hikers. In the end, that's what these high weighted boots are for; to provide extra options for those looking for a more reliable boot, while still being able to be multipurpose and long-lasting.
Shock Absorption
One of the most common materials used in boots is leather, seeing that it's a durable option that provides a good amount of protection. However, it's also a heavy material that may weigh you down, especially if you're hiking, or standing for long periods at a time.
When making footwear that weighs less than its traditional counterparts, manufacturers will often turn to newly developed materials that are less bulky, while still providing similar aspects as their traditional equals. So, just as athletic footwear has moved from leather and rubber towards mesh, knit and foam, a similar tendency is evident in lightweight boots as well.
And while the most obvious effect of this is a lower weight, there's one more important aspect to consider, and that's shock absorption or cushioning. Footwear that uses materials such as PU, blown rubber, EVA foam or even air cushions will help protect your muscles and joints from the shock generated upon impact, lessening the amount of pain and fatigue you may be feeling at the end of the day.
Furthermore, shock absorption is crucial in a lightweight boot for those who stand and walk on hard surfaces such as concrete, as these are unforgiving towards the body, and can often lead to either stress injuries, or overall discomfort.
You can add some shock absorption to any pair of lightweight boots by inserting some new insoles. Though this may add some weight overall, a cushioned feeling underfoot can actually prevent fatigue, muscle and joint pain, making it a good choice in the long run. For the best shock absorbing insoles, you can check out this guide that lists our top ten choices.
Support
Whether you suffer from a preexisting condition such as flat feet, low arches or heel spurs, or just want to prevent them, you need to look for lightweight boots that holds your foot in the most optimal way in order to ensure proper alignment.
Most often, you will hear of manufacturers talking about arch support, which, in fact, is the most important type of support you should be looking into. As the arch of your foot is your natural cushioning system, a shoe that makes it work overtime will not be a good choice in the long run. Not only can it worsen existing conditions, but it can even create new ones, making you unable to walk until you've healed enough.
A lightweight boot with the right amount of support in the arch will ensure that your feet are neutrally aligned, meaning that you aren't overpronating or underpronating (and thus putting unnecessary stress on certain parts of your foot, as well as your ankles, knees, hips and back). Furthermore, it can help alleviate pain for those who are already suffering from some of the conditions mentioned above.
Furthermore, to get the best amount of support, you should look at the heel of your footwear or lightweight boots, which needs to fit you snugly, locking you in to prevent any excess movement. Additionally, the upper needs to be snug, keeping the shoe securely on your foot. Just make sure it isn't constricting your movement, which can have some harmful effects on your foot health.
Protection
Chances are, you are purchasing lightweight boots to wear to work, in which case, protection is of the utmost importance, especially if you have a job that takes place in a hazardous environment.
Traction
The most basic type of protection your footwear will provide you with is that of surface grip. Although you may not work as a roofer, you will still want a shoe that won't let you slip and injure yourself. When shopping for lightweight boots, make sure to consider the outsole material and traction pattern. If you plan on wearing them in rain, snow or ice, look for materials that'll stand up to these conditions. If you often walk on concrete, invest in abrasion resistant footwear. If you often find yourself walking on slick surfaces such as hardwood or tile, make sure to go with a non-slip model.
Upper Materials
While you may be looking to buy lightweight boots you can walk to your office in, in which case a simple leather style with some amount of insulation will work, it's also possible that you will be working in a setting that may have falling objects, high temperatures, or that you're traversing through nature where you'll be expected to cross creeks or sharp rocks. No matter which of these scenarios describes you the best, ensure that you don't skimp on the protective features of your shoes. These may include steel toes, waterproofing, drainage vents, or just a simple toe bumper that'll protect you from a broken toe on your week long camping trip.
Durability
Last but not least, a pair of mid or high shoes will cost considerably more than a simple pair of sneakers or Oxfords, which is why you want to get the best possible value for your investment. All models of lightweight boots on this list were chosen because they perform well in terms of durability, and depending on the type of use they're intended for (and how much you adhere to this type of use), some may even last you for decades.
When it comes to determining whether a pair of shoes is worth investing in, you need to consider the quality of materials used, the construction (Goodyear welt, cement construction, stitched), the outsole and midsole material, as well as removable and replaceable parts. Of course, some will argue that lightweight materials lack in durability, which may sometimes be the case, but with proper care, you can avoid your favorite lightweight boots from becoming ruined prematurely.
Overall, the best way to make your footwear last longer is to wear it in the appropriate conditions. If you want your leather brogues to stay looking sharp, you should not wear them hiking. It's as simple as that.
Another thing you will need to set some time aside for is maintenance. There are several easy things you can do to prolong the lifespan of your favorite lightweight boots, and one of those is proper regular cleaning and conditioning. Additionally, it is advised that you dry your lightweight boots thoroughly between uses, seeing that moisture almost always leads to material deterioration or the development of bacteria that may cause foot health issues or shoe odor.
Top 10 Lightweight Boots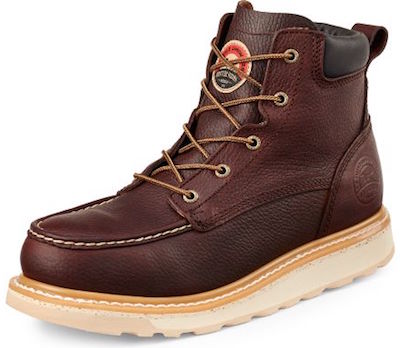 Specializing in manufacturing high quality protective lightweight boots for workers, hunters, and lovers of a rugged style, the Irish Setter Ashby was developed for those who happen to work in environments where heat protection is paramount. Specially designed for roofers and paving contractors, this moc toe lightweight boot is made with a waterproof upper, a removable footbed, and a Goodyear welt that allows for these boots to be resoled should you want to update the protection you get underfoot.
Specially tanned in the USA for the Irish Setter Brand, the Trout Brook leather upper on the Ashby is both durable and protective, and can take a beating, regardless of whether you decide to wear it to work, hiking, or just as casual footwear. One of the main selling points of this lightweight boot along, is its ability to resist heat and electrical hazards. The soles can resist heat up to 475 degrees Fahrenheit while the rest of the shoe meets ASTM F2413-11 Safety Standards in terms of electrical resistance, which as a result explains the rather large sole this shoe has.
The safety features and looks alone are enough to justify the price of this lightweight boot. Durability is a key factor for lightweight boots as most just don't have it; with the Irish Setters, you'll surely get the most out of your investment while maintaining comfort and the lightness in weight this shoe has to offer.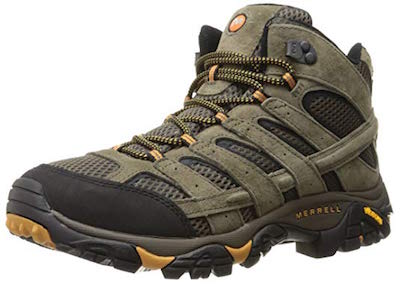 The Merrell MOAB 2 is the second edition of the Mother of All Boots line tailored specifically for hikers. With performance and comfort at the forefoot of its design, it's a versatile lightweight boot that you can get in a number of shaft heights, as well as upper variations, including a mesh or a Gore-Tex version. If you're looking for something that will work well on all types of terrain, you'll definitely love the MOAB, seeing that it features a Vibram outsole with 5mm lugs that'll provide ample traction even in less than ideal conditions.
If you go with the Ventilator option of the MOAB 2, you will be getting a hiking shoe with an upper made out of mesh with supportive suede overlays that'll keep you protected through a secure fit. The ventilation on this lightweight boot version is stellar, as its name suggests, and it'll keep you dry even once you've worked up a sweat. The MOAB 2 features an EVA foam midsole that provides shock absorption and support throughout the entire footbed, while the heel benefits from an added Merrell Air Cushion that adds an extra layer of protection for when you've been walking for hours, and the impact generated from each foot strike starts to weigh you down.
Ranking low to average on this list in terms of price, the Merrell MOAB 2 is an excellent investment for lightweight boots, whether you opt to go with the Summer or Winter version. Do note that the Ventilator only weighs around 8 oz per shoe, while the model with Gore-Tex waterproofing does get up into the high 20s.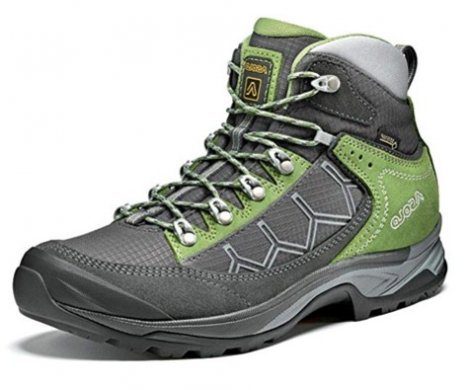 Asolo has been making solid hiking and supportive lightweight boots for years, and while this brand may be more expensive than some on our list of lightweight boots, you get everything you pay for. The Falcon GV, like all of Asolo's boots, has a Vibram outsole, and a Gore-Tex lining to help keep it durable and water resistant. It's a mid boot, so you'll have plenty of ankle support when you're speeding along the trails!
Asolo technology, such as the Radiant sole, help cushion your foot falls during longer hikes or times of wear. This allows for superior grip, as well as support, and control for pronation. The insole, called the 'Lite 2 plus', provides more support while providing the best comfort during wear, as well as contributes to the lightweight aspect of the boot. Molded EVA midsole adds to your support and cushioning. It's a lightweight boot that has been constructed so you can go longer!
Uppers are made from suede, giving the lightweight boot water-resistance for those dewy mornings on the trails, and padded tongue and collar help prevent irritations or rubbing while walking. Weighing in at only 16oz for a boot full of this kind of support and cushion, it's a lightweight boot that will have you anxious to get outside and get going!

4

. Bates Tactical Sport Side Zip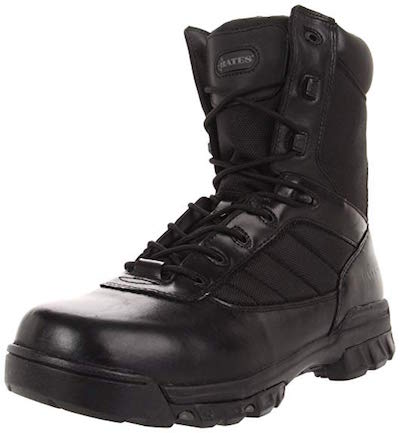 The Tactical Sport is part of the Bates Ultra-Lites line that offers lightweight boots and footwear made for professionals in the military and law enforcement line of work. It's made with a completely non-metallic construction, using high-quality full-grain leather and ballistic nylon for the uppers, which results in lightweight boots that are protective and durable, but that still offer the comfort features of athletic shoes through the high performing outsoles and cushioned midsoles.
The outsole on the Tactical Sport is made with rubber that is oil and slip resistant, and ultra-quiet, which will ensure that your steps are secure, and unheard. Attached to the upper through cement construction, you get a pair of lightweight boots that perform great in terms of flexibility, allowing your feet to move naturally for a more comfortable wear.
Using EVA foam components in the midsole, as well as a removable insole, the Tactical Sport keeps the weight at around 24 oz per boot, while still giving you all the benefits of a combat style. You'll also be glad to hear that this lightweight boot has excellent cushioning and arch support, but should you need something custom made, you can easily replace it with your own orthotics.
With a cost that's quite low compared to the other items on our lightweight boot list, the Bates Tactical Sport is a good choice of footwear you'll easily add to your everyday rotation for when you need something with a bit more protection, a solid outsole, and a good amount of cushioning. While it may not be the lightest boot on this list, it's definitely a great investment for anyone in the market for footwear that won't weigh them down.

5

. Thursday Boot Company Captain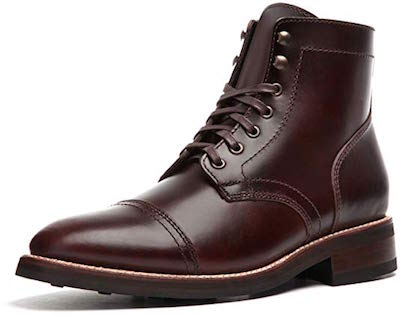 Performance features such as those found in combat boots or athletic styles are great, but if you're looking for something more sophisticated, while trying to keep the weight down, we fully recommend checking out the Captain by the Thursday Boot Company. A sophisticated pair of lightweight boots, featuring a cap toe that adds a bit of style without going overboard, you'll easily dress these lightweight boots either up or down, depending on where you're headed. Appropriate both for the formal office, as well as for a casual outing to the movies, the Captain is sure to set you apart in a crowd of men wearing chunky sneakers.
With a leather upper that's available in a number of colors, a full glove leather lining, flat waxed laces and Goodyear welt construction which means your lightweight boots will be water-resistant and resoleable after you've worn them for a few years, the Captain is a pair of lightweight boots that'll last a lifetime, and will only look better with wear. Considering that it's made with natural materials, it'll need a bit more care, but, overall, that's more than worth it as you'll be getting a top-quality shoe. The insole on the Captain is made with Poron, an antimicrobial treated material that won't allow for odors to develop. The cork and EVA midsole work together to cushion each of your steps, while molding to your foot, providing you with the arch support you need for long time wear.
The Thursday Boot Company is a brand that's known for making high-quality footwear that's meant to be worn for years. That's why the high price is not a surprise, but that's what you'll need to pay for lightweight boots you'll surely fall in love with. In terms of weight, these gravitate towards the higher part of this list, but again, that's to be expected from this type of shoe.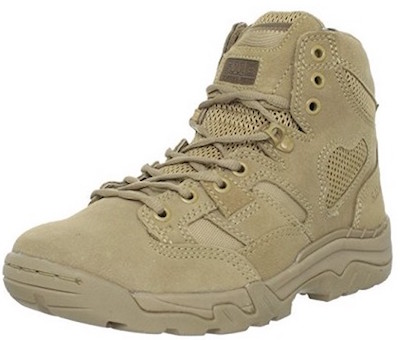 Boots made for wet conditions are typically heavy, seeing that they're made to be water-resistant which requires the addition of numerous materials. Jungle boots, however, are different, featuring a textile or synthetic upper that's very light, highly breathable and dries fast. The 5.11 Tactical Taclite is just that, a pair of lightweight boots made to perform in humid climates where you can't avoid getting wet, but don't want to walk around with swamped feet. Padded where they need padding most and made of a durable leather and nylon, these lightweight boots are supportive and functional without the bulk that'll cause fatigue.
So, you're in a hot and humid climate in a pair of tac boots. That brings ugly images of sweaty, smelly feet to mind, no? Not in these lightweight boots. These are designed with a moisture-wicking and anti-bacterial insole and lining that will keep your feet cool and dry and smell free. Great for sweaty feet and the humidity. The outsoles on these boots are oil-resistant meaning they will last longer if you work in a greasy, oily environment.
These lightweight boots are priced in the higher range relative to the other shoes on the list. However, they are a durable, lightweight and hard-working boot that, unlike almost every other type of boot available, can protect your feet even in hot and humid conditions. It is also moisture wicking and anti-bacterial inside which becomes especially important in those conditions.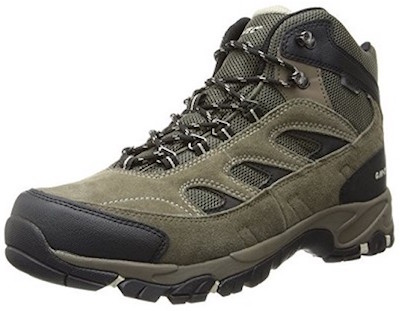 This is an ankle-high hiker that is a lightweight boot for its class, especially considering that it's a waterproof style. Featuring excellent traction, even in bad conditions, it performs well in terms of breathability and protection, allowing you to go on your next hike without having to worry about your boots weighing you down. In terms of support, you'll be glad to hear that the Hi-Tec Logan replaces the standard metal shank with a nylon fork one, reducing the weight that usually comes with a good amount of stability.
There are few things more uncomfortable than wet feet in a shoe. Hikers need to be waterproof for the protection and comfort of your feet, not to mention for health reasons. This lightweight boot features waterproof suede and mesh upper that keeps the water out. It's lacing hardware is also rustproof, a bonus for a hiking boot. The rubber outsole on the Logan is made of MDT rubber which makes it tough and durable. The grooves on the bottom are also multi-directional which provides for great traction. Mud, soft soil, sands, and street, this lightweight boot will get you over it.
The Hi-Tec Logan is a low priced lightweight boot, making it an excellent option for those who are on a budget. It makes for a very good lightweight hiker for the money with good traction, waterproof upper and a comfortable sock liner. Rustproof and lightweight, it's the best value lightweight boot on our list.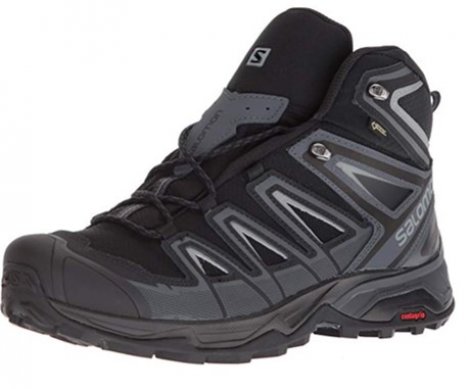 Salomon is a brand we've come to know and trust when it comes to lightweight boots that perform. Their technology for support and cushion is packed in every boot they sell to give the ultimate in footwear to keep you going long, even when not on the trail. The X Ultra 3 is a lightweight boot make for hiking, but suitable for casual wear as well. This sharp looking lightweight boot comes in a number of color options as well, so you'll find one you'll love!
Uppers are made from synthetics and leather, created to be durable and extend the life of this lightweight boot. Stabilization at the heel is found in the Advanced Chassis, which connects to the sole directly. This is surrounded with foam cushioning, helping to give a pleasant ride during wear. It's structurally sound and designed to hold your heel and foot in place despite steep or varying terrain.
Traction in this lightweight boot is astounding, with two types of rubber creating the sole, and providing the ultimate in grip. And, for protection, a toe cap and heel cap help against stubs or slips, as well as give added durability to the boot. It's a solid all-around option for a lightweight boot!

9

. Danner Tachyon 8" Duty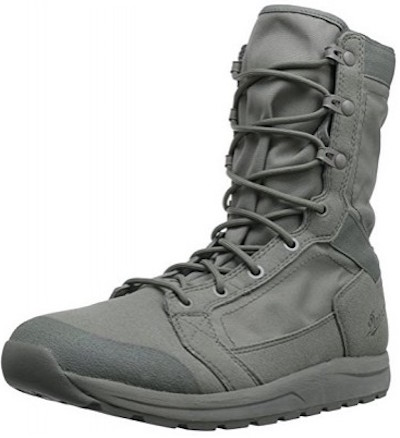 The Danner Tachyon meets US Air Force regulations (AFI 36-2903). It is a very lightweight full height duty boot that is also a great work option for those who aren't serving. This hard-working lightweight boot will not fatigue your foot and will maintain great contact on most surfaces. Whether you use it on a carrier or on a factory floor, the Tachyon will work every bit as hard as you do.
There are two benefits to the synthetic upper in the Danner Tachyon. First, the material goes a long way to making this lightweight boot very airy, with it weighing around 25 oz. Secondly, this style will dry very quickly. The upper also features an abrasion resistant toe cap for extra durability. The Danner Tachyon features pentagonal lugs on the outsole to maximize surface contact and provide great traction. Excellent traction ensures you stay on your feet avoiding unsteady footholds that can lead to strain and injury.
These lightweight boots are priced in the higher range but they are exceptionally lightweight, hard-working, breathable, comfortable and they offer superior traction. What more can you ask for in a lightweight boot that is expected (and does) work hard?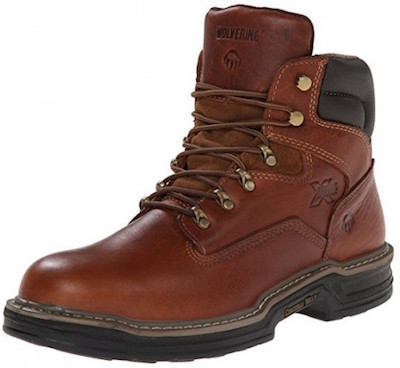 Wolverine has been known for producing some fantastic lightweight boots, and the Raider is no different. Made to feel like an athletic shoe while delivering the protection you need from a serious work boot made for construction workers, the Raider includes some pretty advanced tech, including "ContourWelt" technology for added flex as well as high quality no slip soles. With a weight that's around 30 oz, it comes as no surprise why this is one of the most loved pairs of lightweight boots available.
Featuring a full-grain leather upper that can stand up to rough use, the inside of the Wolverine Raider is lined with a breathable mesh, ensuring that your feet stay comfortable and cool when out working. Wolverine's ContourWelt's on the bottom of each shoe bend and flex as you move, similar to how an athletic shoe would, providing fantastic all-around mobility.
For a pair of Wolverine boots, the Raider ranks low in terms of price, but the cost is still considerably higher than most other lightweight boots you'll find on this list. Nonetheless, if you're after a serious work boots that feels non-constrictive, but still resists abrasion, slips, and rough use, then this is your top choice.

Subscribe to our Newsletter