Best Rocker Shoes Reviewed & Rated
last updated:
May 26, 2020
The name brings up images of KISS and Metallica by sounding like something that Paul Stanley or Gene Simmons would wear at a concert; however, rocker bottom shoes don't have anything to do with music! Think more along the lines of a rocking chair or rocking horse, instead. The thicker sole of the shoe curves upward at the toes. The heels are also rounded, ensuring that the wearer doesn't have a flat surface along the length of the foot.
Rocker bottom shoes were designed to help compensate for the lack of movement that can happen on your feet due to damage from injury or from some medical conditions (like arthritis). They are designed to reduce the pain people experience while walking by ensuring that parts of the foot aren't required to move.
In a Hurry? The test winner after 100 hrs of research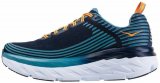 Hoka One One Bondi 6
Why is it better?
Ortholite Sockliner
EVA Midsole
ComfortFrame Stability
Padded Tongue
Breathable
Heel bevel
In a
Hurry? Editors choice: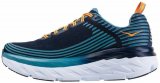 Test Winner: Hoka One One Bondi 6

20
Researched Sources
11,500
Reviews Considered
100
Hours Researching
20
Products Evaluated
Stability
Outsole
Comfort
Midsole
Durability
By Default
10 Best Rocker Bottom Shoes Reviews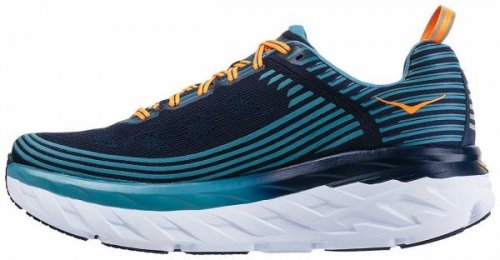 Ortholite Sockliner
EVA Midsole
ComfortFrame Stability
Padded Tongue
Breathable
Heel bevel
The Hoka One One Bondi 6 was designed for running on hard, artificial surfaces but there is enough grip for trail walking or running as well. This is Hoka One One's most cushioned shoe, even more so than the last model, designed for running. It's breathable, stable, and lightweight. It features an Ortholite, molded insole and a durable, rubber outsole that has been reinforced in the areas where shoes are most likely to wear.
The supportive frame in this shoe is made with 3D puff print technology which makes the shoe very light. This also offers a very precise fit and comfortable, secure wear.
The full EVA midsole in this shoe offer superior cushioning from heel to toe. The EVA is thick and designed to compress well under pressure while being resistant to wear. These rocker running shoes are just inside the upper range of prices for shoes on this list. You do get a lot of support and comfort technology for that money though, including a molded Ortholite sock liner, breathability, great shock absorption, wear-resistant compression, EVA midsole, heel bevelling, and the ComfortFrame for stability and support.
2

. Hoka One One Clayton 2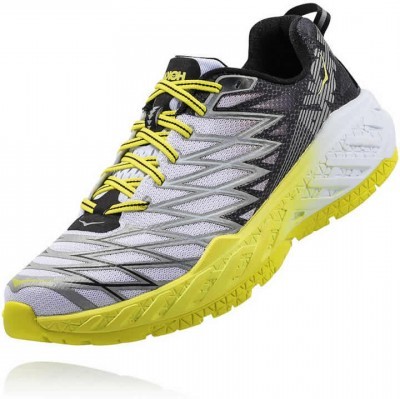 PRO2lite Midsole for Shock Absorption
RMAT Outsole for Comfort
Meta Rocker
Lightweight
The Clayton 2 is a lightweight runner with a microfibre reinforced support in the midfoot. Ultra-bright and ultra-light these road-ready running shoes also feature early stage Meta-Rocker, a PRO2Lite midsole and forefoot matrix tech that provides both cushioning and flexibility. The outsole is designed to rebound and hold on to the road, rain or shine. This is a great racing shoe.
The PRO2Lite midsole is a balance of propulsive forward-movement and protective shock absorption for race day and training. The Clayton 2 is a lightweight, well-cushioned runner that features an RMAT outsole for high-rebound cushion along with Forefoot Matrix technology that provides even more cushioning.
This is in the low-range of prices for our list which is practically a steal for a lightweight race runner. You get great stability and rebound in a cushioned shoe with a unique, ultra-bright, show-stopper.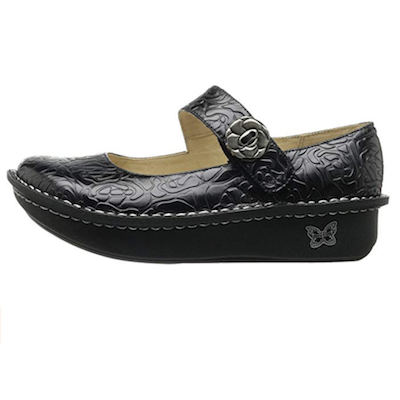 Excellent Support
Unmatched Comfort
Removable Footbed
Polyurethane Outsole
Versatile Style
PG Lite has been making comfortable shoes for over 20 years and they really hit the mark with their Alegria line of shoes. This Mary Jane inspired shoe will let you work comfortably all day long. Not just a work shoe, perfect for nurses and others who are on the move all day, it works well as a casual shoe as well.
This shoe features a soft leather interior that will keep your feet dry, a cushioned footbed and a polyurethane outsole that is designed to reduce heel and metatarsal pressure and also to provide stability. Comfort is built in everywhere. The cork and latex footbed will conform to the shape of your foot. However, the footbed is removable so you can use a custom insole or orthotic in these shoes with rocker soles.
This well-designed Mary Jane rocker bottom shoe is at the low end of the range of prices for our list. Given all of the design elements to ensure the support and comfort of your feet, this shoe is a great value
4

. Skechers Shape Ups 2.0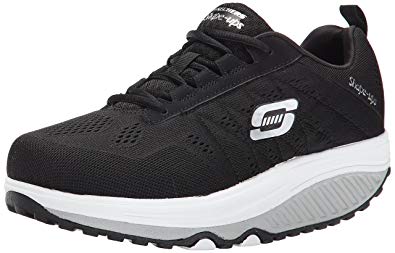 Padded collar & tongue
Contoured heel stabilizer
Removable Orthotic
Durable Arch Support
Air Cooled Breathability
Memory Foam Footbed
Skechers has made a name for itself making shoes for people who have to take special care of their feet. This shoe is made for those with diabetes, arthritis or plantar fasciitis who need extra stability and a sole that will propel their feet in a natural gait. This shoe also features double velcro straps for ease of use and a snug fit.
These rocker bottom running shoes have great arch support but the orthotic in the shoe is also removable so you can wear a custom insert or orthotic of your own.
The Shape Ups 2.0 features two velcro closing straps with adjustable hook and loop closures to allow to you adjust your fit and take the shoes off and on easily. It also allows you to adjust the fit as your feet swell during the day. These shoes are at the lower end of the price range for our list, and they are Medicare-approved so that may also reduce your price further. For the reasonable price though, you really can't beat the engineering that has gone into this shoe. You'll be comfortable, your feet will be stable and they are easy to get off and on with the dual velcro closures.
5

. Skechers 2.0 Comfort Stride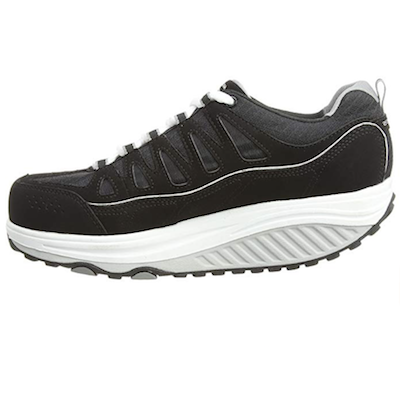 Stitching Accents
Toe, Side, & Heel Overlays
Padded Collar & Tongue
Memory Foam Insoles
Firm polyurethane frame
Kinetic Wedge Midsoles
Sculpted Rubber Outsoles
Skechers is well known for their comfortable shoes and when you are brave enough to put comfort right in the name, you better live up to it. This rocker bottom shoe does! Skechers built comfort and support into every possible aspect of this shoe from mesh panels for breathability to a pull loop for easy off and on, to extra padding in the collar and tongue and finally to the insole, midsole and outsole - so much comfort and support we have our doubts that you'll want to take them off.
The stabilized breathable mesh panels with the fabric underlay give your feet enough breathing room to relax after long hours of running. Comfortable feet are supported feet and these shoes have it. A polyurethane frame supports your foot while a soft foam wedge midsole gives you plenty of shock absorption, taking the burden off your heels.
In the lower range price-wise, these shoes are a terrific value. No detail was overlooked when it comes to providing you with a cool, comfortable, supportive rocker bottom sneaker. These rocker sole trainers will also last a long time, so you get a lot of life for the money.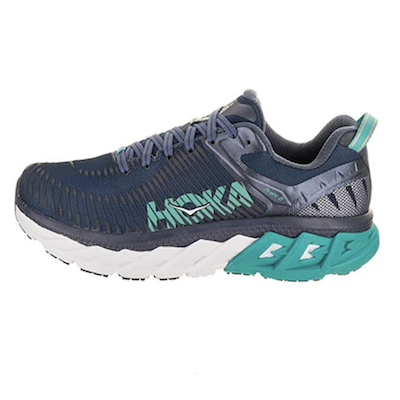 Meta-Rocker
Firmer Runner
Light Weight
Great Arch Support
Excellent Cushioning
Hoka One One pays attention to detail and the Arahi 2 is proof of that concept. This shoe features meta-rocker (or rocking chair) technology so that the shoe guides your footfalls as you run, ensuring the correct gait in a smooth manner which distributes impact more evenly. The shoe remains sturdy but still lightweight, this is a great shoe for people who need stabilization of the metatarsals (from conditions like arthritis).
The meta-rocker design of the midsole and outsole of this shoe guides your foot carefully through the proper motion from footfall through to the toes lifting off again. This is a very durable shoe that is lightweight. It is noticeably firmer than other running shoes and won't give in to compression as easily. This is a stability shoe that is great for those with flatter feet or other foot issues.
The Arahi 2 is in the mid-range of shoes on our Hoka One One list. These shoes are an investment but they are an investment in your foot health and the technology needed to provide your foot with a safe, stable environment for running. Though designed for running, these shoes can provide a great deal of comfort and stability for those who need stabilizing, or rocker bottom shoes. So if you are looking for rocker bottom shoes for arthritis these are a perfect choice.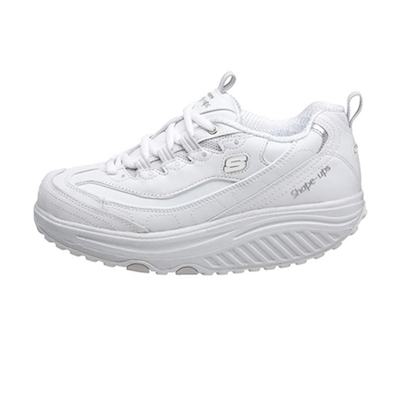 Leather upper
Easy Pulls
Padded Collar
Rubber Outsole
Polyurethane Frame
Skechers started off in 1992 making skate shoes and utility-style boots in California and since that time they've grown a reputation for making comfortable, quality footwear. The Metabolize is a supremely comfortable rocker bottom shoe with a rubber sole designed to last. Your feet will be well supported too!
This shoe is designed for working out. The soft foam kinetic wedge midsole will provide plenty of shock absorption, taking the pressure off your heels and forefoot. Your feet won't fall flat on any surface you walk on. The rubber sole on the Metabolize serves two purposes - great traction and durability. These shoes will last a very long time and give you extra stability as well.
The company is not manufacturing these shoes anymore, which is unfortunate, but they are still well-stocked online, so get yours while supplies last! This is the least expensive shoe on our list as well, and for a very small price, you are getting a high-quality rocker bottom that will last for a very long time.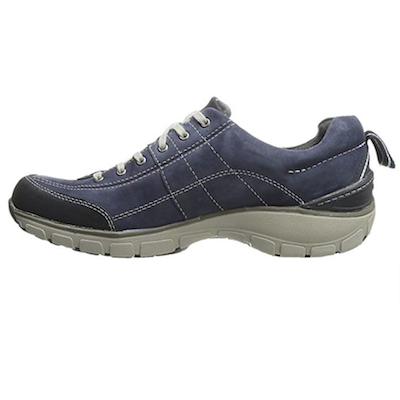 Removable Footbed
Breathable
Moisture Wicking
Waterproof
Lots of Cushion
Shock Absorbing
Clark's has been making comfortable and specialized shoes for over 100 years. There is a reason they've been doing it that long - they are comfort experts. The Wave Trek is a waterproof sneaker with a rocker bottom and a removable insole. Great so far right? Well, let's add a leather upper and clean, casual style to the mix to make it that much better.
The Ortholite footbed is removable so you can use your own custom insert or orthotic. If you choose to leave it in, you will also benefit from its breathability and ability to wick moisture away from your feet, preventing unpleasant smells from building up. Yes, it sucks to have to go run errands or head to work in the rain but adulting means doing what you have to do. At least you get to do it in a waterproof sneaker that also looks good. You'll be so comfortable you'll barely notice you forgot your umbrella.
These Clarks rocker sole shoes are right in the mid-range of price on this list. For the price, you get all the quality and comfort of the Clarks name. You also get a removable footbed that will keep your shoes smelling fresher and your feet drier, all in a nice looking waterproof sneaker.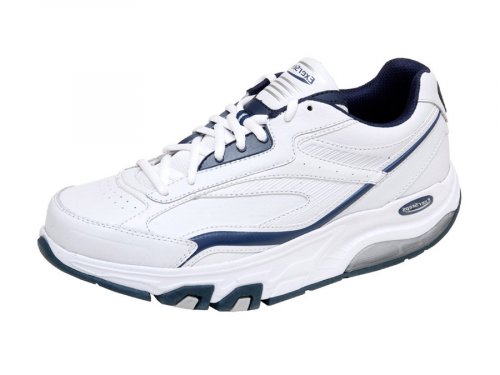 Leather upper
Moisture-wicking
Conforming footbed
Cute boot style
Molded Sock
Exersteps shoes are almost all rocker bottom shoes. The Whirlwind shoes give you their rocker-bottom stability and comfort in a supportive, attractive sneaker! It features a leather upper and interior and is a mini rocker for the stability of a rocker with a little more flexibility. The footbed is made of so many cushioning materials you would think it was a pillow.
This extremely comfortable footbed is made of latex, memory foam, and cork so that it will form naturally to the shape of your foot. If you need a custom insole or orthotic, however, the footbed is removable. This boot has a mini rocker bottom which means you get some of the stability and reduced pressure of a rocker but that is balanced with increased flexibility.
These mini rocker bottom shoes are at the lower end of the shoes in our list in terms of price. For a small investment, you get good quality leather uppers and linings, moisture-wicking and a modified rocker design that stabilizes the foot while providing a little extra flexibility compared to a traditional rocker bottom. The footbed provides amazing comfort and is also removable to suit your needs.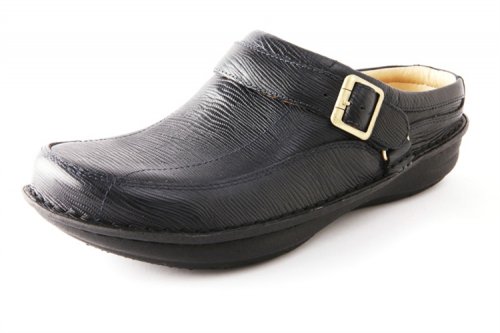 Leather Lining
Seamless Build
Removable
Early stage Meta-Rocker
Oversize Midsole
Another great shoe from Alegria! This slip-on clog features a removable memory foam midsole for cushioning and non-marking slip-resistant rocking rubber sole. This shoe doubles as a good road day-to-day shoe as it almost doesn't even look like a rocker bottom shoe.
This shoe will keep your feet secure on any surface thanks to its non-making slip-resistant rubber sole. The shoe remains very breathable throughout your day without worrying about discomfort from grit and small debris underfoot.
This shoe is in the midrange price-wise which is great for a shoe that can take you from work to a casual night out. You also receive all the benefits common to Alegria shoes - comfortable insoles, breathability, and a stable, smooth fit.
Criteria Used for Evaluation


Stability
The soles are one of the most important aspects in a rocker bottom shoe. All three parts of the sole play a role in an effective, stable rocker bottom shoe – beginning with the insole, through the midsole and the outsole. Here's what to look for:
The shape of the sole in a rocker bottom is important. Because the shoe is meant to stabilize and prevent the movement of the metatarsals, thereby relieving pain from walking. The sole must compensate by guiding the foot through a natural gait. A good rocker bottom has a smooth curve from the heel of the foot to the toe. It will also have a rounded heel to enable the proper gait from the moment you set the foot down through the entire step.
A good rocker bottom sole will also be thick, to enable shock absorption and allow room for the proper curve. Look for a shoe that is in the area of 30 mm thick or more, measured at the midfoot, from the bottom of the outsole (where it touches the ground) to the top of the midsole (where the sole attaches to the upper).


Outsole
The outsole of a rocker shoe should provide good traction for the shoe's purpose. A hiking boot or trail runner, for example, will need different traction than a dress shoe or one meant for an office environment. Rubber is one of the best materials for outsoles because it is durable and provides good traction on many different surfaces.
The outsole makes the most contact with the outside world. It should stand up to the surface it will be used on. While EVA can be great for a slipper used at home, you need a rubber, synthetic rubber or other hardened material in an outsole that will resist wear and tear.
Some rocker bottom shoes will have both a rubber outsole and reinforced rubber in those places that wear most often. This targeted method of increasing durability is effective and also keeps the weight of the shoe lighter.


Comfort
All of the best shoes are comfortable shoes. But what does comfort entail? Comfort can mean different things to different people. For example, if you have high arches, a shoe that has no arch support will not be the most comfortable for you. If you have flat feet, a shoe with some rigidity for support will be more comfortable than a soft, over-flexible shoe.
There are some general criteria, however, that help ensure great comfort. We've touched on a couple of the above. The insole, for example, should be cushioned for comfort and the midsole must have enough shock absorption to prevent your feet from becoming fatigued. The outsole should prevent slipping which can also exhaust your feet and potentially cause a serious injury. Here are some other things to look for in terms of comfort:
Soft liners
The skin on the top of your feet is more sensitive than most people realize. A good, comfortable shoe will have a liner that is soft without any seams or parts that could rub on the bottoms, sides, top or back of the foot. No-one is comfortable with blistered feet. The liner should also absorb moisture, keeping it away from your feet. Good materials for liners are kid leather, cow leather, and soft fabrics.
Closures
A good, comfortable shoe will have closures that are easy for you to use. Often rocker bottom shoes will have closures that are velcro so that you can easily close and adjust the fit. The closures should also ensure that the shoe fits snuggly, but not too tight against your foot.
Padding
A comfortable shoe will have other well-thought-out elements like padding along the tongue and collar to keep the tops of your feet and ankle area comfortable and to help prevent rubbing in these areas.


Midsole
The midsole of the shoe is where a lot of the function is in a rocker bottom shoe. It is normally made from one or more layers of a firm but still pliable material like EVA or polyurethane. It will not be very flexible because it is meant to stabilize your metatarsal area. Some shoes will be modified in this area to provide a little less stability and more flexibility and what you choose should meet your needs for a stabilized footbed first.
People who have arthritis, plantar fasciitis or other foot conditions also need an insole that can adapt to their foot while providing a comfortable surface to walk on. This is why many rocker bottom shoes will be made of a combination of cork, memory foam, and latex. Molded EVA insoles may work for your feet as well. The insole should be removable so that a custom insole or orthotic can be used easily.
Finally, comfortable feet are cool and dry. A good upper will be breathable. Mesh and canvas are both very breathable materials. Leathers can also be breathable and may also wick moisture away from your feet but a heavy waterproofed leather will not be. These rocking shoes will need some other way of letting air in and out, like portholes or cuts that allow for airflow.


Durability
Rocker bottom shoes are an investment so you really want to be sure you get a good life span from them. Many will last for years and there are elements to look for in a shoe that is designed for the shoe's durability.
Closures
A chain is only as strong as its weakest link and your shoes are only as strong as their closures. Straps and laces can break if they aren't well made or used in the manner they are meant to be used. If the shoe you are considering has laces, look for thick laces that fit easily through the eyelets. If the shoe has strap closures look for a thicker strap as opposed to thin, that is well attached to the upper. It should have a buckle closure or velcro that is good quality. Reading reviews is a great place to learn about whether the shoe has faulty straps or laces.
Water-resistance
If you are going to be wearing the shoes in damp conditions, they should resist water or be easy to dry out. Good materials for this are mesh, good quality leather, and materials that are treated with water-resistant coatings.
Upper
The upper material, whether mesh, leather, canvas or other, should be thick enough and tough enough to resist too much stretch and the elements. Though these areas do not make contact with the ground, they do make contact with the weather. A good, durable upper will also have a good attachment to the sole of the shoe – stitching or adhesive that does not fall apart readily. This is another area where reading reviews is a great idea!
Expert Interviews & Opinions
Most Important Criteria
(According to our experts opinion)
Experts Opinion
Editors Opinion
Users Opinion
By Default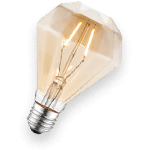 Easing Into Rockers
If you've just purchased your first pair of rocker bottom shoes, give yourself a bit of time to get used to how they feel when walking or standing. They can feel and act quite different from flat-soled shoes but guaranteed they'll make your gait feel lighter, and you may find you feel more energized as well!
Wear them around the house first to get a feel for them, then once you're comfortable, take them outside for a brisk walk or run!
When To Get A New Pair
Similar to other sneakers, if the sole begins to feel less padded, or shows signs of distress, like wrinkles on the sides, or flat spots on the sole, it's likely about time to replace your rocker bottom shoes.
Other Factors to Consider


Bottom Line
We've put a lot of research into bringing you the top 10 rocker bottom shoes on the market. Whatever your foot issue might be, whatever your style or your need, you will find something in the list above that will work for you. Most are appropriate for work, exercise, or walking; although, some are more exercise-oriented than others. All the brands on our list are known for crafting a comfortable shoe. In this case, they have all made an extremely supportive, comfortable rocker bottom shoe that you won't go wrong with.
In addition to people suffering from pain in their feet, this type of shoe can be great for anyone. The unique styling is suitable for a variety of life's adventures and will ensure your feet stay comfortable. They will also help build and tone muscle in the legs, ankles, and feet. Exceptional cushioning and impact absorption makes them great for long walks and in general long days of standing or walking.
Frequently Asked Questions
q:

Can I use these shoes for working on my feet all day?

a:

Rocker bottom shoes place an emphasis on stability and comfort, and less on aesthetics. They are generally great for people who have to be on their feet for long periods of time because of the additional comfort and cushioning that are built-in. They also are generally designed for good traction on hard surfaces which is a bonus at work.
q:

When did rocker bottoms come on the market?

a:

MBT is the original maker of the rocker bottom shoe. In the 1990s, Karl Muller, a Swiss engineer, was in Africa and noticed that the Masai people walked barefoot on dirt and sand. They rarely suffered any injury to their backs or joints. He was inspired to create MBT, which stands for Masai Barefoot Technology that includes the rocker bottom design.
q:

Can't I just wear an athletic shoe for comfort? They are supposed to be comfortable, right?

a:

Yes, athletic shoes can be very comfortable and you may find one that fits you and doesn't fatigue your feet. But if you need stabilization of the midfoot, athletic shoes are not going to cut it for you. They are designed for movement and flexibility in the midfoot and will not provide the stabilization of the midfoot that you require.
q:

The midsoles in my rocker bottoms are beginning to develop creases and they aren't as comfortable as they used to be. What to do?

a:

Creases are a good sign that the midsole has begun to wear out. They aren't as comfortable as they used to be because the midsole has become too compressed to provide adequate cushion and shock absorption. It's time to replace the shoe, hopefully with a brand new fave!
q:

Do rocker bottoms really help?

a:

Users frequently report that their pain is reduced and that these shoes are very comfortable for them. Read reviews carefully to determine whether or not a particular rocker bottom might meet your needs. Also, it is rarely true that anything is a cure-all or miracle cure. Do not expect any shoe to cure your foot problems. While you should not expect a cure, you have every right to expect a shoe that fits you well, does not damage your feet, is comfortable and is durable. Above all, comfort for your painful feet is likely your most important concern – so prioritize that aspect of the shoe and you will end up with happier feet.
q:

A lot of these shoes do not fit true to size. What to do?

a:

True to size is somewhat subjective because different manufacturers will have different standards for sizes. There are also differences between regions. Your feet aren't standard and neither are shoe sizes. The best way to ensure the right size is received is to look at the size charts from the manufacturer and have your feet measured properly (a podiatrist can do this for you if you are unsure). Read reviews to determine whether a shoe fits narrow, wide, large or small.
q:

I've got mud all over my beautiful white rocker bottoms. What do I do?

a:

There is good news here and maybe some bad. If they're white, they're probably cleanable. Check the manufacturer's directions to see if they can safely be put in the washing machine with a little soap and then set out to dry. If they are not washer safe but are mesh or canvas:

1. Remove the insole (to protect any cork) and soak the shoes in a bucket of warm water to dilute the tea
2. Remove and allow the shoes to dry in a warm spot until thoroughly dry
3. Wet a soft cloth with warm water and a little soap and gently wipe down the shoe all over
4. Rinse the cloth well and use it to remove any residual soap
5. Dry the surface with a separate cloth and allow the leather to dry
6. You may need to retreat shoes for water resistance after they've been soaked or washed