Best Waterproof Shoes and Mids
In a
Hurry? Editors choice: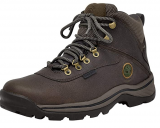 Test Winner: Timberland White Ledge

Waterproof shoes are an extremely good investment in our opinion, especially if you live somewhere that there's a lot of rain or snow. Many pairs of shoes have been ruined before their time due to moisture seeping into the fibers and corroding them from the inside out.
Whether you are looking for regular everyday shoes or boots to wear to work, or durable
water walking shoes
, there are many waterproof options out there.
Sure they might cost more than the tennis shoes you can snatch at the local department store but they also last considerably longer, meaning you save time and money. Do the math; one pair of higher-priced shoes for up to 2-5 years or a pair of cheap shoes every season (four times a year).
The answer seems obvious, right? So keep reading to find the ten best waterproof shoes available in 2021.
Standout Picks
Criteria Used for Evaluation
Fit
Finding a perfectly-fitting pair of shoes can be like finding the holy grail; there are so many brands, styles, models and makes of shoes that it seems like it's next to impossible, especially when you are shopping online!
Fear not, as we've ranked each product on our list for their fit and trueness-to-size to help guide you in finding the perfect match for you.
To come up with a score for the fit of a shoe, we considered several factors, like the ones mentioned above, in addition to real customer reviews, to help boil down everything into one simple score.
For example, Nike tends to make shoes that are true-to-size, meaning that you can buy a pair of 11s one year, and another pair of 11s next year in a different model and they will usually still fit (unless your feet have grown or shrunk). A brand like Nike will most likely have a high score when it comes to fit, but the other variables in play, such as make, model, and purpose, will also affect the overall score.
Consider that a running shoe, with its thicker midsole and a synthetic sole, might fit differently than a flat shoe, with its thinner midsole and hypothetical leather sole. Each of these shoes, even if they are both from Nike, may have similar scores for trueness-to-size, but a size 11 in one might not be the same as an 11 in the other.
What's a reader to do in this case? You must also consider the purpose and type of shoe it is. Knowing what kind of shoe you are buying, and for what purpose, will help you make a better decision.
Materials
It should be ridiculously obvious that when looking for waterproof shoes they should be made from waterproof materials right?
Each item listed was carefully researched to be sure that they were capable of saying "no" to water. Below you will find the materials and what they are made from:
Gore-Tex (GTX):

GTX material is made out of several different materials to create the ultimate waterproof products. Fluoropolymer products are what is mainly found in Gore-Tex, which has been thermo-mechanically expanded so that it can be used in different ways. It is mostly used in rainwear and waterproof shoes but can is also traced in gaskets, sealants, and medical implants considering how well it keeps out moisture.
Leather:

If you know shoes then you must know that leather is one of the best natural materials in the waterproof category. Just remember that is it not water-resistant, there is a huge difference, meaning that the outer layer will soak up moisture and stain. This will make your boots look old and dirty, so be sure to treat them with a water repellant. On the plus side leather is a very thick substance that will keep water out of your shoes better than many others will and has natural breathability to let any vapors that build up out.
Rubber:

Look at your daily life and you will find a rubber just about everywhere. It is extremely versatile and used for several different products thanks to its variety of properties. Although most rubbers used by companies are synthetic to ensure they are longer lasting than natural rubber. It is used for tires, hoses, belts. Even in your kitchen, you will find a rubber. Liquids roll right off of it making it an ideal material in waterproof shoes.
Style
One of the most frustrating things about shopping for waterproof footwear is that, most often, it's either made for hiking or entirely constructed with rubber.
While a lot of people will do just fine with a pair of mid-height hikers, or a pair of wellington boots, there are also those who require footwear that will keep them dry on their commute to work, and that will be office-appropriate. The list above features a variety of styles, for all types of wear - from active, to casual, to professional and even formal.
Sneakers:

Getting a pair of sneakers you can wear in wet conditions shouldn't be too difficult, seeing that most manufacturers will make their most popular styles is waterproof versions as well. If you can't find a GTX version of your favorite waterproof running shoes, try taking a look at trail runners, as these will often have waterproof membranes and aggressive soles that will work great in wet climates.
Hiking Boots:

The type of footwear most likely to include waterproofing, hiking footwear is made to be used in all sorts of weather conditions, often including rain and snow. These are a great casual option for waterproof hiking shoes, especially considering that they are likely to include a great shock absorption system, and usually have a moisture-wicking lining to keep your feet fresh and odor-free, even with strenuous exercise.
Work Boots:

Slightly less bulky and athletic-looking than hiking footwear, work boots will work better in an urban environment. Most often, these will feature a leather upper that's been treated to be waterproof or water-resistant and will look great with a pair of jeans, making them appropriate for most outings and casual workplaces.
Formal Shoes:

This is the most difficult type of shoe to find in a waterproof version, simply because most people don't require formal footwear that will stand up to wear in bad weather. Nonetheless, if you work in a setting that requires you to wear a suit, and don't want to change your shoes once you arrive at the office, there are several Oxfords that you can get with a waterproof leather upper.
Midsole
The midsole is designed to provide cushioning and shock absorption to the shoe, nestling the foot in comfort.
Whereas running shoes tend to have thick midsoles, flats and thinner shoes not designed for high-impact activities often have thinner midsoles.
The reason for this is simple: you need more shock absorption and vibration dampening during high-intensity movements or activities to maintain comfort and prevent foot injury than you otherwise would with a regular shoe, flat or sandal.
Midsoles are often made from EVA (ethyl vinyl acetate), a synthetic plastic also used to make insertable orthotics. A firmer type of EVA for the midsole will make the shoe heavier, but more durable; whereas a softer type of EVA, like those found in running shoes, improve shock absorption, but wear much quickly.
Another part of your footwear you should keep in mind is the insole. The insole is the proverbial foundation of the entire shoe. The sock liner lays on top of the insole, which is then fused to the midsole, and finally the outsole. A firm insole will give good structure to a shoe and increase its stability and durability, but it will also increase the weight of the overall product and be less comfortable.
A softer insole might be more comfortable, but that comes at the expense of stability and durability. We tried to balance these weights when evaluating our products, but each reader and wearer are different, so be aware of this trade-off.
The final word on insoles is that the higher the score the product receives, the firmer it will be; however, it might also mean the insole experiences one of the trade-offs discussed earlier.
Outsole
The outsole, or more simply, the sole of the shoe, makes direct contact with the ground and therefore supports the entire foot and body when in motion.
Needless to say, a poorly-constructed outsole will lead to discomfort, slipping and foot or other bodily injuries. For this reason, many manufacturers use materials that are water-, weather-, heat-, and impact-resistant.
Depending on the type of footwear, one will often see outsoles made from natural or synthetic materials, such as PVC, EVA, rubber, and leather. Each of these has its advantages, depending on the shoe's purpose; however, as a general rule, they each are resistant to the aforementioned factors. They are also flexible enough to support a proper foot cycle when in motion, but they are not so flexible that they feel like a pair of socks.
A sole made of the materials above tends to score higher on our product evaluations, as they are not only comfortable but also support other criteria, such as "support" and "durability".
8 Best Waterproof Shoes Reviews
1

. Timberland White Ledge
Topping our list is the Timberland White Ledge, as the waterproof version of the regular White Ledge model. It keeps style in a hiking style of boot, with rugged durability, and oiled-leather for a waterproof finish. Rustproof hardware adorns the lace up vamp, and plenty of cushion and comfort technology line the boot for keeping your feet happy during wear. It's a great boot for on the town, work, or hiking in the mountains!
The White Ledge was made for hiking through gravel laced trails and rooted paths through nature, knowing full well you'll encounter some wet elements along the journey. The oiled-leather finish helps maintain the leather's weather-resistant seal to moisture and is made for rain, creek crossings, and wet slippery conditions. Dual-density EVA footbed gives support and cushion, and is removable should you prefer. Padded collar and gusseted tongue keep it plush to the feel.
The lace-up vamp of the White Ledge contains rustproof hardware, making a speed lace system with top lace hooks secure and resistant to the elements. The rubber sole gives ample traction and durability for those long hikes or hours on the worksite, with multidirectional traction lugs to help you keep your stability. The pull-on loop helps make these a cinch to take on and off.
For a pair of quality waterproof shoes, the Timberland White Ledge is quite reasonably priced and is one of the more budget-friendly options for the brand itself. Waterproof oiled leather helps protect you against the elements, and rugged sole provides traction for tougher hikes and scrambles.
2

. Adidas Terrex Swift R2 GTX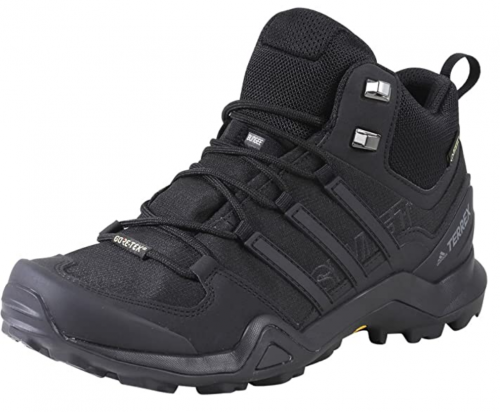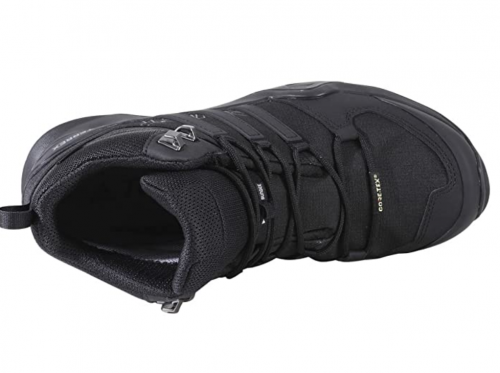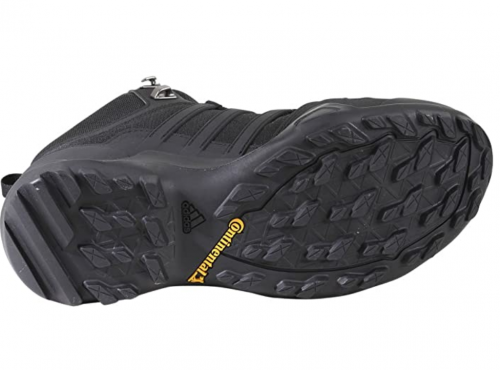 When it comes to tennis shoes, Adidas is definitely a go-to for someone wanting something they know will work the way they want it to. What a lot of people do not know is they don't just offer regular running shoes but outdoor shoes as well. If you love your everyday shoes by Adidas and do not want to ruin them on woodsy excursions then grab a pair of the Terrex shoes. They come in a variety of colors to appeal to all tastes.
Your heel is where a lot of the impact will resonate with each step because it goes heel, ball, toes (for the majority). The initial shock of contact with the ground can ripple up into your legs, hips, and back causing some uncomfortable soreness later on.
The Terrex shoes have adiprene underneath the heel between the insole and outsole to cushion said impact and lessen its harmful effects. Adiprene is an advanced tech originally created by Adidas but is now being found in other shoe brands as well for its strength and absorbency.
Thermoplastic polyurethane (aka TPU) is a flexible man-made plastic that is layered over top of the outside materials for added durability. How many shoes have "died" because the outside just could not hold up to the elements and general wear? So many. Luckily Adidas uses the TPU as an overlay to protect your aesthetic and keep the waterproof trainers looking new and "fresh" longer. Be prepared to be asked if you got new shoes all the time since they will always look "on fleek".
They have so many other benefits such as optimal grip, gore-tex lining (the waterproof aspect), breathable mesh and the fact that they are lightweight making them quite the steal.

Another hiking style of boot, the Merrell Moab 2 Mid has plenty of Merrell tech to keep water out of your boots during hikes and explorations. Loads of support and stability technology help keep your feet in the best position possible to continue hiking, walking, and scaling over boulders. Plus, with all the comfort and cushioning, it makes for a formidable boot when battling the elements or the trail.
The Merrell Moab 2 Mid keeps its waterproof status with Select DRY technology to seal water out, and keep you dry. It allows moisture to escape as well, so should your feet be damp from hiking, this tech helps divert perspiration away from your feet. Breathable mesh lining, and closed-cell foam tongue keep moisture at bay, and debris out of your boot.
Merrell added an air cushion heel to help absorb shock, while removable insole and a blended EVA contoured footbed give you cushioned comfort. Zonal arch and heel support help give stability along with the nylon shank located at the arch. Rubber sole gives wonderful traction and grip, and protective toe cap helps against the occasional toe stubbing against roots and small rocks.
For a hiking boot, it's reasonably priced, and comparable to other brand name hiking boots. For a waterproof shoe, it may hit the higher end of our price list, but well worth it for outdoor enthusiasts if in search of a new waterproof hiker. Breathable, waterproof, cushioned and stable, the Merrell Moab 2 Mid is great for weekend adventures in the mountains!
Realtree is definitely a widely known brand even by non-hunters and non-workers, just head to your local big-box store and you will find an assortment of products that say Realtree (i.e. hats, hoodies, leggings). They also represent and sell products for other smaller companies such as Danner. The Pronghorn hunting boots by Danner have everything you could want and maybe some things that you did not even know you wanted.
They have a specially made construction of GORE-TEX (or otherwise known as GTX) liners inside the fourth generation Pronghorn to create a watertight seal. If you are wondering whether this affects the amount of space inside the boot for your feet, the answer is no. Along with the new additions in the 4th gen, Danner made sure to account for this so there will be enough room inside.
The Pronghorns have what is referred to as a Terra Force platform that provides the same support and stability as orthotic inserts. This way you will not have to worry about arch pain or spending more money on inserts to keep the hunting trip comfortable.
With 1200 grams of insulation and partial locking laces plus the aforementioned perks, finding a better deal is slim to none chance. Danner could actually, charge more for these boots considering the high-end qualities they possess. For example, the dual-texture rubber sole that keeps a grip on any surface like gravel, grass, or mud. Tack on the waterproof and you have one of the most innovative generations of boots this year. Quite the value.
The North Face. Phew. Another top dog brand that provides some of the most excellent products in the outdoor market. Is there anything that they cannot do? Well, we aren't sure but here is something they can do; make some amazing hiking shoes. Add all of the benefits of a regular hiking shoe times ten and you will have the 109 shoes by North Face. This includes using mesh, leather, rubber, and EVA which if you are not aware are the best materials to have in any kind of footwear be it walking shoes, boots, or even sandals.
One of the most important aspects of any shoe is whether the outsole can stand up to different terrains and the elements. The 109's have what is called UltrATAC rubber outsoles which keep you on your feet in rain or snow as well as dry conditions. Multi-directional rivets also work with the rubber to ensure the wearer does not roll their ankle if they end up side-steppin an obstacle or miscalculating their landing when jumping from rock to rock. They protect the feet from harm heel to toe.
Something that tends to bother almost anyone is when shoes hold in the heat generated by their body temperature and do not let air in or out. Many shoes that are waterproof have a habit of being extremely stuffy, which can cause a number of problems such as athlete's foot. With the 109's this is a thing of the past, being that they are made of a GTX mesh-like "membrane" that keeps water out while allowing fresh air in.
They also have something others do not, which is a protective toe cape and snake plate to protect the entire forefoot from impact. But wait there's more! The insole is made of EVA and molds to your individual arch while compressing when needed. These are without a doubt the best waterproof walking shoes on the market.
6

. Timberland Earthkeepers Stormbuck
The ultimate classic style - a plain toe Oxford that comes in brown and black, the Earthkeepers Stormbuck is the perfect addition to anyone's closet. It will look great with a suit or jeans, and won't leave you with soggy feet after your commute in rainy or snowy weather. This shoe offers plenty of tech features for comfortable, all-day wear, and being by a reputable brand, you can expect it to last for quite some time.
The leather used in this model was sealed during the tanning process to make it waterproof, and the entire shoe was seam sealed during construction to ensure 100% water protection. Added to all of this is another waterproof membrane (one that's breathable for your comfort), ensuring you can wear these best waterproof shoes for men even in the worst of downpours.
The outsole uses grippy Gripstick rubber that won't allow you to slip on wet or polished surfaces, but will still put up with abrasive asphalt. The lugs on the outsole are multi-directional, which means that these will even work well on natural surfaces such as grass and dirt. The midsole uses anti-fatigue technology to absorb shock and protect your joints and muscles, and the fit is easily adjusted through the classic lacing system.
Another great thing to note is that these waterproof breathable shoes come both in medium and wide widths. In terms of cost, the Stormbuck ranks average, making it a great investment for most people.
A chukka boot with all the benefits of good hiking footwear, but stylish enough to be worn to work and on casual occasions, the ECCO Turn GTX is a good investment for most users. It features a soft, full-grain leather upper and uses a Gore-Tex membrane to keep you completely protected from the weather. Available in three color options, it'll be quite easy to match with a variety of outfits.
Ideal for cold weather, the Turn GTX features warm insulation to keep you warm in cold climates. Other comfort features include a generously padded collar and tongue to prevent them from cutting into your foot, as well as a perforated leather lining that will allow for plenty of air flow, keeping you fresh at all times.
In terms of cushioning, this model offers quite a bit. First and foremost, through the the removable insole that cushions your steps with a layer of foam. If you are someone who requires a higher level of arch support, you can easily replace it with your custom orthotics. The outsole is constructed with direct-injected PU and a stylish leather trim.
As for price, this model doesn't exactly rank low on this list, with a price that's quite high, but at with all footwear from this manufacturer, you can expect plenty of wear before the time comes to replace the shoe.
8

. Columbia Peakfreak Venture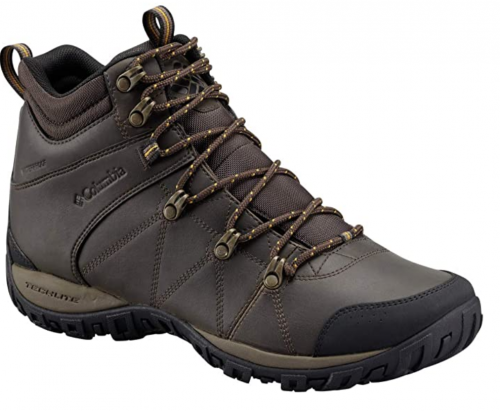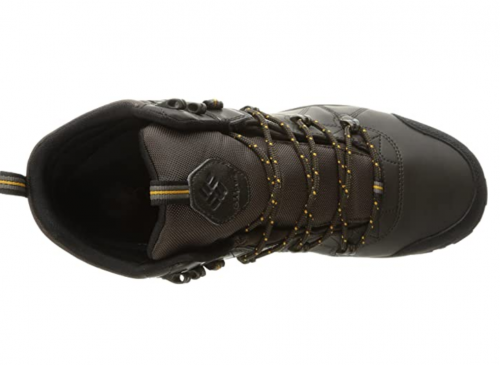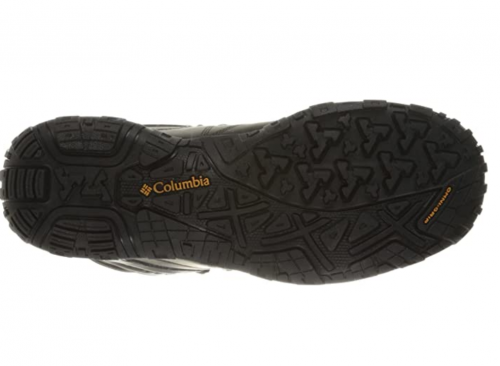 When you go somewhere such as Scheels or Cabela's, one of the main products they sell for outerwear is Columbia brand due to it being one of the seemingly more popular brands. Everywhere you go you will see people wearing something with the trademark Columbia stamp. The Peakfreak's are one of their most popular mid-boots since they are waterproof and comfortable for regular wear.
Specific to Columbia is its "Omni" technology, and these Ventures black waterproof shoes have the Omni-heat reflective liner. What this does is regulate your temperature with silver dots that reflect outside temps and it retains the heat created by your feet inside your shoes. This way you avoid any bulky interiors that do not allow breathability, a crucial aspect of your waterproof shoes.
We have all had it happen when your shoes start to detach and "rip apart" at the seams, thanks to moisture and wear. The Ventures have sealed seams and a membrane construction so that it flexes and stretches rather than pulls apart. The seal also keeps the water out and prevents soaking of the exterior to prolong the life of your waterproof shoes.
When buying name brands, especially Columbia, you will have to fork out a bit of pocket change, but this is normal. With all the quality aspects and brand-specific technology, you are actually getting quite the steal compared to the plain Jane shoes that use basic materials. They also last a considerable amount longer than other waterproof shoes thanks to their sealed seams.

Subscribe to our Newsletter