Best Water Shoes Reviewed for Wicking & Protection
In a Hurry? Editors choice: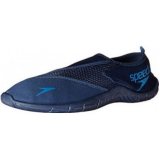 Test Winner: Speedo Surfwalker 3.0

You are looking for the best water shoes? So you like to hit the water, getting a thrill from
water-related sports activities
, relaxing at the pool, or you simply like to enjoy your spare time skipping through streams? Then, you must have come to a conclusion that
regular sports shoes
or everyday footwear will not fit your needs when they get waterlogged; you more than likely need a good pair of water shoes for women and men. You need shoes that protect your feet and are lightweight for longterm use. Water shoes are very different than shoes made for casual daily use, so we don't recommend trying to use your standard kicks for water polo. Take a look at our top 10 recommendations below to find the best water shoes for you.
Standout Picks
Criteria Used for Evaluation
Weight
Just like in every other type of footwear, the weight is a decisive factor at the moment of making a purchase. This all depends on what you're looking for, though. A casual beach-goer won't mind an extra ounce or two on their shoes; however, if we're talking about performance in any water sport, you should opt for a shoe that is as lightweight as functionally possible.
As the weight of the shoe reduces, certain qualities and performance aspects of the shoe will be reduced as well. For instance, a thin and lightweight build will prove efficient to someone looking for minimalism, but at the same time, these shoes will deliver considerably lower levels of protection.
If you're considering any sort of performance, it's important that you determine the aspects of such sport in which you'll need the most assistance from your shoe. Keep in mind that you may need to reduce some aspects in order to enhance others. If your sport calls for high levels of protection, you should opt for a thicker material, which at the same time will increase the weight of your shoe.
You will typically find water shoes with bungee lace systems and thin mesh uppers, with a relatively thin sole typically comprised of EVA rubber. Some of the more favored designs mimic the feel of a sock, but companies are also making water shoes that have more of a build to them, closing in on the style and protective capabilities a shoe might have.
Of course, the more material used to build the shoe, the heavier it will be, but since water shoes are not full shoes, they don't have every protective property and even the heaviest of them are more lightweight or flexible in comparison. Water shoes that can be used for hiking may be thicker and less flexible in comparison to what is known as a "wet shoe", but all maintain that level of flexibility that you won't have in a full-blown shoe.
Protection
Think; walking through water unknowing of what you will be stepping on next whether it be through rough rocks or other external hazards. Your feet are fragile and susceptible to a number of injuries and ways to become damaged if barefoot. Even navigating through a beach has its hazards.
People have been known to step on left behind objects, even needles, which has been reported washed up on beaches which are best avoided, to say the least. Not saying you will likely step onto anything in particular, but there's plenty of things you can step on that you would be best to have a protective layer between your feet and it while doing so.
With an adequately designed, quality water shoe, you can enjoy a barefoot feel with proper drainage without the exposing your feet to the jagged surfaces of rocks and hazardous materials the bottom of your feet may come into contact with.
Good Materials for Sole Protection:
-Thick Rubber
-EVA Foam
-Vibram
-Composite Blends
-Molded TPU
-Vulcanized Rubber
Always keep in mind that protection is a feature that must be present in all water shoes. Regardless of the discipline, you practice and how minimalist the shoes for such activity need to be, there should always be some dedicated space and weight to the protection of your feet.
It's a huge mistake to underestimate environments like the beach, as you never know what you'll step on next. Some users make the mistake of thinking they don't need any sort of protection to walk on rocks at the beach until they step on a water hedgehog or even worse – a sharp coral. Don't get it wrong, protection is paramount at any point during beach activities; sharp corals, for example, will slice your skin open with extreme ease just by stepping on them or making brief contact.
Traction
The grip goes hand-in-hand with the protection that the sole provides as it is generated by the very material used for the outsole, which is the bottom-most portion of the shoe that comes into contact with the ground.
Tread Profile: The tread profile is critical, and needs to be designed where water cannot be trapped underneath, but rather have outlets to be forced outward from the bottom of the shoe with each step. This is especially important as water shoes are regularly used in moisturized or even completely wet environments where the surface is slippery.
Outsole Pattern: The outsole pattern is not such a critical decision; there have been (and will continue to be) thousands of manufacturers and designers that claim their outsole design is the most efficient one when it comes to preventing slippage. The truth is that any intuitive outsole pattern is enough to reduce your chances of slipping – you don't have to break your head analyzing the patterns and reading explanations on how the shapes work. What is important is that you count with an outsole that allows multidirectional action and versatility. Certain water sports call for forceful and spontaneous movements that can easily out-force a low-quality outsole.
Movement: The grip of a shoe will react differently based on the direction in which your movements are directed. This also depends on the outsole pattern; in a sport like surfing, you should opt for a grip that holds you steadily together to the board as there are no lateral feet motions involved. However, a sport that calls for constant feet movements in all directions isn't compatible with a vertical grip.
Regardless of the purpose of your shoe, it must count with a reliable and strong grip. When looking for the best water shoes, we highly recommend that you keep your eyes on two things: the outsole material and the outsole pattern. The most optimal material for anti-slipping purposes is rubber and its other synthetic variations, such as vulcanized rubber.
If this is your case, we highly recommend you to look for an omnidirectional grip. This type of outsole will allow you to perform forceful movements in any direction while remaining in absolute control of your balance.
As you can probably guess, a shoe that is meant to be near water (or submerged in it) can easily become a slipping hazard. A non-slipping grip is paramount for this kind of footwear, as any slippage can quickly become extremely dangerous in environments like the pool, a boat, a dock, and a wide variety of surfaces.
Drainage
Just like with most shoes, you don't want your feet bathing in its own perspiration. The same can be said for the water that will inevitably find its way inside your shoe easily if you completely submerge them.
For this reason, a water-sealed shoe will not work for the situations in which you would find yourself using a proper water shoe for. Let's say you find yourself an adequately lightweight shoe that is extremely flexible, but the material that the upper is made of does not let the moisture from the inside escape effectively.
You will find yourself walking in a shoe filled with water, which is very inconvenient at the very least. This is why a water wicking or breathable shoe is just not good enough. You need ventilation and drainage.
A water shoe is more than just a shoe that you can wear under water. It's a pair of shoes that you can efficiently use when getting involved in activities and sports near water. As you can probably guess by now, an efficient drainage system is paramount in order to achieve an efficient wear, especially if performing sports whether it's practice or competition.
When we get into the water, some of it tends to make its way back with us stored in our shoes. This is one of the first things you want to prevent when using water shoes. The best water shoes are those that include a drainage system that clears your feet from any residual liquid once you've left the water.
There are two parameters that determine the quality of the draining capacity in a water shoe:
Effectiveness: We'll refer to effectiveness as the ability of the drainage system to clear as much water as possible. In order to achieve an effective drain, it's important that the perforations through which the water will escape are correctly placed in key areas of the shoe. If the draining channels were located on the upper foot. On the other hand, a channel system located in a lower position (underfoot level, for example) will make the water escape much more easily.
Speed: Speed, as you can probably guess, refers to the quickness with which the water will escape the shoe. The speed with which the shoe will drain the water will be determined by the size and amount of draining channels, as well as the materials of the shoe in general. This may make you think that bigger channels mean better, but in reality, the optimal size for these channels is similar to that of the drainage holes on the Crocs Classic.
Furthermore, the upper build of the shoe plays a big role in both the draining effectiveness and speed. A mesh-like material will make the shoe drain considerably faster, and it will also help ensure that as much water as possible exits the shoe.
Materials
Drainage Ports
These are holes either on the side of the sole or the bottom that allows water to flush out from the inside of the shoe.
Made of open mesh primarily
This means you will have a sole (preferably with drainage ports), but the rest of the shoe would be comprised of a permeable synthetic mesh upper to allow water to pass through.
Stay away from Leather
Leather naturally has water resistant properties, which will trap moisture inside the shoe. The only "water shoes" you should consider that are comprised of leather are those with a sandal design. Yes, there are some.
Moisture Wicking
This goes hand-in-hand with drainage and breathability, but is independent as wicking materials work by effectively pulling moisture away from the skin, outward. Even with proper drainage, your foot's surface will still hold moisture. This is where wicking material comes into play. Fleece works well for moisture wicking, but materials such as cotton or wool are not effective in this regard as they hold water in, and do not allow it to evaporate easily.
Top 10 Water Walking Shoes
1

. Adidas TERREX Parley DLX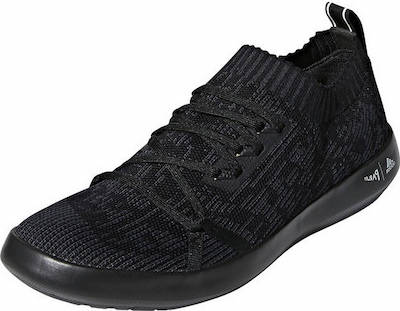 If you're after a high-performing pair of wet-surface traction footwear by a reputable athletic brand, the Adidas TERREX Parley DLX might just be the best water shoes for you. This simple sneaker looks like any other pair of casual shoes, with the one exception that it was made to perform in and near water. It's great to use for a number of water sports, including sailing, as well as visits to the community pool where you want to have more secure footing on slippery tiles.
The most interesting thing about this water shoe is the fact that the upper is made with a knit material called Parley Ocean Plastic that has been sourced in ocean and beach clean ups. Not only does this mean that you'll be investing in an environmentally friendly pair of footwear, but you'll also enjoy the benefits of high breathability, and excellent drainage in the upper. The sock-like construction feels great on the feet, accommodating all foot shapes.
The outsole is a Climacool one with covered drainage ports that helps speed up water elimination once you're out of the water. Covered with barrier screens, the outsole won't let debris into the shoe, preventing comfort issues. Triangular traction nodes do a great job at sticking to multiple surfaces, so, overall, you'll be covered for most activities you can think of. In terms of price, it is higher than average, but considering the fact that these will last you years without any issues, they're a good investment.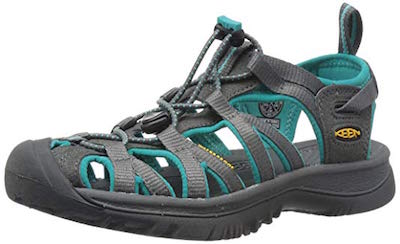 This is one of the water shoes you can purchase, and for more than one reason. It's made for active users who need premium comfort and quality for a number of activities, including those that include water. In true Keen fashion, the Whisper is anatomically shaped so as to support the foot, making it a great option even for those who suffer from foot health problems. It comes in a variety of colors, so you can choose the one that compliments your style best. While it may not exactly be appropriate for office wear, it can be worn on casual occasions in addition to your near-water activities.
The upper uses polyester webbing for moisture control, and a hydrophobic mesh lining that wicks moisture away from the skin, ensuring that the sandal dries quickly. Not only does this contribute to your overall comfort, it also prevents the appearance of bad odors, or bacterial/fungal overgrowth that can lead to unpleasant foot infections. The entire shoe has been treated with Cleansport NXT™ for natural odor control as well, so you really won't have to worry about stinky feet.
This water walk shoe has a metatomically shaped footbed that supports the arch and heel, and ensures proper alignment and a natural gait. Shock absorption is provided by a compression molded EVA midsole, and it's made specifically for women's feet, which require different features than men's shoes. A TPU stability shank provides torsion control, while the rubber outsole has deep lugs that work on a variety of soft, muddy, slick and hard terrains. It's also non-marking, so can be used inside without having to worry about ruining floors. In terms of price, this is one of the more expensive items listed, but considering all its benefits, it really is highly recommended to almost anyone.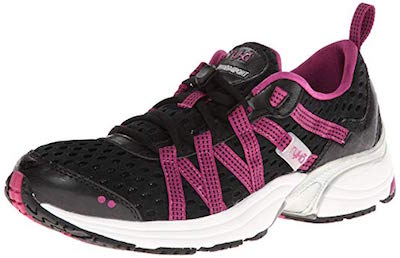 If you're after a pair of training shoes to wear near the pool, or just sneakers that you can wear to the beach or on the boat without having to worry about your safety and foot health, then the Ryka Hydro Sport water shoe is an excellent choice. This is a sneaker that was designed with one specific purpose in mind, and that is keeping your feet well planted on the ground, even if it happens to be wet tile.
The Hydro Sport is made with materials that won't deteriorate when wet, even if it's used in heavily chlorinated water. This sneaker features a synthetic and mesh upper that won't pick up water, and will dry easily, a textile lining and cushioned tongue and collar to prevent rubbing and discomfort, as well as special drainage ports to make water elimination faster and easier.
The outsole on the Hydro Sport is made with sticky rubber that'll keep you glued to the ground beneath your feet, without exception. The toe bumper is a nice touch, not only because it protects you from any unwanted toe injuries, but it also allows for a bit of extra traction at the tips of your toes. If you look at the Ryka Hydro Sport as water footwear, then it may rank slightly above average in terms of cost. However, as training footwear (which it really is), it comes at a price that's a bargain. This sneaker will do just as well for water aerobics as it will for physical therapy, nature walks, or casual everyday use near wet surfaces.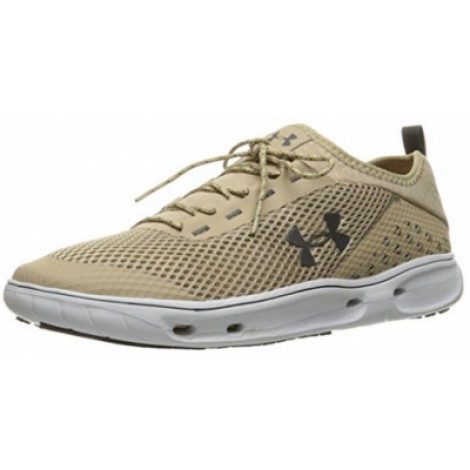 There's not much to explain here; everybody is familiar with the reputation of Under Armour performance equipment. Their water walking shoes are no less like any of their other successful products, as the Kilchis quickly became one of the most popular models upon release. Making sure you count the right features when hitting the water, Under Armour designed this piece in a lightweight, breathable, and very good-looking manner.
Easy-drain midsole
You just can't go wrong with the midsole of any Under Armour footwear; they're carefully engineered to maximize their function in relation to the sport they're meant for. This one is no exception, including a smart draining system within the midsole that optimizes draining time without affecting the original performance qualities. The perforated footbed adds yet another layer of cushioning and contributes to the drainage.
Fixed bungee laces
The Kilchis approach includes a lacing system that is completely independent of other Under Armour footwear. The laces are placed in a fixed position with a tension system. Tying your shoes is as easy as pulling the strings and lacing them together. The tension on the laced provide further support to the upper foot and guarantee the right fit throughout the whole day.
Cost
Just like the Speedo Hydro Comfort 4.0, this foot apparel consists of a dedicated water build rather than minimalist surfing footwear. The Under Armour Kilchis is possibly one of the most functional water footwear in terms of the depth and dedication of your performance, allowing you to access more functionality in comparison to slimmer and simpler water shoe approaches. A durable lifetime and UA's guarantee assure your money is on the right pair.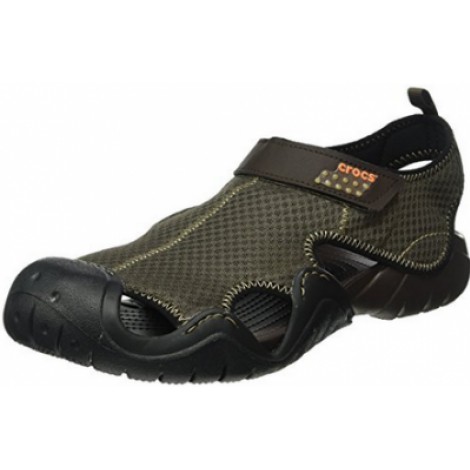 Realistically speaking, Crocs is, and will always be the most iconic sandal-type footwear brand. Their quality and comfortability are things known by everyone; Crocs is one of those brands that definitely formed part of our wardrobe at some point in our life (if not currently). The Sandal approach to the Swiftwater family is one of the most iconic water footwear, suitable for any activity in which your feet are close to water (or submerged in it).
Crocs' signature cushioning system, the CrosLite, has been a part of each of their products for a long time – and the Swiftwater Sandal is not an exception. The compression foam is molded by the pressure of your foot to deliver an optimal, personalized fit that comforts you throughout the whole day. The foam is highly durable and will continue to perform uniquely regardless of your weight, size, or sex.
Unlike their traditional design, the Swiftwater Sandal water shoe features a breathable mesh upper build. The mesh is water-friendly and makes the foot apparel easier to deal with underwater, providing slight upper foot protection from external elements. The easy-draining mesh retains no water and counts with strategic holes on the upper build to maximize draining efficiency. Crocs products, in general, are some of the most versatile sandals/clogs. The Swiftwater promises a respectable level of performance and efficiency on water for its price. Fairly below the average value of this list, the Crocs Swiftwater delivers a very good performance-value relation. The durable materials of this pair guarantee that your money is well invested in foot apparel that won't require replacement anytime soon.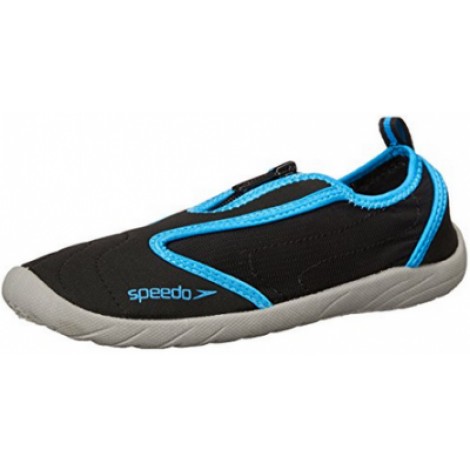 Unquestionably one of the most remarkable water shoes brand, Speedo water shoe makes it into our list at the third position with the Zipwalker 4.0 release. If you're not sure on what exactly you'll be doing, this is the pair you should be looking for – a simple an efficient solution for any activity on or under water. The design is inspired by surf, but its performance qualities make it suitable for a wide range of other water sports.
Soaked feet are possibly one of the most annoying experiences when wearing footwear on or under water. This is why the Zipwalker 4.0 allows water to quickly escape the shoe, also counting with water-friendly materials that will dry much faster than traditional builds. When you leave the water, it makes sure that the water doesn't come with you in your shoes.
Speedo's s-trac technology is a common feature amongst the Zipwalker series, except this year the Zipwalker 4.0 has received an updated s-trac outsole. The highly resistant and durable materials make sure that water disperses evenly on each movement, preventing slippage while providing excellent traction even while wet or moisturized. This outsole also prevents external objects from penetrating the foot apparel and harming your underfoot and the pool or the beach. Speedo applies a nearly perfect combination of functionality and affordability when it comes to their Zipwalker 4.0. This series is known for their high efficiency and low cost, taking into consideration the performance-enhancing technologies and features it includes for such a low price. Needless to say, the Zipwalker 4.0 is considerably below the average value and is the best value on this list.

7

. Merrell All Out Blaze Sieve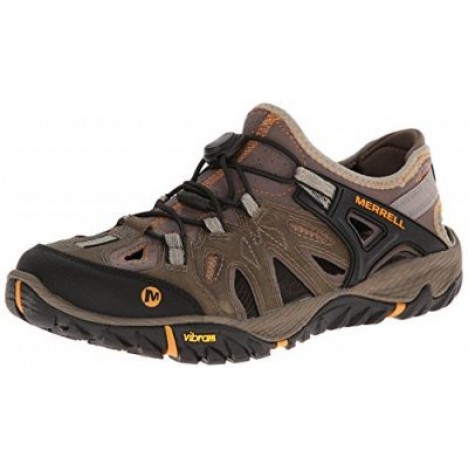 Merrell's AOB Sieve water footwear is a masterfully designed piece of footwear that will attack the terrain with no hesitation thanks to its Unifly™ midsole that will protect your feet from all kind of obstacles and terrains you might stumble upon, it's water-yielding properties will allow the foot apparel to dry quickly thanks to its Waxy Waterproof Leather Fabric Lycra.
This water-resistant upper will allow the feet to dry very quickly and no water will be enclosed within the footwear, allowing the wearer to avoid unpleasant feeling or wet feet, which also might result in sore and rubbed feet and painful blisters.
This midsole is shaped so that it efficiently activates the whole foot, distributing the workload of the feet, its design will minimize the terrain's roughness and, at the same time, will provide strong support for your feet. This midsole also offers supplementary agility thanks to the circular slugs. It would be a difficult task to find another pair of footwear that would provide the same amount of comfort and protection as these water shoes provide for the price you can have them.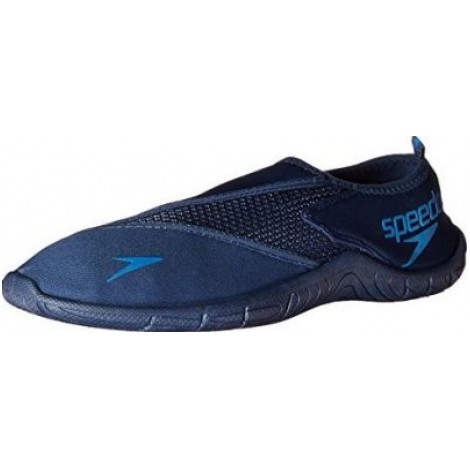 A perfect lightweight slip-on water shoes that will make your day at the beach unforgettable, comfortable enough to be kept on the whole day and light enough to go swimming without taking it off. The new S-TRAC TPR outsole for streaming the excess water away and the Air mesh upper is what makes this shoe to fall within our Top 15.
S-TRAC TPR technology streamlines water away from the bottom of the outsole, providing better grip with the surface and more safety for the wearer on wet and slippery surfaces.
Air mesh upper is what can be held accountable for the quick-drying property of this footwear and the weight, making this pair comfortable and allowing you to keep them on even when swimming. Another one of that lightweight, slip on shoes that do not seem much, but provides you with proper protection, are light and easy to put on and can be taken everywhere, for the price you can have them and the purpose - these are a good choice.

9

. Adidas Climacool Boat Lace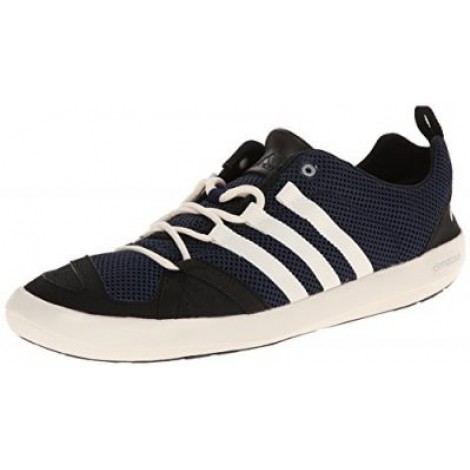 This foot apparel will not only be a great companion during your water-sports related activities but will also ensure that you look good in them at the same time - a feature, not all the water footwear can provide. Equipped with ClimaCool technology and the unique drainage system throughout the sole is made to perform best on a boat trip or on water.
This technology is designed to provide you with the best possible ventilation and moisture control and will increase breathability around the foot providing you far better comfort than most other shoes.
The unique drainage system implemented in this water shoe consists of the perforated textile footbed and perforated outsole that will shed the water from the shoe at maximum speed, keeping the inside as dry as possible. Although this is a very well-known brand this model will not cost a lot for you, and, considering the brand, the low price will not result in a bad quality shoe, this would cost a bit less than the average water footwear on the market.

10

. Columbia Drainmaker III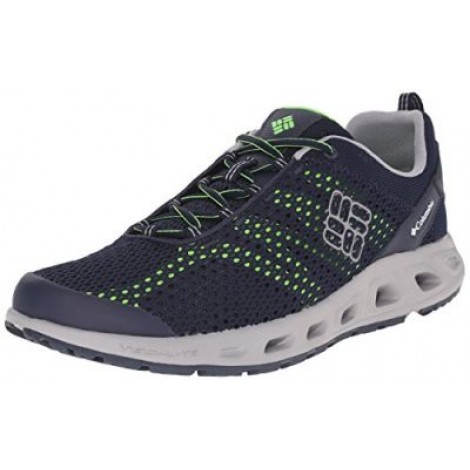 These water shoes are very porous and one of the most versatile in the range and will be able to protect your feet even on rough terrain and would be an excellent choice for sports for both - water and land. It has a high number of big drainage points built in the heel and forefoot section for quicker water shedding and has a razor siping outsole for better traction.
In this water shoe model the drainage points have been made bigger and increased in numbers, therefore increasing the speed of water drainage by 33%.
The outsole is made of non-marking Omni grip with razor siping, therefore allowing the footwear to get a grip on wet and slippery surfaces. Although this foot apparel is at the (considerably) upper side of the pricing tab, you would not regret spending an extra dollar on the reinforced cushioning and protection of your feet, if you enjoy active water sport.

Subscribe to our Newsletter