Best Scuba Fins Reviewed
last updated:
Apr 02, 2020
While you are searching for the best scuba fin for your needs, it's important to consider the following details: how much and how often you will be scuba diving, where you will be diving, and what the largest size fin is that you can transport to go on vacation easily.
There are hundreds of scuba fin models out there, which makes it quite difficult to make a decision. It can be tempting to just grab the first pair you see that has a fun pattern, is a color you really like, or is the cheapest. To get the most out of your trip, though, you need to take the time to find the best scuba fins at the best price for you.
In a Hurry? The test winner after 15 hrs of research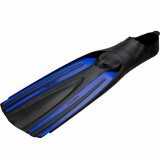 Oceanic Viper
Why is it better?
Easy To Carry
Full Foot Coverage
Multiple Color Options
Water Flow Engineering
Ventilation Reduces Pressure
In a
Hurry? Editors choice: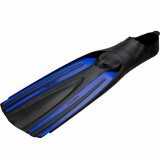 Test Winner: Oceanic Viper

14
Researched Sources
1100
Reviews Considered
15
Hours Researching
17
Products Evaluated
Size
Materials
Features
Style
Use
By Default
10 Best Scuba Fins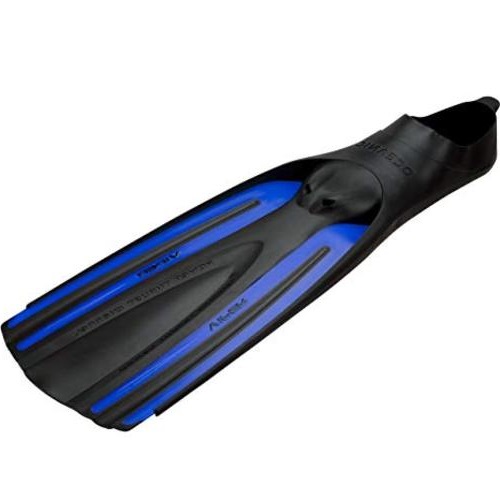 Easy To Carry
Full Foot Coverage
Multiple Color Options
Water Flow Engineering
Ventilation Reduces Pressure
Efficiency and power are the focus of these. Constructed for all skill levels in diving in snorkeling and they are very lightweight. You'll have quicker acceleration with stress and pressure reduced. Larger size compared to others, performance is increased for better propulsion and thrust. Eleven color combos are available to choose from.
This special feature helps to direct any water off the blade's tip. This gives you efficiency, power, speed, and movement that is improved and better than the competition.
The side rails and channels are engineered to help move the water flow off your product. Its engineering power lies in its ability to prevent water from spilling off the blade sides. Having a direct flow instead of a spill helps to reduce any compromise between movement and ability.
2

. U.S. Divers Sea Lion Jr.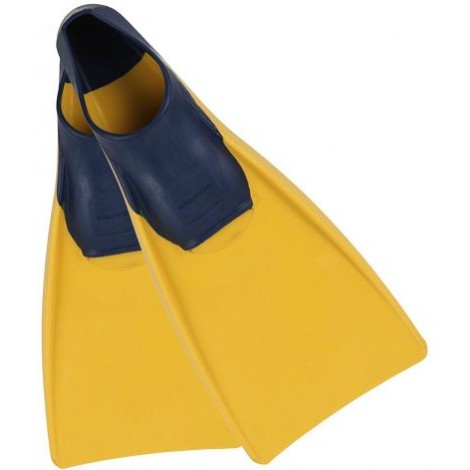 Compact
Full-Foot Pockets
Rubber
Sturdy & Buoyant
Designed For Kids
Sizing Runs Small
Material Scratches Easily
These two-tones from U.S. Divers are designed to be easy to use and to be a low-risk investment for young divers. They are made with a sturdy and buoyant rubber compound that increases the swimming performance of the person wearing them. The Sea Lion Junior is easy to transport and designed with small feet in mind.
These U.S. Divers juniors are short and compact, which makes them easy to transport. They are also the perfect size for children and people with small feet. The full-foot pockets on these conform to your foot to allow for the most secure fit. They also protect your feet so you don't have to wear diving booties.
These juniors are quite affordable, as they have the lowest price points on this list. They're perfect for novice swimmers and children looking to try out diving.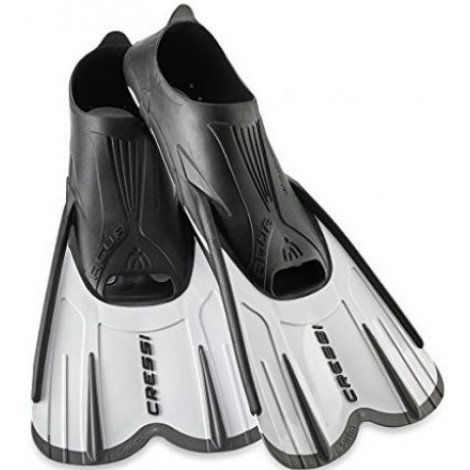 Self-Adjusting Foot Pocket
Hydrodynamic Rails
Durable Blade
Soft Rubber Foot Pocket
Short Blade
Flexible Blade
The Cressi AGUA SHORT is available in a handful of color schemes, but it is also a dynamic and effective option for beginners and experts alike. The flexible below foot blades are quite short, which makes them easier to put on, easier to wear, and reduces the amount of effort required to propel yourself forward in the water.
The Cressi AGUA SHORT comes with a soft self-adjusting foot pocket which effortlessly conforms to your foot to provide you with the very best fit possible without squeezing your feet.
The hydrodynamic railing on the Cressi AGUA SHORT is designed to support your feet so it takes less effort for each kick and helps you propel yourself through the water.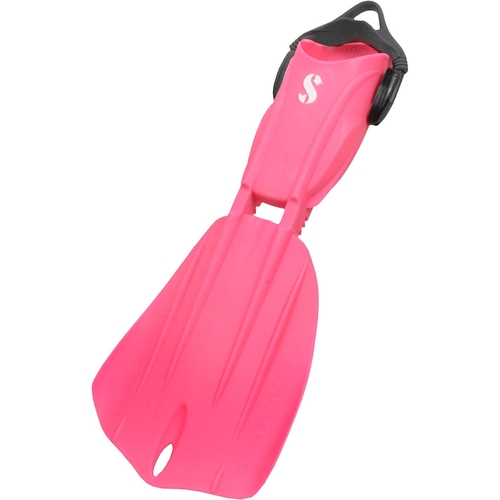 Enhanced Thrust
Flexible Pivot Joints
Adjustable Heel Strap
Increased Speed Agility
Strength Against Currents
Acceleration, maneuverability, and power is the name of the game for this fin. With a paddle-like design, your scuba activities will have support with comfort, speed, and efficiency. Thrust is possible with joints that pivot, free-flowing water with reduced drag on the blades, and the foot pocket is ergonomic for reduced leg strain. The construction is Monprene and seven colors are available.
Pivoting allows for an object to oscillate or turn. The Nova has tech that controls the pivot to provide an angle of movement that is efficient and maintained regardless of how you move or how soft or hard you kick. Thrust is greatly generated and unnecessary energy and drag are reduced.
Monprene is a thermoplastic elastomer compound (TPE) and gives a feel that is soft-like, flexibility, stretch without compromising on the strength. This is a blend of polymeric resins for various textures, hardness, and natural properties to provide you with the best scuba swim.
5

. U.S. Divers Proflex II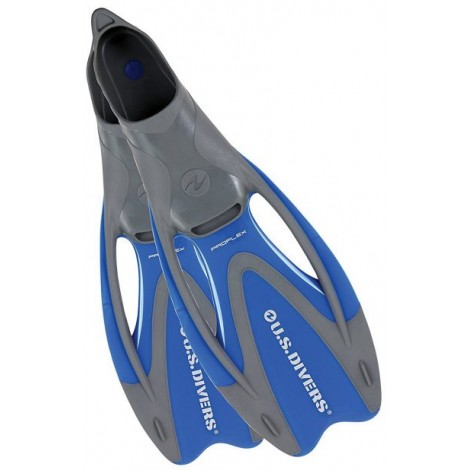 Vented Blades
Silicone Full-Foot Pocket
Dual-Composite Blades
Long & Slim
Rubber
The Proflex II snorkel fin comes with dual-composite blades, which alternate between firm rubber and flexible silicone materials. The ribbing on these allows your foot to cut through the water more easily by mimicking the horizontal and vertical fins on fish. The vents allow water to pass through and reduce water turbulence and double as handles for easier transport.
There are three vents on these. The toe vent allows breathability and comfort for your forefoot. The vents on either side of the foot pocket make each kick easier. The soft silicone pocket encases your entire foot for a snug but comfortable fit. This makes your dive more comfortable. It is also flexible, so it's easier to put on.
These are available in the low price range, making them an affordable investment for your next dive. This product is also versatile and good for scuba diving and snorkeling.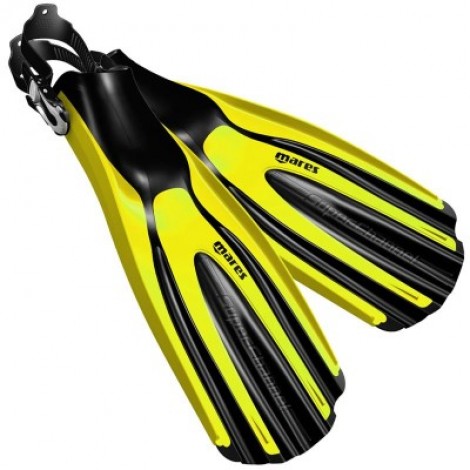 Stable Fit
Advanced Technology
Great For Long Use
Durable Construction
New and improved, Mares Superchannel offers you a huge super-channel plus the standard side channels. Ensuring your legs continue to feel great the thrust you get while wearing these is amazing. This fin also features dual stabilizers keeping the wobble out of your kick cycle. In addition, this helps you maintain your power level. When in need of a product that will keep you going through hours of adventure, look towards the Mares Superchannel.
Mares uses Channel Thrust Technology to ensure your scuba fin gives you the most power through the thrusting phase. This helps ensure your legs feel great for long-lasting enjoyment. When looking at these, you will find better water movement due to the superior water channeling.
These are exceptionally flexible. This allows the water to travel down the blade without spilling over the sides. When your fin allows side spillage it causes more effort on the wearer. Keeping the water moving smoothly will also keep you gliding through it with ease.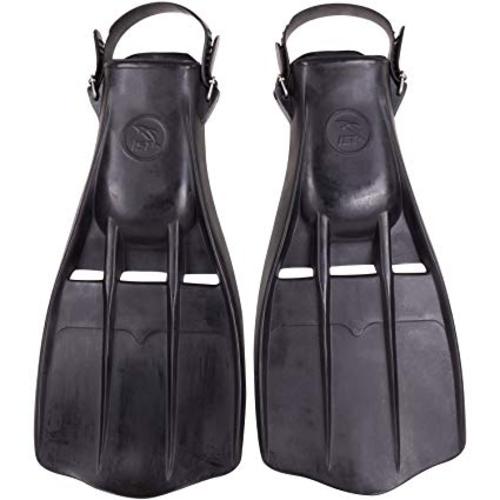 Great Rubber
Top Military Choice
Powerful Curved Blade
Comfortable & Durable
Efficient Water Flow Vents
These simple and no-frills give you a number one fit with powerful propulsion, speed, and engineering. The construction is rubber for flexibility and strength that withstands extreme temperatures and environments. A blade that's curved provides powerful kicks, the ribs are hydrodynamic for the greatest energy return, and the turbo vents give a jet-like acceleration. An optional spring strap is available for an extra supportive fit.
The rubber is very strong helping to reduce wear and tear and prevent the durability from losing its stiffness. This will also give you a fit that is snug to help reduce any drag while still remaining comfortable. Also, the power is enhanced to be very reliable thanks to the material.
You will have better propulsion and thrust as the blade is stiff and the different grooves help to move water in and out of the channels. The curvature of the blade and its ribs, that are structured, give maneuverability for a kick that is springy.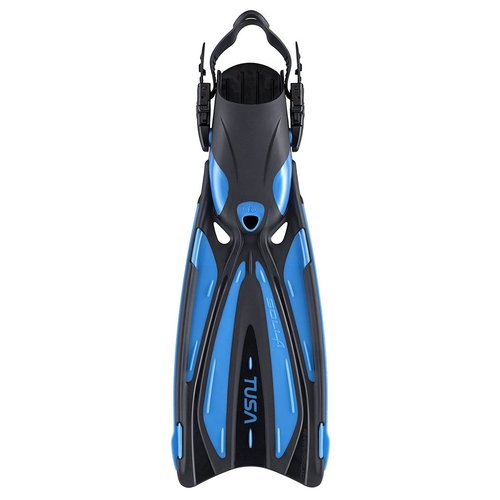 Blade Is Angled
Performance Technology
Maximized Propulsion Tip
Anatomic Comfort Design
Power Transfer Compound
With a new and improved design, different features provide great maneuverability, propulsion, and speed. A unique technology enhances performance and specialized design for better flow and movement. The foot pocket is anatomic and multi-compound with a fin strap that is anatomic for superior fit and support. EZ system buckle for easy on/off and the come in eleven color combos.
This cool and unique fin technology uses a compound called proprietary thermoplastic elastomer (TPE). It's smartly positioned within the blade and structure of the foot pocket for better advancement. You are provided with top efficiency, propulsion, and speed that has a power input.
The current pricing is slightly more expensive than average. As with others, the more features the higher the cost. If you are serious about scuba diving, however, having a dive that is fun, safe, secure, and enhances your experience is much more important and makes the price well worth it.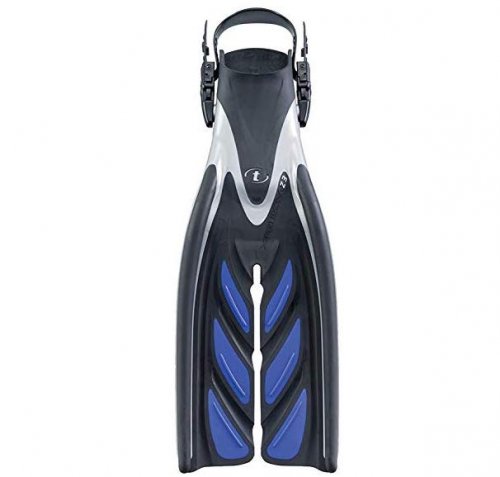 Adjustable Heel Strap
Short Blades
Open Heel Foot Pocket
Durable Ring Strap
Not For Turbulant Waters
Can Be Stiff
These TUSA X-Pert Zoom Z3 swims are designed for snorkeling, but they can also be good for scuba diving. They come in six color schemes so you're sure to find one in a color you like. The TUSA X-Pert Zoom Z3 fins have adjustable straps and short blades, which make them much more convenient to use than some of their longer peers.
The heel strap on these fins is adjustable and can be loosened or tightened to provide the best fit. The more secure the fit, the most comfortable you will be. The short blades on these fins are sturdy and durable. These scuba diving fins are also easier to transport and to put on than longer scuba diving fins.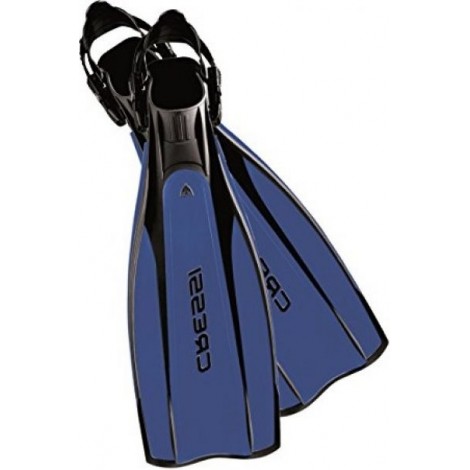 Dual Material Blade
Under-Fin Foot Pocket
Open Heel
Rubbed Insole
Full-Length Side Rails
Channel Thrust Technology
Anatomical Foot Pocket
Adjustable Binding System
These come with more technologies built into them than many of the scuba and snorkeling fins on this list. These are built to enhance your performance. These powerful products come with dual material blades and an anatomically designed under-fin foot pocket to enhance your diving experience. They also have an easy one finger release system for your convenience.
These Cressi brand fins are made with thermoplastic rubber and polypropylene technopolymers. These materials make them more durable and more flexible, which gives you more thrust as you swim.
The under-fin foot pocket in these Cressi fins gives the fins more surface area. The pocket itself has soft expansion sides and a ribbed insole. It is also anatomically designed.
Criteria Used for Evaluation
Expert Interviews & Opinions
Most Important Criteria
(According to our experts opinion)
Experts Opinion
Editors Opinion
Users Opinion
By Default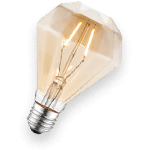 Caring For Your Gear
Scuba equipment requires a good bit of maintenance, but thankfully, yours are easiest to clean. Using a mild dish detergent and water, apply the soapy mixture to the fin, and use a gentle brush or rag to remove salt or dirt. dry with a clean towel, or let them air dry.
Scuba Adventure Trips
If you're newer to the sport, or perhaps more advanced and looking for something different, there are plenty of online resources for adventure trips involving scuba dives. Most range in price, depending on the length of your trip, but cover famous reefs and deep dive spots around the world. Once you've got your new products, take them out for an adventure!
Other Factors to Consider

Bottom Line
We are here to help demystify your search. We have curated a list of the ten best scuba fins complete with individual reviews highlighting the best features and the pros and cons of each entry. Our list includes scuba fins for adults as well as for children. By the end of this guide, you will be able to find a stylish and effective scuba diving fin in plenty of time for summer.
Frequently Asked Questions
q:

Who makes the best scuba fins?

a:

Most of the fins on this list are from U.S. Divers and Cressi, which make great scuba, snorkeling, and swimming fins. However, there are other notable brands that make great scuba fins, such as Wildhorn and Seavenger.
q:

I have wide feet. Are there scuba fins that won't squeeze my feet?

a:

Yes! Look for fins that have flexible neoprene foot pockets and other stretchy materials. These materials will still fit snugly even though they stretch to accommodate wider and larger feet.
q:

Which fin materials are the best for scuba fins?

a:

Thermoplastic rubber is the most common and most effective blade material for scuba fins, but softer elastomers, such as neoprene, are best for the foot pocket.
q:

Which fin shape is the best?

a:

Sometimes simpler is better. Many divers believe that the tapered rectangular fin shape is best. It's also easier to produce and cheaper.
q:

Which is better for scuba diving: a long or short fin?

a:

Longer ones are generally better, but many of those on this list have shorter fins. Shorter fins are easier to transport and those on this list are of higher quality than some longer fins from other manufacturers. Many short fins are designed so that the blade of the product actually starts higher up on the foot pocket so it maximizes the surface area of the shorter blade. This more or less makes short and long scuba fins equally effective.
Subscribe to our Newsletter