Best Swimming Shoes for Pools and Water Sports Reviewed
In a Hurry? Editors choice:
Test Winner: Promate Beach Dog

We don't often think about swimming as an activity that requires footwear. But, if you think about your health, you may change your mind. Damp places such as pools harbor bacterial growth, which can cause quite a few health issues. Additionally, if you're on the beach and enjoying your stroll through the sand or the water, there is a chance that you could step on broken glass or something equally hazardous. These reasons are plenty to warrant the fact that you should rather find the best swimming shoes than go barefoot.

Whether you want to look stylish or have complete traction and control of your movements, there is a pair of swimming shoes for you. In our list, we have a multitude of brands that are loved by surfers, swimmers, and kayakers all over the world. Behold! The best swimming shoes reviewed and rated from one to ten.
Standout Picks
Criteria Used for Evaluation
Water Resistance
The important thing in this section is to distinguish between swim shoes that are water-friendly and those that are waterproof.

Waterproof footwear exists, but this isn't what we're talking about in this guide. This style is reserved for boots, for options that one wears in the snow, in the rain and mud, when working in extreme conditions (for example, when cleaning horse stables). Waterproof means that not a drop of water gets past the material of the upper and the sole, and that your feet are completely dry at the end of the day when you take off your footwear.

Obviously, water designs such as the ones in our list, are not waterproof.

However, they are water friendly.

Water-friendly means that a design is okay to get splashed, and even completely submerged in water. It means that its seams won't disintegrate, that its sole won't separate from the upper, and that the design, in general, won't stretch out into a shapeless, useless thing after you take a single dip in the ocean. Water-friendly footwear remains intact no matter how many times you wear it in wet conditions. That is what we're talking about here, as all of our items are water friendly.

In addition to that, they are also quick drying. This is important because no one likes walking around in wet footwear for long. You probably won't be spending all of your time swimming, so it stands to reason that you might also wear your footwear around the pool or the beach, to grab a bite at the nearest food stall, or to take a walk on the nearby pier.

Quick-drying footwear is a great option for when you want to wear it both in the water and on land, and you don't want to have cold and damp feet all day long.

In conclusion, when looking for great swimming shoes to take with you on your next beach adventure, definitely opt for water-friendly and quick-drying, and you will have absolutely nothing to worry about!
Flexibility
Have you noticed that some of the designs listed above are thin and some are even called a sock? This is something that you want in swim shoes, because if you can't fold it up, then it's not going to be able to let water through very well. Thicker options have trouble draining water out of them, and they also have a much slower drying time.

Flexibility is also important during the act of swimming itself. When you're in the water, you need to be able to flex your feet properly for any kind of stroke (like the backstroke or the butterfly especially, which need pointed toes). This can be somewhat difficult when wearing footwear, but a flexible design should allow you to perform naturally, and shouldn't hinder your in-water movement in any way.

There's also the fact that if you're going to be swimming in a natural water source, like a lake or the ocean, you need to be able to grip the ground and push off, especially if you are going snorkeling or diving. A stiff design won't be able to help with that, and you need one that provides you with almost the same feeling you have as though you were barefoot.

Lastly, the benefit of completely flexible design is that you can roll it up and stuff it in any kind of bag you need to. These options don't take up too much space and are so easy to pack for traveling. You won't even feel that they're there until it's time to bring them out and go for a swim!

Flexibility is not a crucial aspect of this category of footwear, but, as our Criteria shows, it is one of the top five most important ones. When it comes to water footwear, always go for more flexibility and more movement, though not at the cost of accidentally getting a design that is too flimsy and completely unsupportive. Find a good balance between the two, and you have a winner!
Comfort
If you're going to wear these swimming shoes both when in the water and outside of it, you're going to have to be comfortable all throughout. And the standards for determining whether a design such as this is comfy or not are a little different compared to regular footwear.

Usually, right off the bat, you should know that water designs don't have much of a footbed. It won't be cushioned, and it won't be contoured, and you can forget about arch support. These options are not meant to be supportive, and if you are looking for something that will keep you comfortable as you embark on long strolls and sightseeing tours, then you should look elsewhere.

However, that doesn't mean that you should settle for hard and stiff and unyielding. As we mentioned in our previous section, flexibility is key, and thus you would do fell to choose a flexible, easily manipulated design.

The second feature to keep in mind in regards to comfort are the materials the design is made of. We've already mentioned some, like polyester, mesh, neoprene and similar, and while all of these are great, water-friendly shoes, they can vary greatly in terms of comfort.

Before you commit to a purchase, you need to make sure that the upper isn't rubbing you the wrong way. There shouldn't be any chafing or abrasions, and no seams should be digging in the sides of your foot.

Any touch of discomfort that you feel in the initial wear will only grow worse as time goes by - especially when you introduce moisture into this equation - and you will likely end up with the most uncomfortable footwear ever.

Once again, we reiterate: flexibility and soft, gently hugging materials that don't cause hot spots or blisters. That is what you need, in terms of comfort, when choosing the best swim shoes.
Outsole
While this may not be an issue at a public pool - though even that is up for debate - by a river, a lake, or by the sea, there are dozens of dangers lurking in the ground. Hidden in the sand, in the waterbed, we can find sharp rocks, pieces of glass or trash, metal, and even unfriendly fish just waiting for you to step on them and puncture your foot.

This is why having a good, protective outsole is important. This type of outsole will prevent you from accidentally impaling yourself on the horrors at the bottom, and will save you from pain and the visit to the doctor's that it entails.

Mind you, an outsole that provides sufficient security doesn't have to be too thick. A lot of the models on our list have quite thin outsoles, considering, but they are still protective enough so that you can explore the shallows as much as your heart desires.

One more feature regarding the outsole is that it has to have good traction. You need good traction and grip when you're taking on rough terrain such as sand and rock, but even more so when you're walking - or even running - on sleek, tiled floors that usually surround a public pool. Wet conditions are a hazard as there are puddles everywhere, and an outsole with good traction will save you from slipping, skidding or taking a fall and seriously injuring yourself.

So two things to keep in mind regarding the outsole of your swimming shoes: that it is protective, and that it provides good traction. Both of these features will save you from many headaches down the line.
Versatility
There isn't always time to run and change your swim shoes after a day in the water, especially since putting socks and regular sneakers over dirty feet isn't something we really enjoy doing.

Yes, your feet will get dirty if you touch the ground with them while they're wet and as a result, the sand and dirt particles will dry onto your feet. No, it really doesn't feel good when later in the day a splinter randomly stabs itself into the ball of your foot.

We ranked the designs in our list according to their versatility, or how good they are from taking you from water to land without any inconveniences along the way.

Some of these options are not so good for walking in them regularly, as they are more sock-like than shoe-like, and they don't provide enough support for activities such as beach volleyball, getting ice cream, hunting for crabs and similar.

If you want swimming shoes that will behave almost like a normal sneaker, but will still be able to perform well underwater, then go for something like the Viakix Ultra Comfort, or even the Speedo Surfwalker 3.0, which are outstanding in terms of versatility. They have outsoles that are thicker than usual and which handle asphalt well, and they will make sure that you are comfy and secure as you waltz out of the water and continue with your fun summer day.

Of course, versatility is not a priority for everyone. If you find that you don't mind taking off your water footwear after your swim and putting it on before going into the water again, then we don't mind either! This is all a matter of personal preference, and you don't have to worry about versatility at all if you feel like that doesn't concern you or the way you like to spend your beach time.
Best Swimming Shoes Reviewed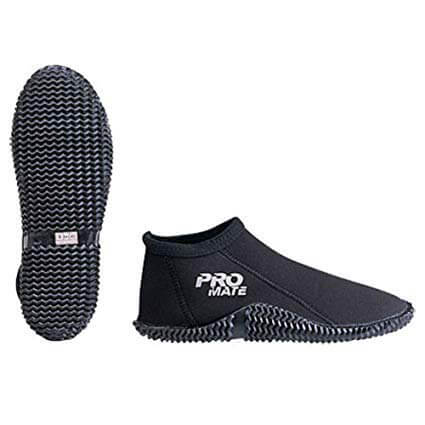 Now here is something a little different. While most other swim models on our list are made from textile, or from mesh materials, the Promate Beach Dog is a neoprene-constructed design. This is a fabric that is used in the making of wetsuits, which is why we are positive that you will find a place for a shoe for swimming in your water gear closet.
The neoprene used in the construction of this swimming footwear is 3mm thick, which makes it thin enough not to be heavy, but thick enough so that it is sufficiently protective. Not only that, but this material also provides insulation, ensuring that your feet are nice and toasty even in cold water.

The seams of the Beach Dog are sewn for strength and durability, and this design won't fall apart so quickly. There is an added elastic tape that is sewn on top of the seams for even more strength and an easy slip-on effect.

The Promate Beach Dog may not be as fashionable or as cutely designed as some of the other models on this list, but its functionality is undeniable. It keeps you safe and warm, is easy to slide into, and it even has a thick rubber sole on the bottom to keep sharp, pointy things away from your feet. Overall, an amazing deal!

2

. Body Glove 3T Barefoot Max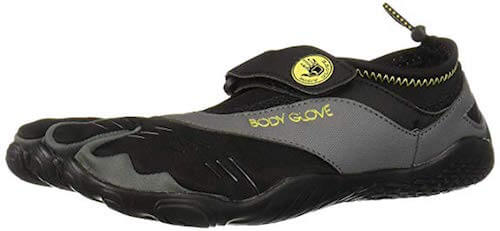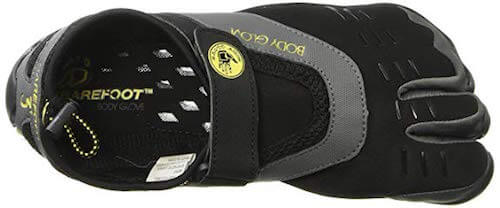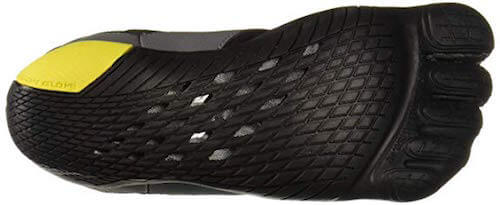 These slip-on shoes by Body Glove are ideal for anyone who is a fan of water sports. They can be used for beach activities, kayaking, paddling, snorkeling, fishing or even just regular wear on hot sunny days. Additionally, they're great for swimming thanks to the minimalistic design that won't weigh you down. They offer a barefoot feel thanks to the combination of materials used and the toe design, and they come in two simple color options so you can choose the one that will suit you the most.
The upper of the Boy Glove 3T is made with 100% synthetic materials that are quick-drying and won't deteriorate in water. What makes this shoe special is the three-toe design that allows for easy on and off while providing you with a greater level of flexibility than you'd get with regular footwear of this type. It's also a good choice for low impact workouts, as well as for navigating difficult terrains where you need a higher level of flexibility. The materials used are stretchy for a customized fit, the velcro strap is easy to adjust, while the lacing system allows you to secure these without actually having to deal with tying laces.
The outsole of the 3T Barefoot Max was designed so as to ensure a zero drop difference between the heel and the toe. It's also equipped with an Integrated Drainage System that speeds up water elimination, while the simple traction pattern offers great grip on both dry and wet surfaces. The price of this model is around average for this type of footwear, and considering the unique design it offers, it's more than worth checking out if you want a pair of shoes that will let you move without any restrictions.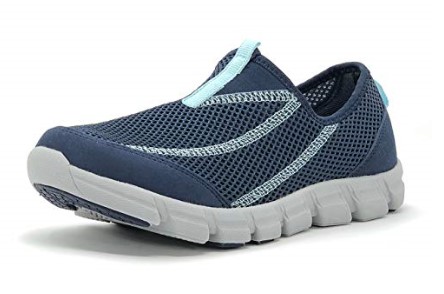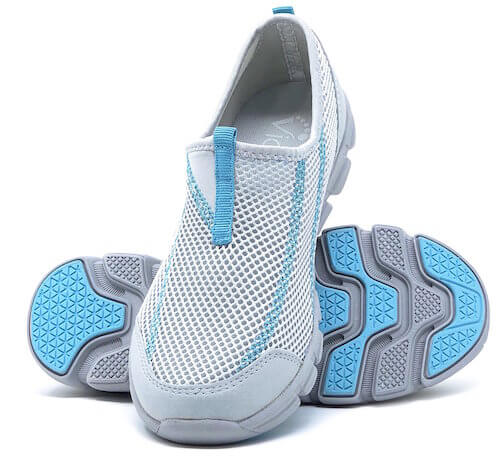 Sometimes you want water footwear that is actually like a pair of real sneakers. This can seem hard to find because most of these are designed to be more like socks and are thin and can be completely folded up. Not these Viakix water shoes though! These shoes for swimming are designed in the style of actual tennis sneakers, only made to be in the water! So whether you wear these swim shoes to your friend's pool party or to a swim meet they'll do everything you need them to do.
The entire upper on these is made out of a mesh material that is completely waterproof and ridiculously durable. No matter what you wear them for, you can bet they'll stand the test of time! You can even wear them as regular day footwear because they dry so fast that you'll have no need for a different pair after you've finished swimming.

The majority of "aqua socks" have very thin bottoms with smaller rubber nodules on them for traction and protection, but if you're in need of something more heavy duty you'll be very happy with this Viakix option. Its outsole is similar to that of a regular sneaker, made from a thicker rubber that has all kinds of grooves underneath for extreme grip. Keep your traction and stay on your feet no matter where you are and what you're doing.

With the Viakix Ultra Comfort, you're a getting a top-notch design for an outstanding price. These shoes are completely versatile for dry land and water, durable to prevent rips and keep from falling apart, and even fashionable! Stay cool this summer while remaining stylish and get this pair of water sneakers.

4

. Speedo Seaside Lace 5.0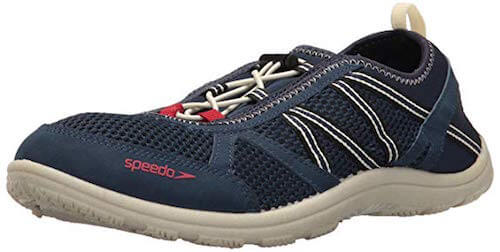 This model by Speedo is a great option for anyone looking for something that has a bit more sturdiness than a regular pair of footwear made for swimming. With a supportive upper and a lacing system to ensure the perfect fit, the Seaside Lace 5.0 makes for one of the best choices on this list, especially for tropical holidays or water sports. It comes in a few simple color options and is the go-to choice for anyone looking for something reliable, affordable and versatile.
The upper of the Seaside Lace 5.0 is made mainly of mesh, which has several benefits over neoprene. For one, it's more lightweight, doesn't pick up water and dries almost instantly. It doesn't have the same level of durability or temperature control qualities, but for a simple tropical holiday, it's more than enough. It's reinforced with synthetic overlays and a great fit is ensured through a bungee cord lacing system.
The outsole of the Speedo Seaside Lace 5.0 utilizes the brand's S-TRAC compound which is perfect for both pools as well as outdoor surfaces. It offers exceptional grip and integrates a water drainage system that ensures not only that your foot is dry when outside of the water, but also that the shoe doesn't get too heavy while swimming. As for cost association, this model ranks average, making for a great investment for most people. You'll also be happy to find that it's more than enough for most users who wear this type of footwear on holiday, with a great durability record.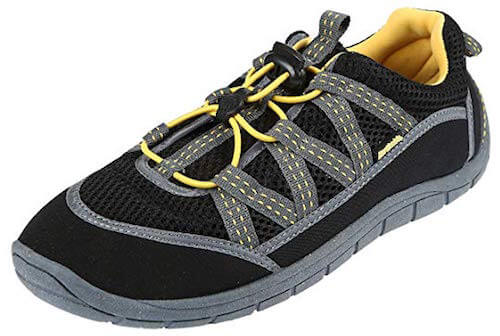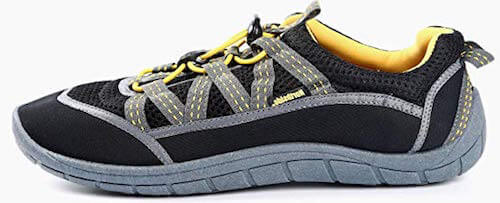 The Northside Brille II is the perfect choice for those in need of an athletic pair of water footwear that will work well for more than just swimming. The Brille is rugged enough to be worn on your hike to the beach but made with features and materials that will allow you to wear it in the water as well. It can be purchased in a couple of color options, most of which are pretty basic, and some versions even come with a handy carrying bag you'll find useful on your nature adventures.
The upper of the Brille II utilizes a tried and tested combination of materials. The toe, arch and heel areas are covered in a neoprene material that is lightweight and stretchy for an excellent fit, along with sewn-on reinforcements to ensure durability. The top of the foot is housed in mesh for maximum breathability and drying capacity, while the closure system includes a bungee cord that will securely keep the shoe on your foot, with the option to adjust on the go. The heel and tongue both feature pull tabs for simplified on and off.
The outsole is made with injected TPR which is a form of rubber that'll work great on both dry and wet surfaces. It has a moderate traction pattern to grip uneven surfaces such as sea and river beds, while it can also be used in pools for activities such as water aerobics and similar. The weight of this model is slightly higher than the average. This means that it won't be appropriate for long swims, however, it'll be a great companion on your next holiday in the Mediterranean, especially on shingle and rocky beaches. The price is affordable, making the Brille II an overall good choice.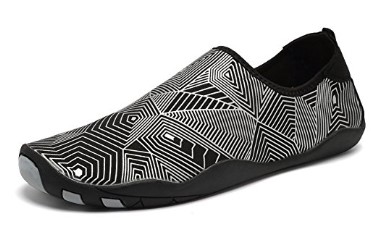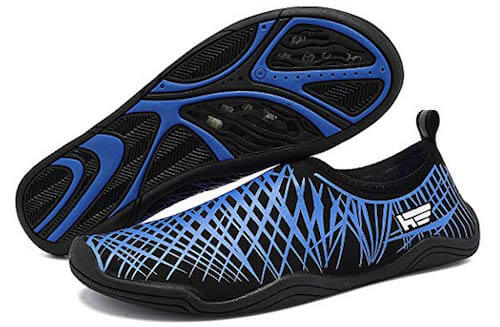 Shiny and pretty is this option by Cior, with its contrasting designs and the "lower profile" silhouette. You can wear them for beach volleyball, boating, and plenty of other summertime activities. These shoes are waterproof and breathable, meaning that they are exactly what you're looking for on this quest for perfect swimming footwear for yourself.
Not only are these shoes stylish and great for giving you traction when otherwise there would be none, but they also protect your feet from potential harm. As we mentioned before, a beach or even a public pool can be a source of all kinds of sharp objects and pointy things on the ground, just waiting for you to injure yourself. This is why you should grab these Cior swimming shoes and protect your feet while you still can.

The sole on the bottom of this pair of shoes is equipped with seven holes to ensure you don't walk around with sloshing water in them. If you aren't a fan of having wet feet all day you'll be quite satisfied with your purchase.

This Cior Aqua swim shoes are refreshing in their simplicity. They look great - come in so many vibrant prints and options - and they get the job done. Despite the fact that it doesn't come with any special technologies that some other items here have, it will not let you down when you need it the most.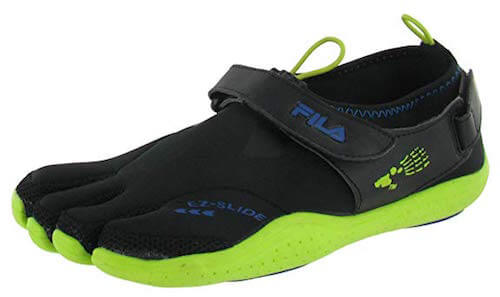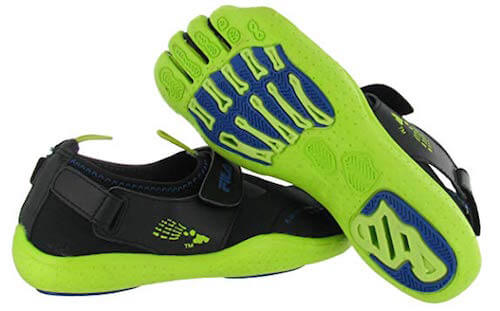 This is another pair of toe shoes, brought by Fila, a company that knows a thing or two about footwear to be worn in the water. Ideal for athletic activities such as swimming or pool workouts, the Skele Toez is a lightweight option with a number of great features. It is also one of the few models on this list that comes in several color choices, so you can easily match these to the rest of your swimming gear, enjoying the sun and the sea in style.
The upper of the Skele Toez is made with a combination of synthetic fabrics including mesh, neoprene, as well as a leather-like material. This ensures a stretchy fit over the upper, quick drainage when wet and great support that can serve you even on dry surfaces. You'll find that the closure system includes three hook and loop straps, on over the instep and two at the heel. There are also two pull tabs to make getting these shoes on a bit easier.
The sole of the Skele Toez uses a lightweight, flexible rubber with numerous perforations that encourage water drainage. The five-toe design allows the foot to move in a completely natural manner, while the traction pattern on the bottom of the style ensures great grip on most surfaces. The price of these shoes ranks about average, making them a great choice for anyone looking for a five-toe model they can comfortably wear while swimming.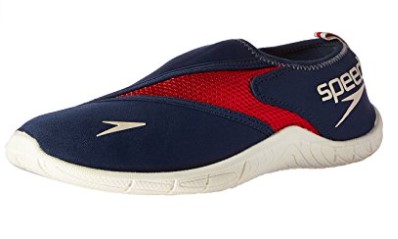 The Speedo Surfwalker 3.0 are really great swim shoes. You have the Speedo name and guarantee with a heavy-duty synthetic textile that will hold its own against whatever kind of water sports you get these for. Put them to the test and use the heck out of them! You'll see that they are fantastic and exactly what you've been searching for.
Speedo has been raising the bar for water sports since the early 1900s. They have several different technologies that they've created through trial and error to find what works best no matter the product. Their shoes have what they call an "s-trac" outsole that maximizes grip on the ground underfoot. A handy feature to have when dealing with river rock or just the slippery bottom of a pool.

Speedo uses a complete stretch upper that once you pull it on it snaps into place (well, not really snaps because that would hurt). It's an easy slip-on design that will have you relaxing and enjoying your summer fun while singing Hakuna Matata. No worries.

These high-performance swim shoes come with everything you need out of a great water design - they have comfort, stretch, great traction and they are not bad to look at, either! The Speedo Surfwalker 3.0 is just the kind of shoe for swimming you need for your next summer vacation.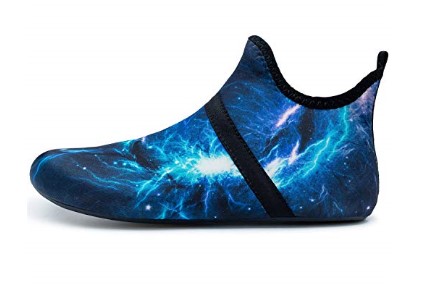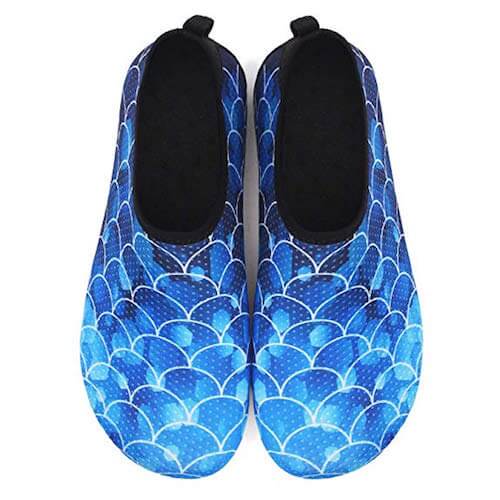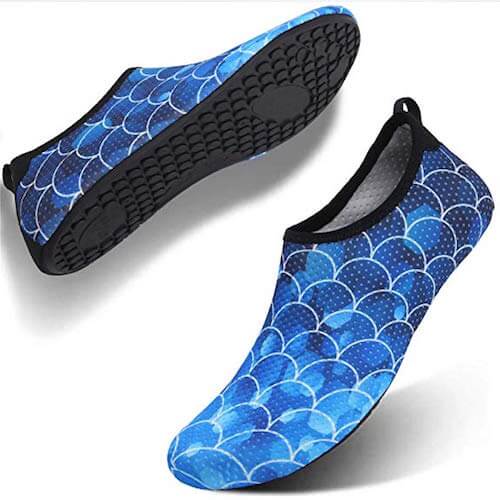 With the Barerun Aqua swim shoes, you can have all the ease and comfort of going barefoot, while still being sufficiently protected against water and other ocean bed dangers. No more will we be burdened by the "No shirt, no shoes, no service," as it will appear that we're wearing footwear, but will feel as though we're barefoot. Work the system to our advantage thanks to Barerun!
If you treat yourself to the Barerun Barefoot swimming footwear, you can simply squish them up when you aren't using them and stuff them in a nook or cranny anywhere! They completely fold up and are easy to store, giving you more room for even more new shoes (since there really is no such thing as too many).

This shoe for swimming is made from polyester, which is stretchy, durable and can be used in pretty much anything. It is also water resistant, making it the perfect material to use in water footwear. Thanks to that, the Barerun Barefoot will last you for a long time, and you'll enjoy all the protective qualities it has to offer!

The Barerun Barefoot is what we go for when we don't want to feel constricted by footwear. It can be annoying, traipsing around in your swimsuit, and being burdened by heavy designs at the same time. Fortunately, all of this can be avoided if you get the lightweight, breezy Barerun Barefoot for your next beach trip!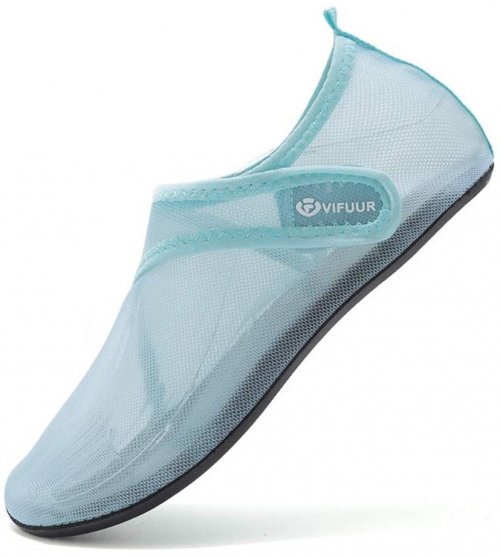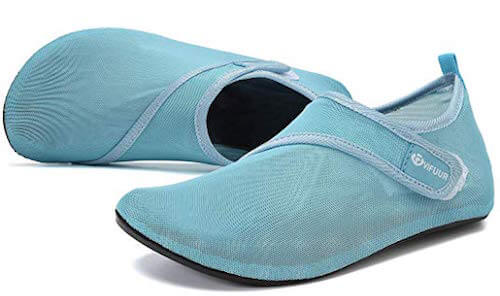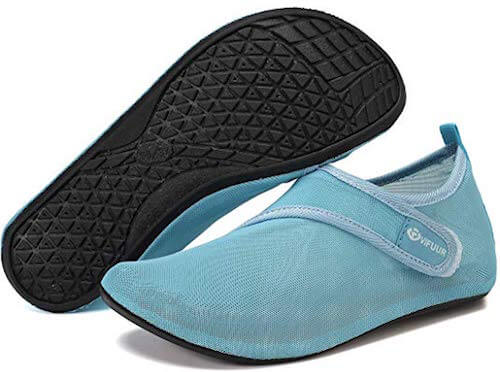 We have neoprene swim shoes, we have textile and polyester models, and now we have the Vifuur Mesh, which is a design made entirely out of mesh materials! However, compared to the other mesh choice in this list, the Vifuur swim shoe is lightweight and easy to wear, and even easier to love! You will have a blast doing beach yoga, going hiking or even jogging in this versatile water design.
The Vifuur Mesh shoes for swimming have a breathable, porous upper. We love this material because it allows for good ventilation, it is quick drying, and it also doesn't trap any water inside the design. Your feet will be comfy and breezy as you enjoy your summer vacation!

The Mesh comes with a hook and loop closure which allows for an adjustable, secure fit, and which makes it super easy to put these on and take them off. The outsole of this shoe for swimming is made from non-slip rubber and both lightweight and wear-resistant, so you don't have to worry about these babies falling apart any time soon.

We're taken by the minimalist, sleek design of this option, as its transparent upper also reminds us a little bit of Cinderella and her glass slipper. Now you can too feel like royalty by the water when you slip the Vifuur Mesh on and get ready to enjoy your day!

Subscribe to our Newsletter