Best Surf Shoes For Sea & Sand Reviewed
In a Hurry? Editors choice: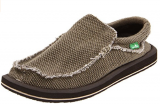 Test Winner: Sanuk Chiba

Do you live to ride the next big wave? Every surfer knows that their skills are measured by their ability to control their board. If you notice yourself struggling to find your footing it can negatively affect your performance and put you at a greater
risk for injuries
. If you're in search of a way to improve your footing, the answer is simple —invest in a solid pair of surf shoes! Surf shoes can be made for use both in and out of the water. Surf shoes are made with features that help keep your
feet cool, dry, and comfortable
both on and off the board so you can ride the waves with ease.
Standout Picks
Criteria Used for Evaluation
10 Best Surf Shoes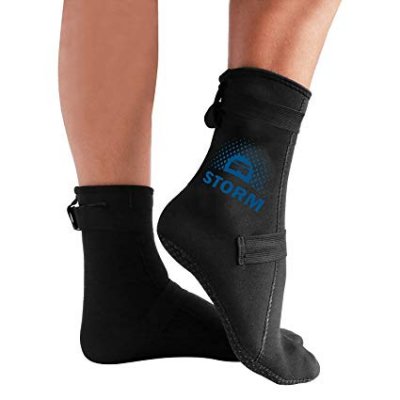 If you've not yet tried a pair of 'smart socks', the BPS Storm is a great introduction to the crossover world of functional socks from shoes. The BPS Storm is a flexible sock, insulated and adjustable to fit, with traction found in the patterned sole. Great for surfing, SUPs, even kayaking, you'll keep a firm grip on your equipment or board in these! Not suited for wearing on asphalt, the neoprene keeps integrity best if you put these on when at the beach, lake, or river.
With a unisex fit, you will find the ideal pair of BPS Storm socks to brave the next overhead wave session, without worrying that they'll fall off. An adjustable elastic ankle strap helps to minimize water coming into the sock and pushing it off and firmly helps strap it to your foot. Insulation is found with the neoprene material the Storm is created from, so cold water won't prevent you from catching that next set
Barefoot surfing is usually the way to go, but maybe you just want a little protection or insulation in the water, which is where the BPS Storm can be the perfect option for you. The sole of this sock allows for it to be flexible, making it feel like you're surfing barefoot. Tacky grip at the base helps keep you upright and digs into the surface a bit for traction. And, the colors the BPS Storm are available in a range from more subtle blacks and greys, to patterned blues, pinks and yellows, so you can stand out if you choose!
Extremely budget friendly, the BPS Storm is a great alternative to barefoot surfing, if you want a bit of protection or need some insulation in colder waters. It's grippy textured sole is flexible for a barefoot feel, but keeps you upright on the board. Ankle strap allows for a no-slip fit in the water, and color options range broadly so you can select the perfect one for your tastes and style! Well worth the purchase to try them out!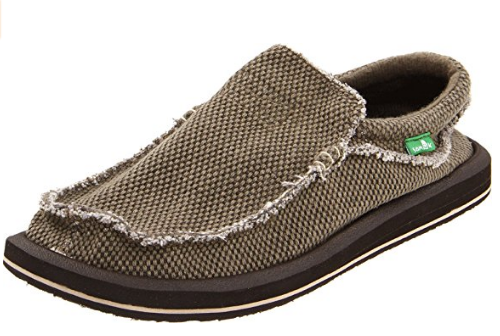 The Sanuk Chiba Sidewalk Surfer is a laid-back slip-on shoe that features a molded EVA footbed and Happy U outsole. It's cool canvas upper boasts frayed seams for a distressed yet casual summer vibe. The Chiba is the ideal combination of coverage and comfort, giving the full protection of a loafer and the sheer comfort a sandal.
EVA is a man-made foam resign that is ultra-lightweight and breathable making it a great choice of material for use in the manufacturing of footwear. These Sanuk shoes have a molded EVA midsole that's flexible and move with the shape of your foot on every step.
Look Boho-chic as you stroll along the surf while the tips of the waves gently kiss the soles of your surf shoes. These neat-looking slip-on Sanuks offer a water-resistant rubber outsole and breathable canvas upper, along with frayed seams for a no-fuss look that is perfect for wear at the beach. While costing more than some of the other options on the list, this Sanuk shoe is still very affordable. It offers a superior style and edgy yet chill vibration that will have you looking your best while strolling along the sand in the evening light.




No surf look is complete when you're done riding for the day without a pair of flip-flops or sandals. Keeping true to the surfing spirit, the Olukai Ohana is a Hawaiian inspired pair of sandals that will have you thinking of Waimea Bay long after you're finished and having a brew with your crew. With loads of cushioned softness ad anatomically designed footbed, this flip-flop is more than just a summer sandal for the beach.
The Olukai Ohana keeps comfort maximized with this flip-flop style sandal, using an anatomical drop-in ICEVA footbed, which will have you feeling like you're walking barefoot along the beach. Footbed cradles your foot with its design and helps promote proper gait when walking. A compression molded EVA midsole allows for support over time and helps maintain the sandal's integrity.
Along with its great footbed, the Olukai Ohana also has a rubber outsole, which is non-marking, and a lug design that helps give ample traction, even when walking along the piers, rock piles, or reefs. Straps are made from water-resistant synthetic materials and have a great foot feel with soft material lining. Toe webbing keeps a soft nylon so you won't have irritations from hard rubber. More expensive for a pair of flip-flops, the Olukai Ohana is still very much worth the investment. Its anatomical footbed will have you walking longer and feeling cushioned, while supportive EVA midsole helps add stability. Soft textile lining won't rub your feet like other flip-flop styles. If you're in search of something to remind you of the Hawaiian spirit for your surf footwear, consider this pair for purchasing!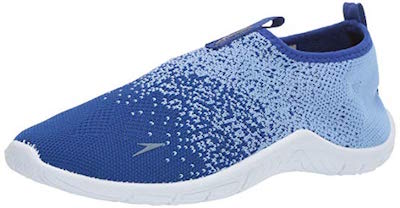 The Surf Knit by Speedo is a popular pair of footwear for any kind of water activity. Whether you want something you can go surfing in, are looking for a pair of footwear that will protect the bottoms of your feet from rocky sea beds, or just want a shoe for your water-aerobics class, this is an overall good choice. It is one of the fastest drying pairs of footwear you can buy, and being made by a reputable company, it guarantees a good amount of comfort and durability.
The upper of the Surf Knit is made from 100% textile that has an open knit that allows fresh air to go in, but moisture to go out as well. This knit fabric offers a higher level of flexibility than neoprene, without sacrificing support, so you can enjoy all types of activities wearing this pair of footwear. Additionally, the insoles are removable, which means you can customize the fit according to the type of sport you will be doing.
On the bottom of the Surf Knit, you will get all the benefits of Speedo's S-Trac outsole that's highly grippy and does great on all surfaces, including wet tile and slick rock. It will also help you grip the board, but will be comfortable enough for short beach walks as well. The pull tabs at the heel and instep allow for easier on and off. In terms of cost, this is an averagely priced product that's an overall good investment for anyone looking for a versatile water shoe.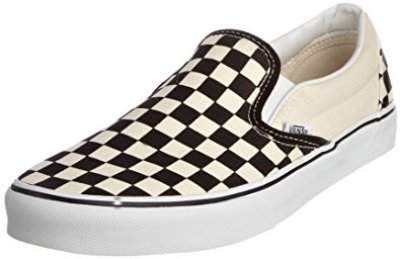 Vans Core Classics is a versatile shoe that's great for more than a few occasions. These easy-wearing sneakers are stylish in design and provide total comfort for your entire foot. They feature a low-top structure and signature waffle outsole for the kind of grip you need while transitioning from surf side to city streets.
Vans signature Ultracush footbed has extra padding that cushions and supports the underside of the foot. Enjoy a more pleasant walking experience thanks to the Ultracush's pillow-like softness that is firm enough to wear for hours on end despite the added plushness.
The Core Classics have a canvas upper unit that is breathable and allows for adequate airflow around the foot which prevents a build-up of sweat and odors. A synthetic outsole provides solid traction for a steady grip even on the slipperiest of surfaces and allows for better connection with the ground beneath you. These casual and comfy surf shoes are reasonably priced and offer a classic style that always looks cool. These shoes are infamous for a good reason and will have you looking your best no matter where you might choose to roam.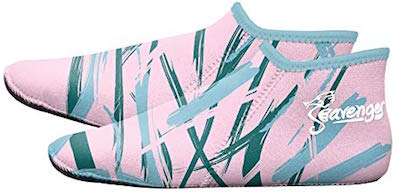 These neoprene socks are the perfect accessory to have on hand when the water is slightly colder than you'd ideally want. While they weren't originally designed for surfers, you'll find that many people who enjoy the sport actually wear these. They're made to provide users with a great fit, add warmth, and ensure slip-resistance on slick surfaces. They also come in a wide variety of prints and colors, allowing you to show off your personal style.
If you want something that will keep your toes warm, but won't affect your ability to grip the board, the Zephyr 3mm is a good choice. Made with a 4-way stretch material, it will perfectly mold to your foot, preventing bunching or bulking, and it was made with durability in mind, so you can enjoy the benefits for multiple uses.
The bottom of the Zephyr is covered in a dotted non-slip sole that does a great job on a multitude of surfaces. Lightweight and flexible, it won't affect your performance, but will still provide you with the benefits you need. It's available in seven sizes which are easy to choose thanks to the stretchy material used. As for cost, these are actually some of the least expensive pairs of shoes you can purchase for watersports.

7

. Volcom Recliner Sandal



One of the best feelings in the world is walking barefoot through the sand, carrying your board, and checking on the waves early morning for some rides. Volcom wanted to recreate that cushioned soft feel, and the Recliner Sandal does just that. With each step, you'll sink into the soft quilted sponge sole, feeling super cushioned and plush. With several color options and color combination that the Recliner Sandal comes in, you're sure to find one you'll love.
Volcom kept is simple with the Recliner Sandal, keeping a thong style flip flop with thick textile fabric straps to have a soft feel on the top of the foot. A textured sole helps keep some traction, but the star of the Recliner Sandal is the footbed design. Quilted rubber sponge sole pads every single step with cushioned softness, making you feel like you're walking on cloud nine. Molded EVA footbed also provides some structure so you can feel supported where you need it.
Along with the quilted softness of the Recliner Sandal, the color options available range from blacks to greys, whites, and red quilted footbed, and options for contrasting colors found on the thong straps of the flip-flop. If desired, the same contrast color on the thong straps covers the sole of the flip-flop as well. For a flip flop style sandal, it may seem somewhat pricey when compared to other flip-flops, but the Volcom Recliner Sandal has a unique footbed design you won't find anywhere else. Quilted rubber pads your steps, plush and light, and can be purchased in several colors or color combinations. A great summer surf shoe to bring you back to barefoot walks on the beach.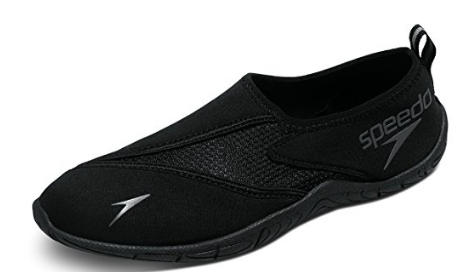 Speedos' Surfwalker 3.0 lets you transition from the sea to shore with ease. It offers a stretch-fit pull-on design and a cushioned insole for added protection from shock and impact. Enhanced surface contact allows for better than ever traction so you won't have to worry about having sure footing.
Speedo's signature new-and-improved S-Trac TPR outsole pushes water away from the shoe allowing for better surface contact. Connecting with the surface below you enhances traction and allows for maximum grip.
The Surfwalker 3.0 was designed with a long-lasting stretch upper unit that lets you slip in and out of these water shoes with ease. Its mesh inserts hug your foot for a perfectly secure fit every time, while their fast-drying materials mean less transition time once you're on the sand. The Surfwalker 3.0 from Speedo is a very affordable pair of water-appropriate footwear that will help you to reach your peak performance while you're on the board. These sleek shoes look great out of the water too! Forget about unstable footing and uncomfortable dismounts thanks to Speedos innovative Surfwalker 3.0 surf shoe.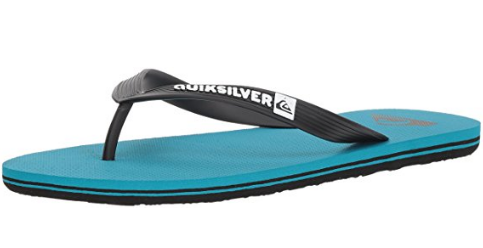 Quicksilver is one of the top outdoor sports lifestyle companies in the world. They manufacture a huge variety of branded apparel, footwear, and related accessories that are geared to help the wearer achieve their best possible performance while maintaining a guaranteed level of comfort. Quicksilvers Molokai is the perfect pair of sandals to wear surf side thanks to their rubber slip-resistant sole and flexible easy-wearing feel.
The Molokai has a three-point rubber strap and a man-made synthetic structure. It's a flexible rubber thong that's great for water activities and offers strong traction on any surface, including wet and slippery ones.
These stylish and casual thong flip-flops are an ideal surf shoe. They have a minimal build and zero heel-to-toe-drop for a more natural footfall, along with a flexible rubber strap that allows for a natural range of motion. These Quicksilver sandals are sold for a reasonably low price and offer a comforting and well-known design. Quicksilver is synonymous with summer footwear and the Molokai is a fine example of their minimalistic yet full-bodied designs.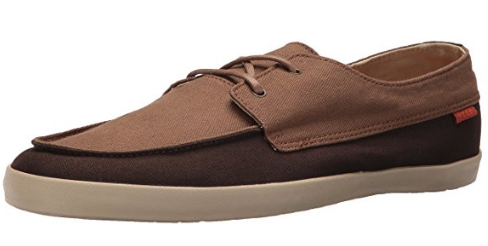 The Deckhand 2 has the same laidback feel of a sandal with the structure of a shoe. These simplistic surf shoes are modern and stylish while offering supportive and breathable wear. Reef is one of the leading brands in surf apparel and continuously produce quality shoes that never seem to go out of style.
The Deckhand 2 has a breathable canvas upper unit and a non-slip rubber outsole that's waterproof for a dry and comfortable foot feel. These Clean and simplistic shoes offer a molded swellular traction sole that provides unparalleled grip even on wet surfaces.
The Deckhand 2 offers a traditional lace closure system which allows for a secure and custom fit every time along with an anti-slip outsole for sure footing on any terrain. You can walk assured in these shoes that provide a stable environment for secure footing. These laid-back shoes come at a casual price too. If you're looking for an affordable and low-key pair of surf shoes than these are perfect for you. Enjoy walking comfortably for a price you can afford.

Subscribe to our Newsletter