Best Men's Boat and Deck Shoes Reviewed
In a Hurry? Editors choice: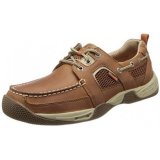 Test Winner: Sperry Top-Sider Sea Kite

Boat shoes were designed originally for sailors who used them for the fact they were easy to air out, included waterproof leather or breathable mesh uppers, and were non-slip. Although designed for the seas, they soon began to catch on as a fashion trend and today are worn by all types of people for almost any occasion. Their versatility makes them wearable in just about any situation with just the right look and feel. The rubber insoles provide comfort for walking all day and with virtually endless colors, styles and designs, they've transcended the sailor's working shoe and have become popular and purposeful for thousands.
Standout Picks
Criteria Used for Evaluation
Traction
If you're a sailor you know it doesn't take a very rough sea to get a deck good and wet. Moderate, windswept swells will do the job quite well. Boats are made to deal with that water so why wouldn't your shoes be the same? Boat shoes were made for sailors who need superior grip and traction while working on deck. It's not hard to understand why a flat leather sole just wouldn't cut it on deck.
Grip and traction can be added to a shoe in three ways:
First, your foot must stay inside the shoe. You can have a great sole but if your shoe flies off your foot, that sole isn't going to help you. We looked for shoes that would fit the back of the footwell so that even slip on versions would remain secure.
Secondly, grip and traction are created by the patterns printed on the outsole. Chevron patterns do a great job at direct water away from the sole so it's not underfoot. All of the shoes on our list will provide that traction, though some to a lesser degree.
Finally, the material used to make the outsole is supremely important. This material is usually a soft form of rubber known as sticky rubber. It has a little give to it so that it grips when you wear them. It does this by spreading out slightly, forcing water out and giving your foot a larger surface area to hold on. A good boat shoe will be made with a soft, slightly pliable sole to provide you with the very best defense against slick, wet surfaces.
Sticky rubber forms a great sole but other materials also work well on a boat shoe. These include gum rubber (like you find on the bottom of rain boots), rubber with aluminum oxide embedded to create a rough surface, and neoprene. Please remember that soles built for traction in winter will use different material in the outsole and a different tread pattern mainly because they are meant to prevent snow build up in the tread and to cut into the snow. Winterized soles may damage your deck and you don't want that. Choose a sole that is meant for water resistance, rather than snow, ice, oil, or grease.
Water Resistance
Having a pair of nautical footwear that isn't water-resistant won't do you much good while you're at sea! Waterproofing is one of the most important consideration while you make the choice of which pair to buy and should always be taken into consideration. There are certain materials that offer excellent protection from water and moisture like rubber and Gore-tex, which are two of the best choices for any water-related activities.
There are two ways that boat shoes are designed to deal with water in the upper. Most sailing shoes designs are made specifically to resist any sort of moisture intake or retention. Others are made to air out and dry quickly. The material used in the upper will essentially tell you which design was used. Canvas, mesh and synthetic weaves are designed to dry quickly and to allow water to escape while waterproofed leathers are designed to prevent, as much as possible, water from entering the shoe, to begin with. A third design is a hybrid, with some leather and some mesh parts to the upper, giving you dual function water handling.
Leather Upper: Leather is a common material used in boat shoes because it has some natural water resistance. To provide further water protection, oils are used to coat the leather. Oiled leathers are fairly effective in preventing water from entering the shoe. There is a flip side to this though. If water comes in over the top, it will not find an easy way out unless there are other design elements, like ports (holes) in the side which can allow the water to escape. Oiled leathers are a common element and were part of the original boat shoe design.
Synthetic or Mesh Upper: It is also common to see boat shoes with mesh uppers. Mesh is extremely breathable and provides great drainage because of its open weave. Water will easily get into your shoes but it can also escape just as easily. Another benefit of mesh is airflow – mesh uppers dry out quickly. It has nothing to do with boating really but you'll appreciate that airflow also keeps your feet cool. This is especially great if you deal with excessive sweating.
Rubber will provide 100% waterproofing and is often used for either the outsole or the entire build of the shoe. If you can opt for a pair that's entirely made from rubber you can rest assured that no water will be able to sneak inside of your shoe, whereas, if the upper is made from another material there is always a chance of leaks. Gore-tex is mostly used in the lining and it provides an excellent shield from any kind of water.
You should consider which type of design (and therefore the material) is best for you. The decision is a personal one. Feet that sweat? Canvas. Feet that itch when wet? Leather will help keep them dry. Need to keep them on your feet through a wet shift on deck? Leather may work better for you. Have some time to dry them out before the next wear? Canvas will work. Ambivalent? Great, then you can go straight to the next consideration – fashion or performance?
Style
Another factor that we considered, and you should too, is whether a shoe is constructed for performance or for its style. Both are legitimate considerations in a shoe and the choice will entirely depend on why you are buying a boat shoe.
The Sailing shoe, also known as the top-sider, has managed to bridge the gap from being known as strictly work or utility shoes to being a staple in men's and women's fashion. Lisa Birnbach's 1980 publication, The Official Preppy Handbook, helped to turn this style of footwear into a household one and it was no longer just for sailors to wear.
Yachting shoes are easily recognized by their unique appearance which will usually see a moc-toe design with two to three-eyelet lacing and a non-marking outsole that's often white. In the past, this type of footwear was mostly made from leather, but today they're crafted from other materials like a canvas which offers a lighter feel that's better for warm weather.
If you are going to be working (or fishing or lounging or sightseeing) on the deck of a ship or boat, you may be more concerned about the performance of the shoe. If you aren't going near the water but you want to look great and be comfortable, you may be more concerned about the appearance of the shoe and how well that appearance will hold up. Our reviews give you the important information you need to determine whether the shoe is a high-performing, designed for the sailor, stick to the deck shoe or whether it's really more of a super comfortable choice for looking great in those new jeans shoe. We have shoes that will do either well, we also have shoes that will do both at the same time, proving that you do not have to sacrifice style to get great function.
Either way, you also want to be comfortable and boat shoes are comfortable. Some people have even replaced their sneakers and slippers with a good pair of boat shoes because they are casual and comfortable and not just good at preventing slips.
Unlike a lot of summer footwear, boat shoes can be worn with socks even when it's hot. Some people prefer the socks and some like the barefoot feel they were designed for. If you wearing them for boating, however, we do recommend that you wear them without socks as you will find much better performance in very wet conditions.
Fit
We all know how hard it can be sometimes to find the perfect pair of shoes that we not only love, but that also fit snugly and comfortably. With so many styles, brands, colors and models, how can one compare hundreds of supposed "size 10s"?
To assess for trueness-to-size, we considered the opinions of thousands of wearers from across the globe to find out the answer to the ultimate question: do these 10s fit like a 10? While some things can give you a hint as to whether they will fit true, small or large; like brand name, shoe type and year of make; we believe that the opinion of buyers cannot be wrong. If they say the shoe doesn't fit the way it's supposed to, then you won't find it in our 10-best list.
You will find that a pair of shoes or boots or sandals that score high on this metric tend to experience a trueness-to-size that was verified by our large community of sampled buyers. Just don't forget to take into account the factors above to also make sure your favorite pair will fit you perfectly.
Durability
A quality product is one that will follow you through the years and work the same way it did on the first day you bought the product. In regard to boots, we assessed durability in a few key ways, analyzing the materials, details, construction methods and brands to deliver to you a simple opinion: will this set of boots do the job and do it again and again? Take a look at each area we evaluated:
The Materials
Which type of materials were the product made from? Are they synthetic or natural? How do they smell out of the box? All of these are critical questions we asked when evaluating the materials of the product. A pair of boots made from fabrics that don't retain heat? They didn't make our list!
The Details
Extra buckles, complimentary cases and reinforced fabrics are all good indicators of a manufacturer that is setting you up for long term success with their product. Attention to detail separates the high-quality producers from the cheap ones.
The Brand Name
A reputable brand is a signal of quality and trust. Often, high performers continue to perform and out-endure the competition. While there are always exceptions to the rule, we gave higher marks to manufacturers with solid reputations.
The Construction
You can tell a lot about a pair of boots or shoes by how the zippers behave. Do they pull swiftly and softly, like cutting butter? Or do they jam and snap? What about the sew? If there was threading after a few wears, we considered that a warning sign of a lack of proper construction and durability.
10 Men's Boat Shoes Brands
1

. Sperry Authentic Original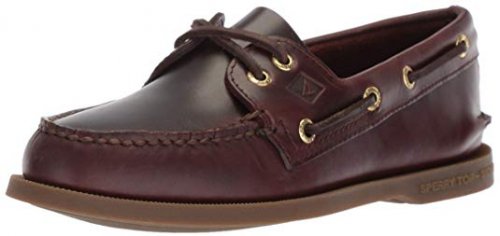 The boat shoe that started it all, the Authentic Original by Sperry is one of those classic models that will never go out of style. Largely, this is due to the care which is put into the construction of each shoe, but also the timeless preppy style that's perfect for summer nights, and days at the office. Hand-sewn, these come in a variety of colors, from shades of brown, gray and black, to washed reds and even suede options.
The first thing to note about this model is that the leather upper is unlined, maximizing breathability and allowing the user to benefit from the natural properties of the materials used. With just a little bit of breaking in, you'll have an extremely comfortable men's boat shoe that doesn't bulk and doesn't cause you to become too hot, regardless of what you're doing. The insole is made by Ortholite, and is shock absorbing, while the lacing system allows you to find the best possible fit.
On the bottom, you will benefit from a stitched on, non-marking rubber outsole that has a razor-cut Wave Siping traction system that works just as well on slick and wet surfaces as it does on dry land. It's a flexible outsole that allows you to move naturally, without any constraint, and is highly durable so you can easily count on these for more than just one season. In terms of price, these rankl slightly below average, and are a good investment for almost anyone looking for a simple model without too many gimmicks.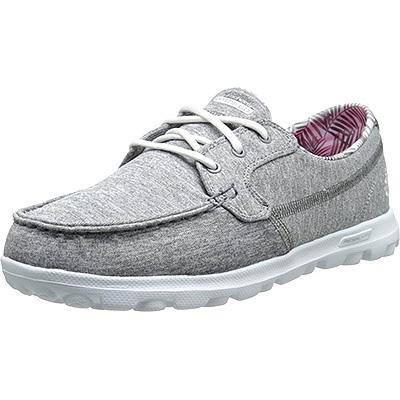 The Flagship is a fabric boat shoe made to be lighter than other men's boat shoes. It features an elegantly stitched toe and a footbed made specifically with energy-return properties. Along with a cushioned midsole for comfort you get all the performance expected from a boat shoe, Skechers designed this with both fashion and performance in mind, and it shows.
All-day Comfort
Work all day, play all day comfort is what to expect here. The extra cushioning on the inside and a rubber outsole for shock absorption and grip ensure you can do both.
Lightweight Fabric Upper
The fabric upper on this shoe is very breathable and it allows air circulation and temperature regulation for your feet. Lightweight mesh means it dries fast too, so go ahead and enjoy that sail.
Cost & Value
The Flagship is on the average side when it comes to cost but its true value comes from the diverse uses you can get out of them, the lightweight, airy and dryable mesh, and the comfort built right in.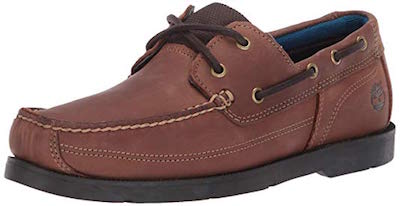 With summer approaching, you may be looking for the perfect pair of boat footwear to serve you both on land and sea. The Timberland Piper Cove is a definite top contender, first and foremost, because of the high quality you can expect from the brand. Offering a sporty take on the classic look, this sailing shoe will match with both jeans and chinos, and can even be worn with your favorite pair of shorts and striped T-shirt. It comes in four color options, light and dark brown nubuck and light and dark brown full-grain leather.
The materials used in the Piper Cove shoes are of premium quality, and will put up with aggressive daily use, even near water. A hand-sewn construction ensures durability and attention to detail, and you can count on these serving you well for quite some time. First and foremost, the leather will break in and adapt to your foot, while the lightly padded collar and tongue prevent rubbing and blistering.
The rubber outsole is made with recycled materials and has L7 traction lugs which was developed for harsh winter conditions. The lugs are spaced so as to provide excellent traction, are abrasion resistant, and promote drainage. Additionally, you'll enjoy the anti-fatigue technology included in the insoles, but if you require custom orthotics, you can easily replace them as well. This model is averagely priced, making it a good choice for those who are a fan of the Timberland brand and everything it stands for: comfort, practicality and durability.

4

. Sperry Top-Sider Sea Kite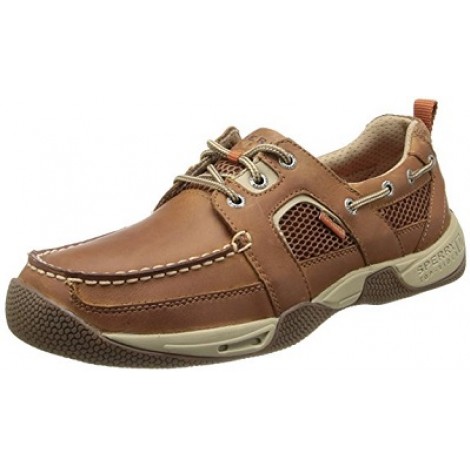 With the infusion of mesh and leather on the upper of the boat shoes, you get a solid, water-resistant shoe that is also breathable. For added comfort, the boat shoe also features a cushioned lining and insole. The insole is removable for use with custom orthotics or your inserts if you prefer.
Style and Performance
Not only are these for the sailor on deck, but they are fashionable enough to be used for casual wear. This means from sea to shore to indoors and all around, you will find the perfect use for the Sperry top-sider Sea Kite.
Slip Resistant Outsole
The outsole is specifically designed to prevent slipping and falling. Sperry uses their own Wave-Siping, which is a patterning on the outsole that leads water away from the shoe.
Cost and Value
Well within the mid-range of prices for the list, these are really worth checking out. They have a very casual style while their performance can only be described as excellent. You'll also love the breathability of these shoes along with that comfort. Happy, happy feet for the price.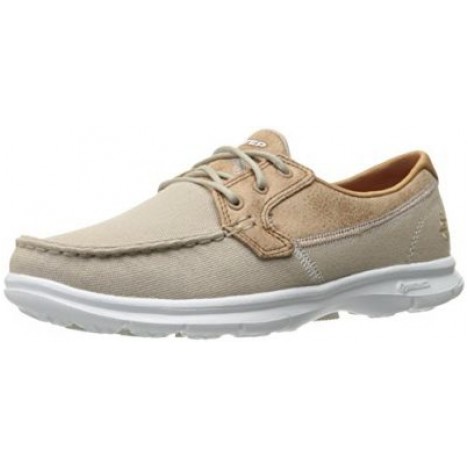 This is a very fashionable, oh so comfortable boat shoe that energizes your foot with every step. It features a Goga Max return energy insole, and a two-piece midsole made from resalyte and Go pillars. The lining is soft fabric for being barefoot on the deck but you can also kick back and lounge in these quality shoes.
Energy Insole
The Goga Max return energy insole found in these boat shoes is an injection molding and memory retaining technology developed by Skechers that provides stability and comfort while making you feel light on your feet.
Resalyte Midsole
The same injection molded technology found in the insole is also in the midsole providing that extra bit of cushion and preventing compression. Your feet will feel like you've been walking on tiny springs, they're so light.
Cost and Value
Your pocketbook will be happy with the price of these stylish boat shoes. Your feet will also sing your praises for giving them a molded, cushioned surface to live and work on all day. You can walk or work on your feet all day in these shoes and still look relaxed and casual. How can you lose?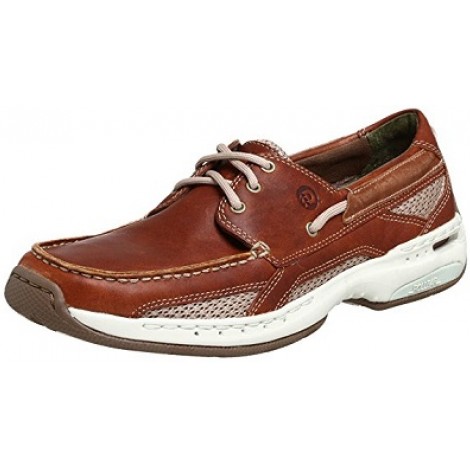 The rubber sole on these shoes provides great grip. Oiled leather makes this boat shoe water resistant. Its raised heel offers more support to the backs of your feet and with an EVA foam midsole and footbed, you will comfortable whether you're on deck, in the office or walking around town.
EVA Components
With its EVA foam midsole and footbed, you will experience truly on the go comfort in these shoes. The spongy softness of the EVA also allows this shoe to flex without breaking.
Multiple widths
Shoes can be hard to find if you have wide or flat feet. These shoes come in wide options and extended sizes ensuring that the perfect fit is a click away.
Cost/Value
On the higher end of price ranges for this list, this boat shoe gives you quality to warrant the investment. The shoe will outlast the laces. Just have a second pair of your favorite laces ready and you'll be going strong with these for a long time.

7

. Columbia Bahama Vent PFG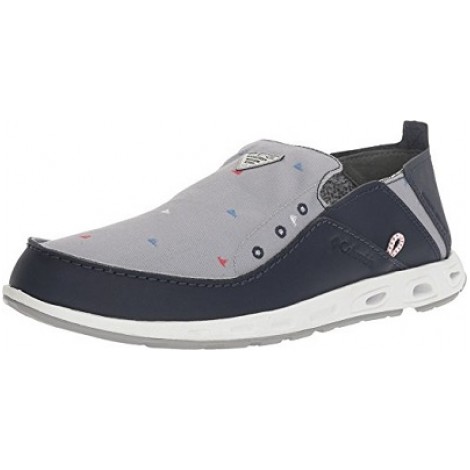 The upper of the Bahama Vent is composed of both leather and synthetic halves. The sole material is Tech Lite. This is Columbia's version of EVA and acts as a large, sure, flexible underfoot cushion. This boat shoe is an excellent performer on deck. When water gets in or your feet get sweaty, the Bahama Vent is one of the best at expelling moisture.
Drainage Ports
Not only do these shoes contain synthetic mesh to allow for moisture to escape and evaporate, but they also have holes at the sides of the sole to let extra trapped water find its way of the shoe and away from your feet.
Perfect Traction
With a special rubber outsole that's made to expel water and prevent hydroplaning of the feet, these shoes are perfect for your time on the water.
Cost and Value
These shoes fall in the mid-range of boat shoes on our list. For your money, you are receiving superior slip-resistance while keeping your feet comfortable. The thoughtful design also ensures that your feet stay as dry as possible in wet conditions.


This is a very stylish shoe with a lot of versatility. With a waterproof leather upper, your feet stay dry. These aren't shoes for rogue waves in the North Atlantic but calmer seas will be no problem. These are made for style. They have a fashionable, smart and casual look, and are durable enough to use on a daily basis.
Thin Rubber Sole
The thin rubber sole allows this shoe to be flexible while still providing slip-resistant protection. They are also able to provide great traction, with less weight. The end result is a cushioned shoe with medium weight.
Made with style in mind
These stylish shoes can be worn on a daily basis with casual wear, business dress or to add to that night on the town look. With the slot-collar, perforated quarter and Lacoste logo in plain sight, they make for a unique shoe.
Cost and Value
This is one of the more expensive items on our list. For the price though, you are getting Lacoste's unique style and its ability to go from casual to dressed up in the same boat shoe. The shoe is all leather and the sole is durable and flexible.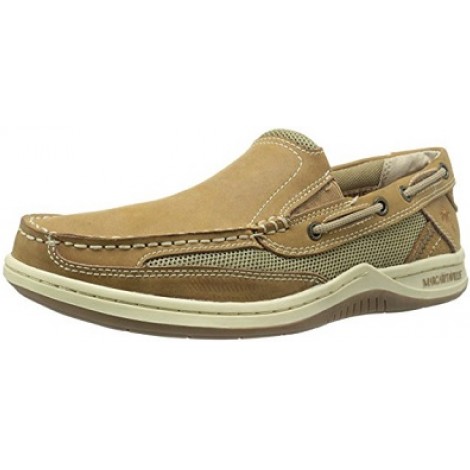 The Anchor by Margaritaville features a mix of leather and mesh in the upper. With more mesh and leather accents, this shoe is breathable and allows water to escape really well. Dual elastic panels in the shoe means that your feet fit well and will stay in place for increased stability and yet, they aren't tight.
Dual elastic panels
Dual elastic panels span the rim and ensure that the shoe is snug but not tight against your feet. The shoe will conform to you, ensuring that your foot stays in place and your sea legs stay strong.
Sipped rubber outsole
A special outsole is always required for footwear that's made for slippery, wet surfaces. This design allows for both traction on wet surfaces and wonderful traction on dry as well. They are great for walking on concrete, even on hot, sunny days as they don't retain heat at all.
Cost and Value
These boat shoes are at the lower end of shoes on our list. For a little investment, you really are getting a superior quality shoe for boating. Excellent traction and walk all day comfort even in summer on concrete will keep your feet happy.



The material of the sole is synthetic rather than pure EVA which makes them firmer, for those that need a little more support and stability in the sole. While not the most appropriate shoe for boating, they will work. These men's boat shoes are fashion focussed though so they are stylish and fun to wear.
Dress-up or Down
This is a shoe that is just classy enough to be worn as a dress shoe but it also works well in a laid-back, casual, jeans and t-shirt outfit. The side lacing is a purely aesthetic and stylish detail.
Textured synthetic rubber sole
The sole along with the leather upper makes for a good boat shoe for any occasion. With a textured sole, you get good traction and great stability.
Cost and Value
Rockports are famous for quality built shoes and the Perth is no different. It is the most expensive shoe in our line up but worth the money for the versatility of this boat shoe. Stylish enough to be casual and dressy at the same time, you will want to wear these everywhere.

Subscribe to our Newsletter