Best Shoes For Arch Support – 2021 Buying Guide
In a
Hurry? Editors choice: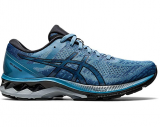 Test Winner: ASICS GEL-Kayano 27

If you find that your feet are throbbing at the end of a run, you may need shoes for arch support. There is a myriad of reasons for aching feet, whether it is high arches, flat feet, ankle sprains, heel spurs, or
plantar fasciitis
.
If you don't quite know the reason for your foot pain, investing in a good pair of supportive sneakers is bound to fix your problems.
These styles of trainers not only help to support your arches but also offer shock absorption and extra cushioning where you need it most. They are also ideal for runners with pronation issues as well.
In this guide, we have provided a list of some of our very favorite shoes for arch support to help give your daily runs a little extra boost!
Standout Picks
Criteria Used for Evaluation
Comfort
A solid sneaker that gives you great cushioning support can be the best option for stability.
Shoes for arch support with a stability cushion are often best for people who have medium arches. They will give you a good flow between heel-strike to toe-off, but also maximum protection for foot movements. You'll find that you can walk or run much further than you usually can with complete comfort.
For those with higher arches, a neutral sneaker will let your foot move through your activity with more flexibility while also giving you comfort with each step for a great performance fit.
Fit
Keep in mind that different manufacturers use different lasts, or 3-dimensional molds made of wood or plastic to construct their shoes.
The overall fit of your shoe is determined by the last, which has the following dimensions:
• Forefoot width
• Heel width
• Instep height
So, the sizing will vary accordingly. Check customer reviews to see if the shoe you have chosen has a few customers who write that they should have ordered one size up.
Traction
If your shoe does not have the proper grip and traction, slipping and falling can become a real concern.
Other injuries can occur from a continual adjusting and readjusting of your weight as you try to regain balance from movement, causing stress on all parts of your feet as well as your entire body.
Whether you are walking, hiking or running outside, you need to have the best traction in all weather conditions.
Upper
If the lacing is not isolated from the foot, the pain quickly develops and the lacing can actually cut into the top of your foot. This can also cause a condition known as dorsal irritation.
Most people do not have absolutely identical feet. One foot will often be slightly different from the other. A tongue pad will solve this.
It's always better to have the shoe tongue be comfortable, to begin with, with ample cushioning under the lacing and a tongue wide enough to avoid friction. A tongue pad will also make a big difference when it comes to comfort by preventing your foot from sliding forward.
Support
Choosing the right shoe for your particular pronation is essential.
But how do you know whether you have underpronation, overpronation, or if you are a neutral runner?
If you see that the outside of your shoes often shows the most wear, then you are adjusting to the outer side as you walk or run, this wear pattern will pinpoint you as an underpronator.
If you are neutral, then the soles of your shoes will show wear in an S-shaped pattern. You will see extra wear under the ball of the foot and the inside of the heel if you are an overpronator.
If you're an overpronator, you should look for shoes that provide more stability. You will need maximum support and cushioning that is structured to distribute the impact of your footfall and minimize your pronation.
If your pronation pattern is normal, you can choose from a wider variety of shoes because there is no motion to be corrected.
If you're an underpronator, you are often more prone to shock-related injuries, so you should always look at a shoe with a lot of cushioning.
10 Best Shoes for Arch Support
Specifically developed for runners with low arches and flat feet, the GEL-Kayano is a shoe that keeps improving from version to version, providing plenty of support to anyone who has overpronation issues and needs a sneaker to help alleviate the discomfort that comes along with it. It's one of the highest-rated running shoes on the market.
The knit mesh upper used in the Kayano 27 really improves the overall fit and motion control of this version, keeping the foot in place while allowing proper foot functionality. The seamless lining prevents discomfort, rubbing and blistering, making this one of the most comfortable options on the list.
To absorb shock, the Kayano 27 uses that front and rear-foot GEL cushioning that Asics is known for, while the midsole is made from extremely lightweight foam that provides excellent rebound and responsiveness. The support comes from their Dynamic Duomax System in the midsole, along with their Guidance Line technology that helps with proper alignment throughout the stride.
As far as the outsole goes, these are good on various surfaces, both wet and dry, while the inner lining wicks away moisture, preventing odors up to a point.
The Kayano 27, being the newest version, is not the cheapest option, but, if you're looking for premium shoes that offer performance, along with ideal arch support, this is definitely worth your pennies.
2

. Hoka One One Clifton 8
Hoka One One knows a thing or two about support. The reason that we selected the Clifton 8 is that it has a few extra features when compared to other Hoka trainers that will help to support your arches while keeping you light on your feet. While this design is a little more expensive than some of the other designs out there on the market, it is also one of the most durable.
What we liked most about the Clifton 8 is that it provides runners with full-length EVA foam cushioning that not only supports your arches but also your heel and toe box throughout the entire length of your gait. The Meta-Rokher technology also helps to guide your foot, which is ideal for those with pronation problems as well.
We also like that the upper is lightweight and breathable, but still provides users with a good deal of support. It is made from sandwich mesh with minimal seam lines that can dig into your feet during long runs. The mesh overlays a contour to the shape of your feet for excellent flexibility and ease of movement.
If you need something supportive, Hoka One One is well worth the slightly high price tag. Not only is this sneaker built with a host of features to protect your arches and help support your full gait cycle, but it is also built to withstand hundreds of miles before it starts to wear down.
If you find that your feet are screaming at the end of your runs, the Gel-Venture 8 is a great option that provides a good deal of support. While it is super supportive and affordable, it's important to note that it is heavy and runs pretty hot in the warmer months. However, if support is worth a little bit of extra weight for you, the Ge-Venture 8 is worth a look!
The rearfoot GEL technology system provides users with excellent support through all stages of their gait. The Ortholite X-40 Sockliner is what makes this design really stand out from the pack. It provides a good deal of cushioning and helps to wick away moisture to keep your feet dry as you train.
The upper of this design offers users a good deal of stability as well. It helps to support your foot, which is great for overpronators. The downside to this highly structured upper is that some runners feel that isn't as breathable as some of the other designs, which leads to overheated feet when running on warmer days.
This design is a great option for those that need a lot of stability and support from the outsole all the way up to the upper. It doesn't provide a good deal of flexibility, which isn't ideal for speed, but it is able to provide unmatched support for long distances.
4

. Mizuno Wave Inspire 17
Although developed for runners who train on a daily basis on road conditions, the Mizuno Wave Inspire 17 is an excellent choice for anyone who needs an extra bit of support to correct moderate overpronation. Containing all of Mizuno's shock absorption technology, it's an excellent pair of shoes with arch support for all types of activities.
One of the biggest updates compared to previous models is the new engineered mesh upper that offers the same amount of breathability, but with better support and durability. Overlays in the toe, midfoot and lacing area ensure a snug fit that won't break down with wear, while padding in the collar and tongue give you a plush feel.
Mizuno's fan-shaped Wave plate ensures a moderate amount of support, regulating the movement of your feet, preventing them from becoming misaligned during your runs. Aiding the shock absorption, the U4icX material underfoot ensures smooth transitions, while still giving you a responsive ride.
The outsole uses X10 carbon rubber that's abrasion-resistant and highly durable, with deep flex grooves that allow you to move completely naturally, no matter the type of movement.
Although priced slightly higher than average, the Wave Inspire 17 is a stellar investment for all those who are looking for sneakers with good arch support or a fit and comfort level that only comes with athletic footwear. The color options are slightly limited, but all look great, nonetheless.
The Ultraboost changed the game when it was released in 2015, and remains a flagship model to this day. In addition to the unparalleled comfort you'll get from these best running shoes with arch support, you can also choose from a variety of color options, from down to Earth blacks and whites, to pop culture-inspired styles.
The ST version features the Boost cushion that everyone loves about Adidas sneakers with arch support and combines it with a Torsion System insert that supports the arch of the foot and prevents pronation issues that could lead to more serious problems.
You'll find that the upper is highly comfortable with its bootie construction made out of the brand's Primeknit - it stretches with your foot, giving you a snug but comfortable feel that's lightweight and breathable. The insole is removable and can be replaced with custom orthotics, and the outsole features Continental grip rubber that'll provide good traction on most surfaces.
The price of the Ultraboost is one of the highest on this list, although you may be able to snag some of the older colorways at an average price.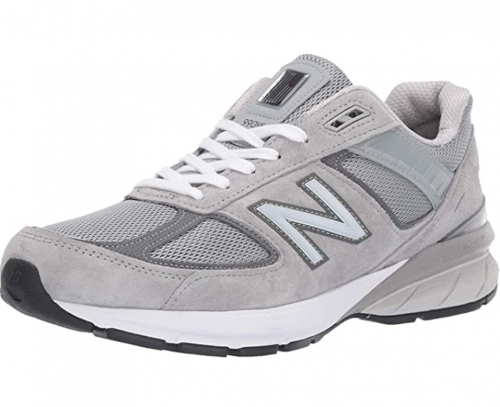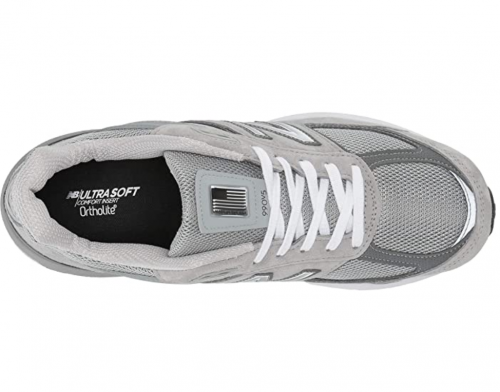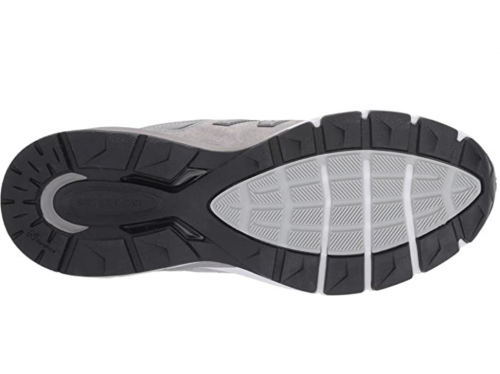 Back when it was released more than 30 years ago, the New Balance 990 changed the running industry for good. Not only did it feature foam materials to take care of shock absorption, but it was a supportive sneaker that was an excellent choice for anyone who needed added support under the arch. Since then, it has become a fashion staple, with numerous iterations, colorways, and special editions.
First and foremost, the thing about the 990v5 is that it doesn't look like a bulky, cushioned running shoe.
The model features ENCAP technology that combines ACTEVA LITE foam with a polyurethane rim that fixes overpronation and that's especially beneficial for heavier users, or those who do not want to purchase new shoes for arch support too often.
As for the outsole, it's made with blown rubber that aids cushioning but it's also great at providing traction on all surfaces. Overall, this is one of the most comfortable shoes for arch support on this list and is definitely worth a try.
With a variety of widths available, any user will be able to find the perfect fit, and the asking price though high is understandable considering it's a leather sneaker.
7

. Brooks Adrenaline GTS 21
If you need cushioning and support, Brooks has you covered. The reason that we selected the Adrenaline GTS21 for your arches is that it has ample cushioning that provides a good deal of support without feeling too heavy or awkward. It is made from quality materials that hold up well for hundreds of miles of continued use. It may cost a little bit more than most, but the extended durability makes it an excellent value.
What makes this ideal for tired feet is the addition of the DNA LOFT Crash Pad. The crash pad in conjunction with Brooks' BioMoGo DNA midsole not only supports your arches but all stages of your gait as well. This midsole offers excellent energy feedback throughout your entire gait cycle, which translates to less tired and aching feet.
The upper of this design is minimalistic and lightweight and stretches to fit the shape of your foot. It boasts a modern 3D Fit Print that offers a modest stiff structure for stability without hindering your full range of motion.
For those in the market for something that provides a good deal of stability without feeling too stiff or heavy, the newest addition to the Brooks Adrenaline lineup is a great choice. You can't go wrong with any of the Brooks sneakers, but the Adrenaline provides the best support for your arches than many of the other designs in the Brooks line.
8

. Salomon Sonic RA Max 2
This design from Salomon provides runners with excellent flexibility for long distances while still offering unmatched supportive features for your feet. It boasts an upper that is lightweight and breathable, and the midsole helps to support your arches and offers excellent energy feedback when running on hard surfaces such as sidewalks and treadmills.
As the name implies, Sonic RA Max 2 is made to move. The lightweight design is perfect for picking up the pace because it is composed of lightweight materials that won't hold you down. The upper is constructed from breathable SensiFit mesh materials that support your foot while offering excellent movement.
The footbed is made from Salomons OrthoLite materials that cradle your foot and provides your arches a good deal of support. The design of this footbed is great for overpronators as well. The midsole is made with EnergyCell + which provides excellent energy feedback throughout your entire gait cycle.
If you want something that will be able to keep up with your high speeds, this design from Salomon is a great choice that will provide you with a good deal of support without weighing you down. This design weighs in at just over 9 ounces, which is relatively light when compared to some of the other stability trainers out there on the market.
It was developed for competition wear, which explains the minimal heel to toe drop that makes you bear your weight more on the toes, and is lauded as one of the best Saucony shoes with arch support.
In terms of technology, the Saucony Fastwitch 9 doesn't overdo it. Instead, it offers just the right amount to provide wearers with a more natural experience.
You will benefit from the lightweight SSL EVA midsole that's been combined with a medial post beneath the arch in order to correct mild overpronation, while the rubber outsole is one of the stickiest you will find, with a great lifetime.
The upper features a mesh upper that's lightweight, while the inner of the shoe has some great features, including an insole that's anti-microbial and moisture-wicking, preventing odors from forming inside.
The price point is average compared to the other options listed, making this an overall good investment.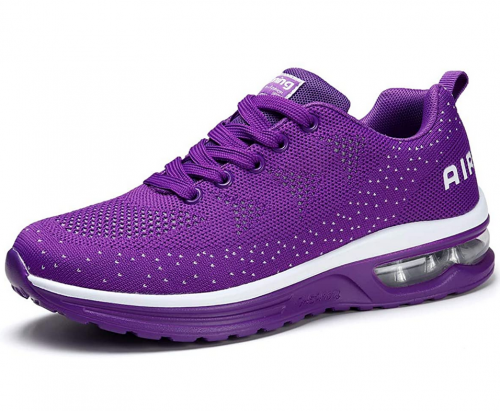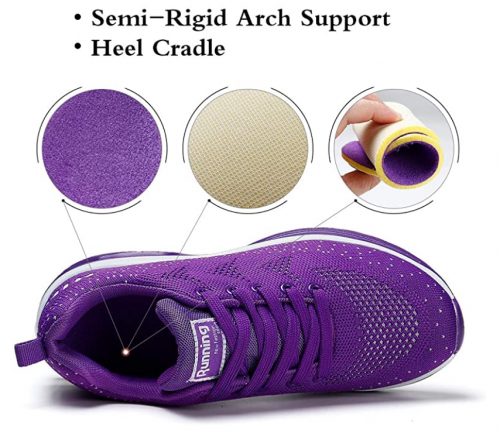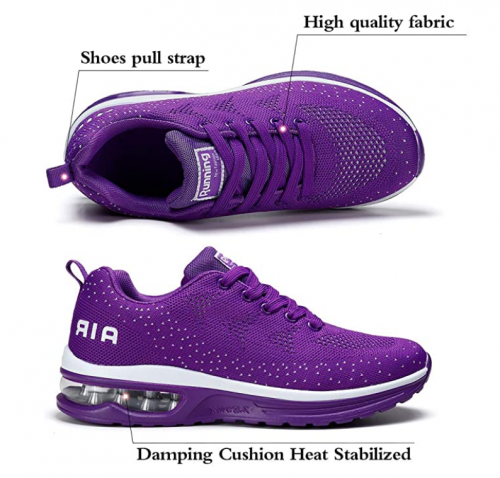 Working with a limited budget? This design from STQ provides runners with excellent cushioning and support without the hefty price tag. If you are a casual jogger that doesn't need something that will last for hundreds of miles like some of the bigger brands, this is an excellent value that will fit your needs perfectly.
The very first thing that we noticed about this design is that it utilizes air cushioning in the sole that works to support your feet with each and every step. It also has a rich and responsive rubber sole that puts an extra spring in your step. Users found that this design not only relieves foot pain but for knee and back pain as well.
We also like that this design boasts a super soft and breathable mesh knit upper. It comes in a ton of fun and unique color options that is unlike anything else out there on the market. It also boasts a removable sock liner that can accommodate supplementary orthotics if needed.
It is important to note that this design reflects a price tag that is super affordable, but it is not ideal for intense long-distance runners. If you need something simple and easy that supports your feet without draining your bank account, this design is worth checking out.

Subscribe to our Newsletter