Best Brooks Running Shoes Reviewed & Rated
In a Hurry? Editors choice: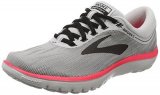 Test Winner: PureFlow 7

Brooks is one of the most reputable
athletic footwear
brands on the market. Every design made by this company is engineered from the needs of runners and crafted through in-depth biomechanical research to ensure that the feel, fit, and ride of their gear optimize performance.
Though the price of this type of footwear may take one by surprise at first, it is imperative to invest in proper shoes as they will not only improve your performance, but they can help to alleviate stress and strains on your feet, as well as prevent injuries. We have compiled a list of what we believe are the 10 top Brooks running sneakers on the market today in hopes of helping you narrow down your search!
Standout Picks
Criteria Used for Evaluation
Style
The first thing you should do before buying this type of footwear is to consider the kinds of running you're going to be doing while you wear them. This footwear is categorized by models that enhance their specific features, and some features are specially created only for certain types of activities.
For example, those who compete in marathons or only run long distances are going to need specific footwear to help ease the long periods of stress created against the foot. It is also important for these runners to wear a design that provides comfortable cushions and that is breathable and can keep the feet cool. The longer you run, the quicker your feet are going to tire, so it's truly important to wear footwear that provides long-lasting support.
The terrain is important to consider too, as it goes hand in hand with the type of training you're doing. If you run uphill, on dirt trails or off-road, you're definitely going to need an option with good grip and traction. Another feature that is important for this type of running is durable soles and materials. Dirt and mud can easily wear down the quality of your footwear, so either be prepared to clean it often or find a pair with strong, long-lasting materials.
If you're training on flat concrete or man-made tracks, you won't need a feature like traction as much. Instead, you need to look for features that absorb shock and help ease the pressure on your feet from contact with hard surfaces. Durable and flexible soles that can provide a little rebound. Bounce back is also a good feature to look for. Features like these ease the flow of movement on unnatural surfaces.
If you like to sprint and fully maximize your body's potential, you're going to want specific features for that too. You'll want to find breathable footwear with lightweight protection against the solid terrain. A feature like mesh uppers is good to look for because the material is lightweight and also allows for proper air circulation to keep your feet from getting hot. Another feature is padding around the contact areas of the foot so you can avoid the quick friction and potential for blisters.
Once you can identify the types of training you're going to do, finding features that are better suited to your performance are much easier to locate. This also helps to narrow down Brooks' large selection of athletic designs.
Support
Arch support is a key feature for all footwear of this type. If your design has completely flat insoles then it is going to do much more harm to your feet than good. Even providing a simple, light curve around the arch is much more beneficial for runners.
Arch support is a necessary feature for evenly distributing the pressure to the whole foot. Like walking barefoot, if your footwear doesn't provide proper arch support, the heel and the ball of your foot are the only parts coming in contact with the surface. This can create hot pressure points that cause discomfort, calluses, and an uncomfortable burning feeling.
The proper amount of arch support will help to ease the pressure created against your foot. Being able to use the arch of your foot while you move will keep your feet at ease for long periods of time. Since your feet take you to all the places you aim to go, it's important to not make some parts work harder than the rest. The even distribution is key to lasting longer on the track or beating your fastest run time.
All footwear from this brand comes with some form of arch support, from light to high. Our list of best Brooks running shoes includes all these types of arch support. For those of you out there with flat feet, it's especially important that your footwear is equipped with this feature. For those of you who have 'normal' feet, arch support is still a key feature in preventing future health concerns.
An additional way to enhance your form and prevent your foot from sliding forward in your sneaker is, again, arch support. This support forms to the shape of your foot, not only creating a comfortable feel, but also a secure fit. Footwear without this kind of support makes your feet slide around which can cause many injuries.
Arch support is important for a variety of reasons and can truly improve the condition of your feet while training. It is an essential feature that all of the items on our list come with, but you should still keep an extra eye out for it. Each design is created with a different level of arch support that uniquely helps enhance performance.
Features
This brand has been creating the most functional and innovative designs since 1914; that's over a century! The company has built a quality reputation for themselves as a name who specializes in running footwear and still to this day is creating the most popular designs on the market. From basic styles to modern, current technology, you'll find it all here from Brooks.
Their large team of professionals, scientists, and runners are constantly doing in-depth research on what features work better and how to enhance previous designs for better performance. Every model is created with smart technologies to provide the proper functions.
For starters, the brand creates its footwear with a DNA midsole that adapts to the shape of your feet and the type of training you do. Also located in the midsole area, their footwear is equipped with a guide rail construction that allows the runner to move freely in the joints and knees. Between the midsole and the outsole lies a ballistic rock shield that helps to spread out blows and protect the footwear and feet from sharp objects.
On the outside, the brand uses 3D fit print, a high-tech revolutionary process that adds structure to the uppers, using screen-print technology. Not only does it enhance the overall structure of the footwear, but it also adds flexibility and a lightweight feel.
Rounded heels help to align the force of the center of your ankle joint, reducing pressure on the feet and internal stress on the body. On a basic innovative level, the brand also makes its footwear with colored materials that can be seen in the dark. This is especially good for those thrill-seekers who insist on late night runs. All athletes can be seen in all types of lighting with their quality materials and outstanding science.
If all that isn't exciting enough for you, there's more! From shock absorbing crash pads to evenly distributing pressure points, the brand has found all the features to bring comfort to your experience. It doesn't stop here either, as Brooks is always working hard to research and find better ways to enhance performance. If a new feature comes along, you can expect the brand to make a new design with it.
Comfort
Comfort can be found in all aspects of a good design. This brand knows how important it is to ease the pressure on your feet during training and aims to use their designs to help the runner enhance their optimal performance. They take the design a step further by putting themselves in the runner's shoes, truly understanding what features are needed for the comfort of each run.
Starting from basic features like a padded tongue and collar, the smallest enhancements can sometimes be the most essential. Since the tongue and collar are what comes most in contact with the foot, it's important to have this cushion there to prevent the possibility of friction. These contact areas can create irritation and blisters which is why the brand lines their footwear with comfortable cushioning to protect your skin.
On the inside of the design, Brooks uses light cushioning fabrics that are soft against the foot but also breathable and able to keep your feet dry. Their padded insoles are created with moisture-wicking technologies and foam cushions to help form the design better to your foot. Their insoles are removable and can be washed to keep your footwear and long-lasting.
On the outside, these most comfortable Brooks shoe designs are equipped with shock-absorbing technology, plush transition zones, and durable rubber outsoles that provide traction and grip against all running terrain. These features are essential in providing comfort and allowing the runner to work harder and longer without feeling the pressure. The bottom curves of the design also help to ease the transitional strides from heel to toe, creating a more comfortable flow of movement.
All around, the brand uses its innovative technology and quality materials to create footwear that offers complete comfort and support. From lightweight cushioning to thick, strong soles it's no wonder why it has been a leading brand in the industry for over a century.
Shock Absorption
Running can be extremely rough on your feet, which is why having the proper gear is crucial to staying healthy and maximizing your performance. Footwear that doesn't provide the proper amount of support can cause unwanted pressure on your feet. This is not only uncomfortable, but it can also damage your feet and your performance.
The brand that is the focus of this guide works hard to use their biomechanical, innovative technology to create designs that alleviate pressure and provide proper support. One of their main goals is to ease the flow of movement and keep your footwear from weighing you down. While shoes protect your feet against the rough environments you run on, it's also vital that they come equipped with the proper shock absorption so your feet don't feel what your footwear does.
Using their revolutionary technology, the brand reshaped their outsoles to evenly disperse pressure throughout the entire foot, instead of being directed in unbalanced pressure points that create heat and friction. These hot spots no longer exist. The balanced distribution in pressure creates easier transitions in your flow of movement while allowing your feet to stay comfortable and perform longer.
The segmented crash pad, found in the midsole of the design, is another feature that helps to ease pressure and aid the transitions in movements. This midsole is fully integrated with a shock-absorbing feature that takes the pressure off of running on hard surfaces. The midsole is flexible and forms to each movement you make.
Brooks put themselves in the runner's shoes to create designs that let the runner feel free and lightweight during every movement. No longer do you have to feel the heat and pressure of running on concrete. Let these products help you maximize your performance and keep your feet happy and healthy.
10 Best Brooks Running Shoes Reviews in 2020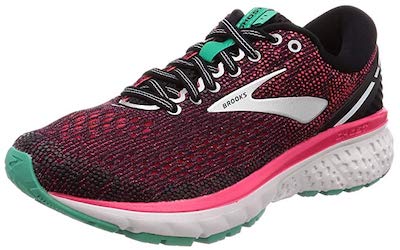 The Ghost 11 is a great option for those who need a neutral design that offers plushness, maximum cushioning, a smooth ride and is made of lightweight materials. As an added bonus for the environmentally-conscious folks, the Ghost 11 is made with the groundbreaking BioMoGo midsole that will biodegrade in 20-25 years. (Most other midsoles on the market will last 1000 years in our landfills.)
The BioMoGo midsole is more than just good for our environment, it helps to deliver a soft feel and adapts to your every stride while providing flexibility and a personalized feeling in cushioning. With an added layer in the midsole from the Ghost 10, it gives slightly more cushioning than its predecessor.

The Ghost is one of the brand's flagship styles, but the newly released Ghost 11 differs from its very successful predecessors in its newly engineered mesh uppers. They now feature 3D printed overlays to aid in integral foot support and provide a consistent, supportive, and adaptive fit.

On the pricier end of the spectrum, the Ghost 11 is an investment for the runner who is searching for a design that will last through any workout - tempo runs, long runs, 50k's. These are one of the most comfortable Brooks shoes on the market.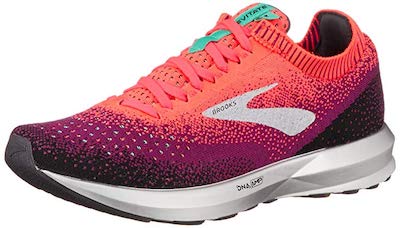 One of the newer models from the brand in 2018, the Levitate 2 was designed for neutral runners, boasting of a lightweight design with energy returned upon each foot strike. The newer DNA Amp technology found in this midsole helps to cushion but releases energy back in response to impact. Sleek styling and 3D Fit Print and FitKnit uppers help keep this design cool and breathable.
The DNA Amp midsole was designed for energy efficiency, helping to give energy back to cushion the foot and you after each foot strike and impact. The end result is a cushiony invigorating sensation, which will keep you going for long distances better than before but will also shorten recovery from long runs or efforts.

With the Levitate's classic 3D Fit Print and FitKnit technology constructed into the uppers, your foot will stay cool and dry even on those hot afternoon runs in the summer. Flexible, and made to bend with your foot and unique foot shape, it gives smart lightweight support without restricting natural flattening of the foot when training.

Premium new technology holds a price tag with the Levitate 2, but if you're a fan of the brand, this design is well worth the investment for a feel of their new technology. Lightweight, neutral runner designed, it's great for those marathon athletes who are looking for cutting down on recovery time between long runs, or need extra cushioning for the long haul.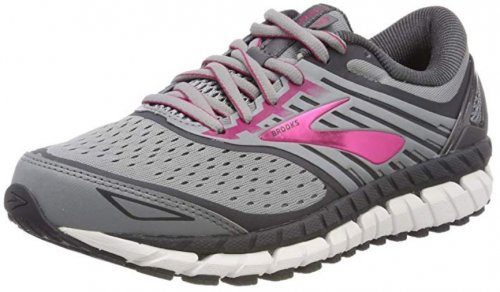 Named by the famous Disney mermaid, the Ariel '18 is said to merge two worlds: comfort and support. This design provides you with superior cushioning and with a toe box that allows plenty of space. Additionally, there is an Extended Progressive Diagonal Rollbar (PDRB for short) which encourages your body to go through its natural motion cycle with more support.
The Ariel '18 has a mesh upper with plenty of ventilation and a spacious toe box, as well as structure in the midfoot and a heel area which keeps you stable throughout. The midsole is a Super DNA system which is 25% more adaptable to the form of the foot than the regular DNA midsole. The PDRB system we mentioned before provides the support that you have yet to experience.

Overall, the Ariel '18 is a support design which is created to keep you stable and prevent any unwanted movements from your feet or legs. It will make you feel cushioned and protected in all the right places, and you will love taking out for that daily run!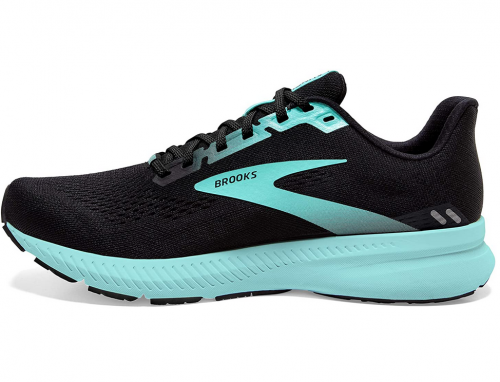 Available in ten different color combinations, the Launch 8 is a great option for those people who crave springy and fast footwear. The Launch 8 will energize your run with blown rubber in the forefoot to help spring you forward on your well-cushioned and responsive ride that has been upgraded from its predecessor version.
The 3D Fit Print technology uses screen-print technology to apply carefully engineered structure to the upper of the Launch 8 and helps to apply stretch and structure for a better fit and feel. Thanks to the rebounding rubber under the forefoot in the Launch 5, this style offers a chance to utilize your neutral stride while providing you with a lightweight ride that keeps you feeling bouncy mile after mile.

Competitively priced, the Launch 8 is worth the investment for those who require a little more spring in their step and covet a design that will keep them cool and dry. Sure to keep you training in comfort for the cost.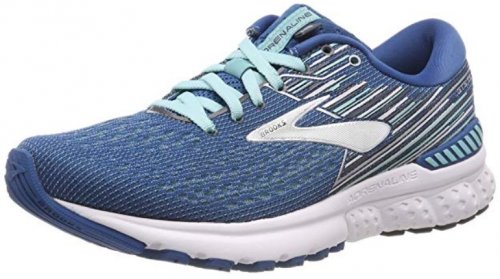 The legendary Adrenaline just got a new revamp in the GTS 19. The brand's iconic design now comes with a holistic GuideRails system as well as cushioning that is soft and responsive at the same time. On top of that, the GTS 19 also has an engineered mesh upper with a more streamlined, modernized fit and the famous 3D Fit Print technology.
The Adrenaline GTS 19 has an upper that delivers structure and an easy fit. The GuideRails support technology we mentioned is not only geared towards the feet, but also to the knees. This is a part of the sneaker which helps you train more comfortably and reduces excess movement. Additionally, the BioMoGo DNA and DNA LOFT are two cushioning systems which work together to deliver softness that you will become addicted to, without losing energy or longevity of the design.

Overall, the Adrenaline GTS 19 is one mean, technology-powered sneaker. It not only takes care of your feet and ankles but also your knees and overall training posture. If you wish to explore all the amazing benefits that this well-rounded option offers, don't hesitate to grab it as soon as you can!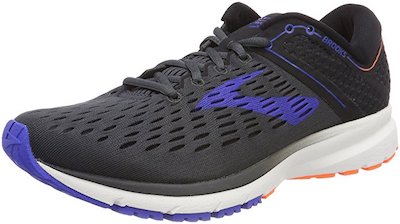 The Ravenna 9 is a great lightweight option for those who have problems with overpronating while they run. Thanks to the DNA, the company's unique and adaptive cushioning system, the Ravenna 9 will offer its wearers a personalized fit for all different sizes, speeds, and foot shapes as well as a midsole that will adapt to your particular stride for custom cushioning.
The sole of the Ravenna 9 is highly flexible due to Omega Flex Grooves allowing the foot to move naturally through the gait cycle which optimizes running. The Ravenna 9 offers more versatility than its predecessors because of its luxurious fit and a stable, cushioned platform. Another update to this style was the choice to change the foam layering, resulting in a slightly more energetic ride making it a perfect choice for longer training and marathon races.

Competitively priced, the Ravenna 9 is a great option for those who need more of a customized fit from their footwear. If you have issues such as overpronation, it is worthwhile to invest in a design optimized to help correct your gait.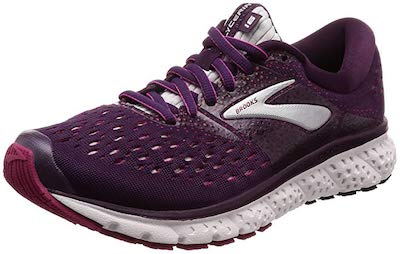 Featuring a fresh and current update to the Glycerin 15, these have been upgraded in performance to bring you the most stable, comfortable run. Adding cushion on the inside and around the ankles, this upgrade is more comfortable and lightweight than the previous version. The brand has also upgraded their midsoles to provide 25% more flexible and adaptable cushioning. All around created for comfort and flexibility, you can't go wrong with the Glycerin 16.
Adding 3D printing technology, the Glycerin 16 has been designed to add plush cushioning around the ankles. The material has the ability to move as you move while still keeping your foot in its perfect place. The outsoles have been redesigned to create a plush zone of transition that allows your foot to feel at ease during heel to toe strides. The outsoles are soft, smooth and provide lightweight traction as well.

Another highly expensive design, but completely worth the cost with all its current technological upgrades. These are a step up from the Glycerin 15 and come equipped with features that make every training experience a better one.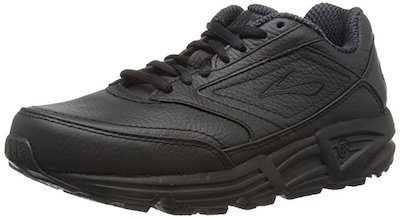 A casual, contemporary option designed for support and great for beginner level runners. Featuring shock absorption, cushioned midsoles, and slip-resistant outsoles, the Addiction Walker was completely designed for the comfort of the wearer. This top-rated model was designed with an efficiently balanced construction that helps the flow of movement from heel to toe. Great shoes for long walks and basic, beginner runs, it will provide ultimate support and comfort during all your activities.
Flat footwear is no good for running. You need shoes with a slightly curved bottom to allow for ease in movement. The Addiction Walker comes with just that. This feature provides maximum motion control and foot flexibility, overall making for an easy shift between movements.

The Addiction Walker is lined with cushion from the inside out. Equipped with MoGo midsole cushioning and a fully functional arch, it will keep your feet supported and comfortable during all types of runs. And of course, you can't forget the durable soles that will ease tension and pressure.

These are on the more expensive side. The multiple quality features make the Addiction Walker durable and long-lasting, which in return should make the initial cost worth the overall value of the design.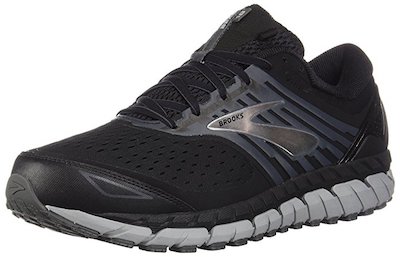 Made for the runner who excessively overpronates, the Beast '18 is a great option for those who require a little extra support from their footwear. This is one of the brand's most supportive options in their lineup making it a perfect choice for daily runners. The Beast '18 also features Omega Flex Grooves to support natural forefoot movement and fluidity.
The Extended Diagonal Rollbar feature adds control to help guide the body back into alignment for a controlled stride. This is a great feature for those who excessively overpronate when they run. The comfortable saddle of the Beast '18 wraps the runner's midfoot ensuring a secure fit, while the mesh upper protects from various elements to keep feet dry and cool. The Beast '18 features additional cushioning and a plush in-shoe feel thanks to the ultimate sock liner.

Priced higher than other options on this top ten list, the Beast '18 would be an investment for the people requiring extra support and assistance on correcting overpopulation. We rated these as the best Brooks running shoes for plantar fasciitis.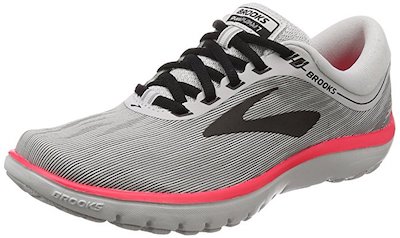 Designed for road athletes with a neutral arch, the PureFlow 7 brings back the wide toe box from the previous version, and an improvement in the construction to be less stiff and more pliable for comfort and foot flexion. The seamless upper construction helps ward off-seam irritation, and the outsole is durable and more abrasion-resistant.
Made from blown rubber, this outsole of the PureFlow 7 is tougher and more durable than softer rubber soles around. Still able to provide proper cushioning for impact absorbance, the outsole is abrasion-resistant and can provide increased traction on road surfaces. A seamless upper with a cushioned sockliner helps prevent any irritation from seams to the foot.

Similar to other models, the midsole of the PureFlow 7 boasts the BioMoGo DNA LT, helping lighten the overall weight while cushioning your step. A rounded heel helps enhance foot support, and the Dynamic Flex Grid at the forefoot improves toe-off traction. Omega Flex Grooves help position you for the best natural gait during your run.

One of the more budget-friendly items, the PureFlow 7 is great for beginners and advanced racers alike. Cushioning combined with durability, backed with the brand's technology makes this sneaker a bargain buy for those with a neutral arch who prefer the feel of low drop footwear.

Subscribe to our Newsletter