Best Shoes for Foot Pain Reviewed & Rated
last updated
Mar 19, 2019
Most Americans who suffer from foot pain are diagnosed with nail fungus, foot odor, arthritis, and nerve circulation disorders. We should all agree that wearing proper fitting, comforting shoes is the essential first step in solving the foot pain problem. Specific shoes designed with arch support and precise fit can help ease and prevent the worsening of foot pain. So whether you're battling Plantar Fasciitis, Arthritis, or just simply want a shoe that feels comfortable, we've got you covered with the 10 Best Shoes for designed for any type of foot pain.
In a Hurry? The test winner after 100 hrs of research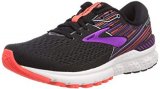 Brooks Adrenaline GTS 19
Why is it better?
Implemented Crash Pad
High-Energizing Cushioning
Rubber Sole
Plush Tongue & Collar
HPR Plus 
In a
Hurry? Editors choice: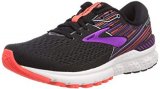 Test Winner: Brooks Adrenaline GTS 19

21
Researched Sources
1278
Reviews Considered
100
Hours Researching
20
Products Evaluated
Ground Feel
Heel
Midsole
Protection
Support
By Default
10 Best Shoes for Foot Pain
1

. Brooks Adrenaline GTS 19
Implemented Crash Pad
High-Energizing Cushioning
Rubber Sole
Plush Tongue & Collar
HPR Plus 
The Adrenaline GTS19 is the flagship of the Brooks brand and their stylish, colorful shoes are back and better than ever compared to last year's GTS18 model. The Brooks Adrenaline GTS19 is the go-to shoe for comfortable, reliable running.
Read more
Brooks implemented the Segmented Crash Pad into their GTS17s, which is a pad that softens impactful landings and is emphasized with different hot-spots on the shoe. A returning feature is the high-energizing cushioning that made the GTS16 an iconic runner for those with Plantar Fasciitis. The cushioning is a prominent feature that provides overall foot balance and also enhances comfort.
Those looking for a cheap runner won't find it with the GTS19. The price isn't meant to completely wipe you out but the shoes aren't the cheapest given their lack of significant improvements from the GTS16. Still, the GTS19s are the new and improved version and the price is justifiable given their reliability and functionality.
2

. Adidas Adipower Weightlifting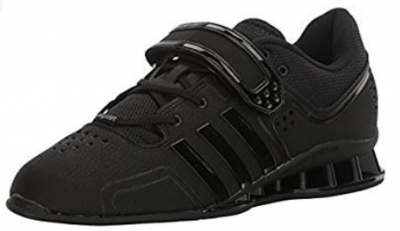 Stronger around the edges
Hook-&-Strap Design
Special Polymer Insole
PU-Coated Leather
Engineered Shaft for Weightlifting
May Fit Tight
Are Stiff at First
Although the Adipower is designed for weightlifting, you don't have to be an avid gym-goer to enjoy these stylish, light runners. The Adipower is a premier shoe in the weightlifting world that promotes PU-coated leather and a plastic heel to prevent foot pain when experiencing tremendous amounts of pressure.
Read more
The design of the shoes are not only high-functional, the main body is specifically designed to withstand weight of over 500 pounds. The use of special polymer for added strength allows anyone to feel versatile when performing some physical activities without the worry of injury.
The adjustable design allows anyone to feel precise fit and flexibility in their shoes. The hook-and-strap is designed to integrate the heel to the rear of the shoe so the wearer can feel it as more than a shoe—but an extension of the foot.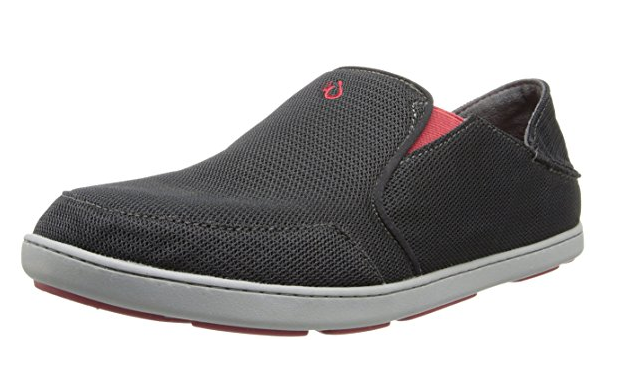 Drop-In-Heel
Removable & Washable Footbed
Vegan Friendly
Non-Marking Rubber
Razor Grip On Wet Surfaces
Variable Sizing
May Feel Loose & Floppy
The Olukai Nohea Moku are a great alternative to flip-flops and provide a profound comfort and balance. The shoes offer great breathability for the design and are known to be one of—if not the—most comfortable shoes to be worn casually.
Read more
The Mokus provide Everfit, which is a contoured footbed that incorporates Dri-lex to prevent moisture from accumulating. This technology is one of the reasons why the Mokus are renown for being the most breathable shoe.
An adjustable heel is an interesting feature indeed. The heel on the Moku is slidable, and the panels can be arranged for flexibility, functionality, and a better fit. This design is patented by Olukai and can't be found on any other shoe.
Durable Rubber Sole
Impact Guidance System
FLUIDRide Midsole
Lightweight
Fluid Fit Upper
Heel Clutching Technology
The ASICS has always been the ideal shoe for foot pain, with almost 20 years of innovation. Their new Gel-Nimbus 20 shoes are high performing and high functioning modern style.
Read more
The Gel-Nimbus brings a new form of design called FluidFit, which is a multi-directional stretch mesh over the upper with reinforcements that adapt to your foot to give you a perfect, glove-like feel.
You'll find these to be a more comfortable shoe for many reasons. The seamless construction of the Nimbus 20 reduces the possibility of irritation and friction that traditional seams or stitches often cause. The heel clutching system gives you improved support. The FlUIDRide Midsole gives you a bounce back and cushioning at a reduced weight to keep you from fatiguing too quickly.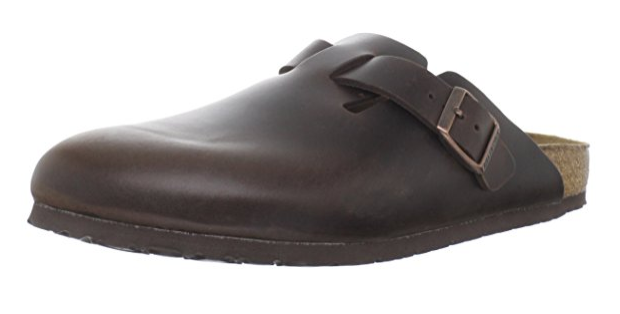 Synthetic sole
Leather Exterior
Roomy Toe Area
Raised Toe Bar
Deep Heel Cup Cradle
Are Known to Slip
Very Pricey Compared to Other Clogs
The classy Birkenstock is an iconic clog for anyone who has foot pain. The Birkenstock Boston offers a custom footbed and synthetic sole that optimizes the arch for pain-free walking and hiking. Not only is the fashionable leather an attractive design, the adjustable interior strap promises a snug fit for any shape and size.
Read more
The deep heel allows the wearer's foot to naturally be cradled by the footbed. Whether you plan to walk, hike, or stroll, the Birkenstock Boston's will ease the pressure on your heels and keep your feet pain free.
The Birkenstock Boston's extra room in the toe box allows enhanced balance and precision while walking. With each step, the design is noticeable as you can feel your center of gravity is supported by the shoes. The Birkenstock Bostons cost more than our previous choices. The reason being the smooth, leathery exterior and insane levels of arch support. If you are looking to throw some extra moolah for added quality and comfort, the Birkenstock Bostons are—without a doubt—the best choice.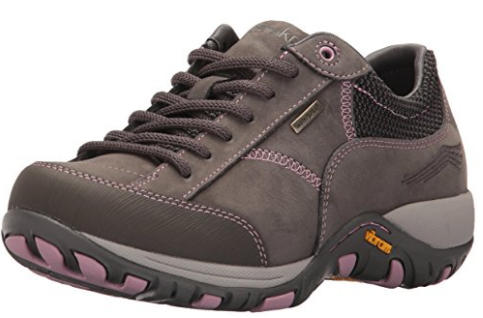 Vibram® Rubber Outsoles
Cleansport NXT™
Triple-Density Footbed
DuPont™ Sorona® Moisture Absorbing Fibers
Waterproof
These Dansko sneakers accommodate most standard and custom orthotics and are designed with a waterproof leather upper and Vibram® rubber outsoles. A removable triple-density footbed offers superior arch support and shock absorption, while Cleansport NXT™ technologies provide natural built-in odor control. The Paisley's built-in shank gives added stability and support, while their DuPont™ Sorona® fibers manage moisture to keep feet cool and dry.
Read more
Vibram® rubber outsole is slip-resistant and has anti-skid properties, making them the perfect shoe for outdoor activities like hiking and paddling.
Cleansport NXT™ technologies use natural and beneficial microbes which are bonded to the surface of the shoes' fabric This process of applying the live microorganisms to fibers, results in natural health benefits and odor control.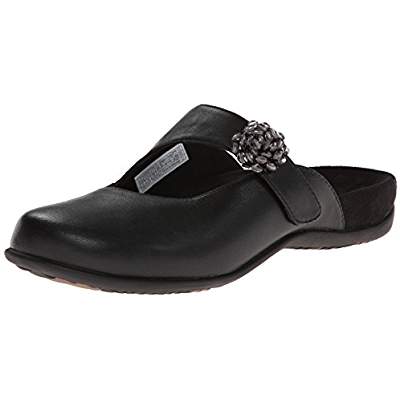 Leather Textile
Durable Rubber Midsole
Easy to Wear & Use
Shock Absorption in Midsole
Very Light
If you're on or ever planning a vacation, the Vionic Orthotic Slip-ons are the correct choice for your season of relaxation. The slip-ons are easy to wear when walking on the beach, hiking mountains, or relaxing at a BBQ. The robust and functional design is ideal for anyone looking for a sandal-like design with an added midsole that absorbs shock.
Read more
The easy and breathable sandal allows efficient use because of its light and functional body. The Orthotics are not only light in weight but have implemented midsoles that absorb shock, unlike other light shoes.
Compared to the other shoes listed, the Vionic Joan Orthotic Slip-ons can be worn to more extreme environments without the fear of wear and tear. The durable slip-ons suffer from little inevitable damage and—although perfect for the beach—is manufactured to be worn practically everywhere.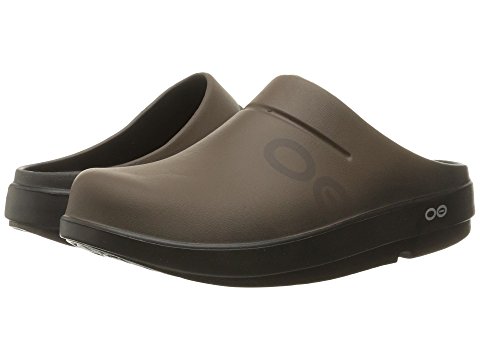 Glossy or Matte
Biomechanical Design
Arch Support
While unorthodox, it should be noted that looks may be deceiving and these shoes can make you feel like you're walking on air. The ooCloog easily eliminate the basic problems of walking with foot pain by having cradled arches that support the stress on your feet and your back. If you want to walk and live pain-free, the ooCloogs are one of the better options in terms of comfort and recovery.
Read more
Having cradled arches should be a necessity in any shoe relieving foot pain and the OOFOS has designed theirs with the best fit and softest cradle, reducing feet, knee, and even lower back pain. The shoe features vented sides and logos at the heel for added arch support.
Have no fear wherever you trek as the ooOriginal are easily machine washable. After a long, exhausting day, nothing feels better than to simply throw your shoes into the washing machine and have them clean and ready for tomorrow.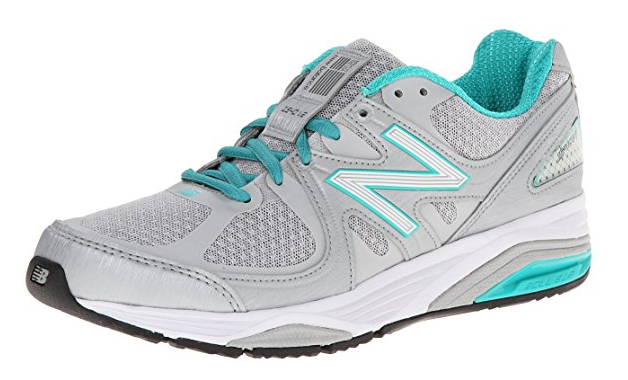 Great Heel & Midsole Cushioning
Incredibly Lightweight
Dual-Density Foam Collar
Synthetic Sole
Breathable Mesh Panels
Toe Box Can Feel Too Tight
The New Balance brand is an icon for functioning footwear that supports Plantar Fasciitis for athletes. The line produces over 4 million pairs per year and shows dedication in their shoes. Their technology and innovation shoes in their M1540V2 running shoes that delivers efficient ventilation and combats heel and toe pain.
Read more
The New Balance 1540V2 offers the same lightness from previous lines but with added heel cushioning significant comfort. The lightweight shoe is perfect for everyday pain-free running and provides extraordinary ventilation.
Yet another well-designed feature from New Balance is their Dual-Density Foam collar in the midsole and heel of the shoe. The foam allows for a cradled arch that provides support from weight when running or hiking.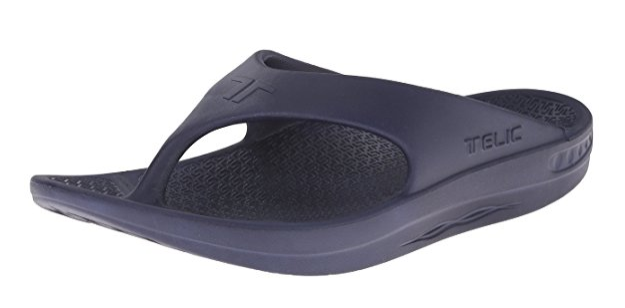 Molds into Any Fit
Shock-Absorption
Manmade
Synthetic Sole
Fits Smaller than Size
No Support for Running or Jogging
Our simple, synthetic flip flops from Telic make life at home and around the community easy and convenient. Whether you're just walking around the house, out for a quick bite, or shopping at your local market, these easy-to-wear flip-flops can make daily commute effortless.
Read more
Believe it or not, the Telics are all manmade instead of factory made. This means that added care and precision was made to ensure that these shoes last.
The sandals offer a degree of lightness while delivering cushioned arch support in a contoured footbed for a comfortable, smooth, and easy feel. The added support reduces shock-absorption and the softness allows the shoe to mold into the shape of the foot.
Criteria Used for Evaluation


Ground Feel
Ball Of The Foot
The ball of the foot is the padded area on the sole in between the arch and the toes and it is a common source of pain for many individuals. A few reasons for pain in the ball of the foot and the best types of shoe for each are listed below:
Metatarsalgia
Involves pain and inflammation around the ball of the foot and can be caused by poorly fitted shoes or strenuous activity. The best type of footwear to treat this condition is comfortable and cushioned shoes, while there are also many shoes which are designed with an insole that specifically relieves pressure from the ball of the foot.
Sesamoiditis
Your sesamoids are two bones near the big toe which are only connected by tendons. Sesamoiditis is an inflammation of the supporting tendons and is a form of tendonitis which commonly affects dancers and runners. The best type of shoe to treat this condition is one with a low heel and a padded footbed, particularly under the toe area.


Heel
Heel Pain
Pain in the heel of the foot can have different causes, depending on the reason for your heel pain there will be different types of footwear which can help alleviate your discomfort. Let's take a look at the conditions which can give you foot pain:
Plantar Fasciitis
A painful condition caused by irritation or inflammation of the band of tissue connecting the heel bone to the toes. Sufferers often complain of worsening pain in the mornings, especially when they are just waking up. The best shoes to wear if you are suffering from Plantar Fasciitis are ones with good arch support to take the pressure off of your connective tissue. A cushioned sole is also recommended to absorb shock and protect your foot.
Spurs
Spurs are abnormal bone growths which protrude out from the bottom of the heel. They can be caused by wearing the wrong shoes, poor posture, or from physical activities like running and cause pain when you're walking or standing. Both flat and high arches are prone to this condition. Treatment often requires the use of a custom-made orthotic insert, as well as, wearing shoes with excellent shock-absorption. Orthotics are custom foot supports which are made to fit your foot and are crafted from the measurements of your feet, legs, and limb length. They are then further adjusted for your specific cause of discomfort.


Midsole
Metatomical
A metatomical footbed is designed so that the insole and last are anatomically engineered to provide better support. They are designed to mimic the shape of the foot with special attention on the first metatarsal joint (big toe).
Compression Molded EVA Midsole/Injection Molded EVA Midsole
Compression and injected EVA midsoles are similar, the only real difference is in the way in which they are produced, and between the two, they account for 95% of manufactured shoe midsoles. Injection Molded EVA Midsoles are, however, said to give more bounce than compression midsoles and are more lightweight.
The benefits of having a quality midsole and footbed are many, some of which are to:
Stabilize the foot and act as a shock absorber;
Improve alignment by guiding the foot into a neutral position which reduces the level of strain on the foot; and
Improve Pressure distribution, resulting in improved comfort, less fatigue, and decreased foot pain.


Protection
Toe Pain
Pain in the toes is a common complaint and can be disabling if it becomes severe enough. There are a few reasons why you might be experiencing toe pain, and there are different types of shoes which can help stop it in its tracks.
Gout
A painful form of arthritis which involves crystals collecting in the toe joints that eventually start to cause severe pain and swelling. The big toe is the toe most commonly affected by gout. The best type of shoes to wear when you have gout are shoes with a wide and deep toe box so they do not cramp and constrict your toes which will only cause more pain. Hook and loop closures are also a good idea because you can easily adjust the level of pressure which the closure puts on your foot.
Bunion
Bunions are bony protrusions which sit beside the base of the big toe and are said to come from a misaligned first toe joint and can also be caused by wearing poorly fitted shoes. The best type of shoe to wear if you are suffering from a bunion is one with a deep, wide toe box and a little padding at the toes as possible.
Ingrown Toenails
Ingrown toenails occur when the sides of the toenail form over the top of the nail which can be extremely painful and may cause infections. The best type of shoes to wear while your suffering with an ingrown nail, or if you are prone to getting them, is one that does not put any pressure on the toes. A wide, deep toe box will allow enough room for your toes to move freely without any pressure.


Support
When you are suffering from a condition causing you to experience painful feet, it is essential that you properly cushion and support them to allow their condition to heal. A shoe which offers a cradling footbed or heel support will enable the foot to rest in a natural cradled position which will reduce the amount of shock absorbed and minimize the level of strain your feet endure when walking or running.
It's important to remember a cushioned footbed or added heel support will also add extra weight to the shoe which is something that you should try to avoid. Heavy shoes cause more strain and take more effort to walk and run in making it important that the added cushion and support a shoe has does not weigh it down. There are excellent materials which add comfort, cushion, and support while remaining super lightweight and breathable. One of the best materials is EVA (ethylene-vinyl acetate), a light and flexible man-made material often used in the midsole for additional comfort.
Heel Cup
Shoes with a specially made heel cup are designed to absorb shock and reduce foot pain associated with the heel. Heel pain is worsened when your foot strikes the ground and wearing a shoe with a built-in heel cup will reduce the pressure on the heel when you step down.
Expert Interviews & Opinions
Most Important Criteria
(According to our experts opinion)
Experts Opinion
Editors Opinion
Users Opinion
By Default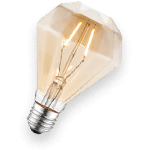 Insoles For Foot Pain
While your footwear can help ease the burden of foot pain, sometimes cushioned insoles can be a quick fix. If your shoes lack cushion, or perhaps have worn down the cushioning over the years, try investing in a pair of cushioned insoles to help add that extra padding to make your feet feel great!
Diagnosing Foot Pain
While there are a number of causes to foot pain of all sorts, it's always best to get your doctor's opinion to help diagnose any sort of pain you have. Anti-inflammatories can help reduce swelling, as well as making sure that your footwear is as cushioned and supportive as it can be.
Avoid wearing restrictive or higher heeled shoes until you can see a doctor.
Other Factors to Consider


Outsole
The outsole, or more simply, the sole of the shoe, makes direct contact with the ground and therefore supports the entire foot and body when in motion. A poorly-constructed outsole will lead to discomfort, slipping and foot or other bodily injury. For this reason, many manufacturers use materials that are water-, weather-, heat-, and impact-resistant. Depending on the type of footwear, one will often see outsoles made from natural or synthetic materials, such as PVC, EVA, rubber, and leather. Each of these has their advantages, depending on the shoe's purpose; however, as a general rule, they each are resistant to the aforementioned factors. They are also flexible enough to support a proper foot cycle when in motion, but they are not so flexible that they feel like a pair of socks. A sole made of the materials above tends to score higher on our product evaluations.


Style
While style is often a matter of personal taste, we've checked thousands of online reviews to see what people are saying about each of the products on our list. Some things, such as sleek design, seamless construction and overall weight and shape of the shoe, were common likes or dislikes among buyers of each product.
To evaluate style, we considered everything from the design, color, shape, weight, lines and overall construction of the shoe in question. While no one wants to wear an uncomfortable shoe, they also don't want a comfortable shoe to be ugly on the eyes. We've selected all of those on our top 10 to be not only stylish but also comfortable, true-to-size, supportive and durable.
The higher the score on the "style" metric, the more fashionable we and the community of buyers we surveyed deemed the product to be.


Bottom Line
In conclusion, there are many things to think about when choosing shoes that prevent foot pain. As this is a major concerning epidemic in America right now, it is essential that we all do our best to take care of our feet. We can start doing this by picking out proper shoes that provide proper, balanced support that our feet deserve. Those with issues such as Plantar Fasciitis, and even those without, should all prioritize the type of shoe they choose to be comfortable first, and stylish second. Thankfully, the shoes on our list cover both these categories so you can live comfortably and in style.
Frequently Asked Questions
q:

If my toes are touching the top of my shoes but my feet still feel comfortable is it okay to wear them?

a:

No. There should always be about half an inch of space between the tip of your longest toe and the top of your shoe. If your toes are touching the tip of a shoe that means that over time there will be added pressure pushing on the point of contact, which can lead to all sorts of painful conditions of the foot.

You should have enough room to wiggle your toes without connecting with your shoe so that your feet are not constricted and exposed to points of added pressure.
q:

Can shoes cause foot pain?

a:

Yes, wearing the wrong pair of shoes can cause all sorts of painful conditions of the foot. For example, shoes which are too tight can squish your toes eventually causing bunions, hammertoes, and possibly even nerve damage. Whereas, the shoes you've worn for ages can all-of-a-sudden start to hurt your feet because over time their cushion and support have worn down leaving your feet vulnerable.

It is best to buy new shoes as soon as you start to notice any unevenness of the sole, or if the shoes you own are either too tight or too loose.
q:

How to tie your shoes for foot pain?
q:

Can flat shoes cause foot pain?

a:

Flat shoes do not provide adequate support, especially for individuals with flat or low arches. Flat arches can lead to conditions like, plantar fasciitis, an inflammatory condition affecting the band of tissue which runs from the heel through the arch of the foot.
q:

Why do new shoes cause foot pain?

a:

New shoes are notorious for causing foot pain. Often this is because a person has tried on the shoes in a hurry and ended up purchasing shoes which fit poorly. Shoes that are too tight, too narrow, or too wide can all cause varying levels of foot pain, which is why it is important to take extra time when trying on shoes before purchasing them.
q:

Best shoes for diabetic foot pain?

a:

Diabetics are at an increased risk for developing a complication of the foot and require a special type of shoe to prevent pain and injury from occurring. Orthotics are the best option for someone with Diabetes because orthotics provide better shock-absorption and pressure relief. Both custom-made and pre-made orthotics can be recommended to assist diabetics with foot pain.
q:

Who do I go to see for foot pain?

a:

There are several types of medical practitioners you could see regarding your foot pain, General Practitioners, Podiatric Specialists (Foot Doctors), or an Orthopedic Specialist, will help you find the cause of the pain you're experiencing and start you on the road to recovery.
q:

Will shoes stop rubbing?

a:

Generally shoes that rub will not stop on their own, there are, however, steps you can take to help prevent your shoes from continuing to rub against your skin. For example, using deodorizing foot products will reduce the amount of moisture and moisture is one of the reasons for feet sliding around in shoes which causes friction, thus leading to blisters. Wearing blister pads can also reduce the amount of friction and rubbing because you can protect the area of your foot which comes into contact with the shoe.
q:

Why do shoes cause blisters?

a:

If the shoes you are wearing do not fit securely your feet will slide and move up and down inside of the shoe. Any type of movement may cause rubbing and friction, which in turn causes blisters to form from the friction of your skin connecting with the material of the shoes.