Best Shoes for Foot Pain – Our Top 2021 List!
In a
Hurry? Editors choice: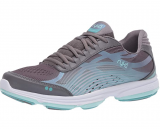 Test Winner: Ryka Devotion Plus 3

Most Americans who suffer from foot pain are diagnosed with nail fungus, foot odor, arthritis, and nerve circulation disorders.
We should all agree that wearing proper fitting, comforting shoes for foot pain is the essential first step in solving the discomfort problem.
Specific shoes for foot pain designed with arch support and precise fit can help ease and prevent the worsening of your symptoms.
So whether you're battling
Plantar Fasciitis
, arthritis, or just simply want a shoe that feels comfortable, we've got you covered with the 10 best shoes for foot pain, including options for any occasion.
Standout Picks
Criteria Used for Evaluation
Effectiveness
The ball of the foot is the padded area on the sole in between the arch and the toes and it is a common source of pain for many individuals. A few reasons for pain in the ball of the foot and the best types of shoe for each are listed below.
Metatarsalgia
Involves pain and inflammation around the ball of the foot and can be caused by poorly fitted shoes or strenuous activity. The best type of footwear to treat this condition is comfortable and cushioned shoes, while there are also many shoes that are designed with an insole that specifically relieves pressure from the ball of the foot.
Sesamoiditis
Your sesamoids are two bones near the big toe which are only connected by tendons. Sesamoiditis is an inflammation of the supporting tendons and is a form of tendonitis which commonly affects dancers and runners. The best type of shoe to treat this condition is one with a low heel and a padded footbed, particularly under the toe area.
Heel
Pain in the heel of the foot can have different causes, depending on the reason for your heel pain there will be different types of footwear that can help alleviate your discomfort. Let's take a look at the conditions which can give you foot pain:
Plantar Fasciitis
A painful condition caused by irritation or inflammation of the band of tissue connecting the heel bone to the toes. Sufferers often complain of worsening pain in the mornings, especially when they are just waking up.
The best shoes to wear if you are suffering from Plantar Fasciitis are ones with good arch support to take the pressure off of your connective tissue. A cushioned sole is also recommended to absorb shock and protect your foot.
Spurs
Spurs are abnormal bone growths that protrude out from the bottom of the heel. They can be caused by wearing the wrong shoes, poor posture, or from physical activities like running and cause pain when you're walking or standing. Both flat and high arches are prone to this condition.
Treatment often requires the use of a custom-made orthotic insert, as well as, wearing shoes with excellent shock-absorption. Orthotics are custom foot supports that are made to fit your foot and are crafted from the measurements of your feet, legs, and limb length. They are then further adjusted for your specific cause of discomfort.
Midsole
The benefits of having a quality midsole and footbed are many, some of which are to:
Stabilize the foot and act as a shock absorber;
Improve alignment by guiding the foot into a neutral position which reduces the level of strain on the foot;
Improve pressure distribution, resulting in improved comfort, less fatigue, and decreased foot pain;
Overall Fit
Pain in the toes is a common complaint and can be disabling if it becomes severe enough. There are a few reasons why you might be experiencing toe pain, and there are different types of shoes that can help stop it in its tracks.
Gout
A painful form of arthritis involves crystals collecting in the toe joints that eventually start to cause severe pain and swelling. The big toe is the toe most commonly affected by gout.
The best type of shoes to wear when you have gout are shoes with a wide and deep toe box so they do not cramp and constrict your toes which will only cause more pain.
Hook and loop closures are also a good idea because you can easily adjust the level of pressure which the closure puts on your foot.
Bunion
Bunions are bony protrusions that sit beside the base of the big toe and are said to come from a misaligned first toe joint and can also be caused by wearing poorly fitted shoes.
The best type of shoe to wear if you are suffering from a bunion is one with a deep, wide toe box and a little padding at the toes as possible.
Ingrown Toenails
Ingrown toenails occur when the sides of the toenail form over the top of the nail which can be extremely painful and may cause infections. The best type of shoes to wear while you're suffering from an ingrown nail, or if you are prone to getting them, is one that does not put any pressure on the toes.
A wide, deep toe box will allow enough room for your toes to move freely without any pressure.
Support
When you are suffering from a condition causing you to experience painful feet, it is essential that you properly cushion and support them to allow their condition to heal.
A shoe that offers a cradling footbed or heel support will enable the foot to rest in a natural cradled position which will reduce the amount of shock absorbed and minimize the level of strain your feet endure when walking or running.
It's important to remember a cushioned footbed or added heel support will also add extra weight to the shoe which is something that you should try to avoid. Heavy shoes cause more strain and take more effort to walk and run in making it important that the added cushion and support a shoe has does not weigh it down.
There are excellent materials that add comfort, cushion, and support while remaining super lightweight and breathable. One of the best materials is EVA (ethylene-vinyl acetate), a light and flexible man-made material often used in the midsole for additional comfort.
10 Best Shoes for Foot Pain
Subscribe to our Newsletter