Best Comfort Shoe Brands & Models Reviewed & Rated
In a Hurry? Editors choice: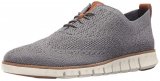 Test Winner: Cole Haan Zerogrand Stitchlite

Our feet sometimes don't get the credit they deserve; we stand on them all day, run with them and play soccer with them, so why not give your two feet a little credit and reward them with a
comfortable shoe
that will feel good and look good too. We've compiled the top 10 best comfort shoes on the market today and we're delighted to share the results with you. There's a little something for everyone, with varying styles, materials, features and
price-points
.
Standout Picks
Criteria Used for Evaluation
Materials
To be comfortable, shoes must be made of materials that cushion your foot and protect it while providing enough support to keep your feet in the shoe. The materials must be non-irritating and the build should ensure that you're not left with blisters, sore spots, and abrasions.
In terms of material and build, each major part of the shoe should be considered:
The Outsole: Look for rubber, synthetic rubber, and materials like polyurethane which can provide some shock absorption without being too stiff.
The Midsole: The midsole should provide some cushion and shock absorption as well, EVA is a good material for midsoles.
Insole: The insole should be cushioned and suit the shape of your feet. They should never scratch or cause your feet to 'stick' to them. Memory foam, EVA, and gels usually make good insoles. If you wear custom inserts or orthotics, the insole should be removable to accommodate those.
Tongue and collar: The tongue (if there is one) and collar of the shoe should never rub on or irritate the foot, If they are too stiff they will cause blistering. If seams are not placed well, they will also rub on the feet. Fabric lined tongues and padded collars both add to comfort.
Lining: Lining is not always necessary for a shoe. Many are sufficiently soft and non-irritating so as to go without a liner. Shoes that do have liners should have them made from soft fabric, brushed leather or other material that will not abrade your foot
Upper: Upper materials should protect your foot from water and other elements while allowing the foot to breathe. If the materials are not breathable, they should have breathability build in with portholes and other openings to allow air to circulate. Mesh and canvas are both naturally breathable.
Toe Box: The toe box of any comfortable shoe should have enough room that your lies lie flat next to one another and are not compressed from the sides or the top.
Fit
It does not matter how much engineering, thought or comfort a manufacturer builds into a shoe if it does not fit you. Ill-fitting shoes are going to cause problems for your feet and legs, will not be as comfortable as they should be and will wear out much faster.
A shoe that fits well will hug your foot but not squeeze it, compress it or cut off circulation to any part of your foot. It won't be too loose either. Your foot should stay inside the shoe without traveling out or back and forth along the footbed. Nothing inside of the shoe should poke, rub, scratch or abrade the foot. You should not feel too much pressure in one area over another.
If you are not sure of your shoe size, a podiatrist can take the right measurements for you. Don't worry if one foot is larger than the other either, that is entirely normal. Always fit the larger foot. You can also place a piece of paper on the floor, draw the outline of your foot on the paper and take the measurements that way. I will not produce the most precise foot measurements but it will help to ensure a good fit for your shoe.
Some shoes fit large or small, wide or narrow. Before purchasing, you should check the sizing chart from the manufacturer if one is available and read the reviews. Reviewers are more than happy to talk about fit, especially if they've bought a shoe that does not fit them. You will usually discover whether the shoe fits true to size (hint: most do not because true to size for you is untrue for someone else. When most people say "I wear a size 10", they mean "For most types of shoes and manufacturers that I've worn, I usually wear a 10" without thinking about the fact that their shoes usually fit slightly differently.)
Versatility
Unless a shoe is specialized (for example, a steel-toed work boot, ballet slippers, soccer cleats, etc), a shoe with good value will be versatile. You should be able to use it for more than one activity or occasion, with more than one type of outfit.
What to look for in a comfortable work shoe:
Everything we've already talked about (comfort, build, and fit) plus
Protection for the type of work you will be doing. Do you need water resistance? A thick sole? A leather upper to protect from items that might fall on your feet?
Professional style, especially if your employer has rules about open toes, no sneakers, etc.
Durability. If you are going to wear them for long hours at work, you want them to last.
Shoes for comfort are generally great for versatility. They are meant to be used for all sorts of activities from lounging at home, taking the dog for a walk, and most can even be used for work. There are very professional looking shoes that will suit most work environments well.
What to look for in a comfortable casual shoe:
Comfort, build and fit, of course, but also...
Casual style. Will they look great with your jeans or khakis? How about shorts for summer casual? Great for that spring dress?
Flexibility. When we're relaxing, we do not want to feel like we are wearing boats. Casual shoes should allow us a free range of motion without interfering with our natural gait.
Durability. Even casual shoes should last you.
You do not have to give up style for comfort either. A good sneaker is very comfortable, but a shoe doesn't have to be a sneaker or slipper to be comfortable. Many comfort shoes are quite stylish, and you will be able to find styles you like that are also built for comfort.
What to look for in a comfortable, fashionable shoe:
Everything discussed – build, fit, comfort plus
Do you like the way it looks with your out on the town outfits? Will it suit match well with that Prada bag you saved so long for?
Stable heels – Fashionable shoes often have heels (but they don't have to), and the heels should provide stability and not have you teeter-tottering to maintain your balance. And yes, even heels can have great padded insoles and traction.
Secure upper – Strappy shoes can pose a problem for a secure foot and comfort. They don't have to though. Look for lined straps that won't cut into your feet and straps that are placed well to hold the foot well onto the footbed of the shoe.
Comfort
Imagine walking all-day without pain and fatigue. Comfortable shoes will help your body feel energized and ready for anything. The use of comfortable materials in shoes is a move in the right direction for many people who want great looking shoes without the pain and discomfort. This translates well for a comforting experience that is weightless and supportive. The most well cushioned and contoured attire will be alleviating. It's so important that the cushioning holds it's structure and doesn't go flat when wearing for hours.
Brand
When it comes to comfortable footwear, the brand behind the design can play an integral role. While there are definitely shoes out there that are comfortable while not being a trusted household name, these unknown brands should definitely make you look a second time.
The pairs featured on this list are both well-known, and a little obscure, or newer companies. While they are all definitely comfortable, we really looked at a brand's reputation to make sure we were recommending shoes that wouldn't harm your already achy feet.
When deciding on your next pair, take a look at the brand's reputation, as well as the other factors we've mentioned above. Do your research and you won't be disappointed with your next decision.
Top 10 Shoes for Comfort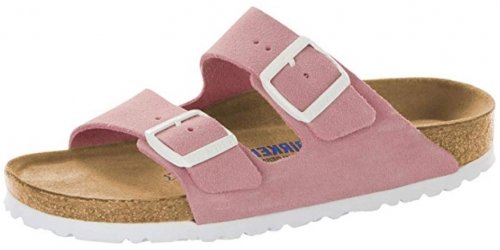 What to say about a brand which has been dominating the comfort sandals department for almost 250 years? Birkenstock shoe company was founded in 18th century Germany and since then has quite literally taken over the world with its simple, practical designs that leave everyone in awe. You have to experience the molded support and easy wear of the legendary Birkenstock footbed yourself, otherwise, you have no idea what you'll be missing!
The Arizona is a Birkenstock icon; a simple comfort shoe silhouette with two wide straps that are easily adjustable thanks to their leather buckles. The upper is made from Birko-Flor which is a hard-wearing synthetic material that will be amazingly gentle on your skin. However, the key feature here is the footbed, made from a combination of cork and latex, and anatomically shaped to provide you with instant support and relief. The contours of the Arizona change over time as you wear them, molding to the form of your foot and providing you with an addicting, personalized type of comfort.

You may think that the Arizona is not a very fashionable choice, but we are inclined to disagree. Its straightforward, no-nonsense German style is what draws many a fashion blogger its way, and this iconic sandal has become a staple piece in many a wardrobe. You can dress it up with a flowy skirt or dress it down with jeans and a t-shirt, and you'll be equally as comfortable in both! What an amazing deal!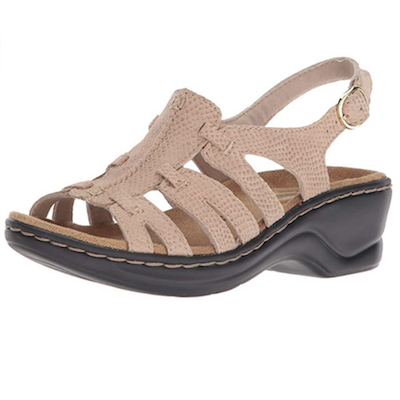 Clarks is known for its comfortable footwear that is well-crafted and can easily be worn all day. Made of genuine leather and paired with an adjustable ankle strap, the Lexi has a special footbed made of Ortholite material, designed to cushion your feet and reduce stress while walking. Pair it with jeans, shorts or a skirt; it works in almost every situation!
Similar to its sister-design, the May Marigold, the outsole on the Lexi is TPR, a type of synthetic rubber. Not only does TPR have great durability, but it also provides shock absorption, some cushioning and good traction on most surfaces. Being super-lightweight and flexible means the Lexi can follow you on your long walks throughout the city, the beach or anywhere else you desire to explore. The multi-strap design provides coverage and security to your front foot, while the back strap can be adjusted to a fit that matches your foot size and shape.

You can consider the Clarks Lexi an investment in your health. The craftsmanship and design of the Lexi offer you extra comfort and durability, with a style that suits both professional and casual settings.

3

. Cole Haan Zerogrand Stitchlite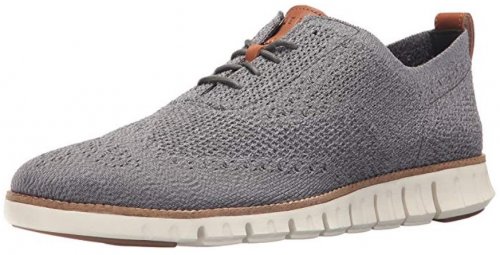 The Cole Haan brand is known for its elegant designs and impeccable craftsmanship, and innovation as they're always coming up with new technologies and materials to accommodate their customers. The Zerogrand Stitchlite is a must-have summer option. It has all the sophistication of an oxford, but all the comfort of a sports sneaker. It is lightweight, it is great to pair with smart outfits and casual outfits alike, and it will make you feel like you can do literally anything in it!
The Zerogrand Stitchlite has a knitted upper that offers a lot of elasticity and a lot of breathability. You can say goodbye to sweating, bad odors, and blisters in this amazingly comfy oxford! To ensure that there is enough stability, the knitting is tighter in the forefoot, so that you don't lose your footing. This oxford comes with the Grand.OS technology, which means that it is wonderfully flexible, cushioned, properly ventilated and lightweight, and that you will love wearing it every second of every day. A fully padded sock lining and an EVA midsole round up the comfort aspects, making the Zerogrand Stitchlite an option to die for.

This oxford is an unconventional look, perhaps, but it absolutely works! You can wear it to the office or to a fun night out with friends, and you no longer have to sacrifice comfort for elegance. Enjoy everything the supportive Cole Haan has to offer in the Zerogrand Stitchlite!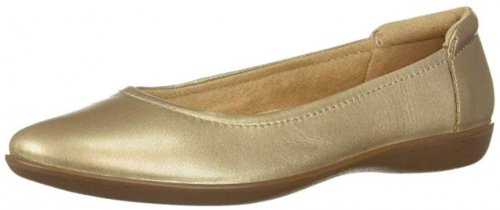 In a list predominantly filled with designs that are more towards a medical type of comfort than towards an elegant one, we have an option that definitely belongs in the latter category. The Naturalizer Flexy is a chic ballet flat that you can get in a range of colors - from classics to metallics, like the one in our picture - and that keeps you stylish and yet comfortable at the same time, thanks to the brand's signature N5 Contour technology.
The Flexy has a leather or fabric upper, depending on which color you choose, and as well as a round toe, meaning you will have more than enough room in the front. It is an easy slip-on design and it comes with a padded heel and the N5 Contour system. This includes dual-density cushioning all throughout the footbed and additional padding in your pressure points. There is a contoured midsole and a molded arch support so that you are safe and secure, and well-balanced, thanks to a specifically created heel cup. The outsole of the Flexy is made from a non-slip material.

This ballet flat will become an irreplaceable part of your wardrobe. Thanks to its clean, versatile design, you can pair it with any type of outfit, for any occasion - work, play, shopping, traveling, elegant, chic, urban, whatever you want! And you can be sure that you will be amazingly comfortable all throughout the wear.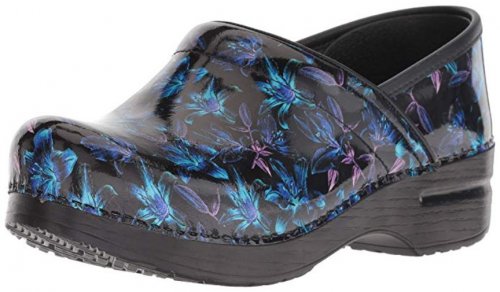 Largely hailed as one of the most comfortable designs of our generation, the Dansko Professional mule is what everyone who spends a lot of time on their feet reaches for - nurses, servers, hair stylists, you name it. This clog bears the APMA seal, meaning that it is medically approved in relieving pain, fatigue, and strain on the feet and joints, and if you're looking to pamper yourself during or after a long day of walking around - don't skip this amazing option.
The Professional has a leather or a fabric upper, depending on your preference. It is padded in the collar for comfort and provides more than enough space for your toes and heel. This is what is so popular about the Dansko clog - your toes have ample wiggle room, and the wide heel strike provides outstanding stability. The outsole is made from PU with a rocker bottom which encourages the foot to move forward and provides a lot of shock absorption. The entire construction of this design is created to ensure security, stability and to lessen the stress put on your feet.

If you are in a line of work which requires you to be on your feet for hours on end, definitely invest in the Dansko Professional. It is an unassuming design - unless you get it in a vibrant, metallic print - and it will be a literal lifesaver for when you have to run from one obligation to the next. Think of your feet, save them from too much work, and get this lovely mule as soon as possible!

6

. Skechers Reggae Fest Willows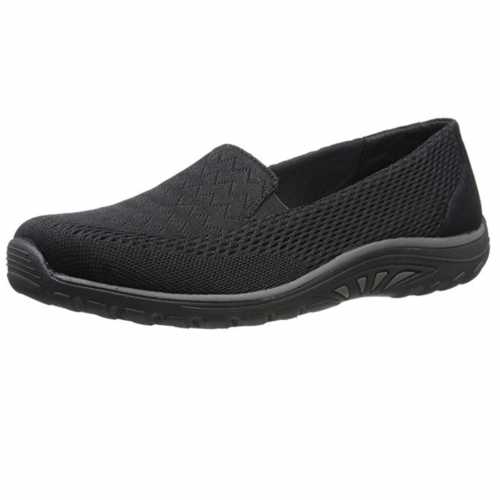 This is the second pair of Skechers on our list and for good reason - Skechers makes comfortable footwear. The Reggae Fest Willows has an engineered mesh upper for airflow, memory foam insole for comfort, a relaxed fit perfect for lounging in and bio-dri lining to ensure those feet stay dry. You can't go wrong with this casual, comfortable slip-on.
The Willows has an engineered mesh upper that provides a relaxed fit for a comfortable feel that will still move well with you. No fuss - simply slip it on and commence the relaxation! These are perfect to wear barefoot if you like, but even if you prefer socks, you will enjoy the great airflow that will keep your feet cool. The bio-dri lining will also wick away moisture, and that reduces the risk of unpleasant odors building up.

The Skechers Reggae Fest Willows is a great deal for the money, given how comfortable they are. You will also appreciate additional design features to keep your feet dry and cool all day. They are perfect outdoor chill out footwear.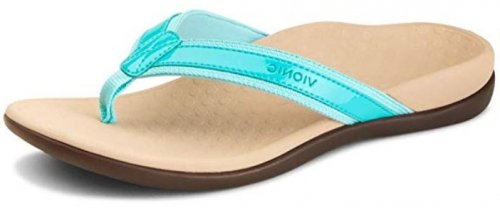 Come warmer weather we all need that one go-to sandal - or flip flop, in this case - that will take us from the beach to a nice stroll through town, to enjoying a sunny picnic out with the family. We want our feet to breathe and our toes to wiggle and the Vionic Tide II offers all of that, and more. This is an APMA approved sandal which is proven through a clinical study to alleviate heel pain. Even if you don't suffer from this, you are not going to miss the exquisite comfort and relief the Tide II comes with.
The upper of this sandal is made from soft materials and is lined with foam to make sure that your skin doesn't get any abrasions or blisters. In the footbed, there is the Vionic or Orthaheel, Technology which means that it is biomechanically engineered to support your arches and gently cradle your feet. The Tide II essentially comes with its own built-in orthotic that relieves heel pain the moment you put it on. The midsole here is made from EVA to reduce the strain on the feet, ankles, and knees, and the durable TPR outsole delivers traction.

The Tide II is a best-selling product from the Vionic brand, and we clearly see why. If you're looking for a pair of easy, simple sandals that you can wear literally anywhere, from the pool to the city streets, then this one is your best option. It is lightweight, it is supportive in all the right places, and it is medically proven to alleviate pain! What more could we possibly want!

8

. Skechers EZ Flex Flighty Majesty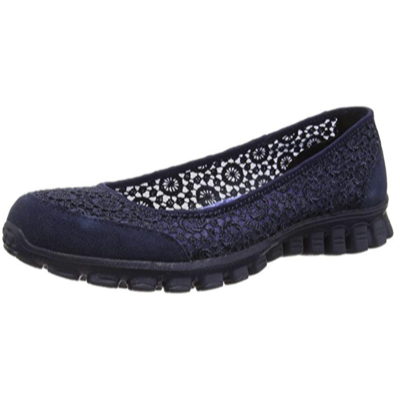 These are very cute, slipper-like sneakers that come in a pinwheel, crochet-like design. But more than their style, Skechers has created an airy, comfortable option that will move with you and quickly become your next favorite model. Skechers is renowned for building comfort into their footwear and the EZ Flex Flighty Majesty certainly lives up to that.
The Skechers EZ Flex is as flexible as its name suggests. It will move with you through a full range of motion, reducing any strain or fatigue that could be caused by limiting your foot's natural flexion. While the light and airy upper will ensure dry, comfortable feet, the thick bottom will provide shock absorption and cushion. The synthetic sole will also provide good traction on any surface.

These are in the mid-range on our list, and for the money, you are receiving a very stylish little design with a flexible, durable sole, Skechers renowned comfort and dry, comfortable feet.



Clarks makes comfortable footwear - it's what they do. This clean, classicly designed slip-on is made to be worn all day long. It has a range of upper materials and stretch gore, fabric lining. The outsole is TPR, and the footbed is made of Ortholite material. The May Marigold is professional enough for work and still casual enough for jeans.
The outsole on the May is TPR, a type of synthetic rubber. It provides shock absorption, some cushioning and good traction on most surfaces. The TPR will last and provides a stable platform for your feet. A big part of a comfortable design is that it does not compress the forefoot and toes into unnatural positions. The rounded toe box in this loafer is wide enough to be comfortable without being too "boxy" looking.

With the May Marigold, you are getting a design to both last you and make you comfortable. Its professional style means it will be great for work, but it can also be dressed down with some jeans. Like most Clarks footwear, every feature on this option is designed for your comfort.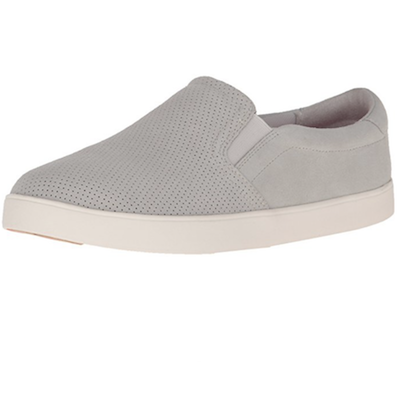 If there's one name in foot comfort that everyone knows it's Dr. Scholl's, famous for their insoles. The Madison comes in a variety of upper materials from calf hair to velvet, so you're sure to find one that suits you. Memory foam, double gore, a three-zone insole and a rubber sole all contribute to the comfort of this lightweight sneaker.
This slip-on sneaker has a contrast detail in the back and comes with a variety of uppers that will be sure to please - microfiber, faux leather, mesh, calf hair, quilted, herringbone, jacquard or velvet. You get the look you want in the same comfortable design. The Madison is made for walking with a durable rubber sole and memory foam insole. The insole has three zones with variations in material and thickness to deliver comfort where you need it most.

With the Madison, you get comfort for days, or for just one really long day on your feet. If sweaty feet are a concern, we recommend choosing airier uppers, like mesh or microfiber. Your feet will be pleased with the shock absorbing qualities of this design.

Subscribe to our Newsletter