Best Birkenstocks Reviewed & Rated
In a Hurry? Editors choice: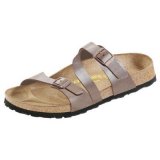 Test Winner: Salina

Birkenstock prides itself on comfort and health for your feet. Their concept behind this is that comfort is based on firm
orthopedic correct support
. To prove maximum comfort and health, your feet require a solid foundation with correct positioning. The footbed of Birkenstocks offers proper
arch support
, a deep heel cup, and plenty of room for the toes. By doing this, your weight is evenly distributed by the entire foot. As a result, you will achieve improved posture and
balance for greater
comfort while walking.
Standout Picks
Criteria Used for Evaluation
Comfort
You can feel good wearing Birks as well since most of their cork used to make the footbed comes from overages in wine bottle cork production. So, instead of this material simply being thrown away, Birkenstock uses it to make their iconic, comfortable shoes. The cork used for this is only the outer hull of the tree, which re-grows after 7-10 years, so you don't have to worry about any needless and wasteful production that may affect the environment. It's responsible sourcing at it's best!
Classic Contoured Footbed
One of the greatest features from Birkenstock is the contoured footbed. The footbed is shaped to mimic that of a healthy foot. It is made of a resilient cork and latex that is shaped and contoured to create a healthy walking environment for your feet.
By using a special blend of cork and latex, the footbed is flexible and reacts to your body temperature. So, over time the footbed conforms to the characteristics of your feet. Because of this, they do require a break in period. The longer you wear them the more comfortable they will be for you.
Soft Footbed
Just as the classic footbed is designed to help maximize the contours of your foot's unique, natural shape, the soft footbed is similarly designed. The only difference is an additional layer of soft beds, made from a cushioned memory foam, which is inserted between the footbed liner suede, and the below layer of cork and jute. This allows for some extra cushioning in the sandal or shoe to help you stay on your feet longer, or for those whose feet could use a little extra comfort.
Blue Footbed
Most of the sandals which are closed-toed shoes consist of a Blue Footbed. Cushioning under the heel helps cradle and keep impact minimal, while molded cups have been constructed with precision to help support the arch and promote natural gait and foot roll. Stability and support are also found under the ball of the foot, lateral sides, and arch from the Blue Footbed's thin, yet flexible design.
Upper
Birkenstock prides the longevity of their shoes due to the well-constructed, and quality produced uppers combined with their footbeds. Leather and synthetics make most of their sandals uppers but vary slightly to tailor to your level of comfort or style.
Natural Leather
Untreated leather, which is durable and breathable. Each piece used to create these sandals are as unique as the surface grains remain intact.
Patent Leather
Leather which has been coated with shiny paint or plastic to give some added luster and shine to the uppers.
Suede
Leather that has a softer, unfinished surface which has been buffed to give a rough appearance
Nubuck
This kind of top-grain leather needs a little extra attention when it comes to moisture and maintaining its color. Surface treatments to protect Nubuck will extend the life of your Birkenstocks.
Wool Felt or Regular Felt
Regular felt is a synthetic material, soft and thick to the touch, but breathable and durable as well. Wool Felt differs slightly as it's an all-natural material made from merino wool.
Birko Felt and Nubuck:
Birko Felt is a synthetic fiber and rayon blend which is soft, but washable, while Birko Nubuk resembles Nubuk leather, but is made from synthetic materials.
Birko-Flor
Combined fleece inners keep your feet feeling soft against the uppers, and an easy to clean PVC outer synthetic gives a little texture and appeal to the upper.
Product Purity
Eco-Friendly and Environmentally Responsible
In addition to their upcycling of production overage cork in the soles of their shoes, Birkenstock has made several advances to become an Eco-friendlier company.
Water Based Adhesives
Did you know that nearly 98% of the adhesives used to create your Birkenstocks are water based? This lessens the number of chemicals used during the manufacturing process, and they were one of the first companies to incorporate water-based adhesives during the process!
Jute
Jute is an annual plant, grown in tropical regions of the world. Plants are harvested at four months to undergo processing for plant fiber used in the soles of the sandals. Another way renewable material is used by the company!
Natural Latex
This is used as a binding agent for footbed production. Resin is harvest from rubber trees, which is part of the tree's natural protection against fungi and bacteria and is collected in small buckets from scores, similar to maple syrup harvests. Compare this to synthetic latex, which is made from crude oil, a non-renewable resource.
Birkenstock Repair Service
Did you know that you can have certain aspects of your favorite pair replaced or repaired? And, although you'll need to pay for the repair, they'll pay the cost to ship them back to you once they're good as new!
Fit
Finding a perfectly-fitting pair of shoes can be like finding the holy grail; there are so many brands, styles, models and makes of shoes that it seems like it's next to impossible, especially when you are shopping online! Fear not, as we've ranked each product on our list for their fit and trueness-to-size to help guide you in finding the perfect match for you.
To come up with a score for fit of a shoe, we considered several factors, like the ones mentioned above, in addition to real customer reviews, to help boil down everything into one simple score. For example, Nike tends to make shoes that are true-to-size, meaning that you can buy a pair of 11s one year, and another pair of 11s next year in a different model and they will usually still fit (unless your feet grown or shrank). A brand like Nike will most likely have a high score when it comes to fit, but the other variables in play, such as make, model, and purpose, will also affect the overall score.
At the end of the day, however, a higher score for the "fit" criterion will tend to mean that the shoe experiences a better trueness-to-size than a competing product; just don't forget all the underlying factors that are baked into arriving at that single score! Finally, if you are looking for tips on how to identify your shoe size, check out this guide by the American Orthopedic Foot and Ankle Society.
Materials
Outsole
The outsole, or more simply, the sole of the shoe, makes direct contact with the ground and therefore supports the entire foot and body when in motion. A poorly-constructed outsole will lead to discomfort, slipping and foot or other bodily injury. For this reason, many manufacturers use materials that are water-, weather-, heat-, and impact-resistant. Depending on the type of footwear, one will often see outsoles made from natural or synthetic materials, such as PVC, EVA, rubber, and leather. Each of these has their advantages, depending on the shoe's purpose; however, as a general rule, they each are resistant to the aforementioned factors. They are also flexible enough to support a proper foot cycle when in motion, but they are not so flexible that they feel like a pair of socks. A sole made of the materials above tends to score higher on our product evaluations, as they are not only comfortable but also support other criteria, such as "support" and "durability."
Midsole
The midsole is designed to provide cushioning and shock absorption to the shoe, nestling the foot in comfort. Whereas running shoes tend to have thick midsoles, flats and thinner shoes not designed for high-impact activities often have thinner midsoles. The reason for this is simple: you need more shock absorption and vibration dampening during high-intensity movements or activities to maintain comfort and prevent foot injury then you otherwise would with a regular shoe, flat or sandal. Midsoles are often made from EVA (ethyl vinyl acetate), a synthetic plastic also used to make insertable orthotics. A firmer type of EVA for the midsole will make the shoe heavier, but more durable; whereas a softer type of EVA, like those found in running shoes, improve shock absorption, but wear much quicker. Podiatrists tend to prefer firmer midsoles for those suffering from orthopedic conditions, such as plantar fasciitis.
Insole
The insole is the proverbial foundation of the entire shoe. The sock liner lays on top of the insole, which is then fused to the midsole, and finally the outsole. A firm insole will give good structure to a shoe and increase its stability and durability, but it will also increase the weight of the overall product and be less comfortable. A softer insole might be more comfortable, but that comes at the expense of stability and durability. We tried to balance these weights when evaluating our products, but each reader and wearer is different, so be aware of this trade-off.
Top 10 Birkenstock Reviews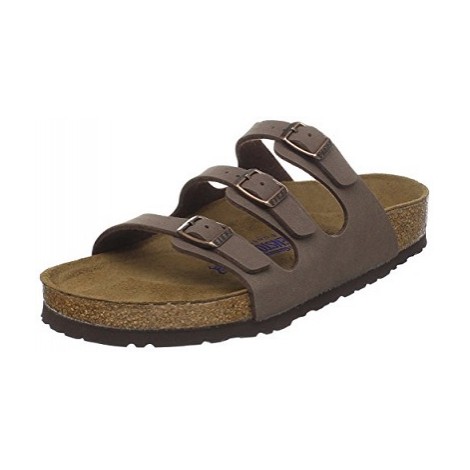 Birkenstock Florida Sandals have a new revitalized look with the three slim straps that are adjustable for a custom fit. With the addition of the toe grip, they offer optimum grip while walking. The upper is made of durable Birko-Flor, an acrylic and polyamide felt fiber. The sandals feature the classic cork soft bed with built-in arch support.
An embedded toe grip built into the front of the shoe. It adds support and comfort while wearing it. It will also help to keep the sandal where it belongs while walking allowing your toes to naturally grip the shoe.
The insole is a flexible leather liner that is gentle on your skin. It feels soft and adjusts to your feet. Its breathability creates a comfortable foot climate and is open-pored.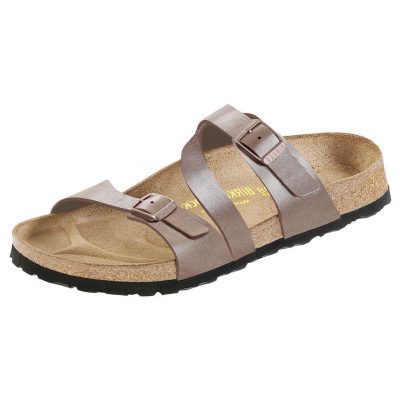 This cute little Birk rounds out our top ten list with the Salina Sandal; a strappy take to the normal dual banded Birkenstock Arizona design. The colors and styling of this sandal give it a little extra formality so you can pair it with dresses or shorts to warmer affairs in the summertime that require some sophistication. Birko-Flor uppers keep it looking shiny and sharp, and it has the footbed we've all come to know and love from the brand.
The Birko-Flor is a trademark of Birkenstock that is a quality synthetic designed material. If you prefer your shoes easy to care for, this feature utilizes PVC which is simple to clean, combined with a soft lining. The lining is quite breathable, but comfortable as it's made from fleece. No more irritations from wearing strappy sandals due to rubbing against sensitive skin!
As many Birkenstocks have, the Salina comes with a 3D profiled footbed to conform and shape to your foot over time. Soft suede adorns the footbed lining and helps to keep breathability in the foot. An EVA sole helps support and give added cushion as you break in these new sandals. With a toe strap that covers on top the foot, and a split strap that originates from the instep into two straps across to the midfoot and start of the ankle, you'll be safely secure in these.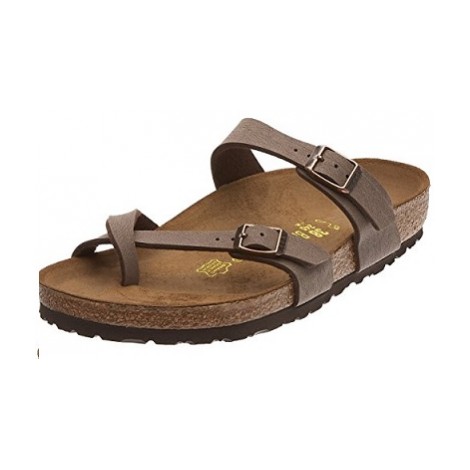 Birkenstock's Mayari Sandal has an elegant crisscross forming a loop around the big toe. It has the classic support with adjustability with the buckle straps. Using Birkibuc, a durable synthetic material for the upper has the look of nubuck leather with a soft backing. The footbed is the classic contoured cork with pronounced arch support, a roomy toe box, and a deep heel. The EVA outsole is lightweight and adds the perfect amount of cushioning and shock absorption.
The birko-flor nubuck upper is made to look at feel like nubuck leather, while it is a hygienic PVC that is lined on the inside with a layer of breathable fleece. This material is gentle on your skin and easy to care for.
The footwear uses an EVA material that is a lightweight, high-quality elastic material that provides superior cushioning. The sandal will smooth out small irregularities on the ground while walking ensuring cushioning for every step.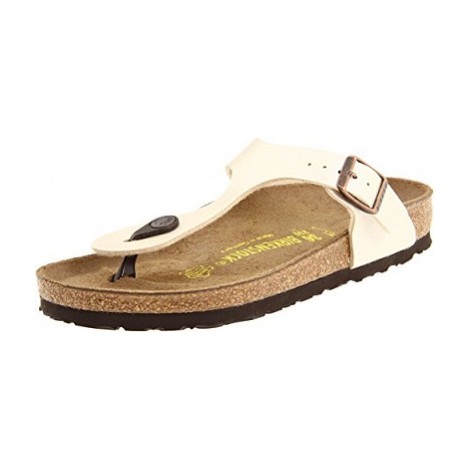 The Birkenstock Gizeh Birko-Flor is a modern thong sandal. Made with a Birko-Flor containing a mixture of unique materials, acrylic and polyamide felt fibers. It has a soft fabric with a leather-like finish. It features the tradition contoured cork footbed. It's flexible to take the shape of your foot with adequate arch support. The Birkenstock Gizeh Birko-Flor comes in multiple colors and sizes.
The lightweight EVA sole is flexible and has ample cushioning for great shock absorption. The EVA sole will absorb minor flaws on flat terrain, so you do not notice the small fluctuations on the ground.
The toe box on the Birkenstock Gizeh Birko-Flor is roomy enough to keep your toes comfortable without worrying your feet will not fit in the shoe. The thong is comfortable and soft so that it will not rub on your toes.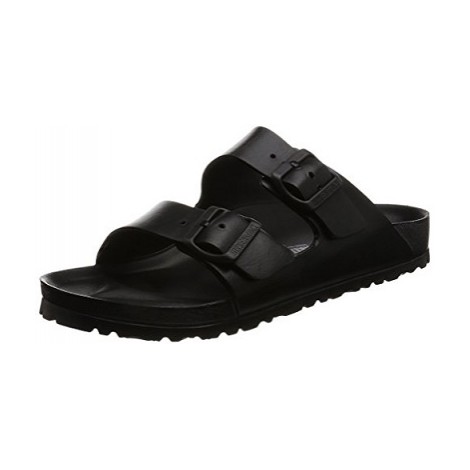 Birkenstock Arizona Essentials EVA Sandals are a spin-off of their original cork sandal. It is made in one piece with a high-quality ultra light EVA material. The vinyl has been tested and proven to be odor neutral and provides positive attributes. They are a waterproof, ultra lightweight, and washable sandal that is easy to care for. They are unisex and are available in different colors.
The Birkenstock Arizona essentials sandals are made with a high quality lightweight elastic material called EVA. The vinyl material makes these sandals waterproof, washable, and easy to care for.
A one-piece design is used for the Birkenstock Arizona Essentials EVA Sandals. The shoe from the sole to the upper has been constructed together for a slim, sleek look. The one-piece design contributes to the extreme lightweight feel.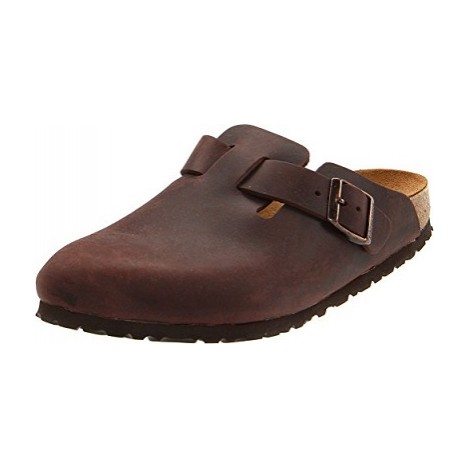 Birkenstock Boston slip-on clog is a signature design. It comes in oiled leather, natural leather, and suede. It features the classically contoured cork footbed with an adjustable strap and a sturdy metal buckle for a snug fit. The pronounced arch support, large toe box, and classic comfort are all carried over to this casual wear clog.
The Birkenstock Boston Slip-On Clog is available in natural leather, oiled leather, and suede leather. The natural and oiled leather can be recognized by the purposely left untreated leather to show the leathers characteristic features. The suede leather features a soft and flexible feeling with a light surface nap.
This slip-on shoe is easily adjustable for the perfect fit. There is a strap on the upper edge of the clog and an adjustable, sturdy metal buckle.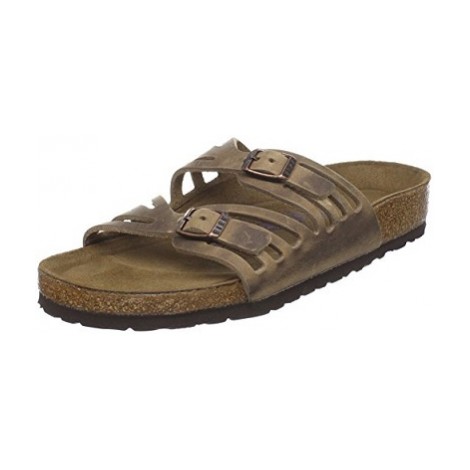 Birkenstock Granada sandal is a two strap soft bed slide sandal made with oiled leather. The oiled leather upper is both soft and comfortable on your skin. It provides moderate arch support and features the infamous foam layered soft footbed. The Granada features the classic EVA lightweight outsole that is both flexible and shock absorbing.
Birkenstock's Granada Soft Footbed Sandal is made with an oiled leather. You will recognize this by the untreated surface to show the natural surface grains. The leather has a thickness of 2.8 to 3.2 mm on the upper part of the sandal.
The longer you wear them, the more comfortable they get including the Birkenstock Granada sandal. As you wear them, they begin to take on the contour of your foot. Eventually conforming to you for ultimate comfort.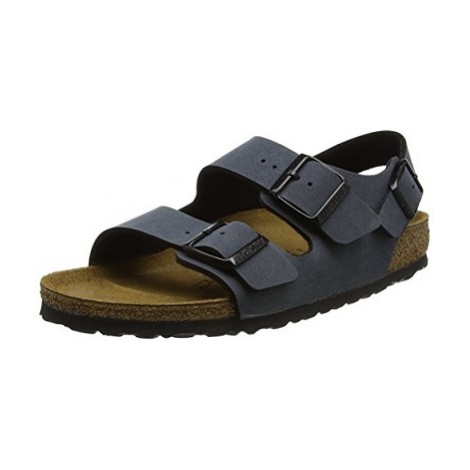 The Birkenstock Milano Slingback sandal delivers the comfort that everyone has grown to love with these sandals. The classic cork and latex footbed conforms to your feet for unsurpassed comfort and distributes your body weight evenly across the sandal for undefined support. The adjustable straps wrap over the foot and behind the heel for a secure fit.
Birkenstock's Milano Slingback sandal is a great sandal for those that need the extra security for their heel. They are adjustable for the perfect fit with the over the foot straps and the additional heel strap.
The Milano Slingback is the perfect solution who spends a long period on their feet. The upper is full length and slightly compact on the sides. The firm adjustable grip keeps your feet stable with every step.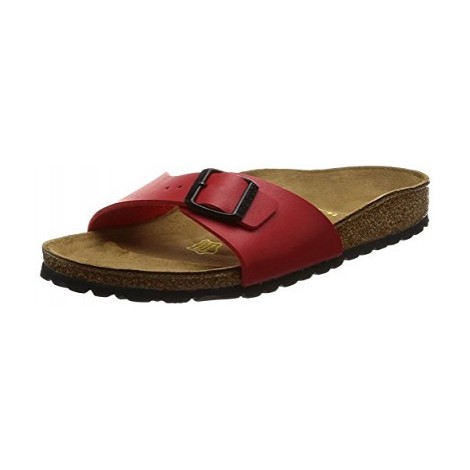 Birkenstock Madrid comes in the Birko-flor and EVA. The EVA sandals are made entirely of vinyl. They are a one piece single adjustable strap sandal. The birko-flor Madrid is made of synthetic leather and features a single adjustable strap. Multiple colors of each are available.
Birkenstock Madrid EVA sandals are waterproof, lightweight, and easy to clean. Simply get them damp and wipe them down. They are great for days at the beach or around the pool.
The Birkenstock Madrid Birko-Flor sandal has a synthetic leather upper, the classic cork midsole, and a rubber sole. They are durable and offer good traction. These are not waterproof.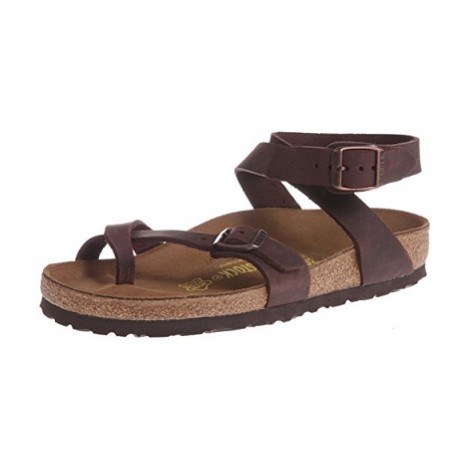 The Birkenstock Yara leather sandal is fashionable, flirty, fun Bohemia style sandal. It features an ankle strap and cross-over toe loop. It has the firm cork footbed and shock absorbing outsole. The oiled leather upper provides a comfortable feel with the durability expected from this brand.
The ankle strap provides an elegant and stylish look to these sandals. The back strap wraps up and over your ankle while the front strap crosses over and loops the big toe. They remind some users of a more bohemian, urban style sandal.
Birkenstock Yara Leather sandals feature a no dye leather that is a thick yet supple leather to keep the leather breathable, durable and comfortable.

Subscribe to our Newsletter