Best Volleyball Shoes Reviewed for Performance
last updated:
May 26, 2020
Some of the greatest companies in the world have been created with a goal in mind and a strong foundation to hold it all together. In any sport, the same is true. A strong mind leads to winning results, and you should never be preoccupied with doubtful thoughts about your equipment that can lead to detrimental results during gameplay. With that in mind, a volleyball player should always be focused on their next move with the peace of mind that they will be able to accomplish it swiftly. This is why it's critical to put a lot of time and research into finding the best volleyball shoes for the best performance.
In a Hurry? The test winner after 107 hrs of research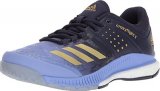 Adidas Originals Crazyflight
Why is it better?
Boost™ Cushioning
SPRINTSKIN™ Upper
Non-Marking Outsole
Molded Sockliner
ADITUFF™ Technology
In a
Hurry? Editors choice: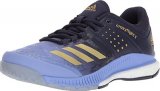 Test Winner: Adidas Originals Crazyflight

20
Researched Sources
15,500
Reviews Considered
107
Hours Researching
20
Products Evaluated
Durability
Outsole
Stability
Breathability
Fit
By Default
10 Best Shoes for Volleyball
1

. Adidas Originals Crazyflight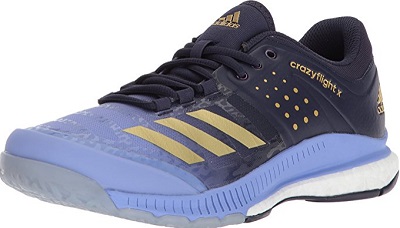 Boost™ Cushioning
SPRINTSKIN™ Upper
Non-Marking Outsole
Molded Sockliner
ADITUFF™ Technology
Loaded with attributes such as boost™ and ADITUFF™ technologies, a SPRINTSKIN™ upper, a PU sockliner, and a non-marking outsole, these volleyball shoes are more than court-ready, they are ready for the season. They have a design that aids in toe-offs and gentler impacts associated with landings. Furthermore, this shoe offers a beautiful aesthetic to them; that is, you can look as good as you feel while wearing them.
Aiding in toe-offs and lower impacts, boost™ cushioning is at the helm. Load rate can be cumbersome in your knee area, especially when considering impact return from a high jump; let alone, repetitive jumping. In volleyball, there is no shortage of jumping; therefore, these volleyball shoes are an ideal choice.
Maintaining the beauty of the floor is part of the athlete's job, in terms of not wearing a shoe which causes scarring and marks. With this non-marking outsole, you can join the elite in protecting the integrity of the floor. After all, when you step out onto the floor, it has become yours, anyway. These shoes are midrange in cost association when compared to other best volleyball shoes on this list. They have a plethora of technologies and are made with the high-quality materials we have come to expect from Adidas. As such, these shoes are an investment well made.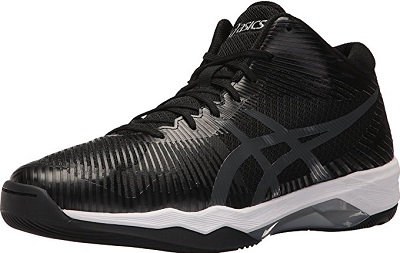 Synthetic Upper
Rubber Outsole
Gel Cushioning
Trusstic System Technology
For those in need of a little more ankle support, these high tops ASICS men volleyball shoes are a great solution. Gel cushioning helps with lowering load rate; as well as, preparing you for transitional stance changes. In other words, you can remain comfortable and concentrate on the task at hand; which is, hopefully, that next winning shot. With synthetic leather overlays, your feet have a stable environment, and the rubber outsole helps to provide the much-needed grip for sudden stops.
This system lowers overall weight in the shoe via the outsole while, simultaneously, holding on to the integrity of the structuring. In other words, you gain the best of both worlds, lightweight and durable. Considering the added weight of high-top versus low-top, this system is a much-needed attribute. With this system, you gain comfortable toe-offs and lessened impact ratios associated with landings. In essence, this volleyball shoe offers decent overall foot health, in terms of load rate.
These ASICS men volleyball shoes fall in the midrange of cost association. They are made with high-quality materials and provide ankle support for those in need of it. This makes these volleyball shoes worth every penny spent.
Cushioned Footbed
Lightweight Design
Durable Construction
Breathable Mesh Upper
ASICS has always topped the charts with their accomplishments in making some of the most comfortable and durable footwear. With that in mind, Gel-Rocket 8 is no newcomer to ASICS technology and exceptional value. Discover a newer and more lightweight volleyball shoes, with an increased gum rubber outsole and updated styling for maximum comfort style with great ASICS Gel Rocket model.
During constant running, jumping, and moving, your feet can get overwhelmingly hot. With the new lightweight, mesh upper and featuring synthetic overlays, your feet can receive the oxygen they need; so, you are not distracted during your next big moment. Proper cushioning is the biggest factor separating you from potential pain during or after gameplay. With forefoot GEL rocket cushioning, your foot is constantly prepared for every turn, hit, and pressure-filled moment.
With value guaranteed, ASICS built a name for itself when it comes to quality sports shoes and the price does not do it justice. Many believe these are lower in price on this list and well worth it. So if you are looking for budget-friendly shoes volleyball players love these are your best choice.
Synthetic Upper
Rubber Outsole
Trusstic System Technology
Seamless Construction
Breathable Open Mesh Design
Great for lowering impact landings and aiding in supportive toe-offs, these ASICS men shoes contain Trusstic System technology. They have a breathable, mesh upper which helps to promote airflow and overall foot health. Supportive synthetic overlays on the upper provide stability; thereby, you can maneuver with ease while, also, retaining the importance of strength within a stance. In addition, a rubber outsole helps with grip. Moreover, these volleyball shoes are made with seamless construction.
Made to both breathe and remain stable, the upper has an underlining mesh with synthetic overlays — this shoe offers the right amount of flexibility without compromising structural integrity.
These ASICS men volleyball shoes have a particularly large surface area of the mesh, as part of the upper. This, in turn, allows greater airflow. This aspect is of great importance for those suffering from athlete's foot or other foot ailments associated with non-breathable environments. These volleyball shoes are on the low side of the midrange of cost association. They are an ideal solution for those in need of greater airflow within their shoe. They are also court-ready. In other words, these shoes are a great addition to any volleyball player's footwear collection, even if they are rotational.
5

. Nike Volley Zoom Hyperspike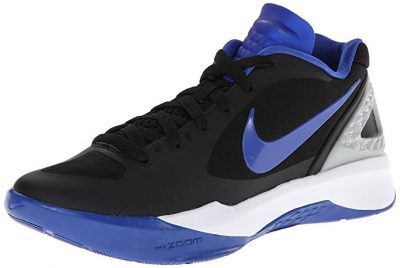 Synthetic And Mesh Upper
Phylon Midsole
Superior Traction
Flywire 3.0 Support System
In the name of sports, Nike is a world-renowned brand that has redefined how sports equipment is built. With synthetic and mesh uppers, a Phylon midsole, and their superb lockdown technology, the Volley Zoom Hyperspike is an excellent example of what may be the perfect 'professional gameplay' volleyball shoe. For the player that spends much of their time off the ground during gameplay, this absorbs shock astonishingly well.
A lightweight shoe is essential when playing volleyball, and Nike has mastered the skill of the weight by supplying synthetic-uppers with flywire 3.0 technology. In simple terms, the Volley Zoom Hyperspike allows for you to jump and spike with no delay, due to a heavy shoe.
When on the court, great grip contact between the outsole and the floor is essential for proper gameplay. With these Nike volleyball shoes, you can guarantee that every touch between sole and floor has a durable grip, thanks to the lightweight cushioning rubber. Nike, being a prestigious and overly-season brand in the field of sports, created a product with great quality and comfort. This veteran brand, also, has to pay for the seasonings in which for many may be a bit pricey. However, for quality, this is a clear choice which is why we placed them in the category of best volleyball shoes.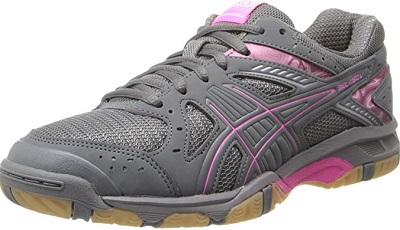 2.8-inch Shaft Height
Synthetic/Mesh Upper
Rubber Outsole
Padded Collar
Lace Entry
Ready for the court, these ASICS women's shoes are made with a 2.8-inch shaft height, have synthetic overlays, a mesh upper, rubber outsole, padded collar, and have lace entry. They provide a decent grip on the court, thus allowing you to transition from one position to the next with a certain ease. For those with wide feet, these women's volleyball shoes might be ideal, as the toe box is wide; thereby, allowing proper splay when setting your body into the next stance.
Synthetic overlays provide stability and support, as you move around the court. A mesh upper gives you a breathable environment and promotes better overall foot health, as a result. The grip is important when considering how many sudden stops a volleyball player will endure inside of one game; let alone, match after match. This outsole is made to hold the floor and is made of rubber.
These ASICS women's shoes run un the midrange of cost association when compared to other best volleyball shoes on this list. Furthermore, these shoes are designed for the court and are volleyball-ready. As such, this is a great pair of women's volleyball shoes to add to your footwear wardrobe.
7

. Asics Gel Netburner Ballistic
Gel Cushioning Absorbs Shock
Natural Rubber Outsole For Improved Traction
Strong Arch Support
Durable Construction
With synthetic technology and a more-natural content rubber outsole, these ASICS volleyball shoes creation offers plenty of reasons as to why it is a phenomenal top volleyball shoe on this list. With cushioning properties, reducing weight, and rearfoot and forefoot gel cushioning, you have found men's and women's volleyball shoes worthy of your attention and your wallet.
With more-natural rubber content, the impact between rubber and floor means better traction for those swift movements. The NC rubber outsole is different than solid rubber by allowing for complete traction, regardless of where you land after your jump. When it comes to shock absorption, it has been said that ASICS GEL is one of the best technologies out there. This is why you can find it with the Gel Netburner Ballistic, the volleyball shoe that responds to your heel pressure.
With durable mesh, lightweight features, and a stylish look, the price (for many) seems fair for the quality of a shoe you are receiving. Especially, with added support for your back, legs, and feet, they are worth it, according to many.
8

. Mizuno Wave Lightning Z4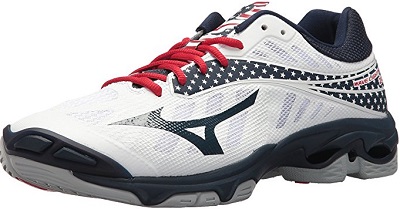 Synthetic Upper
Breathable Air Mesh
INTERCOOL Ventilation System
SENSORPOINT Technology
SR Touch Midsole
Designed to move with your foot in a fluid motion, these volleyball shoes utilize DynaMotion Fit technology. Furthermore, they contain an AIRmesh technology which helps to promote both breathability and better overall foot health. Moreover, this shoe offers both stability and traction, a symphony of a well-versed rhythm in tones of ball-striking glory.
This technology helps to provide traction and lateral stability by connecting the Wave plate to the ground. A suspension system of sorts, this technology allows for an easier transition between multiple moves and stances. This midsole is perfect for absorbing shock due to impact landings. This helps give you the ultimate in comfort, as you jump your way into the playoffs with that game-winning spike from above.
At the upper end of midrange in cost association, these good volleyball shoes are worth every penny invested. These shoes not only perform well but are, also, comfortable while doing it. In other words, you can concentrate on that next perfect move while on the court and not lose focus, due to terrible shoes. These shoes are a worthy buy.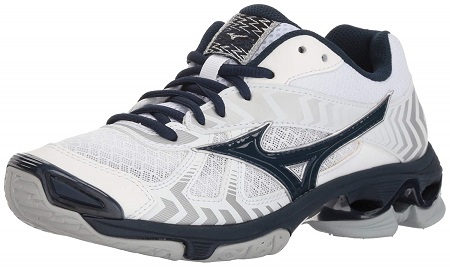 Non-Marking Outsole
Breathable Mesh Outer
INTERCOOL Ventilation System
Lightweight SR Touch Midsole
Another leader in the industry, Mizuno makes our list one more time with the Wave Bolt 7. Featuring a similar visual design to its predecessor, the Wave Bolt 7 emphasizes breathability, shock absorption, and the durable design that the brand is known for. The non-marking outsole also works to prevent damage to the court.
Unique to Mizuno, the INTERCOOL Ventilation system throughout the volleyball sneakers works in tandem with the mesh upper to reduce heat buildup and ensure optimal airflow. This will keep your feet cool and dry no matter how hard you go on the court and works well to reduce the potential for odor.
The lightweight midsole is made of a proprietary material that works hard to absorb shock and reduce the stress on your feet and legs. This is important because any sort of leg or foot pain will have a negative impact on your performance and may distract you from the game. The lightweight design of this midsole also ensures freedom of movement, so you can react and move quickly without feeling restricted. The Mizuno women Wave Bolt 7 is priced similarly to its predecessor and falls within the high range for best volleyball shoes. The durable design and focus on breathability and comfort mean these volleyball shoes will handle multiple seasons with ease. This makes them a good investment for those serious about the game, or who are willing to spend a little more money on a quality product.
Breathable Synthetic & Mesh Upper
Rearfoot GEL Cushioning
Non-Marking Outsole
Exceptional Shock Absorption
The Asics Gel line is very popular among volleyball players, and for a good reason. The Gel Upcourt 3 is one of their newest models, and also features a strong gel cushioning system, a breathable synthetic and mesh upper, and a non-slip outsole that can make or break your performance on the court.
Gum rubber outsoles are very important when it comes to proper footwear for volleyball, as they will allow you to make the lateral movements necessary for the game. The outsole on the Asics Gel Upcourt 3 is a non-marking, non-slip gum rubber, ensuring exceptional traction that won't leave any skid marks on the floor.
Unique to the Asics Gel line, and owing to their name, these are outfitted with a Rearfoot GEL Cushioning System. This cushioning system allows them to efficiently absorb shock and reduce stress on your feet and legs, which is important for a high energy sport such as volleyball. It also works to shape to the contours of your foot, meaning they'll be comfortable for the whole game and then some. The Gel Upcourt 3 runs in the same price range as its predecessor, and is budget-friendly as well as specifically made for volleyball. This along with the features they provide will make them a wonderful addition to any player's footwear collection.
Criteria Used for Evaluation


Durability
Sports shoes take a beating, and that's true for any sport, not just volleyball. All of the up and down, hard landings, and constant pressure put on them will lead to their untimely destruction, especially if put together poorly by the manufacturer, or they utilize the poor material. Nothing is worse than your footwear giving out on you mid-game. This could have many consequences, including but not limited to an injury to the player's foot.
Used on an everyday basis, a good pair of volleyball shoes should last at least a full season; and a great pair, even longer. The first part that will usually give out first will be the outsoles which lose traction due to constant rubbing. Worst case, the sole will become stretched out or warped, and the fit will be affected in a bad way. Other things that will ensure your shoes give in before their due date is waking on cement with them or using them off the court for things such as walking around town.
We highly suggest keeping them to the court and investing in a second casual pair for walking around in. This will save you money in the long run. You won't have to replace them for a long while if you use them properly. Above, we have only included products from reputable brands that are known for their high-quality manufacturing and industry-standard material, so you don't have to worry about getting poor quality footwear.


Outsole
Of course, the ability to grip the surface of the floor in which volleyball players compete on will come into play and be a huge factor in an effectively performing shoe.
The outsole is the outer most part of the volleyball shoes on the bottom side that comes into contact with the ground. This is the component responsible for surface traction. The outsole profile refers to the design of the outsole and its grooves. You want to look for is a flat surface area on the outsole, which will generate more friction. This allows for a much better grip of the outsole to the floor's surface.
The outsole also needs to incorporate grooves that are open. It is critical that no groove on the underside is closed in. An outsole with closed in grooves or one that is completely flat (such as a worn-out or old outsole) will trap liquids in between it and the floor's hard, flat surface. What happens in such a case? It's similar to a car hydroplaning; the sole will not grab traction due to the water cutting off contact with it and the floor, which may end with the player falling over. Closed grooves will trap water in causing this, but if there are grooves that are open, any moisture from sweat that is trampled on will easily be pushed (channeled) out from the bottom, thus preventing it from being trapped between the bottom of the outsole and the floor, which lessens the chance of lost traction and falling.
The material used in the outsole will also play a big part. Soft, gummy rubber works well in conforming to the floor's surface. EVA material is great as well, and you will find it in most performance shoes due to its strong yet light and flexible nature. This material will also aid in shock absorption, which will lessen the strain on your feet and legs and help keep you pain-free.


Stability
Volleyball shoes must be made to support sudden side-to-side movements. This is typically done from the balls of the feet, and the midsole needs to allow this. This is why special designs are made, separating them functionally from other shoes, even if they look similar.
The midsole will take most of the force generated in volleyball. Because of this, it will need to be able to stand up to the punishment, but at the same time give the flexibility needed for movement. This is where EVA material comes in to play, again. You may also see gel materials being utilized as well as air pocket technologies that act as cushioning.


Breathability
The need for breathability is the same across all sports. You work yourself enough, and you will sweat enough to make a closed-in shoe a bad day. Nobody wants blistering or smelly feet, and the right amount of airflow and ventilation can ensure that no moisture gets trapped. It's also important to wear a proper pair of socks.
The upper (which consists of everything above the sole) should be made of mesh and have limited overlays, but with enough vents to allow airflow. Along with this lending a hand in preventing moisture build-up, it prevents the heat build-up.
Stay away from anything made of leather and go with a synthetic material, you can try synthetic leather alike or some kind of mesh. While leather is water-resistant, it also has properties that will work against temperature regulation and moisture management.


Fit
Finding a perfectly-fitting pair of volleyball shoes can be like finding the holy grail; there are so many brands, styles, models and makes of shoes that it seems like it's next to impossible, especially when you are shopping online! Fear not, as we've ranked each product on our list for their fit and trueness-to-size to help guide you in finding the perfect match for you.
To come up with a score for the fit of a shoe, we considered several factors, like the ones mentioned above, in addition to real customer reviews, to help boil down everything into one simple score. For example, Nike tends to make shoes that are true-to-size, meaning that you can buy a pair of 11s one year, and another pair of 11s next year in a different model and they will usually still fit (unless your feet have grown or shrunk). A brand like Nike will most likely have a high score when it comes to fit, but the other variables in play, such as make, model, and purpose, will also affect the overall score.
Consider that running shoes, with its thicker midsole and a synthetic sole might fit differently than a flat shoe, with its thinner midsole and hypothetical leather sole. Each of these shoes, even if they are both from Nike, may have similar scores for trueness-to-size, but a size 11 in one might not be the same as an 11 in the other. What's a reader to do in this case? You must also consider the purpose and type of shoe it is. Knowing what kind of shoe you are buying, and for what purpose, will help you make a better decision. A running shoe might run smaller than a flat because it has thicker materials, so read customer reviews as well to arrive at the best decision for fit, in addition to just our overall score.
Expert Interviews & Opinions
Most Important Criteria
(According to our experts opinion)
Experts Opinion
Editors Opinion
Users Opinion
By Default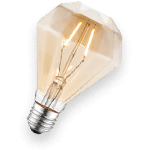 Beginner Tips
Like any other sport, volleyball takes practice! If you're just starting out, hitting or bumping the ball against a wall outside of practice can help you better your technique. Practice approach and jumping for spikes to you can transfer power vertically instead of forward.
The Art Of Diving
One of the key techniques in volleyball is learning how to dig balls, and how to properly dive for the ball without hurting yourself.
As you dive forward to dig a ball, reach forward first with your hands and shoulders to catch your fall and push through to slide along the floor to complete the movement.
Other Factors to Consider


Bottom Line
Focusing on the next move means complete mental clarity from pain, discomfort, or worry about your feet and shoes. Despite the widespread belief that shoes for volleyball and basketball are the same, they each hold numerous qualities that make them quite different. For best shoes for volleyball, the key instrument to maximum comfort and performance lies in the soles and the cushioning.
Volleyball shoes aren't just 'shoes,' per se; they are specifically designed to withstand the shock of hard landings and give the player the added traction to make sharp and quick moves. The demands of the human body during volleyball can result in painful joints, heels, and feet. However, volleyball shoes serve the player in a way that allows maximum mobility during gameplay, accompanied by maximum support and comfort.
During gameplay, your mind should be completely focused on the task at hand, your body's movements, and how to make the winning goal; not just for you but for your team. With that said, you should not be stressing excessively over it, and proper knowledge of what to look for in great volleyball shoes is the key to supporting your sporting abilities. Look for lightweight and breathable for better agility and mobility. To add to that, great outsole grip is important to ensure no slipping during gameplay.
Lastly, cushioning needs to be of the greatest quality for proper foot movement and minimize any pain that may happen after playing for hours. If you are jumping and landing hard, or moving quickly and putting a lot of weight on certain areas of your foot, cushioning will aid the transition between you in mid-air and touching the floor. Whether you are leaning towards ASICS or Nike, each company on this list offers the needs that a proper volleyball shoe demands the players wearing them. If you are an amateur or a professional, you begin by building a base of confidence that can only be enhanced by your volleyball shoes. Your feet will thank you, and so will your team; once, you score that winning point.
Frequently Asked Questions
q:

Why are volleyball shoes important, and why should I choose them specifically?

a:

The answer is simple: Not only do volleyball contain the most important aspects (as listed above) which will help players keep a tight game but they, also, do not contain the faults that non-specific footwear would present if worn in a volleyball game. You may love your pair of Adidas classics enough to wear them all day, but if you are stubborn enough to wear them on the court come game time, you will find that your feet will sustain much more force from constant impact and pressure, causing them to ache during and after the game. This can impact your performance as well, so it is something you need to be mindful of.
q:

How are volleyball shoes different from those for basketball?

a:

The answer lies in the midsoles which are constructed very differently in a volleyball shoe than those designed for basketball. As stated above, volleyball requires movement that stems from the ball of the foot, which the midsole needs to be able to handle in order to prevent any unnecessary or excessive twisting and/or awkward movement that would injure the player. While they may look similar, shoes used for volleyball are very different than those used for basketball.
q:

Which brand makes the best volleyball shoes?

a:

We like to think Asics is the best, as you can see from our list that they landed a significant amount of top models. But, that's not to say there aren't any other top-quality brands, such as Nike, Adidas, and Mizuno, which all show up on this list as well.
q:

What is a gum-rubber sole?

a:

Gum rubber sole is a term coined to categorize the specific soles used for the purpose of providing more grip on the court. No, they are not made from actual gum, but rather a treated rubber known as polybutadiene, which is derived from oil, believe it or not.
q:

Can I wear volleyball shoes for casual wear, and how long will they last?

a:

If you are a volleyball player, your footwear will be an investment in your performance on the court. Don't wear them improperly, as you will not get the most out of your investment if you do. A great pair is pricey, and you will only stunt the life of them by using them when not needed. Instead, leave them to the court and invest in an everyday walking sneakers. Yes, you will be paying for a second pair, but in the long run, you will save money if you go with quality pairs. There are specific types of footwear for different activities for a reason, and it is important to understand what product will work best for each activity.
Subscribe to our Newsletter