Best Volleyball Shoes Reviewed for Performance
In a Hurry? Editors choice: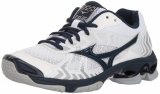 Test Winner: Mizuno Wave Bolt 7

Some of the greatest companies in the world have been created with a goal in mind and a strong foundation to hold it all together. In any sport, the same is true. A strong mind leads to winning results, and you should never be preoccupied with doubtful thoughts about your equipment that can lead to detrimental results during gameplay. With that in mind, a volleyball player should always be focused on their next move with the peace of mind that they will be able to accomplish it swiftly. This is why it's critical to put a lot of time and research into finding the best volleyball shoes for the best performance.
Standout Picks
10 Best Shoes for Volleyball
1

. Adidas Originals Crazyflight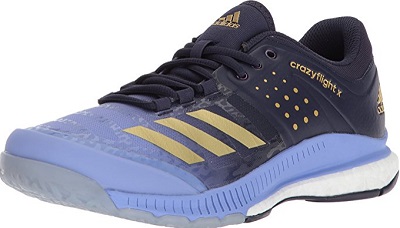 Loaded with attributes such as boost™ and ADITUFF™ technologies, a SPRINTSKIN™ upper, a PU sockliner, and a non-marking outsole, these volleyball shoes are more than court-ready, they are ready for the season. They have a design that aids in toe-offs and gentler impacts associated with landings. Furthermore, this shoe offers a beautiful aesthetic to them; that is, you can look as good as you feel while wearing them.
Aiding in toe-offs and lower impacts, boost™ cushioning is at the helm. Load rate can be cumbersome in your knee area, especially when considering impact return from a high jump; let alone, repetitive jumping. In volleyball, there is no shortage of jumping; therefore, these volleyball shoes are an ideal choice.
Maintaining the beauty of the floor is part of the athlete's job, in terms of not wearing a shoe which causes scarring and marks. With this non-marking outsole, you can join the elite in protecting the integrity of the floor. After all, when you step out onto the floor, it has become yours, anyway. These shoes are midrange in cost association when compared to other best volleyball shoes on this list. They have a plethora of technologies and are made with the high-quality materials we have come to expect from Adidas. As such, these shoes are an investment well made.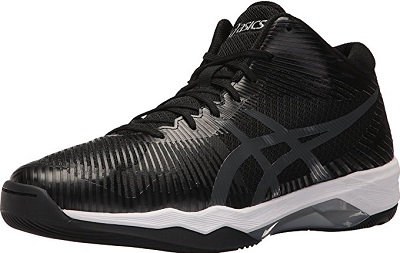 For those in need of a little more ankle support, these high tops ASICS men volleyball shoes are a great solution. Gel cushioning helps with lowering load rate; as well as, preparing you for transitional stance changes. In other words, you can remain comfortable and concentrate on the task at hand; which is, hopefully, that next winning shot. With synthetic leather overlays, your feet have a stable environment, and the rubber outsole helps to provide the much-needed grip for sudden stops.
This system lowers overall weight in the shoe via the outsole while, simultaneously, holding on to the integrity of the structuring. In other words, you gain the best of both worlds, lightweight and durable. Considering the added weight of high-top versus low-top, this system is a much-needed attribute. With this system, you gain comfortable toe-offs and lessened impact ratios associated with landings. In essence, this volleyball shoe offers decent overall foot health, in terms of load rate.
These ASICS men volleyball shoes fall in the midrange of cost association. They are made with high-quality materials and provide ankle support for those in need of it. This makes these volleyball shoes worth every penny spent.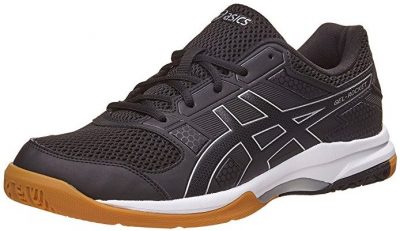 ASICS has always topped the charts with their accomplishments in making some of the most comfortable and durable footwear. With that in mind, Gel-Rocket 8 is no newcomer to ASICS technology and exceptional value. Discover a newer and more lightweight volleyball shoes, with an increased gum rubber outsole and updated styling for maximum comfort style with great ASICS Gel Rocket model.
During constant running, jumping, and moving, your feet can get overwhelmingly hot. With the new lightweight, mesh upper and featuring synthetic overlays, your feet can receive the oxygen they need; so, you are not distracted during your next big moment. Proper cushioning is the biggest factor separating you from potential pain during or after gameplay. With forefoot GEL rocket cushioning, your foot is constantly prepared for every turn, hit, and pressure-filled moment.
With value guaranteed, ASICS built a name for itself when it comes to quality sports shoes and the price does not do it justice. Many believe these are lower in price on this list and well worth it. So if you are looking for budget-friendly shoes volleyball players love these are your best choice.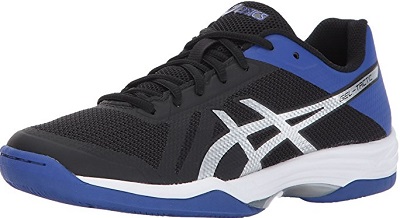 Great for lowering impact landings and aiding in supportive toe-offs, these ASICS men shoes contain Trusstic System technology. They have a breathable, mesh upper which helps to promote airflow and overall foot health. Supportive synthetic overlays on the upper provide stability; thereby, you can maneuver with ease while, also, retaining the importance of strength within a stance. In addition, a rubber outsole helps with grip. Moreover, these volleyball shoes are made with seamless construction.
Made to both breathe and remain stable, the upper has an underlining mesh with synthetic overlays — this shoe offers the right amount of flexibility without compromising structural integrity.
These ASICS men volleyball shoes have a particularly large surface area of the mesh, as part of the upper. This, in turn, allows greater airflow. This aspect is of great importance for those suffering from athlete's foot or other foot ailments associated with non-breathable environments. These volleyball shoes are on the low side of the midrange of cost association. They are an ideal solution for those in need of greater airflow within their shoe. They are also court-ready. In other words, these shoes are a great addition to any volleyball player's footwear collection, even if they are rotational.

5

. Nike Volley Zoom Hyperspike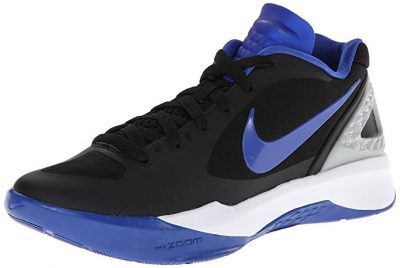 In the name of sports, Nike is a world-renowned brand that has redefined how sports equipment is built. With synthetic and mesh uppers, a Phylon midsole, and their superb lockdown technology, the Volley Zoom Hyperspike is an excellent example of what may be the perfect 'professional gameplay' volleyball shoe. For the player that spends much of their time off the ground during gameplay, this absorbs shock astonishingly well.
A lightweight shoe is essential when playing volleyball, and Nike has mastered the skill of the weight by supplying synthetic-uppers with flywire 3.0 technology. In simple terms, the Volley Zoom Hyperspike allows for you to jump and spike with no delay, due to a heavy shoe.
When on the court, great grip contact between the outsole and the floor is essential for proper gameplay. With these Nike volleyball shoes, you can guarantee that every touch between sole and floor has a durable grip, thanks to the lightweight cushioning rubber. Nike, being a prestigious and overly-season brand in the field of sports, created a product with great quality and comfort. This veteran brand, also, has to pay for the seasonings in which for many may be a bit pricey. However, for quality, this is a clear choice which is why we placed them in the category of best volleyball shoes.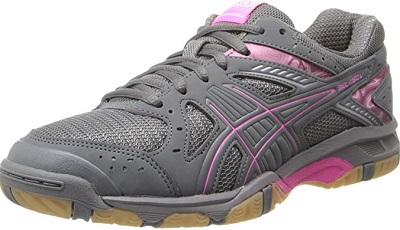 Ready for the court, these ASICS women's shoes are made with a 2.8-inch shaft height, have synthetic overlays, a mesh upper, rubber outsole, padded collar, and have lace entry. They provide a decent grip on the court, thus allowing you to transition from one position to the next with a certain ease. For those with wide feet, these women's volleyball shoes might be ideal, as the toe box is wide; thereby, allowing proper splay when setting your body into the next stance.
Synthetic overlays provide stability and support, as you move around the court. A mesh upper gives you a breathable environment and promotes better overall foot health, as a result. The grip is important when considering how many sudden stops a volleyball player will endure inside of one game; let alone, match after match. This outsole is made to hold the floor and is made of rubber.
These ASICS women's shoes run un the midrange of cost association when compared to other best volleyball shoes on this list. Furthermore, these shoes are designed for the court and are volleyball-ready. As such, this is a great pair of women's volleyball shoes to add to your footwear wardrobe.

7

. Asics Gel Netburner Ballistic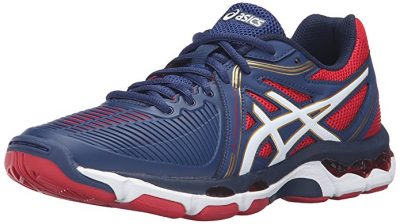 With synthetic technology and a more-natural content rubber outsole, these ASICS volleyball shoes creation offers plenty of reasons as to why it is a phenomenal top volleyball shoe on this list. With cushioning properties, reducing weight, and rearfoot and forefoot gel cushioning, you have found men's and women's volleyball shoes worthy of your attention and your wallet.
With more-natural rubber content, the impact between rubber and floor means better traction for those swift movements. The NC rubber outsole is different than solid rubber by allowing for complete traction, regardless of where you land after your jump. When it comes to shock absorption, it has been said that ASICS GEL is one of the best technologies out there. This is why you can find it with the Gel Netburner Ballistic, the volleyball shoe that responds to your heel pressure.
With durable mesh, lightweight features, and a stylish look, the price (for many) seems fair for the quality of a shoe you are receiving. Especially, with added support for your back, legs, and feet, they are worth it, according to many.

8

. Mizuno Wave Lightning Z4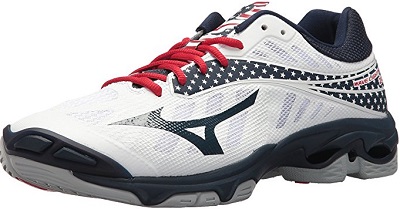 Designed to move with your foot in a fluid motion, these volleyball shoes utilize DynaMotion Fit technology. Furthermore, they contain an AIRmesh technology which helps to promote both breathability and better overall foot health. Moreover, this shoe offers both stability and traction, a symphony of a well-versed rhythm in tones of ball-striking glory.
This technology helps to provide traction and lateral stability by connecting the Wave plate to the ground. A suspension system of sorts, this technology allows for an easier transition between multiple moves and stances. This midsole is perfect for absorbing shock due to impact landings. This helps give you the ultimate in comfort, as you jump your way into the playoffs with that game-winning spike from above.
At the upper end of midrange in cost association, these good volleyball shoes are worth every penny invested. These shoes not only perform well but are, also, comfortable while doing it. In other words, you can concentrate on that next perfect move while on the court and not lose focus, due to terrible shoes. These shoes are a worthy buy.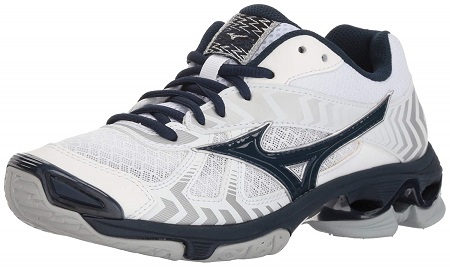 Another leader in the industry, Mizuno makes our list one more time with the Wave Bolt 7. Featuring a similar visual design to its predecessor, the Wave Bolt 7 emphasizes breathability, shock absorption, and the durable design that the brand is known for. The non-marking outsole also works to prevent damage to the court.
Unique to Mizuno, the INTERCOOL Ventilation system throughout the volleyball sneakers works in tandem with the mesh upper to reduce heat buildup and ensure optimal airflow. This will keep your feet cool and dry no matter how hard you go on the court and works well to reduce the potential for odor.
The lightweight midsole is made of a proprietary material that works hard to absorb shock and reduce the stress on your feet and legs. This is important because any sort of leg or foot pain will have a negative impact on your performance and may distract you from the game. The lightweight design of this midsole also ensures freedom of movement, so you can react and move quickly without feeling restricted. The Mizuno women Wave Bolt 7 is priced similarly to its predecessor and falls within the high range for best volleyball shoes. The durable design and focus on breathability and comfort mean these volleyball shoes will handle multiple seasons with ease. This makes them a good investment for those serious about the game, or who are willing to spend a little more money on a quality product.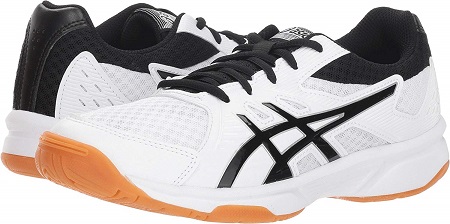 The Asics Gel line is very popular among volleyball players, and for a good reason. The Gel Upcourt 3 is one of their newest models, and also features a strong gel cushioning system, a breathable synthetic and mesh upper, and a non-slip outsole that can make or break your performance on the court.
Gum rubber outsoles are very important when it comes to proper footwear for volleyball, as they will allow you to make the lateral movements necessary for the game. The outsole on the Asics Gel Upcourt 3 is a non-marking, non-slip gum rubber, ensuring exceptional traction that won't leave any skid marks on the floor.
Unique to the Asics Gel line, and owing to their name, these are outfitted with a Rearfoot GEL Cushioning System. This cushioning system allows them to efficiently absorb shock and reduce stress on your feet and legs, which is important for a high energy sport such as volleyball. It also works to shape to the contours of your foot, meaning they'll be comfortable for the whole game and then some. The Gel Upcourt 3 runs in the same price range as its predecessor, and is budget-friendly as well as specifically made for volleyball. This along with the features they provide will make them a wonderful addition to any player's footwear collection.

Subscribe to our Newsletter