Best Shoes For Teens On Trend Reviewed and Rated
Style and fashion are not reserved only for us older folks – children, mostly teenagers, find it important as well! It is a great tool to express themselves, to make them feel more individual or just a way to follow the latest trends. Being a teenager can be hard, and why not make those days easier and nicer with trendy, chic footwear?
Teens always liked a huge variety of styles – be it boho, punk, sporty or just fashionable, and abiding by their wishes is something most shoe manufacturers should do. There is rarely anything nicer than seeing a happy, ecstatic kid leave the store with a brand new pair in their hands! Also, they tend to go through various phases, and those phases require just the right kind of shoe. We can all agree that we had, for an example, a sort of punk-rock phase, and we all liked Doc Martens or Vans shoes, although some of us never grew out of the phase, we just grew out of our sizing!
Supporting the ideas and wishes of teenagers is very important – it makes them feel more confident, and it helps us understand them better. And if you are a teenager yourself, then you know how great it feels when you can show your true colors through clothing and footwear if you do not like to express them in other ways! Also, parties and other kinds of social gatherings are a staple of teenage years, and having the proper pair is of the utmost importance. Especially when it comes to prom or other big events like these! Maybe the best kind of memory from such an important part of their life will be the kind of shoe that was hugging their feet.
Featured Recommendations

Converse All Star

Our rating
Unmistakeable Style
High Tops
Price:

See Here



Dr. Martens Emmeline

Our rating
5 Eyelets
Smooth Finish
Price:

See Here


Choosing the proper kind of footwear is important to everyone, as it should be – and it's even more important for someone who has more growing to do. If you struggle to find just what you need, or perhaps are not sure what is trendy or fashionable these days, help yourself with our list, and see if you can find anything to your liking!
10 Best Shoes for Teens
1. Converse All Star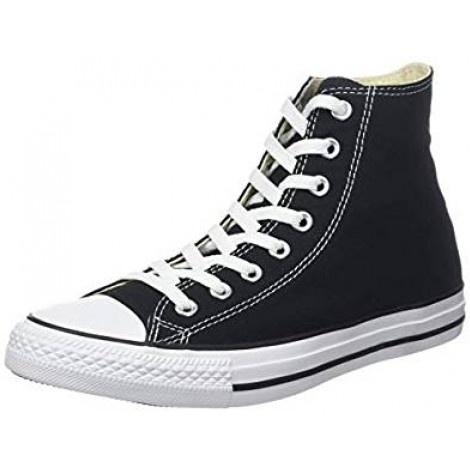 These
high tops
will forever be one of the most popular footwear choices for many people all over the world, of all ages. They are textile, and the material comes in all shapes and sizes - vibrant colors and striking patterns. They are a lace up, and you can change those laces to whatever you like, which furthermore eases the way you can make a statement with these. The insoles are Ortholite, providing you with cushioning and breathability. Besides having regular eyelets, medial eyelets exist as well, but no laces go through them - their sole purpose is improved air flow. The unmistakeable ankle patch serves as a reminder of the origins of the sneakers!
Expand to see more
The style
Converse All Star is one of the most well-known and renowned footwear styles. It's great for anyone that likes the
punk-rock scene
, for sporty people, boho cultures and hippy enthusiasts. It's the perfect versatile shoe - it can blend into any kind of outfit, be it casual, formal, or even wedding attire!
OrthoLite Footbed
These high-performance comfort insoles are the best option for any kind of footwear you have to wear on a day to day basis. The cushioning and the fit will never change, no matter how long you've worn the sneakers for. The PU foam on the footbed makes sure you get all the air you need, and the moisture management resolves all unpleasant odors!
Cost and Value
Converse
has got to be one of the most recognizable brands in the world, and surprisingly, their shoes do not cost a fortune! They are medium priced, and they bring a lot to the table, so they are always a steal!
Canvas Upper
Lace-up High-Top
Medial Eyelets
Recognizable Style
Decorative Stitching
Tight
Bottom Sole Separates
2. Vans Classic Slip-on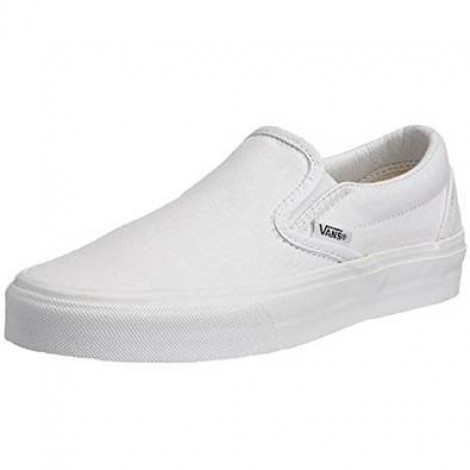 These slip-on shoes are a staple of rebellious youth and skating enthusiasts. They are canvas, and while the classic color is black, they come in any color imaginable, and with many pop culture references as patterns! The soles are rubber, which creates the ideal traction for even the slipperiest of surfaces. The little cotton tag on the side reminds curious onlookers who created the slip-on if they do not manage to recognize the iconic style. The waffle outsole is also one of the signature aspects of Vans footwear, so even when you look under the shoe you will know from where it came from!
Expand to see more
Slip-on
Slip-on shoes are one of the best choices for casual (and formal) outfits you can find today. They are very popular with youth because of their comfort, ease of use, and of course their looks. There is no need to spend time tying laces and struggling to squeeze into your pair - just put on a pair of socks and slip into a world of comfort and chic style!

Waffle outsole
Besides being a famous aspect of Vans footwear, they also provide great traction and slip-resistance. Also, they do what any good skating shoe does - provide board grip and enhancement! So if you want to look like a million bucks while skating around the neighborhood, Vans is your best bet!

Cost and Value
These are also a medium-priced item. But that all depends on the kind of material used, and if they were a collaboration or not! If the classic slip-on features pop culture references that are copyrighted, their price will usually jump, but that is the cost of wearing your favorite media heroes!


Unisex
Elastic For Flexibility
Cushioned Ankle Collar
Reinforced Heel
Superior Shock Absorption
Sole Separates
Tough Break-In Period
7. Sam Edelman Petty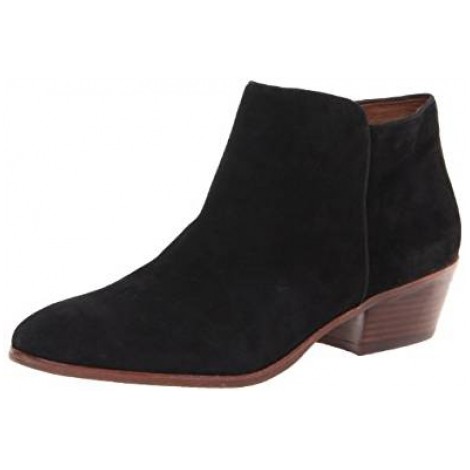 This iconic bootie is the optimal fall fashion accessory! They are made from a big variety of materials - leather, suede, Brahma hair, and dyed Calf fur can be found too. The soles are synthetic, cushioning your every step. The short, thick 1.75-inch heel is stacked, the layers create a beautiful pattern, and also make sure you have a stable gait and good balance. The toes are rounded and the top line is grosgrain-piped, for an authentic Western look. There's a zip included on the side, so high arches can put the booties on without struggling.
Expand to see more
Grosgrain-piped Topline
Grosgrain is characterized by its ribbed appearance. It is also called corded fabric since the weft resembles a cord. It has no luster, but it's very strong and durable. Piping is the process of folding a piece of fabric to look like a pipe and inserting it into a seam to define the style lines of clothing or footwear. The combination of these to create a bootie that is a modern representation of the Western culture!

Zipper detail
Besides looking cute and being a fancy little detail, it's also great because it provides functionality as well. If the opening is too tight, just slide the zipper down and put the booties on with ease! And don't worry about ruffling socks - you can just open the zipper and adjust the socks however you like.

Cost and Value
Sam Edelman is a company that creates luxury items with an affordable price, and this bootie is no exception! Have a piece of sophistication on your feet at a small price!
Dainty
Stacked Heels
Fall Wardrobe Essential
Rounded Toes
Leather Cracks
Minimum Padding
4. Nike Air Force

These basketball sneakers are a preferred choice for many young sports enthusiasts all around the globe. The combination of leather and synthetic materials make the Force lightweight, durable and flexible, which is all that an aspiring sports player needs. The front of the sneaker has many small perforations, both as a detail and as a way to improve the airflow inside the shoe - your feet will not get sweaty and hot after a whole day practicing! The ankle collars are padded, so the material won't cut into your skin and leave painful blisters, and it creates a snug fit, so no need to worry about losing your sneakers during the game! The soles are thick, and have the Air logo embossed at the outer parts!
Expand to see more
Perforated toe front
Airflow is important in any shoe, but it is essential for a sneaker that will be used for sports (besides moisture wicking). The perforations improve the airflow towards your toe box and the ball of the foot, the parts that work the most when you hop around the field chasing the ball. So you won't get sweaty, and won't need to worry about bad odors!

Padded Ankle Collar
No one likes to have a new pair of sneakers that leave wounds and pinch the sides of our ankles. And how is such a shoe suppose to help sports players when all they do is distract them by causing pain and unpleasantness? The padded ankle collar alleviates these issues, and also locks your feet into place, making them even more stable.

Cost and Value
Nike has items that range from the lowest to the highest prices, and these belong somewhere in the middle. They are a basketball sneaker, but they don't offer that much support when you play, so they would be better off as an everyday sneaker - but they do provide a lot of comfort and a sporty look, so they are a great choice for healthy teenagers!
Logo Around Laces
Thick Outsoles
Vibrant Colors
Low Top Design
Leather and Synthetic
5. New Balance Fresh Foam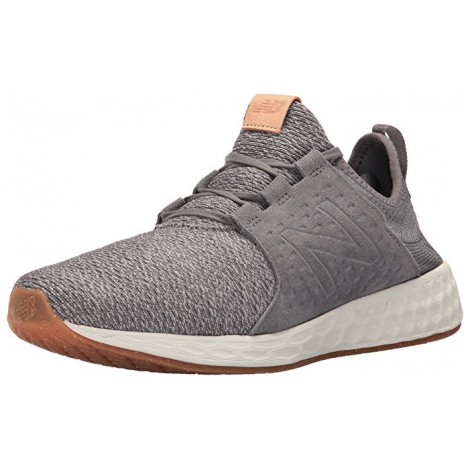 New Balance sneakers are all the rage today, and these stylish runner sneakers were made to make you look chic even while doing your daily activities! They are textile, and the sides are a different type of material where the N logo is etched in, and that creates a great visual contrast with the rest of the shoe. They are a low-cut type, perfect for warmer weather. The midsoles are Fresh Foam, shock absorbing and cushioning you no matter how long you run for. The heels have extra cushions, to save your joints from the impact with the ground. The inserts are removable, so you can adjust them to your liking. These are a different fit - get half a size bigger than you would normally buy!
Expand to see more
Fresh Foam
This award-winning cushioning technology makes running a blast. Your joints will not strain as much, and you won't feel the terrain you are running on, saving your feet from an unnecessary pain that could throw you off from running! Enjoy jogging around the world with these clouds cushioning your every step.

Removable inserts
Are the new inserts you got bothering you? Are they too tick, creating a tight and unpleasant fit? Have no fear, just remove the insert and replace it with anything you like! This way, you didn't spend a lot of money on something that you will not enjoy wearing, and you can replace the inserts when they get worn down and lose their cushioning properties!

Cost and Value
These are a great and stylish option for many runners around the world - considering the technology that was used to create them, it is no surprise. They are also affordable, so you too can enjoy running as much as you can!
Synthetic Midfoot Saddle
Breathable Mesh
Heel Cushioning
Supportive Lacing
8mm Drop
Foam Loses Effectiveness
Small Toe Box
6. Adidas Stan Smith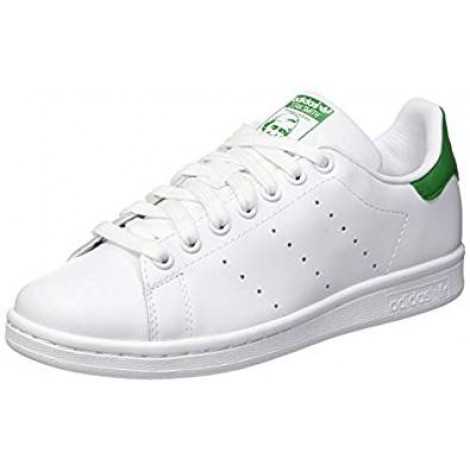 As the name suggests, these were created in the 1970s for the tennis star Stan Smith. This celebrity sneaker holds a special place in style and performance history. The upper is smooth, full-grain leather, while the sides have 3 rows of perforations allowing more air to circulate inside. The rubber outsole is pimpled, which creates more traction and gives you more balance and stability. The Stan Smith logo is visible on the tongue, complete with his picture, so you are always reminded of the origin of the sneakers. The lining is soft textile, making every step a cozy and toasty experience. A heel tab is present - durable and decorated with their logo!
Expand to see more
Pimpled rubber outsole
Rubber, by itself, creates good enough traction for us not to lose our step and slip, especially when it rains or when the terrain is naturally slippery. The pimples add even more traction to the whole sneaker, making them an ideal choice for anyone who dares to step into the tennis court and try their luck!

Stan Smith picture
What better legacy can a tennis player leave than a whole shoe line branded with his picture? We should all recognize great players from any age, and when wearing these sneakers, you honor their efforts and spark others to look for the origins and the history of tennis!

Cost and Value
Surprisingly, these tennis shoes are pretty damn cheap considering who they represent and what they have to offer. A lot of effort was put into them, making them one of the best tennis sneakers available today, and if you wish to have a taste, hurry and grab a pair while you still can!
Perforated 3-Stripes
Full-grain Leather
Soft Textile Lining
Durable Heel Tag
3. Doctor Martens Emmeline


It seems that Doc Martens shoes will live on forever - even teenagers today can't resist owning a pair, and who's to blame them? These are completely made out of premium leather, giving your feet maximum comfort and making them very durable. They have five eyelets, which is a pretty non-standard length for Doc Martens, which makes these even more unique. The soles are synthetic and air cushioned, so you can always enjoy the ride. Of course, they are slip resistant as well, making them a great choice for rainy weather. The yellow stitching is not visible here, but all the other Dr. Martens DNA is present!
Expand to see more
Goodyear Welt
What makes this welt special? Well, for starters, it reinforces the stitch and makes the boot sturdier. Also, you can always break apart the stitches, removing the outsoles and making them completely replaceable. This way, you get a boot that you can wear for years, even decades, which in turn saves you a lot of money and time!

Heel Loop
Besides making the creator of the boot apparent, the loop is also an interesting detail with an important function. While the boots are still new, you will probably struggle to pull them on, due to the leather still being rigid. So, the loop is like an extra hand which helps you slide your foot easier inside, at least until they mold perfectly to you!

Cost an Value
Doc Martens are world famous and all for a reason - they create premium, high-quality grunge style footwear that usually no one can resist. So their price is bound to be a little higher, but you will get everything that you have bargained for, and even more!
Five Eyelets
Smooth Glossy Finish
Grooved Sides
Simple, Clean Design
Slip Resistant
Stiff Around Ankles
Squeaky
8. Nike Epic React Flyknit

The
Epic React Flyknit
provides you with a cushy comfort that lasts throughout your whole run. The foam cushioning is incredibly lightweight, responsive and soft. It also feels very bouncy, which makes running a fun task! The foam is very reactive, and the more energy you put into your step, the more you will feel snapping back. It resists compression and keeps its shape! The outsoles are rubber, but traction was placed only where it was deemed necessary, to keep the sneakers light. A heel shelf stabilizes your foot inside and prevents it from sliding around too much. The heel lining is suede, which fights against blisters and slipping.
Expand to see more
Shape-conforming
The material these sneakers were made from shapes easily and mold perfectly to your feet, creating a snug, warm fit. It will remember the shape of your feet, and the impressions you create while running, so whenever you decide to put them on it will always feel like going back to the well-known territory. Be a confident runner with them strapping your feet!

Nike React cushioning
As we mentioned, this type of foam is unique to these sneakers. It's lightweight and responsive, absorbing any kind of shock you create while running. It's also very cozy and soft and is very breathable, so you do not need to think about making your socks wet. It will retain its shape and functionality, and there will be no need to replace the sneakers every once in a while!

Cost and Value
This is one of the best running shoes out there, and considering the top-notch foam it has, it's no surprise. It is also quite pricey, but what can you expect of such a premium sporty sneaker?
Urban Colors
Suede Heel Lining
Gentle On Knees
Snug & Structured
9. Adidas Sobakov

One more great addition from Adidas! It seems that they will forever be popular among teens everywhere. This everyday sneaker was inspired by soccer cleats, so if you ever wanted to feel like a pro soccer player, now is the chance! The sculpted rubber outsole provides plenty of traction, and also adds to the modern soccer look. The swerving Adidas logo lines are an interesting redesign of the familiar logo, and also improve the sport feel even more. The upper is textile, ribbed, so your feet will breathe no matter how long they stay in.
Expand to see more
Wavy Herringbone Pattern
This pattern is a defining feature of the Sobakov sneaker, and this one is no exception. You can see the ribbed design from a mile away, and besides looking sleek, it also creates traction, giving you all the stability you need. It also makes the shoe look chunky, so if you need something that will make it look like you have bigger feet, this is your choice!

Soccer cleat appearance
Soccer cleats are always a popular style - even if you are not big on the sport, and are not a soccer player. They are urban, and sporty, and reflect what kind of sport you like, so you can even make a statement with them! They usually come in vibrant colors which you can spot a mile away, or with striking logos, like this one, which make them look sleek and urban!

Cost and Value
These sneakers are not that expensive, but they are not so cheap either. They are not for the sports life that much, they are more of an everyday wear, so be careful if you want them solely for working out! Nevertheless, their modern appearance and cushy comfort make them a great choice!
Wraparound Stripes
Sleek Silhouette
Ribbed Textile Upper
Stretchy Knit Shoes
Reflective Stripes
10. Dr. Scholls Conquer

Dr. Scholls is one of those brands that are very well known for the comfort they provide and the amount of care they show to our feet. These booties are no exception, and it's great to know that comfortable boots with heels exist! They are textile, microsuede, which comes in lovely earthy colors. Military-inspired designs make them a bit more mature and formal. The wedge is stacked and matches the color of the shoe perfectly. Memory-foam insoles make them a joy to wear all day long. The front is a lace-up, so you can adjust the tightness however you like. The toes are elegant and round, giving your feet an graceful appearance.
Expand to see more
Wedge heel
Wedge heels will always be a better choice when it comes to heels. They provide much better arch support because they run along the whole length of the shoe, and they make our walking much more stable, and our gait proper. All in all, they will make you feel more confident while you continue on with your everyday activities!

Microsuede Upper
This is a recent, man-made creation that has many advantages compared to regular materials. It is composed out of a million fine polyester fibers, which are tightly intertwined. It has all the advantages but none of the drawbacks of real suede leather. It is soft, wear-resistant, animal-friendly and easy to clean. Also, it is much cheaper than genuine leather and much easier to work with!

Cost and Value
The best part about these microsuede booties is their price! They are quite cheap considering what they offer, but they are microsuede which is a super-cheap material, so the price was expected, but it's still nice to know that anyone can afford a pair of the cozy ankle booties!
Military-Inspired Details
Earthy Colors
Lace-Up Front
Memory Foam Insole
Stacked Heel
Moderate Arch Support
Runs Small
Looking through this list, you can see that we have included a variety of different styles, appropriate for different kinds of social events or even for different seasons. We can only hope that you have found just the right kind of apparel you need to complete your look!
Criteria For Evaluating the Best Shoes for Teens

Style
Choosing the proper style for their children can be a nightmare for most parents. How do we know what is good for their growing feet, and more importantly, how do we know what they like? The style they wear is something they choose to make a statement with and can be a very important aspect of their personality. So, we have gathered a list of some styles that are popular amongst teenagers these days, and we hope to make the choice easier for you! Here are some of the styles that circulate amongst teenagers today:
Trainers: This is possibly the most popular choice for older boys and girls alike. A huge variety of choices is available, Adidas and Nike being the most favored choices. Also, skater shoes and canvas pumps, like Vans, are a great idea. Trainers that replicate football boots are also an option many sporty teenagers choose. There are a lot of trainers decorating the shop-fronts today, and we are sure you will find just what you are looking for.
Ballet Flats: These are a great combination of formal and casual wear, and is the choice of many teenage girls when it comes to formal outfits. They are comfortable, dainty and classy and can be combined with almost anything. However, maybe you shouldn't wear these all the time: due to the lack of support and lack of heel, they can cause health problems, fallen arches, and heel spurs. Keep them occasional and you will be fine.
Casual Shoes: Loafers and slip-ons are becoming very popular among men today, and teenagers are included here. They are easy to wear, light, and comfortable, and if chosen in more elegant and sharp styles can also be worn as formal footwear. Sandals are more popular with girls, as they like to show off their dainty feet and colorful nails when the warm weather rolls in.
Party shoes: It is likely that, as we get older, more and more occasions will arise when formal, elegant footwear is required. Brogues and oxford shoes are a crowd-favorite, as they combine comfort with sharp style. Pumps with short heels and glitter, lace, and whatever you can imagine can be found anywhere, and are a great way to spruce up your nightlife outfit! Be cautious – choose something that supports your feet well, and if you really can't, then wear those items only when you have to!
These are only some of the styles that teenagers might find appropriate today, but considering how much the market grows today, we are sure the number of choices will only grow. Be sure to listen to what they desire, or notice what style they tend to lean toward!
Price
Shoes can be very expensive, even for people who belong to the working class. Imagine how expensive they are to teenagers who only have part-time jobs or no jobs at all? School supplies, food, and social outings are a priority – spending big on footwear is not so important to them, and so shoes that have moderate prices are usually their most favorable options.
Finding shoes that have sublime looks, are gentle towards feet and have low prices is a very tough task. Usually, one thing is sacrificed in favor of the other, and you end up with dull footwear or angry, sore feet. Having choices that combine all three is a very important agenda for teenagers (and for adults as well), and today, there are plenty of options available. And sometimes, if you are confident that your feet will not grow anymore, it's better to invest in a proper pair that will last for ages, instead of choosing a cheaper, poorly made one. Shop smart, and you won't even feel the money going towards shoes!
Proper sizing
It is very difficult to choose the proper size to accommodate growing feet. How can you be certain that the size won't change in the next six months, and you already invested into the pair you have now?
Wearing shoes that have a good fit is very important, and not only because it alleviates pain and creates comfort. Ill-fitting footwear can cause a lot of health problems, and unsightly side-effects. For an example, if you size-up because you feel like the life is being squeezed out of your feet, you may have made mistake – if the fit is narrow and tight, it is likely you need wider, not longer shoes! Callouses and corns can appear when you wear constricting footwear, and they are very hard to get rid of, painful, and look nasty!
So what does one do in this situation? Choose footwear that promotes foot health, and always check if the size is correct. If you don't want to spend a fortune because feet grow, try choosing cheaper options until they stop (although, they can grow even up to a size later in life, so be careful). And always choose comfortable shoes, even if they are not so pretty to the eye compared to sky high-heels or narrow pointy-toes!
Frequently Asked Questions

Q: How do I know which shoes are in style?
A: You can always check online to find out what is hot this fashion season! Or, if you want to do it the hard way, pay attention to what your peers are wearing – usually, the more you see the shoe, the more popular it is!
Q: Should I worry about proper sizes?
A: Proper sizing is one of the most important things you have to look for in a shoe. As we mentioned before, sizing that is off can cause a lot of problems, health-related and not! If you are unsure what your size is, consult a size chart if you are buying footwear online, or find a chart and calculate your size!
Q: Which brands are the most popular right now?
A: We have included most of the popular brand's teenagers lie to wear today. But the three definitive winners are Adidas, Nike, and Vans. We guess some things never change, these will forever be in style!
Q: What do I do if I have wide feet?
A: Finding sneakers that have wide width options is easy today – before, it was very hard to find because the width of the foot was not as important as the length, and wide sizes were not recognized. Almost every popular brand today has options for wide feet, and finding a pair fit for your needs should be an easy task!
Q: Can I wear youthful shoes even if I am older?
A: We believe that anyone can wear whatever they like – no matter their age! If you want to feel like you are a young, hopeful teenager again, read through our list and find what you like – embrace that young heart of yours!
Sources