Best Skechers Running Shoes for Men Reviewed & Rated
In a Hurry? Editors choice: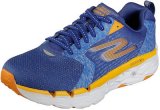 Test Winner: GOrun MaxRoad 3 Ultra

Running shoes
should fit you like a glove, and essentially mold to your feet. By the time your workout is over, your feet should be absolutely pain-free - if this is not the case there are a few things you should look at with your shoes. Did you purchase the correct size, and do they offer enough arch support. If just standing around for a few hours causes sore feet, then running in them will be much worse and can potentially be harmful to you. This list will take you through best Skechers running shoes for men, and help you pick which shoe fits you and your lifestyle best.
Standout Picks
Criteria Used for Evaluation
Breathability
When exercising and going for runs in the summer you wear shorts and lighter clothing, but what about your feet? It is important to wear lightweight running shoes that keep air flowing and your feet cool. The runners you wear in the colder months will most likely not work year-round because the materials will be very different, although breathable fabrics are something you always want, too thin of material will leave your feet cold, especially without the proper socks.
Wearing the proper sock with your Skechers running shoes makes a very big difference. You may just throw on any old pair of cotton ankle socks in your drawer before slipping your shoes on, but that can actually be the cause of a lot of issues without you even realizing it. It makes no difference if your shoes are breathable if your socks are locking in moisture and causing your feet to sweat anyways. If you are running competitively, or in all conditions including rain, look for socks that are made with merino wool; they have natural anti-microbial properties and wick away moisture. For everyday casual runs and workouts at the gym, cotton socks do the job fine, just be aware of how your feet feel and smell afterward and if sock material should be switched up.
Skechers running shoes that are breathable not only keep your feet dry, which is ideal for preventing foot health issues such as irritations, blisters, and overall smelly feet but they also keep them cool which is important too. Your body naturally perspires, even more so when you are performing vigorous activities like working out. Having a running shoe that allows air to flow to your feet is essential, and will not leave you potentially embarrassed taking your shoes off at the end of a long day and having them smell.
Materials like cotton, polyester, and nylon tend to lock in moisture and do not allow your feet to properly breathe. These fabrics are great for sweaters and clothing meant to keep you warm, but it is extremely counter-productive to wear these when trying to stay cool. When purchasing Skechers running shoes always make sure to take a look at what they are made of and if the upper is a breathable mesh fabric. A common style with athletic shoes lately is a knit upper; generally made from a single piece of fabric and therefore being seamless, and causing less possible irritation to your feet.
A good quality Skechers running shoe should, for the most part, be waterproof, allowing you to run in any condition and not worry about your feet getting soaked let alone your shoes getting ruined. In most runners, the upper part of the shoe ( the part around your ankle ) should allow air to get in but ensure absolutely no moisture gets in like rain or dew from the grass. The lining of the shoe should also be breathable yet waterproof, giving you an all-around dry, comfortable shoe that you can confidently wear in all conditions.
Support
Just like a friend, your Skechers running shoes should be extremely supportive. Everyone needs a different level of support from a shoe, depending on what they will be using it for, their weight, and how often it will be worn. If you have prior injuries and need to be cautious of them while running, for example, knee problems, look for a shoe that properly stabilizes your heel, and keeps your foot ( and knee ) in proper alignment.
Skechers running shoes should last around 300 - 500 miles before you start to notice a change in the way they are performing. If you are a heavier runner or are using the shoes daily and vigorously you may notice a change even sooner. There are however ways of getting the most out of your Skechers running shoes, firstly, finding a shoe that fits your needs.
Medical orthotics can make a huge difference in how your feet feel in a pair of running shoes, and how long you can be on your feet comfortably. If you are in need of medical orthotics, make sure to find a pair of shoes that have an easily removable insole that can accommodate them. Having to insert them into shoes on top of the insole already inside, will make the shoe slightly bulkier, and can change the fit quite a bit.
A proper insole is key to having a supportive fit, the most common with Skechers is their air-cooled memory foam. Made to keep your feet well cushioned and cool throughout your run. Everyone has different arches and needs different support, so an insole that molds to your foot regardless of its shape is ideal and keeps you from having to splurge on a pair of medical orthotics.
While running the arch of your foot absorbs most of the pressure, created by the impact of your stride, so having the proper insole and midsole to take that impact off of your foot is critical. There are around three types of insoles: comfort, molded and custom. All three offer different things and can make a difference in how your feet feel at the end of the day. You may feel that any insole the Skechers running shoes come with is good enough for you, but that isn't always the case. Take the time to determine what type of arch you have: low, medium or high, and it will make the entire insole process a lot easier.
With the ever-popular athleisure trend, many people are just wearing Skechers running shoes for the style and are not actually putting any strain on the shoe itself. If this is the case you will not only have a pair that lasts a very long time, you will also not need to spend a lot of time finding a pair that gives proper support to runners. Active runners who want to get the most out of a pair of running shoes should look for high-quality construction and may want to spend that extra money to get a pair that will last.
Fit
The most important thing to focus on when purchasing a new pair of Skechers running shoes is how they fit your feet. At the end of the day, regardless of how nice the style is, or if you have been dying to get that certain pair of shoes for ages - if the style does not fit your foot properly, they will sit at the back of your closet untouched and will be a big waste of money.
It is important to know your size for all shoes because it can tend to vary. Boots, for instance, are made to be worn with thick socks to insulate your feet so the rule of thumb is to generally go up a half size. Sneakers vary depending on the brand itself as well as running shoes. Because you are one size in one pair of runners does not necessarily mean you will be in another, with another brand. Knowing your feet and the type of fit they need will be a huge help in picking the perfect pair.
Running shoes should hug your feet, and fit almost like a glove but have absolutely zero hot spots, or areas that feel too tight because irritation will quickly occur. Most come in many different widths and can run either wide or narrow so knowing the shape of your foot and space it needs is critical. A shoe may feel good at first because you are just walking around briefly in it, but the true test will be when you go for your first run.
A good pair of Skechers running shoes will require almost no break-in period, especially not one that causes blisters and irritations on your feet. If that is the case, the shoes are not properly fitted to your feet and you should either size up or down. Comfort goes hand in hand with the fit, a shoe that does not fit properly at first, never will and will cause non stop the discomfort.
Keep in mind that not all Skechers running shoes are a one size fits all, and although most concerns like your feet swelling during a run affect a lot of people, it won't necessarily happen to you. If it does, you, of course, want a shoe that has the space to accommodate that. Always consider going up about half a size for swelling, socks and overall a more comfortable fit. No one knows your body and your needs better than you, so taking the time to think about what it is you need in a running shoe, and problems you've had in the past with ones that haven't fit properly will help you in deciding what is right for you.
Traction
It should be a given that your Skechers running shoes will provide enough grip and traction to keep you on your feet and stable throughout a run but that is not always the case. Some outsoles are not made for all terrains and will not hold up the same as others. It is important to note where exactly you will be using them and if they will withstand the conditions.
There are many different types of outsoles and they all have different purposes. If you plan on only using your running shoes indoors, at a gym for instance, then a foam outsole is perfect and will feel extremely lightweight, while still providing enough cushioning. Running outdoors can sometimes come with obstacles, for instance, rain. Rain or wet ground should not stop you from going out and working out, and having a shoe that makes you feel secure and safe is essential.
Outsoles should be very durable, and last a long time, regardless of the activity you are performing. A big misconception is that your outsoles are worn down from the weight of your feet striking the ground when in actuality it is just the friction of the shoe touching the ground. If you tend to kind of drag your feet when you walk or run, the soles will quickly wear down. That has to do with the runner themselves, not the quality of the Skechers running shoe.
The most common sole design with running shoes is the waffle pattern which really helps with traction and will give you a feeling of stability during your workout. The last thing on your mind should ever be slipping, so if that is a constant worry the shoes you are wearing are not properly made for what you are wearing them for.
When purchasing a new pair of Skechers running shoe color is going to be a big factor in what will match best with your workout clothes, but it is important to note the color of the sole as well. Black soles are made of carbon rubber and are very durable; great for long-distance running and staying intact on all surfaces. White or different colored soles are made of blown-rubber and are softer, containing more air and giving a lighter feel to the shoe. These are a great option for indoor workouts or lighter running.
How much grip you need in a shoe, comes down to how you will be using them, and how often. What may easily wear down quickly for one person, could last months to a year for another. Always buy shoes based off of your needs and experience, try to always refrain from purchasing a shoe based on a friend's recommendation because what works for them, most likely won't work for you.
Shock Absorption
You'll find that the best Skechers running shoes actually come from their GOrun line which was developed with athletic use specifically in mind. It offers a variety of models that are regularly updated in order to include the latest tech, both in terms of comfort, as well as performance. One of the features that see the most updates is definitely the shock absorption system that's included in these shoes.
Traditionally, you'll find the shock-absorbing properties of a Skechers running shoe to be located in the midsole which is, usually, made of some type of foam compound that helps absorb the shock from impact, and prevents it from traveling up your legs, or affecting your tendons. Lately, however, with the development of new, more efficient materials, manufacturers are able to add an additional layer of shock absorption in the midsole as well - some using memory foam, while others do it by incorporating different, high-performing materials.
Overall, most Skechers running shoes are made with similar tech which is regularly updated, making it more durable, lightweight and responsive. You're likely to encounter some of the following features in your Skechers runners:
Hyper Burst: Introduced in late 2018, the Hyper Burst was first included in the Razor 3 Hyper, and is made with a completely new foam compound that is 30% lighter than their next best cushioning system. It's a durable type of foam that won't pack or lose its shock-absorbing abilities quickly while ensuring excellent response.
FLIGHT GEN: This is one of the brands more lightweight cushioning systems that are found in their popular running footwear. It's a system that offers optimal shock protection and is a great choice for most users who aren't looking for too much bounce and prefer a lightweight shoe.
5GEN: A compression-molded midsole, the 5GEN offers the perfect combination of stability and cushioning. It's mostly used in models that aim to provide a similar feeling both in the heel and forefoot area, while still offering enough protection for all types of landings.
GOGA MAT: This is actually an insole technology that resembles the soft, soothing feeling you get when walking on a yoga mat. It's highly comfortable and easily adjusts to the shape of your foot, giving you a customized feeling inside the shoe, while still providing an added level of shock absorption. It's great both for running, as well as for everyday wear.
10 Best Skechers Running Shoes Reviews in 2020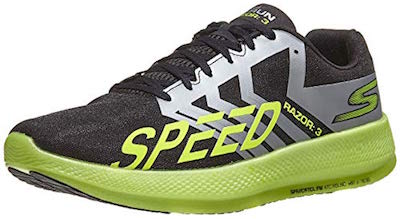 If you're after Skechers running shoes that you'll wear on race days (or just prefer a smaller heel to toe drop, which in this case is 4mm), the GOrun Razor 3 Hyper is a perfect choice. Made with all of the brand's best tech, these are high performer Skechers running shoes for men that do a lot of things well. One of these is the lightweight, as well as the updated upper that competes with some of the leading brands in running equipment currently available.
The Razor 3 Hyper Skechers running shoes are made with a stretchy, ripstop mesh upper that's got a seamless construction on the inside, so you don't have to worry about any hotpoints, seeing that it'll completely mold to your feet. The lacing system is a specially designed no-pressure one, while 3D printed overlays ensure a stabilized and supportive fit.
This model features a Hyper Burst cushioning system that's both lightweight and highly responsive, without the downside of packing with use (which is why this is a great marathon Skechers running shoe). The outsole is made with rubber and has been strategically developed to provide the best traction you can get.
Unlike most other Skechers runners, the Razor 3 Hyper is quite pricey, which means you'll be paying as much as you would for some of the market's top-performing models. If you're after something new and comfortable, then we definitely recommend trying these Skechers running shoes, especially as it's been designed to encourage proper form, which a lot of people could benefit from.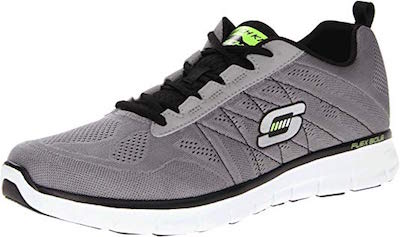 When on the search for the perfect Skechers running shoe, fit and comfort are generally the first two things that come to mind. You want a shoe that not only feels great but that provides you with the utmost stability and support. These Synergy Power Skechers running shoes for men not only have a memory foam insole for extreme cushioning but a plush foam midsole to really absorb all impact and keep your feet feeling good.
This thick, plush foam provides a very responsive and cushioned ride while still giving the Skechers running shoe a lightweight feel. The FlexSole absorbs all impact, taking the stress off of your feet, which is very important for anyone who finds their feet are sore and tired after even a short run.
It does not matter how stylish a pair of running shoes look if they do not provide your feet with the right amount of cushioning and support. A good insole is a must, especially in a running shoe where your feet are absorbing impact. Skechers have one of the most comfortable and supportive insoles in their Skechers running shoes; made with memory foam, these mold to your feet and provide the perfect amount of pressure relief, and support.
Around the same cost as others on this list, these Synergy Power Switch running shoes are very wallet-friendly. They not only look very sleek, and similar to more expensive brands but they are made to last and to keep your feet as comfortable and healthy as possible.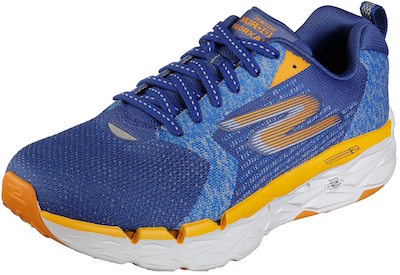 If you prefer to run in a maximalist shoe, then the GOrun MaxRoad 3 Ultra Skechers running shoes, the newest addition to the brand's line, is the way to go. Updated to include even softer cushioning made for road conditions, as well as neutral support that will fit most users, this is a versatile shoe that allows for great customization in terms of fit, thanks to the seamless knit upper with a brand new Quick Fit feature.
If you have sensitive feet or are just susceptible to blisters and hot spots, then you'll be happy to hear that the knit upper of the GOrun MaxRoad 3 Ultra features an upper with no exposed seams that would cause rubbing or discomfort while working out. Additionally, these Skechers running shoes for men allow for a good amount of airflow, which is why it's even a popular option for those looking for a comfy everyday style.
Because it's a bulky style, the MaxRoad 3 Ultra needs to make up for the number of materials used in construction by utilizing more lightweight options that won't weigh you down. The fact that this Skechers running shoe weighs just 8 oz is astounding and even makes it a suitable choice for competition running.
Maximum cushioning is going to cost you quite a lot, which is why this model of Skechers running shoe costs almost double the price of the cheapest model on this list. But, if you really need this specific type of shoe, then it's more than worth it - especially seeing that it's a great performer, and offers a stable, lightweight ride.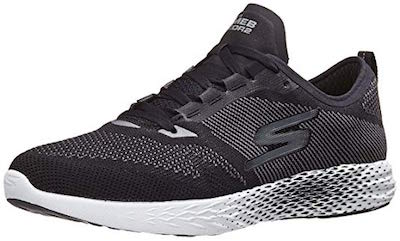 If you have a need for speed these shoes will satisfy it. These Skechers running shoes are listed as the official training shoe of Skechers Performance and have been constructed as a fast, lightweight, and neutral shoe. These Skechers running shoes for men have a lot of flexibility added into them without skimping on shoe security and stability and give you traction on multiple surfaces plus an insole that removable for a custom fit. These Skechers men's running shoes are made for serious runners.
The shoes are constructed with an upper that is FITKNIT. FITKNIT is different from other uppers in that it uses super-strong fibers that have been tightly woven to help fit and secure your foot to the shoe. Not only does this give you better stability but the woven design of this special upper keeps the shoe very lightweight with added stretch and breathability.
If you love to run but have issues with over-pronation, these Skechers running shoes for men molded heel will give you better stability. The heel counter of these shoes is shorter in height but the hard but comfortable mold will help to keep your ankles balanced while reducing joint pain and injuries. You are guaranteed to have a safe but fun run.
This model of Skechers running shoe is much pricier but well worth it as it is a shoe specifically made for serious performance running. It includes other running shoe features that are common in the other Skechers models while having its own specialized feature or two. If you want a running shoe that is serious about running just as much like you, these are well worth the cost.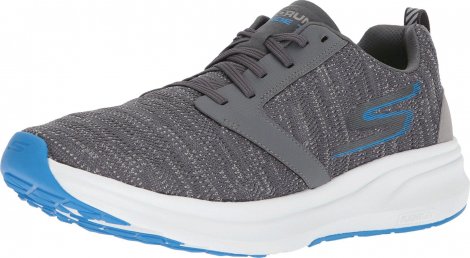 These shoes could be the best Skechers running shoes you ever had. Very lightweight and highly responsive, the shoes are constructed with a knit fabric in the upper that is breathable and 3D overlays with reflective details that can be great for nighttime visibility. While the arch of the shoes is narrow, they have a roomy toe-box and are true to size.
FLIGHT-GEN is another midsole technology from Skechers that gives you an extra boost in your running. You'll receive a much lighter midsole that is much more comfortable while still giving you an extra bounce and boost in your running performance. You'll feel like you're running on cloud nine with wings in these Skechers running shoes.
The mid-foot strike is just another striking area for landing when the foot makes contact with the ground during running. The mid-foot is the arch of the foot and if you're a runner that strikes your mid-foot, these shoes will give you the much-needed efficiency and support while running. This will help reduce any running workload off your knees.
No cheaper than $60 and no higher than $100, these Skechers running shoes come in the mid-price range while giving you higher comfort, support, and performance. With long-lasting durability and strong construction that can take any hard pounding from running, you will have a Skechers running shoe that stays with you mile after mile.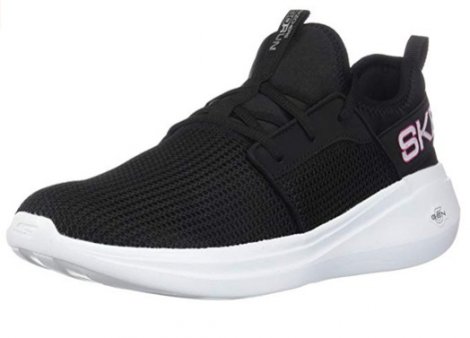 This newer model from Skechers for 2019 gets us inspired by its name alone-Gorun Fast! Similar to a lot of Skechers running shoes, it has technology in place to help cushion and support you during your runs, even when going for distance. Superior breathability can be found in the lightweight mesh uppers, keeping your feet cool during summer workouts. It's one Skechers running shoe that should find it's way into your closet!
The synthetic sole gives ample cushion during your runs, providing shock absorption during foot falls with it's the thicker sole, while still being lightweight to help reduce foot fatigue. Inside the GOrun Fast is Skechers running shoe's 5Gen cushioning, making your ride pillow plush soft for comfort and cooling capability. Uppers are lightweight mesh in design, keeping your feet cool in the heat of your workout.
One of the best things we love about this design is its lacing system.
This particular Skechers running shoe has the simplicity of a slip-on shoe but also has a semi-functional lace-up that will help keep the shoe on your foot when wearing. Tighten up for your particular comfort and fit! It's one Skechers running shoe that will have you slipping this pair on with ease for that morning workout!



We know many a running shoe has built their technology to be lightweight and cooling, and Skechers running shoe, Gorun Focus, is no exception. It has technology inside to help keep your feet cooler than some other models while staying supported and keeping a breathable, lightweight sneaker. And, with its great look and multiprint pattern, it's a sleek option to step out in the mornings for that run.
Inside the GOrun Focus is Ultra Go cushioning, a Skechers running shoe technology that helps give the shoe more responsiveness for impact absorption and comfort while contributing to keeping the shoe lightweight. A thicker, light, synthetic sole pads each footfall, while grooved lugged sole helps to maintain traction, even over uneven ground. Uppers are a soft knit, adding to the breathability aspect of this pair of Skechers running shoes.
Insoles within this Skechers running shoe are another of the brand's technologies, an Air Cooled Goga Mat tech. This insole will help to keep feet cooler while providing support in the arch during workouts. It's a model that we think you'll love from the brand, especially for those summer workouts in the heat!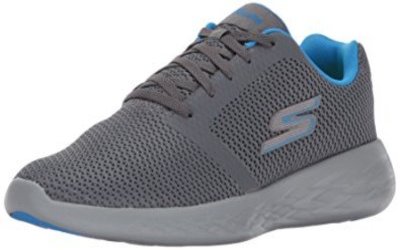 If you need a running shoe that will fit a variety of activities then this shoe is for you. Highly responsive and greatly cushioned, these shoes are lightweight trainers that work with you in and outside the gym. Constructed with breathability in mind, these Skechers running shoes come equipped with a mesh that is layered and advanced constructed soles for supreme comfort.
5GEN stands for the fifth generation of GOrun Skechers running shoes. (GOrun 5) that introduced a specialized cushioning midsole that was designed with responsiveness and speed in mind while also being fast and supportive. All following generations (6 and above) come with the 5GEN midsole. You'll have a superb performance with each generation guaranteed.
The Skechers running shoes for men come with the Goga Run insole. The insole provides additional cushioning support while also absorbing shock. Introduced in the GOrun 400 series, the biometric sole will help the wearer to develop a natural stride and help the feet to make solid contact with the ground. The insole helps to support the midsole giving you optimum comfort and support.
Compared to the other shoes in the GOrun series, the price is about the same give or take a few extra dollars depending on the generation. Each generation gets more advanced with performance while leveling up in comfort. Compared to other Skechers running shoes for men of equal or more cost, this shoe will give you everything you need for running and other exercise activities without even having to go above $100.

9

. Equalizer 2.0 True Balance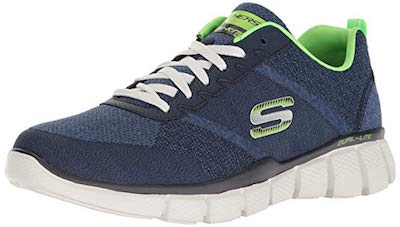 A Skechers running shoe that offers extreme comfort and support. The Equalizer running shoe has a cooled memory foam insole for maximal comfort and cushion during longer runs and it has a breathable knit and mesh upper that maximizes air flow to help cool you down. Don't let the thought of slipping even cross your mind either, the dual-lite outsole provides amazing traction and added support to sufficiently absorb impact and keep your feet feeling light and energized.
Nothing puts a damper on a satisfying, long run quite like the feeling of hot, sweaty uncomfortable feet. Preventing perspiration is not always possible, but controlling it is. These cooled memory foam insoles inside these Skechers running shoes not only provide enhanced breathability, but they ensure total comfort with a cloud-like feel, keeping you fully focused on your workout.
This lightweight outsole adds the perfect amount of cushioning to properly absorb impact, and leave you feeling like you're walking on air. A well balanced, outsole that provides as much cushioning as it does stability is hard to find, but the brand created one that will keep you comfortably running for as long as you want.
This brand is known for its good quality at affordable prices, and these Skechers running shoes are no exception. With all the great features of high-end shoes, these provide you with everything you could need and more, while still maintaining a more than reasonable price point.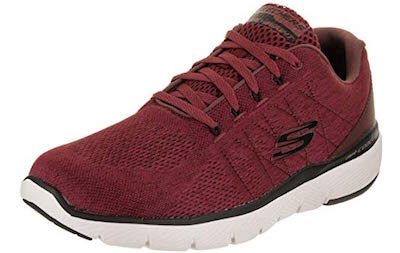 This is an athletic shoe perfectly suited for gym workouts where you need a shoe you'll be able to use both on the treadmill as well as while doing other types of exercise. These Skechers running shoes feature an air-cooled memory foam insole that's one of the brand's most loved features and comes in a wide array of color options, so it can even be worn as an everyday shoe.
Though the forefoot is made with open-cell mesh for maximized breathability, the parts of the material that cover the midfoot and the heel are more close-knit in order to provide a better amount of support and security, something that's especially important in workouts which include fast lateral movements.
Instead of giving you a traditional outsole, the Flex Advantage 3.0 Skechers running shoes feature an outsole divided into multiple sections, all of which follow four main groove lines that allow your foot to move completely naturally, regardless of whether you tend to strike with your heel or midfoot. Do note, however, that the outsole is made out of foam, which will lack durability for outdoor running.
Ranking low to mid-range in terms of price, the Flex Advantage 3.0 is a great buy for those who are more into indoor training than running outdoors. It features solid cushioning, a great insole, and a comfortable upper that's both adaptable and supportive in a Skechers running shoe.

Subscribe to our Newsletter