Best Insoles for Running Reviewed & Rated
last updated:
Apr 09, 2020
The debate has long held around whether or not insoles or custom orthotics are needed for runners. And the general resounding answer? It all comes down to each person's foot and the level of comfort and support they need to remain injury-free while training. For some, that is a customized orthotic insert, but for others, it just may be an extra thin layer of cushion to help absorb impact. Insoles can be composed of gel to provide a heavier cushion with added flex and mobility. Other best running insoles can be made of lightweight Polypropylene. Check below for our top picks of insoles for running to help you select one that may best suit your specialized foot needs!
In a Hurry? The test winner after 19 hrs of research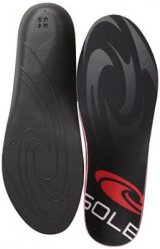 SOLE Softec Ultra-U
Why is it better?
Eco-Friendly
Moisture Wicking
Recycled Materials
Thick Cushion
Heel Cup
In a
Hurry? Editors choice: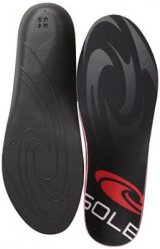 Test Winner: SOLE Softec Ultra-U

18
Researched Sources
1278
Reviews Considered
19
Hours Researching
20
Products Evaluated
Materials
Effectiveness
Comfort
Support
Use
By Default
10 Best Insoles for Running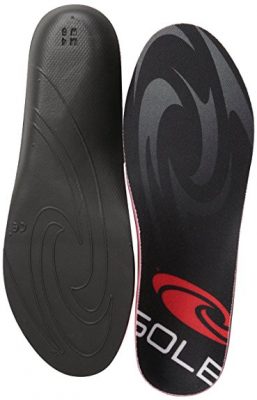 Eco-Friendly
Moisture Wicking
Recycled Materials
Thick Cushion
Heel Cup
Price
May Need Sizing Adjustments
SOLE Softec Ultra-U hits the top of our list for a number of reasons. It's AMPA approved and backed by podiatrists, so you can rest assured you are getting a quality product many doctors endorse. It's also the thickest insert cushion one can add to your shoes to help with loose or ill fit, or provide additional shock absorption and cushioning. And with a moldable construction, this insert will mold to your foot without losing critical arch support.
Sole Softec is designed with 20% recycled material and is moldable to your unique foot over time. A polyester weave on the top layer of the insert promotes a wicking action to leave your feet dry and is also made with 35% recycled materials. You can feel good about placing these in your running shoes for a quick trail run!
Designed to help pronation imbalances, the arch support found in the Ultra-U provides just enough support without being excessively rigid. A heel cup helps to stabilize the heel and give proper heel to toe exchange during foot strikes. EVA and PU blend keep this insole cushioned, light, and supportive, and with a 3.2mm thickness, you can log in those long runs without pain. On the more expensive side of our list, but by no means over the top, these are a quality buy for runners who find themselves logging over 20 miles a week, or go long on a regular basis. The additional arch support and cushion can help keep your feet and run going instead of fading due to tired arches and pain. These best running insoles are a great investment for advanced runners!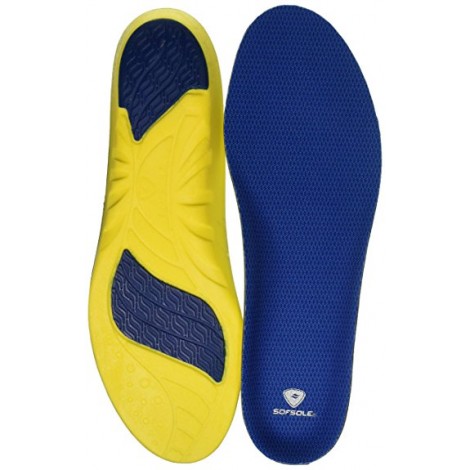 Neutral Arch
Gel Heel Pads
Double As Atheltic And Casual Soles
High-Quality Foam
Moisture-Wicking
The gel and foam hybrid construction featured in this pair of running insoles is great for high impact training such as running and cross-fit where foot protection is essential. The neutral arch of this insole makes it perfect for almost any shoe, and a great option for everyday athletes who need a good sole to go with their flats.
As mentioned above, the heel is protected with gel which is why this insole is so great for higher impact activities. With the addition of the gel heel pad, the forefoot is much more comfortable for long term usage.
Being able to wick moisture efficiently is extremely important for athletic shoes. Hydrologix Technology is one of the best options out there in this department and is sure to keep your feet free of sweat when out exercising. These full-length neutral arch inserts are a fantastic budget option for all types of athletic training specifically higher impact activities. Also Offering great protection and comfort when out exercising, theirs no question why these running insoles are such a popular choice among athletes. These are without a doubt one of the best insoles for running on concrete.
3

. SuperFeet Blue Premium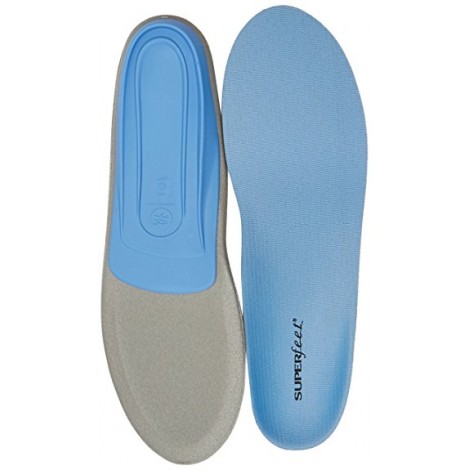 Vegan & Earth Friendly
Great Wearing Variety
Great For Long Distance
Supportive Heel
Comfortable High-Quality Foam
The Blue Premium by SuperFeet takes on rather a more lightweight approach than the brand's heritage model. In essence, the Blue Premium's are a great shock-absorbing running insole suitable for longer distances and great in smaller to more medium-cut running shoes.
SuperFeet has a thing for being eco-friendly, so all of their insoles are composed of vegan and organic compounds which means they're free of latex and other harsh materials, a great niche feature that helps save the earth!
The cushioning on these insoles are top of the line as they boast a fantastic shock-absorbing heel cup in addition to multiple layers of foam, which is what makes them so good for running long distances! Ideally, these running insoles should be utilized if you are looking for intermediate levels of support without taking up too much space in the shoe. The higher price tag on this pair of insoles is to be expected as the materials used are eco-friendly and cost more than cheaper chemicals. With the price tag put to the side though, these are a great pair of insoles for running shoes that are unique and can be used in any running environment especially for those long-distance jogs.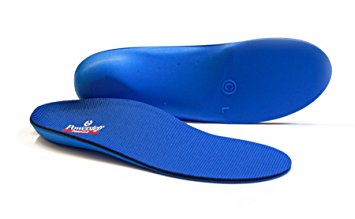 Variable Cushioning
Soft Support Insole
Durable Shell
Antimicrobial
Arch Support
Can Be Expensive For Some
The Powerstep Pinnacle is an insert made for moderate pronator support but mainly served to relieve pain from plantar fasciitis, or those looking for additional cushioning or some arch support insoles for running. Its arch support is firm yet flexible and cradles the heel, all helping to provide stability during running, and greater control of motion. Best of all, it's made with an anti-microbial fabric on top, sure to help those who needed added protection from excessive perspiration.
The foam base of the Pinnacle is made from EVA foam, durable for extended wear, and is combined with Variable Cushioning Technology. This provides targeted cushioning from a dual-layer that acts similar to memory foam. It cushions areas of your unique foot where the impact may be heavier during foot strikes on the ground.
The top layer of these insoles for running shoes is designed from an anti-microbial fabric, helping to keep bacteria from building up over time. This feature is especially helpful for those whose feet may perspire more so than normal, or for distance runners who spend long hours training. It helps to reduce heat and friction to keep your feet cooler and drier. Similarly priced as our number one pick, the Powerstep Pinnacle is a solid purchase for those looking for extra cushion during their runs. Ideal for keeping your feet dry and preventing the buildup of bacteria from hot sessions, it will have you going longer in comfort and keep your sneakers smelling good.
5

. Powerstep Original Full Length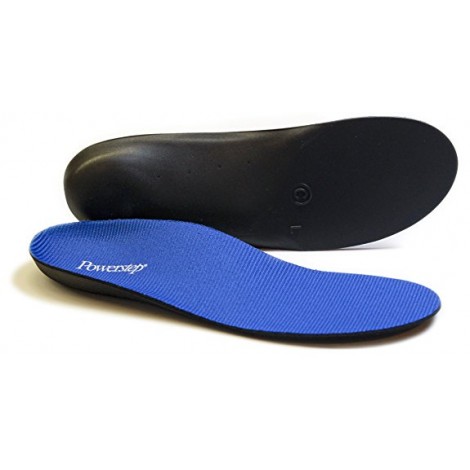 Lightweight Material
Ultra-Thin
Dual-layer Cushioning
Firm & Flexible Shell
Great Arch Support
Budget-Friendly
Some Want More Cushioning
Powerstep is known for its high-quality, American made products that are podiatrist recommend, and are tried and true in the world of running shoes and insoles. The Powerstep Original Insoles feature a full-length construction in addition to a bunch of other features that aid in ease of use as well as comfort when using.
Being lightweight is obviously a huge key factor when looking for an insole, and the Powerstep Originals fit the description perfectly. Their ultra-thin design is composed of Polypropylene materials and also features dual-layer cushioning to be both comfortable and suitable for essentially all styles of shoes.
The full-length Powerstep running shoes insoles boast a firm yet also flexible shell as well as arch support and a heel cradle. Added arch and heel support are great to have when looking for running inserts because they provide a level of versatility and safety that you can't get with regular insoles. There's no question why Powerstep has become one of the leading brands in the insole market as their products are extremely well made, and are of excellent quality in general. Seeing as the price is nothing too high, these insoles make a perfect budget and high-quality option for best running insoles.
6

. Spenco Polysorb Cross Trainer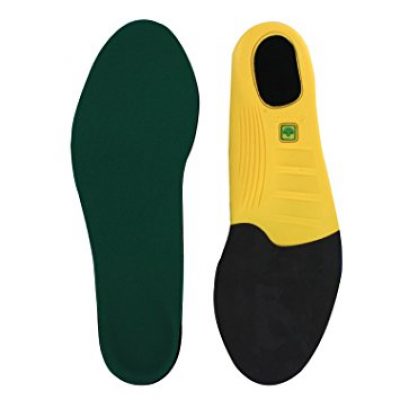 Firm Heel Pad
Thick Cushion
Stretchy Nylon Insole
Antimicrobial
High Impact
The Polysorb Cross Trainer by Spenco is an insole that's designed primarily for more cushioned support, and a neutral arch. Constructed from nylon, it has a super plush heel to help absorb impact, and a toe crash pad to cushion the forefoot. This type of insole is well suited to high impact sports such as running but can also be used in cross-training activities, such as CrossFit, HIIT sessions, or garage type workout sessions.
Spenco uses a polysorb polyurethane foam in its insole, which keeps it relatively lightweight. The thick cushion is found in the heel which helps to absorb high impact, and absorb shock from activities such as jumping or intense interval sessions running. An additional heel plug can be seen underneath the insert, which gives a little additional cushion. Forefoot crash pad design alleviates forefoot pressure.
Nylon helps keep this cushioned insoles for running shoes slightly stretchy and flexible, helping to prevent blistering. The fabric has been treated for antimicrobial resistance to help control odor. EVA construction in the forefoot helps provide lightweight cushioning and energy return so that you can keep a spring in your step over longer sessions of training. One of the least expensive on our list, the Spenco Polysorb Cross Trainer is ideal for those who need added cushioning and have a neutral arch. It's ideal for cross training activities where high impact movements are performed with its superior cushion and heel plug. Be sure to check sizing, and adjust the insole should you need to so it fits perfectly in your shoes.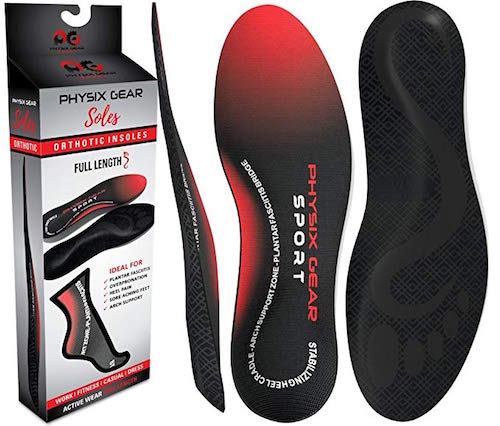 Dual Layer EVA
Non-slip Heel
Antimicrobial Top Layer
Thin Forefoot Design
Adjustable Sizes
Unsuitable for High Arches
Runs Wide
This pair of full-length orthotic inserts was made for athletes who need superior shock absorption, while still requiring a good amount of anatomical support in order to treat and prevent conditions such as Plantar Fasciitis and heel spurs. The Physix Gear Sport insole is made in five sizes that can be adjusted to fit your favorite pair of running shoes.
The anatomical design of the Physix Gear Sport helps with pronation issues, guiding the foot to hit the ground, as well as to push off with correct alignment, which prevents users from putting too much, or unnecessary pressure on the inside of the foot. This helps relieve metatarsal and bunion pain, and can even help those with knee issues.
The materials used in this product are of high quality - it's made with medical-grade EVA and PU which are cushioning and durable, while the antimicrobial top layer prevents bacterial and fungal overgrowth that may lead to unpleasant odors or issues such as athlete's foot. An additional benefit of this item is the fact that the heel is designed with non-slip materials that ensure proper placement, regardless of whether you're running in these insoles for runners, or wearing them inside your casual footwear. The price is slightly higher than average, but anyone looking for the best insoles for runners knee that works also great for flat feet will find these to be a good investment.
8

. Nazaroo Flat Feet Orthotics



Antimicrobial
100% Guarantee
Great Arch Support
Latex Pad In Insoles
Budget-Friendly
May Need To Adjust Size
May Feel Hot
Although these may appear simple in design, Nazaroo's Flat Feet Orthotics meet medical grade construction for the support of flat feet, foot pain, overpronation, and cushion. They're versatile enough to wear in any kind of footwear, not just your running sneakers. With technical features to help keep feet dry and bacteria from clinging to these insoles, they also have a 100% money back guarantee.
A composite fabric on this insole allows moisture-wicking properties to pull dampness and sweat away from your foot, helping to keep you cool. Combine this aspect with the EVA anti-microbial treatment the insole has, and your insoles will remain odor-free and discourage bacterial growth. Great for individuals who love intense training and work up a sweat!
Arch support is found in these inserts to help distribute weight properly, and an anatomical design cradles the heel allowing stability. A latex pad is built into the insoles to help absorb shock and cushion your foot during workouts or general wear. Structural support is key for overpronators to help guide the foot to a more natural gait. Definitely a budget-friendly option, Nazaroo Flat Feet Orthotics are a perfect option for those looking to try out their first pair of best running shoe inserts, who may not have worn them previously. They are simplistic in design, supportive, cushioned, and have anti-microbial treatment for odor-free results after use. With their 100% money-back guarantee, it's a smart purchase for anyone!
9

. SuperFeet Green Heritage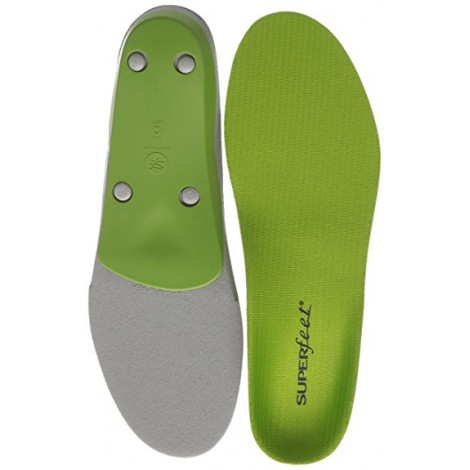 Organic Components
Durable
Works Great With Bigger Shoes
Free Of Latex
Odor-Eliminating
Known for being a tank in terms of its build quality, the Green Heritage Insoles are quite the heavy-duty insole suitable for all types of medium and high volume footwear. A deep heel cup helps with shock absorption and proper alignment of the foot, and it's biomechanical shape ensures proper running gait. A stabilizer cap lies at the base to give added structure to the foam layer of the insole.
These premium insoles have a deep and supportive base for your heels providing fantastic shock absorption. In addition, the base is also shaped in such a way that it reduces stress on the legs and feet to provide the best running experience possible.
The organic coating on the base of the sole eliminates odor to keep your shoes smelling great, as well as features breathable materials for great airflow. Closed-cell foam provides extra comfort and cushioning during longer sessions of training. Being a bit more expensive, the price is justified due to the nature of the insoles itself. The soles are rather large and a bit heavier than others' insoles on the market which provides great stabilization, protection, and control. Overall while these may be slightly more expensive, the quality that comes with it is fantastic and great for larger volume or roomier shoes.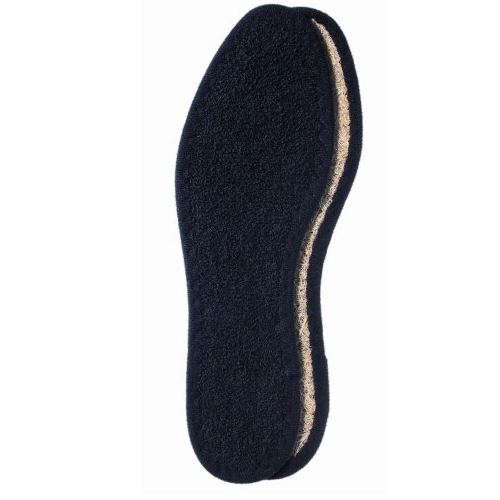 Washable
Antimicrobial
Budget-Friendly
Cotten & Textile Cushion
Completing our top ten list is the Pedag 2806 Washable. Founded and made in Germany, this company demonstrates their craftsmanship and attention to detail of their foot care products, but close collaborations with orthopedists and orthopedic technicians. They are AMPA approved, and work with several shoe styles including running sneakers. Unique to Pedag they've developed a climate membrane from all natural materials to work with the ventilation and air flow designed in your shoes already, so they won't constrict ventilation or leave your feet feeling hot.
Using combined natural fibers and polyester material, Pedag 2806 Washable uses Deo Fresh technology to keep insoles smelling fresh, and prevent bacteria from forming. This technology incorporated a permanent antimicrobial property to the fibers of the insole, which cannot be washed out. Best of all, the sisal fibers and treatment are certified to be gentle on the skin and the health of your skin, so no need to worry!
The Pedag 2806 is a washable insert and made from all-natural sisal fibers and cotton terry. They'll feel comfortable and soft against the skin of your soles, but don't lack when it comes to extra cushioning. If you've ever wondered what running barefoot in your sneakers feels like, that is just what these insoles were designed for. Note these won't offer support in the form many others on our list do, but their unique washable construction and cushion can be appreciated by minimalists. By far the cheapest option on our list, don't let the minimalist construction fool you to thinking they won't provide a cushion. Designed more for cushion than support, they are ideal for neutral arch runners who just need a little extra comfort or those who like to train sockless. Antimicrobial fibers keep these odor-free, and you can easily hand wash them should they get a little dirty. Great value for consideration for your next pair of shoe inserts for running.
Criteria Used for Evaluation


Materials
The material insoles are made of can give some indication as to their comfort and cushion. Many inserts consist of gel or foam, while others remain minimal and use cotton or textile materials. Others have hybrids of these materials. All of these types were chosen because they are the most popular among insoles and provide enough versatility to cover different needs based on the individual's preference.
Gel
Gel, rather than foam in most cases, is a lot lighter and catered towards those who have pain when walking/running for extended durations. Obviously, gel insoles can provide top of the line pain relief and are more of a therapeutic type sole as they are marketed as "massaging gel insoles." On the other hand, gel insoles can play a more important part in impact-related exercises as the material is more suited for managing stress than foam is. For example, the Full-Length Neutral Arch Insole by Sof Sole although mainly composed of foam, has a gel heel for reducing the shock associated with cross-fit and running.
Somethings to note is that using a gel-based insole compared to another material is based on the individual's preference. Some athletes don't like the feel of a gel insole as they can tend to be heavier than other materials.
Pros
Budget-friendly
Durable
Easy to clean
Retains shape
Great for impact
Cons
Heavy
Require socks to prevent slippage during heat and perspiration
Not a breathable material
 
Foam
Foam, on the other hand, is more for long, drawn-out running as the materials are quite comfortable and can withstand a lot of stress; much like the gel insoles can. Also, foam insoles are superior when it comes to moisture-wicking features as well as breathability. The Orthotics for Plantar Fasciitis insoles by Nazaroo feature a much more breathable body than any gel insole could have due to the nature of the materials used. Not all foam is created equal either. Some foam is a blend of materials and will vary in stiffness, to either add an extra cushion or be slightly more firm for high impact use. Most foam insoles will conform to your foot over time, so no area will be without some sort of support or cushioning.
Pros
Comfortable and soft
Conform to your unique foot shape
Reduce fatigue and shock absorption
Great for fitness or non-fitness related uses
Usually, have a solid base to help support arches.
Cons
Not as durable as Gel insoles, and may wear out more quickly
Depending on the blend of material used, they can get warm, so be sure to find one that has some breathability to it.
In the end, it all comes down to what you're looking for in general. Foam and Gel insoles can cover a majority of users' needs and preferences, but if you're looking for additional options, you can always consider air insoles (not included here), but do note they can run more expensive than foam or gel insoles.


Effectiveness
Pain relief and comfort, for the most part, go together because if you're comfortable, odds are you aren't experiencing any pain. Both pain relief and comfort are two huge components that an insole has to deliver because it essentially dictates whether or not you're going to invest in the sole in the first place. Stock insoles, for the most part, aren't high enough quality to fix pain associated with exercising, which is why both of these features were taken into account when making our list.
Pain Relief
One of the main reasons why insoles are purchased is pain relief, and when running, making sure you aren't straining or damaging any bones/muscles is extremely important. Every insole on our list aids in pain relief although some may be better at it than others. Pain relief also subsections down into shock absorption as this is also another very important feature in reducing the stress applied on your foot when running.
It's important to note that if you're experiencing prolonged pain, you may want to see a podiatrist make sure there are no serious issues. Most pain from running can come from pronation that is not supported or stabilized, heel spurs, bunions, hammertoe, high or flat arches that require extra cushion or structural support, or even bow-leggedness. If you do experience pain, try to select an insole that provides structural support as well as a cushion for running.
If insoles don't cut it, you can always switch to orthotics, some of which are listed here as well. Orthotics are slightly different than insoles as they will have further firm support in the arch to help correct pronation and stabilize the foot.


Comfort
Comfort is another big one because sometimes you just get that shoe that's just awful to wear whether it be casually, or for exercising because of a number of contributing factors. Perhaps the fit isn't quite right, or it fits great but lacks adequate cushioning. Both Gel and Foam insoles are great for comfort, creating great synergy with the footwear you already own. The BLUE Premium Insoles by SuperFeet, for example, are a foam insert and one of the most comfortable insoles on the market. On the other hand, Heel pad insole above has a thick foam heel pad that doubles as a pain relief feature for high impact activities.
Support
Do your favorite running shoes simply just have worn arch support that no longer gives you structural stability you need? If so, something like an orthotic with firmer arch support could be a good option as an insert for you.
Cushioning
Does your favorite sneaker simply have cushioning that's become matted down from use, or lost its ability to provide any sort of impact absorption? You may find your feet simply being a bit sorer after your runs if this is the case. Here, an insole with foam, gel, or other cushioning throughout the entirety of the insert could benefit you best. Options on our list include thick foam to a minimalist cushion.


Use
Different types of activities require different footwear, and the same often goes for inserts. Whether you're running, walking, cross-training or just sitting at your desk at the office will greatly influence what you need from a pair of insoles.
If you want to invest in a quality pair of inserts, but want them to be versatile enough to be used with more than a single pair of shoes, we recommend going with something that covers several categories. This will include arch support, cushioning to aid the shock absorption of your running shoes, moisture wicking to prevent odors and hygiene issues, as well as a fit that works well with each pair of shoes you put them in.
It is important to note, however, that not all products will work with each of your shoes, so overall, you may need to invest in more than just one insert.


Value
Lastly, if you haven't tried a pair of insoles or orthotics previously, before tossing your favorite pair of running shoes, it's a good idea to invest in a budget-friendly insole just to see if you can get more life from those sneakers without purchasing an entirely new pair.
Many times, cushion in a running shoe can be the first thing to go, and insoles will help prolong the life of that cushioning until other aspects of the sneaker require a full replacement pair. And, if you like the insoles you do purchase, you can wear them in other shoes you have in your collection for comfort during any event, work, or casual stroll about town!
Otherwise, to get the best bang for your buck, look for insoles that are constructed with durable materials and that may serve for more than just a single purpose. It is also important to keep in mind that inserts need to be replaced every three to six months, to ensure you're getting the right amount of shock absorption, that the support hadn't flattened out, and that they haven't become a breeding ground for fungus and bacteria. Regular cleaning and proper drying can help prolong this period (and some models are made to last longer), but overall, don't forget to check your inserts for signs of deterioration every once in a while. This will keep your feet healthy and pain-free in the long run.
Expert Interviews & Opinions
Most Important Criteria
(According to our experts opinion)
Experts Opinion
Editors Opinion
Users Opinion
By Default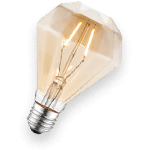 Not All Insoles Are Equal!
While it may seem like all insoles add comfort and cushion, they aren't all created equal. Some are suited for different styles of shoes, like high heels or work boots, while others are made to perform for a use, like those for running.
Make sure when you purchase a pair for running, that they are made just for that!
Extending Your Sneaker Life
If you've ever trained for a marathon, or perhaps just aren't a fan of changing out your shoes due to budget, purchasing an insole can help extend the lifespan of your favorite running sneakers, and delay the purchase of a new pair.
Other Factors to Consider


Bottom Line
Footwear made for running, or any other physical activity for that matter is crucial in case you plan on leading an active lifestyle. Training just a few times a week can greatly improve your overall health, and running is one of the simplest activities you can participate in - all it requires is a bit of time and a pair of sneakers.
While running shoes are made with technologies that help absorb shock on impact, protect the feet and entire musculoskeletal system from repetitive stress, finding the perfect pair can sometimes be quite difficult. Luckily, most brands make their footwear to be neutral, and a large number of these have removable insoles, allowing users to customize the fit, support, and level of shock absorption to their personal needs.
Insoles such as those listed above are a great way to get the best possible use out of any sneaker, seeing that they are relatively cheap, work well for a number of issues, including flat feet, plantar fasciitis, etc., and can be washed and dried as often as needed, helping you maintain the best possible level of hygiene inside your footwear. Do keep in mind, however, that medical professionals advise changing the insoles in your footwear every three to six months, in order to receive the required level of effectiveness.
Frequently Asked Questions
q:

How often should you change your shoe inserts?

a:

Typically, if you wear your insoles normally a pair of high-quality shoe insoles will last you around 8 months. When the insoles begin to start showing wear and you notice when they start becoming ineffective it's probably time to get a new pair of insoles.
q:

Can I put my running shoe insoles in the washing machine?

a:

Of course, you should always check the packaging as well as the brand website FAQ on this question in particular for the best results. In most case's you can wash foam or textile insoles with lukewarm water and mild detergent or soap. Some you can even toss into the washing machine on a gentle cycle. Make sure not to let the insoles soak in the water too much as it will ruin them, but of course, results may vary depending on the insole you have. Gel insoles can be washed with and cleaned with soap and water as well, but don't toss these into the washing machine!
q:

What is the "Drop" in the insole?

a:

The drop simply means there is no space or "drop" between the shoe and the forefoot. Standard shoes usually have a 12mm drop whereas insoles don't usually have this heel to toe differential.
q:

How do you get the smell out of your insoles?

a:

One of the best ways I've found to deodorize your shoes is to apply a small amount of baking soda into the soles and then place them into a plastic bag and then in the freezer overnight. However, if this is a concern for you, antimicrobial treated insoles are available, and several are cited on our top ten list above. Antimicrobial treated inserts help to keep bacteria from clinging to the insoles and help keep shoes and insoles smelling fresh. Additionally, you can wash with soap and water with a damp towel or rag to help scrub out any bacteria sitting in the foam or fabric.
q:

How do I trim my Insoles?

a:

Here's a chart I found on the SuperFeet website that explains how to trim your insoles: (all credit to SuperFeet)