Best Shock Absorbing & Impact Protection Running Shoes Reviewed
In a Hurry? Editors choice:
Test Winner: Adidas Ultraboost 21

The
best running shoes
utilize shock-absorbing technologies, usually, within the midsole.
Moreover, shock-absorbent midsoles help to treat each new step in its own unique way. While you run, a stiffer compression needs to occur to handle the heavier, more rigid step. In essence, this plurality in design helps to achieve a balance between walking and running.
As such, it is easier to perceive the best shock absorbing running shoes when making a purchase.
Standout Picks
Criteria Used for Evaluation
Shock Absorption
The thing that separates running footwear from other shoes is the fact that it is made with the purpose of allowing the feet to move without constraint while protecting them from the shock that's generated at impact.
The force a runner generates while landing on their heel can be as high as three times their weight, which is a huge amount of power going from the heel, through the ankle, and up the legs. Repeated exposure to such force will eventually lead to fatigue, pain, and injury, and may bring with it more serious problems that could have been solved by simply wearing the right pair of shoes.
All of the footwear listed above has been chosen for its ability to absorb shock, that is, its level of cushioning. You will find that different runners will need different amounts and types of cushioning, ranging from minimalist to maximalist. Most brands will cater to all types of runners, with different models in their offer, but will, generally, use a limited number of technologies in their products.
Based on the brand, here are some of the shock-absorbing technologies you may find in your running gear:
GEL Cushioning - found in ASICS footwear, this type of cushioning can be located in the forefoot, rearfoot or both. It's a special GEL compound that does a great job at absorbing and dispersing shock from impact, and it is always combined with some type of foam midsole that allows for a good amount of rebound. The brand's higher-end products will include U4ic and U4icX midsoles, or FlyteFoam that's less likely to pack and lose its abilities. On the lower end of the scale, you will get regular EVA foam, with the addition of a Rearfoot GEL pad.
DNA - made by Brooks, the DNA system is gel-based, and is lauded for being one of the most adaptable types of cushioning you can get in any running shoe. It's often referred to as smart cushioning, as it becomes softer or firmer, depending on the force that's put on it. A newer version, BioMoGo DNA was the update that started using materials that degrade 50 times faster than the midsole materials used in conventional running footwear.
Grid System - when they developed the Grid System, Saucony completely changed the cushioning game. Made of a literal grid, this is an insert found in the heel of Saucony shoes that works just like a tennis racket - the shock hits it at one point and is then dispersed throughout the entire surface of the grid.
Double Density EVA - another piece of innovation by Saucony, Double Density EVA has managed to become the industry standard in terms of support. Perfect for heavier runners, it features a harder form of EVA placed on the inner part of the foot, preventing overpronation.
Wave Plate - introduced in 1998, the Wave plate by Mizuno significantly reduced the weight of running sneakers by placing a shock dispersing plastic plate in the sole of the shoe. Mimicking the motion of waves, this small piece of tech has several versions, including those for stability and motion control runners.
Air Cushioning - Nike's Air Max sneakers are considered fashion staples today, but they were, in fact, the first pair of running gear that showed users what was located in the midsole portion of their gear. Using pressurized air to absorb the force generated at impact, the Air cushion greatly reduced the weight of shoes, and now has several version, mostly found in maximalist running sneakers and lifestyle shoes.
Support
After your feet land on the ground (while walking or running), they will have a natural and inward rolling-motion as the sociated with them (pronation). Pronation is responsible for the reduction of impact after initial landing and stabilization when changing terrain types. Sound familiar? This is exactly what the best shock absorbing running shoes do in performance. They reduce the initial shock of landing, help to stabilize, and are shaped in such a way as to support your natural pronation-type.
Neutral Pronation - best described when your foot lands on the outside lateral heel. As you continue through your motion, the foot will roll inward, and you lift your foot with most of your weight at the ball of your foot. This type of runner is known as a neutral runner or pronator.
Underpronation - is exactly how it sounds and the foot does not pronate appreciably. A foot in which under pronates will strike at the outside lateral heel and lift off with most of the weight at the little toe. As you might have guessed, this type of runner is known as an underpronator.
Overpronation - occurs during excessive inward rolling. In general, the heel strike is inner and continues throughout the motion. Instead of weight lifting off from the ball of the foot, the inner side of the ball will receive the most pressure. As such, this type of runner is known as an overpronator.
The Eyeball Test
First and foremost, always seek out a healthcare professional when matters of health arise. There are specialists who can help determine (via testing) your exact pronation pattern. As such, you will be better equipped when choosing your next pair of the best shock-absorbing shoes. With that being stated, however, there is a quick way you can get a closer approximation to your pronation type; the eyeball test.
Retrieve a pair of older running shoes and look at the outsole. Firstly, neutral runners will have an S-shaped pattern associated with wear. Also, the 'S' will begin at the outside lateral heel and will end at the great toe area (the ball of the foot). Secondly, under pronators will have wear located on the outside lateral from the heel to little toe. Finally, overpronators will show the most wear on the inside of the heel and the inner side of the ball of the foot (great toe).
*Remember, the eyeball test is only to help give you an idea of your running type and is by no means a replacement for healthcare professionals. Furthermore, any medical-related comments are for informational purposes only.
Outsole
As you've already noticed, there are two types of running sneakers you can get when it comes to the outsole. If you prefer to run on the pavement and roads, road running shoes should be your go-to option. If, however, you prefer runs in nature, parks, on trails, or even extreme conditions, then definitely go with trail runners. Most manufacturers will make both types of shoes, but some may put a bigger focus on one of the two (e.g., Salomon).
The difference between road and trail runners is quite simple - it's located in the outsole, with road runners being made with less traction, more lightweight materials, and a lower profile. They will almost always provide better responsiveness and will be geared slightly more towards fast paces.
Trail runners, on the other hand, need to ensure you're getting the right type of performance in several areas:
Traction - trail running shoes will almost always have a slightly thicker outsole, with deeper lugs that'll be able to grip both dry and wet surfaces without slipping. If you're planning on venturing off the beaten path, definitely opt for a more aggressive tread to ensure a happy ride.
Stability - because trails are usually uneven and unpredictable, you will need a shoe that'll allow you to get a decent footing in less than ideal conditions. This is usually achieved by a slightly wider outsole that may sometimes wrap up around the foot. Other ways of achieving this are the addition of stability systems in the soles of your footwear that are supposed to prevent torsion and injury that may be the result of it.
Protection - you're very likely to come across a number of obstacles on your trail, including rocks and twigs, so an outsole that won't allow you to get hurt is crucial. Most trail running models will have a protective toe bumper, and may even include other features such as water or abrasion-resistant uppers for further protection.
Overall Fit
Before making a purchase, you need to be aware of the fact that your running footwear should never require any breaking in! A good fit is instrumental in high performance and injury prevention, and can significantly influence not just your comfort levels, but also how long and how fast you can run.
Fortunately, there is an abundance of running shoes available in the market, and anyone can find their perfect pair, regardless of foot shape and size. Even those with wider feet will not find sizes geared towards them, which was hardly the case a few decades ago. Furthermore, contemporary running gear will usually be made with mesh, knit or stretch materials in the upper, which will not only allow for a better fit but will also prevent rubbing or blistering.
You should note that the closure system and lining will also greatly influence how a shoe feels on your feet. There's a number of lacing systems in today's running gear, from traditional ones to those made with high tech buckles, and even asymmetrical ones that are meant to take the pressure off key parts of the foot. Whichever you opt for, you will need to make sure your sneaker fits snugly, but without causing any pain, with your heel securely in place, so to say locked in.
Some models will feature removable insoles, and this can be a great way of ensuring a food fit under the arch area. If you can't find a properly supportive shoe or require custom orthotics, then definitely purchase a pair of footwear with a removable insole, and simply replace it with your own. Not only will this positively influence your running, but it will also ensure the health of your feet.
Weight
There are a few important reasons why you will want your athletic footwear to be as lightweight as possible. First and foremost, going for a run in bulky shoes is likely to tire your muscles, making you fatigued and shortening the time you can spend running. For optimal results, you will want to get the lightest shoe possible, which will allow you not just to run for longer periods, but will also make you faster, significantly improving your performance.
Nonetheless, there's a direct correlation between shoe weight and cushioning - the more shock-absorbing properties and tech your chosen model has, the more likely it is to be a heavier shoe. That's why making a choice can be quite a task.
But, if you're looking for something to wear for a race, then you might opt for something more lightweight that will allow you to be faster. Competition running shoes are almost always less cushioned, and may even feature a smaller heel to toe drop which means you'll have more cushioning underneath the back of the foot.
You may also find that, when sprinting, you tend to land with the forefoot, in which case, you need to look for a bit more cushion and energy return in this part of the shoe.
10 Best Shock Absorbing Running Shoes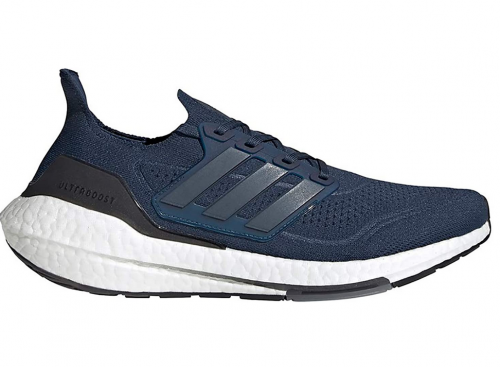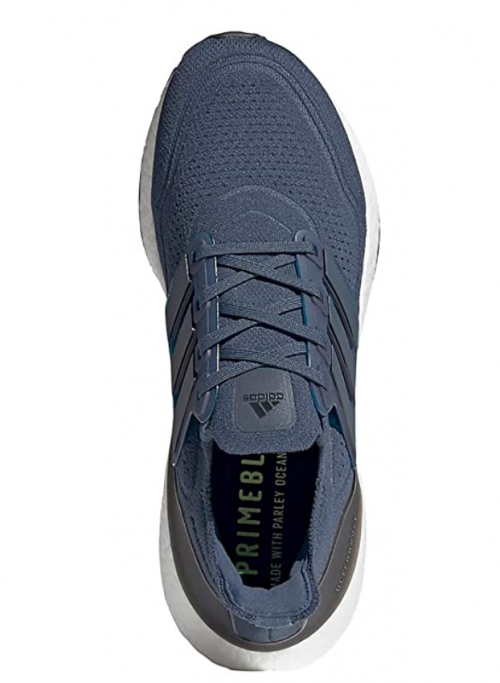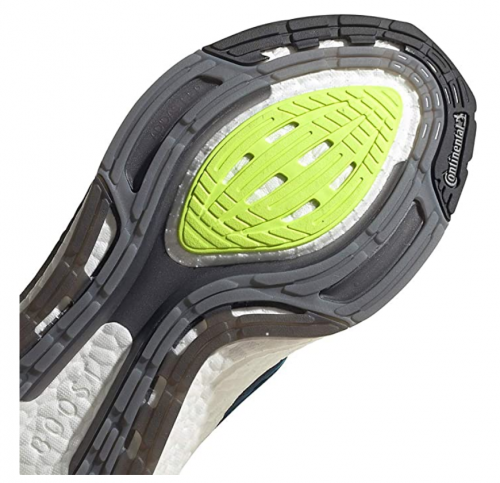 A maximalist pair of runners by Adidas, the 21st version of the Ultraboost is the best one yet. Made for those who need neutral support and prefer to run on road surfaces, this is a shoe that's so plushy; you'll hardly want to take it off. The Boost is made to have responsive cushioning which means the more energy you give, the more you get. It has a Torsion System that wraps around your midfoot to help keep you locked in.
The entire midsole is made of responsive cushioning that helps to return the energy you are spending. This material gives one of the best levels of energy return in the market while making the transition from heel to toe incredibly smooth.
It uses a continental rubber in the outsole to give you all the benefits you need. You'll have traction in both wet and dry conditions, as well as a STRETCHWEB rubber to flex with your underfoot and give you an energized sole.
One of the best features is the natural fit at the heel. It allows for the best movement of the Achilles.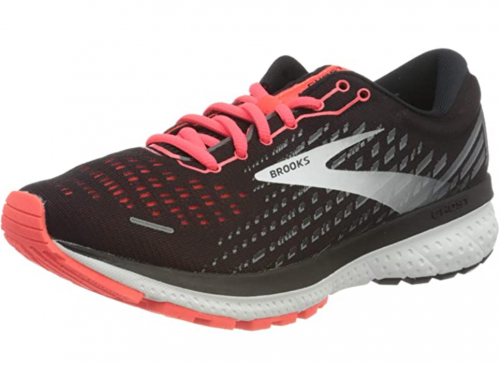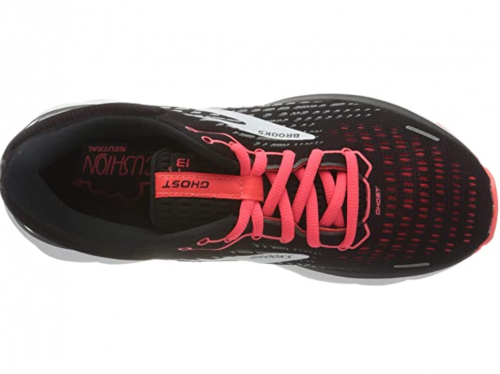 Considered to be the golden middle of running gear, the Brooks Ghost 13 features just the right amount of soft cushioning, strong support, flexibility, and responsiveness. This neutral road running sneaker is made with the company's attention to detail, providing you with excellent tech at an affordable price, and a shoe that will easily become your go-to daily runner.
The upper is made with a soft and stretchy mesh that wraps around the foot perfectly, while an external heel counter ensures a perfectly locked-in feel for zero movements inside the shoe.
The Ghost 13 features a combination of BioMoGo DNA and a DNA midsole, two materials that are an adaptable form of cushioning that not only molds to the wearer's foot, but even more, gives the right amount of firmness or softness based on input. So, a heavier runner will get a bit more firmness underneath the foot, while those running at a faster pace will get better energy return.
As you already know, a lot of cushioning in the midsole may compromise the amount of flexibility your shoe may give. The Brooks Ghost 13 solves this problem by introducing Omega Flex Grooves, forefoot grooves that allow for the unhindered movement of the foot through the entire gait cycle. A heel crash pad aids those who tend to land with this part of the foot, protecting it from the force that's created on impact.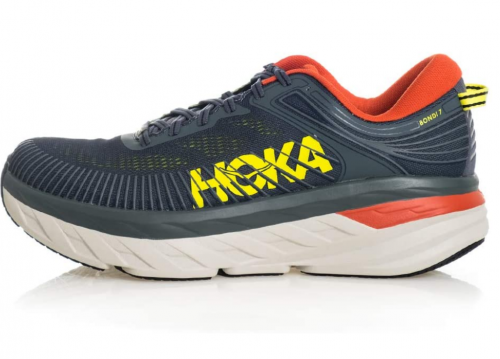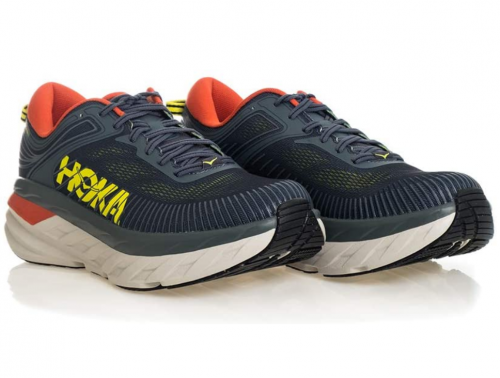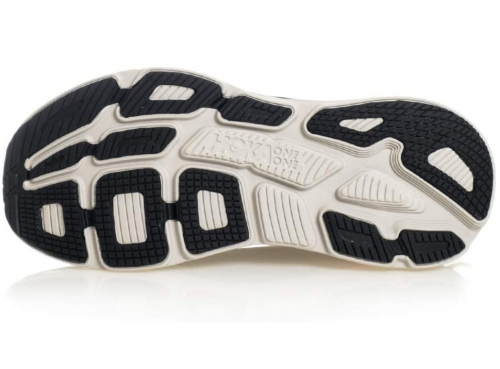 For those of you who are looking for a shoe for moderate mileage running, the HOKA ONE ONE Bondi 7 is the go-to choice. Having a forefoot and rearfoot Gel cushioning system in place, these are shoes that handle impact and give you a nice transition back to midstance. Furthermore, if you need a medical orthotic, these shock absorber shoes have a sock liner that is removable.
The HOKA ONE ONE Bondi 7's outsole is designed with strategic points of interest in mind; that is, these outsoles are created to bring you the best in durability and grip. The cushioning is great for returning energy to the foot.
The upper is made of a breathable fabric to keep you cool on your long runs. You will also enjoy the comfort the Bondi 7 provides to your joints and lower body.
They are also very versatile shock absorbing shoes. Some wearers have worn these as work shoes rather than just running shoes.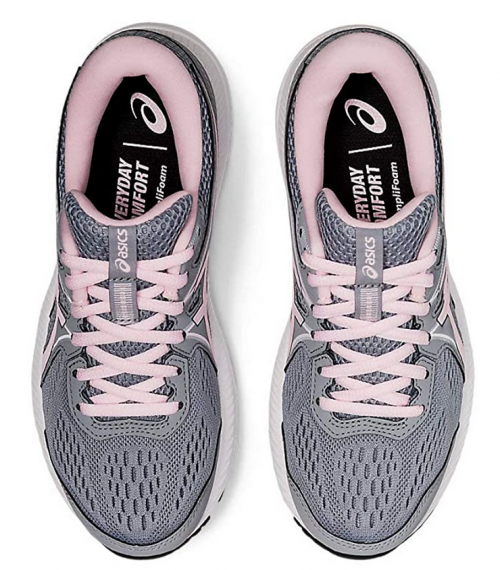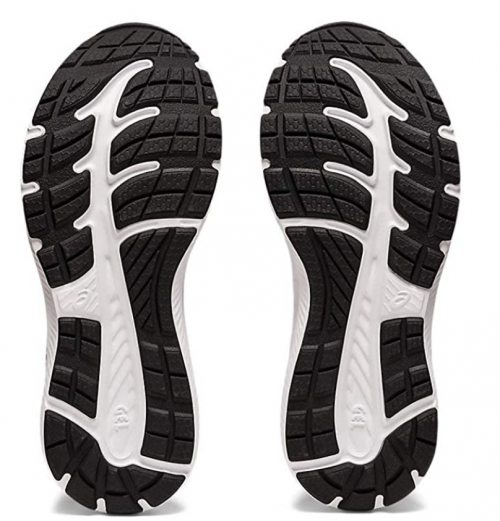 The ASICS Gel-Contend 7 is impressive. These shoes deploy a mix of technologies to help maintain a great run. Firstly, the shock absorption system is made of gel® midsole. Secondly, your feet can remain dryer through the ConforDry moisture-wicking sock liner. Moreover, the sock liner is removable to provide orthotic support. In conclusion, these shoes have a wonderful design and are constructed well.
First off, this pair of the best shock-absorbing running shoes utilize a gel® midsole to provide excellent shock absorbency.
Additionally, this technology helps to return to mid-stance after your heel strikes against the surface. At the end of the day, this system is great for handling the impact your feet produce while running.
The ComforDry sock liner is moisture-wicking. This helps to keep your feet dryer throughout your workout. Also, the sock liner is removable and can be replaced with orthotic support. This makes these shock absorber trainers quite impressive, indeed.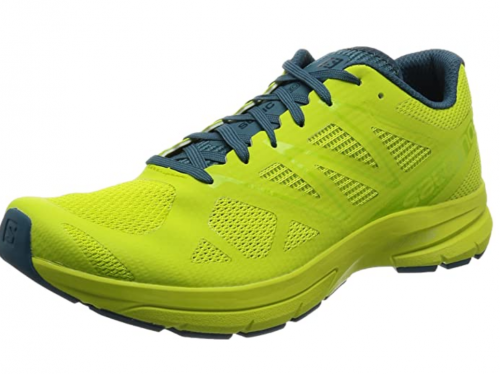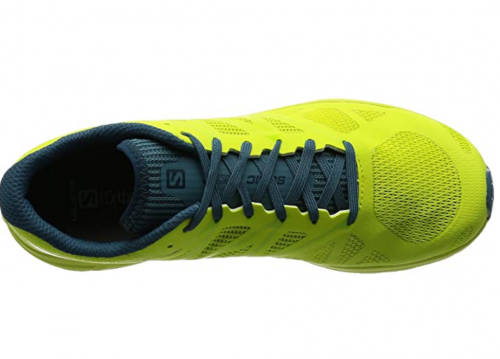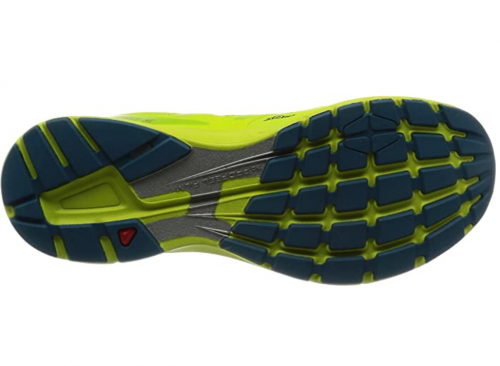 Salomon changed the game in the running sneaker industry with their invention of the Sensifit - a unique system to get a precise fit for maximum comfort and stability. The Sonic Pro 2 is one of the company's latest models that's made to be one of the softest, most cushioning shoes by the brand, and it features a breathable engineered mesh upper with synthetic overlays, a padded heel locking system that prevents any type of movement within the shoe, as well as a high level of support for those runners who tend to moderately or severely overpronate.
The Sensifit technology that's inserted into the sole of the Sonic Pro 2 was specifically designed to disperse shock while still providing excellent bounce-back and a great deal of arch support for users who tend to overpronate. Paired with an EndoFit-Internal fit sleeve will help to improve feedback with each step and give you a secure fit.
The forefoot and heel section of the outsole on the Sonic Pro has been designed to promote better flexibility, especially in the forefoot area, to ensure an easier toe-off phase, without sacrificing traction or durability.
The upper is made from a 3D Stretch Air Mesh that helps to keep your foot cool. Along with the Quicklace System, you'll be able to slip your shock absorbing trainers on quickly and snuggly.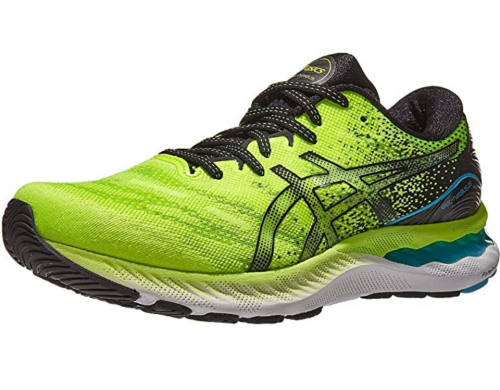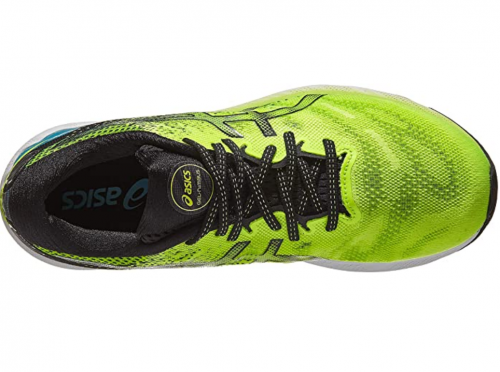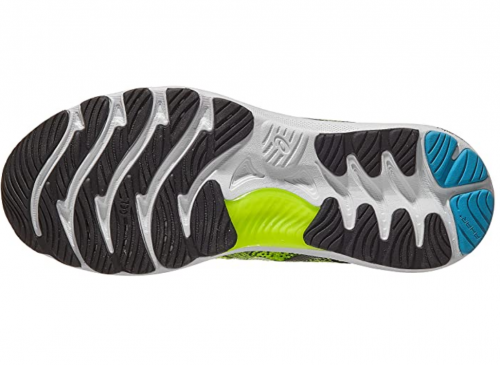 Twenty years in the making, the latest edition of the ASICS GEL-Nimbus makes for one of the best running sneakers currently available. Perfect for users who need a neutral shoe, or who have a slight tendency towards overpronation, this is a great everyday shoe for road conditions. The updated upper is made with seamless mesh with differing knit densities in different areas, allowing for the best possible breathability, while the synthetic overlays and external heel counter ensure the support your foot needs on a hard run.
There are several pieces of technology in the ASICS GEL-Nimbus 23, the most notable of which is the Forefoot and Rearfoot GEL cushioning that absorbs shock in all parts of the foot, and allowing for movement in all directions.
The FlyteFoam midsole is made with a performance foam that's got better bounce back, and lower rates of packing than traditionally used materials, making the Nimbus 20 both a comfortable and durable pair of equipment.
The upper is made without any exposed seams, which is great for those with more sensitive skin who tend to experience discomfort and blistering. The entire sock liner is made with moisture-wicking materials that'll eliminate sweat from the shoe, while an Ortholite insole adds a level of cushion underneath the foot that's not just breathable, but also provides great rebound.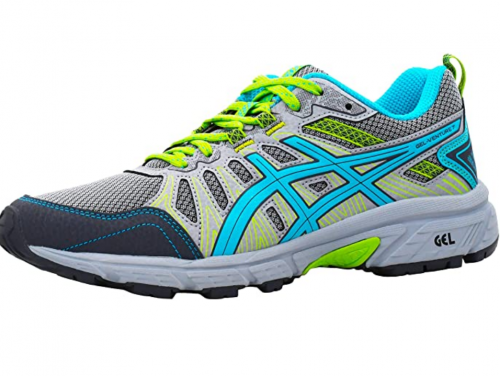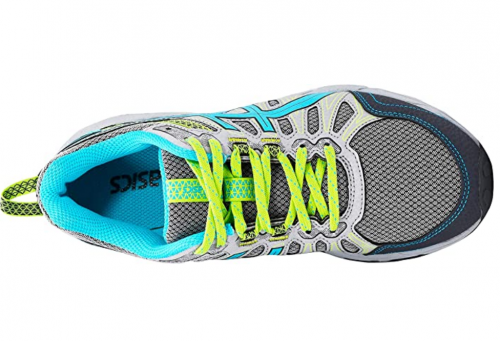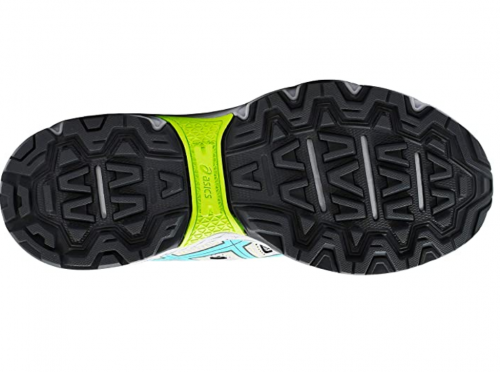 These shoes have gel shock absorbing technology to help provide a less impactful strike when your heel hits the ground. This allows for a smoother transition to your mid-stance. Secondly, these shock-absorbing running shoes are, also, equipped with a removable sock liner; for those in need of orthotic support. Finally, the outsole is designed for rugged terrain; thereby, traction will not be an issue for trail runners.
Reducing force and impact is the goal of any shock-absorbing technology. In this, the GEL cushioning system designed by ASICS does just that. Moreover, this system helps to smooth the transition from the impact phase to mid-stance. In doing so, not only can you run in style, but you will be comfortable in the process.
For those in need of a medical orthotic, you can have the benefits of owning an excellent pair of low-impact running shoes while achieving the support you need.
These have a removable sock liner which allows you to easily place your medical orthotic inside.

8

. New Balance Fresh Foam 1080v10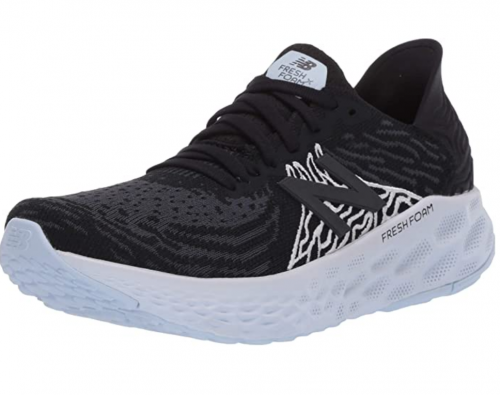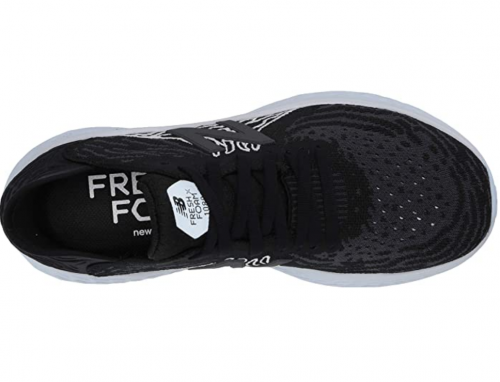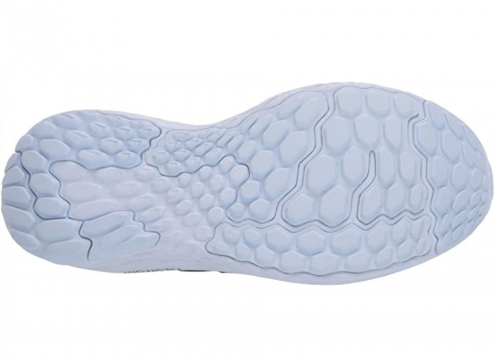 Ideal for those who prefer a lower heel to toe drop, a neutral shoe made for road conditions, and appreciate New Balance's approach to running gear, the latest edition of the Fresh Foam 1080v10 is a solid choice. Like the majority of the options listed in this article, it features a mesh upper that's great in terms of breathability, and it has a specially molded foam collar that improves comfortability in the back of the heel, providing both a soft feel as well as firm lock-in.
You'll be happy to hear that the bootie itself is made with no-sew construction, which will eliminate any uncomfortable seams that may cause rubbing or blistering.
Developed by using data-driven input, the midsole of the 1080v10 features a hexagonal pattern in the midsole, giving you a shoe that's not just cushioning, but also responsive and supportive, for all-around great performance. Slightly stiffer than other models listed here, you'll find that this version of New Balance's Fresh Foam should allow a quicker transition and push-off phase.
The outsole on the Fresh Foam 1080v10 is made with blown rubber, a material that gives a good amount of grip on road surfaces, for which the shoe was made. But, what's great about the use of this material is not just the traction it provides, but also the fact that it adds a slight level of bounce, making the cushioning on these best running shoes for shock absorption just a tad better.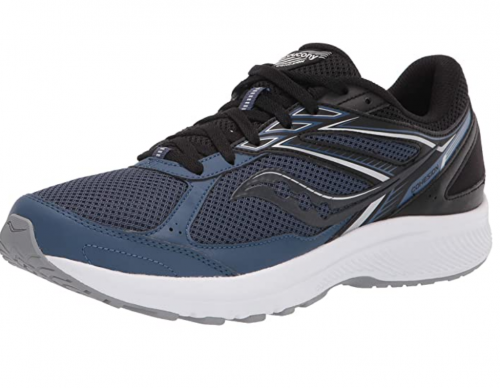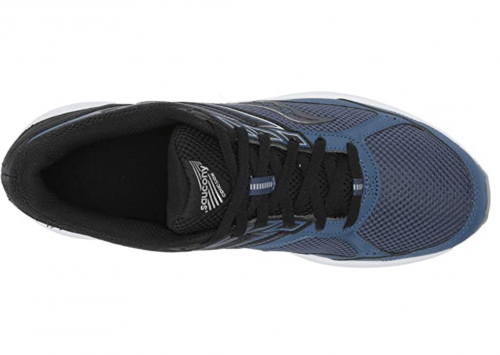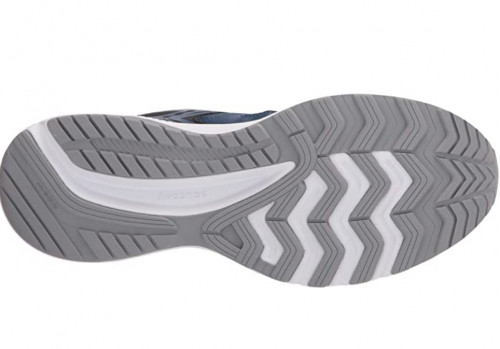 If you don't run every day or stack up lower weekly mileage, the moderately cushioned Saucony Cohesion 14 may be your best choice. Lightweight and comfortable, this neutral running shoe was made for road conditions and features lots of great techs that the brand is known for. The upper is made with breathable mesh, using rubber overlays to add stability, and both the tongue and collar feature padding for a more comfortable wearing experience.
The lacing system is a traditional one, allowing a good fit, while those who have wider feet will be happy to hear that the Cohesion 14 comes in several widths.
With a full-length foam that makes up the midsole, the shock absorption system in the Cohesion 14 is located mainly in the heel where it uses a Heel Grid system - a criss-cross patterned unit that stabilizes the heel on impact and helps disperse shock so that less of it travels up the legs and muscles. A memory foam footbed is a great addition, allowing these shock absorption shoes to completely mold to the shape of your foot.
Made with hard-wearing rubber, the outsole on the Saucony Cohesion 14 is great for those looking for a shoe that won't wear down too quickly. A great feature is the addition of Flex Grooves, lines that run across the entire outsole that allow for better flexibility, without compromising traction. These grooves allow for a more natural gait cycle, and an easier toe-off phase, seeing that they won't restrain the metatarsal area when bending.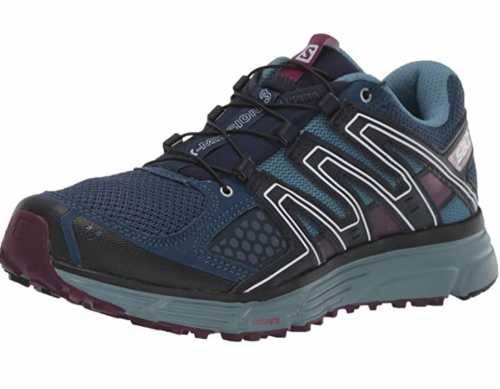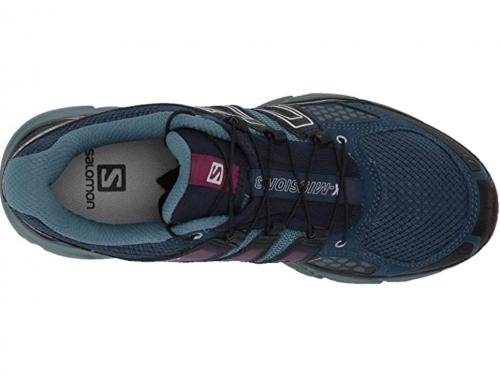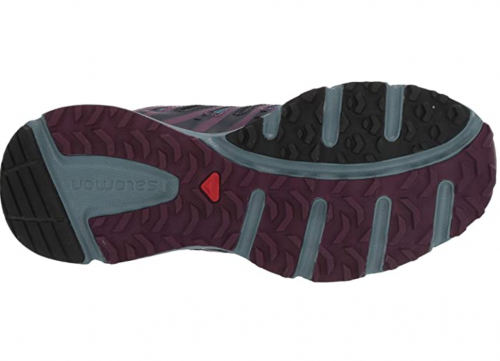 Our definite go-to company when it comes to trail running, Salomon has developed the X-Mission 3 for those who need an excellent grip on a variety of surfaces and in mixed weather conditions. Made with a 3D mesh upper, this is a breathable shoe that'll promote moisture-wicking, while certain added features make it one of the best in the industry.
A tongue cover prevents debris from getting into the shoe, stretch Sensiflex panels are added in the forefoot to promote flexibility, a Sensifit external cage wraps up around the foot, and a Quicklace system that uses kevlar laces makes putting these on and off a breeze.
The cushioning in the X-Mission 3 is simple and effective, with an injected EVA midsole that runs along the entire length of the foot. It's aided by a molded footbed that adds support in key places such as the arch, while a TPU insert in the toe area protects the sensitive part of your feet from obstacles on the trail.
Highly resistant to abrasion, the X-Mission 3 features a Contagrip HA outsole with lugs that are not too pronounced, which means you'll even get great traction on the road. One of the main advantages of this material is its performance in wet conditions when both trail and pavement become more difficult to grip. It does well in such situations, so you won't have to worry about whether your shoes are up for the challenge.

Subscribe to our Newsletter