Best Trail Running Shoes for Women and Men Reviewed
In a
Hurry? Editors choice: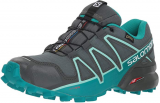 Test Winner: Salomon Speedcross 4

Trail running has seen a spike in the number of athletes joining in the sport. Athletes who feel that road running is not challenging enough or have gotten bored of the same routine have decided to change the scenery and head for the outdoors. A lot of men and women have joined trail running for the many advantages it has. Like any other sport, the appropriate sporting gear is required to help you achieve your desired goals.

Whether it is improving your track time, stamina, or endurance, the right type of shoes is key to your progress. Here we have listed the best trail running shoes to help you make the right choice from the many brands found in the market. We know how difficult it is to get the right equipment, and we make it simpler for you. The first five are men's and the later, women's.
Standout Picks
Criteria Used for Evaluation
Traction
Depending on the terrain, you are going to exercise on the type of clasp that will depend on the kind of shoe you wear. Having deeper lugs will help you have better stability on the ground. The lugs will get rid of any pebbles that would have stuck on your shoe.
Having deep treads will also give you a better grip and increase your safety levels. The trail runner shoes we have mentioned on this list have great treads that will not allow you to slip. Remember, different outsoles cater to different environments.
If you want to exercise on a rocky path, short lugs will be the best option for you. It also works well on dirt trails. Deep lugs will come in handy in wet or muddy surfaces. Some outsoles can work on multiple environments, off the road, or on the track.
Deep lugs are not suitable for pavement runs or on firm dirt. You get better traction when they are spaced wider apart. Lugs that are closely spaced will serve you well in trail and road runs. If you are going on a snow-covered trail, metal lugs will be the best option to give you stability and traction.
Metal slugs can also work well on muddy terrain. Remember to choose a pair that is deep and spaced to avoid getting mud stuck on the sole. Metal slugs are not suitable for dry landscapes.
Running on muddy terrain can be a slippery and annoying affair if you keep slipping on the surface. Not having the right balance can end up being dangerous or even fatal. You could hit the ground and break a bone or fall awkwardly and have a head injury. Deep cleats that are made of rubber will also give you the perfect grip.
We have chosen these shoes because they offer a high level of safety. It is essential to have the right stability and traction when you are on speed. All of them have been tried and tested on the surface they are designed to. You can enjoy your run, knowing that your feet are well-protected.
Breathability
Ensure to cool down.
The best type of shoe will allow air circulation inside your shoe as you work out. Having a breathable shoe will help you avoid having blisters or bacterial infections in your shoe. Some of the materials used to make the upper section use state of the art technology to keep your feet aired at all times.
The perfect material will allow your feet to dry off sweat as you exercise. Besides, it is better to have a pair that does not trap moisture inside and dries fast. A breathable shoe will allow you to cross-streams or run through wet grass with ease, knowing it will dry quickly.
Most shoes meant for trail running use a combination of science and technology to help them dry faster. If you are doing a lot of river crossing, then a pair with drainage ports will come in handy. Synthetic material on the upper mesh provides the best breathability.
Choose a pair of shoes with minimal overlays on the upper. Having many overlays on the design ruins the breathability of the shoes. Be sure to look out for how overlays have been used before purchasing the desired footwear.
With the right shoes, bacterial infections cannot occur. Breathable running shoes also help you avoid smelly feet and embarrassing cases. Some of the mentioned shoes have a unique antibacterial midsole to keep your feet clean.
Weight
Do not add an unnecessary burden.
Having extra loads on your feet can be great for training purposes. However, heavy shoes can lead to severe injuries. Heavy boots will ruin your run time and leave you susceptible to ankle injuries.
Shoes that absorb water can also increase the weight of your boots; choose a pair that has proper drainage in case it starts raining, or you run into a puddle. Check the type of upper material used or consult before purchasing.
Some of the listed products we have mentioned here are improvements to previous versions. The manufacturers have decided to use less material in the new design to enhance performance and reduce weight. They have made changes to the number of overlays while others have gone for synthetic fibers.
Trail running sometimes consists of running up and down hills that have rough and uneven ground. At some point, depending on your route, you might have to cross steep streams, and this takes a toll on your body. Instead of buying different pairs of shoes, it is better to start with a lighter pair of trail running shoes. Buying a lighter pair for your first running shoes might save you a lot of money.
A lightweight pair of shoes will reduce the strain of wear and tear on your body. Additionally, it will also reduce the pressure your legs go through trying to manage the weight of a heavy pair of running shoes. You also relieve the stress on your joints and tendons, allowing yourself to enjoy the workout. We have chosen the perfect lightweight shoes in this list to offer you a great running experience.
Durability
Sportswear companies have come up with innovative ways to ensure that their products last long. In the footwear section, manufacturers have added Injection Molded EVA foam to combat the effects of wear and tear. Some brands like the Saucony Cohesion 10 use their IBR+rubber mixed with carbon rubber XT-900 to provide longevity.
Each brand has different methods and techniques in their product. Salomon X Mission 3 uses Contragrip rubber to make it last. Before settling on a pair, remember to use the shoes appropriately. It is important to use the trail running shoes in their designated environment.
The upper mesh is also made using special synthesized fabric for it to last long. You get more out of your shoes when it consists of high-quality material. While running shoes on a budget might also last, spending a few extra coins on higher-end products will be beneficial in the long run.
Compounds such as DuraTread are long-lasting, especially on rough or rocky surfaces. It covers every area of the sole even the prone to wear and tear parts. Additionally, having a multi-directional upper construction reduces the rate of wear and tear.
Advanced Features
New technologies keep cropping up every day nowadays.
Some of the products listed above have unique characteristics, like being waterproof. This feature will allow you to exercise in wet environments without your feet getting wet. The special upper mesh material will keep your feet warm and dry as you enjoy your work out.
It is important to remember that when you fully submerge your shoe in the water, it will get wet inside. Additionally, when water gets inside a waterproof shoe, it does not have a way to escape. Additionally, some waterproof trail running shoes are not breathable.
Waterproof shoes are helpful when running in the snow, cold weather, and wet climates. If you live in a hot or warm climate area, having a non-waterproof shoe will serve you better. An airy mesh upper shoe will be suitable for such a climate.
Gore-Tex is the perfect material for making waterproof shoes. It has tiny holes that allow air circulation, unlike other water-resistant material. Additionally, it is wind-resistant protecting you in horrible conditions.
Gaiters
Gaiters have been integrated on some of these shoes to help keep debris out of your shoes as you work out. Some people find them convenient while others do not. Gaiters can help prevent rain, mud, or snow from entering your shoes from the top side. They are not suitable for people running in hot climates because they trap heat inside.
It is important to remember that the more features a product has, the more expensive it will be. Some of the affordable shoes listed here are basic but are effective on the trail. If you are shopping on a budget, keep it simple. On the other hand, if you are looking to switch up your running routine and broaden your experience, then choose a high-end pair.
10 Top Rated Trail Running Shoes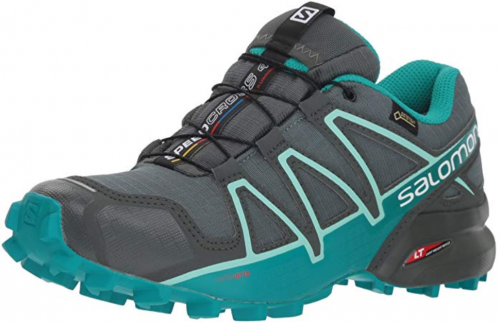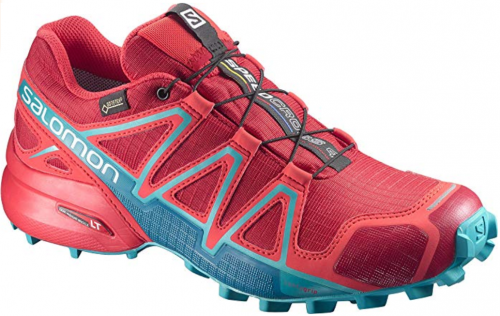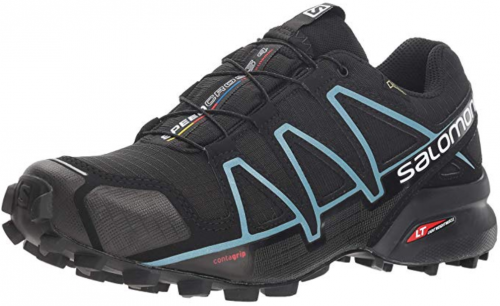 Salomon is a brand that always has the fantastic sporting gear. This is the 4th edition of their popular running shoes, a model that's a favorite for among many female athletes. You can rest assured that they are going to help you tackle rough terrain and rocky tracks.
The boots come in a variety of styles and sizes to choose from. That makes it possible to match your running gear with the shoes to look fashionable as you work out. Additionally, the versatility of the running boots makes them excellent for different terrains. You could easily challenge yourself to new heights with this fantastic footwear.
The upper has Gore-tex weatherproof fabric combined with techno material. These two materials protect you from weather elements while keeping your feet warm and dry. They also have sturdy construction. Female athletes in harsh climates can rest easy knowing that their feet are well protected.
When training in challenging terrain, the Salomon Speedcross offers excellent foothold. The outsole has an excellent grip that keeps you stable on soft or slippery ground. The mesh upper has a unique style that prevents debris from entering the shoes. Additionally, the stability and cushioning of the boots come from an injected EVA foam.
These are lightweight shoes that also have molded EVA for support, comfort, and more cushioning. The boots also have top-notch shoe technology for maximum efficiency. They have excellent features like the Ortholite technology, Quicklace system, and Sensifit technology for that perfect fit.

2

. Hoka One One Speedgoat 3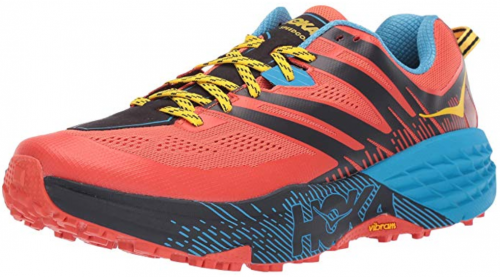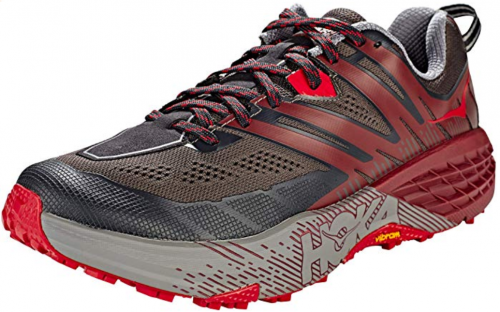 Voted as the `Gear of the year` in 2019, this is one pair of boots that every athlete should own. Also known as the SPEED-GOAT, this brand focuses on increasing the runner's speed. You'll feel as if you're faster than you've ever been. The shoe can also handle all types of terrains with ease.
The Hoka one is lightweight and technically engineered to offer comfort across different terrains. The midsole and toe box is wide to accommodate your feet well. It is also waterproof, thanks to the SKYSHELL membranes. Your feet will always be dry thanks to the membranes and the full-bootie construction.
The shoe has a custom fit feel to it and a Gusseted design that keeps the tongue in place. The design also helps keep out debris that may enter the boots. An open-mesh design ensures that your feet are kept fresh and cool. The style allows for maximum breathability inside the shoe and provides excellent support.
Thanks to the reinforced Thermoplastic Polyurethane or TPU, the boots have a snug fit. And, the durability of the trail running shoes comes from the textured TPU toe reinforcements. The midsoles have lightweight cushioning thanks to the oversized CMEVA foam. It also provides stability and acts as a shock absorber.
For maximum traction, the manufacturers put 5mm lugs, which are multi-directional. The lugs provide excellent stability on various terrain. The outsole is also made of the Vibram high-traction compound.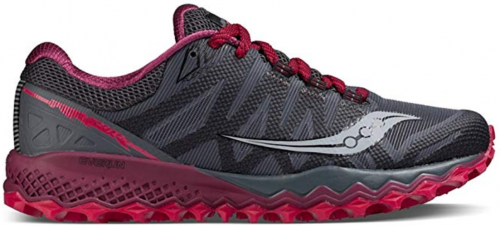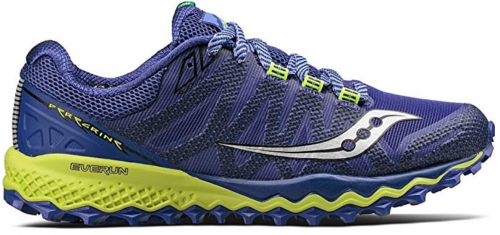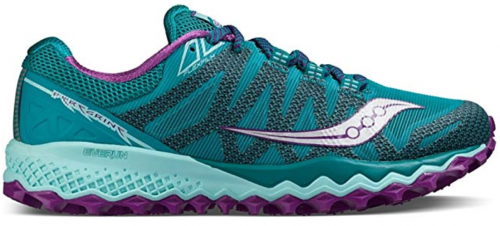 The Saucony Peregrine is the kind of running shoe that would suit a fashionable athlete. It has bright colors and a beautiful design to keep you confident and fully functional. Additionally, it is an award-winning product that is designed for efficiency. It is a must have for people who value both performance and aesthetics.
You can confidently use it on any terrain to take full advantage of the protection it offers. This product is a wonderful upgrade to the brand's previous edition. The PWRTRAC outsole provides excellent traction. It also has lugs that are multi-directional to give you maximum support regardless of where you are.
The midsole features the new EVERUN cushioning for extreme comfort. The material lasts longer than the one the brand used initially and also provides an excellent bounce. For hard runs, the manufacturers have added extra padding, with highly responsive cushioning. This new version is less rigid and more comfortable.
An External Bedrock Component is inserted to provide maximum protection to the midfoot. That is part of what makes it great for off-road runners. You'll get to focus on running, instead of worrying about your feet. The upper also has a close-knit mesh that helps keep the debris out as you exercise. The top of the close-knit mesh also has a supporting Flex film.
The ankle area has quick-dry RUNDRY lining. The pair also has sweat-wicking sock liners that help prevent bacteria formation. You'll never feel sweaty when running, or experience foot-related infections. To top it off, the shoe also has a toe bumper to reduce the amount of impact on the foot.
This new version has a seamless upper thanks to the exoskeleton inclusion. The toe box is also wider, making it more comfortable compared to its predecessors. Users also like the shoe's flexibility, brought about by the new material. Once you start wearing the pair, you will realize that the forefoot mesh is more resistant.
Athletes can now enjoy a snug fit and a new lace system that holds everything in place. You will definitely take a liking to them if you are looking for lightweight shoes that offer perfect breathability.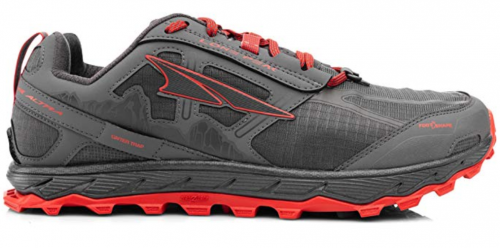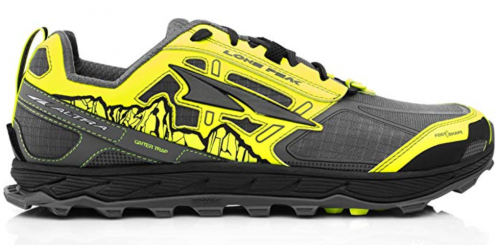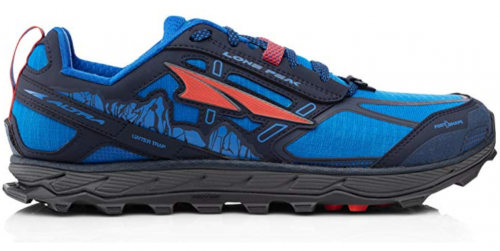 The Altra lone peak is an excellent fit for athletes who spend most of their time on uphill or downhill treks. It is designed to handle rugged terrain while still offering comfort to the user. The manufacturer focused on shock absorption and tried to minimize the amount of impact the athlete would be exposed to when wearing the shoe.
The Altra dries quickly after being wet or rained on ensuring that your feet stay dry. The reason being, the manufacturers increased the drainage capacity on the uppers to allow the trail running shoes to dry faster. That is what makes them perfect for runners who use routes that involve stream crossings.
When exercising on wet ground or uneven terrain, the unique lug system on the outsole will help keep you stable. The outsole consists of Grippier Maxtrac technology that provides it with its aggressive traction. The midsole is protected by Stoneguard Rock plates that are built into the outsole of the shoe. These trail running shoes also have tongues that are integrated with mesh uppers. The design is part of the reason why the shoe is comfortable and durable.
An A-Bound energy return compound provides shock absorption. The compound is situated directly under the footbed for effectiveness. The heel and the forefoot are placed at the same distance from the ground, thanks to the ZeroDrop platform. Besides, the ZeroDrop platform helps align the feet, back, and body posture.
The toe box is spacious due to Altra`s signature Footshape design. It lets you keep the big toe straight while allowing your toes enough wiggle room. The toe box enhances stability and reduces overpronation. It also adds powerful toe-off for speed hiking performance.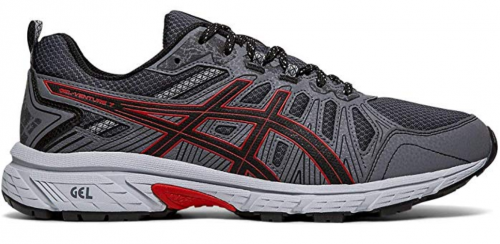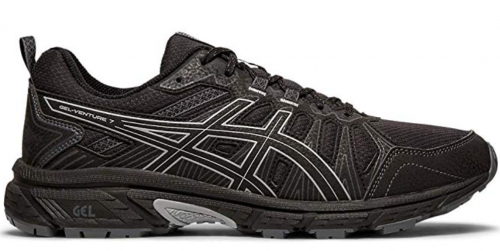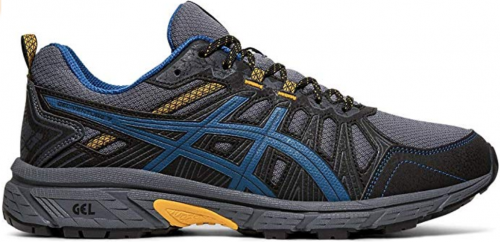 If you are looking to match your personality with your gear, then this is the perfect product for you. It comes in different color options that will have you feeling confident on the track. It is also very efficient and practical when putting to work.
The trail running shoes feature Asics Gel technology for comfort and an EVA midsole for support. They provide maximum maneuverability on rough terrain and excellent shock absorption as you work out. The shoes fit well, and they offer plenty of support to the wearer without requiring any break-in time. The lacing system works just like in a standard sneaker making the pair suitable for casual occasions too.
The synthetic upper leather of these best trail running shoes for men offers additional support to the foot as you exercise. Additionally, the outsole and midsole can manage different terrains with ease. Besides, these pair also uses reverse lugs to offer traction on the ground. You can also count on them to resist abrasion since the brand used its patented rubber technology for maximum effectiveness.
Like with other Asics products, the pair has a breathable upper for proper ventilation. The upper consists of a synthetic mesh design complemented by synthetic leather. This top combination provides complete flexibility to the wearer. They are the kind of shoes that will keep you comfortable throughout the day.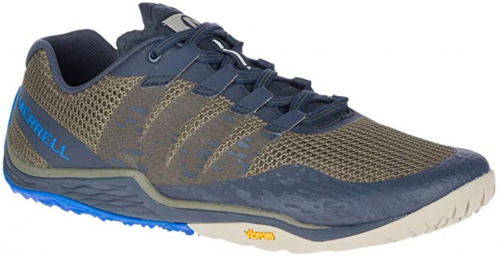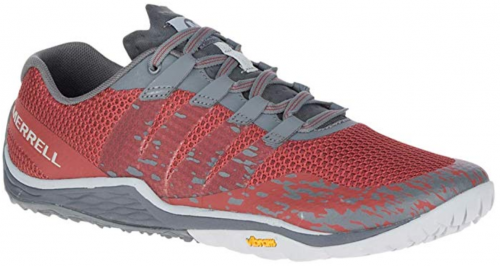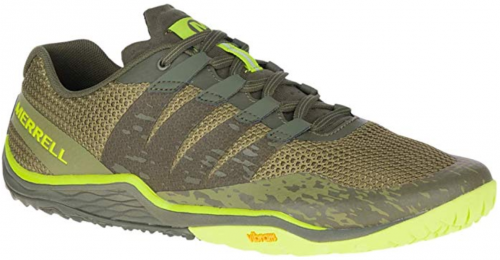 Merell makes footwear suitable for minimalist athletes. The brand provides simple trail running shoes that offer exceptional efficiency and functionality. The pair offers an almost barefoot feeling while out on the road. They are designed to make you run in the most natural way possible.
The outsoles are simple with no special features added. They are exactly as the previous versions were. The pair has quality EVA foam in the midsole for shock absorption purposes. The foam offers some level of protection to the midfoot and a little flexibility. The upper also contains mesh for breathability and has a soft feel to the foot. The manufacturer also included pores for airflow to enhance the shoes' ventilation.
The lacing system is standard, and the weight of the overall shoe is light. Their lightweight nature is what contributes to that barefoot feeling that they offer. It is not surprising that the shoes are popular among minimalist athletes.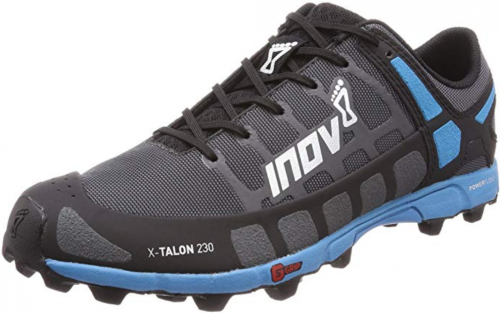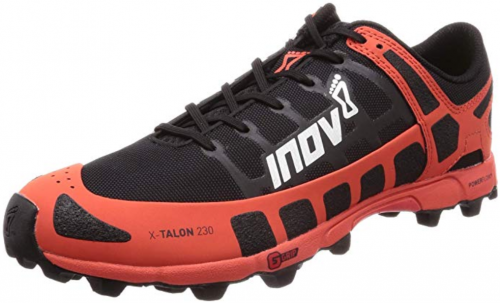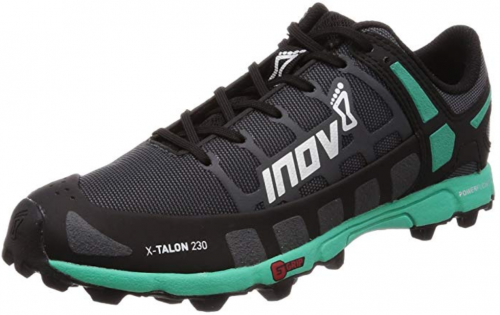 Much like the Merrell options, the Inov-8 X-talon are quality alternatives for minimalist athletes. These trail running shoes are so light that you will barely notice them when working out. They will come in handy especially if you have been having trouble with muddy terrain.
With improved traction and better underfoot protection, you can use these running shoes on different surfaces. They have neutral cushioning for athletes who don't like extra padding in their footwear. Additionally, they are extremely flexible to make it easier for the wearer to tackle uneven landscapes as they train. They are also quite stable since they have Met-cradle technology – which helps hold down the user's feet.
When you use the sizing chart to pick your pair, keep in mind that Grade 1 offers the most precise fit. If you are looking for wider options, we recommend choosing Grade 5. You can also wear them in wet environments. They have a non-absorbing upper that keeps water out of the shoe.
The synthetic upper also offers an ultra-lightweight design, and the toe area is reinforced for added durability. The collar and tongue aren't too padded. And, their interiors have a lining that provides a soft feel. You also won't have any shock absorption issues. Powerflow + Midsole technology work together to ensure that your feet are always protected from impact.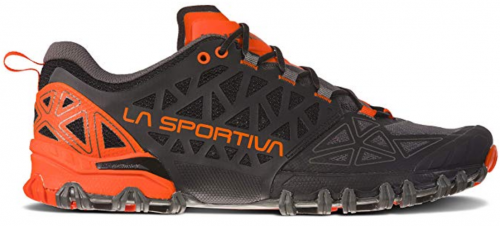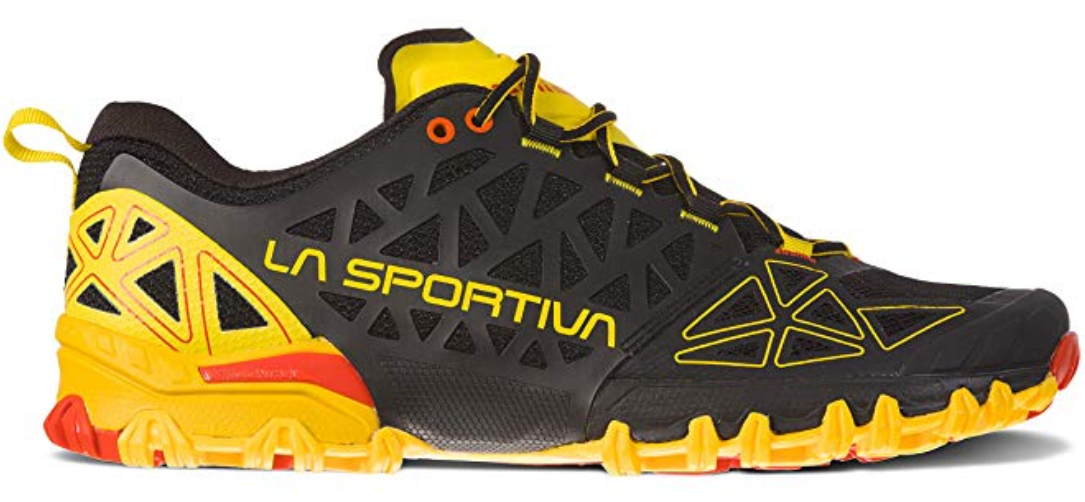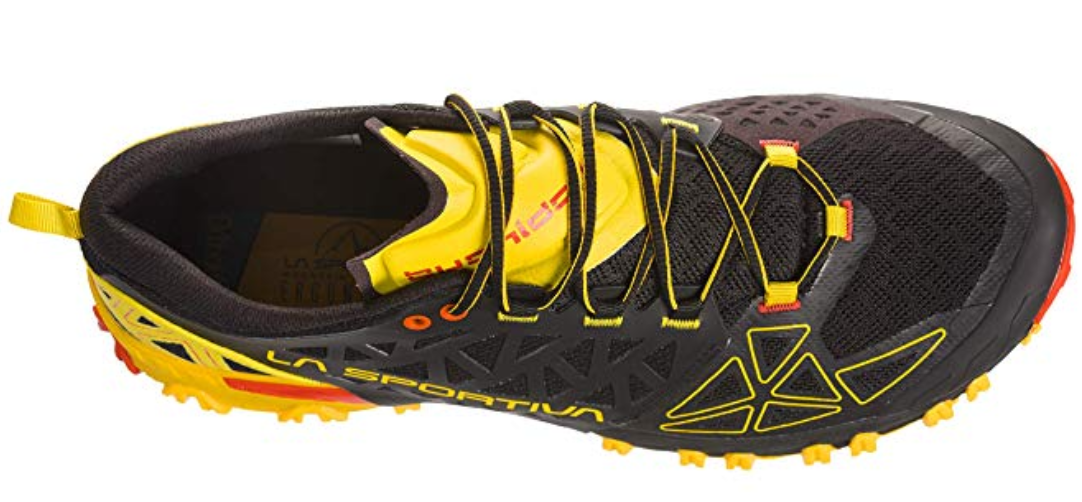 La Sportiva Bushido II offers an award-winning design for athletes who want unrivaled performance on technical terrain. It's an excellent fit for those who prioritize traction and long-distance runners who are looking for high-performance protection.
You won't have terrain limits when wearing these shoes. You can effortlessly use them when rock climbing or mountain climbing. The boots have a TPU web that adds stability and shields the upper from damage. They also have compression midsoles that are firmly placed to cover the heel area to the toe cap.
Although they have a rugged look, they are actually lightweight. The outsole contains two distinct treads that surround the shoe. And toothy multi-directional pegs around the center to firmly dig into the ground. This design makes them able to anchor on downhill climbs.

9

. Nike Air Zoom Wildhorse 5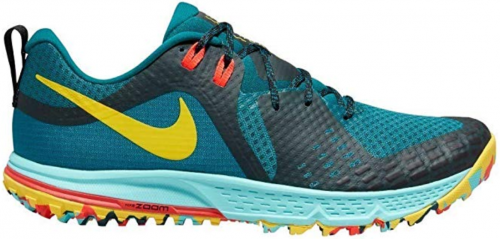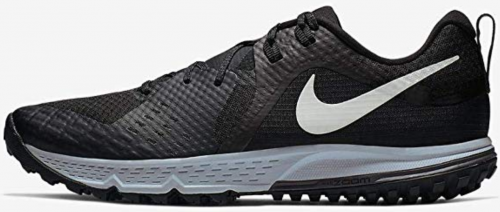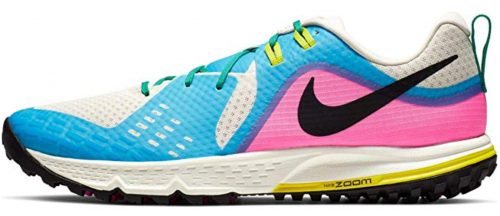 Nike has always made great products for athletes and for regular fitness enthusiasts. The Brand helps them achieve their desired targets with incredible Gear, and this model is no exception. Their products have always looked classy, giving athletes a fresh look.
The Nike Air zoom is known to handle technical terrains. You can wear them when running through mud, puddles, and downpours since they won't suffer any damages. A lot of runners also wear them to get through sloppy terrain. The upper keeps out water, and the sole doesn't get damaged by the elements.
They are the type of shoes that will always provide you with enough grip. The lug pattern comes out of the side of the outsole for maximum traction. The design helps get rid of the stuck mud quickly without compromising the user's grip. It is well cushioned and offers favorable breathability.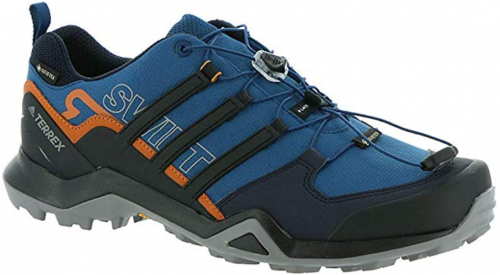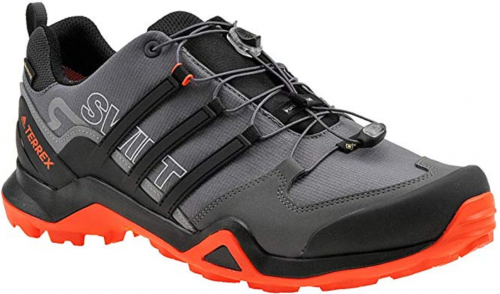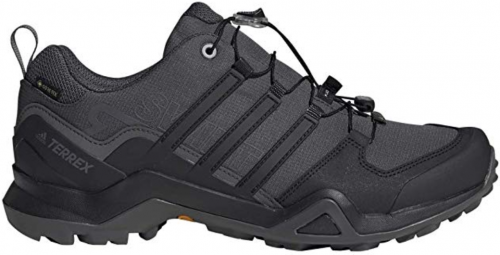 Adidas has always made excellent hiking footgear for athletes. They prioritize producing quality, high-end gear, that brings out the athlete's full potential on the trail. The Adidas outdoor Terrex are built to last, offer comfort, and are highly effective.
The pair provides excellent foot protection on the trail, so you won't have to worry about the outdoor elements. They have sturdy outsoles and are exceptionally durable. They also offer excellent stability and are considerably light. Make sure you refer to the sizing chart for assistance, since the shoes have a wider fit.
The lacing feature is useful and uses a system known as the Lace bungee, which allows you to tie your shoes easily. The footwear is also waterproof, thanks to the presence of a Gore-Tex liner. The liner also allows airflow inside the boot for maximum breathability.

Subscribe to our Newsletter