Best Breathable Shoes Reviewed & Rated
In a Hurry? Editors choice: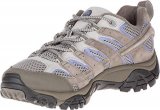 Test Winner: Merrell MOAB 2 Ventilator

No one likes to feel as if they've just walked miles through the ocean. No one likes to take their footwear off and instantly smell the pungent odor that is generally associated with overworked feet. This is why a pair of breathable shoes that provide adequate airflow is a must; this is simply not something that you can live without.

Our guide to best breathable shoes is meant to rid you of the hassle that is searching for high-quality footwear with plenty of room for your feet to breathe. We hope that you will enjoy it and quickly find just the model that you're looking for. Good luck!
Standout Picks
Criteria Used for Evaluation
Features
One of the first things that came to mind when reviewing breathable shoes was the actual design and layout of a specific shoe. Below we will discuss a few of the things that went into consideration regarding specific design characteristics.
Perforations: One of the more important things that a pair of breathable footwear must have are various perforations throughout their design. While there are styles on the market that provide breathability without having perforations throughout, having them only increases the chances of providing a comfortable overall experience.
Upper Density: The thickness of the upper is also a very important factor in its ability to provide adequate airflow. The introduction of various overlays and a multitude of layers may hinder the breathability of a design. For this very reason, the thickness of the model plays a very important part in ensuring that you receive what you need in terms of airflow and breathability. Look for thin, lightweight constructions if you can.
Material: Some materials are just not the best if you seek breathable shoes. These materials are typically the ones that have very few "natural" perforations. Of the list of materials that won't provide adequate airflow, the most important to pay attention to (and avoid) would be synthetic leather, faux suede, and other thick materials.
Style
Style is one of those characteristics that are important regardless of the shoes' intended purpose. No one wants to have breathable shoes that are unattractive. For this very reason, the designs on this list have been sorted for their stylishness, among other features.
Versatility: Versatility is the design's ability to be worn in various environments without any problems. We all like footwear that we can wear in different settings, from the workplace to a fun lunch with friends, to a dinner date with a significant other. When it comes to style, versatility is key for a good look.
Casual or Dressy: Due to the fact that most breathable models on this list are made from mesh and canvas materials, they usually fall into the category of casual shoes, such as sneakers. However, you can also find dressy breathable designs, an example of which is the Cole Haan Zerogrand Oxford. Just because you want to look more polished, doesn't mean you can't enjoy breathability!
Sport or Lifestyle: In our list of breathable shoes, you will find plenty of options to use at the gym. Similarly, there are designs which are meant only to be worn in everyday situations, not being the right choice for hard-hitting training. When you're shopping, consider the purpose of your shoes and what you intend to use them for, and make a decision accordingly.
Comfort
If you're seeking a pair of breathable shoes, you're seeking a comfortable fit, correct? For this reason, things such as the cushioning and flexibility were considered the most important when compiling this list.
Cushioning: It was important to make sure that every single one of the breathable models on this list had adequate cushioning for the underfoot. While all of the brands on this list have different ways of approaching the issue of cushioning, they all provide the same thing. Cushioning helps in absorbing impact while you walk, and reduces the strain put on your joints, thus minimizing damage over time.
Flexibility: A full range of motion is incredibly important if you want to feel comfortable. On that note, the designs on this list all provide an easy, flexible wear. They don't constrict or limit your movements, and you can be sure that you will have a light, carefree ride in any of these options.
Breathability
Breathability is arguably one of the most important qualities in footwear and that's obviously why we have dedicated an entire list to breathable shoes.
No one enjoys sweaty feet or bad odors. Not only is this uncomfortable and unhygienic, but also hot, damp environments with no proper airflow are a breeding ground for bacteria and fungi. They lead to foot infections, such as athlete's foot, which cause itchiness and other unpleasant symptoms.
This is why the brands we focused on here make sure that their products have superior breathability. They outfit their designs with special footbeds with built-in ventilation, perforations which allow the air to pass through, as well as mesh materials. These fabrics are porous, and they are both gentle on the skin and allow for cooling of the feet, keeping them dry and comfortable all throughout the wear.
Obviously, the most breathable models will be the ones which keep most of the foot exposed. These are great for high temperatures, when you want to avoid sweat and want to feel light and breezy on your feet.
When you're shopping for new breathable footwear, definitely keep in mind the season you're shopping for. It would be best to avoid heavy, confining designs in the summer, and light, flimsy options in the winter. Always dress appropriately for the weather, as you don't want to risk either overheating or catching a cold.
Value
Another important criterion that we used when picking out products is the price tag. The truth is, we all know the price is important. When picking out footwear, we have a budget in mind and try to stay in-between a specific dollar amount.
However, when it comes to this type of evaluation, we are looking at something a bit different. Here, we focused on a way to ensure that, no matter what pair of breathable shoes you decide on, you receive your money's worth for the purchase.
So, to start the buying guide, we first scanned the market and looked at what companies were charging. We paid very close attention to the highest-priced items and the lowest price. With this, we were able to draw some conclusions as to what perhaps may be an average price tag.
Then, we used this to our advantage when assessing each product. We carefully looked at each pair of footwear and considered whether or not the price was fair, in accordance with the average price tag. From there, we were also able to draw conclusions as to whether or not the value it offered was fair.
If you want to look for the options which hold the most value, sort our list by this criterion and choose off the top!
Top 10 Breathable Shoes
This is one of the most comfortable pairs of running footwear you can currently purchase, and it's especially suitable for everyday wear, thanks to the innovative upper and highly cushioned midsole. The Ultraboost 19 is the update to the already immensely popular Ultraboost, and it offers a more lightweight wearing experience, coupled with already expected levels of breathability and all-day comfort. The Ultraboost 19 comes in several color choices, with new options being added every season. It's a stellar choice for anyone, both enthusiast runners, as well as those looking for a chic casual footwear option.
The upper of the Ultraboost 19 is made with the brand's Primeknit 360 material, which utilizes stretch fibers in order to give you a personalized fit that moves completely in sync with you. This upper will follow the contours of the foot, preventing any pressure points and the bootie construction ensures that there aren't any uncomfortable seams or overlays that could cause discomfort. You'll also find that the Primeknit 360 material allows for a great amount of airflow, wicks moisture away from the foot, and lets you cool down, even if you happen to wear your Ultraboost 19s in extreme heat.
What makes the Adidas Ultraboost line so popular is the BOOST midsole which uses thousands of TPU pellets for shock dispersion, absorption and running/walking comfort. It protects the feet from impact when landing, plus it offers endless energy return - each time the TPU pellets compress, they expand to their original shape, propelling you forward. This means less fatigue and strain, which translates to longer runs or walks. You'll find that the Torsion Spring system works well to ensure stability underfoot, especially when landing and the Continental rubber outsole works exceptionally well on pavement, even in rainy conditions.
With its 10mm heel to toe drop, lightweight construction, and over 20 colors to choose from, the Adidas Ultraboost 19 really makes for an excellent purchase. It's one of our all-time favorite breathable sneakers, so if you're looking for a pair of footwear that'll keep you cool and dry, this model is definitely worth checking out. Even the high asking price isn't much, once you consider the amount of comfort these shoes offer.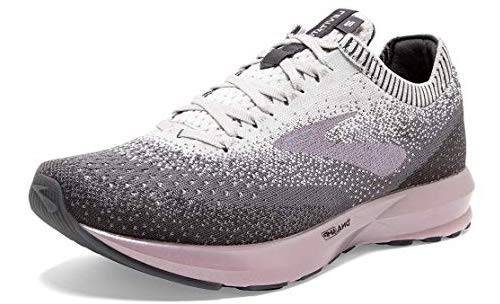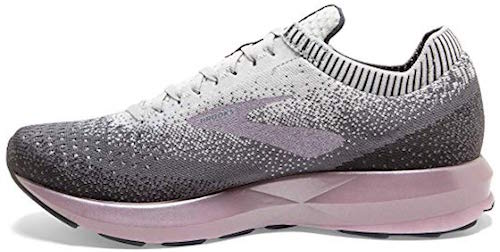 The idea behind this model by Brooks was to bring users a pair of running footwear made with a knit upper that would fit any foot shape perfectly. It's a cushioned model focused on energy return and its perfect for marathon training and running. The Brooks Levitate 2 comes in a total of 11 color options giving you the chance to coordinate with your favorite everyday or workout clothes. It's a neutral pair of running footwear, ideal for those with a high arch and with supination.
The upper of the Brooks Levitate 2 is the greatest update to the original. Made with Fit Knit, it's meant to wrap around the foot perfectly, allowing it to be snugly held in place, but without limiting its motion. The bootie construction eliminates most stitches, while the inside has several hidden features that are sure to increase your levels of comfort while running. These include a hidden heel wrap for a locked-in feel, as well as a padded collar to protect the Achilles.
The sole unit of the Brooks Levitate 2 uses a DNA AMP midsole which was built for maximum energy return. Its housed in a thermoplastic skin which prevents it from expanding outwards, thus ensuring that you get the energy from each landing back, propelling you forward. You'll also benefit from the removable sockliner which can be replaced with custom orthotics, while the rubber outsole sticks to the pavement and features arrow-shaped flexibility lines that encourage forward movement.
The cost association of the Brooks Levitate 2 is above average. Considering the type of cushioning and comfort it offers, the Levitate 2 is a good investment, but if you tend to overheat, you may want to save it for colder weather conditions.

3

. Merrell MOAB 2 Ventilator
This pair of hiking boots was developed by Merrell to give nature enthusiasts a supportive, cushioned pair of shoes they can wear in sweltering hot summer weather. The MOAB 2 Ventilator stays true to its name - Mother of all boots - and is one of the absolute favorite choices of most hikers, with over 20 million pairs sold worldwide. It offers a sporty look, with a few color options to choose from, but what you'll find is that this is a pair of footwear focused solely on comfort and function. You may even be tempted to purchase the MOAB in the Gore-Tex version for wet winters, considering how good it will feel on your feet.
The upper of the Merrell MOAB 2 Ventilator is made with a smart combination of materials. The main shell is constructed out of durable and supportive leather, which ensures that your foot is securely held in place, even on unpredictable terrains. However, mesh inserts are added in the toe, arch and heel areas, ensuring airflow, allowing heat and moisture to escape, and fresh dry air to enter the foot chamber. The classic lacing system allows you to adjust the fit, and it's made even more comfortable through a padded mesh tongue that will protect the sensitive upper part of the foot from excess pressure.
The sole of the Merrell MOAB 2 Ventilator is made with an eco-friendly compound of EVA foam which is used in a way to add contour and maximum support under the heel and arch. It works well to absorb shock from walking, all the while ensuring that your feet are properly aligned with the rest of your joints. The heel area has an added air cushion for increased comfort, while the outsole utilizes Vibram rubber which is extremely durable and grips all surfaces equally well.
The cost of the Merrell MOAB 2 Ventilator is about average, and it makes for an excellent purchase for almost anyone. You'll also be happy to hear that this model comes in normal and wide widths to ensure the best possible fit, as well as that this is a shoe that is sure to last. It's great for hiking, but can also be worn for everyday activities. Some people even wear it to the gym, which makes it one of the most versatile models on our list.
4

. Adidas Terrex CC Parley
The Adidas Terrex was a great product when it was initially released; now that it's designed using recycled (almost knit) materials, it's gotten even better. First off, the sneaker was redesigned using Parley and provides wearers with more airflow, as well as the ability to save the planet. The design features an upper with a sock-like opening; this means that both putting on and taking the sneaker off is a breeze. The design also features one of the coolest outsoles that you will probably ever see.
The outsole of the Terrex Parley is perforated. The perforations on the outsole of this product allow for relatively easy drainage of liquids and ensure that one receives ample airflow when wearing the sneaker. The design of the Terrex features recycled materials sewed throughout which are both comfortable and durable.
The durability associated with the material stems from the fact that the recycled design is tougher than traditional knit material; the comfort comes from the airflow and inherent flexibility of these sewn materials.
5

. Skechers Breathe Easy Love Story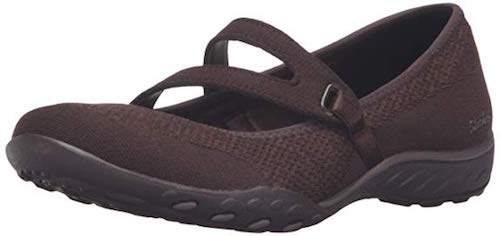 These Mary Jane shoes by Skechers are the ideal choice for those who want athletic comfort without having to wear actual athletic sneakers. This pair of flats will work just as well for everyday activities (including work), running errands, travel and even long walks. It comes in several color choices, all of which are easy to pair with the rest of your outfits, and that won't look out of place even in more professional settings.
In true Skechers fashion, the Breathe Easy Love Story offers plenty of comfort-oriented features that make this such a popular brand. The upper is made with a woven mesh upper that allows hot, moist air to escape the foot chamber. The toe and heel area utilizes a denser knit to ensure durability and support. The shoe is held in place through an attached stretchy strap that goes over the top of the foot and is soft to the touch.
The midsole of the Skechers Breathe Easy Love Story is made with shock-absorbing foam, and the footbed is topped with memory foam for the highest possible level of comfort. The lining is soft to the touch and won't cause irritation, while the Relaxed Fit construction ensures that there are no pressure points or hotspots. The outsole is rubber, made to work on most surfaces and the shoe has a low weight, preventing fatigue from all-day wear.
The cost association of the Skechers Breathe Easy Love Story is below average, which makes it an excellent investment for those who are on a budget, or who simply prefer to purchase new shoes every season.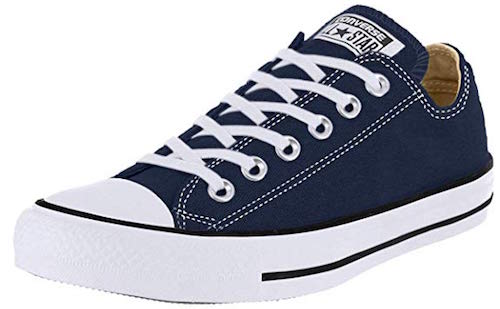 There is no way that you can go wrong with a pair of Chuck Taylors. This brand has been in style for decades, and it's no wonder why! Their styles provide a host of elements to make matching them with outfits a breeze. Converse also ensures that wearers can receive all that they need in terms of comfort. The comfort of these particular breathable sneakers stems from the upper and the materials that the design is made from.
The upper of this low top Chuck Taylor features various perforations that provide just enough airflow. In this design, said perforations run the length of the style and can be found throughout the model.
A style designed from canvas will typically provide ample airflow. Canvas is a thin material and breathes relatively easily in a variety of environments. The Chuck Taylor's use of this material complements the perforations and ensures that discomfort is a thing of the past in these cool, laid-back athletic shoes.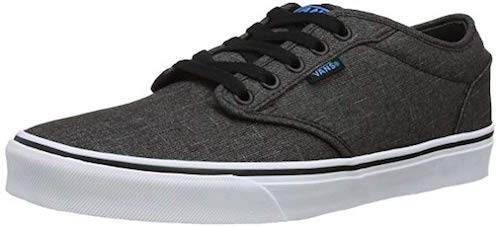 To purchase a pair of Vans is to purchase a design that can be worn for various occasions. These skateboarding shoes are incredibly stylish and comfortable. The great thing about this particular pair is that they have a sleek cut and a sole unit with ample grip both on and off of the skateboard.
The outsole of Vans need to be incredibly durable; these sneakers are typically used for skateboarding. That being said, the outsole is made from vulcanized rubber and can handle a great variety of exposure. The sheer durability of the outsole is what ensures great value and that you won't have to worry about continually having to replace these sneakers.
Another one of the great things about owning a pair of Vans is that they have a sleek design. Like many other skateboarding shoes on the market, Vans has a low cut silhouette and can be worn with various outfits. The design of these shoes allows for a great deal of versatility and makes for a very cost-effective option for the price-conscious consumer.

8

. Cole Haan Zerogrand Oxford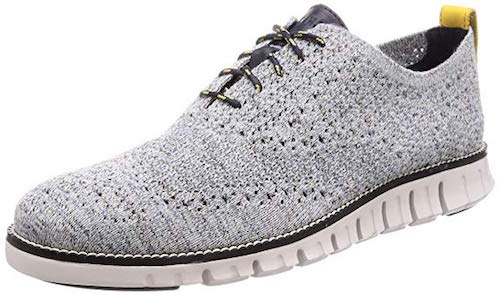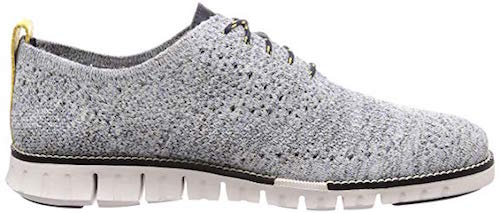 The Zerogrand from Cole Haan is an oxford that features an upper designed from a blend of nylon and ripstop materials. The use of both of these materials ensures maximum comfort and airflow. Surprisingly enough, these materials are what qualified it for this list as well. In addition to the unique upper, this pair of Oxfords is also amazingly stylish and works well even on dressier occasions.
To have a style that incorporates ripstop materials throughout is to have incredibly durable shoes. A design that sports a blend of both ripstop and a breathable knit ensures the best of both airflow and longevity. The upper of the Zerogrand is designed to ensure the ultimate value.
These Oxfords incorporate a modern look that is suitable for various environments. It can be worn at work, at a semi-formal dinner date, even when meeting your in-laws! The look of this sneaker is slim and it comes in various neutral colors. That means you don't have to worry about purchasing various models to match with various outfits.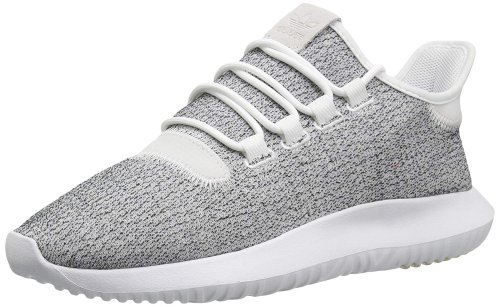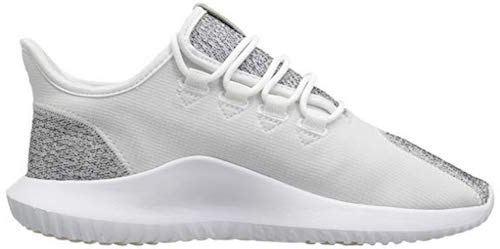 The Adidas Tubular Shadow is a design that has a stylish look and various comfort features incorporated into its construction. This sneaker has an upper designed from a thin mesh membrane that allows wearers to feel that air that surrounds their feet; it prevents the accumulation of sweat in the design. On that same token, these shoes are stylish as well; it's the best of both worlds.
Much like other sneakers on this list, the design of the Tubular Shadow is a stylish one. It's rather sleek and can double as both an athletic and casual piece of footwear; for a design to be able to do both is incredibly rare.
What makes the Tubular Shadow breathable is the thin cut of mesh that's incorporated into its design. The mesh is a porous material which allows the air to circulate freely in and out of the sneaker. Additionally, the fact that the upper on this pair is relatively thin means that it doesn't have too hard of a time bending to the will of one's foot when in use.

10

. Adidas Deerupt Runner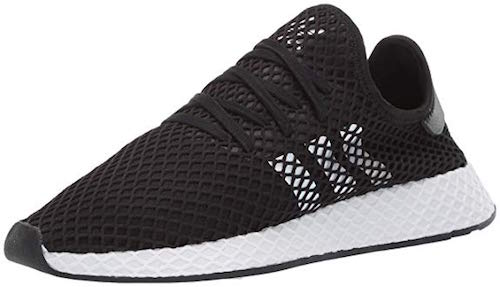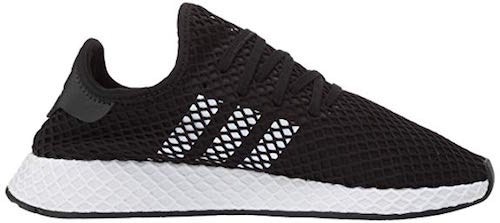 The Adidas Deerupt will provide high levels of airflow to the wearer, while also throwing in a bit of a unique style to boot. This sneaker has a mesh upper but, and here's the kicker, it has a webbed overlay that runs the model's entire length. To boost the comfort that these lifestyle sneakers provide, this notorious brand also gave them full-length EVA midsoles.
The midsole of a sneaker can either make or break the entire design; this is why it's a good thing that the Deerupt features an EVA midsole. EVA is a material which provides both comfort and stability. It conforms to the curves of the wearers' foot and softens every blow. It also delivers bonus cushioning in the heel portion to increase the level of support.
Another great thing about the Deerupt Runner l is that it features a sock-liner. Sock-liners are meant to increase the level of comfort of the model and in some cases provide moisture-wicking properties. In these shoes, the sock-liner enhances the level of airflow while also working in tandem with the mesh to provide superior comfort.

Subscribe to our Newsletter