Best Canvas Shoes Reviewed & Rated
In a Hurry? Editors choice: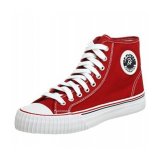 Test Winner: PF Flyers Center Hi

Canvas is an affordable, durable material that softens over time. They are fuss-free, easy to clean, easy to stain-proof and waterproof. Canvas
shoes
scream youthful, care-free and simplicity. Almost everyone has enjoyed a pair of canvas shoes when they were kids – they were part of some of our best childhood memories.
Basketball
in the park, exploring the woods, that time it poured rain and you puddle-jumped all the way home in your soggy but still comfy canvas high-tops. Owning a good pair as an adult is nostalgic and comfortable, like coming home.
Standout Picks
Criteria Used for Evaluation
Materials
When we assessed our canvas shoes, it made sense to take a good hard look at the construction and quality of the canvas in each of the shoes. Canvas has two faces. It can an extremely comfortable, protective, natural material for uppers or it can be rough and scratchy and uncomfortable if not well constructed. Here are some of the things we looked for:
Thickness
Canvas should be thick enough to protect your feet, resist wear, and provide support to your upper foot and ankle (in the case of a high top). Good canvas may initially feel stiff but will soften with wear. Canvas shoes do not have to be as thick as canvas tents. The material should be pliable and comfortable to wear rather than making your feet feel trapped in a canvas box.
Closely woven
Canvas material should be closely woven to provide protection, weather resistance, and durability. You will be able to tell this because there won't be much space between the threads. However, Canvas needs to be woven loosely enough to be breathable and not overheat your feet.
Double stitched seams
Canvas is a sturdy material that requires double stitching where pieces are sewn together to make strong seams. Avoid any canvas shoe that has flimsy, or thin single stitching.
Style
All shoes, including canvas shoes, should suit the purpose for which they are made. If a company markets something as a basketball shoe, for example, you should be able to play basketball in it without feeling fatigued or pain in your feet. Canvas shoes serve many purposes so, in our criteria, we took a good look at whether the shoes were suitable for their purposes.
Sidewalk Surfers
These shoes from Sanuk are meant for walking around town in reasonably warm weather. Therefore, they need breathability, cushioning, resistance to wearing on the pavement, and shock absorption. The sidewalk surfers on our list all meet that purpose.
Fashion Shoes
Fashion shoes are all designed for their appearance, and there is much less focus on functionality like comfort, durability and weather resistance. Each of the fashion shoes on our list do what they claim to do – look good, and all also have rubber soles, which provide shock absorption, durability, and resistance. Most are also easy to clean and maintain.
Flats
Flat shoes are meant to give you a low to no heel look, and they should still provide cushioning and comfort. You cannot expect a flat to provide a lot in the way of support in the sole, but you can expect some support in the upper. Each of the flats in our list has good traction and some cushion for comfort. They are also more supportive than many other materials in the upper because they are canvas. Some have additional support with hidden elastic panels and full lace closure.
Basketball Shoes
The hi-top basketball shoes in our list are more than fashion shoes. You can play basketball with them, and certainly, early basketball players did so without all the technology that is available today. Be aware though that these two shoes do not have the modern technology that today's basketball shoes have in terms of spring, shock absorption, zoned foam, and zoned traction. Go for it but don't expect any fatigue at all after a long game.
Loafers
Loafers are made for comfort and relaxing. All of the loafers on our list have comfort elements that will satisfy those criteria. Sit back, relax, and enjoy in a comfy pair of shoes.
Fit
Finding a perfectly-fitting pair of shoes can be like finding the holy grail; there are so many brands, styles, models and makes of shoes that it seems like it's next to impossible, especially when you are shopping online! Fear not, as we've ranked each product on our list for their fit and trueness-to-size to help guide you in finding the perfect match for you.
To come up with a score for the fit of a shoe, we considered several factors, like the ones mentioned above, in addition to real customer reviews, to help boil down everything into one simple score. For example, Nike tends to make shoes that are true-to-size, meaning that you can buy a pair of 11s one year, and another pair of 11s next year in a different model and they will usually still fit (unless your feet have grown or shrunk). A brand like Nike will most likely have a high score when it comes to fit, but the other variables in play, such as make, model, and purpose, will also affect the overall score.
Consider that a running shoe, with its thicker midsole and a synthetic sole, might fit differently than a flat shoe, with its thinner midsole and hypothetical leather sole. Each of these shoes, even if they are both from Nike, may have similar scores for trueness-to-size, but a size 11 in one might not be the same as an 11 in the other. What's a reader to do in this case? You must also consider the purpose and type of shoe it is. Knowing what kind of shoe you are buying, and for what purpose, will help you make a better decision. A running shoe might run smaller than a flat because it has thicker materials, so read customer reviews as well to arrive at the best decision for fit, in addition to just our overall score.
Versatility
All of the canvas shoes on our list are versatile in some ways and limited in others. The things you should be aware of in terms of versatility of the canvas shoes on our list (and any others you may consider) are:
Casual
Canvas shoes are casual shoes generally. You cannot expect most canvas shoes to be dress shoes or formal footwear. However, trends are changing and more and more people are wearing canvas shoes to weddings and proms and other formal functions. They can be a great way to express your individuality and a little youthful, fun.
Work or play
Some canvas shoes, especially if they are comfortable can be used for work and for play. Which they will be, or whether they will be both, will depend on the rules at your work, your comfort and your preferences.
Single season or more
You won't get a lot of wear time out of a single seasons shoe and that's no knock on a fabulous summer sandal. However, if you want the most wearability from your shoes you should look for shoes that can be worn for at least two seasons and preferably three. Most of the shoes on our list can be used outside in spring, summer or autumn. None are going to give you sufficient warmth in winter climates.
Indoor only
If a shoe cannot resist walking on the ground, it has no business being outside. All of the shoes on our list are sufficiently durable for walking on pavement, concrete and hard surfaces as well as very abrasive surfaces like sand.
Durability
To assess each of the products on our list for durability, we not only read through thousands of customer reviews on our recommended products, but we also looked for some of the hallmarks of quality construction. From brand name reputation to their initial smell out of the box, there are a few ways of identifying a well-built, made-to-last product.
The Details
A zipper that doesn't zip or snaps? Poor threading technique? A smelly, chemical residue on the shoe when you open the box? All these details were looked for an evaluated when assigning a score for durability.
Materials
Certain materials last longer than others, even if that comes at the expense of a higher score in the "comfort" criterion. Materials that are synthetic, thicker and firmer tend to score higher on durability.
Product Purpose
A shoe made for running and high-impact sports will not likely last as long as a good pair of general activity shoes, and that's okay. Being aware of the shoe's purpose is critical for you as a reader and for us as a reviewer. Although shoes that will last longer score higher on this criterion, you might also see high scores to shoes with a more limited durability, if that product was specifically designed for certain purposes that involve high-impact and high-stress motions. We take into account the type of shoes you are trying to purchase when assigning scores to shoes in this criterion.
Brand Name
A product is a promise made, but a brand is a promise kept. A brand name is often a signal of quality and consistency in construction and durability from product to product. Although there are always exceptions to this rule, quite often brands that perform continue to perform. Brand names on our list tend to score higher in the durability score.
The final word on durability is that a higher score on this metric means the product will last longer than its competitors, given similar shoe purpose, type, age, and usage. Again, it never hurts to read some customer reviews before hitting the "buy" button.
10 Best Canvas Shoes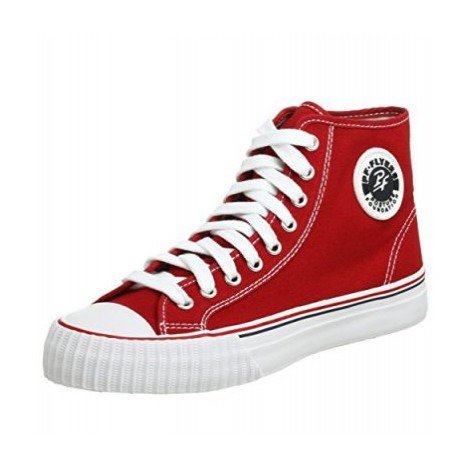 This is a retro high-top canvas sneaker with modern upgrades. It features a Posture Foundation (PF) footbed and a diamond patterned rubber sole for great grip. The toe bumper is a retro touch while the canvas sides provide great style and support for your ankles. Who's up for a game of 1 on 1?
The Posture Foundation footbed in this sneaker promotes good alignment in the foot and ankle and therefore in the rest of the legs and hips. You'll be far more comfortable with good posture and correct alignment. This is a re-issue with plenty of modern upgrades including the footbed and durable, diamond-shaped rubber sole. This classic high top was originally built for the basketball court but will be comfortable in any casual environment.
This high-top canvas sneaker is in the mid-range of our list in terms of price. Still reasonably priced, these shoes will last a long time and are perfect for school or for any casual outing.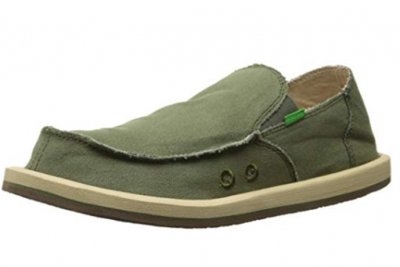 The Sanuk Vagabond is a casual canvas loafer made with Sanuk's unique style of placing flip-flop type soles on a casual upper. It has a Happy U plastic outsole, cloth lining and a heavier canvas upper with a molded footbed for comfort.
The Vagabond features a molded EVA footbed that is shaped to the natural curves of your feet for comfort and cushion. The footbed is also surrounded by a soft cotton liner to add further comfort. The shoe also features side cut portholes that allow air into the interior of the shoe keeping your feet cool and dry. These are great for sweaty feet.
These shoes are priced in the mid-range for our list but that price is still very reasonable. These loafers feature a molded footbed, quality canvas construction and a plastic but cushiony outsole all in Sanuk's unique style.

3

. Blowfish Marley Sneaker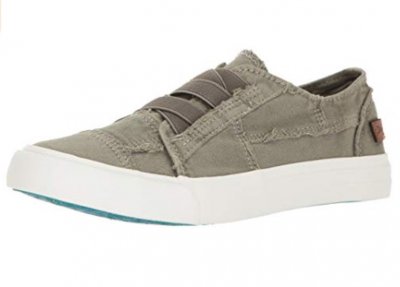 If you're in search of something a little funkier for your next canvas sneaker, consider the Blowfish Marley. Sneaker in design, but with an urban, hipster-like appeal, it has canvas uppers that have frayed edged seams, thick soles, and options for colors or prints that will have you standing out at your next happy hour with friends. Replacing the traditional lace-up vamp of a sneaker, the Blowfish Marely incorporates elastics to help give an adjustable yet snug fit.
Standing out from typical sneaker design, the Blowfish Marley incorporates some design elements that will have you taking a second look. Lace-up vamps are replaced with sturdy elastic bands to secure the shoe snuggly to your foot, but also give a little bit of adjustability. Canvas uppers have a distressed look, with frayed seam edges to give it some urban appeal. Great for dressing down, running about town, or out dancing at the local pubs.
Along with cozy canvas uppers, the Blowfish Marley has a rubber outsole for traction and grip, which wraps around the outsole and forms a toe bumper to help protect your toes. Cushioned footbed helps give added comfort when walking or skating around town, and elastic stretch panels make them easy for wear. Add to all of this the fact you can select several colors or patterns, and you'll find one to fall in love with!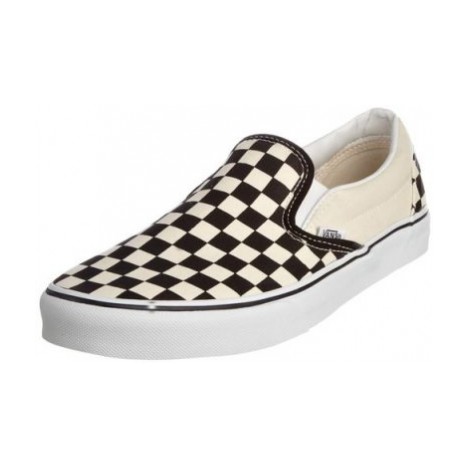 These are classic Vans in a slip-on. Whether you choose their unique checkboard design or one of their solid color options, this will be a durable, lightweight shoe that is youthful and stylish at the same time. The Vans slip-on is a popular shoe among teens and adults alike for its look and long life.
These slip-ons have a classic style that is youthful and carefree at the same time. A great shoe for school or for relaxing with friends, you'll enjoy this slip-on for a very long time. Not only are these Vans stylish and comfortable, but they are also built to last. With Vans rubber, waffle sole, it will take a while before these begin to wear out.
These Vans are at the higher end of the price range. For that money though, you are getting a very lightweight, durable, and comfortable shoe that is stylish for most environments and occasions. Get out there and be your best, carefree self.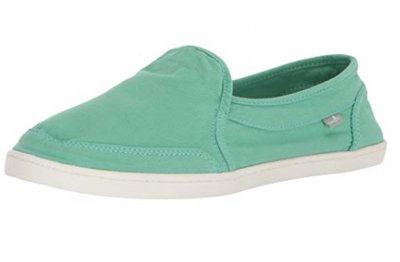 Sanuk graces our list again, this time with the Pair O Dice flat. Stylish and colorful canvas is used to construct the uppers, while rubber sole helps with grip and traction. Packed with the regular Sanuk brand comfort features and cushion, it's a casual slip-on styled flat that you may not want to step out of! Great for running errands, or nights out with friends, it's a great option for consideration of your next canvas shoe.
Many of Sanuk brand shoes come complete with super comfortable footbeds and linings, and the Pair O Dice is no exception. Yoga Mat drop in cushions the foot with every step, and low top styling allows for flexibility and freedom of movement. Sanuk rubber cupsole helps to cradle the foot for support and comfort while maintaining flexibility for proper walking gait.
As the Pair O Dice is made from canvas, they are easily washable should you get them dirty, or if they just need a good clean. Inside the slip-on is an antimicrobial additive applied to help reduce foot odor by reducing bacterial growth. You'll be able to wear these barefoot if you prefer, without having to worry too much about heat retention or foot odor!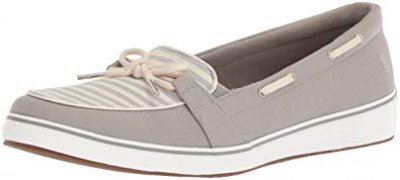 Classic in its appeal and look like a boat shoe, the Grasshoppers Windham is well-constructed canvas shoe, that bumps up the appeal with decorative lacing details. Plush thick sole gives cushioned steps, and bowtie detail adds an element of fun décor. Slip on in its design, it's comfortable and light, with removable footbed. Available in several color options to choose from, you're sure to find one that fits your style and tastes.
Inspired by classic boat shoe design styling, the Grasshopper Windham has a clean look to it, thick, rubber sole for grip, and some added flair of design elements that will have you wanting to step onto the nearest dock. Slip-on makes these easy to get on and off, and its canvas uppers make them lightweight, breathable, and washable. Rubber soles have added traction patterns on the base, so you'll stride confidently even on slippery surfaces.
Along the collar of the Windham is interwoven lacing that ties around the shoe, and completes the look with a bowtie on the tongue. Elastic gores on the sides of the tongue allow for some adjustable fit and ease of access, while a removable footbed provides some cushioning and padding for your feet, but can easily be replaced should you need to.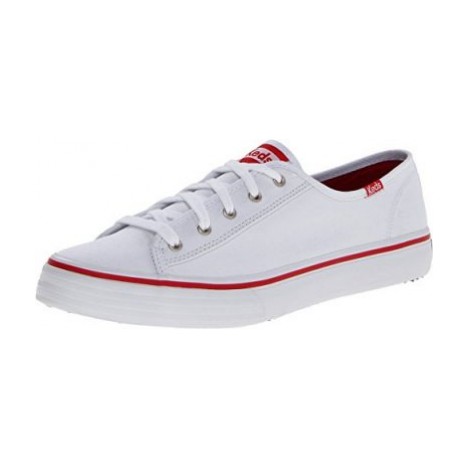 KEDS appears four times in our line up for good reason. They make great, casual canvas shoes - it's what they do. This lace-up KEDS Doubleup fashion sneaker has been refined with sleeker lines, a contrasting midsole stripe, and brand callouts on the tongue, counter, and topline. There is an all black version for those who want to wear these at work or a school that has a uniform dress code.
This shoe is made for its looks and not any particular performance, yet it is comfortable with KEDS traditional rubber sole for good grip on most surfaces. It's sleeker and more refined than their more retro line.
The KEDS Double-up is a durable sneaker with a high-quality canvas upper, and a thicker rubber sole built to last. These shoes will last very well whether you're playing a little three on 3 in the neighborhood or running errands on your feet. These shoes barely fall into the mid-range of prices for our list. For the reasonable cost though you are getting an American icon that lasts you many seasons, in a more refined style.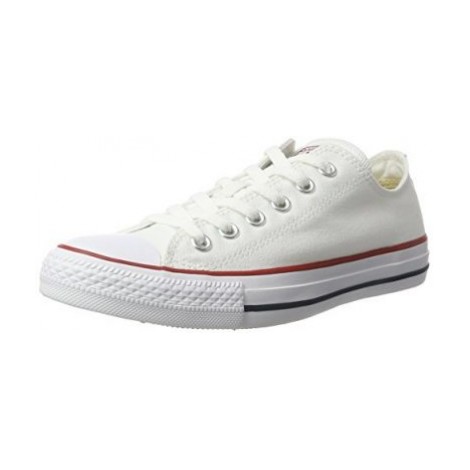 The timeless, classic chuck has been around for more than 100 years. There's a reason it's been around that long - it's light, simple, breathable and has great traction. Originally designed for the court, chucks can be seen virtually everywhere you look, including a trend to wear them with wedding dresses and tuxedos for a fun, youthful and sporty touch to a formal occasion.
Chuck Taylors are the most recognized sneaker in the world, for its silhouette and for the starred ankle patch. Available in a variety of classic colors, these canvas sneakers have been popular for a century.
Vulcanization takes soft rubber and hardens it enough to make it durable and resistant to rough surfaces like concrete and pavement. It also provides good traction on most surfaces. These low-top chucks are at the lower end of the price range. For a reasonable price, you'll have a new favorite canvas sneaker - the classic Converse Chuck Taylor. Sometimes simple is everything.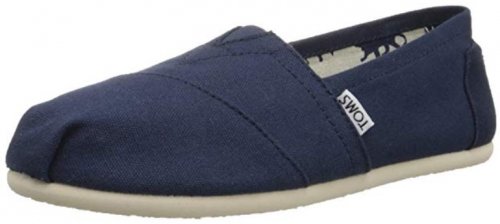 Simple and comfortable is the best way to describe TOMS, making them the perfect choice for hassle-free footwear. Great for throwing on as you're running out the door, TOMS will become your next go-to pair of shoes as they can be worn for nearly any occasion. With an elastic top to help your foot slide in easily and a nicely padded footbed, TOMS Classic slip on are a massively popular shoe. Another thing that makes these shoes popular is the fact that every pair you purchase finances a pair that is given to a child in need. This makes TOMS such a great choice - not only do you get a stylish and comfortable slip on, but you can feel good about the item you chose to buy.
With a canvas upper and an elastic gusset, these shoes are built in a way that helps them mold to your feet, giving you a more comfortable and personalized fit. Although they may feel a bit stiff or even tight when you first slip them on, the more you wear them, the more the fabric will relax, until, eventually they begin to feel like a second skin.
Since these are everyday shoes there is a very good chance they will get dirty fast. The best way to clean your TOMS is to do it by hand, using a little bit of soapy water and a small cloth or toothbrush. As they are made of canvas, you can scrub away at any dirt and then leave them to dry out - just make sure it's not in direct sunlight as you don't want them to change shape or have any discolorations. Note that is not recommended that you ever put your TOMS into the dryer.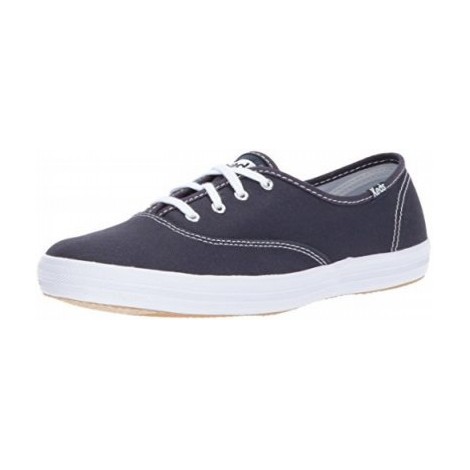 KEDS is the company that designed the very first sneaker and this classic Champion has been popular for more than 100 years. It has a go-with-anything style and cushioned comfort that has made the shoe popular around the world.
KEDS Champions come in an array of colors, textures, and patterns that will suit just about anything you have in your closet. These famous classics have even been dressed up for proms, weddings and the red carpet!
These kicks are the original low top sneaker but they've long since been upgraded with a padded insole and improved shock-absorbing sole because your kicks should be comfortable. These durable sneakers are at the low end of the price range so it will be hard to resist getting several pairs to match all your outfits, or just express yourself in casual style. Comfortable and breathable, say hello to your newest best friend.

Subscribe to our Newsletter