Best Youth Basketball Shoes Reviewed & Rated
In a Hurry? Editors choice: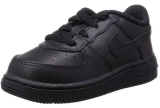 Test Winner: Nike Air Force 1

When looking for a good pair of court shoes, you have to balance features that will advance your game and those that will keep your feet comfortable and protected. Whether you are a post player or point guard, we've picked out some of the best youth basketball shoes and evaluated them to help you pick out your kid's perfect pair.

Post players are constantly moving and shifting with their feet. For these types of players, high tops can be a good choice, as they provide strong ankle support; however, they also tend to be heavier and create a drag on speed of movement. For ball handlers, low tops provide flexibility and offer a high speed of movement to get the ball up the court. Finally, for all-around players, something in between a high and low top can give you the best of both worlds.
Standout Picks
Criteria Used for Evaluation
Support
High Top: Players for whom physical contact is a big part of their game prefer the high top designs. Power players tend to wear these a lot because they'll often be grabbing the ball on rebounds and carrying out jump shots, so the extra cushioning and support around their ankles help when landing back down on the court.
Low Top: These types of basketball footwear is designed for players with quick bursts of speed. They're smaller, offering less drag and weight, and are designed for players with dynamic movement, using their agility to get to the hoop and achieve their goals. Low tops are also designed with traction in mind, to minimize the chance of slippage or injury on quick turns.
However, this does come at a cost and in this case, it lacks ankle support that most players need when landing from slam-dunking the ball, or jump shots.
Mid Top: These types of shoes are generally for the all-around player. They don't restrict the ankles as much as high tops, but will have a limited amount of ankle support, which is good for landing after big jumps. The pay off is that these are lighter than high tops and players will be able to move around the court more dynamically.
Durability
Youth is hard on shoes. Parents are aware like no one else how quickly an active kid can burn through footwear. This is especially true of kids involved in sports that are heavy on the footwork – soccer, basketball, tennis, track and others.
To get the best value for your money, we looked for options that are durable and at least have a chance at lasting until your child is ready for their next size up. Some of the things that you can look out for are:
Strong Uppers: Leather makes a very durable upper material. It's natural and tough, able to stretch a little to adapt to a foot, while also resisting breakdown from pressure, friction, and rubbing. Most of the designs in our list are made with leather uppers.
Strong Laces: Your child's foot puts a lot of pressure on their shoes during a basketball game. Good strong laces ensure that the foot is not slipping around inside while allowing the shoe to move with the child. They provide support for those sudden bursts of movement from side to side.
Rubber Soles: Rubber soles do more than give great traction on the hardwood. Rubber is a natural and durable material that resists wear better than some other sole choices. Synthetic and hardened rubbers (like vulcanized or carbonized rubber) are much more wear-resistant.
Compressible Midsole: The midsole offers shock-absorption and cushioning. It is usually made of a foam material and, depending on the quality of the foam, it can collapse. We looked for footwear that had a compressible but strong midsole that won't give out easily under the beating that your child will give them.
Brand
Many professional NBA players also have their own line of footwear. Sometimes, this is just simple branding; but often, player-endorsed designs contain quality materials with a solid construction and technology that will boost your kid's game.
Jordan Nike Air
Michael Jeffrey Jordan is a retired professional basketball player and is considered by most to be the greatest player of all time. Jordan played 15 seasons in the NBA for the Chicago Bulls and Washington Wizards. His main achievements include being named the NBA's most valuable player five times, winning the NBA Championship six times, NBA Defensive Player of the Year, NBA All-Star on 14 occasions, three of which he was voted All-Star MVP.
His footwear, the Air Jordans, has reached legendary status by now. There are some options which are collectibles and thus of very high value, but there are some that can still be effectively used on the court.
Nike Lebron
Lebron Raymore James is a professional basketball player for the NBA, considered by many to be the best basketball player on the court today. He started his professional career with the Cleveland Cavaliers as the first overall pick of the 2003 NBA draft. James has won many awards and championships, including Rookie of the Year, Most Valuable Player, and three NBA Championships. He even has earned himself two Olympic Gold medals, which is a very impressive achievement!
Nike Kobe
Kobe Bryant is the only player whom Michael Jordan said could beat him in a one on one, and that was because he stole all his moves! Kobe is a retired professional basketball player, and the only player in NBA history to have two of his jersey numbers retired. In 2010, Kobe became the youngest player in NBA history to reach 30,000 points at the age of 34, a record that was only beaten in 2018 by Lebron James at the age of 33.
While you may feel a little overwhelmed by all these big basketball names and impressive resumes - we assure that there's no reason to be! In our list, we ranked our designs according to the popularity and quality of their brands, but you absolutely don't have to rely on that to get your kid a pair of great shoes.
Remember: in the grand scheme of things, the brand name has very little to do with the overall quality of a design. It is mostly about the comfort, the traction, the fit, and the support.
Comfort
Comfort can be found in all aspects of a good design. Basketball footwear knows how important it is to ease the pressure on the feet during the twisting and turning on the court - thus, it aims to help players enhance their performance.
Starting from basic features like a padded tongue and collar, the smallest enhancements can sometimes be the most essential. Since the tongue and collar are what comes most in contact with the foot, it's important to have cushioning there to prevent the possibility of friction. These contact areas can create irritation and blisters which is why many of these shoes are built with comfortable cushioning to protect your skin.
Other than the padded tongue and collar, you may also wonder about all the different technologies that are built into some of the designs in our guide. Nike React, Nike Air Zoom, Adidas Boost and so on - the list can be quite long.
All of these are specially engineered comfort systems that deliver different levels of cushioning, response and energy return to the player's feet. What is important here is that no one brand or no one technology is better than the other. Rather, the system that is the best is the one which works for your kid's feet. What may work for someone else may not work for them, and vice verse. This is particularly true when it comes to youth and their still growing feet.
So take a moment to assess all the pros and cons of each brand technology, and make a decision based on what you and your child think sounds the best. Don't be disheartened if it proves to be uncomfortable! There are many other options out there to select from, and you are bound to find something that suits your kid sooner rather than later.
Flexibility
Flexibility is a feature that must be present in each element of the basketball shoe separately. When shopping for performance footwear, you must make sure that the frame, the upper build, and the sole are all flexible enough to practice sports with.
Flexibility is the foundation of most motions you can possibly make with your feet, and if your footwear lacks it, you are opening yourself up to stress and tension, especially in the arch of the foot. Look for basketball designs that offer flexibility in the soles, which will allow your feet to move naturally when running and jumping.
Technologies like flex grooves and special materials are always useful in this matter.
However, flexibility is a feature that, like many others, should be present but not in excess. The flexibility of a material is inversely proportional to its support; meaning that as a material gets more flexible it starts to lose its structure and fails to hold the foot in place. Your job would be to find that perfect balance between stiff and flimsy, and not let your kid's game suffer because of too much or too little flexibility.
Our Favorites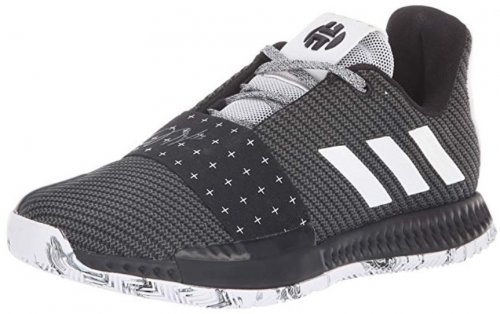 If you're looking for something unbeatable, something packed with technologies and explosive power, then you have come to the right place. The Adidas Harden Vol 3 comes with the signature Adidas Boost cushioning, as well as lateral stability, dynamic acceleration and a grip that is difficult to match. In this glorious design, your kid will be able to change direction fast without sacrificing balance or safety.
The Harden Vol 3 features a textile upper with a regular fit. There is a synthetic overlay across the forefoot which offers great lockdown, and elastic laces for adjustability. With Boost cushioning, the player will have more than enough energy to sustain the entire game, and thanks to the propulsion plate inside the design, they will be positively soaring across the court. Lastly, the outsole of the Harden has a herringbone pattern which delivers traction in multiple directions.

The Adidas Harden Vol 3 is that option you get when you're serious about the sport. If your kid wishes to be the best of the best, if you want to invest in their talent and hard work, then don't hold back from getting these outstanding, high-tech kicks for a winning game!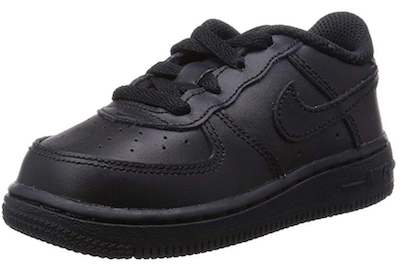 The Nike Air Force 1 is a leather and synthetic shoe for youth that will provide comfortable support, and suit most uniform requirements in schools. It's a good dual-purpose design for school as a result. These were the very first Nike Air shoes, changing basketball footwear forever.
This leather shoe with a thicker but airy sole is built to keep your foot comfortable. The design itself is very durable and will last several basketball seasons until your player grows out of them. It's also non-marking which will make the courts happy. The Air Force 1 is the first shoe to feature the Nike Air technology which fills the synthetic midsole with air for cushioning and shock absorption. The Air Force 1 (yes, named after the President's plane) is extremely comfortable so you can work on a layup after layup.

The Nike Air Force 1 is a very durable option, which increases its value as you can wear it much longer than many basketball shoes. It was designed for the court but, like the Chucks, has evolved into a popular design for other uses as well.

3

. Converse Chuck Taylor All-Star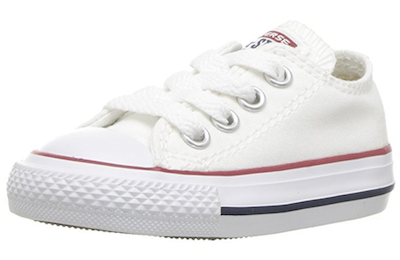 Converse began more than a hundred years ago making rubber footwear and galoshes. In 1920 though, they created the All-Star and almost a hundred years later, it's still a popular design. Designed for the court, these are popular with youth everywhere. Simple in design and with a canvas upper and rubber sole ready for jump shots, the Converse Chuck Taylor is a classic.
Whether you choose the high-top or the low-cut variety, Chucks are made of very breathable canvas. Your feet will stay dry and comfortable in this sneaker through multiple overtime plays. The rubber sole on the All-Star provides great traction on the court. The diamond pattern on the sole grips the hardwood while thicker patterns of rubber provide shock absorption and support for the heel and ball of the foot.

With the Chuck Taylor All Star, you are getting a classic, functional option that is designed for basketball players but is also versatile and popular for other casual wear as well – to school or hanging out with friends.

4

. Nike Team Hustle Quick


This particular model is designed to aid quick cuts and fast, unpredictable play, and thus it is lighter than the versions that came before it, to provide you with a split-second advantage during the game. The Hustle Quick is for those quick-footed players who think on their feet and like to keep their opponents on guard, never going for the same play twice.
The design has an upper made from a combination of leather and mesh which provides support and breathability. Inside the Hustle Quick, there is foam cushioning to soften the landing impact and deliver comfort. Along the design, you will find reinforced stitching which is meant for stability and easier lateral movements, while the flex grooves in the outsole allow for natural motion of the foot.

Overall, the Nike Team Hustle Quick is one mean design. It may not come with outstanding systems and gadgets, but it definitely checks out all the requirements for a great youth basketball shoe. It is lightweight, it is supportive and cushioned, and its flexibility won't hinder your child's game in any way. What a great deal!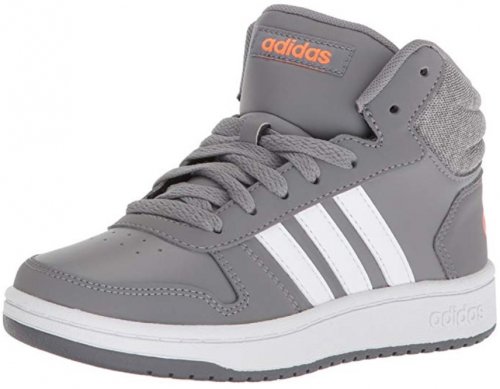 The mid-top design of the Adidas Hoops 2.0 is so versatile that it looks good both on and off the court. It features a synthetic upper with that crisp 3-stripe logo for brand recognition, as well as a collar that is made from lightweight mesh materials. Inside this cool-looking sneaker is lightweight cushioning, while a rubber outsole provides traction in multiple directions.
The mesh collar of the Hoop 2.0 provides breathability that your kid needs when they're charging the court. Their feet will sweat less and also not develop bad odors no matter how long the game lasts. The lining inside the design is made from textile, for comfort and zero chafing, and the sockliner is made from EVA, with a die-cut construction that ensures all the cushioning and none of the heaviness.

The Adidas Hoops 2.0 may not be outfitted with hardcore comfort or performance technologies as some other options on our list are, but it is still a solid, reliable choice. It keeps the ankle protected, delivers cushioning where it's most needed, and it can be worn just as easily in class as it can on the court!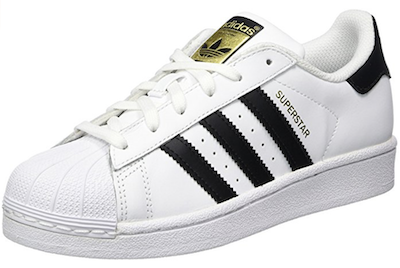 The Adidas Superstar is modeled after the adult version with a signature shell toe and 3-stripes branding but it is cushioned for smaller feet and available in a variety of kid-friendly colors in the stripes and the upper. The design will perform on the basketball court or most other activities that your young player is involved in and it will last long after they've grown out of them.
The leather upper is very durable and easy to clean. It will hold up to your child's game on the court, after school one on one games, and long periods in the classroom. With a thicker rubber sole, its grip will also last. Kids like to express themselves with color, and a large number of color choices (in the stripe and in the upper) allows them to do just that. Bright red, black, white, pink and blues will provide a different design for every kid's tastes.

The Adidas Superstar is a great deal given its durability, cushioning, function on the court and choice of color that your child will enjoy. It will last until they need another size up, so you get great value for the money.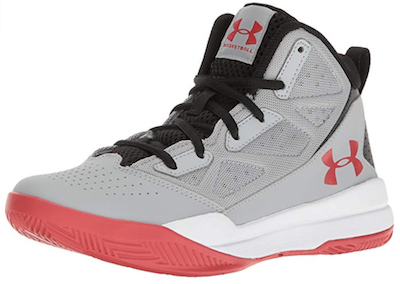 Under Armour is all about quality and performance, which is great if you're looking to improve your speed on the court. The lightweight leather material means less weight on the feet that helps to reduce fatigue. This also means it's perfect for bursts of speed when the action heats up.
The full-length sock liner provides an extra layer of padding, ensuring that your feet are comfortable regardless of what you put them through on the court. The UA Jet has a herringbone pattern rubber outsole. Superior grip on the court means minimizing slippage and preventing injury.

If you're looking for a brand that invests in quality and craftsmanship, and if your kid needs to work on their speed as well as their linear/lateral movement on the court, then the Under Armour Jet Mid is definitely the best choice.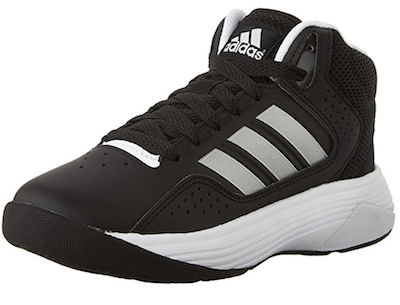 What's great about the CF Ilation 2.0 is that it can be worn effectively on the court for serious games and off-court for general playtime. The subtle styling is basketball influenced with classic perforated upper detailing, whilst the Cloudfoam insole technology gives padded support for competitive time on the court.
The Cloudfoam technology supports the heel and the arch, surrounding the foot in comfort. This means you play harder for longer without developing achy feet. Whilst many of the new and expensive basketball designs veer towards big bombastic styling, these are subtle and cool enough to be worn during any time of day.

These are a sturdy pair with a low price tag, for active sporty youth who plays rough. They're heavily basketball influenced so they look great on the court and in the playground.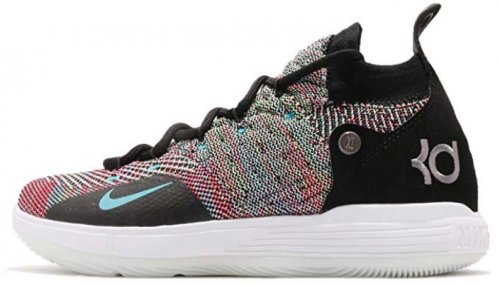 This list would not be complete without an iconic Kevin Durant option. The KD 11 is designed to put in as much work as your kid is investing in their performance, and it certainly won't let them down. It has a Flyknit upper, a combination of two incredibly cushioning technologies, and a stability that you wouldn't believe. The KD 11 is definitely here to raise your kid's game to unbelievable heights.
The Flyknit upper is there for breathability, stretch and support exactly where the foot requires it. It moves with the foot and makes sure that air flows in and out for maximum ventilation. In terms of comfort, there is a mix of Nike React foam and full-length Nike Zoom Air for energy response that simply propels the player forward. The outsole on the KD11 is made from rubber, and it extends up the sides of the design to provide stability even when your kid decides to quickly change directions.

We're not kidding when we say that the Nike KD11 will boost performance like no other. It is lightweight, it is flexible, and it comes equipped with two of the most powerful Nike technologies for an outstanding ride. All you need to do is sit back, relax, and cheer on your kid as they score all those points.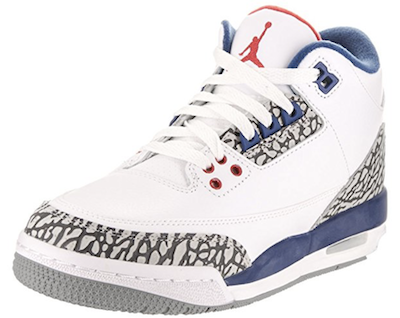 To understand why kids and adults alike buy from this brand, you've got to understand the legacy. Michael Jordan is considered the greatest basketball player to ever live; he's the third richest African-American in the USA and he owns his own team in the NBA. But are his shoes any good? In short – yes!
The areas covered with eyelets on the Air 10 Retro are a snug fit. This provides a thoroughly locked down feeling from the midfoot to the heel which is important when performing at pace. You can't talk about Jordans without mentioning the style. This particular style was originally released in 1988 and designed by Tinker Hatfield but back here with a fresh new look.

The Jordan Air 10 Retro is not the cheapest option on the market but it is arguably the coolest. Complete with a sock-liner to provide a comfortable lining whilst decreasing heat build-up through friction, these have plenty for fans and serious players.

Subscribe to our Newsletter