Best KD Shoes For The Kevin Durant Experience Reviewed
In a Hurry? Editors choice: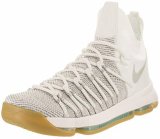 Test Winner: KD 9 Elite

Rise, Grind, Shine. Again.

Kevin Durant was a man with a simple goal - to be the best basketball player in the world. To not settle for less, to fight and fight until he gets to the top and then to stay there, thanks to his iron will, tireless work ethic and an otherworldly set of skills. There is no doubt that Durant made some extreme sacrifices along the way. There is no doubt that he had faltered, perhaps more than once. But each time he got up and never lost sight of the objective.

In fact, his desire to push the game further, to go beyond what is seen on today's basketball courts, is one of the main reasons why Nike partnered with him and created an entire line of sports gear in his name, including KD shoes.
Standout Picks
Criteria Used for Evaluation
Responsiveness
Responsiveness is a term usually associated with running sneakers, though it has much significance when it comes to basketball as well.

Namely, as you run, or move fast in any way, the muscles in your leg generate energy. Each time your heel makes contact with the ground - each time you 'land' so to speak - that energy dissipates. The point of responsive designs is to minimize the amount of energy that gets lost; the idea is that the less energy you lose in the shoe, the more powerful and faster you will feel as you run.

The way to recognize if a sneaker is indeed responsive is to try it on, and run or bounce in it for a short while. If it feels springy, if at the moment your foot hits the ground it bounces back up again, then it is responsive.

However, don't make the mistake of thinking that this type of footwear can make you faster in any way. It is not the shoe that makes you faster, it is your own body. But some type of response from the ground is essential to keep your energy up and to nurture a natural stride as you run.

All of that being said, we can now focus on how exactly Nike makes sure that KD shoe are responsive. And the answer is simple - Nike Air Technology.

In case you've never heard of it - it is a cushioning system which has achieved legendary status by now, and which has forever altered the course of how sports footwear is designed and manufactured.

Nike Air consists of a flexible bag of sorts, which contains pressurized air. This provides flexibility and spring without ruining structure and keeps the sneaker snug and lightweight. It absorbs impact and immediately returns to its original shape, to absorb even more.

What we talked about in this KD shoe guide, and what Kevin Durant shoes are all outfitted with, is a version of Nike Air called Zoom Air Technology.

Zoom Air comes with a modification in the form of tightly stretched tensile fibers inside a pressurized Nike Air unit. These fibers compress each time an athlete's foot touches down, cushioning the impact, and then springing right back up and generating an explosive response off the ground at the same time. This snappy responsiveness is simply addictive, and once you try it, you will never want to go back to regular, Nike-Air-less footwear.
Support
When you're on the court, mind hyper-focused on the game, the ball in your hands, and you're zipping left and right, trying to get past that defense - the last thing you want is your foot sliding around inside your KD shoe.

No, a player's foot needs to be secure inside the design, supported from all sides and firmly contained, so that the game doesn't suffer, and that there are no accidents or injuries.

Support like this can be delivered in two ways: through the construction and the material of the upper, and through different closure systems. Nike KD shoes utilize both to provide their players with the ultimate lockdown.

Let's first start with the upper: materials in the KD shoe that we have mentioned more than once are Nike Flyknit and Flyweave.

Flyknit is a material with a sock-like fit, that Nike specifically engineered to have all the necessary support and durability for sports. The wearer's foot is secured to the sole thanks to a one-piece upper made from strong, yet lightweight strands of yarn that are woven together. Different types of knit patterns are used in different parts of the shoe - some provide support and a secure feeling, and some are there to enable flexibility and proper ventilation.

Flyweave is similar to Flyknit, with some slight differences - it is also created through a weaving process, but it is far more durable and reliable. Flyweave acts as a second skin and maximizes the foot's natural motion, and we have already mentioned how it has all the strength of aerospace materials.

Both of these materials provide a secure fit, a support which makes sure that your KD shoe is snug on your foot, and that there is not unnecessary space for sliding around inside.

However, we also listed closures as a key feature in providing a good lockdown.

Nike sneakers all come with lacing systems at the front, which is a standard - there is no solid support and no containment if there are no laces. These have the benefit of being adjusted to a tightness that works best for you and doesn't come undone so easily.

What is important to mention, though, is how Nike usually adds another element to the closure to enhance that feeling of support. These elements can be special cables on the lateral side, laces which wrap around the entire instep, or even velcro straps which deliver a better lockdown feeling.

Which upper material and which closure system will be the best one for you depends entirely on your play style and your personal preferences, so it would be a good idea to try some of them out first before you commit to a KD shoe model.
Traction
Basketball courts can be polished and gleaming or stained and dusty, or anywhere in between. They can be indoor or outdoor, made from different materials and with different qualities. But no matter what surface you find yourself on, you need to stay on your feet at all times. Sliding, skidding, losing your balance or stumbling is simply unacceptable when you have a game to win.

Good grip, ground or court feel - or traction - is essential in basketball. It is a sport where you need to be fast, unpredictable, where you change direction in the blink of an eye to score that point. Your footwear has to be able to keep up with that, and it has to prevent you from falling and injuring yourself.

Nike sneakers are famous for their superior traction, and the KD shoe line is no exception. We have encountered outsoles made from durable, grippy rubber, with all different types of patterns - the honeycomb, the herringbone, the thunderbolt.

Some are better than others - herringbone, for example, has yet to be dethroned as the ultimate outsole pattern - and they all perform differently depending on the type of ground you're playing on. We have already mentioned how some of the items on our list are good only for clean courts, how some can be used on dusty ones with minimal wiping, while other KD shoes are also great for the outdoors.

These are things that you need to consider before you make your decision - what kind of a player you are, whether you need multi-directional traction or not, and what kind of a court you find yourself most often on. When you take all of that into account, choosing the right outsole and KD shoe for maximum traction shouldn't be too hard.
Breathability
You hear it everywhere - footwear with good breathability, materials which promote breathability, no breathability is no good. (We tend to agree with the last one, especially in the case of playing sports.)

Basketball is a demanding sport. You work up a sweat, you're constantly on the move, you don't get a minute of rest until you're back on the bench. Through all of this, it is natural that your feet sweat as well. However, there still needs to be a proper flow of air in and out of your KD shoe.

Sweaty feet which are confined lead to bad odors, itchiness and even unpleasant medical conditions such as bacterial and fungi infections. After all, there is a reason why a fungi disease which causes skin flaking, cracking and redness is called athlete's foot. Without air circulation and with a poor foot climate, microorganisms breed in hot and damp areas and are just all too happy to cause problems.

This is why breathability is important in your KD shoes - you want your feet to stay healthy, and you want them not to smell when you finally take off your KD shoes at the end of a tiring game.

To achieve that necessary level of ventilation, Nike relies on its materials. Flyknit and Flyweave which we have touched upon before are porous fabrics, those which allow the air to freely pass through, and which don't stop your skin from breathing. They are largely regarded as one of the most breathable, most unconfining materials currently on the market, and it is no wonder they are widely used in basketball footwear.

Other materials which are also good for breathability are textiles and mesh, which have similar characteristics to all the Fly technologies. There are tiny, almost insignificant differences in all of these choices, and while we are tempted to say that you won't go wrong no matter what you choose for your next pair of KD shoes- since Nike really knows what it's doing when it comes to breathability - the best way to find what works for you is through trial and error.
Fit
For a high-performance sneaker, it is vital that it fits properly right out of the box. Breaking in should be reduced to a minimum, preferably non-existent, as it takes up way too much time and effort, and you risk developing blisters and abrasions on your skin while waiting for the design to loosen up enough to fit you well.

We talked about Nike Flyknit and Flyweave, and how these uppers are designed to fit like a sock. Indeed, they are snug around your foot, far from too tight, and they move in all the right places, allowing you to be free but also supported at the same time.

One more KD shoe technology that we can bring up here in terms of fit, is the Nike Hyperfuse.

This is a composite material which is comprised of three layers: one for stability, one for breathability and one for durability. These layers are fused together - hence the name of the technology - and the end result is lightweight, breathable footwear with minimal seams that can rub the foot the wrong way.

Hyperfuse is near-perfect when it comes to fit, and you will hardly find a KD shoe which feels better and moves better than one made out of this Nike-specific material.
Our Favorites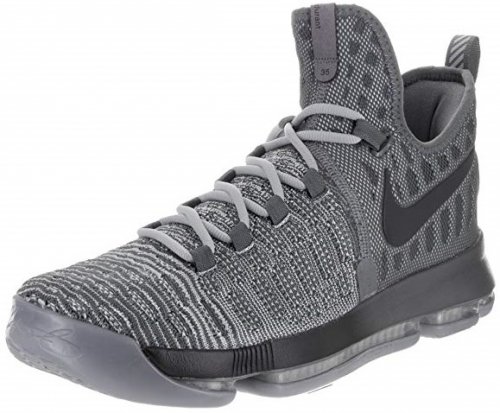 A design inspired by nature, and one of the newest in the KD shoe collection (released in 2016), the KD 9 is one badass basketball sneaker. It comes with Nike's latest Flyknit technology for the forefoot part of the upper, which fits you like a sock and offers you elasticity and support just where you need them.
The criss-cross lacing system in the front creates a cage of sorts, which contains your foot without any problems as you cut through the defense and dart to that hoop. Seriously, you have to experience the lockdown on this KD shoe to truly believe it.

Not only that, but the 9 has a Nike Zoom Air unit along the entire length of the sole. This unit is layered more thickly in the heel to make the landings softer, and yet is thinner in the front for faster toe-off. This type of restructured cushioning is mind-blowing, and you will hardly find a sports design which is more comfortable and more responsive than this KD shoe.

From everything we've read, and all the reviews we've taken into account, the Nike KD 9 is a sneaker which every basketball player worth their salt has to have in their arsenal. However, it is not suitable for outdoor play, so keep that in mind before you make your decision.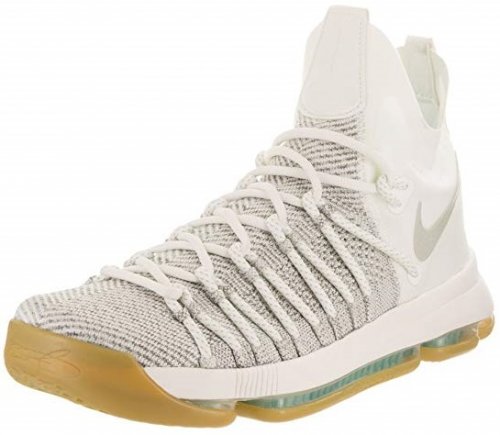 We have already established that in many ways the KD 9 is one of the best - if not the best - designs out of the entire KD shoe collection. So it stands to reason that its Elite version would be just as good, no?
The 9 Elite is somewhat similar to its original cousin but in a few things different as well. It has the same honeycomb patterned sole which keeps you balanced and provides great traction even on dusty surfaces. Cushioning features are unchanged, too; the full-length articulated Max Zoom Air is there for explosiveness, responsiveness, court feel and impact protection.

Where the Elite strays from the original KD shoe version are in the material of the upper. The Flyknit of the Elite is re-structured to be a bit more pliable and forgiving, akin to the Flyknit uppers of Nike's running models. The midfoot area is particularly breathable for that sweat-free comfort. There is an addition of neoprene material in the heel, which helps improve performance as well as the aesthetic.

The only downside to the 9 Elite is that it is designed mostly for feet which are long and narrow, like Kevin Durant himself has. It would be best if you could try these on before committing to a purchase - otherwise, the regular KD 9 is still a better option.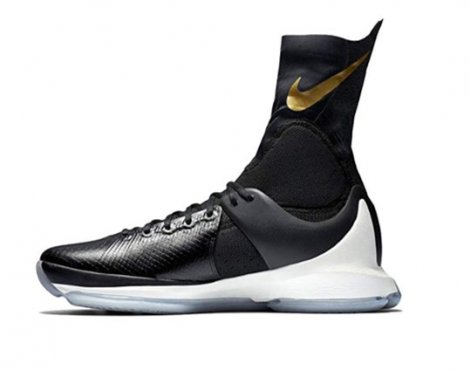 Slightly different in design than regular KD shoe models, the KD 8 Elite has a built-in compression sock, about calf high in length. Compression sock allows for better ankle support and circulation during longer bouts on the court, and can help in overall performance. If you're in search of something a bit different to try on the court, this pair of KD shoes is worth a shot to up your game.
At the base of the KD 8 Elite is a non-marking rubber translucent outsole, giving adequate traction and grip. Phylon midsole is a lightweight foam that is stiffer than what's found in the original KD 8's, allowing for better support during play. Injected heel counter prevents heel slip and extends all the way to the ankle and lace up.
Mesh and foam uppers in both the shoe and compression sock extension help maintain breathability, and keep it more light in weight than other KD shoe versions. Easy to slip on after a bit of break in, lace up closure allows for a snug, yet adjustable fit. Ideal for those who want something a bit different to wear on the court that can perform.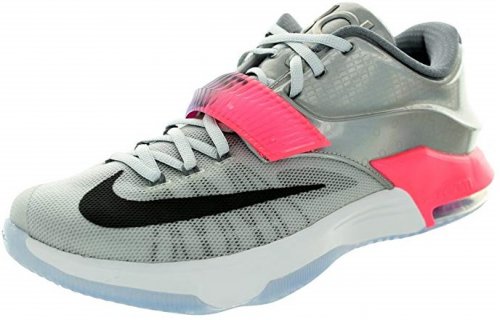 With its alien-esque, sci-fi exterior, you might think that the Nike KD 7 is all style and no performance, but you'd be dead wrong. While it has been dethroned with the newest releases which are outfitted with advanced materials and technologies, this design still remains as one of the best KD shoes in this collection of all time.
The upper of the 7 is made out of dynamic Flywire and Foamposite. Flywire is the name of one of Nike's technologies, a type of thread composed of Vectran or nylon, specially developed to minimize weight and maximize the support of the upper.

And you must have heard of Foamposite before, thanks to Nike's legendary Foamposite collection. This material is created to withstand just about anything short of a direct meteor strike. Thanks to its Foamposite part, the 7 is ridiculously durable, but also comfortable as well, as this material softens with time and contours to the shape of your foot, providing you with a glove-like fit.

In terms of responsiveness and energy return, this design has Max Zoom in the forefoot and Zoom Air in the heel, for balanced, well-rounded cushioning.

It looks futuristic, and while it is not a product of an extraterrestrial race, the performance of KD 7 is truly out of this world. You will definitely not regret treating yourself with this badass basketball KD shoe.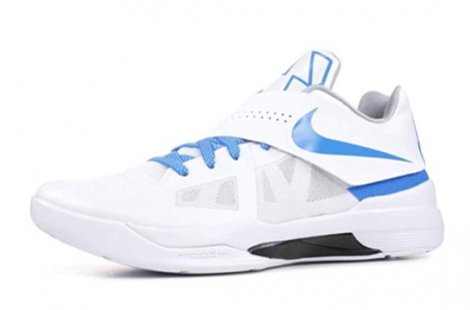 This Nike KD brings us back to the 2012 NBA playoffs, and Durant's games with the Oklahoma City Thunder. Durant performed extraordinarily, leading the team to a win that allowed then to advance to the finals. The white and blue coloring are what Durant wore were then, unreleased to the public, but now are available for your KD shoe collection to purchase!
Rubber outsole provides ample traction, although slightly less that it's predecessor the KD III. A firmer Phylon in the forefoot gives more support than the KD III, but also a bit less cushion. Uppers are Fuse based, making them durable and breathable during wear.
Adaptive Fit strap across the lace up helps with some adjustable fit, and an external midfoot shank helps keep your feet aligned and supported. Adequate lateral support will have you dodging opposition and working your way to a layup for the win. Perfect for fans of Nike KD's, this pair of KD shoes will have you jumping for joy!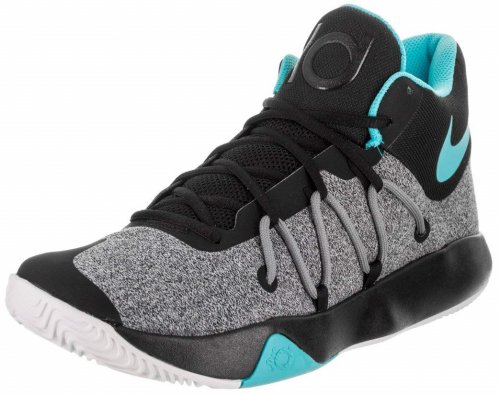 The Trey 5 V is a basketball sneaker built for outdoor courts, in theory, but surprisingly in practice it falls short compared to its predecessors, the IV and the III. While the grip on the herringbone pattern outsole of the Trey 5 V is outstanding on both clean and dusty indoor courts, it doesn't perform as well outside. This is why we advise sticking to indoor playing, even though this KD shoe is technically meant for both.
However, the Trey 5 V comes with a mesh upper which is wonderfully breathable, and an internal heel counter which prevents the foot from slipping out. The shoelaces are thick and chord-like, reaching all the way down to the lateral side, providing exceptional midfoot containment and lockdown. When it comes to support, the outrigger on the midsole reduces the risk of ankle injuries.

While maybe not an ideal basketball sneaker, and a little less impressive than the KD shoe designs which came before it, the Trey 5 V is still a solid option, especially if you're on a budget. It is lightweight, has good ventilation and traction, and is perfect for guard positions because of the Nike Zoom Air technology in the forefoot.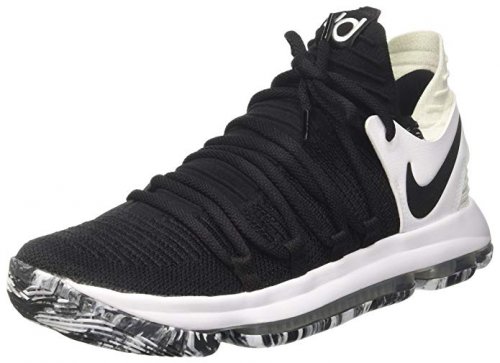 A design which debuted in 2017, the KD 10 is the newest model in this KD shoe guide. It is similar to its predecessor, the 9, in many ways, but there are a few changes here and there which also lead to changes in performance.
The upper of the 10 is made of zoned Flyknit, which means that some areas of the upper have increased breathability and elastic support. A significant feature of this sneaker's appearance are the shoelaces that wrap around the sides of the foot. While they do add to a cool, sporty aesthetic, they also serve the purpose of providing you with that secure lockdown when you need it.

As expected, the 10 also comes with that well-known Nike Zoom Air for returning impact energy. Responsiveness is definitely not an issue in this high-tech design.

If we put this KD shoe model side by side with the one before it, we are forced to admit that the KD 10 is not as amazing as the 9. It is a fine basketball sneaker, one that will not let you down in any way - especially if you don't require much lateral containment - but it still falls just short of the powerhouse that is the 9.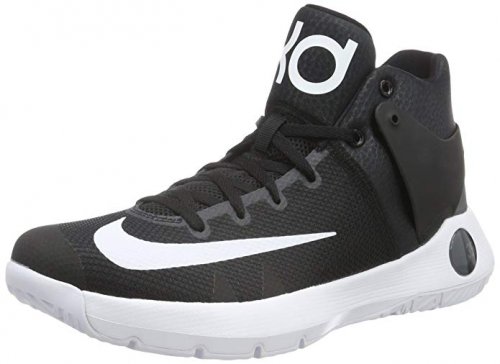 Branching off of the main Kevin Durant collection, there is a secondary one, the Trey line, which is geared towards those who prefer to play ball outdoors. For a lightweight, breathable experience, the upper of the Trey 5 IV is made out of part mesh and part foam, and it has a special adjustable construction, allowing you to customize it to however tight or loose you'd like it to be.
In the heel of the Trey 5 IV, there is a Zoom Air Unit, a technology which combines pressurized air and internal fibers. This means that the heel of the sneaker provides responsive cushioning and immediate energy return so that you can be quick on your feet.

Additionally, the midsole is made out of Phylon, which represents lightweight, low-profile EVA foam pellets that deliver outstanding support. The outsole of the Trey 5 IV is made out of rubber, with deep flex grooves for durability and natural comfort.

Overall, the Trey 5 IV is a somewhat minimalistic KD shoe design, but one which still offers solid performance on the outdoor courts. It has great traction, exceptional support, and the fit of the sneaker is just perfect, once they are broken in.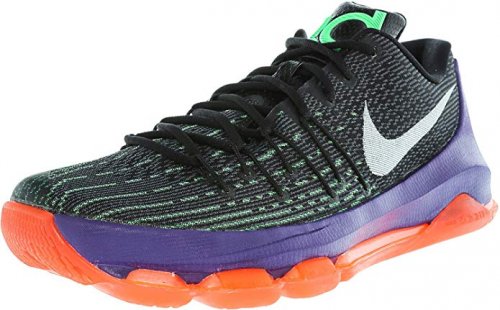 It was difficult to outdo the sheer explosive power of the KD 7, and we will admit that Nike didn't quite succeed with it successor, the KD 8. Because of this, the newer KD shoe model was somewhat criticized, but the reason it found its place on our list is that it is still a solid, reliable basketball sneaker, regardless of the initial negative reactions.
This KD shoe design comes with a FlyWeave upper which is more flexible in some areas, but then more supportive and thicker in others. FlyWeave in itself is a Nike technology which is inspired by traditional weaving methods but is said to have the strength and reliability of aerospace materials.

If you look closely, just shy of the lacing closure you will see special cables, which are actually superstrong, ultra-light Flywire cables which provide a dynamic lockdown. Thanks to these, your foot will be secure inside the sneaker, and you will feel all the benefits of your foot's natural motion.

For that responsive cushioning, there is a full-length Zoom Air unit which is firm and allows for a good feel of the court.

Admittedly, the KD 8 is not the best of the best, but not all of them can be. It is still a KD shoe which gives you decent traction (though not for outdoors), an amazing fit and plenty of support - and what more can you possibly need for conquering the court, anyway?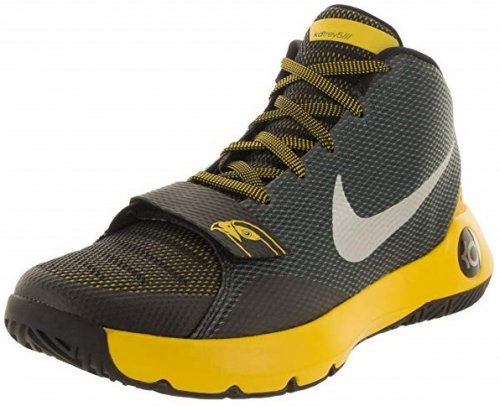 Widely regarded as one of the best-looking designs in the KD shoe collection, the Trey 5 III is another one which belongs on the outdoor courts. This sneaker comes with an upper made out of mesh and flexible foam which combine superior breathability with solid support.
It has a forefoot strap which is customizable, meaning that you can adjust it to suit the width of your foot, and there is also a rubber heel counter in the back, which provides amazing stability as you change direction quickly in the middle of the game.

As most of the items on this list, the Trey 5 III also comes with a Nike Zoom Air cushioning system that absorbs impact and reduces the pressure put on the heel and the joints. Finally, the rubber outsole of this design has a herringbone pattern, for multi-directional traction and durability.

The Trey 5 III is very similar in both performance and price to its successor, the Trey 5 IV. Overall, it might come with cushioning that is slightly firmer, but that is up to each individual player. This is a great performance sneaker, but if you can hold on a while longer and save up for Trey 5 IV, it might still be a better KD shoe option.

Subscribe to our Newsletter