Best Retro Nike Shoes & Classic Designs Reviewed
last updated:
Jan 06, 2020
Are you here looking for best retro Nike shoes? The sneakers you'll see below are some of the best Nike shoes of all time! But first, let us ask you something. Is there a person who hasn't heard about Nike? No, we didn't think so.
Nike is a widespread name, a synonym for sports apparel, footwear, and equipment, a title which goes hand in hand with professional athletes, topping sports charts and setting world records. The company itself was founded in 1964, under the name of Blue Ribbon Sports, by Bill Bowerman and Phil Knight. It didn't officially become Nike, Inc. until 1971, with the name derived from the Greek goddess of victory.
Today, it is the world's largest supplier of athletic shoes and apparel, and a leading manufacturer of sports equipment, with revenue in literal billions of dollars.
This is the best product on our list that is currently in stock: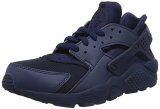 Huarache
Why is it better?
Breathable Combination Upper

Foam Midsole

Nike Air Unit In The Heel

Rubber Pods

Protective Heel Counter
In a
Hurry? Editors choice: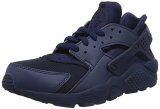 Test Winner: Huarache

4
Researched Sources
110k
Reviews Considered
12
Hours Researching
10
Products Evaluated
Comfort
Durability
Features
Value
By Default
10 Best Nike Retro Shoes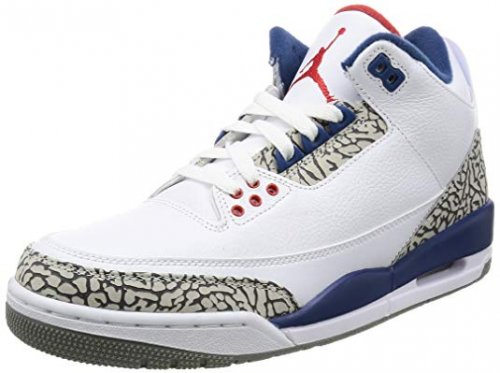 Excellent Traction

Flexible Upper

Lockdown Fit

Sculpted Arch Area

Elephant Trim
No Ventilation

Outrageously Expensive
The story goes that Michael Jordan was somewhat dissatisfied with Nike in the late 80s, due to some of his most trusted executives leaving the company. He was prepared to leave himself when Tinker Hatfield and the design of the Nike Air Jordan III had convinced him to stay. These Nike retro sneakers were the first Air Jordan to feature visible Air units, the new Jumpman logo, an elephant print trim and tumbled leather for a luxury look. If the account of how it saved the collaboration between Jordan and Nike is true, that means that no Nike retro shoes have ever had a larger impact on the sporting landscape.
Traction
Similarly to Nike Air Jordan I, the Nike Air Jordan III retro Nikes has abundant texture throughout the sole, and the giant pivot point doesn't hinder its performance in the slightest. This shoe behaves well no matter what you're doing on the court, and you can always rely on this Nike retro shoe to support you in your game.
Fit
In the Nike Air Jordan III, the foot experiences a thorough lockdown from the midfoot to the heel. Even while moving at a rapid pace and quickly changing direction, your foot stays secure in the shoe, allowing you to perform some of your best moves.
Cost and Value
Well, there is no easy way to say this - the Nike Air Jordan III retro shoes is mind-numbingly expensive. It is indeed a legendary Nike retro shoe, with its design recognized and respected all over the world. If you really are after something truly legendary, then start saving up, and start looking for ways to get your hands on one of these.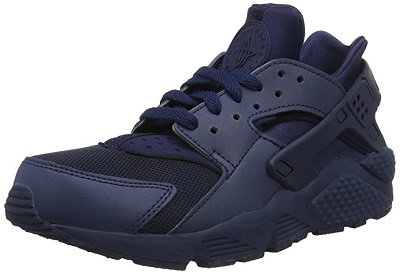 Breathable Combination Upper

Foam Midsole

Nike Air Unit In The Heel

Rubber Pods

Protective Heel Counter
Sizes Run Small

Back Strap Not Durable
Inspired by Mexican sandals - and previous Nike retro shoes, such as the Bermuda and the Air Flow - the Nike Huarache was created on the premise of simplicity. The original Nike advert for the shoe posed the question, "Have you hugged your foot today?" because of the unbelievable comfort level of this Nike retro shoe. Its design is stripped to bare essentials, with the idea that less is more. The Huarache first came out as a running shoe, but now this Nike retro shoe has basketball and trainer versions as well.
The Upper
The upper of the Nike Huarache is constructed out of neoprene, along with mesh material and synthetic leather. The neoprene and mesh combination provides a sock-like fit, perfect breathability and a lightweight feel, while the leather is there in the areas where you need support the most.
Rubber Pods
Rubber pods are strategically placed on the outsole of the Nike Huarache for the best possible performance. They are exceptionally durable and create a stable, heavy-duty base. Zero problems with slipping!
Cost and Value
Compared to other Nike models in this guide, the Nike Huarache is somewhere in the middle range when it comes to price, leaning towards expensive. These are fine retro Nike shoes, which offers good traction and stability, and performs well if used for sports, though without any outstanding features in general. It will last you a long time, however, so if you're into this model, you won't regret giving your money for this Nike retro shoe.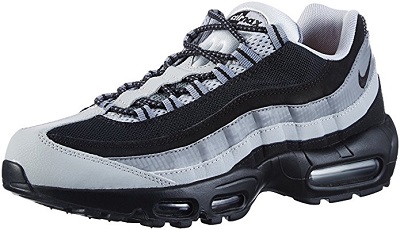 Waffle Outsole

Breathable Mesh Upper

Customized Fit

Air Cushions In The Forefoot

Toe Bumper
Too Tight For Some

Not For Bad Ankles
Sergio Lozano, the main designer of the Nike Air Max 95 retro Nike shoes, based his concept on human anatomy - with the spine of the shoe resembling the human spine, and the materials representing the ribs, skin, and tendons. This sneaker was also the first one to feature two air cushions in the forefoot, and air pressure technology which fits the curvature of the wearer's foot. Even though this Nike retro shoe design is from 1995, the Nike Air Max 95 is still a decent runner's shoe, light and with tons of grip.
Waffle Outsole
The waffle design of the Nike Air Max 95 outsole makes it perfect for optimal traction, durability, and grip. Furthermore, the outsole flexes outward, so you can pack these retro Nikes wherever you need to go to enjoy that refreshing run before a busy day!
Mesh Upper
The upper of the Nike Air Max 95 is constructed out of high-grade mesh material with foam panels that are perforated on top of welded overlays. As you lace this Nike retro shoe up, you will feel as though the flexible, breathable materials are hugging your foot.
Cost and Value
The Nike Air Max 95 comes at a steep price, but we actually think it is worth every last cent. They are insanely long-lasting, and most people still have their trusty Air Max 95s in their closet 10, 15 years after first getting them. Not only that, they are likely to still be good for a run, which makes them a great deal!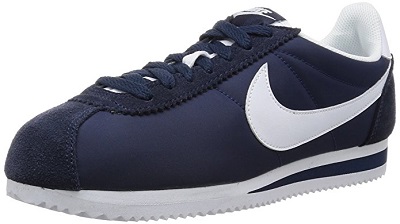 EVA Midsole For Comfort

Lightweight Design

Reinforced Toe

Moderate Arch Support

Decent Traction
Not For Wide Feet

Difficult To Maintain
It doesn't get much more retro than the Nike Cortez. This running shoe was originally released in 1972, marking it the first Nike-branded running shoe. Its designer, Bill Bowerman, reworked the Onitsuka Tiger Corsair model, creating this heel-wedged retro Nikes sneaker with a nylon and suede upper, an EVA midsole and a herringbone pattern in the outsole. Since its inception, the Nike Cortez has struck a chord with runners and non-runners alike, becoming world-famous thanks to Tom Hanks and the movie 'Forrest Gump' with its blue, white and red colorway.
EVA Midsole
The EVA material in the midsole of the Cortez retro Nikes provides enough rebound to handle any weight, but also adds comfort by reducing the pressure from coming in contact with various types of terrain. The lightweight wedge style midsole also makes this Nike retro shoe look impressively trendy.
Herringbone Pattern
The Nike Cortez features a durable plastic outsole with a herringbone pattern which allows you to take on any type of terrain. You can rest assured that this shoe will keep you safe and secure on your treks, as well as prevent you from slipping and injuring yourself. Not only that, but thanks to this unusual pattern of the sole, it will also wear well over time.
Cost and Value
Compared to other Nike retro shoes in this guide, the Nike Cortez is refreshingly affordable. It is an old model, and as such, it leaves some things to be desired, as there are some highly advanced running shoes on the market today, but for this price you get a quality, sturdy retro Nike shoes that will meet all your basic running - and everyday wear - needs.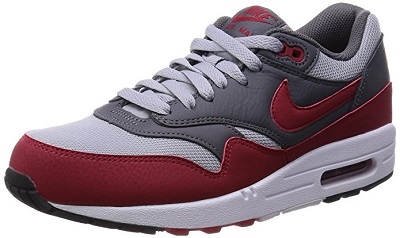 Visible Air Pockets

Extremely Durable

Good Traction

Lightweight

Good For Running
Narrow Toe Box

Bulky Design
Released in 1987, the Nike Air Max 1 changed the course of footwear history as the world knew it. While Air wasn't new at the time, with this sneaker Nike's signature technology became visible in the midsole. The Nike Air Max 1 is designed for runners, created for speed and impact with lightweight and well-cushioned construction. To this day it is one of the most beloved Nike retro shoes, often remodeled and customized with new fabrics and unique color combinations for casual wear.
Visible Air Pockets
Nike's designer Tinker Hatfield had a problem of how to fit larger Air pockets into the traditional foam midsole. Thanks to a trip to Paris and a look at Centre Georges Pompidou, he came to the idea to cut the foam away to expose the Air and - voila! Visible Air pockets in the midsole!
Durability
Of course, the Nike Air Max 1 has the standard, expected durability of all Nike shoes. But this Nike retro shoe won't just hold well when you walk or jog, it will endure even the heaviest of physical labors you might engage in.
Cost and Value
You will get all the comfort, superior technology and stylishness of the Nike Air Max 1 for a reasonable, middle-range price. These are retro Nikes that will serve you well, whether you're just looking for footwear to complete your sporty looks, or if you're actually intending on running in these to improve your performance.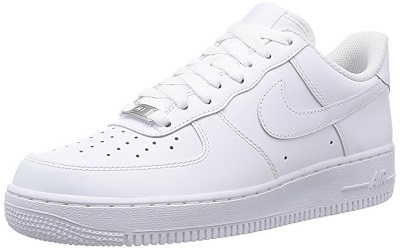 Perforated Toe Front

Impressive Durability

Multi-Purpose Appeal

Low, Mid & High Versions Available

Leather Or Suede Upper
Bulky

Lighter Colors Easily Stained
Widely considered one of the best Nike shoes of all time, Nike Air Force 1 was a beacon of functionality when it was first released in 1982. Its design process was somewhat unusual - Nike designers played a game of basketball with scissors on the sideline, and every few minutes they would cut off a piece of the shoe to see what was essential and what wasn't. This method helped develop the best-selling basketball shoe of all time, the first one to use Nike's signature Air technology.
Perforated
The toe front of the Nike Air Force 1 is perforated, allowing for proper air circulation. The upper can be constructed out of leather or suede, or even synthetic materials and these little holes in the front of these retro Nike shoes enable your foot to stay dry, cool and comfortable.
Iconic
There is something entirely special about getting a new pair of AF1s and putting them on for the first time. Their design is clean, timeless, and it has successfully bridged the gap between the 80s and today's fashion craze. No matter what color you choose, you won't go wrong with the Nike Air Force 1.
Cost and Value
Despite being around for over 35 years, the Nike Air force 1 is surprisingly reasonably priced. It does depend on what material you choose for the upper, and what colorway you prefer, but when it comes down to your wallet, this Nike retro shoe will go easy on it. Especially if we take into account that it will surely last you a decade, and still be good for the court!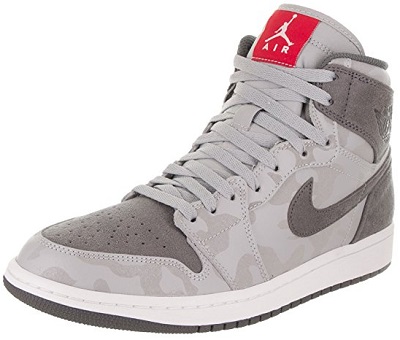 Unparalleled Traction

Full Leather Upper

Ankle Support

Excellent Lockdown In The Heel

Lightweight Comfort
No Arch Support

Poor Ventilation
The retro Nike shoes that started the legendary Nike Air Jordan campaign actually has a turbulent history behind it. It is said that Michael Jordan, for whom the Nike Air Jordan I was originally designed, hated it the first time he saw it. However, he did end up wearing it, and together with Nike, he revolutionized the world of basketball shoes. The Nike Air Jordan I is a high top, with a selection of premium materials for the upper, Air-Sole cushioning for comfort, and a rubber cupsole for support and durability. Even almost 35 years after its release, these Nike retro shoes are still playable.
Traction
The traction on the Nike Air Jordan I has to be experienced to be believed. The reason for this is multidirectional circles along the soft and flexible rubber of the outsole, which enable impressive medial and lateral movements on the court.
Materials
The full leather upper of the Nike Air Jordan I, as well as the rubber midsole and outsole adds some sturdiness and weight to the shoe. The type of leather used allows for added strength and durability, which is always a bonus feature.
Cost and Value
You might think that the Nike Air Jordan I is a bit overpriced, but we are here to tell you that its price is actually reasonable, compared to other Air Jordan sneakers. It could require some saving up, but for that money, you're getting stylish, legendary, Nike retro shoes which will still perform well on the court, if you're interested in playing ball.


Full-Length Air Max Bubble
Low Profile Rubber Outsole
Leather, Mesh And Synthetic Upper
Hidden Lacing System
Wide Fit
Futuristic, even 20 years after its initial release, the Air Max 97 are Nike retro shoes that everyone will recognize. This was a sneaker that was completely inspired by nature and the materials that go into construction, and they are the first Nike retro shoes to feature a hidden lacing system, as well as a full-length visible Air Max bubble. It is still re-released almost every year, with numerous colorways to choose from, so you can opt for both futuristic, even alien-like models, or go with those that are a bit more down to earth.
Combined Upper
The Air Max 97 uses a combination of materials to give you a shoe made for running. Constructed with leather, mesh and synthetic, it will provide you with an easily adaptable fit that both breathes well and is resistant to the wear and tear that comes with everyday use.
Updated Weight
The only thing that changed from the original with the Nike Air Max 97 is the weight - the models released this year are weighing less, making these Nike retro shoes even easier to wear on a long term basis. In part, this is achieved by making the Air bubble smaller, but surprisingly enough, the shoe loses none of its cushioning, and is even softer to walk on than the original.
Cost and Value
Like any other modern classic, Air Max 97 Nike retro shoes definitely require an investment. It's a pair of retro Nikes that will cost you more than average, and depending on the colorways and customization you go with, can even set you back more than $200. Nonetheless, it's possible that these won't be re-released anytime soon, so if you've got your mind set on a pair of 97s, then this is the moment to go for them.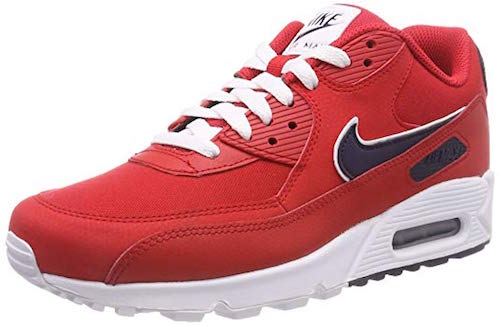 Nike Air-Sole Unit
Leather, Suede Or Synthetic Upper
Flex Groove Outsole
Large Air Window
Durable Make
Runs Narrow
Slightly Bulky
Released in 1990, the Air Max 90 retro Nikes became an instant hit thanks to the fact that it showed off even more of what made the original such a sought after sneaker. These Nike retro shoes feature an even larger visible Air window and have a recognizable silhouette that's sure to turn some heads, especially if you get a pair in the famous "infrared" shade of red.
Variety of Uppers
The best thing about iconic Nike retro shoes is the fact that you can get them in a vast array of colorways and materials for the upper. Whether you prefer leather, suede or synthetic, you can find all of these. Plus, if you go with an iD version, you can choose almost any color and material combination, making these shoes truly yours.
More Than Just Lifestyle
Though the most common place you'll be seeing a pair of Air Max 90s is the streets, paired with outfits that show off the unique colorways, it's important not to forget that these shoes were made for running, and still do a great job at it, even 30 years since they were originally released. Featuring Nikes Air-Sole, they'll protect your feet and joints from the hard impact, keeping you comfortable for longer.
Cost and Value
With a price that's relatively low compared to Nike's most iconic styles, the Air Max are great Nike retro shoes to get - whether you're buying it for everyday wear, for athletic use, or even for your collection. It's always available in a vast number of colorways, from sensible monochrome to a mixture of screaming shades, so you'll easily find a pair that shows off your unique personal style.


No-Stitch Construction
Synthetic Leather Upper
Herringbone Pattern Outsole
Zoom Air Cushioning
Easy To Clean
Heavy
Lengthy Break In Period
The original Foamposite changed the rules of the game completely in 1996, bringing a shoe that used brand new techniques in the construction process. Upon its original release, it caught the eye of Anfernee "Penny" Hardaway who started rocking it on the court. One year later, almost everyone else was wearing it on hardwood floors, making the Foamposite one of the most popular Nike retro shoes in basketball history.
Futuristic Upper
The Air Foamposite Pro uses a specially designed upper made with a sole and upper made with the same material, using no stitching, thus giving the foot much better protection. The Pro version adds synthetic leather to the mix for a premium feel and look that'll have you stand out on the court or the street.
Herringbone Pattern Outsole
Hardwood floors on indoor basketball courts can be tricky, especially when they are not properly maintained. If you prefer not to keep your time wiping down your soles, the Air Foamposite Pro will prove a valuable ally thanks to the herringbone pattern that's divided into four zones in the forefoot, allowing for excellent range of motion.
Cost and Value
Ranking high on this list in terms of price, the Nike Air Foamposite Pro is an expensive pair of Nike retro shoes that will cost as much as the latest releases endorsed by some of the best players in the world. It's a good choice, however, and is sure to serve you well on indoor courts, as well as on the street.
Criteria Used for Evaluation
Expert Interviews & Opinions
Most Important Criteria
(According to our experts opinion)
Experts Opinion
Editors Opinion
Users Opinion
By Default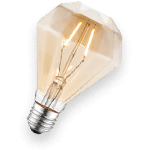 Technical Foul
In 1984 Nike signed with Michael Jordan to create the Nike Jordan I, but it was not received well by the NBA Commissioner! The 51 percent rule required every shoe worn to be majority white in color, and given that this model was red and black it ended up banned from games.
Future Ideas
While many people regard the Air Force 1 as Nike's intro to basketball shoes, it was actually over a decade earlier in 1972 when they released their first model. The Bruin was a low-top sneaker that changed the game for Nike, and shot to popularity when it was featured in the film 'Back to the Future'.
Other Factors to Consider

Style
In our list of best Nike retro shoes, we have touched upon a few of these collections, and here we will expand on those titles, in hopes of bringing them closer to you.
Air Max: The trailblazer, the Nike Air Max line was first released by Nike, Inc. in 1987. The first shoe, Nike Air Max 1, was originally designed by Tinker Hatfield, who started out working for Nike as an architect designing shops. Over time, this line of sneakers has become popular among many subcultures, namely Hip Hop, Gabber and the working class. In fact, in Japan, its popularity reached its peak with the Air Max 95, that it led to a phenomenon known as "Air Max hunting". The demand for these sneakers was so high it resulted in muggings, where Air Max wearers were attacked and their shoes were stolen. Fakers became a serious problem.
The Nike Air Max shoe features a large air cushioning unit at the heel, which is visible from the side of the midsole in most models. There are several types of Air Max cushioning:
180 Air – In the early 90s, this type of cushioning was visible through the bottom of the shoe. (Although one could argue that smaller portions of Air units are visible through the bottom of many Air Max models.)
Air Max2 – It does not have the holes in the cushioning unit and is of high pressure.
Tube Air – This cushioning is visible in several small circles on the midsole of the shoe.
Total Air – Another term for full Air Max cushioning.
Tuned Air – A system of individual pods tuned to different areas of the foot.
Air Jordan: Air Jordan is a brand of basketball footwear and athletic clothing produced by Nike. It was originally created for former professional basketball player Michael Jordan, hence the name. In fact, the first Air Jordan I sneaker was produced exclusively for Jordan in early 1984 and released to the public only later that same year. This shoe was designed by Peter Moore, Tinker Hatfield, and Bruce Kilgore.
Even though they started out as basketball-oriented, Air Jordans evolved to models for different uses, from the first one (Air Jordan I) to Air Jordan XXXII. Over time, they have become not only a collectible item but also a fashion statement.
Air Force: With its name a clear reference to Air Force One, the plane that carries the President of the United States, the Air Force is the first range of athletic shoes to use the Nike Air Technology.
This line offers a cushioning system with broad rubber soles and stands out with its remarkable ability for customization. The Air Force sneaker has evolved with the times and embraced new materials and eccentric designs.
Air Foamposite: When the Nike Foamposite One dropped in 1997, it was nothing like anyone had ever seen before. The design of a Foamposite shoe is curious and unorthodox, inspired by a simple beetle, and so out of the ordinary that few people were originally fans of the design.
The material the shoes are made of starts out in liquid form, heated up to 130-175 degrees Fahrenheit. Then it is poured into molds. These molded uppers have to stay attached to the midsole in some way, and so the connection has to be five times stronger than traditional glue or stitching. In other words, the Foamposite helped with future technologies just by pushing the limits.
Nike Cortez: The Cortez is probably the most important shoe in all of Nike's history, considering that it's a running sneaker that changed the name of the game. What differentiates it from most other Nike collections is the fact that it still remains true to the original, without huge numbers of new colorways, material innovations, etc. The Cortez still comes in its classic leather upper, with the original colorway that's white with a red swoosh and a blue accent in the sole. Of course, if you prefer something updated, you can get it in a number of other materials as well, most notably the Flyleather and Nylon versions which are welcome innovations to the classic full grain upper.
Nike Huarache: The Huarache is going to be recognized by anyone in the streets, thanks to the unique design in the heel area, as well as the unique straps around the midfoot. It comes in several iterations, and numerous colorways, from monochrome to colorful combinations with pops of blue, pink, neon yellow or purple. Get a pair of lifestyle Huaraches, or go with something made for running, basketball, soccer or even lacrosse – you'll definitely love how it feels on your feet.

Bottom Line
Most, if not all of these models have been first designed twenty, thirty years ago, and still carry that unapologetic 90s vibe. However, the reason they have remained significant to this day is their uniqueness, and the originality and downright ingenuity they represent.  These classic Nike designs represent turning points in the company's development, breakthroughs which allowed it to soar to new heights and make so many of its consumers happy with its sneakers.
So, when you're looking to buy a Nike retro shoe for yourself, think about what you need it for. Are you looking for just a regular, everyday shoe with a bit of nostalgia thrown in? Will you be doing sports in them? Or are they for collecting purposes?
Frequently Asked Questions
q:

Are Nike sneakers vegan?

a:

Not all of them. Nike does have models which are free of animal products, and most notable of them are Nike Air Max 90 Ultra Essential, Nike Free 4.0 Flyknit, Nike Air Huarache Premium, Nike Air Force 1 High Premium ASG ID and Nike Jordan Flight Flex Trainer.

If you see that a Nike shoe is made out of synthetic leather or canvas material, you can freely assume that it is vegan, as even their adhesives are water-based and don't contain any animal products.
q:

What can I wear Nike sneakers with?

a:

We are tempted to say: anything you want! But the truth is that, as sneakers, Nike shoes aren't the best choice for formal, or even semi-formal wear. However, when it comes to casual, everyday activities, you can absolutely pair Nike sneakers with everything! Jeans, shorts, even going a step further and matching the relaxed, timeless design of Nike retro shoes with cute, flirty skirts and dresses.
q:

Are Nike sneakers non-slip?

a:

Yes and no. Yes, in the sense that all Nike shoes have rubber soles which provide excellent traction for athletes on ball courts and prevent them from slipping. No, because these same sneakers may not be suitable for a workplace where you're on your feet most of the time and would like to avoid falling or injuring yourself. Nike sneakers have good traction on clean, polished surfaces, but the same cannot be said for dirty floors, those which are water-stained or smudged with oil, as in many restaurants for example. Your best bet would be to try them and see how they work - carefully.
q:

What materials are Nike shoes made of?

a:

We don't actually have a universal answer to this question. Different Nike shoes are made of different materials - from stretch knit to canvas to synthetic leather to full-grain leather. For midsoles, PU (polyurethane), Phylon, Phylite and EVA foam are usually used, and the outsole is made out of a blend of synthetic rubber compounds.
q:

How much do Nike retro shoes cost?

a:

This greatly varies depending on the model you're looking at. You'll find that the Air Force 1 is a great place to start if you're after something a bit more budget friendly, as it's widely available and relatively affordable. Jordans, on the other hand, can have price north of $200, so investing in a pair of those will require a bit more saving up. Do remember, if you go with a more expensive, less available model, you might be able to sell it for much more in a few years time. But that's only as long as it's in pristine condition.
q:

How do I clean my Nikes?

a:

This will depend on the material of the upper, but the basics are the same. You need to remove all dirt and debris from the shoe (upper and sole) with a soft, clean brush. Once that's done, make a mild solution using lukewarm water and a mild laundry detergent. Wash the laces and leave them to dry. Wash the soles with the same solution, using a soft bristled brush, then dry them with a soft towel or cloth. The upper should be treated with the same mild solution, best with a soft cloth - gently clean the upper, then remove the solution with a soft dry towel. You might need to repeat this process several times, so remember to be gentle, and not to submerge your shoe in the water. Once all dirt has been removed, air dry your shoes at room temperature, away from any direct sources of heat.
Subscribe to our Newsletter