10 Best Court & Pickleball Shoes Reviewed & Rated
In a Hurry? Editors choice: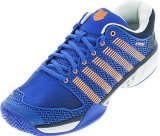 Test Winner: K-Swiss Hypercourt Express

The type of pickleball sneakers you need will depend on the type of court you play on. Indoor courts need shoes with more grip, and volleyball shoes are an excellent choice for this type of play, as they are made with natural rubber soles offering stability and preventing slips. Note that most indoor courts require non-marking soles, which will be another important criterion when making your selection. Outdoor courts, however, are much harder on the feet and joints, and in these cases, tennis court shoes will work best being they have durable soles. Not only will this allow your shoes to last longer, but more importantly, it will keep you safe and ready to have some fun.


Standout Picks
Criteria Used for Evaluation
Outsole
The single most important part of your shoe that will be keeping you safe from the heel, ankle, and Achilles tendon injuries are the outsoles of your pickleball shoes. Even though you are playing on a relatively small surface (at least smaller than tennis), you will still be expected to move quickly, stop quickly, and to do all of this sideways; as well as, forward and backward. What this requires of your shoes is to give you the ability to grip the surface underneath with security and precision, eliminating the chances of slipping, or of overusing your heels which would inevitably lead to injury over time.
But, if you are thinking of taking up pickleball, you know that there are two kinds of courts available. The ones outside, usually tennis courts with asphalt or concrete under your feet, and then there are the indoor courts with wood or more modern gym flooring. These two different surfaces require different shoes, and we cannot stress this enough. Even though some shoes will perform adequately on both, if you are serious about your game, you need two different pairs of pickleball shoes.
Outdoor pickleball shoes – If your club has outdoor courts, you want to look into tennis court shoes. These are made with harder soles that will stand up to the wear of asphalt, clay, or concrete underfoot. The pattern on the soles is made so as to facilitate quick lateral movement, and they will often have toe guards, as some players tend to drag their toes during serve and volley. You should expect about 60 hours of play from a court shoe.
Indoor pickleball shoes – Indoor courts will, usually, be wooden gym floors, similar to those for volleyball. The wood of these floors is much more slippery than asphalt and concrete and requires different grooves on your soles. In addition, the hard rubber of tennis shoes won't do as well, so you need to look into shoes that have outsoles made out of natural, gum rubber for the best grip. Unfortunately, these types of soles will quickly wear out on outdoor courts, ruining them for indoor use.
Leave the running shoes at home – Never, ever, play pickleball in a pair of shoes designed for running or cross training. These do not offer the lateral support you need for pickleball, which means that you are exposing yourself to serious ankle and heel injury.
Comfort
The midsoles of your pickleball shoes can greatly affect the way in which you play. You want them to give you plenty of shock absorption, but stability comes first. EVA foam midsoles are a good option, as they provide you with shock absorption without adding unnecessary bulk and weight – the lighter your shoes are, the faster you will be able to move. The places you want to protect from hard landings are the front and heel of the shoe and some makers will, also, include special technology that helps with your spring, making jumps easier.
Different players will have different types of feet which will, also, influence your choice of pickleball shoes. Most shoes on this list were not made for players who have low arches, are prone to overpronation, or suffer from plantar fasciitis. If you fall into any of these categories, you want to look into pickleball shoes that will offer better support features, such as the ASICS GEL-Resolution 7 which offers plenty of arch support. Otherwise, you will want shoes with removable insoles which you can substitute with your own that you know will allow you to play without experiencing any unnecessary pain.
Most cushioning will be happening in the insoles of your shoes and what you want is to have the features in the right places. The most important of these is in the forefoot, as pickleball requires a type of play that will be seeing you land and take off from this part of the foot. Gel and similar features are an excellent solution, as they will allow you to land softly without absorbing all the force out of your takeoffs in jumps. Your heels will, also, need to be cushioned but firmly held in place, so as to avoid any risk of injury. While memory foam may not be ideal under your feet, some makers offer it in the heel and collar lining that will allow you to wear your pickleball shoes without having to think about sore spots where blisters may occur.
A padded tongue is another good feature to have, as this is what will allow you to adjust the laces on your shoes. In pickleball, your shoes need to be securely laced, tightly enough so as not to allow your feet to be slipping sideways or forward inside the shoes. A padded tongue will allow you to do just this, without causing any discomfort to the tops of your feet.
Materials
Although the outsoles of your shoes are the part at which you may look first for stability, the upper material of pickleball footwear can, also, make a huge impact on your performance. A solid shoe will keep your feet in place, and flimsy materials may not provide the required level of security.
Leather court shoes are an excellent choice because the material is flexible enough to allow for a good fit, but won't allow your feet to slip out from under you. The downside of leather is that with athletic shoes, you are usually looking at a lot of heat and perspiration, and they simply may not be breathable enough. That's why perforated leather is an excellent choice, or, even better, leather components placed in crucial areas, such as the sides of your shoes. This will allow for lateral stability without having your feet feel too hot and constricted.
Synthetic and mesh are also excellent choices because of their type of knitting which allows for more breathability. These materials will mold to your feet much more easily than leather, allowing you to customize the fit so that it is snug, but not too tight. Another important thing is to purchase shoes that have flat stitching on the insides so as to avoid rubbing and developing blisters on your feet.
Finally, the lacing system of your shoes is crucial, as this is what can make or break a shoe, regardless of all other features. Laces which are not strong enough, that come undone or snap easily, will simply not do. Your shoes need to be securely on your feet, with no excess materials flinging about you, as you do not want to trip on your own shoes mid-game. Some brands will offer anatomically-correct lacing systems that will keep the shoes securely on your feet while avoiding pressure points that could cause you unwanted pain or strain. Others will come with laces that are below average in quality, or too short or too long. A great thing is that you can easily replace these should you need to.
Durability
The pair of shoes you choose for pickleball needs to have the correct features and offer the best traction and stability for your preferred court type. The period of time your shoes will last you greatly depends on how you use them. If you wear your shoes on the correct surface, they will last longer and give you the desired performance. As we already mentioned, tennis shoes will have harder, more resilient outsoles, which will do well on concrete and asphalt courts. Indoor shoes are softer, and with just one game on an outside court, you will have ruined the grooves on the soles, making them useless for further use on wooden floors. Many makers are aware of the wear that some parts of the outsole suffer, and will produce the shoes with reinforced critical points. Look for features such as abrasion-resistant rubber, so you can get the maximum out of your footwear.
If you tend to drag your toes or have a playing style that requires you to use the fronts of your shoes more, you may see this part of your footwear wearing down too fast. Choosing a pair of pickleball shoes with toe guards can prolong the lifespan of your footwear and save you a serious amount of money.
The uppers of your shoes will, also, perform differently; depending on the material they are made of. The leather is the most durable option and can serve you for a long time, especially if you take good care of it. Synthetic and mesh are softer, and as a rule, will break more easily. If you value breathability and cooling features, you may want to look into a shoe that uses a mixture of these materials, so that you can use them for a longer period of time.
A fact that you will have to face, however, is that most athletic shoes will wear down, as you are using them for a strenuous activity. The lifespan you can, usually, expect is around sixty hours, which, depending on how often you play, can last you anywhere from two months to over a year. Choosing higher quality shoes will ensure you get the most bang out of your buck, but so will wearing the correct type of shoes for different surfaces. After you've learned the basics of pickleball, you will find that the right pair of shoes can take you from beginner to winner, so make sure to choose wisely without trying to cut any corners.
Value
It's important to look at the value of a pair of shoes before you purchase them. Whatever the price: low or high, might be right for your situation if there is value in the product.
We've looked at each product on our list and rated its value based on how long the shoe will last, how well it will stand up to the pressure you put them under. We would never want to include a pair of shoes that are outrageously expensive and will only last a few wears.
10 Best Pickleball Shoes
1

. Saucony Grid Stratos 5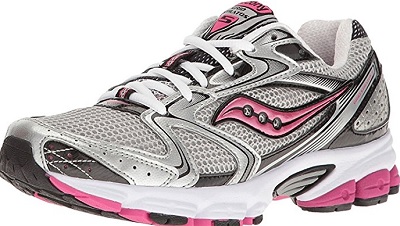 Step out on the court with this pair of Saucony's and play in comfort. With the heel GRID® system in place, you have great cushioning during the heel strike. Furthermore, the mesh upper provides good breathability and the lace-up closure helps to ensure a better fit. A rubber outsole has traction design perfect for pickleball and the fabric lining will help you to remain cool while you do it.
This system is specific to heel striking; a must-have feature for a day of pickleball. The cushioning is great at handling the impact associated with hard heel strikes. Remain cool and help your feet to stay healthy with this mesh upper. The design promotes airflow which is a requirement for high-situational sports, as can be found in pickleball and court play.
These shoes are budget-friendly when compared to other shoes on this same list. There is good technology place and, therefore, these shoes are a worthy investment for those heading out to the court.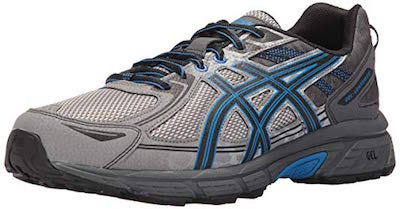 The new Venture 6 has an upper and midsole that has been redesigned for excellent comfort that absorbs shock. The outsole is a rugged one-piece with lugs that are multi-directional for tread and traction that leaves you confident on any trail. You'll have a fit and protection that is great with comfort thanks to a toe bumper that is stitched-down and synthetic material that is durable. Twelve colors, designs are available.
In the rear foot is a cushioned gel system. This will allow for any impact shock to be attenuated and improve the transition when transitioning to midstance. You'll have shock absorption that is evenly spread out to reduce any impact pain.
A lot of running shoes only provide uphill traction. These have lugs that are reversed to give you traction for both uphill/downhill and different kinds of terrains. You'll have greater variety and control in your run without your shoes giving up on you.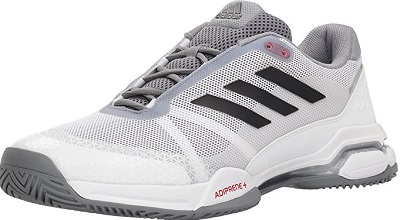 An excellent pair of tennis shoes that badminton and pickleball players simply love. These shoes were made for use on clay tennis courts, but will, also, serve you well on cement. In addition, though the outsole rubber is harder, in order to facilitate outdoor use, these shoes are non-marking, which would mean that you can wear them on other occasions. You, also, need to play indoors. They feature a supportive TORSION SYSTEM which was developed for aggressive players.
These shoes were designed to provide good cushioning that can stand up to rough terrains, such as concrete. The heel features ADIPRENE to lessen the shock of landing, while the forefoot has ADIPRENE+ to maintain propulsion and efficiency. The toe area includes reinforcements to reduce abrasion.
These outsoles have proven to be a huge improvement on the Adidas Barricade line, as they help with the elimination of slipping and sliding during gameplay. These are some of the best Adidas outsoles, and professional tennis players (such as Novak Djokovic) have often worn shoes featuring them. As with pickleball, you are expected to exert yourself in ways similar to tennis, this means that the Barricade Club shoes could be a perfect choice for you.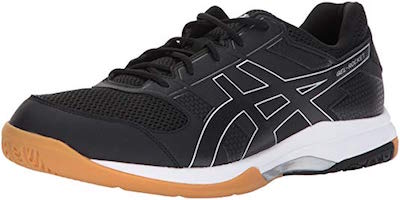 The GEL Rocket 8 is a shoe chosen by recreational players for their comfort and traction. Another pair of volleyball shoes, they have outsoles made out of gum rubber, which is placed at strategic points so as to increase the grip you get on indoor courts. Users wear these shoes for pickleball, fencing, dance fitness, and any other activity that is done on indoor gym floors, and they are widely appreciated for their comfort and flexibility.
These court shoes utilize a Trusstic System to reduce the weight of the outsole. They have excellent shock absorption and cushioning qualities, thanks to the Forefoot GEL System that helps absorb shocks during impact. The uppers of these shoes are made out of mesh, with synthetic overlays, providing a high level of breathability. Comfort is further achieved by a padded tongue and collar, while the inner is lined with more mesh that allows for maximum airflow inside of the shoes.
The cost of the ASICS Gel Rocket 8 is average, with prices on Amazon often being lower than most local retailers. They come in various colors, from colorful to more sensible, and could prove to be the best choice for all recreational pickleball players who want a quality pair of sneakers for indoor play.

5

. K-Swiss Hypercourt Express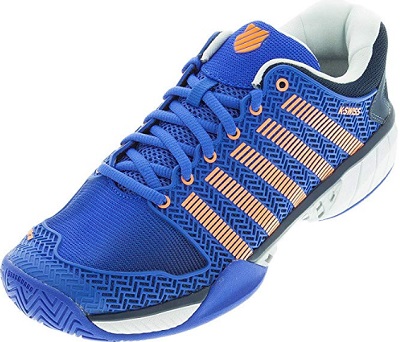 This pair of tennis shoes was developed by K-SWISS, in order to provide players with the stability they may need from a shoe that fits and feels like a running shoe. This means that if you want cushioning and a lightweight pair of shoes, you definitely need to try out the Hypercourt Express. The uppers of the shoes are flexible so as to give you a great fit regardless of foot shape, while the padded tongue allows you to tighten the laces without sacrificing comfort.
The inside of these shoes is what people love about them the most. They will give you a soft fit that molds to your feet, while still allowing for great ventilation, due to the mesh uppers. The dual-density Guideglide EVA midsole is great for shock absorption, and it offers good arch support for most types of feet.
These shoes are lighter than the average court shoes, which would have you expecting less durability. However, while you may notice some flattening on the grooves after wearing them for the first few times, this pair of shoes will hold up pretty nicely after that. The Durawrap toe guard is an excellent addition if you tend to drag your toes.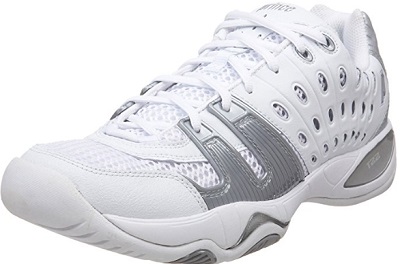 This pair of tennis court shoes has a huge fan base and for a good reason. They offer just the right amount of flexibility, are breathable and light, and have superior shock absorption and stabilization properties for lateral movement. That's why we believe that if you need a high-quality pair of shoes for your pickleball sessions, you could give these a try. They are sure to last you plenty of time.
The Prince T22 is excellent for pickleball players because it takes into consideration the fast lateral movements that are made by players during the game. The wishbone TPU shank is injected into the sole and allows a more stable gameplay, lowering the risk of injury.
The midsole of these shoes is made out of EVA with a ShockEraser heel insert in the back and SoftSpring PU forefoot inserts in the front that work together to eliminate the beating that your feet and joints take while landing. In addition, the outsole is a PRC 1000 compound in a herringbone pattern that is designed to give you a good grip of the surface below.

7

. ASICS GEL Resolution 7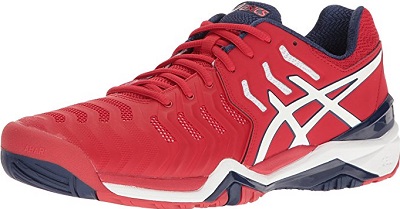 This is another superb tennis shoe made by ASICS, one that players keep going back to year after year. It offers some of the best comforts you can find in outdoor court shoes, with Rearfoot and Forefoot GEL cushioning, Flexion Fit upper that will mold to your feet as needed, and PGuard Toe Protector. The arch support on these is great, and they come with durable outsoles which will make them last.
The upper of these shoes will provide you with a level of comfort that is high, due to the fact that they conform to your feet. What this, also, means is that they have a low break-in period, so once you get past this, you can expect great comfort and stability.
Like many other ASICS shoes, these feature the GEL cushioning technology which helps to attenuate shock during the impact and toe-off phase. This promotes healthier feet, as greater shock absorption is present. These shoes may cost more than what you would, generally, pay for but they are worth every penny. The outsoles are durable, the upper fits like a glove, and you can expect good shock absorption and stability. Do note that these are usually more comfortable for users with narrow feet.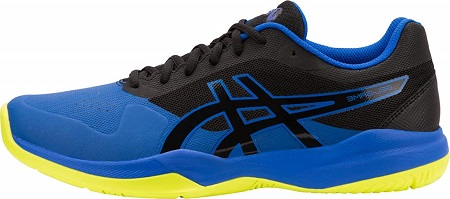 You can't talk about athletic shoes without talking about Asics. The Gel Game 7 is an impressive sneaker that features the brand's signature GEL cushioning system, along with a removable Ortholite sockliner and an EVA midsole. While these technologies are all great separately, in the Gel Game 7 they come together to make a fantastic court shoe.
I love talking about the technologies that go into shoes, and Ortholite is a personal favorite. This open-cell material is highly-sought after for a variety of reasons. Similar to memory foam, Ortholite is designed to gently contour to the unique shape of your feet, providing you with the support you need. It is also eco-friendly and has a minimal long-term compression rate- we're talking less than 5%- which keeps the insole in good form for longer. It is also removable to allow for a custom orthotic if necessary.
When your feet strike the ground, there is a lot at work. The pressure placed on your feet can easily be several times your own body weight, making shock absorption paramount when it comes to reducing injury and improving performance. The GEL cushioning system is placed in the forefoot of the Gel Game 7, properly absorbing the shock from each strike, and returning this as energy to keep you feeling light on your feet.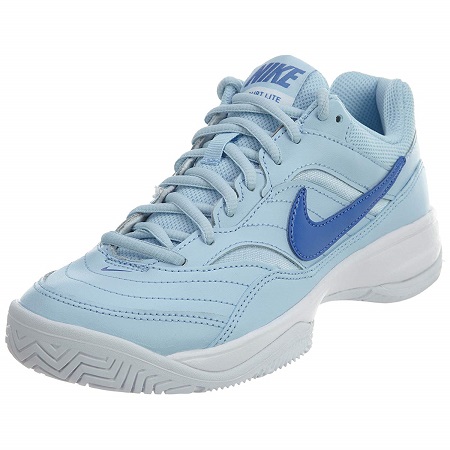 Named after the winged Greek goddess that leads soldiers to victory, Nike is heavily invested in creating top-notch products for athletes and casual folks alike. As the name implies, The Court Lite sneaker is designed with a full-length Phylon midsole, which properly supports your feet without adding extra weight to the shoe. A mesh tongue reinforces breathability, while the full synthetic upper provides the right balance of comfort and durability, no matter how hard you play.
With any sport, your shoes are bound to take a beating. So, it's important for them to be durable. A durable shoe will last you far longer, allowing you to get more value out of them. The Court Lite is made with 100% synthetic materials that are designed with durability in mind. There is also an added layer of material covering the toe section to reinforce abrasion resistance.
We mentioned the Phylon midsole before the jump, but what is it really? The Phylon midsole is a technology unique to Nike shoes, and the manufacturing process involves heating up compressed EVA foam and then allowing it to cool in a mold. Because these lightweight and low-profile midsoles are molded, they can be made into a variety of shapes to support any foot.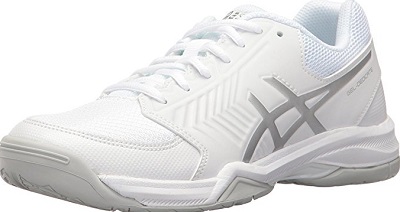 This is one of those court shoes you want in your arsenal during cooler days. The synthetic, flexible upper does not allow for great airflow; a desirable component in cool weather. There is good traction and the shoe is built to handle abrupt changes in movement. Furthermore, the gel cushioning system promotes better shock attenuation during propulsion.
This system is in place to reduce the overall weight of the outsole without reducing the overall integrity of the design. Furthermore, the structure remains solid enough to make these shoes last through the season. Flexibility is a must-have feature when evaluating the sudden stops and starts found in pickleball/court play. The upper does not disappoint, in this regard. It is not, however, a shoe for summer, as there is little ventilation. On the other hand, it is perfect for cool weather play.
These shoes are great for cool weather play; but more importantly, this is a pair of shoes which is budget-friendly. As such, you cannot go wrong with this pair of pickleball and court shoes.

Subscribe to our Newsletter