The Best Leather Boots – 2022 List
In a Hurry? Editors choice: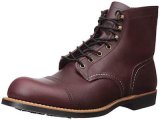 Test Winner: Red Wing Iron Ranger

You can never have too many shoes in your wardrobe and with the colder winter weather amongst us, having a pair of comfortable leather boots to brave the bad weather is a good idea. If you look after your leather boots in the correct way, not only will they last longer but they will continue to look good as new, like the first day you wore them.

Whether you are looking for a pair of leather boots to keep your feet warm, dry and comfortable when working or simply want to add a bit of style to your outfit, our list of the best leather boots reviewed will certainly keep you happy. Enjoy shopping! 
Standout Picks
Criteria Used for Evaluation
Materials
When it comes to leather there is a wide variety of options.
From exotic skins like Snake, Alligator, or Buffalo to the more commonly seen Cow or Pig leather.  They each have a place in the world of shoes and offer different features that can be considered for pros and cons. For example, Snakeskin boots are very delicate and require more extensive care. If you are inexperienced at taking care of boots it would be smart to do your research as improper care can reduce the overall look and feel of your boots. In addition, improper care can lead to cracking and splitting in the upper of your boot.
Finding the perfect boot for any situation can be tough. Deciding what material is going to work best for your need is even tougher. Let's look at a variety of leathers used for leather boots and some of the information that is important for you to consider before deciding what you want to purchase.
Cowhide:  The most common among companies is the use of Cowhide leather. It is used in everything from athletic shoes to clothing and accessories. Cowhide leather is known for its supreme durability and natural resistance to dirt and water. Cowhide leather is relatively easy to care for and tends to be a bit less expensive because of the supply available.
Pigskin:  Pigskin is used because of the soft feel and overall appeal to the eye. It is also quite tough and naturally water-resistant. Pigskin will need a bit more attention in the care category as it is a bit more delicate than Cowhide. Pigskin is also used frequently in boots because of its affordability factor.
Crocodile: If you are wearing this type of boot you know that they cost a pretty penny. Not commonly used because of the high cost, Crocodile boots are exceptionally durable. Affording a pair may not be easy but maintaining them will allow you to wear them for long periods of time without worry of your boot falling apart.
Ostrich: Ostrich leather is quite uncommon. Typically only found in high-fashion retail stores it is considered a luxury material and will cost an extensive amount if you want to own a pair.  It is also exceptionally durable and is sought after by many.
Snakeskin: Snakeskin looks amazing but it is exceptionally delicate and soft. Caring for this type of boot is going to be more difficult than most and you should have some knowledge about it before trying to care for it. The scales of snakeskin boots are very fine and can be damaged easily, you must take caution while caring for them.
Regardless of the type of leather you choose know you are getting quality material that will last with you no matter the activity you choose. If you find yourself anywhere from a renaissance festival all the way through to a good round of golf, there is a leather boot out there that is made to keep you comfortable and supported.
Weight
The biggest downside of boots is often their weight – especially if we're talking about a leather boot.
Boots are considerably bigger than regular shoes; not just in height, but they're also larger, denser, and simply require a greater amount of materials in general. This adds up to a considerably heavier build in comparison to a sneaker or just a regular shoe.
Because you don't typically wear boots for running the added weight of your boot choice probably won't play an integral role in your decision making. There are some common problems seen when people wear shoes that are higher in weight.
Added weight can cause:
Increased Muscle Fatigue
Joint Pain
Muscle Soreness
Leg Fatigue
Keep in mind, though, that boots are generally heavier than any other shoe regardless of the materials that compose it. This is because many people wear boots for their protection. By this we mean they wear them to protect their feet from dirt, debris, and water. These type of things really help to understand why the overall weight is more.
While the upper plays a big part in the weight of your shoes, there are a couple of other factors to consider:
Outsole: The outsole of your boot also plays it's part in overall weight. Shoes that have a rubber outsole are going to be heavier than ones made with a leather outsole. In terms of weight, you also have to consider protection. Depending on why you want a pair of boots a heavy sole can add a great layer of protection between you and elements that may damage your feet.
Toe:  If you are buying this type of shoe for work you may need to its one that has a steel or protective cap over the toe. This, naturally, will add to the weight and can cause problems with pressure and pain. If you are wearing a protective cap you want to make sure there is room for your toes to move.
Style
Shoe leathers vary and depending on how casual or formal you are in need of being different styles will suit your purpose better than others.
Style should not be confused with type. In our previous sections, we looked closely at the different types of leather. Style has more to do with the overall eye appeal and look of the boot. We will break it down from the most casual to the more formal styles so you can understand just exactly what you should be looking for.
Roughout:  Just as it sounds, the rough side of the leather is on the outside of this type of boot. Due to the natural nappy look, you will not need to do nearly as much maintenance on this type of shoe. They are also exceptionally durable so they will wear well through tough use.
Veg Tanning: This is commonly found on athletic shoes and a variety of different boot options. The process of tanning this leather involves vegetables and bark which is where it gets its color and its name. This style ages well with proper maintenance, however, if you don't take care to keep them waterproofed and well conditioned they will fall into disrepair quicker than other styles.
Pull-Up: This style has been a favorite for boots for generations. It handles scuff marks with ease and is quite protective and durable. Maintenance is simple and they only look better with age. Exceptionally versatile and commonly used this is a great option for a variety of styles.
Suede: Known for its softness, Suede is actually quite similar to the Roughout style. Using the rough side of the leather, it is then sanded to form an even grain. This gives it the softness and flexibility we are all familiar with. Suede is more delicate and a much lighter option when it comes to Leather. Caring for Suede can be a bit tricky but with practice, they can be a great addition to virtually every wardrobe.
Shell Cordovan: Shell Cordovan is the finest leather on Earth, with exceptional water and stretch resistance this style truly meets the test of time with superior grace. This style is very pricey and hard to come by due to a lack of materials and difficult processing. If you do find and can afford a pair, treat them right and you can have them for a lifetime.
These different styles of leather are only part of the tough decision you are trying to make. With all of the options available and all of the great choices choosing one is difficult. Take the time to think about yourself and how often you plan on wearing your leather boots. This will help you make a sound investment and know that you are getting a quality product that will suit your situation no matter what it may be.
Comfort
No matter the style and materials you choose for your next pair of boots, you'll want to pay special attention to how they feel on your feet, especially if you're shopping for work or occasions where you'll be doing a lot of standing, walking or dancing.
To make sure that you purchase the correct size, there are a few rules to take into consideration:
Always try on the footwear at the end of the day, which is when your feet may swell. This will prevent your shoes from being too tight.
Shop for the right size and width. While leather footwear may stretch a little bit, you should not have to put up with painful rubbing and pinching in the break-in process.
Don't size up. Footwear that's too big for your feet may cause you to slide inside, leading to painful blisters and muscle fatigue.
Other aspects that you will want to look for in a new pair of shoes are the lining materials, cushioning, support, as well as the adjustability.
Ideally, your boots will be lined with soft, breathable materials that will prevent moisture buildup, and will be gentle in contact with your skin. Leather is a good option, but so are mesh and textile. To ensure comfort during the colder periods of the year, look for models with added insulation such as the Timberland Premium which is the perfect indoor-outdoor shoe for mildly cold winters.
The insoles in your footwear (flats, sandals and boots alike) need to provide you with adequate support in the arch and heel area, so look for supportive, anatomically shaped or shock absorbing footbeds that'll make long periods of standing and walking more comfortable. Alternatively, you may invest in orthotic inserts that can correct pronation issues or offer added support for those with flat feet, but make sure the existing insoles are removable, otherwise you may find your boots to be a bit tight.
Last but not least, consider the closure type on your new boots and determine whether it's the right choice for you. While pull-ons may seem like a great choice, some people find them hard to get off after a long day. Others (especially those with wide feet or high insteps) may find laces time consuming and prefer a zipper closure. Models with elastic goring are often a great choice, but they won't provide the same level of ankle stability you get from a securely laced shoe, so take that into consideration, especially if your shopping for work.
Durability
Footwear that's well taken care of can last you for years, or even a lifetime.
Seeing that you're looking for leather boots, you need to be aware of the fact that this type of footwear will need some care and attention, but in return, you will get a comfortable, stylish and long lasting product.
Before making a final purchase, you should consider the following aspects to determine whether a pair of shoes is worth the investment:
Type of leather and materials used
Stitching quality
Type of construction
User reviews
Reputation
Price
Warranty
In addition to these, you'll want to carefully read the manufacturer's instructions on cleaning and conditioning, as different types of leather require different products and procedures. A good rule of thumb is to make sure you clean any dirt from your footwear as soon as possible, but also make sure you wear them on appropriate occasions and conditions.
While your suede chukkas may feel great, they're unlikely to be appropriate footwear for heavy snow or messy work environments - heavy-duty work boots will be more suited for these situations.
Top 13 Leather Boots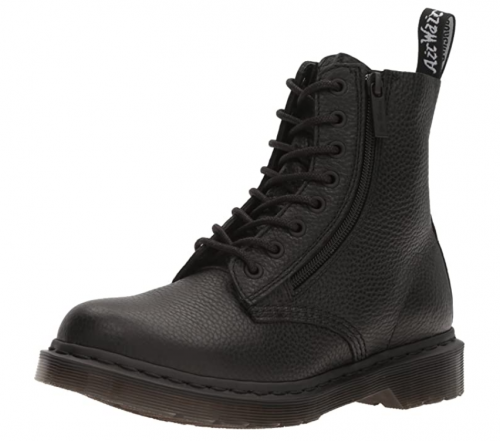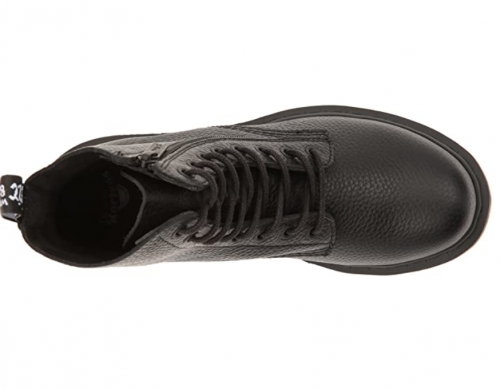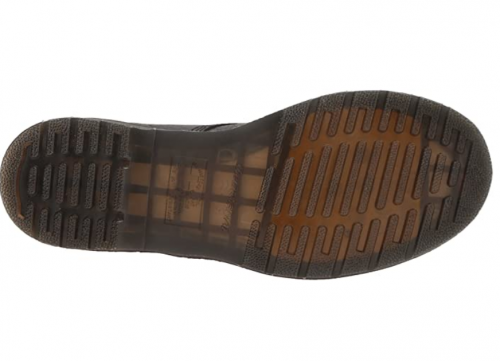 An iconic style made famous by the punk scene, the Dr. Martens Pascal was originally made for workers who needed a pair of sturdy boots and high-quality outsole that wouldn't slip in wet and oily conditions. Today, these are available in a huge variety of upper materials and patterns, including leather, vegan options, fabric, and even glittery styles. No matter which of the colorways you go with, you'll be getting the standard air-cushioned sole, and the durability these Doc Martens are so well known for.
There's a lot of features you may want in a pair of shoes you'll be wearing to school, work or for running errands, but cushioning should always be towards the top of the list. The sole on these boots will absorb a lot of shock that is generated from walking, making you able to go further, with less muscle fatigue and joint pain.
The traditional 8-eye Dr. Martens boot is easy to put on, thanks to a lacing system that allows for maximum fit customization. To make walking out the door even quicker, the heel features a pull tab that'll definitely come in handy on those mornings when you're in a hurry. Doc Martens shoes last a long time, ask anyone who's ever owned a pair.
The Pascal is no different, and with a price that's slightly above average on this list, that makes it an excellent choice if you're after something that will put up to aggressive daily wear. Just take good care of the upper, and you'll be happy with these for years to come.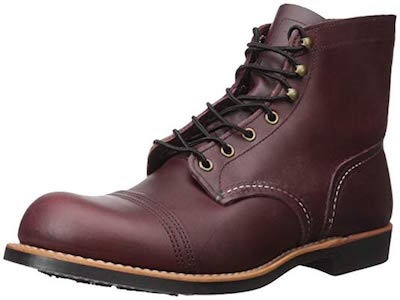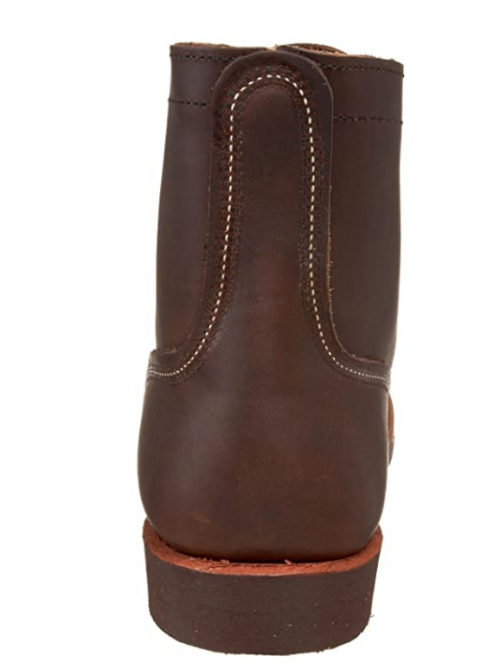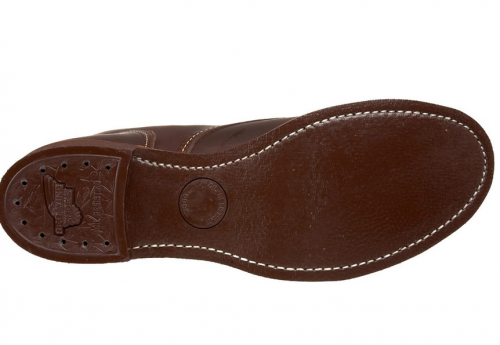 Ask any worker or fashion conscious man, and they'll tell you that you can't get much better than Red Wing boots. Made with protection in mind, but featuring a beautiful and stylish silhouette, these boots are the perfect pair to pair with some raw denim for a look that can go either casual or dressed up. Red Wing footwear is known for its exceptional quality, and with proper care, timely visits to the cobbler and some love, you'll be wearing these for life.
If you're shopping for boots to actually wear, you'll want something resistant that won't get ruined after a few months. The oil tanned Amber Harness leather used in the Iron Ranger is water, stain and perspiration resistant, so you won't have to worry about your shoes becoming unsightly.
The outsole on these shoes features mini lugs to give you the grip you need on any surface, while the Goodyear welt construction ensures that these are resoleable should you find that you need to update to protection on the bottoms of your feet. Red Wing boots cost a pretty penny, and the Iron Ranger is no different.
You might have to save up to afford these, but you'll be more than happy from the moment you first put them on. Not only is this product made with the highest quality materials and attention to detail, but it's also a piece of fashionable footwear you'll proudly wear on any occasion.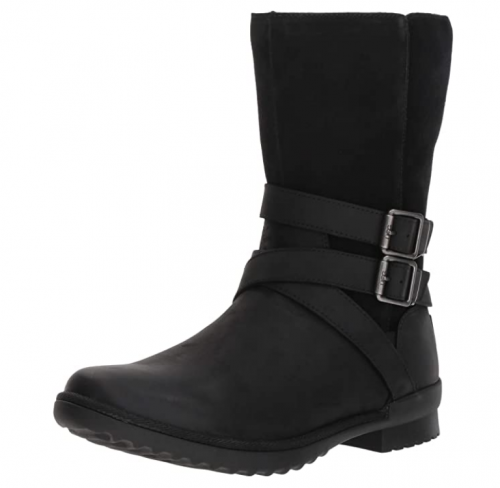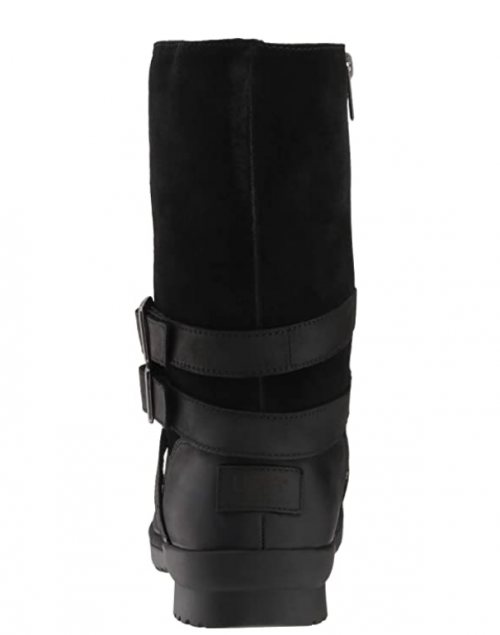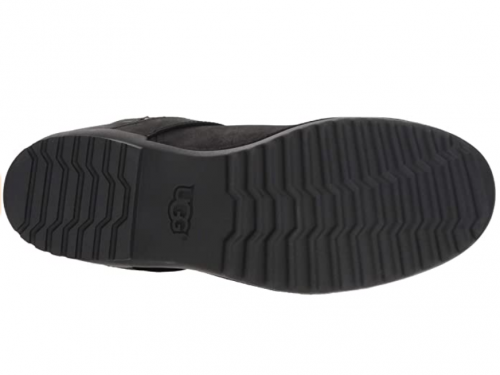 Founded in 1978 by an Australian surfer, the iconic Classic UGG boots were first worn by the likes of Hollywood royalty and fashion editors. In recent years, the bold, free-spirited, and individual brand has since been embraced globally and now extends beyond boots, onto designer footwear, accessories, and home décor. Today the UGG Women's W Lorna Boot offers a perfect balance between fashion and function.
If there is one thing these boots can, it is keeping your feet dry. These boots have a seam-sealed construction and leather upper that is completely waterproof so you can wear your precious boots when it is pouring with rain.
The boots feature two ankle leather straps with metal buckles on one side of the boot, whilst the other side includes a convenient medial zipper that makes it extremely easy to pull off and put on. They sit approximately below the mid-calf and have a 1.25-inch heel, giving you a little height.
The shoe's outsole is made from a spider rubber, giving you added traction, particularly when worn along wet surfaces. The boots are also lined with an ugg pure wool. Waterproof and warm, these UGG boots are stylish and practical boot wear whilst completing your daily errands.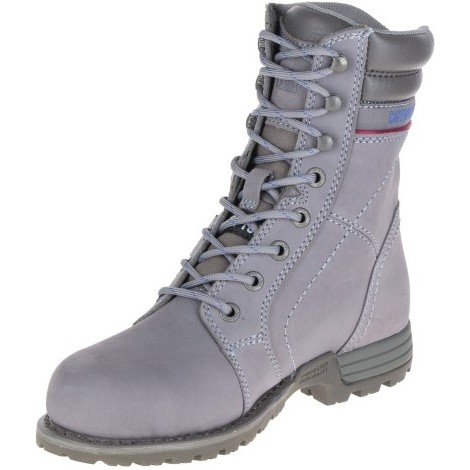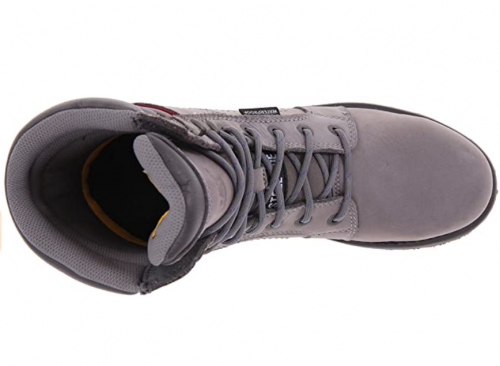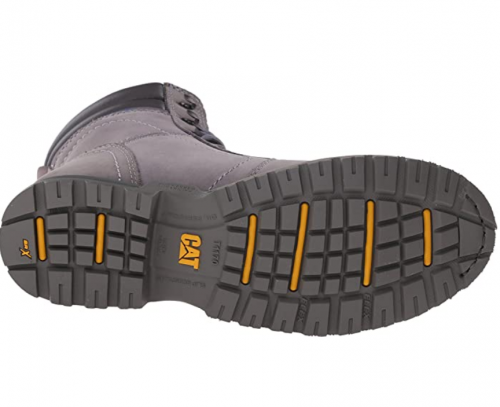 Offering superior protection for those with tough, dangerous jobs this boot also offers a unique sense of style. If you lead a busy life and want to transition a great pair of steel-toed boots into an evening at the movies these may be a great choice for you. This boot is comfortable like a sneaker due to great technology and superior design. Working on your feet all day can finally be comfortable and protected at the same time with the CAT Echo.
CAT has taken the comfort of a boot and actually made it comfortable. Using body mechanics and durable yet flexible materials these will really move with you. Offering your feet, joints, and muscles the support they need for a long day's work. We find that insufficient impact absorption at the mid-sole of the shoe is to blame for a lot of foot discomfort.
These boots offer superior cushioning in the midsole to not only absorb shock but disperse it evenly. This makes long hours feel like nothing and allow you to enjoy your evening even after a long day.
The advanced features and trendy design will cost you a bit more than quite a few on our list. Fitting them into the budget may be a stretch for some. Finding the room to do it will give you a great fitting, comfortable, and unique pair of tough boots built to last a great amount of time.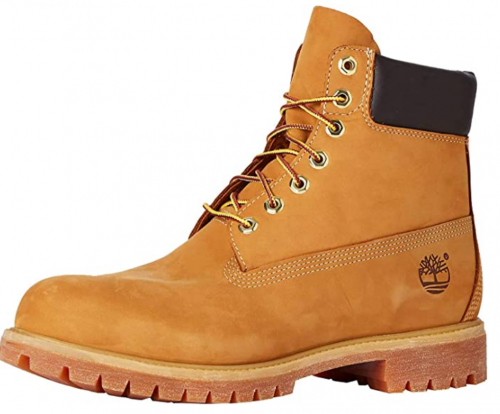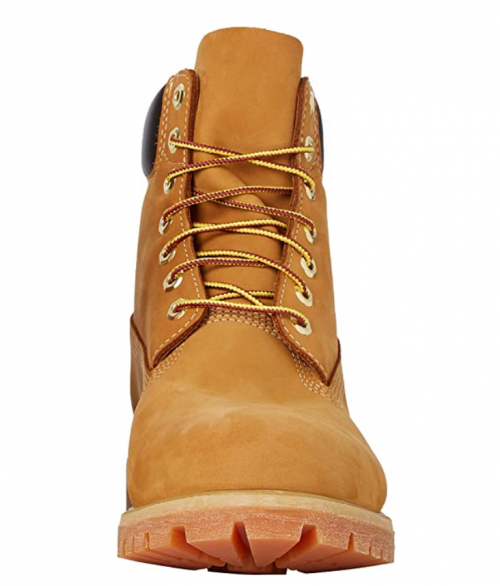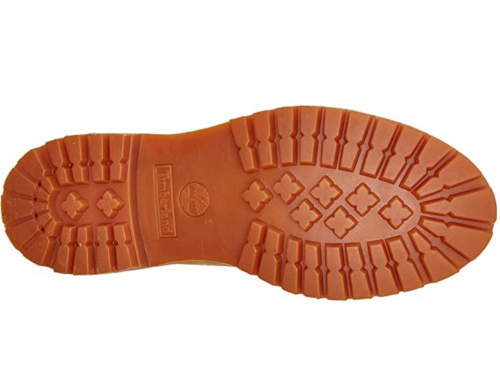 Designed more than 40 years ago, the original Timberland boot has become a fashion staple that is easily found in almost anyone's closet. One of the best choices for winter wear, these waterproof 6" boots will keep your feet dry, your arch supported, and your steps safe. Plus, they come in a variety of colors, so you can choose from the recognizable yellow to the more subtle black and grey options. Want to stand out? That's ok too, as there are plenty more colorways to go with.
For those who tend to walk a lot, or stand on their feet for prolonged periods of time, the technology found in these premium boots will make their days go by much faster. Using a specially designed cone support in the midsole, these shoes will cushion, absorb shock and give plenty of energy return to a more pleasant wearing experience.
The insulation in these boots is made from 50% recycled plastic bottles, and synthetic fibers, giving you the warmth you need during cold days but being gentle with the environment. This means that by purchasing this product, you aren't contributing to pollution, which is quite an important achievement in our book.
With a cost that's average, this is a pair of boots that is highly recommended if you're looking to purchase just one style for winter use. While it's more on the casual side and won't work for fancy occasions, it's practical, warm, slip resistant and cushioning, all of which are important features for a pair of winter boots to have.

6

. Thursday Boot Company Captain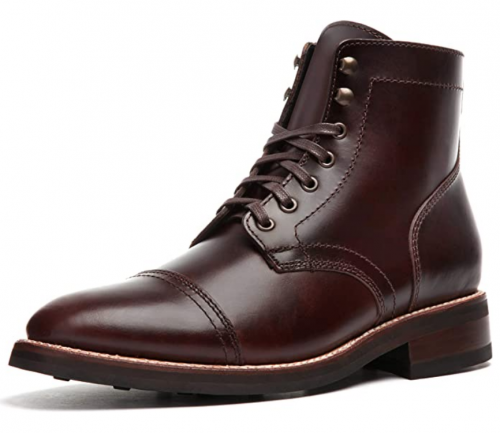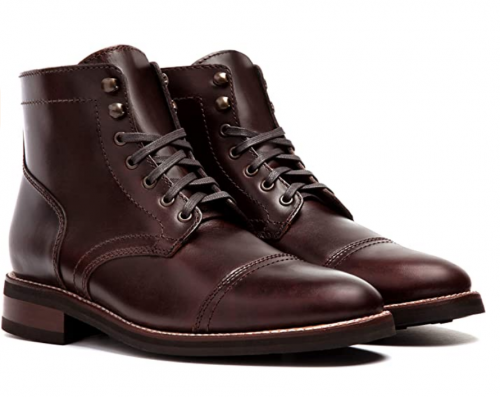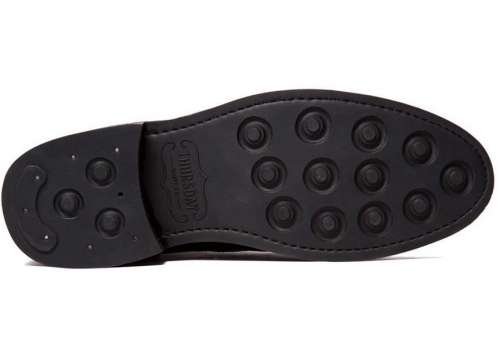 Sophisticated and comfortable is the best way to describe the Captain by the Thursday Boot Company. Developed with the idea of offering customers a fairly priced, handcrafted, high-quality boot, the Captain is the perfect addition to anyone's wardrobe and can be dressed up or down depending on your personal needs. It'll look exceptional with almost anything, from jeans to slacks, and will protect you in most weather conditions, including rain.
While you can opt for a full grain leather or a suede version, you can rest assured that you'll be receiving a pair of footwear made from high quality, genuine leather both on the outside, as well as on the inside. The glove leather lining is soft to the touch, durable, and highly breathable, making it the perfect option for fall wear.
Durable, reliable and flexible, a Goodyear welt is always a great option, especially when combined with performance features such as a supportive cork footbed, a shock absorbing insole, and an antimicrobial treatment that prevents odor development. You'll also appreciate the rust-proof hardware and waxed laces that add to the overall quality of this item. This pair of boots is a great investment for those who are looking for something both sophisticated, comfortable and versatile.
It'll definitely get plenty of use, and you'll notice that the fit will only get better with time as the entire boot adjusts to the shape of your feet. You should also consider that TBC believes in fair labor and sustainability, without charging you outrageously high prices for a quality, handcrafted product.

7

. Sketchers Segment – Dorton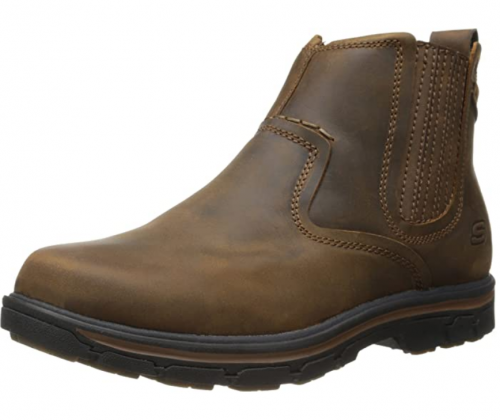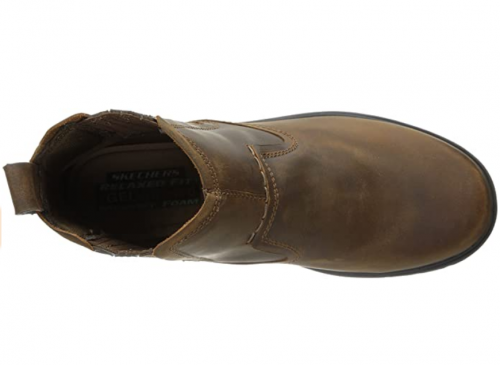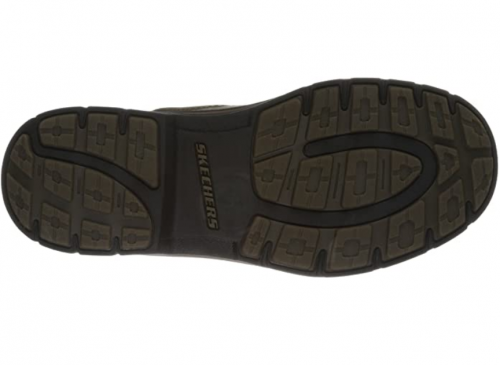 Sketchers are known for being an award-winning global leader in the lifestyle footwear industry. Offering high quality, diverse, and affordable boots, you can expect the best from this brand.
These Chelsea style ankle boots have an oiled leather upper with concealed-goring side panels. The rear pull-loop at the back of the heel makes these boots easy to pull on/off. The boots offer court-ready grip rubber outsoles and are great shock absorbers. 
For the ultimate comfort, the boots have gel-infused high-rebound memory foam. The memory form is air-cooled, providing instant comfort, pressure relief, and breathability. The insole is moisture-wicking, preventing the likelihood of sweaty feet.
The inside of boots has a molded dual-lite base material providing further comfort. Available in four different shades including black, dark brown, grey, and brown, these relaxed-style comfy shoes are a fantastic buy.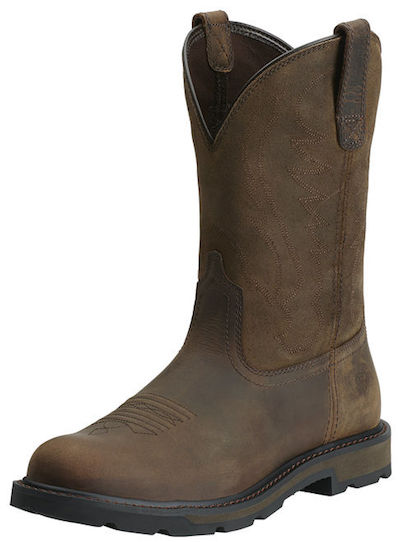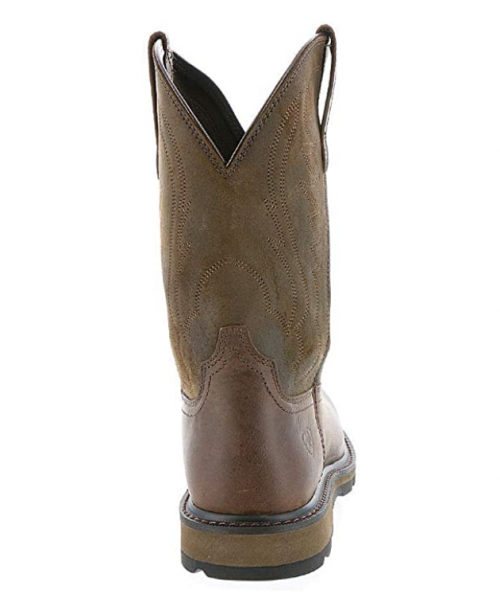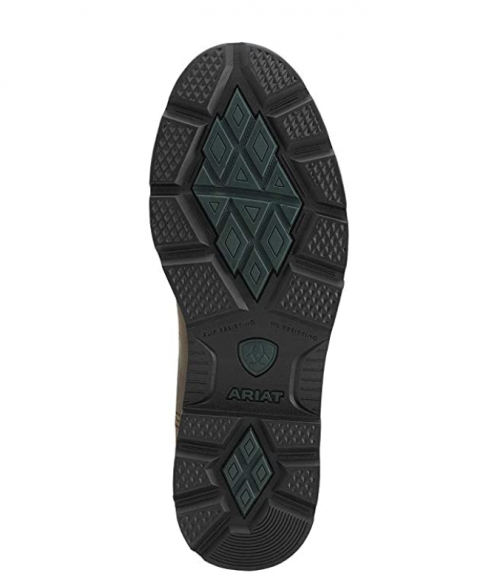 A work boot designed for those in search of a sturdy pull-on style with a quality outsole, high levels of comfortability and a supple upper that'll easily adapt to the shape of the foot for the best possible fit. Made with a combination of full grain leather and suede, it'll provide a good combination of protection and flexibility, without stifling your foot or allowing for moisture build up. The two pull tabs ensure a quick on and off, making these one of the best choices for those in search of hassle-free footwear.
One of the biggest advantages of this style over others available is the shape which was designed so as to provide the highest possible level of comfort. The round toe won't pinch or rub, and is even suitable for those with wider feet. A high rebound insole provides great cushioning, making these appropriate for all day use.
The outsole used on the Groundbreaker is made for those who need a reliable base to stand on, often on slippery surfaces, or even those stained with oils and chemicals. Preventing you from slipping in such circumstances (thanks to the deep lugs), you can rest assured that these will work perfectly in a variety of conditions, including rain.
The Ariat Groundbreaker comes at a slightly higher price than average, but it's an investment that's worth making for those shopping for work-ready footwear. It can also be used as a tough everyday shoe, thanks to the quality construction and protective components used.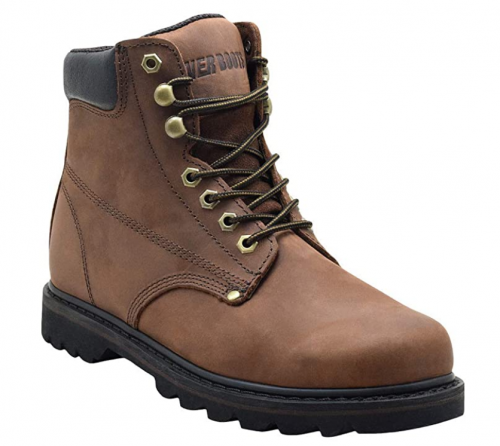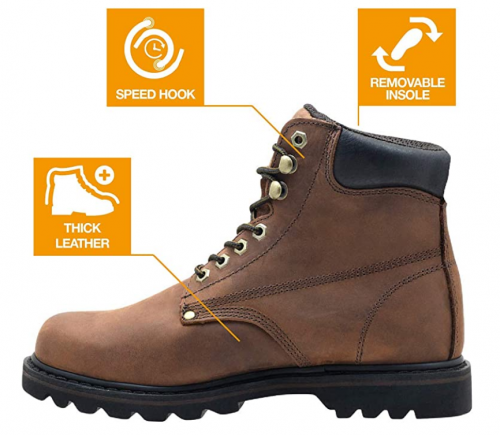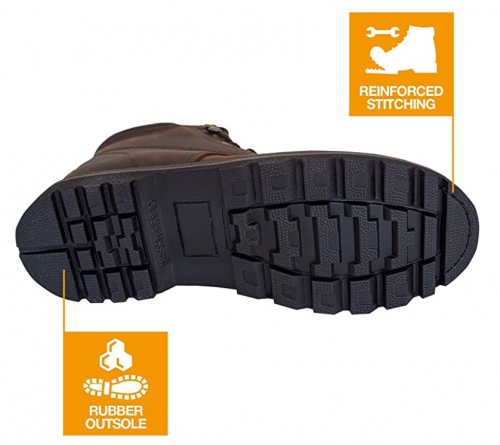 The EVER BOOTS "TANK" work boot is known for its premium 2.0mm Nubuck leather. The perfect choice of boots for Contractors, Construction Workers, Electricians, Home Builders, and Yard Jobs, you can rely on these boots for their durability and stability.
No longer do you require a break-in period with these men's EVER BOOTS, as they are made from a soft nubuck leather material that makes them comfortable to wear from the moment you put them on. Removable PU insoles offer a custom fit and provide maximum comfort, particularly when on your feet for long periods of time. 
The classic boot design features speed hooks making the shoes easy to put on/off. The boots have strong quality stitching and reinforced stitching that appears along with the outsole of the boot. A steel shank helps by alleviating pressure on the foot when climbing down ladders.
The boots tread pattern also offers a reliable level of traction, particularly when working on uneven or slippery surfaces. The boot is oil-resistant, enhancing its durability and preventing oil deterioration. These all-purpose work boots are comfortable and extremely dependable, you will not be able to live without them.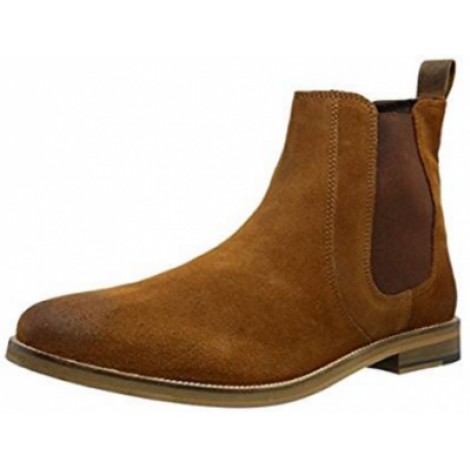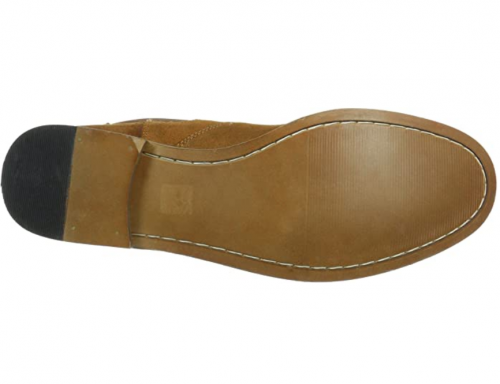 Chelsea boots are making their way back into fashion with the upcoming seasons, and Crevo's Denham Chelsea hits the nail on the head. A leather upper build and a synthetic outsole make a durable combination, reinforced by goring side panels. The comfortability of this design is remarkable thanks to the cushioning memory foam footbed, as well as the flexibility of the materials.
The elastic gore panels on the sides of this Chelsea boot make each fit a custom experience. The elasticity of the shoe allows you to obtain an optimal snugly fit, adequate for the dimensions of your feet.
The synthetic sole covers the aspects not present in traditional rubber soles. By being more flexible, the outsole relieves a considerable amount of stress off your feet when walking for long. Furthermore, it counts with a non-slipping design.
Crevo's Denham Chelsea is slightly over the average value of the list. The shoe counts with slim, yet durable materials that won't break so easily. Additionally, you might get away with wearing these any time of the year.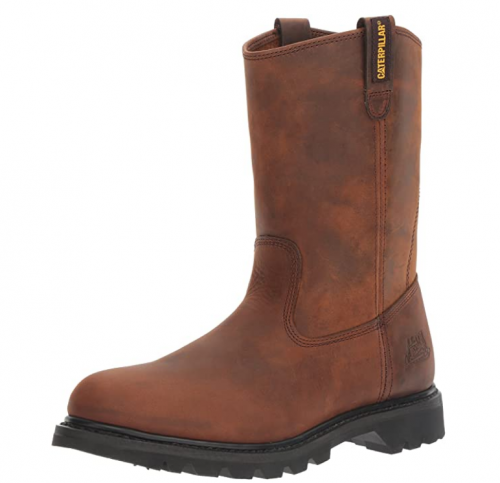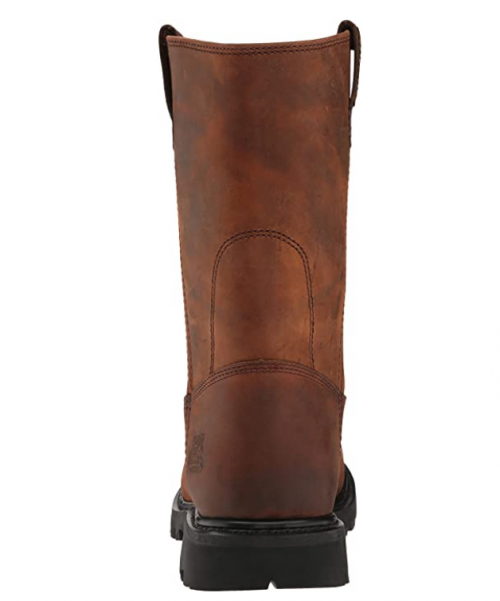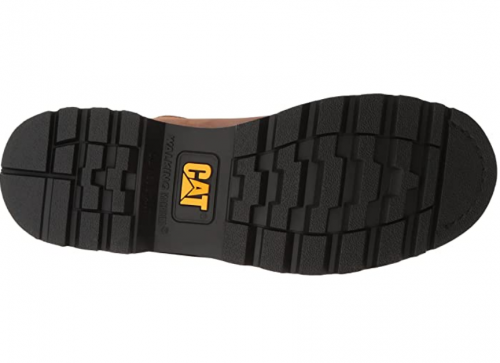 Cat earthmovers are known around the world as a symbol of strength, honest work, and integrity and the latest addition to the brand is Caterpillar's Revolver boots. Constructed using quality leather, tough rubber outsole, and easy to wear, you will struggle to find anything you dislike with these boots!
Made from 100% leather, these boots have a full-grain leather upper and a flexible forefront, allowing plenty of movement. The boot has a PVC midsole that provides shock absorbance, particularly when worn in demanding and rough terrains.
The boot is extremely durable, offering oil, water, and an abrasion-resistant outsole. It is also slip-resistant, reducing the risk of any falls or slips. The men's boot has received an Electrical Hazard Protection rating, protecting the wearer against any open circuits of up to 600 volts in dry conditions. 
This boot showcases a pull-on style that makes them exceptionally quick and easy to put on and take off. The boot's interior features a nylon mesh lining that offers comfort and breathability, when on the go. A taibrelle and PU sock liner provides added cushioning as well as durability. Available in a Wellington Dark Brown color only, you will not want to miss out on this boot! 

12

. Timberland PRO Direct Attach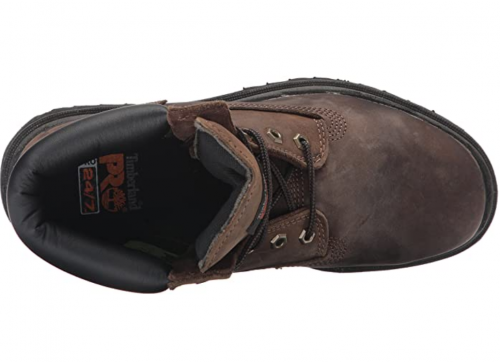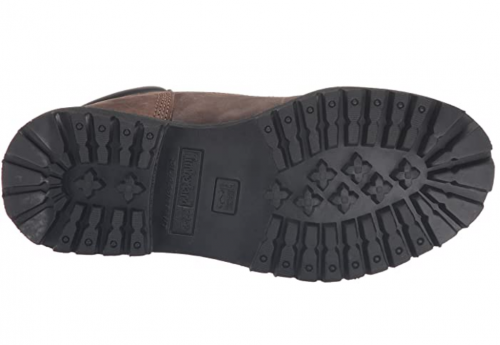 Timberland is known for creating outstanding products as well as making a difference in the communities in which people work and live. The Timberland PRO 6-inch Direct Attach steel toe boots are one of their latest creations to shout about!
These striking Timberland boots offer a seam-sealed waterproof construction with a waterproof leather upper and a PU midsole. The boots are highly breathable, featuring a moisture-wicking lining with an anti-microbial treatment. The boot also has 200 grams of Thermolite insulation, keeping you warm on colder days. 
When it comes to the boot's outsole, it has a non-marking, oil and abrasion-resistant Thermoplastic Urethane TPU outsole with a slip-resistant tread design, ensuring you stay firmly on your feet.
The boots are steel toe compliant and come in two color options including wheat and black. What is there not to like? 

13

. Steve Madden Troopa 2.0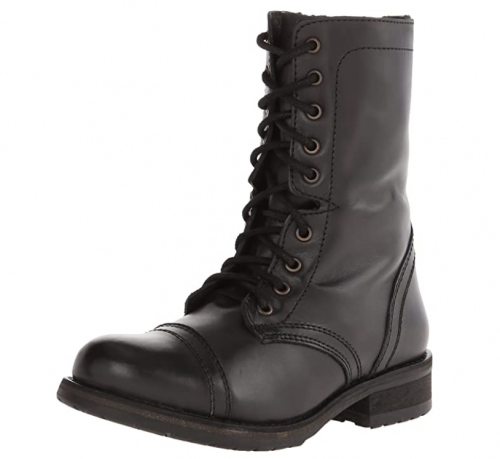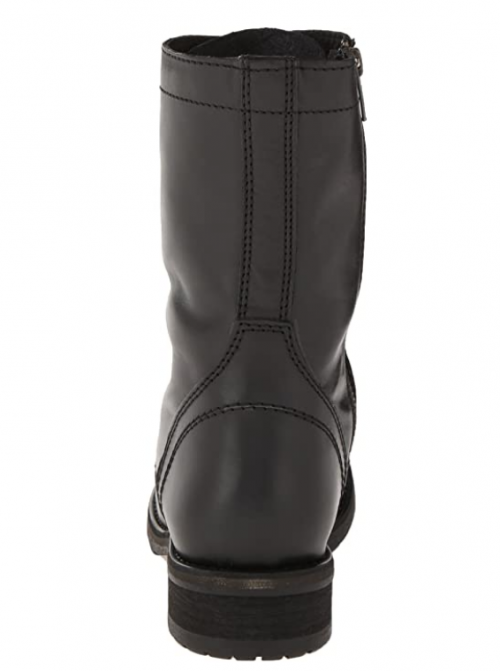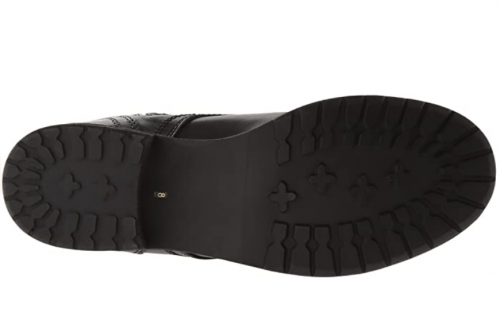 Inspired by his rock and roll and New York roots, Steve Madden has revolutionized the shoe industry with his outstanding collection. Offering an extensive brand of footwear, handbags, and accessories, Steve Madden's Women's Troopa 2.0 Combat Boots are one of his latest creations to take to the high street.
Made from 100% leather, these boots showcase a lace-up combat boot style that oozes femininity. Featuring delicate surface stitching throughout, these boots have a soft leather surface that you will not want to take your hands off.
The women's boot offers a chunky heel giving a bit of height and style. The outsole is durable, offering you a good level of grip when wearing in wetter weather conditions.
Available in 3 colors including cognac leather, black leather, and black, you have plenty of choices when it comes to picking the right color for your outfit.  

Subscribe to our Newsletter