9 Best Men's Chukka Boots Reviewed & Rated
In a Hurry? Editors choice: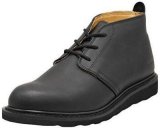 Test Winner: Golden Fox Arizona

A
casual ankle boot
that has now made a name for itself in the world of fashion, the Chukka boot is a uniquely named footwear choice that looks great and gives the wearer immense versatility. The Chukka is the perfect boot for running errands,
sitting at a desk
, attending weddings or any other occasion in your life as it can be
dressed up
or down with ease. It is, however, important to note what makes a Chukka boot different from other boots, because there are very similar styles out there which would not fall on this category.
Standout Picks
Criteria Used for Evaluation
Comfort
Cushioning is one thing that chukka boots usually lack. There is usually some cushioning built into the outsole, which is usually rubber or crepe rubber. Both materials offer some minimal shock absorption and cushioning to protect your feet. Some chukkas come with cushioning built into the upper by means of padding and into the footbed by means of the insole and midsole.
Padding
Some chukka boots come with padded leather collars, tongues, and uppers. Depending on the material used in the padding and what you're using the boots for, this padding can cushion some rubbing of the upper against your foot and ankle. However, if the padding is too firm or hard, then you would probably want to pass on that chukka, as a hard padding could hurt your ankles and Achilles tendons.
Insole
Generally, chukka boots don't have much by means of cushioning in their insoles. When you are looking for a new chukka boot, always check the insole to confirm that it will offer you enough cushioning to absorb the shock from each of your footsteps. Some manufacturers have invested in lightweight and thin cushioning technologies in their insoles, so it is possible for you to find a chukka with ample cushioning.
Midsole
Some chukka manufacturers include midsole cushioning and support technologies, but not all chukka boots will have it. If the insole is cushioned enough and the outsole is sufficient for shock absorption, then not having a midsole should be fine. Ultimately, you would need to try them on or check out what other people have said about the boots you are considering purchasing before you buy.
Outsole
Chukka boots all come with a crepe, rubber, or synthetic outsole. All of these outsole materials offer shock absorption and cushioning, but some are better than others. Of these, crepe outsoles may offer the most comfort, but they aren't very good for heavy outdoor use. Rubber and synthetic outsoles offer a little less cushioning and shock absorption, but they are much more durable and long-lasting
Fit
It's important to consider the fit and sizing options in your chukka boots. Not every chukka boot is designed with your foot shape and needs in mind. Some are too narrow, others have too large toe boxes, and so on. As such, you should spend some time researching or shopping around for the chukka boot shape and size that suit your needs the most.
Width Size Availability
Not all chukkas come in wide sizes. If you have a wide foot, then you need to consider whether or not this boot comes in a wide or extra wide size which would fit your feet properly. Wearing chukkas which are too tight could lead to injury and toe deformities, neither of which is fun.
Similarly, wearing chukkas which are too large can also result in foot injuries or worse, so it's important to find the chukka which fits your foot properly.
To confirm that the boots fit properly, you should try them on and walk around in them a little bit if you're buying them from a store. If they slide around or slip off your foot, they're too large. If they squeeze and cause pain, then they're too small.
Toe Box Shape
Most chukkas come with a rounded point forefoot. However, some have less drastic points than others. For wide feet, it's best to look for one of these less pointed forefoot areas to protect your toes from injury and pain. The best chukkas provide enough space in the forefoot for your toes to spread out naturally without pain or discomfort.
Support
Unlike with cushioning, chukkas generally excel in stability and support. While they may not be the best at providing ample arch support, the upper is always firm and prevents rolling an ankle or your foot. However, there is such a thing as too much support, so it would be in your best interests to find an upper material which provides some flex to give you a more comfortable stride.
Upper Materials
Leather
Leather is the firmest and offers the most support and stability. If you are looking for a firm, smooth boot, then a leather upper is the best fit for you.
Suede
Suede is another type of leather which can be just as firm and supportive. However, suede is made with the softer parts of animal skins, so it's softer and has a fuzzier texture than leather generally has.
Synthetic
Synthetic uppers are entirely man-made and include no animal products whatsoever. Depending on the materials used and the design of the upper, synthetic uppers can be the most flexible, but they are also quite capable of providing ample support and stability.
Outsole Materials
Rubber
Rubber is generally quite supportive and offers ample cushioning- the best of both worlds. Rubber is a firm material which absorbs shock well without sacrificing flexibility. Rubber outsoles will bend and move with your natural foot movements.
Crepe
Crepe outsoles are more flexible than rubber and they provide optimal shock absorption. However, they are generally less durable than rubber or synthetic outsoles.
Synthetic
Synthetic outsoles have the most potential for flexibility, but they can also offer optimal support. It depends on the type of outsole and the manufacturer. Always do some research or try on the chukkas before you buy to ensure that you are getting the boot that offers the right amount of support and flexibility for you.
Traction
All shoes need to provide at least some traction. However, it's important to get the most traction possible if there's any chance that you're going to walk on a slippery-smooth, wet, or uneven surface- which describes most situations, doesn't it? Therefore, you need to confirm that your new chukka boots come with the best traction possible. Unfortunately, as these are dressier shoes, they don't come with as much traction as sneakers and hiking boots.
Here are some things to consider that contribute to the traction capabilities of your prospective chukka boots:
Outsole Type
Of the types of outsoles regularly found in chukka boots, rubber, and synthetic outsoles generally offer the most traction. Crepe outsoles offer less in terms of traction, but that doesn't mean you should avoid a chukka boot with a crepe outsole. The biggest determiner for how much traction a boot is going to offer is actually the tread pattern.
Tread Pattern
Tread patterns in your boots can make or break their traction capability. The best tread patterns for traction and slip-resistance include many thin perpendicular lines throughout the entire outsole, but most of the outsole is still pressing against the ground for optimal grip.
Weather Resistance
In general, chukkas are not designed with temperature regulation in mind. They're a simple dress boot, but many manufacturers are investing in temperature regulating technologies to use in their chukka boots to increase the comfort and protection which they offer. A few such examples include breathability features, linings, and waterproofing.
Breathability
Some manufacturers of chukka boots use perforations in the upper of their boots to provide some airflow in and out of the boot. However, most don't include perforations, as it detracts from the classic chukka look. In general, the materials used in the upper of chukka boots are not breathable by default.
Linings
Some chukka boot manufacturers invest in warm wool upper linings while others invest in cool gel linings. Consider the environment that you will be using these boots in before you decide. If you are going to be on your feet all day in a hot environment or doing a lot of physical activity, you would probably want to steer clear of the warm linings. Gel linings are usually incorporated into the insole, so the gel linings keep your feet cool while also providing cushioning and comfort, so they're great for activities requiring you to be on your feet all day.
Waterproofing
Waterproofed chukka boots are great if you are going to be in a wet environment part or most of the day. If you spill something on a waterproofed chukka, you won't ruin the leather or suede. Dry feet are usually cooler than wet feet and dry feet develop fewer blisters.
Rainproofing
A subcategory of waterproofing is rainproofing. Rainproofing only protects your chukkas from light exposure to water, such as when it is raining or you spill something on them. Rainproof chukkas are not designed to be submerged in water and doing so could ruin your leather or suede upper.
9 Top Rated Chukka Boots for Men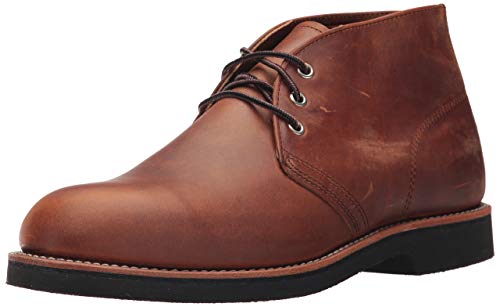 These classic chukka boots are stylish and flexible. The upper is made of 100% leather and comes in a few color options. The great thing about this men's Chukka is it's part work boot, part casual shoe. With a short shaft, it's designed less for ankle support and more for comfort. As with any Red Wing product, you know you're getting a quality shoe.
The Foreman men's Chukka boots are stylish shoes that would be equally suited for dress pants or Carhart's. With its low profile and short 4.5" shaft, you'll be the best dressed at the work site in your Chukkas. Great for work attire or even a night out on the town.
Rubber outsoles are naturally good at providing traction. If you do end up using these as work shoes you'll have a plenty of grip for whatever work you're doing. If you're using them for casual use, you'll still have the great traction these soles provide for whatever your day throws at you.

2

. Skechers Segment Melego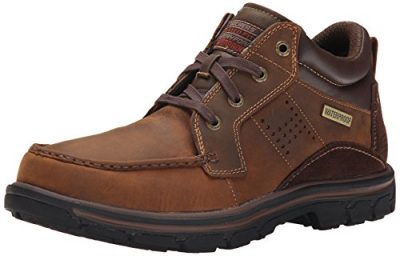 Skechers is usually associated with athletic shoes, but these waterproof men's chukkas are top of the line. They are made of leather for a fashionable, supportive look, as leather is a firm. The rubber outsole supports traction so you can be safe while you're in style. It even has a pull tab on the back to help you put it on!
This waterproof leather chukka boot features a gel-infused memory foam insole. The gel infusion helps to keep your feet cool and complements the cushioning properties of the memory foam for maximum comfort.
This boot has perforations on the sides in the center of the shoe. These perforations allow air to flow in and out more easily to keep you cool and dry.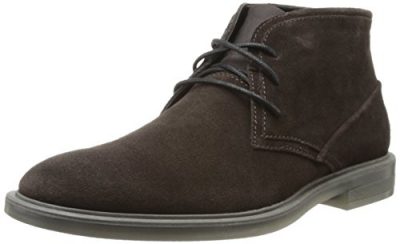 While this chukka boot only comes in two colors, it is a stylish addition to anyone's outfit. These boots forgo the hardware usually used to reinforce the eyelets, instead opting for a cleaner, more natural look. It's made of suede, a type of leather, that is both comfortable and looks nice. The layered overlays provide extra aesthetic appeal and support.
This chukka's synthetic outsole is designed to last, but it's also great for traction. This chukka boot grips the ground so you don't slip and fall while you're wearing them.
For maximum comfort, the Calvin Klein Ulysses Suede Chukka boot has a built-in synthetic insole with a soft sock liner to provide you with optimal cushioning and excellent shock absorption.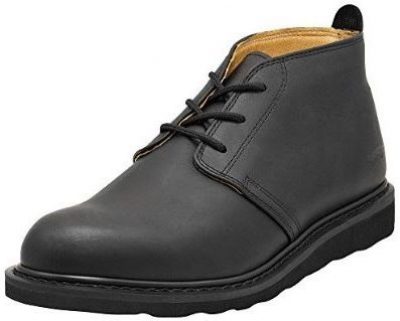 The Golden Fox Arizona Chukka work boots are designed with quality, comfort, and safety in mind. It isn't a steel toe boot, but it's built with water repellant leather for support and protection. Inside, it is lined with fine pigskin to make wearing them more comfortable. They come in a handful of neutral colors, so they'll go with any outfit.
This construction method is renowned as the most durable and effective due to its dual-layer stitching and an extra layer between the insole and outsole. These leather chukkas are made to last.
Unlike many men's chukka boots, these Golden Fox Chukka boots have a soft cushioning insole with arch support built into it. This is sure to provide you with comfort, support, and stability.

5

. Timberland EK Brook Park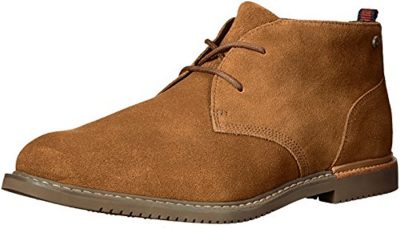 Boots that can be dressed up or down are always a staple, and these boots are sure to be the biggest staple in your wardrobe. Add in sleek stitching, premium leather, and specific comfort technologies and you're looking at an overall solid boot. One of the things that makes these Timberland special is that they proudly use recycled materials to ensure these boots are not only great for you but the planet as well. With at least 50% of their plastics coming from recycled bottles, you can be proud knowing you are literally taking steps to save the planet.
Specifically made for those who are on their feet all day, these chukka shoes will help reduce foot fatigue and soreness that plagues so many of us. The anti-fatigue technology is constructed in the sole and uses a shock absorbing geometric cone structure to support; making it no longer a chore having to stand, or walk around all day. The more energy you put into the shoe, the more energy it gives back, so you will get more pep in your step each time you walk.
Designed with superior traction for harsh winters, these boots are made for the outdoors. The lug outsole protects against abrasions and helps to maintain traction and drainage. The outsole is also Green, made with 42% recycled rubber. Regardless of the surface, you need to walk across, these men's chukka boots offer up fantastic stability and grip, giving you confidence and peace of mind.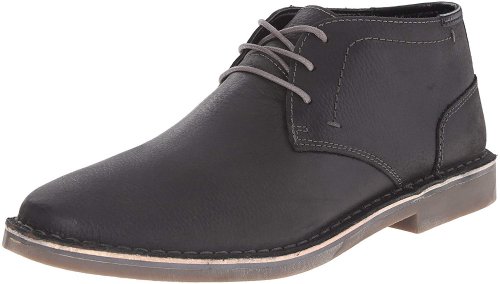 The Kenneth Cole Reaction Chukka Boot is a stylish and traditional chukka boot. It sports three eyelets on each side of the tongue, which is typical of traditional chukka boots. This boot comes in a wide variety of colors, so you are sure to find at least one pair in a color you like. It also comes in wide sizes.
The Reaction Chukka has a suede upper. Suede is a sturdy, durable material that, when used in shoes, provides stability and support. It's also stylish without being flashy.
The cushioned insole helps give you even more comfort and keep your feet happy all day. The round-toe silhouette is not only attractive but gives your toes plenty of breathing and wiggle room to, again, keep you comfortable.

7

. Bruno Marc Desert Storm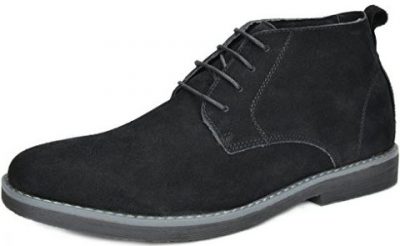 A classic Chukka style design, at a reasonable price, these boots are easily going to be a fan favorite. Available in a wide variety of colors, it's possible to pick up a couple pairs to wear day and night. Pair these boots with any outfit for an effortless, stylish look, that will turn heads and receive boundless compliments. These boots are a true statement piece, as colors like blue and grey will make your feet pop and bring a splash of color to your outfit.
To aid with easy movement, and traction Bruno Marc added rubber which has great slip-resistant attributes. These are a great option for outdoor activities, like, such as the name suggests - venturing in the desert. They airy nature and high breathability means your feet will not get overly hot, and you should find that sweat and moisture do not build up throughout the day. This gives you dry and odor-free feet and boots, which is everyone's ultimate goal.
There is nothing worse than constantly fighting to get your shoe on and off. Bruno Marc adding that small elastic panel to the back of each pair of boots, takes the struggle away. It is an extra touch that can sometimes go unnoticed but makes a big difference in the overall comfort of your boot.

8

. Red Wing Heritage Work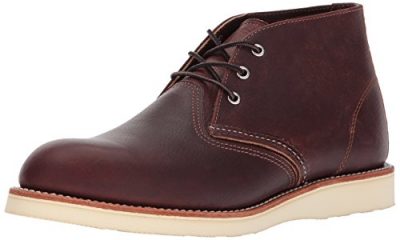 The Red Wing Heritage Work Chukka comes in a handful of neutral colors, making it an excellent boot for any occasion and outfit. Its clean construction gives it a just-out-of-the-box feel and the nickel eyelets make it look more modern than naked eyelet boots. The upper is made entirely of leather and the sole is made of crepe and leather.
This chukka boot boasts a special Atlas tread outsole, which is meticulously incorporated into the white crepe outsole. This outsole is designed to provide you with great traction and stability.
This chukka boot aims for a classier appearance with nickel eyelets than other chukkas. These eyelets are also more durable than naked eyelets which can rip and tear more easily.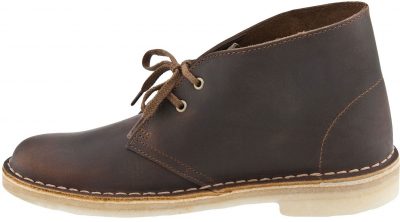 For over 60 years, Clarks has been perfecting the art of creating Chukka boots. The style has remained almost completely unchanged and for good reason - if it's not broke, don't fix it. Each pair is made with natural materials including their signature crepe sole for all day comfort and support.
There are many companies making Chukka boots, but only one actually started the trend, making Clarks the go-to for many. Though continuously imitated, few brands have been able to duplicate exactly what it is that makes Clarks Originals so original.
Every component of Clarks Originals is hand-picked. From the crepe sole to the premium Kudu leather, which naturally has marks and scratches, making each pair perfectly imperfect.

Subscribe to our Newsletter