Best Red Wing Boots – 2022 Review
In a Hurry? Editors choice: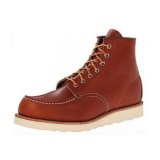 Test Winner: Classic Moc

Red Wing is one of the most respected names when it comes to work boots. You can find Red Wing boots in many styles that are both comfortable and stylish.
The Red Wing Shoe Company began in 1905 in the small town of Red Wing, Minnesota. It was founded by a shoe salesman named Charles Beckman with the intention of making the world's
best work boot
.
Over 100 years later, the name Red Wing is synonymous with style, functionality, and quality, as represented in their boots now made for hard-working men and women.
Standout Picks
Criteria Used for Evaluation
Protection
Red Wing work boots come in many styles, each with unique functionality designed for wear dependent on the level of protection required. Some key functionality features to look for in Red Wing boots are:
Toes: Red Wings are available with one of three types of toe protectors, safety, steel, or non-metallic. Steel toes are perhaps the most widely used toe cap due to their optimal protection and lower cost than the other options available.
Hazard Protection: Protection from hazards is a crucial function to consider when assessing which pair of Red Wings is right for you. The outsole is an imperative part of a shoes' construction that can protect you from various forms of hazards, both at the workplace and on your own time.
Weather Protection: Being adequately protected from the elements is an extremely important function and should be a major consideration when selecting your pair of Red Wing boots. Red Wing Waterproofing Technology is a three-layer system that includes a waterproof membrane attached to the backside of the finished outer material.
The first layer consists of a lining material that rests against the foot to help move moisture away, the second, or middle layer is made of foam and it gives body to the membrane and cushion to the foot. The third and final layer is the membrane material that acts as a barrier to prevent moisture from getting into the shoe.
Features
Red Wing boots offer safety that exceeds industry standards thanks to the careful design and construction of their products. These boots include incredible features that make for the most comfortable wearability available.
Triple-Stitched Toe & Heel: Triple-stitching at the heel and toes ensures each boot is reinforced against wear and tear.
GRIPTEK Rubber Outsole: GRIPTEK rubber offers unparalleled slip resistance and grip, partially due to the innovative lug design pattern of the outsole.
Red Wing Leather: This leather is premium, handcrafted leather that stands up to weather and temperature related hazards like no other.
Force Shield: A soft, thin material that provides impact and shock absorption
while being flexible and comfortable.
BOA Lacing System: BOA lacing systems make for easy on and off wearability thanks to their easy to tighten dial that releases with just one click.
Cage Guard: A flexible gel protection for the Metatarsal area of the foot that's comfortable and meets all ASTM standards.
Injex: Injected polyurethane is lightweight and provides superior cushioning while being flexible and long-lasting.
ExoFlex: ExoFlex technologies allow for expansion to accommodate the rear of your foot. This allows for easy on and off wearability and once your foot is in it contracts back for a snug fit.
Gore-Tex Waterproof Membrane: This moves perspiration away from the foot while keeping water out for a comfortable and well-protected wear.
Style
Red Wing boots come in many styles and heights ranging from athletic type shoes to 12-inch safety boots. While Red Wings work boots include one of three safety toe caps, they also manufacture soft-toed boots for individuals who do not require safety standard boots. In addition to the style of protective toe cap there are different variations of insoles to choose from.
Orthotic: Orthotic insoles are designed with friction reducing top coat fabrics and include anti-microbial technologies that control odor. They are complete with strong core foam inside of an EVA shell for long-wearing cushion and offer a stabilizing heel cradle that cushions and protects the heel.
Comfort Series: Comfort series' insoles offer Memory Foam Comfortforce® technologies that mold to the shape of your foot providing pressure release. An anti-microbial fabric minimizes heat and friction while helping prevent odors.
Original Equipment: Original insoles are made from Red Wing Microfiber and Polyurethane which makes them durable. They provide molded arch protection and include a gel pad to naturally enhance heel strike.
Brand
Red Wing has multiple collections which offer a range of different shoes and boots, not just for work and safety. Women and men can both enjoy something from one of the several Red Wing collection highlighted below;
Heritage Collection:
Crafted in America since 1905, the Heritage collection offers a little something for everyone. The Red Wing Shoe Company began manufacturing women's shoes in the 1920s and the Heritage Collection continues to deliver quality footwear for ladies nearly 100 years later, offering heeled boots, short boots, tall boots, and oxford styles.
Don't worry gentlemen, Red Wing hasn't forgotten about you with their Heritage line. Men can find quality boots, available in a number of styles, like, 6-inch boots, chukkas, 8-inch plus boots, and oxfords.
Irish Setter Work & Hunting Collections:
The Irish Setter is a purpose-built line catering to hunters and workers alike. Offering products specifically for work, big-game hunting, upland hunting, and for life on the trail. This line provides technologically advanced, tough-as-nails, and ultra-comfortable footwear, so you work, or play with total peace of mind.
Vasque:
Red Wings' Vasque line has catered to the trail footwear needs of wearers since 1964 and offers superior shoes for trail-goers. Men, women, and children can all enjoy a pair of shoes from the Vasque line.
Materials
Red Wing boots are subjected to rigorous testing right from the initial concept phase to ensure each boot meets Red Wings standards for protection, comfort, and durability. Testing verifies each material and component of the boot will not only meet but exceed industry standards. Every pair of boots sold is crafted with spotless attention to detail and delivers top-of-the-line security and peace of mind while on the job.
Red Wing boots are designed after careful research and insight from real workers who aid in product development and quality testing. Developers then craft technology layer by layer creating the form and functionality of the boot.
7 Best Red Wing Boots
The Iron Ranger series is one of the most popular styles that Red Wing offers. It is named for the iron mine workers of northern Minnesota. Its classic look and clean lines take you back to the early days of American mining. Today, this boot would look equally appropriate in the mine or in the boardroom.
With triple stitching and the Vibram 430 outsole, this footwear is made for serious work. Just like miners from days past, today's worker needs foot apparel that can last. The Red Wing Heritage Iron Ranger 6" boot is made to last.
The Iron Ranger from Red Wing is the top-of-the-line boot from a well-known manufacturer. It is the most expensive one in this review, but the premium construction and quality found are well worth the investment. This boot is made to last, and one pair will last you for many years.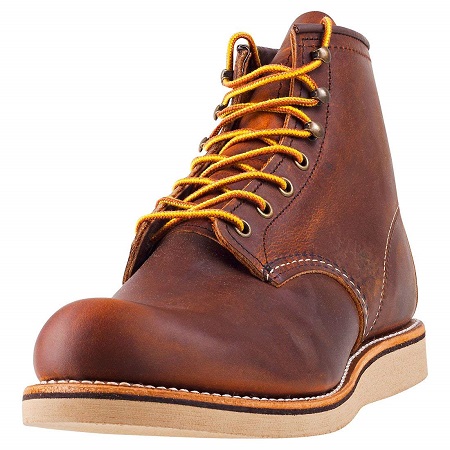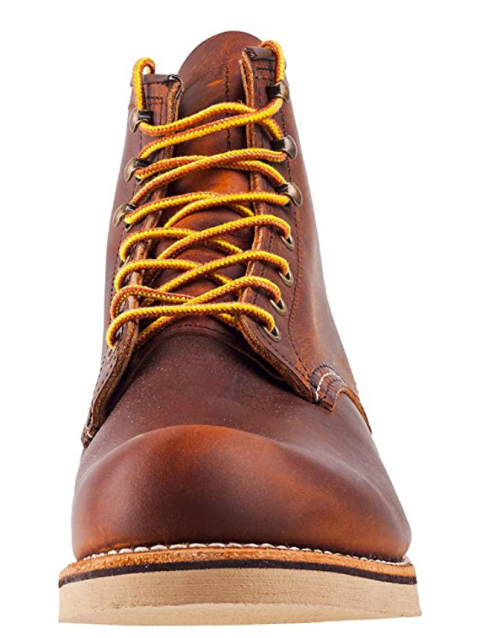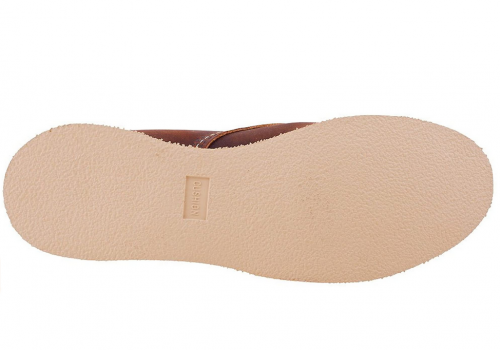 A solid and secure fit is the name of the game of the Red Wing Rovers. These boots feature an iconic style that is best described as "old school meets new school," and we'd have to agree. The copper colorway features yellow contrast lacing giving them a slightly retro look. The heel section allows for solid lockdown and these accommodate wide feet very well.
When it comes to any kind of boot for any kind of purpose, you want it to fit well and keep your feet secure.
If there are issues related to the overall fit it can cause your foot to move around inside the shoe, which can result in discomfort or even stability issues.
The heel section of the Rover, in particular, is designed to properly hold your rearfoot and ensure the best lockdown possible, keeping your feet securely in the boot without the risk of them sliding around.

The Red Wing Heritage Work Chukka is very similar to the Weekender Chukka. Part work boot, part casual shoe. With a shorter shaft than the Moc or the Irish Setter, this footwear is designed less for ankle support and more for comfort. It still has the same quality finish and craftsmanship that you've come to expect from Red Wing.
The Heritage Work Chukka is a stylish shoe that would be equally suited for dress pants or Carhart's. With its low profile and short 4" shaft, you'll be the best dressed at the work site in your Chukkas. Great for work attire or even a night out on the town.
The Chukka is a sleek-looking casual shoe, that moonlights as a work boot. It is sturdy enough to provide support on the job site but comfortable enough to be worn casually away from work.
The Heritage Work Chukka costs similar to many of the models in this review. Perfect for wearing out and about in town, or to the office, they are ideal for anyone to try out. Purchasing a pair of Red Wings is an investment in your feet, and your feet will thank you.
The first thing you notice about this shoe is the beautiful variety of colors it's available in. From solid black to burnt orange (Oro-Legacy), The Heritage Classic Moc is a beautiful take on a timeless design.
This model is made from waterproof leather on top, and a Traction Tread outsole to provide outstanding grip and durability. Combine that with triple stitching, and you have a shoe that can outlast the longest workday.
The Heritage Classic Moc 6" boot is available in nine different colors, including black, dark brown, burnt orange, and copper.
Each color gives it a unique appearance and functionality from a casual dress boot to a no-nonsense work boot.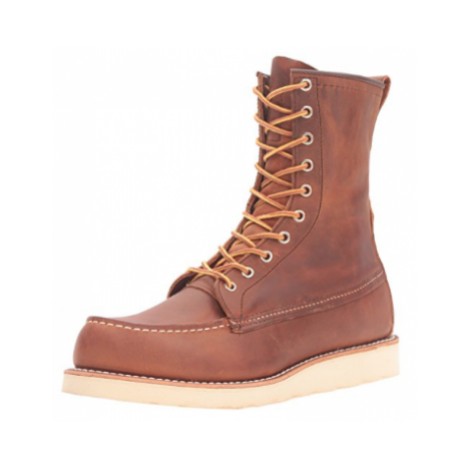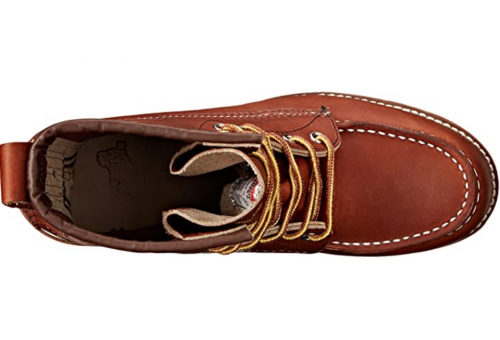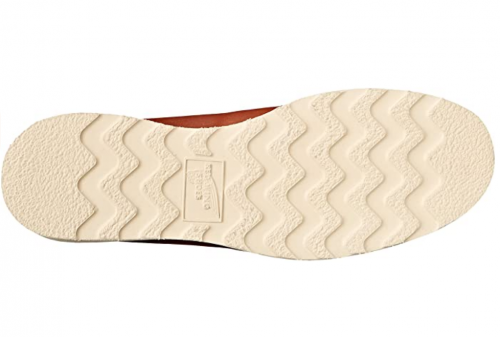 The Red Wing Heritage Moc 8" boot is what many think of when thinking of a work boot. Tall, sturdy, classic. The design has been basically the same since 1950. For traditionalists or anyone who needs solid, reliable work apparel, you can't go wrong with the Heritage Moc 8".
If you work on your feet, you know the importance of ankle support. These provide excellent ankle support through the 8" shaft.
The laces uptight and can really save your ankle on uneven or unpredictable terrain. The Red Wing Heritage Moc 8" Boot has been around since 1950, modeled in the style of 1930's work footwear.
The timeless boot has changed little in almost 70 years. Available in two classic colors, Oro Legacy and Copper Rough and Tough.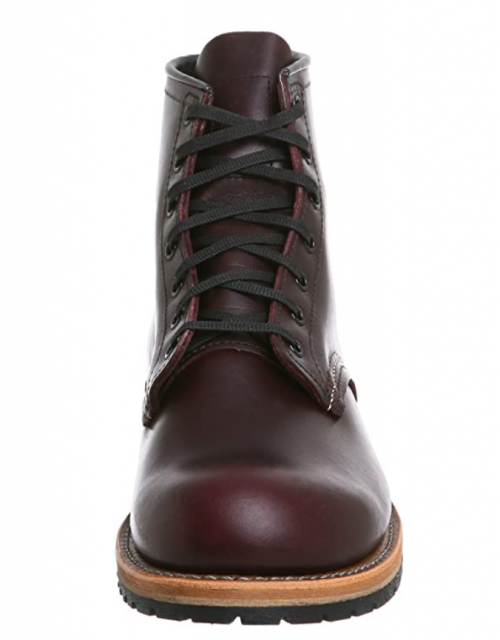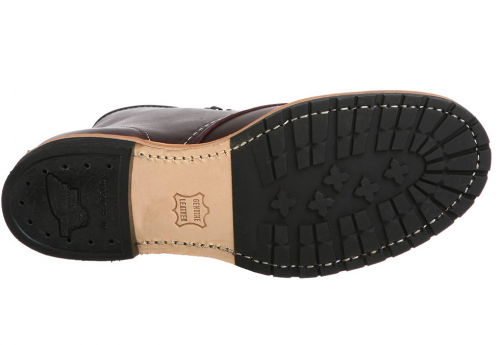 Named after the Red Wing founder Charles Beckman, the Heritage Beckman boot is made of polished leather, giving it a different look than most models in this review. The combination of polished leather and dark outsole gives it an unmistakably unique look.
The Roccia sole on this model gives the Beckman a striking dark/light/dark contrast between leather, midsole, and outsole. Always still a beautiful look, it gives the footwear a rich supple feel, and unique look and appeal.
These Heritage Beckman boots are on the higher end of pricing in this review, but still well worth the consideration. The higher cost is offset by the high quality and the fact that one pair of Beckmans will last you for years.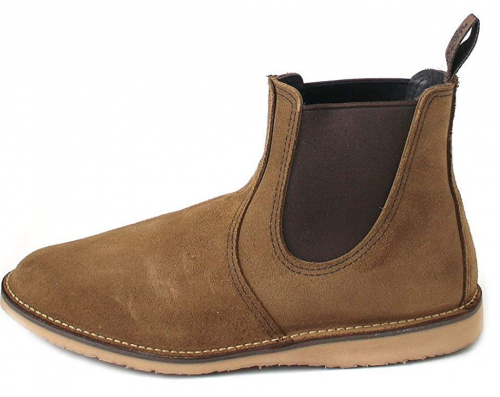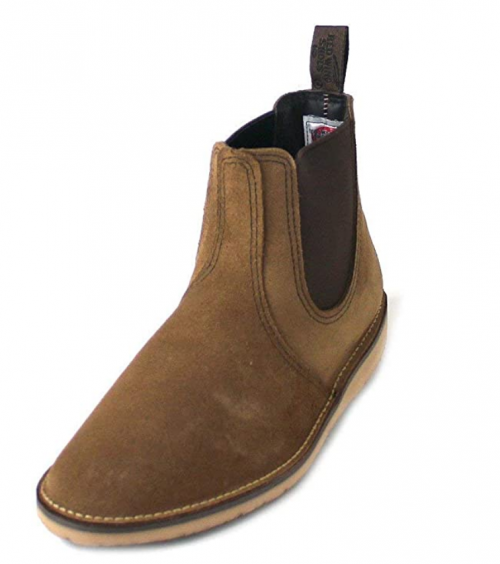 Chelsea boots have been a fashion staple since the days of Queen Victora, who, according to the original designer, "walked in them daily." These pull-on boots are characterized by the elastic side panel and pull tab on the heel.
Most Red Wing boots feature a slight heel, typically no larger than one inch. This adds some extra lift and style without compromising on comfort or stability. A chunky block heel such as the one used on this Chelsea boot provides a great surface area than a thinner heel would, promoting balance and comfort.
Chelsea boots are characterized by their pull-on design and heel tab. While traditional lacing is the closure of choice for many boots, this is not the case for Chelsea boots.
The pull-on design makes them easier to put on especially for those who struggle with motor skills and traditional laces. A fabric tab on the heel makes it easier to take them on and off as well.

Subscribe to our Newsletter