Best Work Boots Reviewed & Rated for Durability
In a Hurry? Editors choice: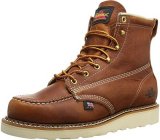 Test Winner: Thorogood American Heritage Moc Toe

Protection and comfort go hand-in-hand. Without the proper shoes and adequate comfort, that's almost impossible. With those long hours ahead of you, finding the time to weigh out all the important metrics (to find the perfect boot for the long hours) is difficult. To make it easier for the hard worker in you, we've done the hours of research to find the best work boots!

Below you'll find some of the top brands in work boots, including Danner, Timberland, and more. Many have the protection and certification needed for rugged work sites, but we've included options with soft, alloy, composite, and steel toed protection so you can find the perfect one for your needs.
Standout Picks
Criteria Used for Evaluation
Features
"Standardization is the process of implementing and developing technical standards based on the consensus of different parties that include firms, users, interest groups, standards organizations, and governments," this according to the definition posted on Wikipedia's website. In layman's terms, standardization is a system put in place to protect all parties involved, as this applies to a particular product and/or place.
For example, let's say I am interested in the manufacturing of shoes. Furthermore, my interests fall into the category of basketball shoes. To produce the best basketball shoes possible, I would, first, need to gain an understanding of how a basic shoe is constructed (e.g. footbed, outsole, insole, upper, etc.). Second, I would need to expand my knowledge to produce an appropriate pair of basketball shoes (e.g. shock-absorbent midsole, ankle support, arch layout, etc.).
Now, the best way to accomplish all of this is to gather a group of other basketball shoe manufacturers. In addition, I would need to gather a group of consumers (testers and feedback personnel). But it does not stop there. There, also, needs to be a group of professionals (e.g. sports medicine, basketball authorities, etc.).
And after all of this, in order to produce a pair of the best basketball shoes possible, I would need to implement all of the answers gained from the groups gathered. The good and the bad would need to be weighed; thereby, eliminating the bad and putting into practice the good.
ANSI
Thankfully, we have ANSI (American National Standards Institute). This is a non-profit organization who oversees the set standards put into practice for any particular product and/or place. We can look at them like they are the queen bee of a hive (e.g. the monitoring of sub-overseers). The worker bees would then be the sub-overseers for standardization processes (e.g. overseeing by testing footbed construction, insole construction, etc.).
ASTM International
For the best work boots, we have ASTM International. Their primary focus is to monitor and produce the set standards for children's outerwear and protective footwear; "covering the procedures for testing and classification of materials of every sort." (2018). In addition, these set standards are implemented and agreed upon with ANSI in mind; a family of sorts with ANSI at the head.
Now, here is the best part concerning all of this: You, the consumers, are what matters above all else; as far as, ANSI and ASTM are concerned. Furthermore, a pair of legitimate boots will have a tag/stamp placed on and/or within them which signifies they are, indeed, approved by ASTM and ANSI within the realm of work-related gear. This tag helps us to differentiate the footwear which is considered to be working boots versus shoes that are made to appear like comfy work boots. In other words, an ANSI tag/stamp is a great thing to have when considering these boots.
The ASTM International Stamp of Approval
For the standardization of work boots, "ASTM footwear standards define minimum requirements for the design, performance, testing, and classification of protective footwear. These standards are intended to protect users from electrical shock, puncture, abrasion, and more," (2018) this according to ANSI.
Furthermore, in order for a manufacturer to gain an ASTM marking for their working boots, certification must be acquired from an independent third-party laboratory responsible for testing. This ensures the manufacturer is not cutting corners, as it were. More importantly, this ensures you are well protected in the realm of safety protocols, as this applies to a pair of boots like these. Your safety matters and both ANSI (queen bee) and ASTM International (worker bee) agree, as do we.
ANSI Specifications for Soft-Toe (Non-Safety / Non-Protective Toe) Work Boots
ASTM F2892-17: This standardization entails that the best working boots have the following qualities associated with them:
Reduction of static electricity buildup (conductive (Cd) properties)
Electric-hazard protection (EH)
Static-dissipative properties (SD)
Puncture-resistance (PR)
Any addition and/or removal of components (e.g. footbed/inserts) can compromise the integrity of the gear; as such, the ASTM Soft Toe Protective Footwear label becomes invalid.
ANSI Specifications for Safety (Toe Cap) Work Boots
In addition to the previous standardization, ASTM F2892-17, the following must, also, be present for a pair of boots to be eligible for the ASTM F2412 / ASTM F2413 – Foot Protection and Performance Package:
Impact-Resistance
Compression-resistance
Electrical conductivity-resistance
"This specification is not applicable to overshoes with safety toe caps or strap on devices with safety toes." (2018).
The Correct Protection for the Job
At the end of the day, when you are mulling over which pair to consider in combination with an ASTM label, you must, first, consider the type of work environment you will be in. If working with heavy iron, you will need working boots with a toe cap; thus, reducing the risk of injury associated with a heavy item falling on your feet. If, however, you are working in a garden setting and installing lighting components, there is no reason to endure the added weight associated with the toe caps. In this scenario, you may want to choose a work boot without a toe cap but still labeled with the ASTM stamp of approval. In this, you will be better guarded against hazards such as an electrical mishap.
Durability
A good pair must have longevity. The average lifespan of a pair of boots, used every day, can be from 8 months to a year. If you had to spend over $100 for a pair of boots, the assumption is that they can last long enough to match the purchase price. There are, however, times (and only a few of them, fortunately) that you'll get a pair of boots which has been improperly manufactured; improper sewing here, lack of glue there, or quality control wasn't doing the job at that time. This is not so much 'buyer beware,' as it is, 'you should keep your receipt.' You can get a pair of working boots that fit well and are tough. Just be prepared for those unfortunate mishaps when something goes wrong (manufacturer-wise).
Durability and toughness is a requirement when examining the best work boots. After all, they are going to be utilized in extreme situations. Well, more extreme than the usual trip to the mailbox, per se. In addition, these are going to be worn day-in and day-out; that is if you are wearing them for an everyday job. As such, although the style may come into play, it should not be the qualifying factor when considering your safety; nor, should it be considered above the importance of toughness and durability.
Abrasion resistance is another key element, as this applies to durability and toughness. Although we are discussing footwear which will be pushed to the very limits, there is no reason to have a pair which will look horrible after only a couple of days of wear. Abrasion-resistant uppers and the outsole design can and will directly impact whether or not your boots will still look good after a month's work, per se. If the outsole protrudes beyond the toe box area, then this an attribute which is a good thing, in terms of abrasion resistance. The outsole will take the hit, first, if or when you brush the front of your footwear against something which can, otherwise, cause scarring.
Also, the material makeup of the upper and outsoles are equally important. Key materials to look for are treated leather, rubber, and polyurethane. In other words, the tougher the material, the less likely your boots will break down too quickly. After all, durability and toughness matters.
Weight
There's been an effort to replace the steel within the work boots with a composite material (the mixture of plastic, Kevlar aramid fiber, fiberglass, and carbon fiber). While the material is lighter, it's supposed to give your feet the same protection as steel. There are probably reasons for this. Steel is not something you want to wear when you're working around electricity and, especially, near water.
With that being said, there's, also, the weight in the rubber soles; as well as, the material to make the shoe to consider. For those of us without cars, it's a chore to lug these sometimes heavy work boots in a place such as your backpack; especially, for distances amounting to about an hour to and from home. Additionally, by default, oiled leather will be heavier than boots without. However, non-oiled may not last quite as long, due to scuffing and wear-and-tear.
Your job will dictate what you will need, in the realm of features. There is no reason for a safety toe if you are going to be walking the lakeshore and picking up trash, so to speak. A lighter weight boot will work just fine in this scenario. Furthermore, a work day can be long and the idea is to get home and still feel good, as your feet are concerned. A plethora of unnecessary features could have you feeling completely exhausted, and your footwear would be the blame.
Weather Resistance
It's a no-brainer that these boots are required when working outside during severe weather conditions. Keeping your feet, along with the rest of your body, warm and dry is highly important. Otherwise, environmental conditions such as extreme cold will physically impair you. So, wearing steel in your boots is out of the question. Furthermore, having the required amount of insulation in your boots is important. Making sure the outsoles are not flat; that they have enough of a grip to walk through the snow with enough stability is, also, highly important. The same can be said when traveling through the desert in the extreme heat.
Protection against the elements requires your working boots to be made for the environment in which you may find yourself in. Will you be in the snow? Maybe, you will be working near a waterfall? Try and consider environmental elements when choosing the top rated work boots for you. Also, consider the surface on which you may be standing upon. Is the surface slick, oily, or dry? Surface types can be considered part of the elements. All in all, the correct footwear can withstand the elements; allowing you to concentrate on your work.
Effectiveness
The people, who work in the industries dealing with projects such as concrete, flooring, and roofing, choose boots that can minimize any damage done to the projects they work on. Idealistically, it's best to walk around and avoid the work that had just been done. But sometimes, what needs to be done is unavoidable.
Outsoles with flat surfaces (i.e. wedges) are the best choice because they can be easy to clean. They must, also, fit tightly and comfortably with laces tied properly.
Work Boot Reviews
1

. Thorogood American Heritage Moc Toe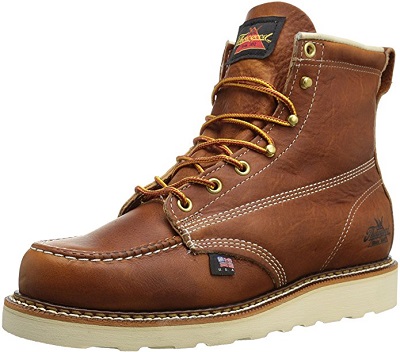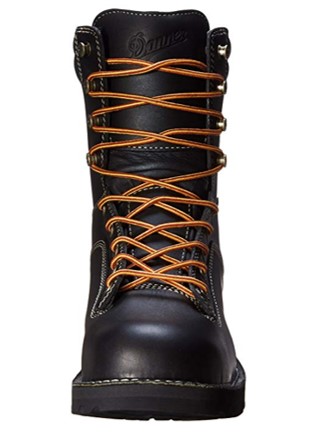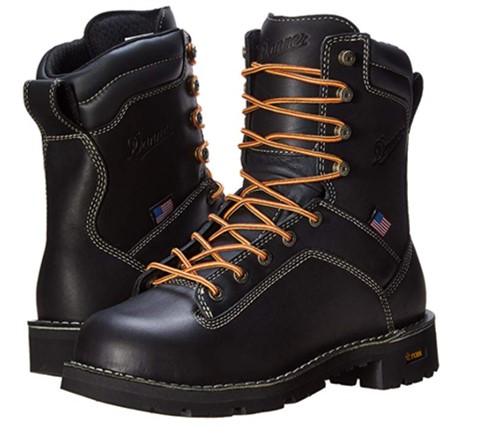 Thorogood 814-4200 Moc Toe is a popular brand known, mainly, because of its masterful quality and extreme comfort. As one of the brand's best-selling work boots, it was constructed from rich dark colored leather with contrasting stitching. Designed for individuals in tough working environments, it will deliver a tough durability like no other. The steel toe provides extra protection to the workers at all times. Comfort is assured by the removable shock-absorbent insert.
The interior has a shock-absorbing insert which can be removed and replaced. A comfort cushion has, also, been incorporated into these comfy work boots to prevent the toe from blistering and/or getting hurt.
The rubber midsole (Goodyear Storm Welt Construction), cotton drill lining, and the perfectly engineered composite shank ensure perfect protection to your feet.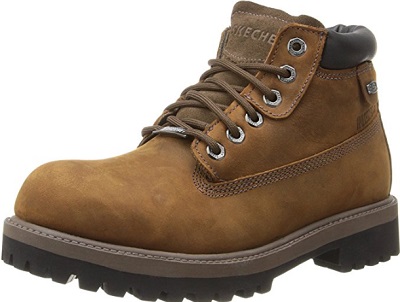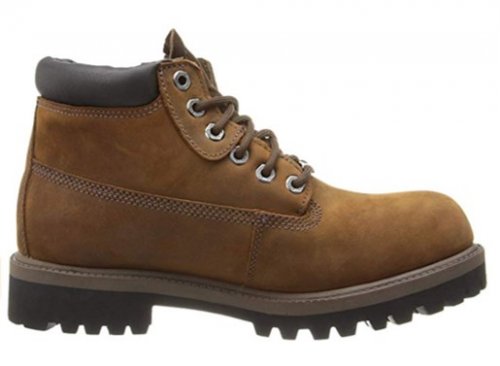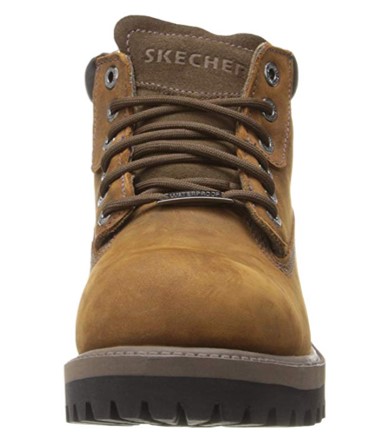 These give a balanced blend of both high quality and superior comfort expected out of such a brand as Skechers. It has a collar and tongue which are padded, rugged lugged outsole, a heavily cushioned insole, and is constructed with more extreme workplaces in mind. It is, also, one of the more budget friendly of the work shoes available in the market. Apart from the comfort and protection, these working boots have a nice aesthetic to them, as well.
With these work boots, safety is nothing to worry about. Bot the padded tongue and collar, cushioned insole, and the heavy-duty lugged outsole gives your feet maximum protection from getting blisters and/or becoming hurt.
With this pair, there is no need to worry about your sole wearing down. These working boots last long in any working environment. They hardly crack or tear and are made with high-quality materials.

3

. Timberland Pro Direct Attach Soft Toe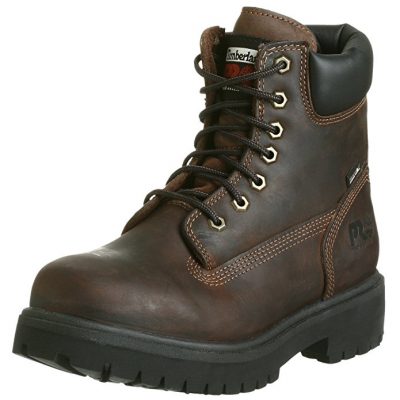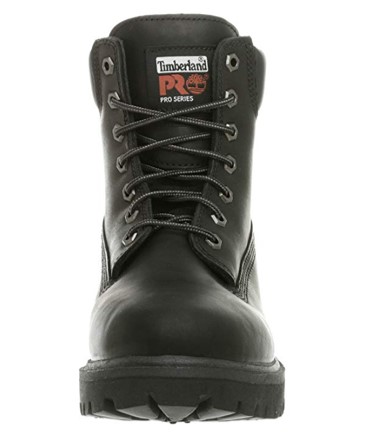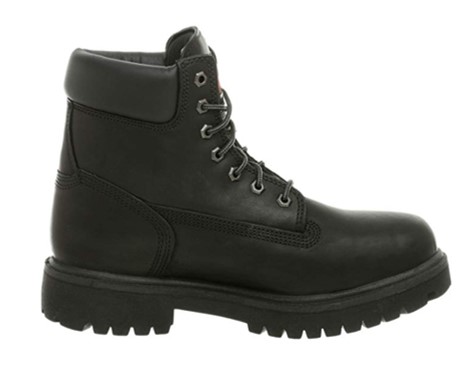 The famous Timberland Pro Direct Attach, fully, adapts to on-site survival. It boasts of a combination of waterproof leather and seam-sealed construction. The Thermolite insulation ensures these work boots keep your feet dry and warm all of the time. They have a non-marking outsole made of rubber lugs, which ensure maximum traction while at work.
A critical feature is in its construction made of seam-sealed direct-inject. It contains premium, waterproof leather that makes it usable in any working environment.
Here, comfort is assured. The premium, full-grained leather means minimal break-in and a very, comfortable fit. They are lightweight with an interior lining made with Thinsulate insulation; keeping your feet warm, as you work.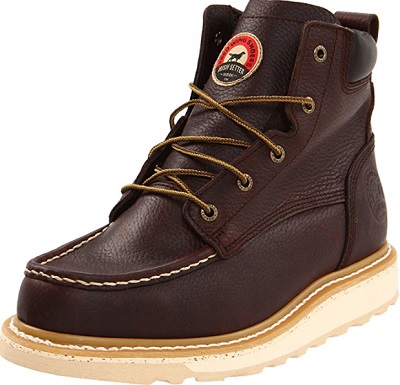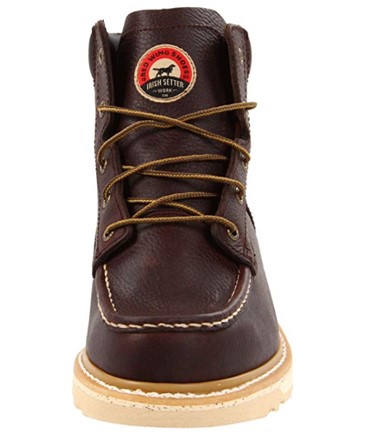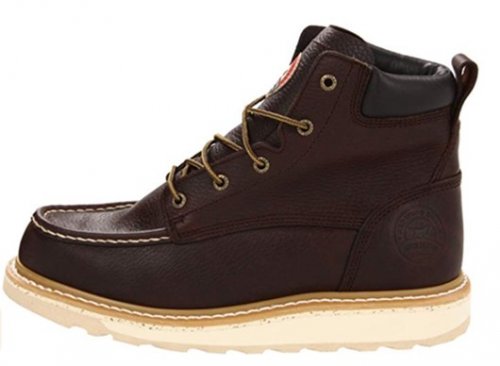 These work boots are an absolute delight. They have an ASTM F2413-11 electrical hazard rating, are waterproof, and are made with handcrafted leather from the S.B. Foot Tanning Company. The rubber outsoles are rated to a minimum of 475-degrees Fahrenheit heat resistance and there is a nice shaft height of 5.5 inches. In other words, this pair is ready for the job ahead.
Irish Setter boots have handcrafted leather made specifically for their working boots, by the S.B. Foot Tanning Company. Moreover, this leather is waterproofed to give you all-day dry conditions.
This pair of working boots has an EH (electrical hazard) rating which meets the ASTM F2413-11 safety standard. In addition, the outsoles are rated to withstand up to a minimum of 475-degrees Fahrenheit.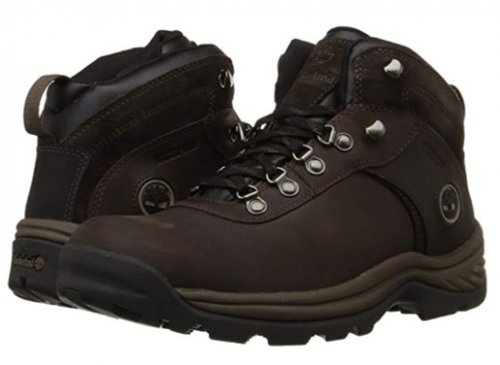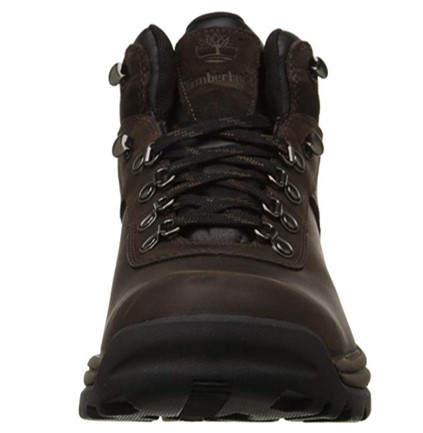 These boots are made in such a way that they are perfect for both hiking and working. They are covered with strong, leather fabric. Furthermore, these have seam-sealed, waterproof construction. The lacing is a D-ring with a logo patch on its tongue. The collars are padded and the tongue is, fully, gusseted to keep out debris. Moreover, these working boots look and feel nice, as well.
These are very comfortable to wear. They have padded collars and a support cushion which has, also, been incorporated to prevent the toe from blistering and/or getting hurt.
The boots have a sturdy and durable outsole. The leather fabrics are water-resistant; thus, keeping the interior clean and dry. A dry interior means this will, essentially, cause them to last longer.

6

. Muck Boot Arctic Sport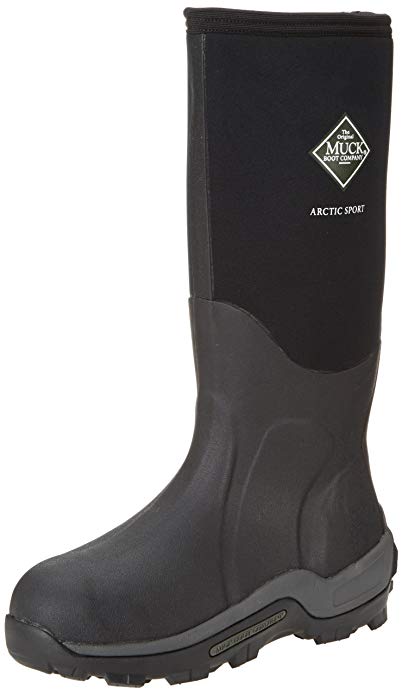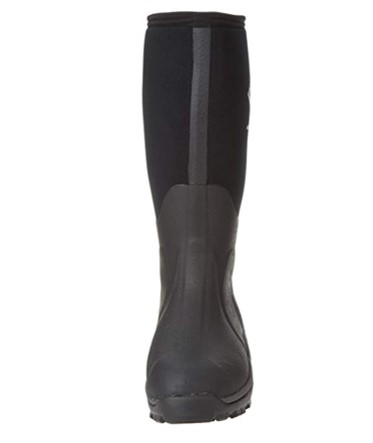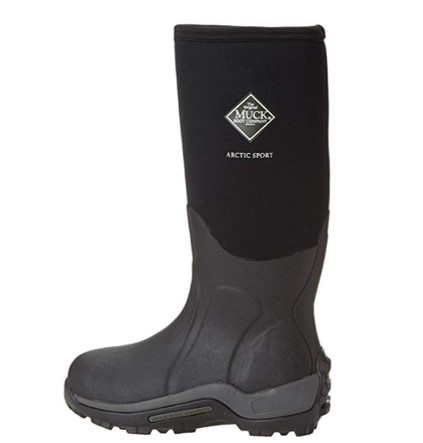 Working in winter conditions means you need a mean boot to stand up to the mean weather. The soft fleece lining found in the Muck Boot Arctic Sport is not only comfortable, but it's also incredibly warm. Combined with a 2mm thermal foam footbed, the Arctic Sport is wearable in frigid conditions, ranging from -40 °F to 40 °F.
The outsole is made of rubber and provides excellent grip. The traction is excellent, even on slippery and uneven, wet terrain, thanks to the rugged molded lugs. A completely-sealed rubber shell defends against moisture, and the boots are work boots completely waterproof.
The shaft on the Arctic Sport is about 15" high and the heel is a modest 1.25", so not only to you get protection up the leg, you also get a nice little height boost. This boot is a great buy if you live or work in areas of the country that get extremely cold and wet.

7

. Caterpillar Second Shift Soft Toe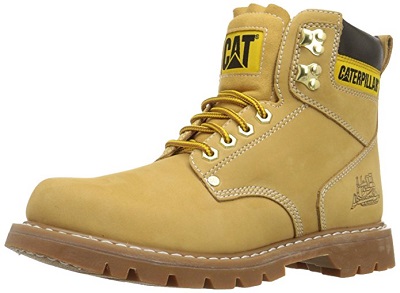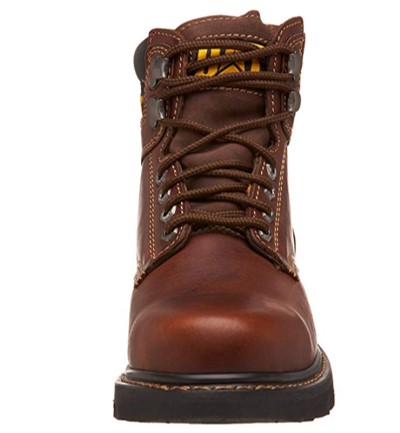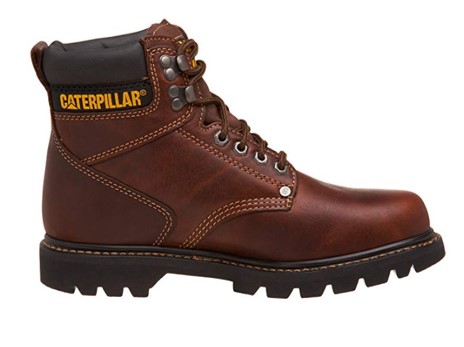 These working boots have been created, mainly, for working in varied environments and for long hours. They feature a breathable upper which makes them perfect for maintaining extreme comfort and dry feet all day. Maximum protection is assured with the oiled, full-grain Nubuck upper. This leather upper works in conjunction with a strong outsole; thus, working perfectly together to protect your feet.
The Honey Nubuck upper provides maximum protection; especially, to the ankle and the upper part of the feet. In addition, the Climasphere™ sockliner will help to keep your feet both comfortable and cool.
These work boots are meant, primarily, for those people who work in different terrains for long periods of time. The Goodyear welt construction makes them perfect for long-working hours while retaining comfort.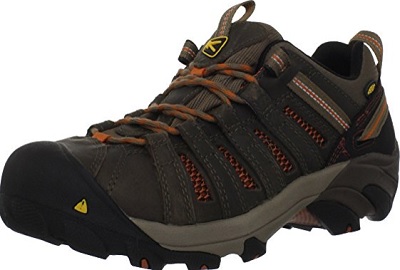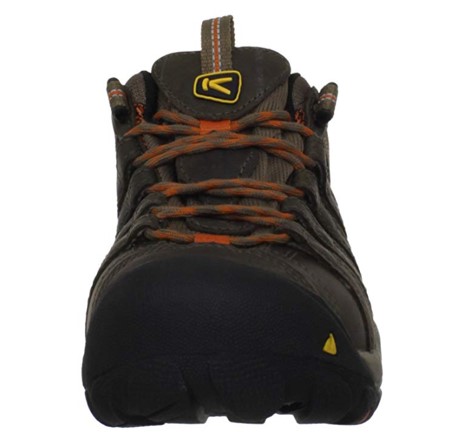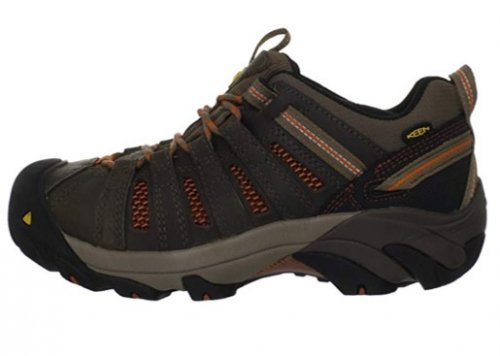 Are you desiring a pair of work boots which feel a bit more like sneakers with high comfortability? Great, then this pair is the choice for you! With an anatomical footbed design, a hiking-inspired fit, and molded-reinforcement on the toe box, your feet will feel as though they are in sneakers, instead of working boots; albeit, the steel toes may make them feel a bit heavier.
This design helps to promote good arch support; providing you with all-day comfort. Following the natural contour of your feet, this footbed feels more like a sneaker and less like a work boot.
In essence, these steel toes are created with both your left and right foot in mind. They are designed to bring you a better fit; thus, you will experience greater comfort, as a result.

9

. Columbia Newton Ridge Plus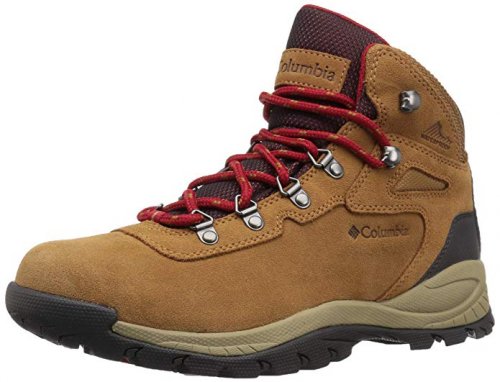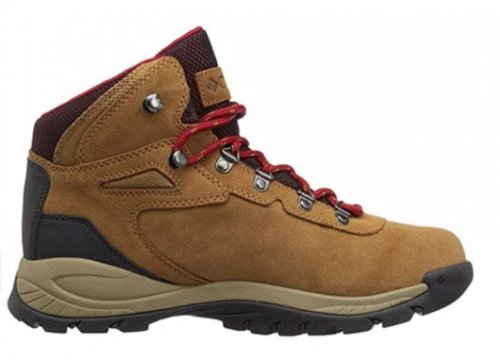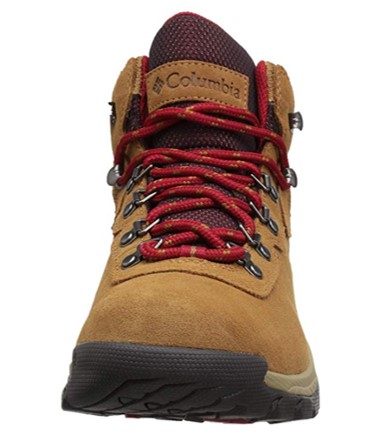 The Columbia Newton Ridge Plus is a hard-working boot for a hardworking woman. Specifically designed for the ladies, it features a waterproof, durable design with unique contrasting colors for style. A soft suede exterior adds to the luxuriousness of this hard work boot.
A 5" shaft offers ample protection for the foot, while still allowing the wearer to move flexibly and nimbly. The lace-up closure system of the Newton Ridge Plus ensures a secure, snug fit. Finally, the tongue of the Columbia shoe is durable and breathable, being made of mesh.
Of course, the upper of the shoe is only useful if the sole of the work boot can offer a strong grip and traction on any surface. Fortunately, the Newton Ridge Plus has a unique tread pattern making them appropriate for snow and ice. Omni-Grip technology ensures the wearer has the right level of grip for any surface.

10

. Danner Quarry 8" Alloy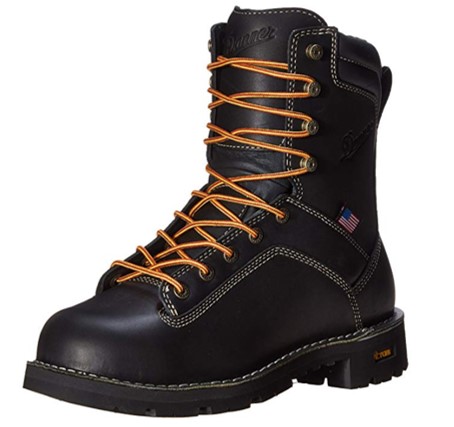 If you're finding that regular work boots don't cut it for your needs, and require a boot with specs up to par with certain codes, the Danner Quarry Alloy toe boot may just be the one for you. It's ASTM certified for F2413-11, and has oil and slip resistant soles. And with an alloy toe for added protection, it's lighter than other steel toe options, but sill provides a boost in toe protection. Lighter in weight, it can help reduce foot fatigue throughout the day, and was constructed to fit any kind of foot shape and type.
Alloy toe helps protect your feet against the occasional equipment drop or 2x4 landing on your feet, but it's also lighter than many steel toe options, which helps reduce stress on your feet during wear. An Ortholite footbed helps provide more cushion, and a fiberglass shank supports your foot even for those longer days on site. With it's ASTM certification, you know you'll have footwear to protect you, along with slip and oil resistant traction.
Outsole is a Vibram rubber, durable, sticky, and perfect for rugged terrain. It also has a waterproof Gore-Tex lining, so moisture won't creep into the boot during rainy weather or messy work sites. The sole is also approved for electrical hazards, while uppers are crafted from quality full-grain leathers. Midsole has been improved upon by utilizing a single piece that runs throughout the boot, giving added support for longer periods of wear. The Quarry has all the great features you'd need for a long day on site, and ankle support that will keep you stable and secure all day long.

Subscribe to our Newsletter