Best Roofing Shoes – 2022 Buying Guide
In a Hurry? Editors choice: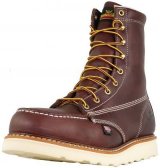 Test Winner: Thorogood American Heritage

If you ask 10 contractors about the type of footwear they will wear when doing roofing work, you will receive ten different answers, as everyone's needs are quite personal. There are, however, a few things you need to think about – is roofing something you will be doing just this once, and you want to be safe, or is it your main source of income? As with any other professional gear, professional roofing shoes will come at a considerable price. No matter which category you fall into, this article will give you plenty of choices for shoes to wear when doing roofing work.
Standout Picks
Criteria Used for Evaluation
Outsole
The most important aspect of a pair of shoes you intend to use for roofing is the outsole. This is the part that will be in contact with the roof, and that will not only be making sure you are safely on your feet, but that can also keep you from doing any damage to sensitive shingles or metal roofs.
First and foremost, you need to look at the grip a pair of shoes will give you. Having a non-slip outsole is imperative, and even though not all will be labeled as non-slip, it's a good feature to start with. Skateboarding and tennis shoes are excellent, as they will do well with asphalt shingles and metal roofs, and won't cause any damage. Flat soled basketball shoes and even Converse are good, as these have similarly grippy soles that give you a big surface in contact with the roof, and are made out of the right materials to keep you from slipping. But, it is also possible that you won't be working on sloped roofs, or that you are expected to work in cold environments. This is where work boots come into play. Hiking boots are an excellent option, as they can work with both hot and cold conditions. If you are looking at potentially climbing on wet roofs or even ones with snow and ice on them, then the pair of shoes you choose needs to be designed for this type of surface. Adding cleats is a good option, as some overshoes will give you the needed extra grip, while your regular pair of shoes can take care of the flexibility, stability and warmth levels you require to do your job.
Another thing that you need to consider is how flexible a sole is. Again, your requirements will depend on the type of roof you are working on, but overall it is good to have more flexible shoes for bigger inclines, as this will help you find your footing more easily. Some work boots have a s steel shank which is there to offer safety on construction sites as well as to improve durability, but you need to note that this solution might not be the right one for you if you are working on bigger slopes.
Finally, there is the question of sole composition. Roofing materials can be quite sensitive, with shingles not being able to bear much weight and metal roofs being easily marked. It is very important that you choose the right pair of shoes so as not to damage the roof you're walking on, otherwise, you might be looking at financial losses. Non-marking soles are an excellent place to start so that you can be assured that there won't be any unwanted marks on the surface you are walking on.
Support
The pair of shoes you opt for when working on such great heights need to make you safe so that you don't suffer an injury on the job. That's where the level of support comes into play.
Although some people prefer a barely-there shoe when roofing as they need to be more mobile, others will need to feel safe. You might want to look into boots that will cover your ankles and thus stabilize them. This can prevent sprains and pulls, and give you peace of mind and a much-needed sense of security that's crucial on great heights.
Even if you prefer to work in lightweight sneakers such as skate shoes, you will find that a higher top (for example the Vans Old Skool High Top) can provide you with the necessary ankle stability you require on bigger inclines.
The lacing system of your shoes is extremely important as well. You need to be absolutely sure that your laces won't come undone or break while you are working, so even if you bought the most expensive pair of shoes on the market, you need to take a close look at the laces, and if necessary swap them for a sturdy and safe pair. Laces are what will be keeping your shoes safely on your feet, and any looseness can result in serious injury.
Last but not least, in order to remain comfortable throughout your work day, you should opt for footwear that offers the necessary features for your foot type, and for some this may mean additional arch support, or a heel clutching system that will prevent your heel from slipping inside the shoe.
In case you happen to suffer from flat feet, plantar fasciitis, or just have higher arches than normal, you may want to look into supportive options. Or, simply choose a shoe with a removable insole and replace it with custom orthotics. This way, you'll get all the benefits of a professional roofing shoe, but won't have to sacrifice the health of your feet.
Materials
The materials used to make your next pair of roofing shoes are quite important seeing that they will determine the durability, fit, support and protection you get from those shoes.
Leather is one of the best materials you can opt for, seeing that it is a material that is more difficult to puncture or rip, thus offering you more protection than thin canvas. It is also a good choice as it is breathable and flexible enough to allow you to move freely.
Suede is another good choice, as it can take a beating. Asphalt shingles, for example, have proven to be quite rough on shoes, and they will probably ruin most footwear. Suede used on skateboarding shoes was made to be in contact with the decks of skateboards which are often covered in a material that resembles sandpaper, so you can rest assured they won't just rip and fall apart.
Finally, you can also opt for canvas shoes, as they will provide you with plenty of flexibility and breathability, but won't do well with protecting you from falling objects, and will most likely wear out faster than other materials.
If you are looking at doing roofing in varying weather conditions, it is a good idea to have more than just one pair of shoes ready for this task, as colder temperatures will not only require you to adjust the grip beneath your feet but also the level of insulation you require to be able to keep working and staying safe.
Features
The footwear you choose to do roofing work in needs to be constructed according to the highest standards, providing you with the best possible quality. This is not only important because of the amount of time you need your shoes to last, but also because you simply cannot have the soles of your shoes falling off while you're doing work on a roof where you rely on your shoes on keeping you safe.
Overall, this level of quality is reflected in the prices you will find for roofing shoes. It is not uncommon for these shoes to have steep prices, and it's important to consider the fact that due to damage from roofing materials, they may need to be replaced every few months. Overall, it is best not to try and cut any financial corners on this aspect of your business, and keep in mind that you are paying for a product that is preventing you from falling, injuring yourself or worse.
If, however, you are someone who is looking at doing their own roofing and need a pair of shoes that you will use for one occasion, you can opt for one of the more budget-friendly models on this list that will do the job, keep you safe, but won't break the bank.
Fit
Finally, it is important that your roofing shoes fit well and are comfortable enough so that you can spend prolonged periods of time wearing them. When it comes to fit, you need to be looking at something that will allow you to move with ease, and that won't constrict your feet, but also a pair of shoes that won't be too big for you as this could lead to sprains and other types of injury.
When you choose the correct size and width, you also need to make sure your roofing shoes aren't rubbing your feet in any spots, or that you won't develop blisters as these will prevent you from doing what you need to do. If you are not certain how a pair of shoes will perform fit-wise, it is best to wear them around the house and break them in before taking them up to any roof. Alternatively, you can use quality socks and moleskin tape to protect the areas of your feet you know to get irritated easily.
When it comes to comfort, it's crucial that you have the correct arch and heel support so that you don't experience any pain, while padding in the upper is also a good thing to have. Some shoes are made with removable orthotics, so you may want to look into those if you require that kind of feature.
Otherwise, you can look at purchasing shoes with gel or memory foam insoles that will provide some level of shock absorption will be cushioned, and won't harm your feet. An alternative is to get your own insoles that you know you like, and put them in your next pair of shoes. Just make sure that your shoes are big enough to fit any of these (you might need to go half a size up in some cases).
10 Best Roof Shoes
1

. Thorogood American Heritage
All Thorogood shoes are proudly made in the USA by Union workers who know quite a lot about the type of work you will need to be doing. These boots are made out of the highest quality materials and using advanced technology to provide you with a style that is not only comfortable but also puts safety first with a non-slip sole and a safety toe that will protect you on all construction sites. In addition, they will look good off duty as well, all while providing you with superior comfort and durability.
The outsole of these roofer shoes was made so as to keep you from slipping on any surface, whether it's wet, muddy, grassy or just slick. With this superior grip, you can rest assured that you will stay safe even if you have to work on sloped roofs and on great heights in less than perfect conditions. Furthermore, the insole was given just as much thought as the outsole, as it features a memory foam footbed which can be removed and replaced should you need your own custom orthotics.
The upper is made out of Briar pitstop Leather that you can get in five different colors should you want a specific look for your work boots. They feature an X-STREAM waterproof membrane and were made using Goodyear storm welt construction that will keep these work boots on your feet for a long time. One of the things we like about these boots is that they feature a safety toe that will come in handy if you happen to drop some of your tools but can also be purchased without this feature.
Regardless of size and style, unlike most other shoes on this list, these will cost you quite a lot. The kind of quality you can expect from Thorogood does not come cheap, especially if made in the USA by workers who are paid fair wages for their time. But, if you're looking for a good investment, then these 8" work boots are the perfect choice for your next pair of roofing boots.
2

. Merrell Moab Ventilator 2
This is the second edition of one of Merrell's best selling hiking boots in the last ten years. With a name that stands for Mother of All Boots, you can be sure these will serve you well on your next contract for roofing work. They have a Vibram outsole made out of high-quality rubber that is both durable and grippy in all conditions - regardless of the incline. The contoured footbed is made out of FIT.ECO+ blended EVA and has added arch and heel support zones that are there to keep you comfortable even on the longest of workdays. The breathable upper ensures that these will work just as well in summer as they will in winter. You can choose between a low, mid or high option with these roofers shoes, meaning that you are sure to get the perfect performance for your specialty.
These hiking boots will give you some serious grip on all kinds of surfaces. Whether we are talking about flat roofs with a lot of loose gravel or asphalt shingles with quite a slope, these soles will have you stick to the surface like you need to. They provide just enough flexibility so that you can do everything you need to, and you can move without any constrictions, while also providing with a great performance in all types of extreme temperatures.
The upper of these shoes is made out of leather suede and mesh that have been developed for high performance on long hikes. The mesh allows for plenty of breathabilities, giving you the airflow you require on hot days. An air cushion in the heel area absorbs shock when walking, while a nylon shank in the sole takes care of stability - although, those who prefer a really flexible shoe will not be a fan of this addition.
For such a high-quality product, these shoes cost surprisingly little. Nonetheless, they still rank quite high on this list for the price, but that's to be expected of professional hiking gear. These boots are an excellent choice for those who need a reliable shoe that allows mobility, has excellent grip, is durable and breathable. If you know you'll be working in winter time, make sure to choose the mid or high version with added waterproofing.
Another great option for roofing shoes are the Red Wing Heritage Mocs. They are durable, built for work, and will make sure your feet and ankles are safe and protected. While they are expensive, they would be worth taking a second look at for their superior durability and protection.
The outsoles of these boots are made out of vulcanized rubber that provides wearers with excellent flexibility and a superior grip. In addition to keeping you slip-free when working on big heights, these will also be your top choice as they don't leave marks on hot shingles, making sure you do not damage the roof you are working on.
The fact that these have a durable leather upper means that they will easily mold to your feet, while also provide you with a high level of breathability, and excellent mobility. The high ankle means that your ankles won't be compromised, allowing you to do your best work without the risk. Furthermore, these shoes can withstand quite a beating, meaning you won't have a pair of sneakers with a detached sole or with holes in the upper.
The Red Wing Heritage Mocs can be expensive. They'll give you a good grip, plenty of mobility, won't weigh you down and will keep you cool enough even in the hot summer sun.
4

. Timberland PRO Barstow
These rugged full-grain leather boots were developed specifically for professionals who need comfort, durability and a good anti-slip sole that will work well on all surfaces, including wet and oily conditions. The 5" height will provide plenty of ankle support and stability, while the soft toe is an excellent addition as it does not restrict mobility in the sole. As Timberland is a company dedicated to keeping the environment as intact as possible, they use eco-friendly materials in all their products and packaging, giving you the peace of mind that you are making a difference towards a better future.
These outsoles were made specifically for professionals who spend a lot of time on their feet. They include Goodyear® Welt construction for a durable mechanical bond, a shock absorbing, energy returning EVA midsole for cushioning, antimicrobial treatment for odor control and Dual-density Dynamic Anti-Fatigue Technology which returns energy to the feet at key pressure points while maximizing breathability and moisture control.
These work boots are great if your work requires you to do more than just roofing, as they provide an overall higher level of safety. In addition to the rubber sole which is abrasion, slip and oil resistant, they will also protect you in environments where you might be exposed to an electrical hazard. They meet ASTM F2412-11, ASTM F2413-11, and ASTM F2892-11 electrical hazard standards, meaning that you can work around electrical components with a peace of mind.
As a pair of leather work boots made for professionals with various features, these roof walking shoes by Timberland don't come cheap. They are comfortable enough to spend all day in them, while also providing you with a durable fit. If you are looking for an overall work boot that you can also use for roofing, these are an excellent choice.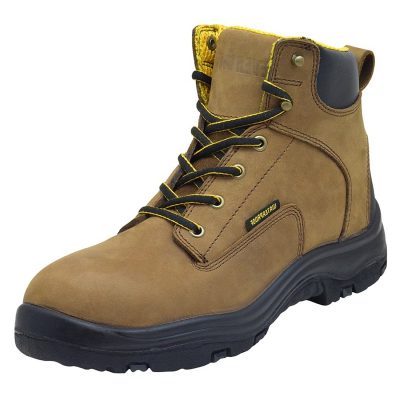 These boots are probably the best product you can purchase if you are looking for cheap roofing shoes that will keep you warm and dry during the winter months. They are lightweight boots with very grippy soles that work well on wet and oily surfaces, while the rubber is non-marking, meaning that you can even use them on more delicate roofs without fear of causing any damage to them.
The upper of these shoes is made out of full grain leather that is attached to the sole with Seal-Direct Attached Construction technology. The waterproof membrane will keep all liquids from entering the boot, while still allowing for heat generated moisture to escape. The mesh is insulated and has moisture wicking properties to keep you dry and warm even the coldest weather.
The soles of these boots are made out of a rubber with excellent traction properties, but what makes them special is the fact that they create flex points on your feet, allowing for better movement. They will do quite well in absorbing shock due to the durable polyurethane midsoles which will keep you comfortable even if you have to be on your feet all day long.
This pair of boots is the most affordable pair of professional work shoes on our list. They provide excellent quality and durability, with the added advantages of insulation and waterproofing. You will love them for the flexible soles that can prove to be good even on sloped roofs.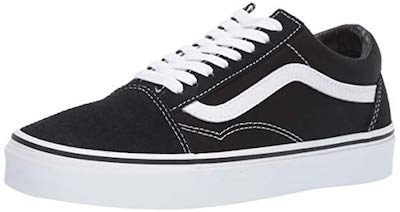 The original skate shoe, the Vans Old Skool is a great choice for those who want to do roofing work in warm conditions. Lightweight, extremely durable, and offering stellar traction on a variety of surfaces, this model will surely keep you safe while still letting you move in all directions in order to finish the job. Being a classic design, it allows you to choose from numerous color options, and you can even have your pick of upper materials, with both textile and suede being available.
The upper of the Old Skool uses durable materials that were originally intended to be used by skaters. This means that it shouldn't give in to abrasion, even on rough shingles, and you can pick between suede or canvas depending on your personal preferences. No matter which of the options you end up going with, you'll appreciate the fact that these shoes offer a good amount of breathability, as well as the fact that they have extra padding in the tongue and collar that will keep you comfortable for hours.
The outsole is non-marking, which is crucial for any professional, and features a waffle traction pattern that will stick to most surfaces, keeping you protected, even in less than ideal weather conditions (although, we wouldn't really recommend using these in rain or snow due to lack of insulation). The insole utilizes foam for cushioning, and a classic lacing system allows you to find the perfect, secure fit. In terms of price, the Old Skool is on the lower end of this list, making it an easy investment. Plus, if you're only doing roofing temporarily, you'll be left with a pair of shoes you will be able to wear on everyday occasions as well.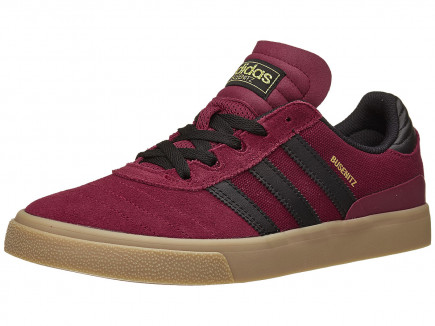 This is a pair of Adidas skateboarding shoes made for pro Dennis Busenitz who is known for the rate at which he destroys his skateboard shoes. That's why these shoes were made to be extra durable, with double layers of material in the upper that ensure your shoes don't give in before you do. For roofers who want a shoe that provides both flexibility and durability, the Adidas Busenitz is definitely a top choice.
These shoes feature double layers in the upper. The first one is made out of leather that is breathable and molds to your feet easily, while the top layer is nubuck which adds durability you'll definitely appreciate on asphalt roofs. These shoes are extra durable throughout the toe, tongue, and heel, but still allow for plenty of mobility, so you can safely find your footing on any slope.
Originally developed for handball players who need an excellent grip on indoor courts, the Adidas Spezial outsole features deep and circular grooves that will keep you safe on all types of surfaces. The pattern is deep, and this comes with two very important benefits: the first is that it provides better sole flexibility for finding your footing on steep slopes. The other is that the profile of the shoe will remain intact throughout its lifetime.
These shoes come at an excellent price, especially if you compare them to some other high performing work boots appropriate for use on roofs. The fact that they have a durable upper and outsole means that you won't have to replace them too often, while the molded sockliner and Geofit padded collar allow for a comfortable long-wearing fit.

8

. Georgia Boot Loggers G7313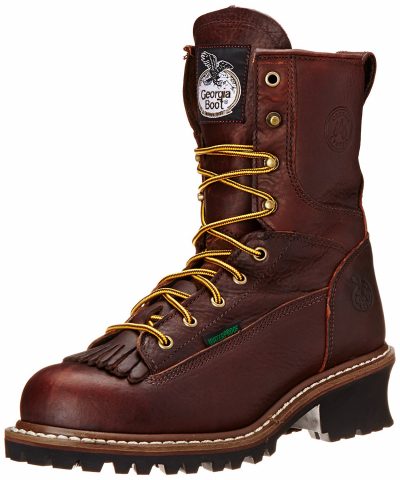 This is another pair of work boots made by the American company Georgia. They are an excellent choice if you need a heavy-duty work boot that you can wear to any construction site, but that will work well for when you have to climb on roofs. They are more suited for cold and wet weather than summer seeing that they are waterproof and lined to keep you dry and warm. One downside of these shoes, however, is the fact that the outsoles may be a bit too rigid for highly sloped roofs, so you should skip these if you prefer a more flexible fit.
These 8 inch boots are great because the padded collar will softly support your ankles, without you having to worry about developing blisters or sore spots. The insole is made out of a comfort cushion that will help you get through long days on the job, while the removable polyurethane insert will give you the arch support that you require.
The outsole of these shoes is made out of abrasion resistant rubber with a Georgia Logger style sole. In addition, they meet the ASTM F2413 electrical hazard standard, as well as the ASTM F2413 protective toe classification. The steel shank helps with the durability of these work boots, while the eyelets, and hooks are sure to stay put as they were set on steel washers.
This pair of logger work boots by Georgia does not come at a cheap price, but they do provide you with quite a few features and superior quality and comfort. Before purchasing, however, you need to closely look at the type of roofs you will be working on (if possible), then decide whether it is worth investing this much money in one pair of boots.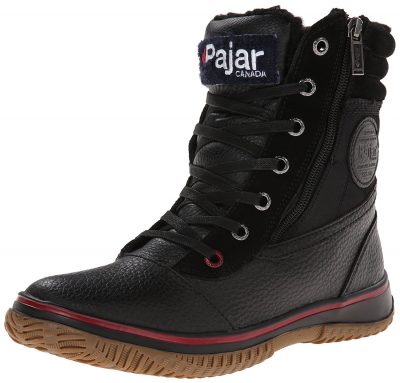 These cold weather boots are an excellent choice for all workers who may need to do work in really cold climates. With their tape sealed construction and sherpa lining, they are certified to keep you warm even in temperatures as cold as -40°F/-40°C. Regardless of the fact that they don't have any heavy duty grooves on the soles, they do quite well on snow and ice, meaning that you will have a good grip of the surface below your feet.
These cold weather boots are an excellent choice for roofing because they are so much more lightweight than most work boots on this list. They weigh 1lb 12oz per shoe which means that you won't get too tired from walking in these for a while day, and in addition, they have a removable memory foam insole that provides excellent support, especially if you have medium arches. The lining is made out of a wool blend and is sure to keep you well heated even on the coldest of days.
The outsole on these shoes is made out of synthetic rubber that does not have grooves which are too deep. What this means is that there is more material on the bottom of the shoe in contact with the surface underfoot, allowing you to have a better grip even on slight slopes. In addition, as there is no possibility of dirt and debris getting stuck in the grooves, you will keep the same level of traction throughout the day when wearing these boots.
Depending on the style and size you choose, these boots can cost you quite a bit. If you know that you need a pair of roofing boots for extremely cold weather conditions where you will need waterproofing and plenty of insulation, then these boots are an excellent choice. If, however, you are looking for something that is more suitable for all year wear and good traction, you may want to skip these for a different pair of roofing shoes.

10

. STABILicers Walk Traction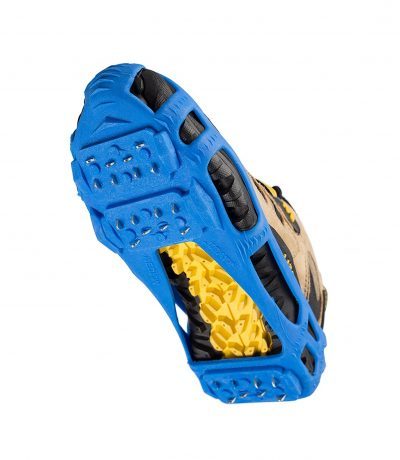 Our last choice for this list of top 10 shoes for roofing is not actually a shoe, but something you wear over your shoes when you need to add some grip to your soles. The STABILicers Walk feature multi-directional cleats that will allow you to remain stable on all surfaces, including snow, ice, mud, and gravel. What this means is that if you are required to do some roofing in any of these conditions, these just may prove to be the best choice for you as they can be used with almost any footwear. These cleats can be used with any pair of shoes that you already own, so you can put them on sneakers or boots as needed.
One of the most important aspects of the STABILicers is the fact that they can be worn with any size and shape of shoe. Designed with a tension fit system, these overshoes will work with any pair of shoes you own, be they boots, sneakers or something in between. This is also an excellent feature as complicated sizing systems are eliminated, so you can just focus on being comfortable, while these will take care of keeping you safe.
The Thermo Plastic Elastomer these overshoes are made out of (TPE) is lightweight and very stretchy, but more importantly, it was tested to remain flexible in temperatures as low as -45 degrees Fahrenheit. The cleats that cover the full sole of the heel and forefoot will keep you from slipping on snow, ice or any other surface where you simply need a better grip.
Although they are not exactly cheap, these overshoes are still one of the cheapest items on this list. The reason why they could be the perfect solution for you is if you already have a pair of work shoes that you wear, and need them to have some additional traction in the winter, then you can just slip on the STABILicers and you're good to go.

Subscribe to our Newsletter