Best Logging Boots Lumberjacks Reviewed
In a
Hurry? Editors choice: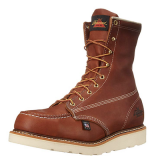 Test Winner: Thorogood 8" Moc Toe

There are usually two reasons why certain jobs require a uniform of some type: to ensure that employees maintain a consistent appearance and to protect the worker. While uniforms are provided to the worker by the employer, the employee is usually on their own when it comes to selecting footwear. In a hazardous work environment, such as in construction, forestry or logging, it is critical to choose protective and supportive footwear, designed for working on wet, unsteady, uneven or dangerous terrain.

Working in the logging industry exposes you to daily hazards and you need a pair of boots as tough as you are. We've pored over the best logger boots available and created this guide to help you choose your perfect work boot.
Standout Picks
Criteria Used for Evaluation
Support
Your feet support your body; they endure the majority of stress and weight your body experiences in working situations. It is incredibly important to make sure that what you have chosen to wear on your feet provides you with stability, support, and shock absorption.
With each step you take, your foot moves inside your footwear. When you are working in hazardous or rough situations such as in construction or logging, you should aim to have your foot safely anchored into your boot to prevent your ankle from rolling.
Avoid
Low Cut Upper
Narrow Toe Box
Little or No Arch Support
Look For
Snug Ankle
Wide Toe Box
Lace Up Closure
Arch Support
Hours on your feet can take a hard toll on your body. A lack of support in your footwear contributes to back and hip pain, as well as joint stiffness and difficulty walking. It is crucial to make sure that your boots can stand up to your weight and your workload.
Logger boots that feature an ergonomic sole to alleviate stress on any one part of the foot can be helpful, as well as removable insoles that contour to your foot, offered by some brands. Many insoles are created to be shock absorbers, which allows the majority of the energy from your movement to be absorbed into your footwear, rather than into your feet, joints, and back.
Materials
Many working conditions are unforgiving. It is up to you to be prepared for the unexpected, as well as the expected. The exterior of a boot is the line of defense protecting your feet from nails, water, mud, and other hazards, so it should be of the best possible quality.
Logger boots are often made of full-grain, genuine leather. This creates an exterior that can withstand water, snow, and mud without damaging the boot. An upper that is abrasion-proof can protect your boots from being torn on objects such as protruding metal, as well as keep your foot safe from other hazards.
The lacing of a logging boot is also important. The laces of any good logger boot should be made of a sturdy material that will not shred or fray after a few wearings. The eyelets that hold the laces should be made of a metal that will prevent the upper from tearing. One of the ideal designs for good logging boot laces features a hexagon shaped metal eyelet.
In terms of the outsole, you want one that is made from rubber. Rubber is a material that is amazingly durable and it will prolong the overall lifespan of the shoe. Not only that, but rubber is also slip-resistant, especially if designed with lugs that prevent you from losing your footing, as we will cover in our Traction section.
Safety Hazards
Construction and logging can be some of the most dangerous jobs out there, and they require protective equipment in order to keep the wearer safe. Logger boots are similar to utility boots in that they have many safety features, such as insulated soles and steel toes.
Steel toe boots protect the wearer's toes from being crushed or otherwise injured by falling objects. While some boots feature composite toe protection, metal is always the best option because there is a sturdy protective sheet over the toe box.
Many logger boots have a rubber or a composite sole in order to protect the wearer from live electrical wires or extreme voltage. ASTM F2412-11, ASTM F2413-11, and ASTM F2892-11 standards are guidelines to ensure that the boots can withstand stepping on an electrical circuit.
If these special safety features are important to you, then definitely make sure to sort the items in our list according to this criterion and choose from the top. Don't forget to read each product description to learn exactly what kind of a bonus safety feature it offers!
Traction
It is extremely important to be able to maintain traction on all sorts of uneven or slippery surfaces. Slip-proof boots with extra traction in the sole are invaluable. They protect the wearer from injury and provide additional grip on uneven surfaces.
The heel of the lumberjack boot you choose provides traction as well as prevents injury because the heel is the first point of contact with a surface.
Traction is different from grip when it comes to a boot. The grip is the ability of the sole to grasp onto uneven surfaces and prevent slippage, while traction provides extra safety against slippery substances such as oil. It is important that your boot heel can provide you with the ability to walk on unknown surfaces without slipping and falling.
Look for designs which have pronounced lugs on them, as these will definitely come in handy on uneven terrain. If you find an option that has self-cleaning soles - ones that use the weight of your steps to squeeze out mud and debris from under the logger boot - then you've definitely struck gold!
Comfort
Cushioning inside logger boots can be found in four regions of the shoe: the upper, insole, midsole, and outsole. While insoles are commonly associated with cushioning and comfort, midsoles are less well-known and outsoles are generally not associated with cushioning.
Insole
Insoles are where most of the cushioning is located. Insole cushioning can come in the form of foam footbeds, heel pads, cushioned forefoot regions and others. Generally, most footwear uses foam insoles and insole pieces, but sometimes manufacturers use gel compounds and components.
Midsole
Midsole foams and gel cushions are the real secret behind a comfortable, well-cushioned design. This is the area of the shoe that has the most effective cushioning components.
To increase the longevity of the midsole foam and gel units, manufacturers wedge the midsole between the insole and the outsole. The insole is exposed to your foot more and can wear down more quickly. The outsole, naturally, is on the outside and is the part that always hits the ground and also wears down more quickly. As such, the midsole is where manufacturers put their best cushioning technologies.
Outsole
The outsole, as previously stated, is not commonly associated with cushioning. The outsole is the first line of defense between your foot and the outside world. It protects your foot from rocks, abrasive surfaces, thorns, and many other threats to your feet, but it also protects your foot from shock! Rubber and synthetic materials are the most commonly used materials in the outsoles of best-cushioned footwear. They easily absorb and disperse shock!
Padded Upper
Padding in the upper can absorb shock from bumps and scrapes, acting as a protective barrier between the top of your foot and the outside world. Padding in the upper can come as padded linings, padded tongues, and padded collars. Footwear without this small layer of protection between your foot and the firm outside of a leather shoe would be abrasive and could cut into your Achilles tendons or your feet.
Best Logger Work Boots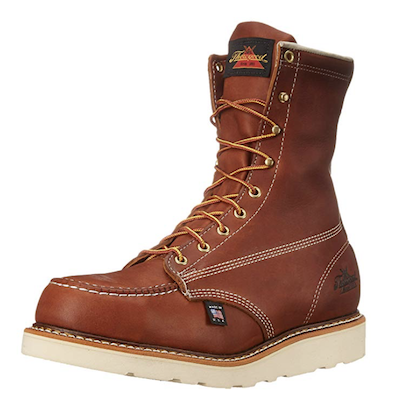 With an obviously rugged appearance, these logger boots not only look great on but they perform to a very high standard. Full leather craftsmanship means the Thorogood Moc Toe will last you a long time, although there is some break-in required before you get that custom fit. With a shank made from fiberglass, these are durable, long-lasting, and perfect for all your logging needs.
The Moc Toe features a removable Dual Density Ultimate Shock Absorption insert that provides extra comfort and support to the wearer by lessening the shock received during use. It makes for a more comfortable and productive logger boot. The Moc Toe also features a Dual Density Polyurethane Comfort Sole. It is made out of two complementing pieces of rubber that together create a waterproof and supportive sole.

Moderately priced in comparison to other logging boots, the Thorogood is a great option in terms of durability and stability. While a lesser-known brand, it outshines some of its competitors when it comes to quality and comfort.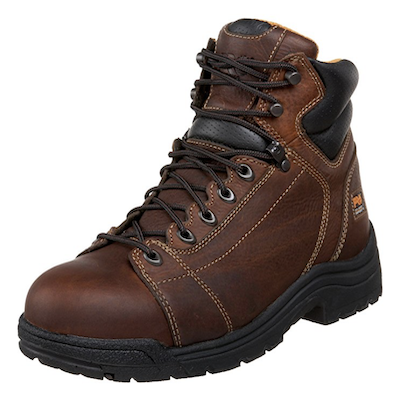 Construction and other similar fields - like logging - require a high level of protection and durability. The logger boots you wear must offer support and comfort for hours of wear. The Timberland Titan 6" has many features that enhance the wearer's experience and are of quality design. These lumberjacks boots are made of waterproof full-grain leather and are created with an alloy safety toe. The rubber sole is slip resistant and allows for easy flexibility.
Specially developed, the Powerfit Comfort feature is a way of offering the highest amount of comfort possible to the wearer. This technology uses an ergonomic sole design to allow for movement and support. The unique Vibram Fire & Ice compound technology prevents the material of the logger boots and the rubber sole from freezing and allows for continued flexibility. The pro rubber sole on the Titan is slip-proof, heat resistant, and abrasion proof.

Timberland wants you to be completely satisfied with your logging boots, so they offer a 30-day money back guarantee on their products. The amount of outstanding design and technology featured in the Titan 6" lumberjack boots is an amazing value.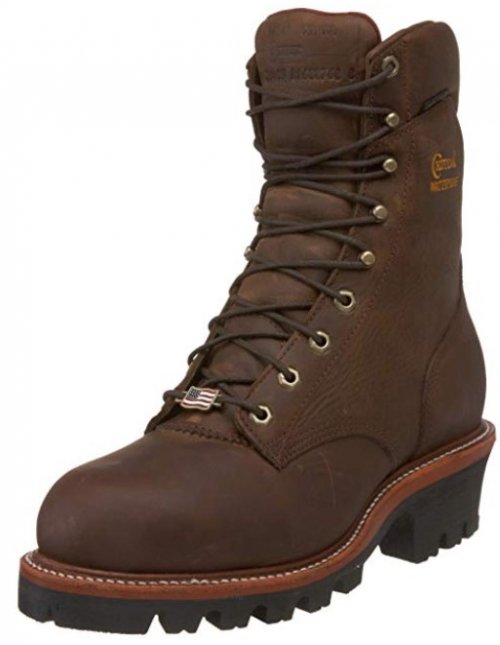 Meet one of the most hardcore options in this guide. The Chippewa Arador did not come here to play, what with its waterproof membrane system, waterproof insoles, 400 grams of insulation and a steel toe. Top it all off with a Vibram outsole and a rugged leather exterior - and the fact that it's made in the USA! - and it is no wonder the Arador made our list of the best logger boots.
These lumberjack boots feature a Chip-A-Tex waterproof system which keeps the water from entering the design but lets the air freely circulate for breathability. The insoles are Texon 460 waterproof ones, while there is Thinsulate insulation to keep you warm in cold weather. The Arador is one of the rare options you can take out in winter without any problems! Its Vibram outsole delivers traction on any type of surface and keeps you sure-footed regardless of the difficulty of the job.

We're a little bit in awe of the Chippewa Arador. This design definitely delivers everything you would need out of a good logger boot, and more, and it does it in style! You absolutely won't regret investing your money in this badass logger work boot.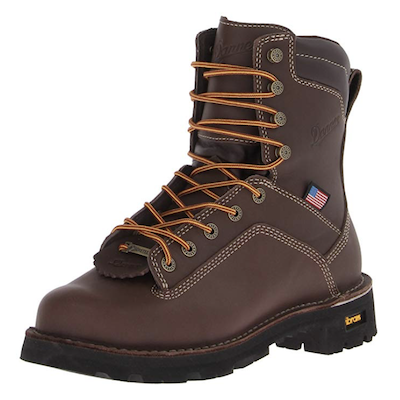 The Danner Quarry 8" offers superior craftsmanship and luxury in order to make hours on your feet as painless as possible. Unlike some other logger boots which have a multiple piece construction, the midsole of this logger boot is created from a single piece of full-grain leather to allow for increased longevity. It features a 7.75-inch shaft to support the ankle and lower leg, and everything is triple stitched for durability.
Danner creates many different types and fits of logger boots, but the 610 fit is the most popular and versatile. It features a roomy toe box and is snugger around the heel for support. The composite sole is handcrafted in an attempt to allow a wider fit. The exterior of these logger boots is made from full-grain waterproof leather, and the thickly padded tongue and collar add extra comfort. The lumberjack boot's interior is made from a GORE-TEX liner which allows sweat and moisture to be wicked away without letting any water in.

While on the more expensive end of the spectrum, these logging boots are both high quality and durable. They are also able to be re-crafted, which makes them a worthwhile investment. The stitching can be repaired, parts replaced, and the leather exterior cared for for a long time to come.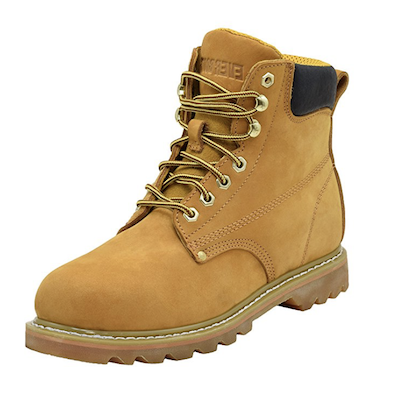 Insulation, full-grain leather, and the Goodyear welt construction are only a few of the features that Ever Boots has incorporated into their construction design. Meeting safety standards and offering extreme comfort to the wearer, the Tank is a quality find for both construction and casual use. The 30-day manufacturer's warranty ensures comfort, protection, and satisfaction, and the slip-resistant sole adds traction for uneven surfaces.
A comfortable fit is one of the most important aspects to consider, and the Ever Boots Tank is made to meet this need. Insulated to keep the wearer warm, it also offers a rubber sole and a seven-inch supportive shaft. Created with Goodyear welt construction, these allow for freedom of movement without sacrificing safety. The soft toes meet the Industrial Construction Concrete Safety Contractor standards to protect the wearer.

The Tank offers comfort and safety for a very low price. It comes with a 30-day manufacturer's warranty in case there are issues or concerns within the first month of wear, and its full grain leather exterior offers a fashionable lumberjack boot that can be worn in multiple situations.

6

. Timberland Endurance 8"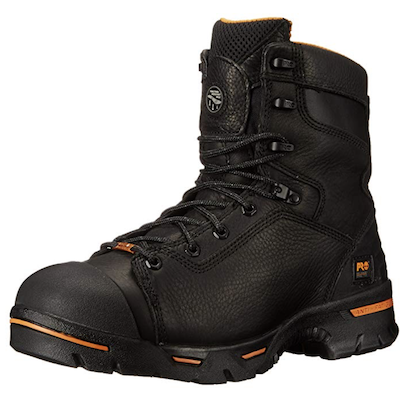 The Timberland Endurance logger boots are created with durability and long wear in mind. This waterproof steel toe boasts a puncture proof sole with thick treads to help grip all surfaces, and its rubber double toe and backstay protect from abrasions. Moderately priced, the Endurance logger boots meet safety needs without compromising comfort or appearance.
The logging boots unique design allows for shock absorption and energy return to prevent fatigue in the long run. Its cone shape creates lighter logging boots than most, and it is also equipped with antimicrobial mesh and sole designs to combat odor.

Safety always comes first. The Endurance logger work boots meet the Canadian Standards Association (CSA) requirements for resistance to electric shock in the outsole, as well as Grade 1 standards with a puncture resistant plate.

Compared to several other similar logger boots, the Timberland Endurance is moderately priced but has a more extensive list of features. Timberland is a well-known brand that can be counted on for quality and durability.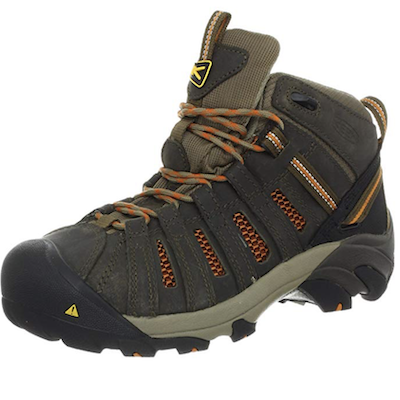 KEEN logger boots offer stylish and durable utility footwear for men and women. In particular, the Flint Low lumberjack boots are long-lasting and comfortable, while still looking attractive and offering superior construction. This low rise steel toe offers supportive and protective features to the wearer and is a budget-friendly option. Its lightweight design allows for flexibility and freedom of movement, as well as comfort over long periods of wear.
In order to provide the utmost support to the wearer, the Flint Low logger boots are created with a torsional stability shank in the rubber sole. This helps to absorb shock and also stabilizes the foot, in order to prevent injuries. The Flint Low features an anatomically correct asymmetrical steel toe. This creates a roomier fit and incorporates the unique KEEN Toe Protection technology which folds over the top of the toe in order to provide more protection to the wearer.

Function, durability, appeal, and value are all things that are taken into account when buying new footwear. KEEN has high standards in all of these areas but still manages to offer a moderate price for high-quality logger boots.
8

. Caterpillar Second Shift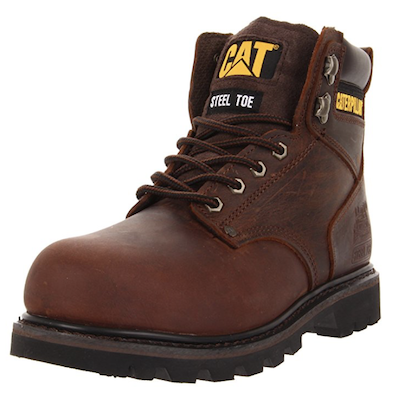 Caterpillar is one of the most well-known brands in construction, and their footwear is no exception to their standard of quality and durability. While on the outside it looks very basic, the full grain leather upper on the Second Shift offers protection against the elements and other hazards. The unique hexagon shaped grommets prevent boot laces from fraying. The Second Shift from Caterpillar meets multiple safety standards and is slip resistant.
The Second Shift integrates many different safety features, but is still comfortable and allows for a full range of motion. It meets the ASTM F2413-05 1/75 EH Electrical Hazard Protection, which protects up to 600 volts of electricity, and the steel toe protects against impact and compression. Featuring premium Goodyear welt construction for extreme durability, this product offers a soft and supportive insole, as well as a thickly cushioned collar. The leather mesh interior allows for breathability as well as added comfort for long wear.

Despite being one well-known popular boots from a well-known company, the Second Shift is both affordable and durable. It will hold up in hard working conditions, and provide comfort and safety while maintaining an appealing aesthetic.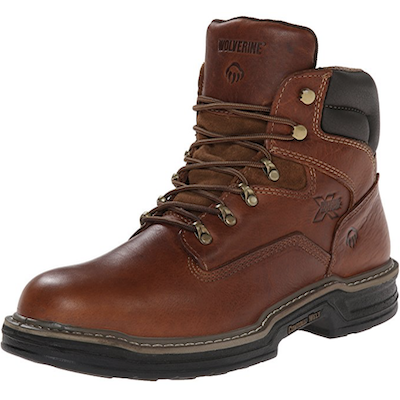 Arguably one of the most superior multipurpose logger boots on the market, the Wolverine Raider offers extreme comfort, flexibility, and protection. This product is created to allow for the most luxurious logger work boots possible without compromising safety features. It is easy to move around in, boasts a full-grain leather exterior, and Wolverine offers a 30-day comfort guarantee if you are not satisfied.
The Raider features a rubber lug outsole that is surprisingly lightweight and protective; it is specially developed and is both oil and slip-proof. The full-grain leather exterior is abrasion resistant, and the design also features a breathable mesh lining. These logger work boots make comfort one of their top priorities. They feature a Wolverine Multishox insole to offer removable cushioning and shock absorption. The Contour welt design offers mobility and a wide range of movement.

Wolverine offers a 30-day comfort guarantee, so if you are not completely satisfied, you will receive a full refund. The quality is an amazing value for a low price, and this product lasts for a long period of time, even with extreme use.

10

. Timberland Rigmaster 6"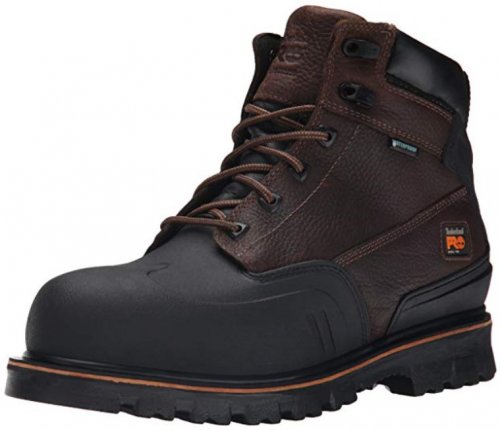 The Timberland Rigmaster logger boots are made from a strong, waterproof leather exterior with a safety grade steel toe and a polyurethane outsole to provide anti-slip protection. With an ergonomic design, it gives strong support without inhibiting freedom of movement. These logger boots also incorporate Timberland's signature Anti Fatigue technology by providing shock absorption and energy return.
The exterior of the Rigmaster logging boots is made of a specially treated leather that causes water to bead on the surface and keeps the wearer's feet dry and insulated. It also features a waterproof membrane that protects against bloodborne pathogens. This product meets ASTM F2412-11, ASTM F2413-11, and ASTM F2892-11 electrical hazard standards and offers protection against stepping on live electrical circuits and similar dangers.

Timberland is known for its durable and quality lumberjack boots, as well as affordability. These logging boots feature a 30-day comfort guarantee; if after thirty days you still find them uncomfortable, you will be refunded the entire purchase price.

Subscribe to our Newsletter