Best Safety Boots Reviewed & Rated
In a Hurry? Editors choice: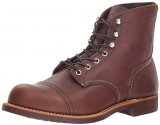 Test Winner: Red Wing Iron Ranger

When selecting the perfect pair of safety boots, you have many things to consider. Is protection valued over comfort? Is comfort valued over protection? Or are both equally important? What type and level of toe protection are required? From the construction materials to the way the sole is melded to the shoe, from the materials used to keep you warm (or cool), a multitude of products exist at almost the same variety of costs.
Standout Picks
Criteria Used for Evaluation
Comfort
It is important to remember your safety boots must be comfortable as you will be wearing them for long periods of time. Make sure that boots fit well and do not cramp your toes. Be sure to try shoes on later in the day because your feet swell throughout the course of the day, therefore shoes which were comfortable in the morning may be too tight in the afternoon.
Safety boots come in different heights and can range from roughly 5-inches to 12-inches. Different heights will provide more or less comfort for your ankle depending on the level of support provided.
10-inch to 12-inch safety boots sit at mid-shin level;
8-inch and 9-inch boots sit above the ankle and provide better ankle support; and
5-inch safety boots sit right about ankle level allowing for the best flexibility for your ankle, but also offer the least support.
The most common height for safety boots is between eight to nine inches.
Durability
How a safety boot is constructed is an important part of its performance. The way that your boot is made, particularly how the sole is attached, will have a large impact on how well the shoe holds up. These are the different ways in which a sole can be attached to the upper, this is an important factor to consider when purchasing any safety boot.
Direct-Attach (Cementing)
This process involves attaching the upper to the sole using a molten rubber. Cementing uses a resilient and flexible adhesive to bond the outsole to the rest of the shoe
Benefits:
Less Costly
Lightweight
Usually More Comfortable
Welting
Involves the using a strip of leather, plastic, or rubber being stitched to the upper part of the boot, as well, as to the sole. This gives an extremely well-made product but usually costs more than a shoe which was cemented. There are two different types of welting, Goodyear, and Blake.
Goodyear welting is the original method and uses two-level stitching making for the most well-made and long-lasting boots.
Benefits:
Extremely Durable
Offers strong support and water-resistance from double stitching
Blake welting
Same as Goodyear welting only the outsole is attached by a single stitch only.
Benefits:
Made To Last
Fewer Layers Make For More Movability
Weather Resistance
Fire/Heat
Exposure to extreme heat puts you at risk for serious injury if you are not equipped with the proper protective equipment and when it comes to heat resistant safety boots there are certain features and materials to look for.
For example, some of the most heat-resistant materials are neoprene, nitrate, aluminized Kevlar, and leathers treated with heat resistant materials. Other features to look for are; metatarsal guards which protect the delicate metatarsal bones at the instep of the foot and puncture resistant midsoles which will guard your foot against sharp hazards in the workplace.
Snow/Cold
Working in extremely cold conditions puts you at an elevated risk for things like frostbite, trench foot, and hypothermia which is why wearing protective safety boots is so important. When deciding which boots to purchase for working in cold conditions there are several features to consider, things like;
A waterproof sealed-seam upper
Multi-layer lining system
Moisture-wicking material
Insulated against cold: 30 minutes at -20℃
Materials are also an important factor as some are much more resistant to the cold than others. Materials like thermal-tested rubber is an excellent consideration for safety.
Traction
If you work outdoors performing heavy lifting, or in a hospital, or restaurant, you are going to require slip-resistant safety boots. A boot with a slip-resistant sole will help keep you safe by preventing accidental slips and falls.
There are different types of slip-resistant soles available for safety boots which can make it difficult deciding which one is the best option for you. The following list breaks down the different slip-resistant safety boots to help you choose the one most suited to your needs:
Polyurethane: Polyurethane is extremely slip-resistant;
Neoprene: Neoprene is slip-resistant and resistant to high temperatures;
Nitrile: Less slip-resistant than Neoprene, but also a good choice for heat-resistance;
Rubber: Rubber offers a good grip, even in extremely cold conditions. It is also waterproof and breathable; and
PVC: PVC offers moderate slip-resistance but is generally a more low-cost option.
Protection
Chemical
Chemical hazards and toxic substances put workers at risk to all sorts of health hazards, like; irritation, and carcinogenicity, not to mention the physical hazards, like, flammability, corrosion, and explosiveness. The materials which are used in the construction of a safety boot must be adequate and appropriate depending on the type of chemicals you are working with. A material which does not properly protect against a chemical you are working with will not protect you and can endanger your wellbeing.
Certain materials are more resistant to some chemicals than others, for example, rubber holds up well against ammonia, alcohols, wet concrete, fertilizers, and animal droppings, whereas rubber does not protect well against oils. PVC (polyvinyl chloride) or TPU (thermoplastic polyurethane) are materials which hold up much better against oils and animal fats.
Electrical
Working around electricity requires specific footwear to reduce the risk of electricity-related injuries like electrocution. There are generally three classifications for safety boots adequate to protect an electrician:
Non-Conductive: This type of safety boot gives the second line of protection against contact with live electric circuits to reduce the risk of shock.
Anti-Static: These type of safety boots are used by those working in places sensitive to static electricity. These safety boots disperse the buildup of static electricity from the body while also giving resistance to live circuits.
Conductive: Conductive footwear protects against the accumulation of static electricity and is made with materials that give no electrical resistance.
Our Favorites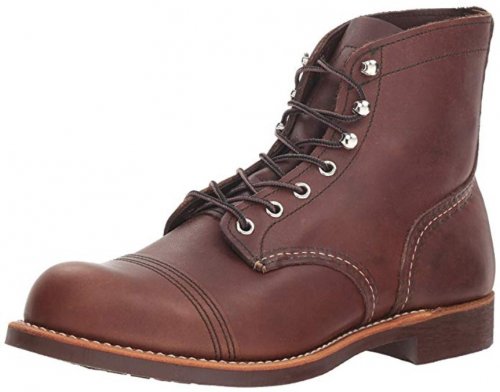 From a brand which prides itself on authentic excellence comes the handcrafted Iron Ranger design, a true marvel both in terms of style and safety. It is arguably one of the most fashionable choices in our guide, though it is no less protective with its rugged leather upper, chrome hardware and Goodyear welt construction. It was originally created to protect miner's feet as they worked with heavy machinery underground, so you know you can rely on it when you need it the most.
The Red Wing Iron Ranger is made from oil-tanned leather which is resistant to water, stains, and perspiration. It is amazingly durable, and the design itself can last for years, even decades, thanks to its Goodyear welt construction. There is a steel shank in the design to keep it secure and stable, and the outsole is a Vibram 430 Mini-lug, meaning that the traction on this beauty is nothing short of impressive.

The Red Wing Iron Ranger is that option you go for when you don't feel like compromising style over safety. While fashion is not terribly important in this type of footwear, it is good to know that there is a design you can wear both to work and to a casual night out and that you can be sure your toes are protected in both.

2

. Timberland PRO Pit Boss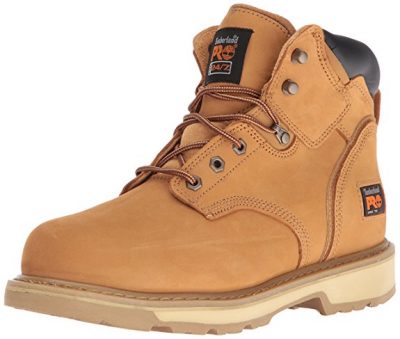 The Pit Boss is the design that has it all! A steel toe construction, excellent sole traction grip, weather-proof protection, and comfort throughout. With a roomier toe box, removable sock liner, mid-sole support, and antimicrobial lining, Timberland thought of everything with this model. Rugged and comfortable at an affordable price point, you will NOT be disappointed with this choice!
This shoe will protect you from the elements for years to come. The steel toe and superior tread combined with quality construction mean you won't be frustrated with broken lace hooks, rips, tears, etc. compromising your protection. Timberland considered comfort throughout this model. With a roomy toe box, extra mid-sole support, and removable sock liner, you won't even need to break it in. The comfort is already present, right out of the box!

The Pit Boss is less expensive than most of the products rounding out our top ten list and provides even more protection and comfort. Wearers report using these for years at a time!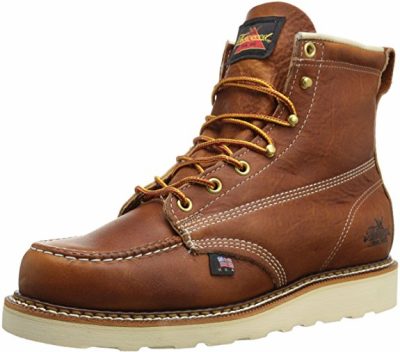 Quality, comfort, style... this design has it all! With a full-grain leather upper, a removable footbed with comfort cushion, a cushioned wedge sole, and a breathable cotton drill vamp lining, your feet will thank you! The sole on these puppies is stitched on, not glued, so they can be repaired (if needed) and enjoyed for years to come. Safety hasn't been overlooked - check out the slip and oil resistant outsoles and the fiberglass shanks for extra stability. Perfect for everyday wear - in and out of the shop!
These simply ooze quality! From the premium leather uppers to the sole stitching, you will not be disappointed. Slide your feet in upon arrival and enjoy the almost non-existent break-in period! A safety boot that doesn't "look" like one, this attractive design means you can wear them in a variety of situations - a heavy duty construction site, dinner with the family, or a trip to the store. No Frankenstein walking required!

The Thorogood design is entirely made in the USA, and you won't believe the value you get on it! It is comfy, suitable to wear in most casual situations, and it will keep you protected throughout. What more could we possibly ask for?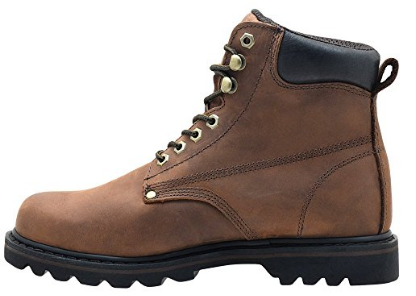 The Tank is made with long-lasting Goodyear Welt construction and offers an oil and slip-resistant outsole. They come complete with a removable comfort cushion insole and are made of water-repellent leather. Convenient speed hook and back loop closures make for an easy wear while their rubber sole is both skid-resistant and long-lasting. These are perfect for concrete contractors and even come with a three-month manufacturers warranty.
Goodyear welt construction is the original method for attaching the sole to the upper and uses two-level stitching, making for the most well-made and long-lasting footwear. The Tank's rubber outsole is oil and slip resistant while offering durable and long-lasting wear. This is the ideal protective design for concrete contractors to ensure that your feet are both comfortable and protected all day long.

The Tank is both practical and budget-friendly. This option offers comfort, protection, and style, all for a reasonable price.

5

. Wolverine W02421 Raider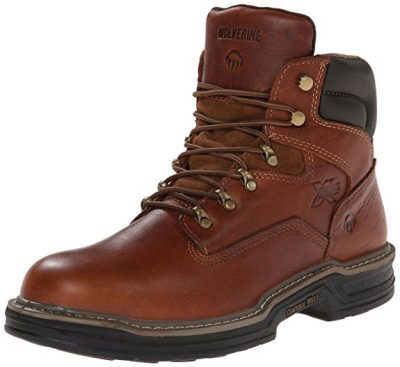 Welcome to Wolverine's most comfortable safety footwear! This model was built tough but with a flexible, athletic feel. Complete with ankle protection and a slip and abrasion resistant rubber outsole, these are perfect for everyday use. They come cushioned with CountourWelt and Multishox construction for added comfort and are available with a soft or steel toe option! Stylish enough to wear when you're not on the job.
The extra care Wolverine put into the cushion of this design shows! Superior flexibility and comfort for daily wear that doesn't crowd the toes. Users report almost immediate break-in times! These will take you from the job site to other appointments with ease. You won't be the one with the clunky heels walking stiffly into the room! The Raider pairs well with casual clothing as well.

The conditioned leather upper and the ContourWelt and Multishox construction of the Raider are well worth the price. The comfort and durability of these far surpass similar competitors' products.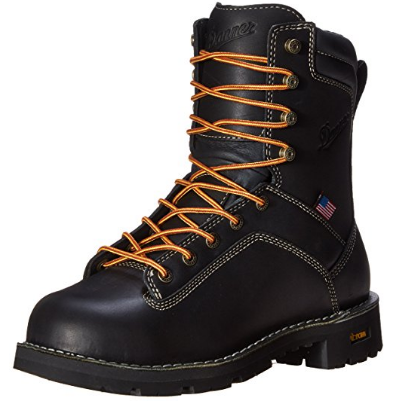 The Quarry is built to last with their integrated 12 Iron Vibram® midsole and durable rugged outsoles. With a full-grain leather upper and triple-stitched Gore-Tex™ lining these shoes are 100% waterproof and breathable. Complete with an Ortholite footbed and fiberglass shank this Danner design is EH certified and offers oil and slip-resistance. Manufactured with non-conductive electrical shock resistant soles and heels, along with alloy toe protection, this option will stand up to the test every time.
Danner evaluated previously worn Quarry models and recognized the midsole was one of the first parts to go. This led them to work with Vibram® to construct a new, extremely durable, 12 Iron Vibram midsole that's strong enough to last. Gore-Tex™ is a breathable lining material that's 100% waterproof and makes sure that no water gets into your footwear, while still allowing moisture and sweat to be released.

Danner's Quarry is a reasonably priced option which offers excellent protection and comfort. A new-and-improved Vibram® midsole along with Gore-Tex™ lining that's 100% waterproof makes these a brilliant buy. EH certified and slip-resistance all combined in a durable and long-lasting protective design for a price that's affordable.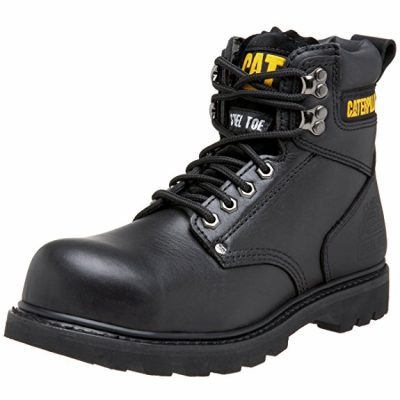 Budget Buy Alert! Looking for an inexpensive option? Look no further - Caterpillar has built one for you. Welcome to the 2nd Shift - a leather upper, a steel toe, a padded ankle for extra protection, and an oil resistant sole... A design that won't break the bank! Soles that grip well, are water resistant and have heavy duty stitching have come together to land Caterpillar on our top ten list. And to top it all off, they're stylish!
The 2nd Shift provides the essential protection your feet require: steel toes, high traction soles, padded ankles, and water and oil resistance. The leather uppers are thick yet flexible. Users report a quick break-in period (a couple wears) along with optimal temperature control. Throw these stylish boots on with your jeans or bibs, and you're ready to hit the town!

The 2nd shift is likely the best budget buy on our top ten list. Far less expensive than alternatives on the market, but may not last as long. Perfect for those of you looking for a low-cost option and who aren't needing years out of their design.

8

. KEEN Utility Pittsburgh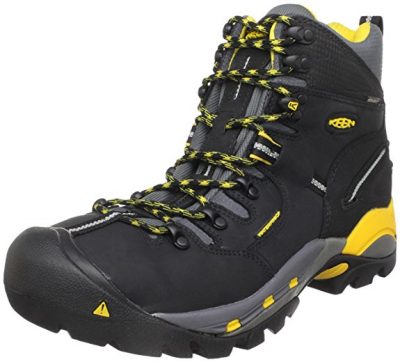 KEEN had the worker in mind when they developed this option! Asymmetrical steel toes, weatherproof construction, and extra torsional support make this one a tough cookie! An oil and slip resistant rubber outsole that also provides protection from electrical hazards, combined with reflective webbing, provides optimal safety and protection for those long days of hard work. Make no mistake - KEEN thought of comfort too! A removable footbed with dual-density and compression molded midsoles provide pleasing arch support to get you through hours on your feet in these surprisingly lightweight boots!
Steel toes, waterproof uppers, oil and slip resistant outsoles, reflective webbing, positive lacing locks, and a stability plate combine to make this one of the most protective options on the market. KEEN has you covered with comfort in this model. Asymmetrical steel toes for less rigid walking, additional midsole support, and a flexible lightweight construction mean fewer aches and pains for you day in and day out!

Pricier than the Pit Boss with similar features, but if you're looking for a lighter weight model with some additional safety features, the Pittsburgh is worth the investment.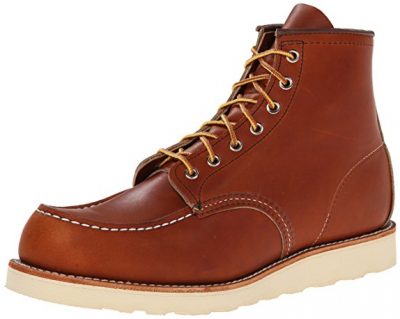 An American classic, Red Wing comes through again with the Heritage Classis Moc! Water, sweat, and stain resistant leather uppers with an attractive moc toe, coupled with a traction tread rubber outsole, bring comfort and protection to the consumer. Stitched (not glued) soles allow for repairability, and this model comes with a cork midsole. High quality is an understatement here!
High-quality leather, stitched soles, welt construction, a leather insole, waterproof uppers - Red Wing didn't skimp on quality from top to bottom, down to the cork midsole of the shoe. These have the classic Red Wing design that we all have come to know and love. Available in a multitude of colors and shades, you are sure to find the right fit.

Red Wing reputation comes with a price - as in a pricey piece of footwear. This model is a far more expensive option than others on our top ten list or in the market in general. You'll pay more for this model than the Thorogood.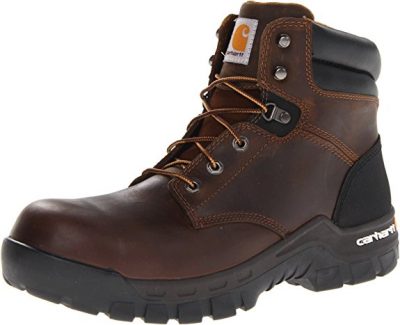 Carhartt's Rugged Flex technology makes this option extremely flexible for wear, and flexibility = comfort! Complete with a rubber sole for shock absorption and traction, along with leather material to protect your ankles and resist water, oil, and slips! The only product on our list with a composite toe for protection WITH comfort! They are lightweight, comfortable AND affordable!
The composite toe is much more lightweight and comfortable than the traditional steel toe. This allows you to be on your feet longer without struggling and can be a pleasant alternative for women. This protective design combines top safety features with options for comfort as well. The flexible sole and thecomfortable insole coupled with the leather construction and composite toe create the ultimate balance of safety and comfort!

A less expensive model than similar competing products on the market, but still great value for a boot made of leather and with a composite toe.

Subscribe to our Newsletter