Best Goodyear Welted Shoes Reviewed For Rugged Style
In a Hurry? Editors choice: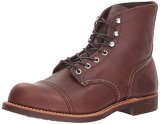 Test Winner: Red Wing Iron Ranger

Finding a durable shoe with remarkable qualities is something we all desire. If that's what you're after, you'll do well to go with a pair of Goodyear welted. This type of construction is a traditional method where the sole is attached to the upper, creating a mechanical joint. What makes it stand out so much is that you can replace the soles as many times as you like, achieving the distinguished look only footwear that has been worn for many years gets. The welt construction allows the wearer to enjoy their pair for up to 20 years, or even longer, which is why it's so coveted (and expensive).

If you are unsure which Goodyear welted shoes to buy, we have prepared a list of some of the best items you can find today. Read on to find out what pair deserves to spend the next few decades by your side!
Standout Picks
Criteria Used for Evaluation
Style
One of the things about Goodyear welted shoes is that they come in a huge variety of styles, which means you can enjoy the quality no matter what you wear. Considering the fact that this type of construction focuses on quality and durability, it comes as no surprise that some of the highest rated pairs of footwear are actually Goodyear welted.
If you wanted, you could even build your entire wardrobe around Goodyear welted shoes, and easily have a pair for any occasion. Nonetheless, there are a few types of footwear that are most often found with this type of crafting technique:
Boots: This is the most common type of footwear you will find with a Goodyear welted construction. Available in a wide range of styles, you can purchase those made for work, more elegant options, or even Chelsea or desert boots. Some of the most famous Goodyear welted shoes include those made by Dr. Martens, but also Red Wing, Frye and Thursday Boot Company.
Flats: Whether you're after a casual pair of footwear, or a polished Oxford you can wear with a suit, you're likely to find some great Goodyear welted shoes. These are probably the most versatile shoes of this type, not only because they look good on both formal and casual occasions, but because they can be worn in all weather conditions.
Sandals: Although rare, there are some summer sandal styles that come with a Goodyear welted construction. The main benefit of this type of Goodyear welted shoes is the added breathability and temperature control you receive, while having the option to re-sole your footwear once its time comes.
Heels: Even though you won't find pumps with this type of construction, there are plenty of more rugged Goodyear welted shoes available for purchase. For example, Red Wing, Dr. Martens and Frye all make women's footwear that combines chunky high heels with an upper inspired by men's styles.
Features
We have all heard about the Goodyear Welt, and it's redeeming qualities; but what actually makes it so good, and how is it made to withstand almost anything? We will try to explain just what makes this welt what it is today.
One of the first things that we have to mention is the durability of Goodyear welted shoes. The construction gets its longevity and repair qualities by stitching the leather from the upper, the linings and the welt (a strip of specially prepared leather) to the ribbing that is already on the insole. After that, the welt gets attached to the leather of the rubber outsoles. That final stitch is the one that can be removed and allows the sole to be taken off the rest of the shoe without damaging it.
It is machine based, completely replacing the hand-sewn method. As such, it is quite expensive and time-consuming, so the price of footwear with the welt is quite high. But, just the fact that you can replace the soles as much as you like should be enough to buy you over. You can wear the same pair even as long as two whole decades, and not many shoes can do that. That means that there is no need to buy proper footwear every year, you can have the good old pair you are used to, and if you need to, just replace the outsoles! Also, you can get that worn down feeling, and the patina leather gets after years of use, so it's a win-win situation!
If you still doubt the Goodyear welt, just look at how successful are the companies that create Goodyear welted shoes. Take Dr. Martens, for an example. They are very well known, and not one person was left indifferent after seeing or trying them on. Investing in a proper pair of Goodyear welted shoes is one of the smartest choices you can make regarding your footwear, and that is just what you should do!
Value
People always boast about having something that is handmade. The quality of the item is much better, it lasts longer, and it's specifically crafted to your liking. What are some of the main differences between handmade and factory-made Goodyear welted shoes? Here are some of the most important ones:
The Materials Used: Factories usually have to resort to synthetic or highly processed leather. That is because natural leather has scars and veins and all kinds of other marks, and when a machine cuts it, you cannot control which parts end up as a shoe. Those kinds of leather crack quickly, and you cannot use creams or polishes to make it last longer. Also, factory-made shoes usually have synthetic soles as well. There is nothing wrong with having rubber outsoles - that is exactly what we need to prevent us from slipping around and falling everywhere. Yet, the insoles are supposed to be leather; it molds perfectly to your foot, creates cushioning that is unique to you, and increases the quality of your step. Not a lot of shoes today have this kind of insole, it's usually synthetic, and not a good option for your feet.
Hand Lasted: The last is the wooden or plastic mold that the shoes get built around. Those molds give the footwear its shape and size. Footwear cannot be made without it - otherwise, they would be just a clump of leather without any real shape. Hand lasted Goodyear welted shoes are ones that have been stretched around the molds by hand. Each and every detail has to be okay, there has to be enough leather and it has to be wet in order to be properly stretched.  In factories, this is done with machines and is usually rushed, and so the shape will not be as good.
Quality Control: When made in the factory, footwear does go through quality control, but this too can be rushed. Those workers get a thousand pairs a day, how can they be exactly sure that each and every shoe is without imperfections? Handmade Goodyear welted shoes go through at least 20-30 hands, and each and every person will check for irregularities. So, that way, they know if they made mistakes and can swiftly fix them.
These are just some of the aspects of handmade Goodyear welted shoes - there is much more, but we believe these are the most important. If you do wish to own a handmade shoe, be prepared to spend a lot, but it is all for a good reason!
Materials
One of the most important features you want to look at when purchasing Goodyear welted shoes, especially if you want to make an investment in a pair of shoes or boots that'll last for a long time, are the materials used in the manufacturing process. On the whole, you will find that Goodyear welted shoes most commonly use leather in the upper, with both natural and synthetic materials in the sole.
Seeing that the whole point of the Goodyear welt is to give users a sturdy pair of footwear, the choice of materials used needs to be focused on durability. Additionally, seeing that this type of construction method ensures weather resistance, it is only logical that the upper can do the same. This is why leather is so often used. Not only is it a pliable material that's easy to work with, but it is relatively easy to care for, can be treated to be water resistant, breaks in easily, and is highly durable. Additionally, seeing that Goodyear welted shoes can be re-soled, it comes as no surprise that they're often made with sturdy uppers that can last for years and decades.
But, the materials that go into the construction of your Goodyear welted shoes affect more than just durability. One of the things you will want to consider is functionality. How do you plan on wearing your new Goodyear welted shoes? Are you shopping for casual or professional wear? Or do you perhaps need something to put on on special occasions?
There's a lot of factors that go into the performance of any footwear, so it's important to know the answers to the questions above. The outsole on your footwear can be made with both leather and rubber, but the two materials will have vastly different uses. First and foremost, the former won't be appropriate to wear in wet conditions, and it will generally last for a shorter period of time. The latter, on the other hand, will easily put up with slippery, wet, and even oily surfaces, and will be a good choice to wear on surfaces such as concrete where you need additional shock absorption.
Other areas you'll want to pay attention to are insoles and midsoles as these greatly influence the comfort levels you'll get from your Goodyear welted shoes. You will want to go with supportive and shock absorbing materials such as cork, EVA or even memory foam. Furthermore, you'll want the hardware to be of high quality as well, so that you don't run into any issues with the buckles, zippers or eyelets on your shoes.
Durability
If you've decided to bite the bullet and invest in a pair of Goodyear welted shoes, you've definitely made the right decision. Not only is this type of footwear comfortable, weather resistant and stylish, but it is also extremely durable.
To ensure you get the best possible use out of your pair of Goodyear welted shoes, however, you will need to take proper care of it. This includes a few simple steps you can follow on a regular basis.
Remove dirt and stains as soon as they happen. This can be as easy as brushing it away with a clean dry brush.
Treat the leather upper with the appropriate conditioner, cream or oil product.
Make sure to dry your shoes thoroughly between uses.
Store your Goodyear welted shoes in a dry, well-ventilated place.
Take your shoes and boots to a professional cobbler as soon as any issues appear.
Another step you can take is to purchase footwear from brands that have their own repairing service. These can often be sent in for repairs, and can even be re-soled, adding years to the lifespan of your favorite shoes.
Top 10 Goodyear Welted Shoes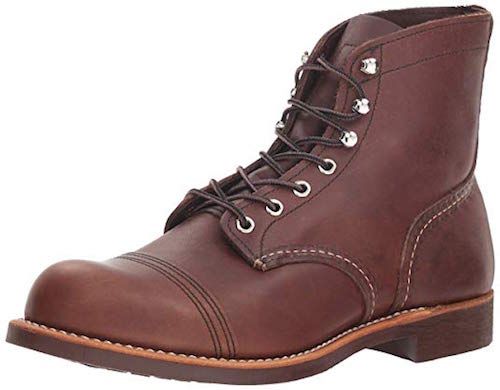 If you really are looking for the best Goodyear welted shoes, you should check out those made by Red Wing. The company was founded in 1905 with the idea of making truly good footwear, and has been catering to professionals and casual wearers ever since. One of the brand's most popular models has to be the Iron Ranger, originally designed for miners who needed a comfortable boot with a protective toe.
This 6 inch boot is crafted from premium oil-tanned leather. It can be purchased in a variety of color options, but what makes it special is that it develops a unique patina over time, making each pair one of a kind. You'll also find that this style is exceptionally durable, and, like all Red Wing shoes, it can be repaired or even re-soled.
In terms of construction, in addition to being handcrafted, the Iron Ranger is also a pair of Goodyear welted shoes, so you can wear it in any weather conditions. It is the Goodyear welt that makes it so easy to replace the sole when it wears out, allowing you to prolong the lifespan of your favorite footwear.
The sole portion of the Iron Ranger includes a cork midsole that's both cushioning and supportive, and a Vibram rubber outsole that is slip and oil resistant. The speed lacing system makes on and off faster, and the bump toe allows more space in the forefoot area.
It is important to note that Red Wing footwear is priced like the premium product it is. You can expect to pay quite a lot for a boot like the Iron Ranger, but you should also be aware of the fact that it will, literally, last you a lifetime, especially with the right care.

2

. Thursday Boot Company Captain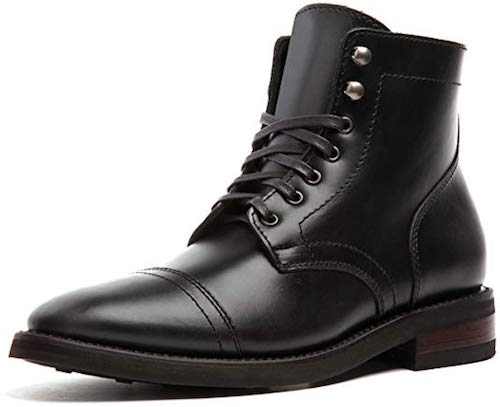 Another cap toe boot, the Captain by Thursday Boot Company is the ideal choice for those who need a stylish pair of winter shoes that'll look great on both casual and more dressed up occasions. One of the best things about this Goodyear welted shoes is the fact that it is honestly priced, without burning a hole in your wallet, while still providing you with the durability and comfort you expect from a premium product.
The upper of these Goodyear welted shoes is made with chrome leather that will look amazing once broken in, and won't be a hassle to care for. The linings are leather as well, soft to the touch and breathable.
The Goodyear welt construction makes the Captain completely re-soleable, but it's also what makes this model weather resistant. Combined with a cork based footbed that supports the foot while providing cushioning, you are sure to enjoy wearing this model at all times.
Other notable features of this model of Goodyear welted shoes include the flat waxed laces, as well as the studded rubber outsole that provides excellent grip on all surfaces. The best thing? You get all this at a price that's above average, but considerably cheaper than the most expensive item on this list.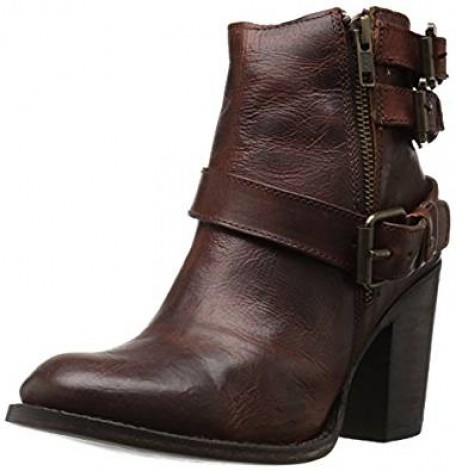 One more addition from Freebird, and a fine one as well! These Goodyear welted shoes are made out of premium leather and the cognac color adds to the rustic feel these give off. A zipper eases the way you put them on, and a buckle runs across it, hiding it partially and securing the boot to your feet even more. Two more buckles decorate the upper part of the bootie, so if you thought there was such a thing as too many straps and buckles, the Brew Bootie is here to prove you wrong! The heels are 2.75-inches tall, so you can be high and mighty all you like. The leather is hand-distressed and makes the boots appear even more worn off and distinguished.
Winter boots can become bland and boring quick enough. They are made for the snow and cold weather, so who's to blame them for not having high heels? This model of Goodyear welted shoes is here to bring a breath of fresh air to winter footwear. Make a statement and stand proud and tall - flounce your perfect legs all winter long!
When something is done by hand, it usually means that each and every part of that item is unique and stamped with the persons' individual preference. Hand-distressed leather has an individual fingerprint, and each and every one can be considered an original - you can find nothing like it. So, when you shop Freebird items, you can be sure that you do wear an original.
Freebird is a company that creates great Goodyear welted shoes, and as we have already noted, it is handmade and top-notch. So the prices are high, but that is expected - tap into your savings and treat yourself with these remarkable boots.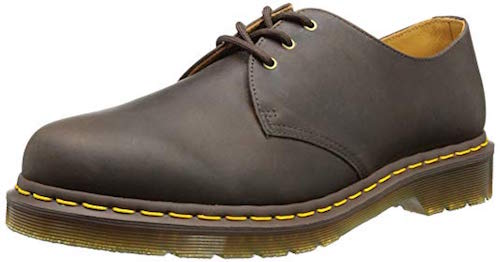 One more addition to our list of the best Goodyear welted shoes comes from the well-known Doctor Martens, and in the form of stylish Oxfords! They feature patterned leather, giving them a sleek, sophisticated look. Various colors decorate the shoe, and different patterns ensure there are enough options for even the pickiest people. The trademark soles, yellow stitches, and sleek leather construction are enough to prove to anyone that these are indeed Docs. The pull-loop is missing, but there is no need for one, due to Oxfords being a low cut type. The toes are a bit more narrow than usual, and that makes them the ideal dress-up shoe.
Originating in Britain, Goodyear welted shoes in this style go along with just about any serious outfit you can think of. They are characterized by laces that are attached to the vamp, so that gives them a sleeker design. They can be a great casual shoe as well, so this makes Oxfords a superb versatile shoe.
Having plenty of options to choose from is always a sight for sore eyes. What if you liked the style, but really are not a fan of, for an example, croc skin? Maybe you have a monotonous outfit and really need a floral pattern to break it apart? No need to worry about all that, since Doc Martens made sure to include fun patterns and different finishes, so you will always have something to choose from.
As an avid fan of Doc Martens, you should already know that they come with a hefty price tag. Premium leather and Goodyear welted construction does take a lot of ka-ching, and these Goodyear welted shoes are no exception. But if you want a premium Oxford style shoe that will not fall apart after a short period of time, do indulge and get yourself a pair!

5

. Anthony Veer Roosevelt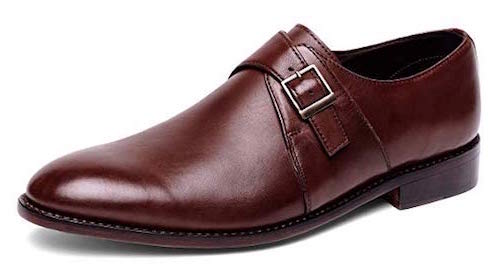 The monk-strap is the Oxford shoe redesigned to look even sharper and sleeker. These Goodyear welted shoes are completely made out of premium leather, so supreme comfort and durability are ensured. The upper is full-grain calfskin and the insoles are leather-lined and fully cushioned. The shoe tends to mold perfectly to your feet, so the more you wear it the better it will feel, and there is no bad side to wearing these whenever you can!
These Goodyear welted shoes have been often described as the most-advanced dress shoe. They differ from regular Oxfords because of the strap and buckle design, which sort of makes them look like a fancy open sandal. It also has the DNA of a slip-on, so it's like a Frankenstein monster in the form of footwear, but it doesn't look distasteful! Single and double monk straps exist, and the choice is yours - the amount of straps has no effect on your overall looks!
Full-grain leather is the highest quality natural leather that can be found in Goodyear welted shoes. It is the part of the skin that lays closest to the hairline, and as such has a lot of protective qualities because it shields the creature from the harsh environment. It will do the same to your feet - protect you from water, heat, and everything else in between!
These are medium-priced Goodyear welted shoes, which is great news - they are made out of premium leather, and handmade, so the price really doesn't match the value, and that's being said in a good way! Bless your feet with one of the best monk straps you can find today.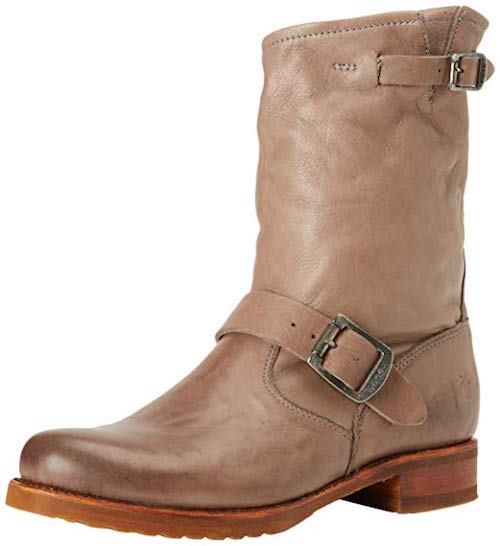 The Veronica by Frye is a chunky short boot, Goodyear welted and made with quality materials and comfort in mind. This slip on will look amazing with a pair of skinny jeans or your favorite girly dress, and best of all, it comes in a huge variety of color options, from polished blacks and browns, to metallic, rugged and worn versions.
This pair of Goodyear welted shoes has a 10 ¾ inch shaft height that offers plenty of protection and provides a good amount of warmth in chilly weather. Both the upper and lining are made with Italian leather sourced from the best tanneries, so you can expect several things: one, your boots will last for a long time, especially if you take good care of them. Two, they'll be easy to maintain.
The Goodyear welted sole includes a ½ inch height, as well as a slight heel that won't feel uncomfortable even if you wear the boot all day. Additionally, the metal hardware allows you to make small fit adjustments, which is not something you often get with slip on boots.
In terms of cost association, this model of Goodyear welted shoes is priced quite high, but the good thing is you can easily find it on sale. While it'll still cost more than the average model listed here, it's definitely an investment worth making.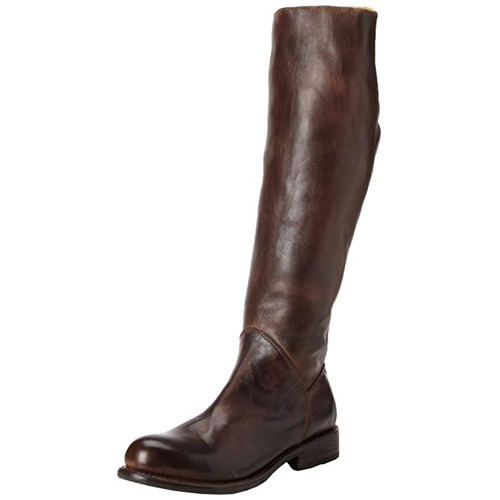 Each Bed Stu boot is handcrafted, made with the finest quality, organically tanned and chrome-free leather. Their quality is impeccable, and they will last you a long time. The corset lacing behind adds an antique, elegant note and also makes it easier to adjust them to your calf size. The heels are stacked, with every layer adding a lovely earthy tone to the dark color of the knee-highs. There is an interior side zip, so it is not as visible, but still makes putting them on an easy job. Contrast stitching is added, making the build durable, while also giving them a chic look. Each Bed Stu boot is unique, and there is no way anyone could replicate them!
Each and every product from Bed Stu was made by real people, with a lot of effort and tender love and care. The leather is hand cut, hand sewn, and hand woven together, giving them each a unique look and a lot of value. This ensures minimum room for mistakes, so you will have a suiting and comfortable fit right from the start!
It is very easy to see that these Goodyear welted shoes have a special kind of look to them - the finish on the leather makes them look worn-out, but not in a bad way. They appear mature, sharp and classy. Each item is hand-finished, which means that they all have unique stains and looks - no possible way to appear wearing the same boot as someone else!
Handmade pairs of Goodyear welted shoes never come at a low price, and that is true for these knee-highs as well. They are the priciest shoes on our list, and that is all with a good reason - they are sturdy, well-made, Goodyear welted, and unique!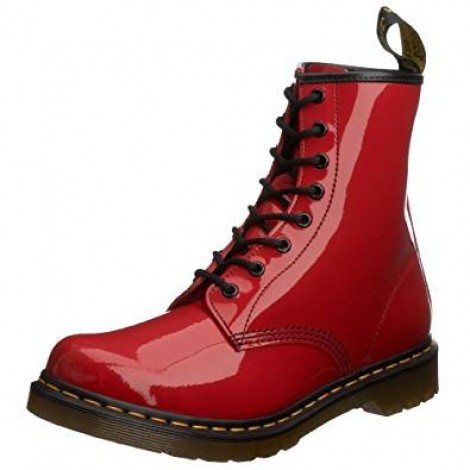 What would a good Goodyear welted shoes list be without at least one Doc Marten boot? The classic, instantly recognizable 1460 model is here to awaken your punk side while providing you with comfort and durability. They are made out of smooth, cherry-colored leather, which has extra stitches as a reinforcement and, of course, the yellow thread connecting the soles to the boot itself. The laces pull trough eight eyelets, the standard number for Dr. Marten boots. The outsole is PVC, and it is textured, providing you with a better grip and more slip-resistance. There is an extra large pull-on loop at the back, making it easier to squeeze yourself in.
What is one of the ways to instantly recognize an authentic Doc Marten boot? The yellow stitches, of course! No Doc would be complete without the vibrant thread contrasting the mono colors (or colorful patterns) of their boots. Flash those punk colors with the stitch gleaming around your feet!
The 8 eyelet design is a classic staple of every Doc Marten ankle bootie. The very first boot that they created had eight eyelets - they provide the best height, not too short, so you don't get cold, and not too tall to constrict your whole calf. You can adjust the fit however you like, tighten it or loosen it up, or even pull the laces out from the first half for a bold statement!
These Goodyear welted shoes do come at a bigger price, but what can you expect from one of the most recognizable boots that have ever been created? And, they are handcrafted, have a Goodyear Welt, and one of the finest leather know to mankind, so paying a bit more is expected!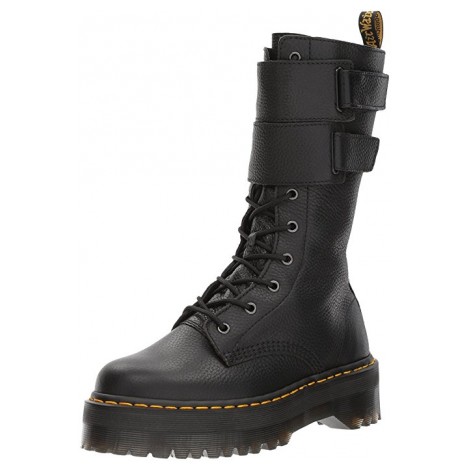 These chunky, grunge boots can awaken the dark side even in the most innocent of people, and that is exactly what they will do. Awaken your inner beast with these Aunt Sally leather boots strapped to your feet. The platform is tall and thick, which adds to the chunky vibe of the boot. There are ten eyelets present, which adds to the height of the boot, and that slims your calves and makes your legs appear longer. All the classic Doc Marten DNA is there, so you know what decorates every step of your way. Two thick straps lock your calves into place, ensuring a snug fit. Make a rebellious statement with the Goodyear welted Jaggers by your side!
The straps are a perfect grimy detail that makes these boots the best choice for any punk rocker out there, and anyone that feels that way. It's also a great way to make them stand closer to your skin, making sure they don't slip away, and that your legs stay put and don't move around!
Aunt Sally leather is naturally tumbled, which gives it a soft feel and a matte finish. It is unique to Doc Martens, so it also makes it their DNA. If you want leather boots with an original feel, opt for the Jaggers!
These Goodyear welted shoes run at a higher cost, but who can blame them when they bring so much to the table? Don't miss out on the chance to feel the soft leather on your skin, and the straps hugging your calves!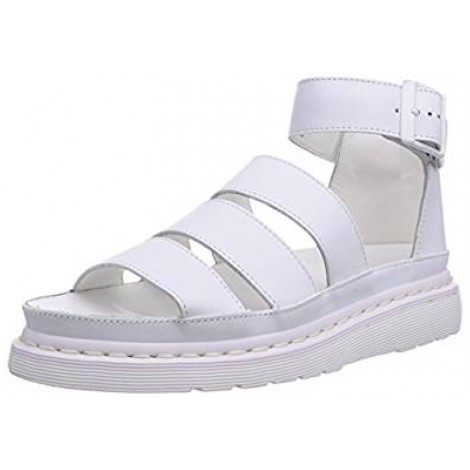 Dr. Martens are not known for creating sandals, yet here we are! A chic, youthful sandal made to accompany you during hot, steamy weather. The leather is waxy and full-grain, so water won't do it any damage. A big, chunky 1.5-inch platform gives them that goth look Docs are known for, and the stitch is there too, but it has been dulled to match the white color of the sandals. The soles have air cushions, so you will not feel the lack of heels and arch support - walking on air is guaranteed. Three thick straps wrap around the top of your feet, ensuring a snug fit, and the adjustable buckle makes that complete. The heel is closed, so no need to worry if your heels start to crack from the heat, and the open sides provide the much-needed ventilation. The soles are slip-resistant, so if the rain surprises you, at least you won't slip around.
Are your ankles super-thin, or do they tend to swell up during the evenings? No need to worry, the adjustable buckle has got you covered! Even when the leather starts to soften and adjust to your shape, the buckle makes sure the straps don't start to slip down and make the sandals appear unsightly!
Every Doc Marten boot has soles with supple cushioning, making every step you make during the day a breeze. Put on these clouds on your feet, and enjoy all the joys the sunny weather has to give, without having to stop every few minutes to give your feet some rest!
This is one of the cheapest items on this list of the best Goodyear welted shoes, and it makes sense, considering that they are not boots, and not a lot of material and time was poured into them. But, they were handcrafted and still give out the grunge vibe, so grab on a pair and be a rocker even during the summer.

Subscribe to our Newsletter