Best Goodyear Welted Shoes Reviewed For Rugged Style
Finding a proper, durable shoe with remarkable qualities is something we all desire. Why should you spend a fortune on footwear that breaks apart after less than a year? Then again, who can guarantee us that our shoes will last us a very long time? If they were constructed with a Goodyear welt, be sure they are here to stay! You may wonder, what makes a Goodyear welt so remarkable, why does it stand out? Let us open your eyes for you, and find out just why this kind of welt stands out.
First off, we have to say who came up with the idea. It was invented in the 1890s, by a man going by the name of Charles Goodyear, after who the welt got its name from. He invented machinery needed to completely replace hand-sewing the stitches of shoes. What makes the stitch so special though? This is a traditional method where the sole is attached to the upper, creating a mechanical joint. What makes it stand out so much is that you can replace the soles as many times as you like, achieving the distinguished look only footwear that has been worn for many years gets. The welt construction allows the wearer to enjoy their pair for up to 20 years, or even longer, depending on other conditions. Imagine that, footwear that lasts for decades! Rarely anything lasts that long nowadays, especially shoes, since we lead busy, busy lives.
Featured Recommendations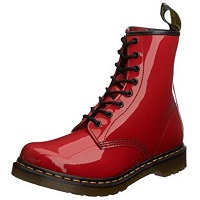 Dr. Martens 1460

Our rating
Signature Style
Textured PVC Outsole
Price:

See Here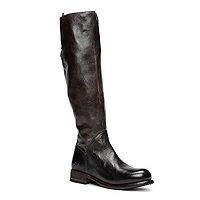 Bed Stu Manchester

Our rating
Rustic Look
Knee High
Price:

See Here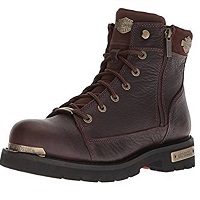 Harley-Davidson Chipman

Our rating
Lace-up
Mesh Lining
Price:

See Here


Having a Goodyear welt is something only a few companies can be proud of, and usually, their items have an appropriate cost to follow. A lot of technology and effort goes into creating this stitch, and you are not required to buy from the same company again for a long while, so expect to shell out a few extra when buying footwear with this kind of welt!
If you are unsure which shoes have this kind of stitch, we have prepared a list of some of the best durable items you can find today. Read on to find out what pair deserves to spend the next few decades by your side!
10 Best Goodyear Welted Shoes
1. Dr. Martens 1460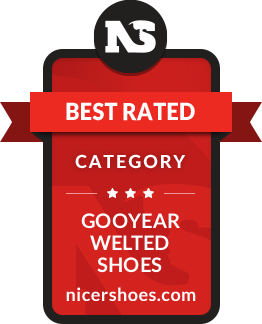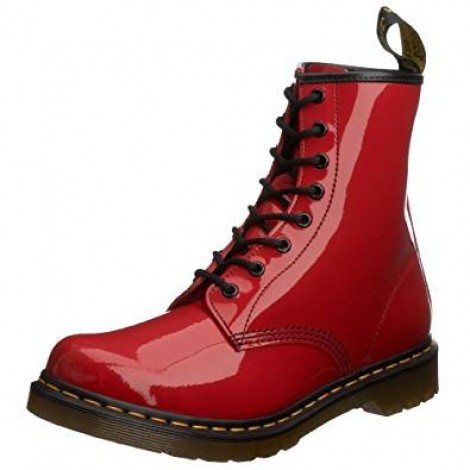 What would a good Goodyear welt list be without at least one
Doc Marten
boot? The classic, instantly recognizable 1460 model is here to awaken your punk side while providing you with comfort and durability. They are made out of smooth, cherry-colored leather, which has extra stitches as a reinforcement and, of course, the yellow thread connecting the soles to the boot itself. The laces pull trough eight eyelets, the standard number for Dr. Marten boots. The outsole is PVC, and it is textured, providing you with a better grip and more slip-resistance. There is an extra large pull-on loop at the back, making it easier to squeeze yourself in.
Expand to see more
Yellow Thread
What is one of the ways to instantly recognize an authentic Doc Marten boot? The yellow stitches, of course! No Doc would be complete without the vibrant thread contrasting the mono colors (or colorful patterns) of their boots. Flash those punk colors with the stitch gleaming around your feet!
Eight Eyelets
This is a classic staple of every Doc Marten ankle bootie. The very first boot that they created had eight eyelets - they provide the best height, not too short, so you don't get cold, and not too tall to constrict your whole calf. You can adjust the fit however you like, tighten it or loosen it up, or even pull the laces out from the first half for a bold statement!
Cost and Value
They do come at a bigger price, but what can you expect from one of the most recognizable boots that have ever been created? And, they are handcrafted, have a Goodyear Welt, and one of the
finest leather
know to mankind, so paying a bit more is expected!
Vibrant Cherry Red
Big Pull-loop
Strengthening Stitches
Shiny Finish
Textured PVC Outsole
2. Bed Stu Manchester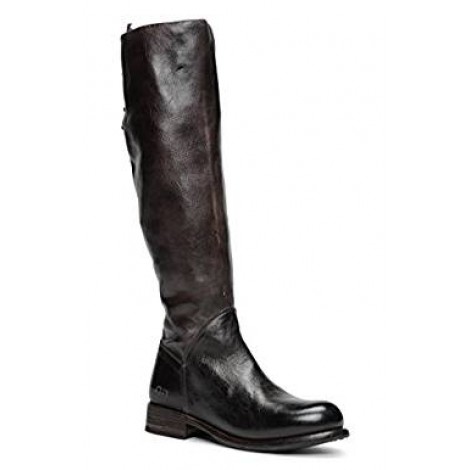 Each Bed Stu boot is handcrafted, made with the finest quality, organically tanned and chrome-free leather. Their quality is impeccable, and they will last you a long time. The corset lacing behind adds an antique, elegant note and also makes it easier to adjust them to your calf size. The heels are stacked, with every layer adding a
lovely earthy tone
to the dark color of the knee-highs. There is an interior side zip, so it is not as visible, but still makes putting them on an easy job. Contrast stitching is added, making the build durable, while also giving them a chic look. Each Bed Stu boot is unique, and there is no way anyone could replicate them!
Expand to see more
Handcrafted
Each and every product from Bed Stu was made by real people, with a lot of effort and tender love and care. The leather is hand cut, hand sewn, and hand woven together, giving them each a unique look and a lot of value. This ensures minimum room for mistakes, so you will have a suiting and comfortable fit right from the start!

One-of-a-kind Finish
It is very easy to see that these riding boots have a special kind of look to them - the finish on the leather makes them look worn-out, but not in a bad way. They appear mature, sharp and classy. Each item is hand-finished, which means that they all have unique stains and looks - no possible way to appear wearing the same boot as someone else!

Cost and Value
Handmade produce never comes at a low price, and that is true for these knee-highs as well. They are the priciest shoes on our list, and that is all with a good reason - they are sturdy, well-made, Goodyear welted, and unique!
Corset Lacing
Stacked Heel
Vegetable Tanned leather
Reinforced Stitching
Sustainably Sourced
Narrow Along Shaft
Leather Cracks
3. Harley-Davidson Chipman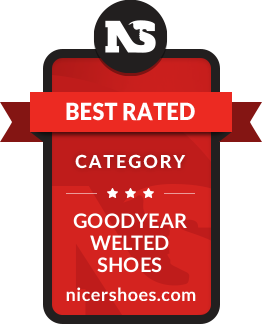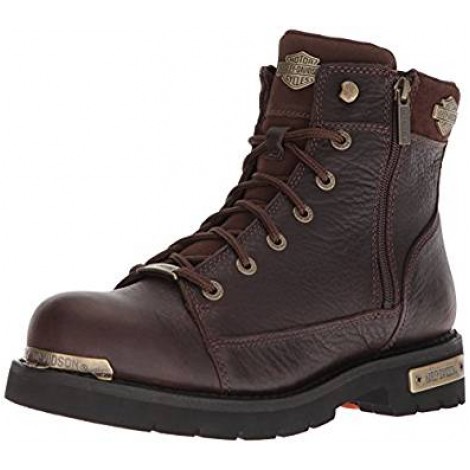 It is expected of top-notch
motorcycle boots
to have a Goodyear welt, no? Besides, they do have to endure a lot - everything between being on the road constantly and walking the whole day! They are leather, and the upper is full-grain, protecting you from the fast winds and harsh rain while you ride on. The lining is mesh, and the outsole is rubber, so you get breathability and slip-resistance! The zipper on the side is YKK, the sturdiest kind available today. They are a lace-up harness boot, so you can quickly put them on and adjust them to your liking. You can find the logo decorating three parts of the boots, so there is no mistaking them for something else.
Expand to see more
YKK Zipper
This zipper makes an easy way in and out of the boots, and also adds an interesting detail. YKK is the biggest zipper manufacturer, and also the best one out there - if you need a sturdy zipper that will not give out after repeated use, choose YKK!

Shield on the side
These come with a built-in shield and a metal Harvey-Davidson bar on the side - make your statement know and flaunt their brand! These are a great way to decorate the boot, adding shine and class to the matte rustic boots. Gleam on the road and get ready for heads to turn!

Cost and Value
Considering the brand of these shoes, we expected a much higher price, but we were pleased to discover that the cost is not that high at all. Combining manly style and extreme durability and comfort, these are all a frequent rider can wish for.
Lace-up
Reinforced Stitching
Lightweight Rubber Outsole
Mesh Lining
4. Dr. Martens Clarissa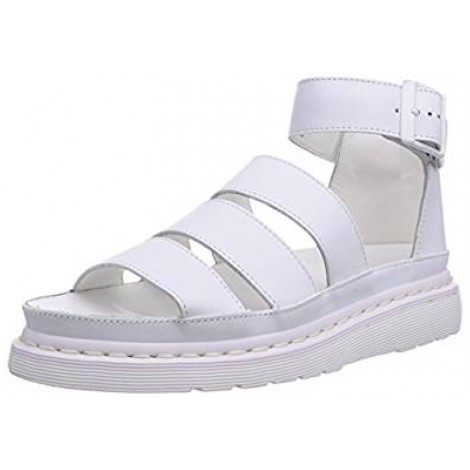 Dr. Martens are not known for creating sandals, yet here we are! A chic, youthful sandal made to accompany you during hot, steamy weather. The leather is waxy and full-grain, so water won't do it any damage. A big, chunky 1.5-inch platform gives them that goth look Docs are known for, and the stitch is there too, but it has been dulled to match the white color of the sandals. The soles have air cushions, so you will not feel the lack of heels and arch support - walking on air is guaranteed. Three thick straps wrap around the top of your feet, ensuring a snug fit, and the adjustable buckle makes that complete. The heel is closed, so no need to worry if your heels start to crack from the heat, and the open sides provide the much-needed ventilation. The soles are slip-resistant, so if the rain surprises you, at least you won't slip around.
Expand to see more
Adjustable buckle
Are your ankles super-thin, or do they tend to swell up during the evenings? No need to worry, the adjustable buckle has got you covered! Even when the leather starts to soften and adjust to your shape, the buckle makes sure the straps don't start to slip down and make the sandals appear unsightly!

Air cushions
Every Doc Marten boot has soles with supple cushioning, making every step you make during the day a breeze. Put on these clouds on your feet, and enjoy all the joys the sunny weather has to give, without having to stop every few minutes to give your feet some rest!

Cost and Value
This is one of the cheapest items here on our list, and it makes sense, considering that they are not boots, and not a lot of material and time was poured into them. But, they were handcrafted and still give out the grunge vibe, so grab on a pair and be a rocker even during the summer.
Thick Platform
Grunge Vibe
Waxy Leather
Mono Colors
Wide Straps
5. Maelstorm Glossy Oxford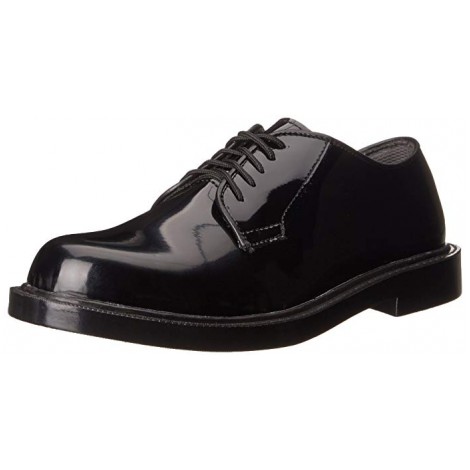 Oxford shoes are always in style and with the glossy finish, they are ready for the runway. These shiny manmade leather Oxfords feature a black high gloss and a polishable Clarino upper. The lining is breathable and has moisture wicking properties - never experience sticky wet feet again! The insole has a removable cushion insert, so if the fit is tight, you can relieve some pressure and enjoy these shoes without stress. The outsoles are slip and oil resistant, protecting your delicate body from clashing with the hard ground. Six blind eyelets are hidden from view, but the laces decorate the upper make the Oxfords look refurbished and mature.
Expand to see more
Clarino upper
What makes Clarino leather different from regular leather? Besides being manmade, this leather is very easy to clean. You can polish it all you like, they will never lose their shine. It's easy to clean, and will not stain as much. Also, it will retain all of the properties it has when getting wet, compared to natural leather that gets softer. Enjoy the out-of-the-box look for as long as you want!

Moisture wicking lining
When leading an active lifestyle, our skin is prone to get sweaty and humid. Our feet are one of the areas that sweat the most, and give off a lot of heat. This creates the perfect environment inside our footwear for bacteria to flourish, and for bad odors to form. Moisture-wicking linings prevent all that, and make wearing leather footwear enjoyable!

Cost and Value
These may not be all natural leather, but they do have a Goodyear welt and a lot of other redeeming qualities that make them a valuable shoe. Imagine our surprise when we found out how cheap they are! Don't miss out on these magnificent Oxfords and grab them while you can!

High Gloss Finish
Removable Cushion Insert
Composite Shank
Non-Metallic Construction
Very Lightweight
6. Dr. Martens 1461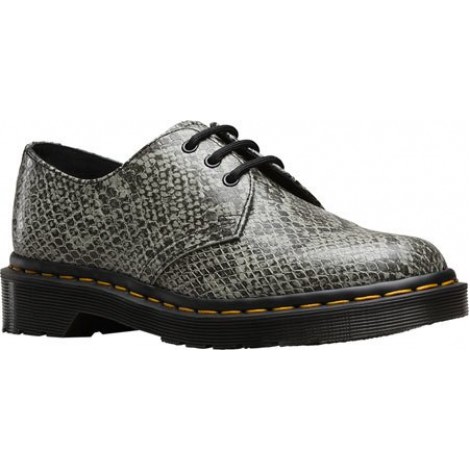 One more addition from well-known Doctor Martens, and in the form of stylish Oxfords! They feature patterned leather, giving them a sleek, sophisticated look. Various colors decorate the shoe, and different patterns ensure there are enough options for even the pickiest people. The trademark soles, yellow stitches, and sleek leather construction are enough to prove to anyone that these are indeed Docs. The pull-loop is missing, but there is no need for one, due to Oxfords being a low cut type. The toes are a bit more narrow than usual, and that makes them the ideal dress-up shoe.
Expand to see more
Oxford style
Originating in Britain, shoes in this style go along with just about any serious outfit you can think of. They are characterized by laces that are attached to the vamp, so that gives them a sleeker design. They can be a great casual shoe as well, so this makes Oxfords a superb versatile shoe.

Variety of patterns
Having plenty of options to choose from is always a sight for sore eyes. What if you liked the style, but really are not a fan of, for an example, croc skin? Maybe you have a monotonous outfit and really need a floral pattern to break it apart? No need to worry about all that, since Doc Martens made sure to include fun patterns and different finishes, so you will always have something to choose from.

Cost and Value
As an avid fan of Doc Martens, you should already know that they come with a hefty price tag. Premium leather and sublime construction does take a lot of ka-ching, and these Oxfords are no exception. But if you want a premium Oxford style shoe that will not fall apart after a short period of time, do indulge and get yourself a pair!
Three Stylish Eyelets
Distinctive Stitch Detail
Sleek Style
Narrow Toe Area
True To Size
7. Anthony Veer Monk Strap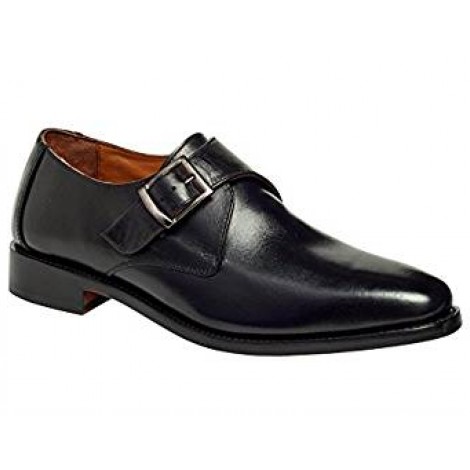 The monk-strap is the Oxford shoe redesigned to look even sharper and sleeker. These are completely made out of premium leather, so supreme comfort and durability are ensured. The upper is full-grain calfskin and the insoles are leather-lined and fully cushioned. The shoe tends to mold perfectly to your feet, so the more you wear it the better it will feel, and there is no bad side to wearing these whenever you can!
Expand to see more
Monk-strap
These have been often described as the most-advanced dress shoe. They differ from regular Oxfords because of the strap and buckle design, which sort of makes them look like a fancy open sandal. It also has the DNA of a slip-on, so it's like a Frankenstein monster in the form of footwear, but it doesn't look distasteful! Single and double monk straps exist, and the choice is yours - the amount of straps has no effect on your overall looks!

Full-grain leather
Full-grain leather is the highest quality natural leather that can be found in today's market. It is the part of the skin that lays closest to the hairline, and as such has a lot of protective qualities because it shields the creature from the harsh environment. It will do the same to your feet - protect you from water, heat, and everything else in between!

Cost and Value
These are a medium-priced shoe, which is a lovely information - they are made out of premium leather, and handmade, so the price really doesn't match the value, and that's being said in a good way! Bless your feet with one of the best monk straps you can find today.
Single Strap
Narrow And Sleek
Gleaming Finish
Big Sizes
Ethically Sourced
8. Dr. Martens Jagger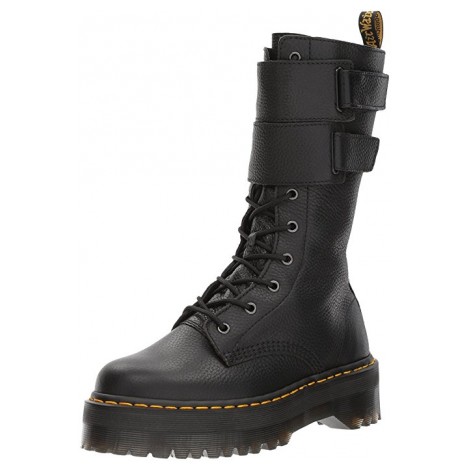 These
chunky, grunge boots
can awaken the dark side even in the most innocent of people, and that is exactly what they will do. Awaken your inner beast with these Aunt Sally leather boots strapped to your feet. The platform is tall and thick, which adds to the chunky vibe of the boot. There are ten eyelets present, which adds to the height of the boot, and that slims your calves and makes your legs appear longer. All the classic Doc Marten DNA is there, so you know what decorates every step of your way. Two thick straps lock your calves into place, ensuring a snug fit. Make a rebellious statement with the Jaggers by your side!
Expand to see more
Two Thick Straps
The straps are a perfect grimy detail that makes these boots the best choice for any punk rocker out there, and anyone that feels that way. It's also a great way to make them stand closer to your skin, making sure they don't slip away, and that your legs stay put and don't move around!

Aunt Sally leather
This kind of leather is naturally tumbled, which gives it a soft feel and a matte finish. It is unique to Doc Martens, so it also makes it their DNA. If you want leather boots with an original feel, opt-out for the Jaggers!

Cost and Value
The ten eyelet boots run at a higher cost, but who can blame them when they bring so much to the table? Don't miss out on the chance to feel the soft leather on your skin, and the straps hugging your calves!
Chunky
Abrasion Resistant
Thick Commando Thread
Military-Inspired Detailing
Tall Platforms
9. Freebird Brew Ankle Bootie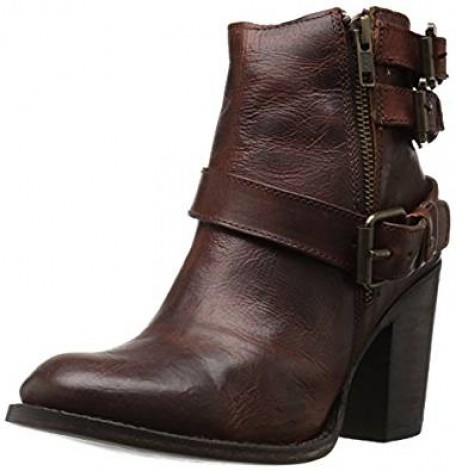 One more addition from
Freebird
, and a fine one as well! They are made out of premium leather and the cognac color adds to the rustic feel these give off. A zipper eases the way you put them on, and a buckle runs across it, hiding it partially and securing the boot to your feet even more. Two more buckles decorate the upper part of the bootie, so if you thought there was such a thing as too many straps and buckles, the Brew Bootie is here to prove you wrong! The heels are 2.75-inches tall, so you can be high and mighty all you like. The leather is hand-distressed and makes the boots appear even more worn off and distinguished.
Expand to see more
High heels
Winter boots can become bland and boring quick enough. They are made for the snow and cold weather, so who's to blame them for not having high heels? The Brew Bootie is here to bring a breath of fresh air to winter footwear. Make a statement and stand proud and tall - flounce your perfect legs all winter long!

Hand-distressed leather
When something is done by hand, it usually means that each and every part of that item is unique and stamped with the persons' individual preference. Hand-distressed leather has an individual fingerprint, and each and every one can be considered an original - you can find nothing like it. So, when you shop Freebird items, you can be sure that you do wear an original.

Cost and Value
Freebird is a company that creates great footwear, and as we have already noted, it is handmade and top-notch. So the prices are high, but that is expected - tap into your savings and treat yourself with these remarkable boots.
Rustic
Three Strap Details
Zipper Detail
Roomy Toe Box
Stretchy Leather
10. Freebird Coal Riding Boot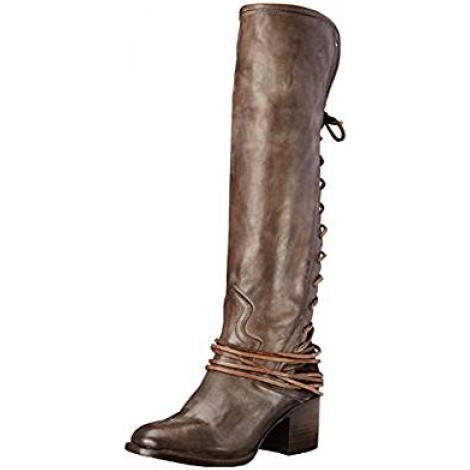 Everyone should own a pair of
above-the-knee boots
- besides, what style is better for showing off your legs during the cold, harsh winter months? These are the leather kind, which is finished to look rustic, worn down. The chunky block heel makes them look more western, and also gives you stability and arch support. A full-length rawhide corset laces up the back, giving the wearer a flirty, cheeky feeling. They were distressed by hand, so every boot has its own unique print. The leather corset wraps around the ankles and provides contrast to the monotonous colors of the shoes. A decorative patch of leather is stitched to the front, furthermore accentuating the western look of the boots. A zipper sits on the side, so even folks with high-arches can enjoy the beauty of these riding boots!
Expand to see more
Lace-up Corset
Why should all laces sit at the front of the shoe, why not reinvent it and add the laces on the back? Besides being refreshing, it also gives you the possibility of tightening and loosening the fit, and it makes it easier to prevent the slouching of the leather when it stretches and accommodates to your calves. Also, you get to have a unique, exciting detail on regular riding boots!

Zipper Detailing
Besides the lace-up, the zipper makes it even easier to put on the boots! Also, if they are tight at first, during the break-in period, it makes it easy to pull up your socks and adjust them, so they don't pinch your skin and create blisters. Never worry about struggling to put tall boots again!

Cost and Value
Hand-made boots that are tall do need a lot of material to be made, and it takes up a lot of time to hand-stain it, stitch it and decorate it. So according to that, the price jumps up, and that is the case with these riders too. But, they do have superb durability, comfort and worn down sophisticated looks, so shelling out a bit more seems like a small price to pay!
Wooden Block Heel
Hand-Distressed
Stitching Details
Logo On Outsole
Western Look
Hard Footbed
Inconsistent Colors
We hope that you have found just what you are looking for. A huge variety of styles were included, ensuring you find just what your heart desires. After all, this is an important choice – these shoes will last you for a long, long time, and it's important you have something that you adore hugging your feet!
Criteria For Evaluating
the Best Goodyear Welted Shoes

Welt
We have all heard about the Goodyear Welt, and it's redeeming qualities; but what actually makes it so good, and how is it made to withstand almost anything? We will try to explain just what makes this welt what it is today.
One of the first things that we have to mention is the durability of the welt. The construction gets its longevity and repair qualities by stitching the leather from the upper, the linings and the welt (a strip of specially prepared leather) to the ribbing that is already on the insole. After that, the welt gets attached to the leather of the rubber outsoles. That final stitch is the one that can be removed and allows the sole to be taken off the rest of the shoe without damaging it.
It is machine based, completely replacing the hand-sewn method. As such, it is quite expensive and time-consuming, so the price of footwear with the welt is quite high. But, just the fact that you can replace the soles as much as you like should be enough to buy you over. You can wear the same pair even as long as two whole decades, and not many shoes can do that. That means that there is no need to buy proper footwear every year, you can have the good old pair you are used to, and if you need to, just replace the outsoles! Also, you can get that worn down feeling, and the patina leather gets after years of use, so it's a win-win situation!
If you still doubt the welt, just look at how successful are the companies that create shoes that have this welt. Take Dr. Martens, for an example. They are very well known, and not one person was left indifferent after seeing or trying them on. Investing in a proper pair with the welt is one of the smartest choices you can make regarding your footwear, and that is just what you should do!
Handcrafting
People always boast about having something that is handmade. The quality of the item is much better, it lasts longer, and it's specifically crafted to your liking. What are some of the main differences between handmade and factory-made? Here are some of the most important ones:
The Materials Used: Factories usually have to resort to synthetic or highly processed leather. That is because natural leather has scars and veins and all kinds of other marks, and when a machine cuts it, you cannot control which parts end up as a shoe. Those kinds of leather crack quickly, and you cannot use creams or polishes to make it last longer. Also, factory-made shoes usually have synthetic soles as well. There is nothing wrong with having rubber outsoles – that is exactly what we need to prevent us from slipping around and falling everywhere. Yet, the insoles are supposed to be leather; it molds perfectly to your foot, creates cushioning that is unique to you, and increases the quality of your step. Not a lot of shoes today have this kind of insole, it's usually synthetic, and not a good option for your feet.
Hand Lasted: The last is the wooden or plastic mold that the shoes get built around. Those molds give the footwear its shape and size. Footwear cannot be made without it – otherwise, they would be just a clump of leather without any real shape. Hand lasted shoes are ones that have been stretched around the molds by hand. Each and every detail has to be okay, there has to be enough leather and it has to be wet in order to be properly stretched. In factories, this is done with machines and is usually rushed, and so the shape will not be as good.
Quality Control: When made in the factory, footwear does go through quality control, but this too can be rushed. Those workers get a thousand pairs a day, how can they be exactly sure that each and every shoe is without imperfections? Handmade ones go through at least 20-30 hands, and each and every person will check for irregularities. So, that way, they know if they made mistakes and can swiftly fix them.
These are just some of the aspects of handmade footwear – there is much more, but we believe these are the most important. If you do wish to own a handmade shoe, be prepared to spend a lot, but it is all for a good reason!
Frequently Asked Questions

Q: How can I recognize a genuine Goodyear welt?
A: Usually, Goodyear welted shoes have visible stitches on the top of the welt and on the outsole. Some even have a groove where the stitches are put into, and that groove is then closed. There are a lot of variations to the welt, but just looking around the outsole can be a good enough way to spot the strip of leather going around it!
Q: Is a Goodyear Welt always finished using leather?
A: Leather is the best material out there when it comes to shaping it pulling threads through it. It is only logical that this type of material was chosen for the welts, and every welt does have a leather strip on the outside. So, yes, leather is always used!
Q: What are the welts filled in with?
A: The cavity under the welt is usually filled in with cork. This is to ensure that the shoes do have some flexibility, but not enough to render them completely useless!
Q: Does the Welt add to the water-resistance of the footwear?
A: All those extra layers of material used to provide your feet with a lot of protection, and even stability. The thickness of the welt prevents water from entering inside, but it's not tightly packed enough to trap moisture inside – so your feet can breathe and remain dry throughout the day!
Q: Which manufacturers are the most known for having a Goodyear welt?
A: As you may have noticed already, Dr. Martens is one of the most famous shoe brands that use this kind of welt. Freebird, Bed Stu and Harley-Davidson all use this type of welt, as well. Loake and Grenson are also some of the British companies that like to include this welt into their manufacturing. All in all, there are plenty of companies that use this welt, you just have to look hard enough!
Sources