Best Light Brown and Tan Boots Reviewed & Rated
In a Hurry? Editors choice: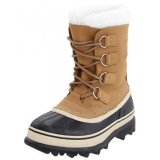 Test Winner: Sorel Caribou

When it comes to finding the right pair of light brown boots, it can be hard with so many different options out there. There are ankle styles, tall styles, for warm weather, for cold weather, you name it!

We tried to narrow these down for you and picked the best light brown and tan boots for our list below. These tan boots are all designed for comfort and quality and there is a wide variety of styles included. Before we begin, we want to preface with the fact that there are both men's and women's boots here: some of them are for a light night with girlfriends, and some are tactical ones for outdoor adventures. Whatever light brown boot you are looking for, this list has it.
Standout Picks
Criteria Used for Evaluation
Comfort
Cushioning, soft, breathable lining and a low, comfy heel are essential.
While you may have picked out a stylish pair of tan boots that fit your aesthetic, the truth is that they won't be a joy to wear if they are in any way uncomfortable. In order to get the most out of your purchase and to feel truly satisfied with your new pair of boots, you need to make sure that they are comfy to wear for as long as you want to wear them.
Here are some factors you need to keep in mind when determining the comfort levels of a design:
Footbed: Since the footbed is what comes in direct contact with your foot sole, it is imperative that it is properly cushioned. Cushioning shouldn't be too firm or too soft, and it should provide adequate shock-absorption. Additional support in the form of contours or an arch cookie is a bonus, especially if you expect to spend hours and hours standing or walking around in your booties.
Lining: The lining of the shoe is what surrounds your foot when you're wearing it. It should be made of a soft, gentle material that doesn't cause friction or undue rubbing on your skin. It should also be breathable so that your feet can enjoy proper airflow and avoid the risk of sweating. Look for leather or wool lining, as these natural materials will undoubtedly improve your wear experience.
Heel: Lastly, if you are looking for footwear with heels, keep in mind what type of heels you're comfortable wearing. Low, chunky heels (up to 3 inches in height, for example) are considered super comfy and steady to walk in and should pose no problems. Anything higher or slimmer than that might lead to pain after wearing them for a short amount of time.
Materials
Genuine leathers are what you should be looking for if you're after the highest quality boots.
As another criterion that is massively important when it comes to picking out a boot from anywhere, the material of a design ensures maximum quality. Therefore, we focused much of our research on the overall structure of the boot and how it was designed.
Areas of focus when it comes to the material and construction of the item include the upper material, the outsole, the laces, the insole, the tongue, and the stitching. The reason being is that we wanted to make sure that the boots were designed for durability and comfort in mind.
Now, when it comes to the construction of a boot, we have to say that it really depends on the type of boot that it is. Tan boots that are designed for tactical wear will clearly be more durable and better constructed then fashion boots for women.
For the highest quality footwear, regardless of its type, look for genuine leathers. Full-grain leather, nubuck leather, patent leather, and suede are your priority if you wish for a durable, comfortable, and breathable boot. Keep in mind that these materials are not naturally water-resistant. If you're looking for an option to wear in inclement weather, you need to choose leather footwear that has been pre-treated to repel water.
Synthetic leathers, while less expensive and animal-friendly, are not as durable as genuine leathers. They also tend to be stiff and rigid and don't really allow much airflow through the design.
Style
Choose between a winter, tactical or fashion style of boots.
Now, here is where things become a whole lot more fun. Choosing the style of your next pair of tan boots is what you probably came here to do in the first place and what you're excited to learn more about!
Brace yourself, there are several different styles we can categorize the designs in our list into, and we're going to outline them all here.
Winter: Winter boots are what you need when the temperatures outside drop below zero and when the ground gets covered in thick layers of snow. They are not so much designed to look good as they are designed to be practical. Winter boots have thick linings and insulation and are waterproof to make sure that your feet stay dry and warm no matter how long you trudge around in the snow. They also have thick lug outsoles to protect you from slipping and falling on ice.
Tactical: Another type that is built more for its functionality than style, tactical boots are there to help you navigate treacherous terrain. They have much the same qualities as winter boots, such as water-resistance, comfort, breathability, thick lug outsoles, with perhaps the exception of insulation. If you're an outdoorsy, adventurous type of person, you will definitely need a pair of tactical boots.
Fashion: However, if you are looking for a pair that you can wear every day and match with all of your favorite outfits, then definitely choose a more fashion-forward model! Look at brands such as Cole Haan, Aerosoles, Kenneth Cole and similar to find options that suit your personal aesthetic. Take these to work, to a fun lunch date with your friends, even to a date night out with your significant other! Fashion boots are a must-have in your autumn and fall wardrobe.
Value
Value is determined by the durability and wearability of the design, in conjunction with its price.
As another criterion that we took into consideration for our tan boots, the cost and the value for the design was a crucial aspect of our selection process. The reason being is that we wanted to ensure the best bang for your buck.
Alongside this, we wanted to focus much of our attention on different brands to ensure a wide variety. We appreciate shining light on both the little guys and the big guys.
To ensure you are getting the most value out of your purchase, take into account everything you read and will read in this Criteria section.
Choose an option that is comfortable to wear day in and day out, if this is how often you want to wear it. High-quality materials such as genuine leathers are preferable, but if you wish to go for a vegan option, then that is okay, too. The style of the design should fit your tastes and seamlessly blend into your wardrobe so that you can get the most versatility out of it.
Finally, a durable model is what will definitely make you feel like your purchase was worth it. There is no better feeling than knowing you bought a pair of boots that will last you for years to come!
Durability
Durable footwear is made from high-quality materials and good construction methods, and it is also weather- and water-resistant.
Durability determines how long you can wear your tan boots before they completely fall apart and become unusable. It is dependant on a series of factors, such as the type of construction used, the quality of the materials, what conditions you're wearing the boots in, how often, etc. Here are some pointers on how to choose the most durable boots for yourself.
Go for high-quality materials. We've already mentioned that this is genuine leather on several occasions, and we're still sticking by that claim. With a little bit of care, genuine leather footwear can last up to a decade. The more thickly the leather is layered, the more durable it will be.
In terms of construction, if you find a design made using what is called a Goodyear welt construction, then don't pass it up! Shoes made using the Goodyear welt are easily re-soleable - meaning you can replace their soles without damaging them, which makes them last for years.
It would be best to choose an option that is resistant to water and the elements, especially if you are looking for a winter or a tactical boot. Boots made for extreme conditions should have some measures of protection on them, so they can also protect your feet from the cold and the moisture if there is any.
As a final point in our Durability section, we would like to stress the importance of not holding back from wearing your footwear just because you want it to last longer. It is not widely known that footwear deteriorates even when it's sitting on a shelf in your closet. Therefore, we always advise wearing it whenever you want wherever you want so that you make the most out of it before it's time to say goodbye.
Our Favorites
Sorel is a world-famous Canadian brand that specializes in reliable, outdoor footwear. Their products range from cute and fashionable to bulky and winter-proof, and the Caribou definitely falls in the latter category. This is an original Sorel design, with waterproof construction, a well-insulated interior, and a Sherpa Pile snow cuff that will keep you warm, cozy, and comfortable in the coldest time of the year.
The Caribou has an upper made from nubuck leather, with seam-sealed waterproof construction. Inside this design there is an inner boot made from recycled felt that is 9mm thick and removable, meaning that you can easily wash it separately. As for the outsole, the Caribou sports a hand-crafted shell made from vulcanized rubber with an aero-trac sole. Overall, the Caribou can keep you warm even in temperatures as low as -40 F.

The Sorel Caribou is not a fashion choice. It may seem bulky and unappealing at first, but it serves its purpose when there's nothing but snow and chilly winds all around you. If you are looking for a sturdy design to get you through the worst of the winter, then look no further! Caribou is the right choice for you!
2

. Timberland 6 Inch Premium
Rare are the styles that are so iconic and so widespread as the classic Timberland boot. The 6 Inch Premium has that cool, rugged aesthetic that we've come to know and love, and it now has an entirely suede construction in a glorious shade. Timberlands are perfect for cold weather, for skinny jeans or nordic patterned leggings and thick, fur-lined parkas to enjoy the winter scenery.
The 6 Inch Premium is abundant in technologies. It is waterproof thanks to the special treatment of the suede and to a seam-sealed construction. On the inside of this design, you will find 200 grams of what is called PrimaLoft ECO insulation. This is crafted in part from recycled plastic bottles and is compression-resistant, as well as able to retain heat in any number of conditions. In terms of comfort, the midsole of the design is made with anti-fatigue technology to provide support and shock-absorption no matter how long you're spending on your feet.

The entirety of the Timberland 6 Inch Premium is built to last. Its hardware is rustproof, its laces are made from durable nylon, and overall, there is no fault that we can find with this design. If you are into that outdoorsy aesthetic and feel like these will fit into your wardrobe, don't hesitate to get them! They will quickly become your fashion staple.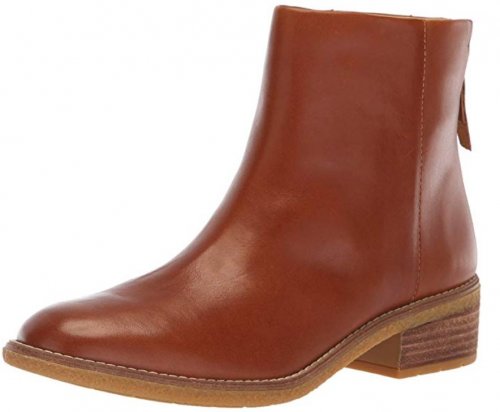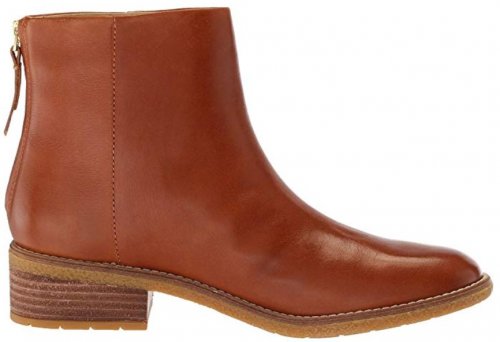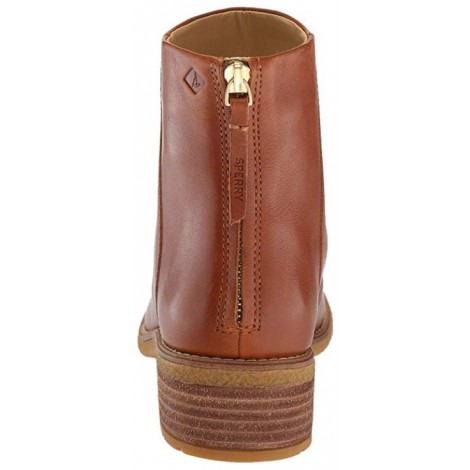 We understand that you may not always be in the mood for something unique, outrageous, or eye-catching. The Maya Belle from Sperry is the type of design you reach for when you want something easy, minimalist, and something that will effortlessly fit in with what you're wearing. This gorgeous leather boot is sophisticated and perfect for both dressing up or dressing down, depending on where you're headed.
The Maya Belle is made from premium leather for a luxuriously expensive finish. It features a zipper in the back for easy entry, as well as a pull-tab so that you can easily slide these on. The heel is barely-there, giving you just a bit of a boost in height, while the outsole has a crepe texture to it. This texture is what provides amazing traction and keeps you from taking a fall even on slippery surfaces.

We all need that one option in our wardrobe that will be an easy choice on the days we don't feel like thinking too hard about our outfits. The Maya Belle will be a great companion to the workplace, to a fun shopping trip with your friends, and even to a fancier event, when you have to look a bit more put together. There's nothing this cute pair of tan boots can't do!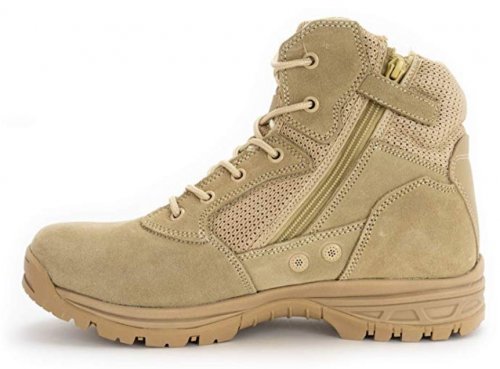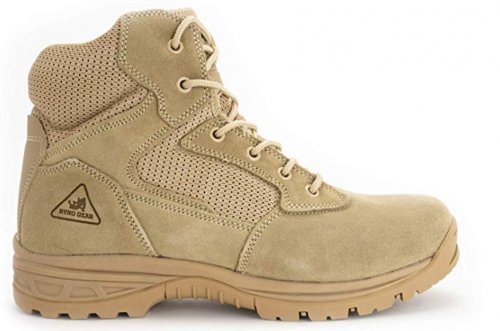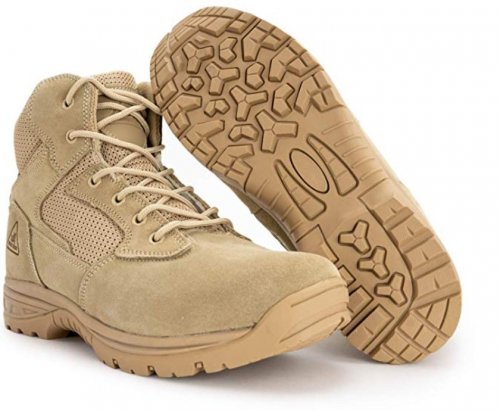 Since it is our goal to appeal to a wide audience, we want to share a different kind of design that individuals will love. This option is actually designed for the tactical industry and offers a tremendous amount of durability that no one can expect from a regular footwear brand. Let's talk about the Ryno Gear Tactical.
When it comes to material quality, nothing is better than the tactical industry. With that in mind, we can say that these are made from some of the best tactical materials around. For instance, the combination of materials includes durable leather alongside ballistic nylon and a padded collar. Part of what makes this design one of the best is the breathable material. The lining is made of breathable mesh that ensures better ventilation and comfort when wearing this boot. In this way, you won't feel itchy or uncomfortable all day while wearing the boot.

The Ryno Gear Tactical is made from high-grade materials and ensures maximum safety. If you are looking for quality durability alongside a shock absorbent and comfortable design, we can say that these are worth your consideration.

5

. Smith & Wesson Breach 2.0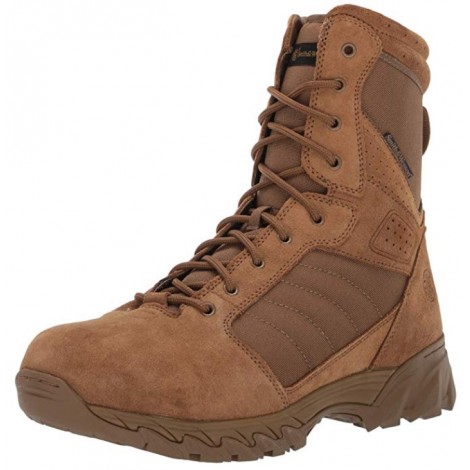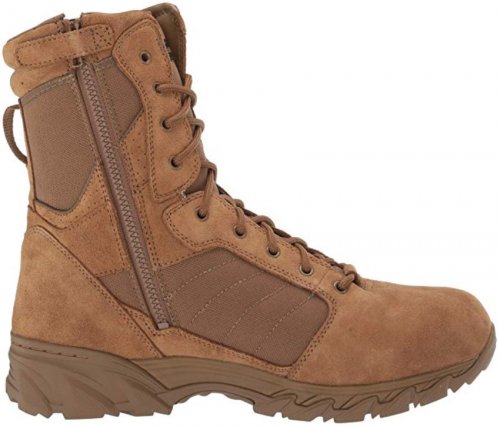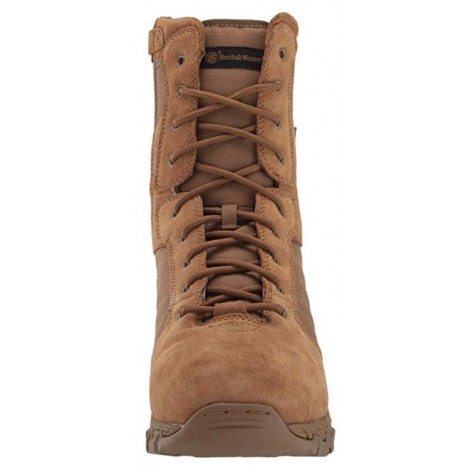 The Smith & Wesson Breach 2.0 comes with a handful of features at a price that is unbelievably affordable. Compared to the other models on this list, this may be the best option for the price. Below we will talk about this boot's most notable design features.
Tan boots such as these get a bad rep for being highly uncomfortable. That is not the case with the Breach 2.0. In fact, these are made for comfort. With a premium padded collar interior and maximum ankle support, this happens to be one of the most comfortable items on this list for those that want to wear them all day long. This brand offers these particular boots with a six-month warranty. In case the item breaks, the midsole no longer compresses, or the laces get messed up, the brand will replace the item.

Not only is the Smith & Wesson Breach 2.0 comfortable, lightweight, stylish, but it is also very affordable, the price of a regular shoe.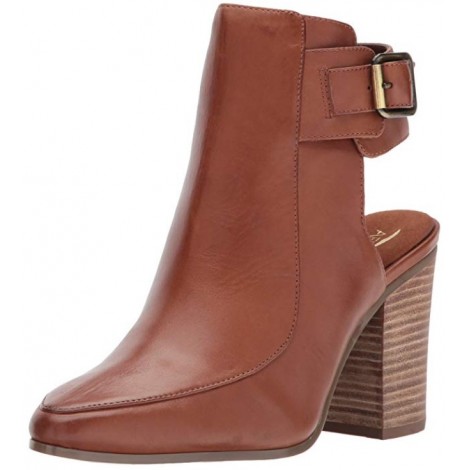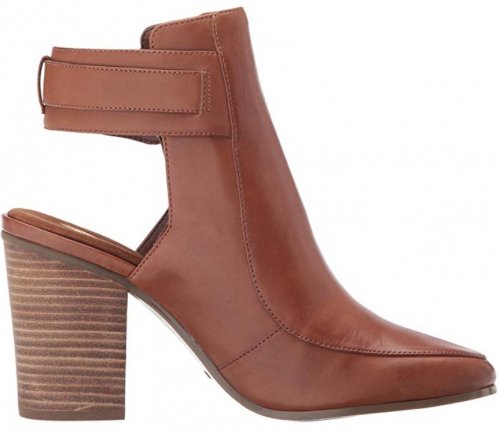 The Square Up bootie is all party in the front and breeziness in the back. It may not be your top choice for colder weather, but it is definitely the trendy ankle model you've been looking for to complete your wardrobe. Aerosoles poured many of its signature technologies in the Square Up, including the Heel Rest system and the Diamond Flex sole. With this unusual, sleek and sophisticated silhouette, you will be the talk of any event!
The Square Up is made from rich leather for ultimate comfort and breathability. It has a buckle closure on the ankle strap, allowing you to easily adjust the width to how you like it. The Heel Rest technology evenly distributes your weight along the design and takes the pressure off the front of your foot.

The Diamond Flex sole is made from rubber with a special pattern in the shape of diamonds that helps you keep your footing in any situation. The heel of the Square Up is stacked, blocky and 3.25 inches high, perfect for all-day wearability.

This design has it all: the chic elegance, the material quality, the systems designed specifically to increase your comfort levels, including a memory foam footbed. If it is not too cold or rainy outside, you will love taking the Aerosoles Square Up out for a stroll at any time of the week!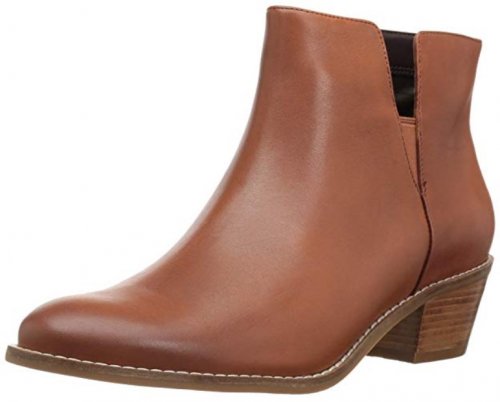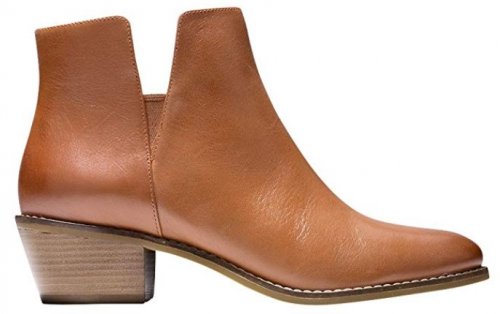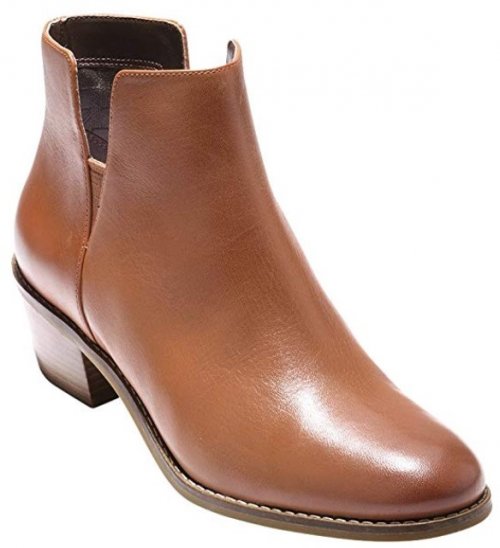 From a brand that is synonymous with effortless elegance and impeccable style comes the Abbot design, a boot that is as cute as it is sophisticated. We don't expect anything less from Cole Haan, a name with over 90 years of crafting only the finest footwear. The Abbot is a western-inspired option, made from genuine leather and with a smooth, simple finish that complements literally any outfit.
In its upper, the Abbot comes with elastic panels to allow easy entry. It is fully lined inside and outfitted with the Cole Haan signature Grand.OS technology for maximum comfort. Grand.OS means that this design is flexible, moving along with your foot, breathable, lightweight, and that it has the necessary cushioning in all the right places. Not only that, but the Abbot has a rubber, non-slip outsole with a 1.75 inch stacked heel for a bit of an elevation in height.

We love a good, versatile autumn design, and the Abbot is precisely that! This is an option that you can wear with a flowy A-line skirt, with skinny jeans and even thick leggings and shorts to experiment with your fall looks. The color is rich and expensive-looking, and you won't have any difficulties providing a good home for this amazing bootie!

8

. Kenneth Cole Casino Chukka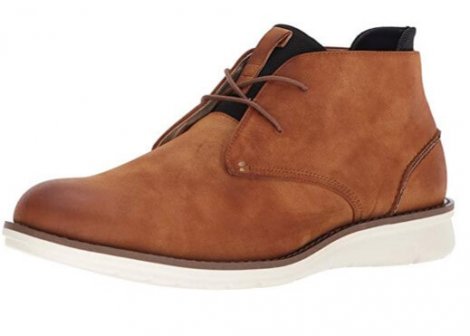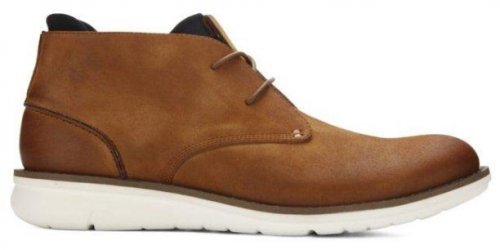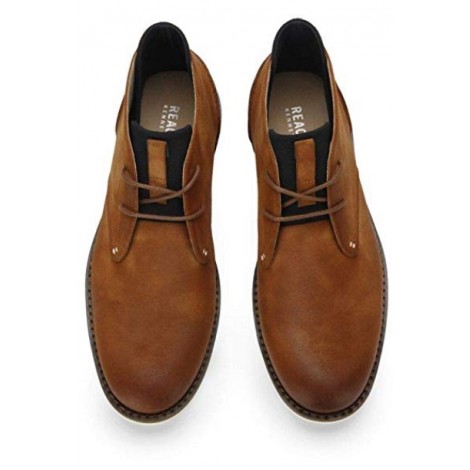 For the gents out there, Kenneth Cole has created a relaxed, but clean looking boot with their Casino Chukka. This pair has a soft upper, smoother and more unfinished than a polished leather, giving it a somewhat rustic appearance and feel. The contrasting sole creates a unique look, and a simple ankle-length height makes it ideal for wearing with jeans or even shorts. If you're looking to win big, the Casino from Kenneth Cole is a great start!
At the base of this design is a rubber sole, grippy and textured to help keep you from slipping on wet surfaces or on uneven ground. A slight heel raise gives it a boost of confidence, all while keeping your footsteps soft and cushioned. A rounded toe allows for more room across the toe box so your feet won't feel pinched inside. A heel tab and tongue tab help make these easier to pull on and off once you find that perfect lace-up fit.

The uppers of the Casino are soft and supple to the touch, similar to a suede even though these are synthetically made. This makes this pair of boots vegan-friendly! A short lace-up allows for a snug yet relaxed fit across the top of the foot. With a synthetic lining inside as well, you'll feel comfortable after wearing these even for longer periods of time. It's safe to say this chukka boot is one comfortable, stylish option!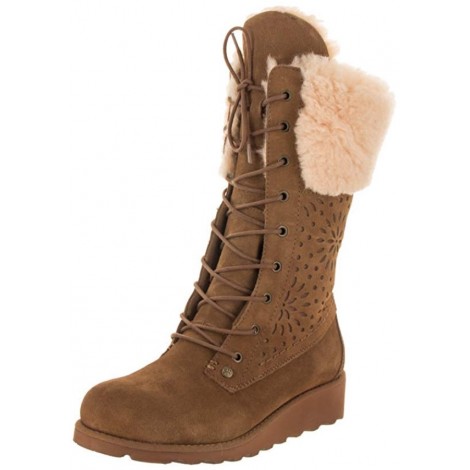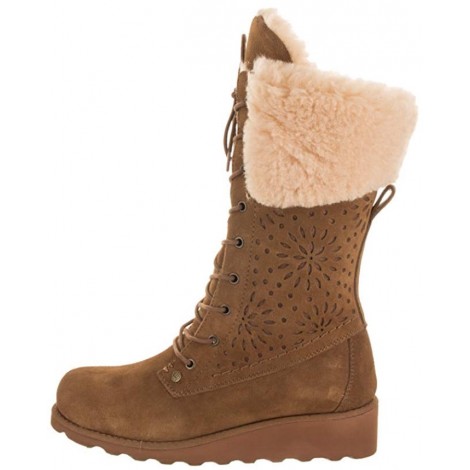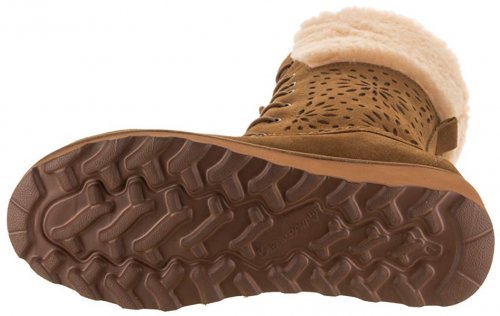 The Kylie boot from Bearpaw will quickly become your go-to pair for winter days. This winter-wonderland design is perfect for keeping your toes warm and dry as you take on the snow-covered streets. It is made from treated suede, has a fully adjustable lace-up closure and a lining made from wool to ensure maximum comfort and coziness. With the Kylie, you will no longer be afraid of stepping out into the frigid winter weather!
The upper of the Kylie is made from suede that is treated with NeverWet. This treatment doesn't take away from the breathability of the material while at the same time it allows the suede to repel any type of liquid. The lace-up closure ensures a fully customizable fit and thanks to the tab at the heel, you will be able to slide these on without any problems!

Special attention should be paid to the lining of the Kylie, which is made from a wool blend. Wool is a magnificently moisture-wicking and heat-retaining fabric - exactly what you need in a boot of this type!

The Kylie from Bearpaw will keep you cozy and warm, as well as comfortable thanks to its cushioned footbed and slight wedge heel. It won't let you slip with its rubber outsole, and it will absolutely make for a great pair of boots for the upcoming winter season!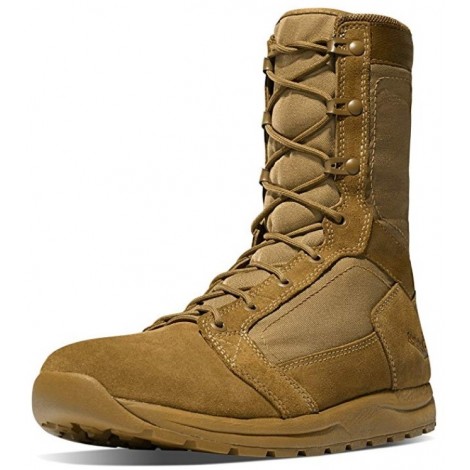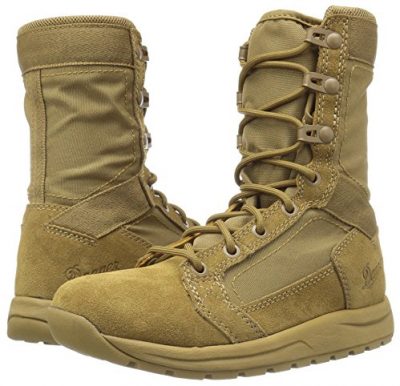 The Danner Tachyon happens to be one of the best options in terms of design, strength, durability, and many different unique features. Let's talk about what the Tachyon has to offer to everyone who is seriously considering purchasing a tactical boot.
Although the insole of this particular option is designed for comfort and shock absorption, the brand has created the insole to also be removable. With that in mind, the design allows you to enhance the boot for better comfort thanks to the laces and the interior part of it. One of the best and most unique benefits of the Tachyon is that it is designed with a durable moisture-wicking exterior. This exterior allows you to get the shoes wet and not worry that they will be ruined. With that said, they are ultra-light and offer a speedy dry time to ensure maximum support and less moisture build-up, which can lead to bad odors.

The Tachyon is highly durable and offers maximum support. With that in mind, it only comes in one color choice, so the price - which can be considered highly expensive - ranges depending on the size chosen.

Subscribe to our Newsletter