Best Winter Boots Reviewed & Rated
In a Hurry? Editors choice: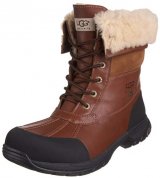 Test Winner: UGG Butte

When the weather gets colder, the sky gets darker and the weather gets more temperamental. As such, it's time to invest in dependable
winter shoes
. Winter can be a fun season full of outdoor activities, and none of them should be stopped, due to improper cold weather footwear. Although winter brings with it the chance of making a lot of memories, it can, also, mean perilous situations, due to rapidly decreasing temperatures, high winds, rain, snow, and mud.
Standout Picks
Criteria Used for Evaluation
Breathability
Winter boots need to be able to withstand cold temperatures, and they do that by having extra layers to their interiors, insulated linings, crack-resistant rubber, and the addition of fur and quilted trim. When selecting the best winter boots, an aspect that is often overlooked is breathability. Most of the time, people focus on a tight and/or snug fit; because, at the moment when they try the boot on, it feels warm like it's completely enveloped and secure. This is, actually, dangerous! A breathable winter boot means better blood circulation, which means that extremities, like your feet, won't get so cold that they risk injury or worse.
That's why we've highlighted breathability in every winter boot whose brand makes a commitment to maintaining your health at all times during the inclement months. This is done in a variety of ways but, usually, involves air vents along with the midsole or mesh fabric along with the uppers and towards the toe box, in order to let a little cool air in. Having proper internal regulation for your winter boots means that you can spend more time doing the things you love in the colder seasons, rather than worrying about how long until your feet are frostbitten. From walking through a slight drizzle to several feet of snow, you can feel confident that the winter boots we've selected are breathable and help maintain proper temperature regulation.
Insulation
Not all winter boots are made for protection against extreme conditions; nor, do they need to be. Environmental factors and the climate of where your winter is experienced determine how severe the conditions will be for you and what proper footwear is needed. Boots like the Baffin Impact, with their 8-layer insulated removable booties, ensure that your feet will be dry and warm, even in the coldest of conditions.
Their Thermaplush insulation is rated to -148F, which means your feet won't feel how extreme the temperatures are outside, even if you're knee-deep in a snowdrift. Sleek winter boots like the Bogs Classic High Handles are waterproof and anti-slip, which means if your winters mean a lot of rain and mud, these boots will keep you upright and dry. There's nothing worse than being out in the snow or rainy weather for a couple of hours and having your boots soaked through. Not all boots designed for extreme conditions need to be, particularly, heavy or laden down with hardware. Some, like the Vasque Snowburden Ultradry, are lightweight and still just as tough as their heavier counterparts.
Comfort
One of the most annoying things about cold weather is that it can be hard to get comfortable when the outside is wet, or miserable. There can oftentimes be no relief from the onslaught of wind, rain, and snow, making us all desperate for anywhere warm and dry.

The proper winter footwear should be nothing but comfortable since that often means the difference between enjoying the season and facing it with bitter resolution. This type of footwear should be well-lined and insulated with materials like felt or fleece. They should have cushioned, shock-absorbing midsoles, padded collars, tongues, and uppers to avoid ankle chafing, even in wool socks.

They should have a mesh component to their design, so they can release heat and let cool air in, ensuring proper circulation. They should fit tight but not snug, as that will cut off circulation and only serve to make your extremities colder. You want them to be slightly loose, allowing for some mobility and flexibility.

They should be of a weight that isn't so cloddy as to make you feel like you're going to trip. So find a pair appropriate for your size. They should have a way to adjust their fit with laces, buckles, or clasps, and they should never be a hindrance to your daily life, work, or extracurricular fun.
Weight
Not all winter boots need to be heavy to combat the glacial elements of the season. They can be lightweight, like the Columbia Bugaboot Omni III Plus, and feel just like an athletic sneaker while still giving you lots of protection against water and cold temperatures. Some boots, like the Kamik Nation Plus, is a heavier boot that wants to make an impact on snow and mud, specifically, designed for trudging through terrain and meaning the difference between you reaching your destination and surrendering to the forces of your environment. However, if you're in a winter climate that only gets cold but doesn't have much in the way of snow or mud, you'll want a lighter bit of footwear that doesn't impede your movements and lets you get where you're going quickly. These sorts of cold weather boots tend to have more stylish designs that allow you to maintain a certain aesthetic that isn't so utilitarian.
Shock Absorption
Shock absorption, like breathability, isn't something most wearers consider when finding their perfect winter boots for the season, but it can be a vital feature depending on the outdoor activities they plan to participate in. If you're someone who likes to sled, ride a snowmobile, or run around throwing snowballs in the winter, you want a boot that can withstand a lot of impacts. Likewise, if your profession is a postal worker, a waste removal specialist, a snowplow driver, or anything where you'll be spending a lot of time on your feet, you want a boot that can protect your joints. Many brands today make their cold weather footwear with removable EVA footbeds that have shock-absorbing pads, just like running shoes do. This means that every time your foot strikes the ground, from the heel cup to the toe plate, the boot outsole will absorb the brunt of contact and not your joints.
10 Best Winter Boots for Women and Men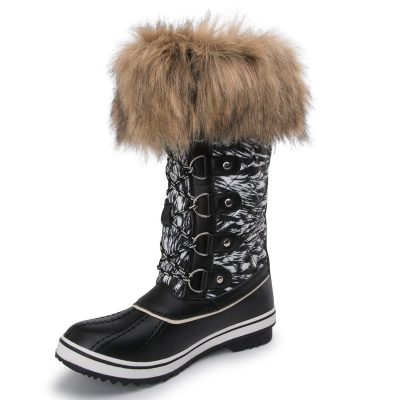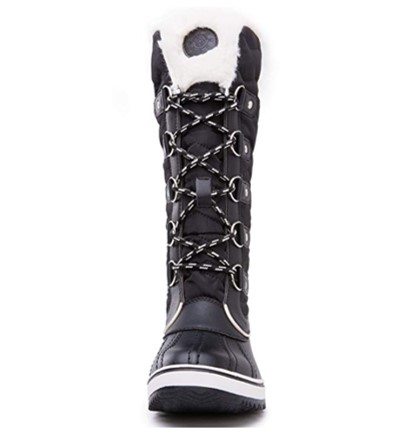 This pair is an ideal choice for those looking for something warmer, in the realm of water-resistance. With a wide array of color selection, a mesh-covered footbed, a PU upper, a D-ring lace-up closure, and heat-reflective lining, the Kingshow Globalwin is perfect for colder weather; especially when snow boots might be a bit too much for the occasion.
The water-resistant properties of the Globalwin are perfect for light, wet conditions. Furthermore, the PU upper and rubber outsole help to ensure your feet remain dry when facing unexpected weather conditions. Heat reflection is the attribute you need when considering warmth retention. The microfiber, heat-reflective lining in this design gives you back the heat you are losing; thereby, helping to maintain climate control within the shoe.

The Kingshow Globalwin looks good and is practical, in terms of both aesthetic appeal and usability. As such, this design is worth every penny.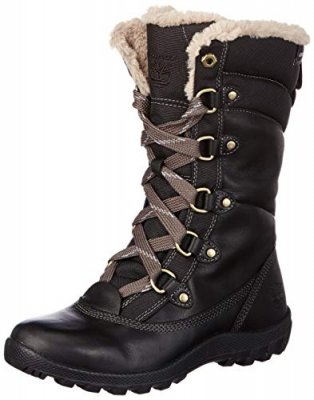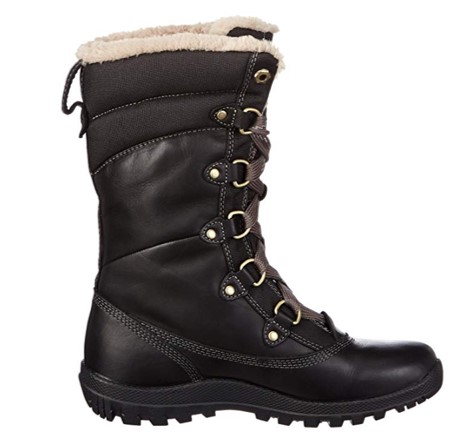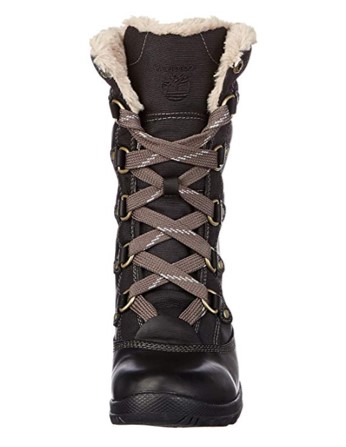 Timberland brings a solid winter option combined with quality, styling, and fashion. The Mount Hope packs all the comfort the brand is known for into an insulated design, faux fur lined and boasting of a quilted shaft for extra plush comfort. Quality leather and fabric uppers help give it a waterproof feature as well as a rich look.
The Mount Hope comes with Timberland's removable anti-fatigue footbed, to keep you stepping in the snow without discomfort during extended time outside. The D-ring lace-up closure allows for a snug flat fit, helping to keep out the snow. And with the quilted shaft, your entire calf and ankle will be wrapped in soft moldable warmth. Within the Mount Hope is an insulating layer of 200g PrimaLoft, keeping you toasty when it's frigid outside. Leather and fabric uppers allow for a waterproof element, and aluminized Strobel construction provides additional warmth. Top it all off with a faux fur lining at the collar, and you'll be headed outside despite messy conditions!

Along with Timberland brand comfort and iconic style elements, the Mount Hope also incorporates PrimaLoft insulation and with a quilted shaft to keep you warm. Waterproofing keeps snow and dampness outside, and the grippy sole will keep you strutting in confidence. A solid option among the best winter boots to consider for Timberland fans!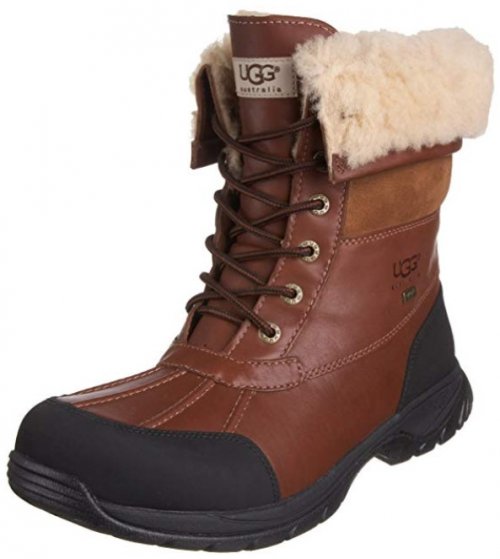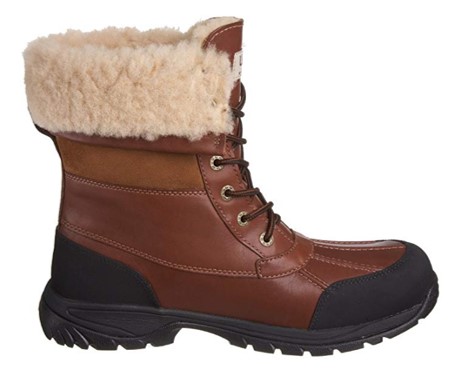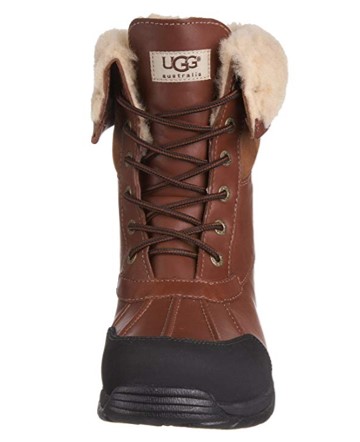 At the mention of the brand name UGGs, we picture the ever-popular slipper boot that has become synonymous with the label. However, UGG also produces a wide variety of other types of footwear, as well as other designs that are perfectly crafted to withstand chilly January days. One such option is the Butte, which is equipped with advanced features for handling any type of weather conditions. You can combine it with snow gear or brave the city blizzard - the Butte can do it all!
This design is made from waterproof leather and suede, using a DryTech breathable construction, and it has a lace-up closure for maximum adjustability. The inner lining is UGGpure wool, and there is also an UGGpure wool insole that you can easily remove and replace. The outsole of the Butte is of Vibram technology, with lugs for solid traction on slippery terrain. This design will keep you warm and cozy even when temperatures drop to -20 C/-4 F.

The UGG Butte is a great choice for harsh, snowy city conditions. It will also serve you well on tame, familiar terrain, though it is not as sturdy if you're intent on charting new territory. However, the Butte is a rugged, badass option that hits all the requirements for a good design of this type, and more. A great deal overall!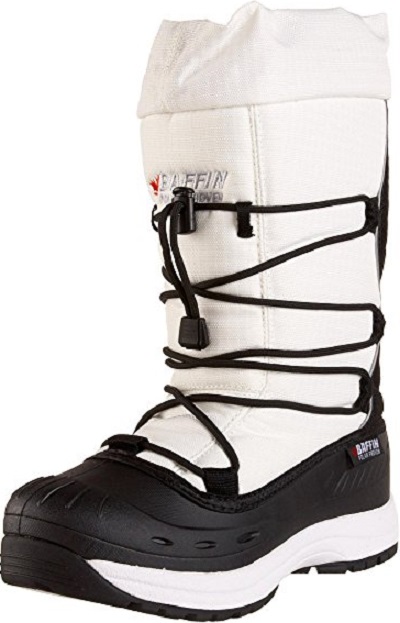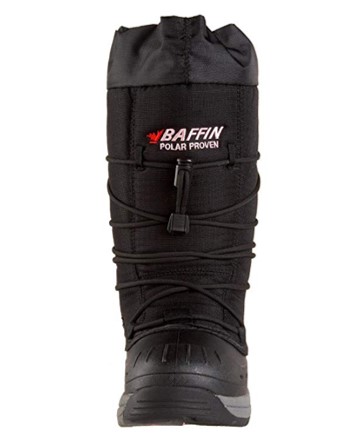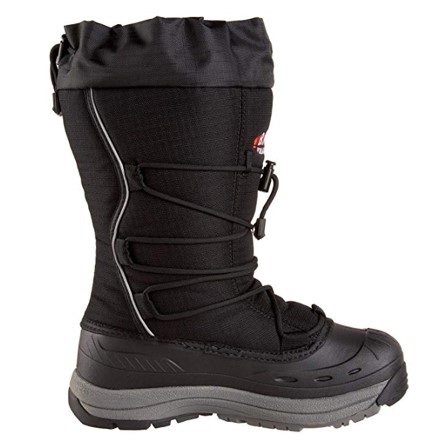 Although the color variety is limited, the color scheme of the Baffin Snogoose has a pleasing aesthetic to it. In addition, with a 12.5-inch shaft height, 1.25-inch heel height, and a 1-inch platform, you are certain to withstand the light, wet conditions when facing those colder days. Moreover, these winter boots are constructed with a foam-based and removable inner liner; thereby, allowing you to customize your fit even further.
The Baffin Snogoose is built with both thermal and moisture-wicking layers; thus, providing an environment conducive to a dry experience. When your feet remain dry, they are warmer for longer periods of time. This pair has a good opening for an easy on and off. In addition, the toggle closure system provides a snug fit once your feet are inside the design.

The Baffin Snogoose fits the low-to-midrange when it comes to price. With that being said, they are worth the purchase, as they are built well and keep your feet warm.

5

. Korkers Polar Vortex 600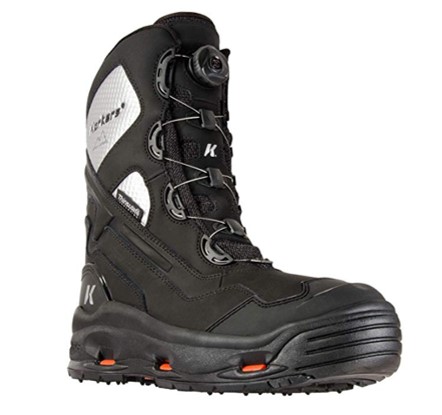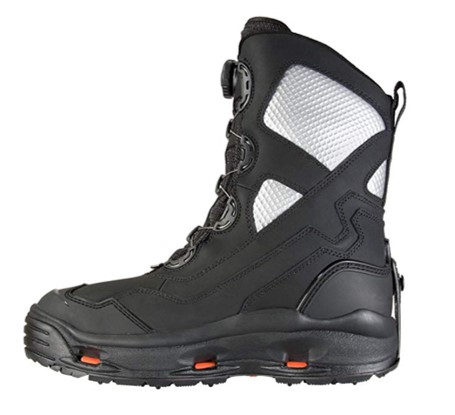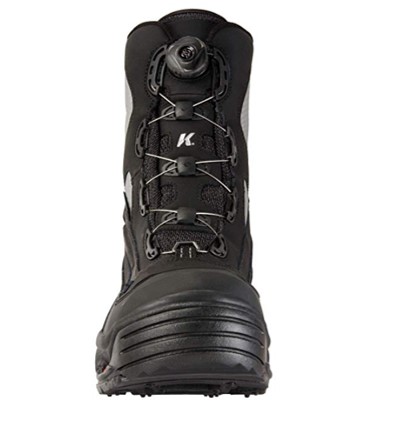 If you haven't heard of Korkers brand boots before, you're in for a treat. They originally were established for the outdoor enthusiast's needs for winter sport such as ice climbing or alpine adventuring but make for best winter boots in harsher climates too. One of the great features about the company's footwear is that they've made boots that are versatile to enable regular day wear, and with a simple addition of sole or felts, you can fish, climbing, and stay outside doing what you love most. Packed full of technology like the OmniTrax Interchangeable Sole, and insulation, this winter boot will keep you toasty all winter long.
OmniTrax Interchangeable Sole system is one of the brand's highlights, which allows you to change the sole from it's existing lugged traction, to something more substantial for river fishing, or ice and snow climbing or trekking. With one boot and an accessory purchase of the alternative soles, winter won't stop you from any outdoor activity you love. The SnoTrac rubber luc and IceTrac lug come with the boot, making it versatile for whatever need you may have.
Insulation makes a great winter boot, and the Polar Vortex has 600g of Thinsulate protection to keep you warm and toasty in harsher weather. No winter boots made for snow is reliable unless it has some waterproof characteristic, so they've constructed it so no water can creep in to give you cold damp feet. An easy BOA lace system allows for superior adjustability and makes the boot easy to fit and remove after a day in the cold. It's a solid option for those looking for something a little more rugged than average, with the capability to stay outside for longer in the wintertime.

6

. Columbia Bugaboot Plus IV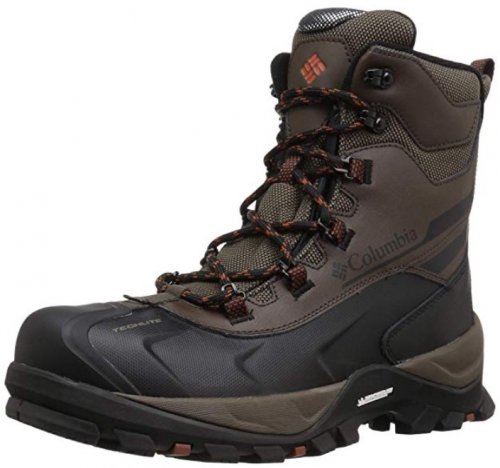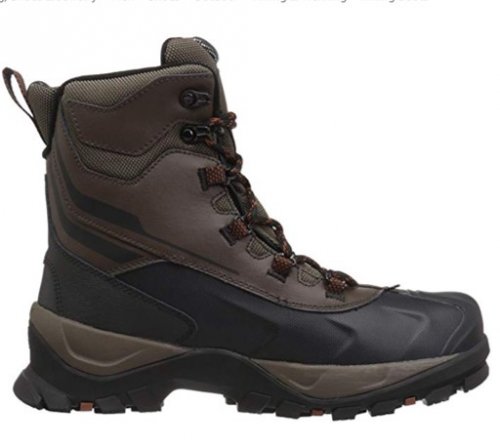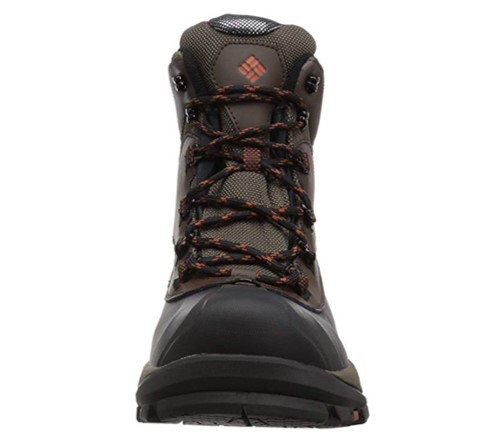 Columbia shoes is one of the most popular brands for outdoor gear, and their Bugaboot Plus IV leaves nothing to chance when it comes to cold weather. This is a classic Columbia design, long-lasting and lightweight, as well as waterproof and amazingly insulating. It looks pretty badass too, with its thick Michelin compound outsole that is resistant both to slipping and to abrasions.
The Bugaboot Plus IV is made from a combination of leather and nylon for the upper, with some metal hardware thrown in. It has a waterproof seam-sealed construction and a Techlite shell. When it comes to preserving heat, this design is outfitted with 200 grams of insulation and Omni-Heat lining that reflects warmth. The Techlite midsole provides cushioning and energy rebound, and the aforementioned Michelin rubber outsole has to be experienced to be believed.

The Columbia Bugaboot Plus IV will keep you warm in temperatures as low as -30 C/-22 F. It is not as heavy as it looks, and its lace-up closure helps you adjust the fit to however tight or loose you'd like it to be. It doesn't get much better than this!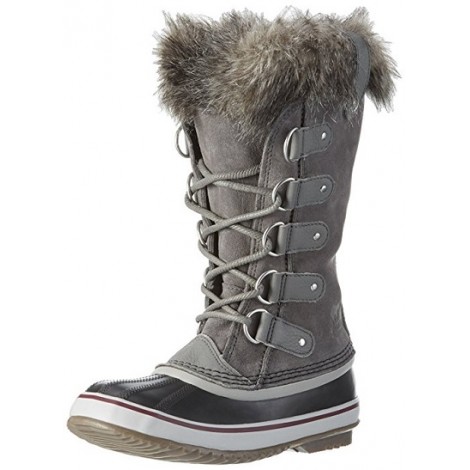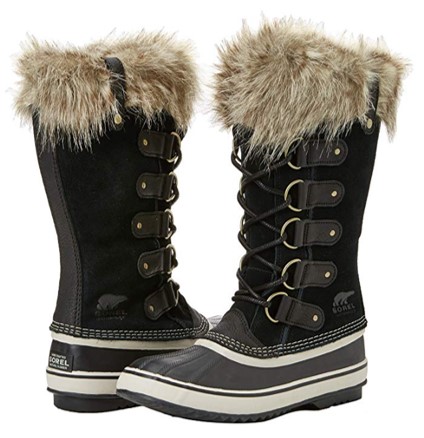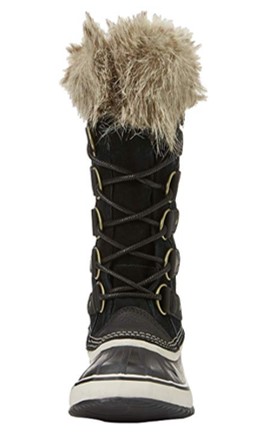 These handsome and sturdy Sorels are perfect for keeping your calves warm and your toes dry. With a shaft measuring 11.5 inches from the arch, a rugged rubber outsole, and a D-ring lace closure system, the frigid elements are no match. It also has a soft fur topper at the mid-calf, and a faux leather exterior that is lush looking and, actually, water-sealed. These warm winter boots are as stylish as they are functional, and can easily go from utilitarian to elegant for any December occasion.
The Joan of Arc has a removable, recyclable inner bootie for a more precise fit, and all the seams are sealed for a waterproof construction that is your defense against rain or snow. A vulcanized rubber shell ensures both durability and flexibility, allowing a full range of movements from heel to toe. Because of the heavy-duty D-rings of the lace-up closure system, the fit can be customized to your preference. They're designed to fit slightly loose, so you still retain your circulation and a tighter fit which contributes to warm feet and the lack of heel chafing. The Joan of Arc is breathable enough to make sure that your feet stay warmer longer.

The Joan of Arc is engineered to fit comfortably, let your feet breathe, and provide lasting durability and waterproof protection. Whether you'll use them for winter sports, outdoor activities, or just fighting the elements to get to work, you'll look ready and put together without much effort on your part.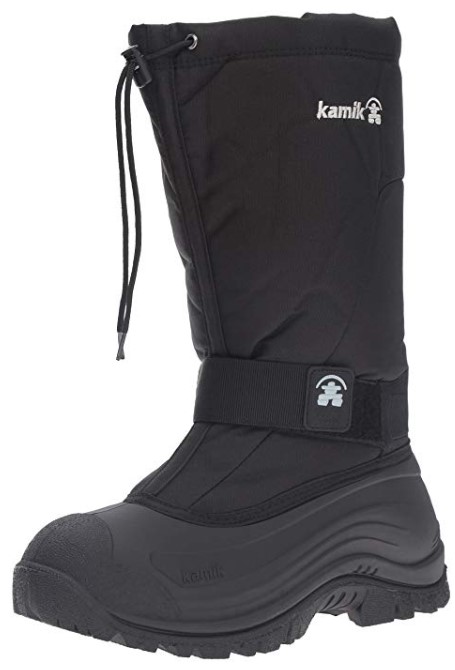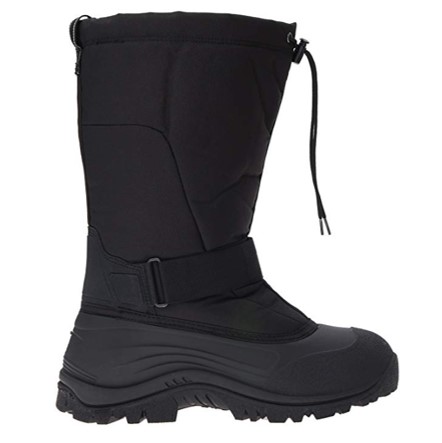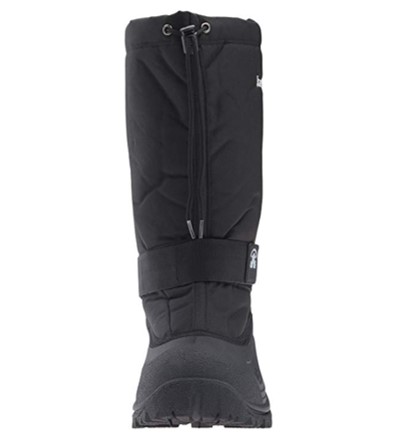 Admittedly, the Greenbay 4 is not the most stylish of options out there, but when the cold sets in and the snow piles up, fashion is the last thing on our minds. With this Kamik design, you don't have to say no to taking your kids out for sledding or playing in the slush, as it will keep you warm and dry thanks to its superior technologies. With its Thermal Guard liner and RubberHe outsole, the Greenbay 4 is made to the highest standards, and it won't let you down when you need it the most.
This design has a nylon upper for durability and strength, as well as a bungee lace lock and an adjustable hook and loop strap for a customized fit. The Thermal Guard liner we mentioned is actually made of two layers that wick away moisture and retain body heat. The liner is made from 100% recycled material, so it is environmentally friendly, too. The outsole of the Greenbay 4 is made from a type of rubber that is as 'light as helium and strong as iron,' as the brand says. It delivers exceptional traction and flexibility.

The Kamik Greenbay 4 is waterproof and lightweight and it will keep you dry regardless of what you decide to do outside. Its special features make it a real contender for the top of our list, and we are sure that you will enjoy your time spent in these sturdy, reliable winter boots.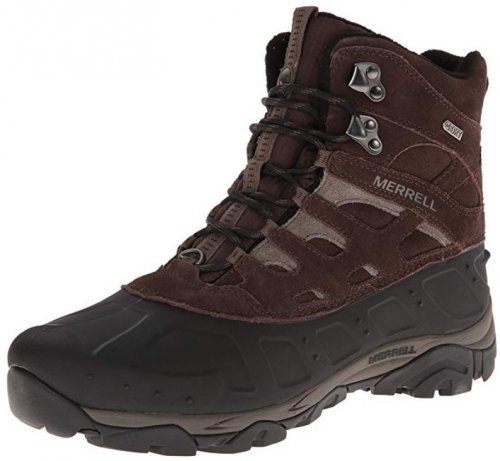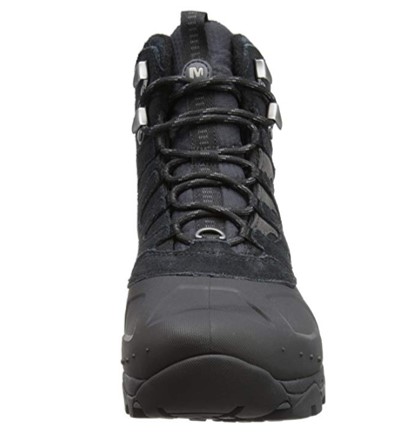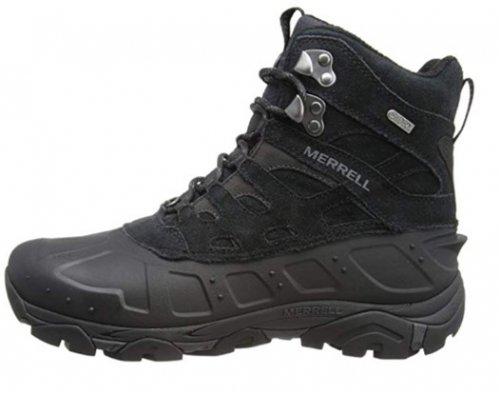 From a company that started out designing hiking footwear but has since branched out into all walks of life comes the Moab Polar, a boot that is meant to brave extreme conditions, but that is stylish enough to be worn every day. The Moab Polar has a suede upper that is waterproof and is abundant with Merrells-specific technologies, such as the M-Select DRY and M-Select WARM.
The first of these, the DRY, is a seal that keeps water out of the design, but that also lets moisture from inside - such as sweat - escape. The M-Select WARM is a type of insulation that keeps your feet toasty but that is lightweight at the same time. The footbed of the Moab Polar is treated with an anti-odor agent to prevent bad smells, and there is an M-Select GRIP system in the outsole for lasting traction. The Moab Polar also has hook-and-loop closures for an easy lace-up.

The Merrell Moab Polar performs well in all conditions, though may not be a great choice for long-distance walking. They require quite a bit of breaking in, which may prove bothersome, and the shape of their footbed doesn't work for everyone. However, if you find that it works for you, there is nothing that can stop you from conquering the inclement weather!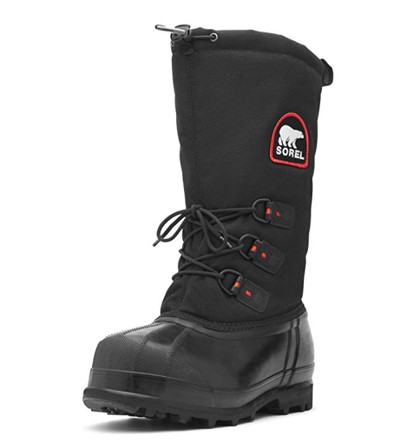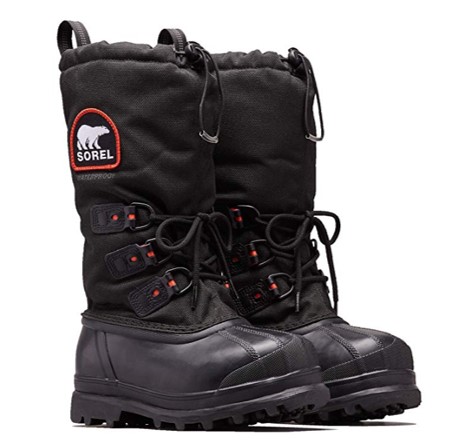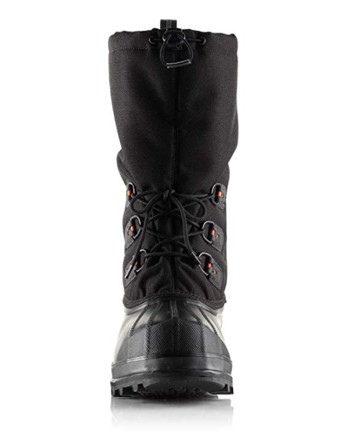 Sorel makes winter boots we've all come to respect and love, full of insulated technology, traction, and quality construction. The Glacier winter boot is made for that wet winter snow where you get a workout just from shoveling the driveway. With its PU coated upper, wind and water won't get the best of this boot and will keep you dry in the snow. Plus, you'll have plenty of insulation with their Omi-Heat lining, which helps keep the feet warm using body heat and a tighter seal.
Insulation is paramount in extreme temperatures, and the ThermoPlus inside boot does just that. Should you need something a little less warm, you can also remove the inner boot and simply wear the boot alone. A bonded felt midsole helps ward away cold, and as the uppers are water and windproof, you can lock your foot inside with a drawstring closure keeping the warmth in, and the cold at bay.
Rated for -100F, this boot is nothing to mess with, even when old man winter brings a fight. Sorel's aero-track outsole helps keep water and snow melt out, as well as provide superior traction on slippery surfaces. Durable lace-up utilizes D-ring hardware, with the cinchable closure at the boot opening, making it adjustable to your specific needs. A chunky lugged pattern sole allows for grip and traction, so you can get down to business even when the weather threatens to keep you inside. Another solid winter boots option, especially for those in colder climates.

Subscribe to our Newsletter