Best Sorel Boots Reviewed For A Warm, Luxe Look
In a Hurry? Editors choice: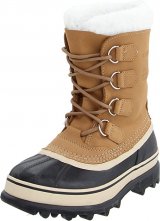 Test Winner: Caribou

To use the famous House Stark family motto - winter is coming. For some of us, that means long sleeves and possibly a jacket, maybe an ankle bootie to match, while for others it means layers upon layers of well-insulated clothes, combined with heavy-duty footwear that is outfitted to protect from the coldest of conditions.

Sorel first started out as a footwear line in 1959, under the label of Kaufman Footwear. It quickly became one of the best-selling winter collections in the world, and thus the Sorel company was born.

Today, Sorel boots are a symbol of functionality and expert craftsmanship. It combines felt, wool, premium genuine leather, and flawless construction to create only the finest footwear money can buy. While Sorel no longer produces only boots, they like to proclaim that there is a boot in everything they make.
Standout Picks
Criteria Used for Evaluation
Our Favorites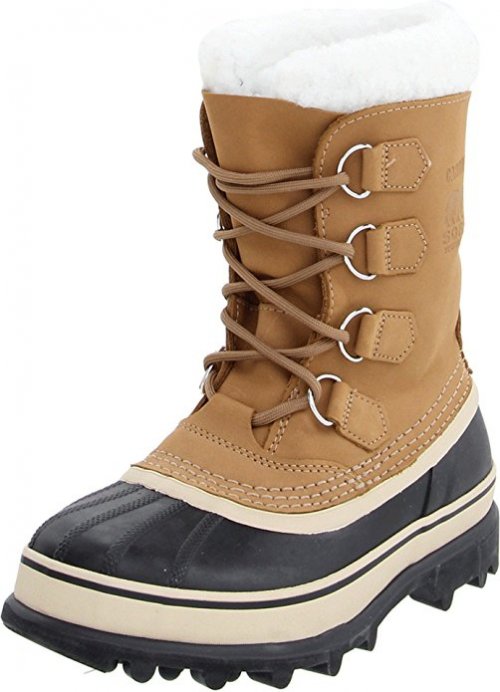 A Sorel boot which started it all, the Caribou is the Original Sorel Boot. While the construction changed over time, the silhouette remained the same - this is a sturdy, practical choice which isn't very fashion forward, but which certainly does its best of protecting your feet from the chill of winter.
The Caribou is a Sorel boot that has an upper made from waterproof nubuck leather. The waterproofing part extends to the seams as well, meaning that not a drop of moisture can pass through, no matter how wet it gets outside. Similarly to the Joan of Arctic, the Caribou also features a vulcanized rubber shell that is both handcrafted and waterproof, with an aero-trac non-loading outsole.

The Caribou preserves warmth thanks to its 9mm thick removable recycled felt inner insulation that is complete with a Sherpa Pile snow cuff. This inner part is also easily washable, helping you get rid of any unpleasant smells that might arise over the course of the wear.

This amazing Sorel boot can keep you warm even in -40 degrees Fahrenheit, and if you're in desperate need of that one boot to trudge through the snow in, it really doesn't get any better than this.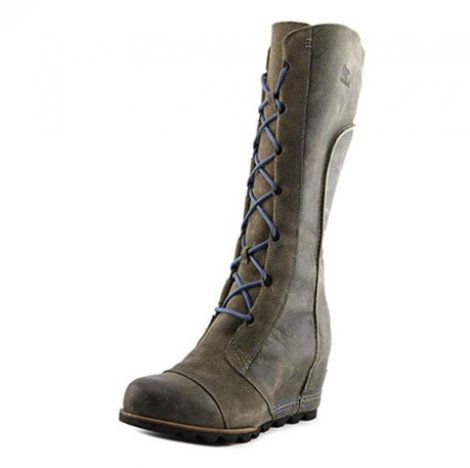 This fun, sleek Sorel boot boasts of a tall knee high boot constructed from suede and quality leather materials. Cate The Great is a Sorel boot made for cooler months when fall style trends are in their glory. Perfect for work, nights out, or just a fun night around the fire pit, this boot will have heads turning your way.
The brand added a lot of detail in the design of this Sorel boot, using raised seams to accent the shaft of the boot for texture and style. You'll likely notice the covered wedge heel that will give an extra bit of height and confidence. Long lace up closure adds to the style with rustic charm and appeal.
A combination of leather and suede create the upper of the boot, making it durable and fashionable. Textured synthetic sole will have you braving wet weather without problem or slips. Overall, this Sorel boot has all the great qualities expected from Sorel, wrapped up in rustic charm!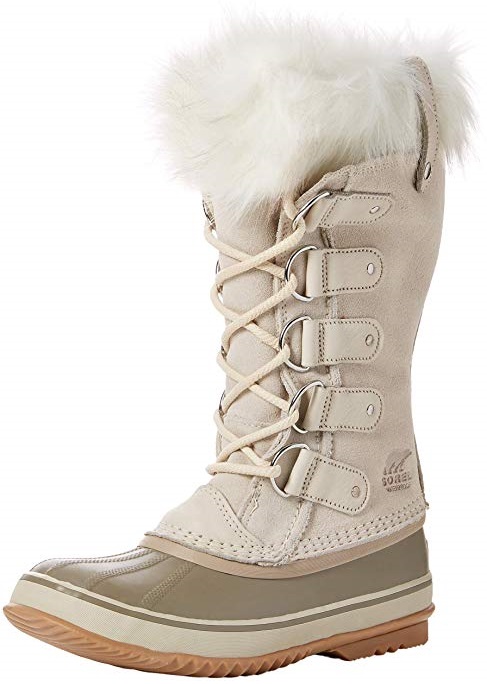 This Sorel boot list wouldn't be complete without one of their bestsellers - the design which tops all the best winter wear lists, the one and only Joan of Arctic! A play on the name of the well-known French heroine is only fitting for this badass Sorel boot that will put all other footwear brands to shame. The Joan of Arctic is not only stylish and fluffy, but it is also amazingly functional.
This mid-calf style comes with a full-grain leather and suede upper with faux fur along the edge for that winter wonderland aesthetic. It is waterproof thanks to its handcrafted vulcanized rubber shell, and it has a recycled felt inner boot which is around 6mm thick, can be easily removed, and which keeps you warm in temperatures as low as -25 F.

The outsole of the Joan of Arctic comes with a herringbone pattern, largely regarded as one of the patterns, which provides the best traction no matter what surface you find yourself on.

The Joan of Arctic is truly a legendary design. It will keep your feet warm, dry and comfortable, and you will look stylish at the same time! We are having a hard time finding a flaw with this beautiful Sorel boot, and are sure that you will love every second of wearing it in the winter months.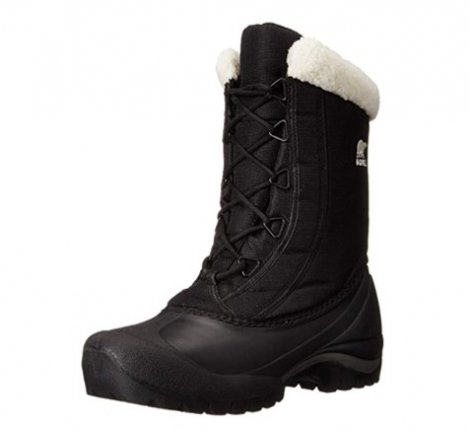 The Cumberland is better suited to cold climate, where snow or wet weather usually prevail. It's packed full of tech to help keep you warm and dry when you need it most, with everything you'd expect from a Sorel boot. About 9" high, it comes about mid calf in height, and is lined with soft faux fur cuff for comfort and warmth.
At the base of the Cumberland is a tread with patterned texture to prevent slips and falls, and is made from rubber for traction and water-resistance. A waterproof bootie can be found inside to keep feet dry in slush and light snow. The uppers consist of rip-stop nylon, durable for wear and tear, and also help to keep wetness out.
Coming in several color options, the cuff of this Sorel boot is a soft faux fur, comfortable and warm around your calf. Lace up has angled D-rings for the perfect adjustable fit, and a thick fabric lining to add to the insulation and warmth. It's a great Sorel boot for a winter boot that mixes a no-nonsense tech with some faux fur style and appeal.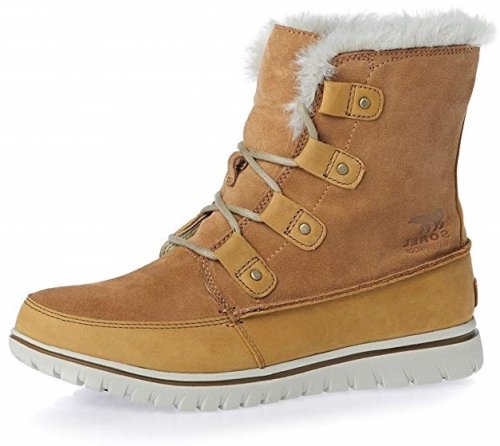 If you are not interested in any of these heavy, large Sorel boots which are geared towards heavy snows and harsh winters but still want a pair to keep you warm and dry in mild winters, then take a look at the Cozy Joan. This Sorel boot is advertised as a cross between a sneaker and a boot, with all the lightness of the former and all the weather resistance of the latter.
The Cozy Joan is crafted out of supple leather and suede for the upper, with faux fur lining for a touch of fancy interest. It has a seam-seal waterproof membrane construction and a microfleece lining to keep you both dry and cozy as you enjoy your walks.

While it is not meant for temperatures below 0 F, the Cozy Joan will provide just enough warmth with its 100g insulation. It is also more than comfortable, thanks to the removable molded EVA footbed, an EVA midsole and an EVA outsole with molded rubber pods.

The Cozy Joan has absolutely taken the fashion world by storm, and there is no fashion blogger who hasn't shown off these cute, sporty booties. In this Sorel boot you will be stylish and carefree, while also safe from light rain and chilly weather. A great deal!



Have you ever laid down in the snow, spread your arms and legs wide and moved them up and down, creating an impression of an angel in the white fluff? Were you a kid? Were you laughing? Did you feel cold at all? Well, thanks to the Snow Angel, you can now do all of that again, and this time without feeling even a hint of chilliness.
The Snow Angel is created for heavy snow conditions, with a waterproof suede leather upper and a microfleece lining. The collar and the edges of this design are made of faux fur to amp up the coziness factor, and there is a solid lacing system in the front.

While most other Sorel boot options here have about 100g of insulation, the Snow Angel goes even further with an additional 100 for a total of 200g of warmth-preserving materials! It is designed to withstand temperatures down to -25 F, and it has a removable EVA footbed for that cushy comfort.

On the bottom of the Snow Angel there is a vulcanized rubber outsole with multi-directional lugs for superior traction and slip-resistance.

Running around, playing and even rolling around in the snow has never been as fun or as safe as in the Snow Angel Sorel boot!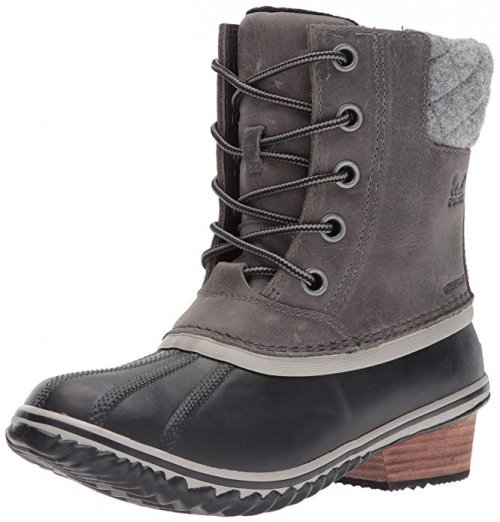 With the Slimpack II, we are slowly moving away from snow and venturing into the rain. Not as heavy-duty as some other Sorel boots in this guide, the Slimpack II is still a decently protective boot, one which you can wear in heavy rain and still come home with toasty, dry feet. It is not only functional but also really cute with its ankle-height and low stacked heel.
The Slimpack II Sorel boot comes with a full-grain leather upper which has a wool felt collar around it. It has a seam-seal waterproof construction and a microfleece lining that is gentle on your skin. In this lovely design you won't have to worry about any blisters or hotspots, no matter how much time you spend on your feet.

Even the footbed of the Slimpack II has a microfleece top cover, and it is made from molded EVA, complete with an arch cookie. Arch support is essential if you are planning on walking long-distance, as it keeps your feet supported and prevents foot-related medical conditions such as fallen arches, or flat feet.

This adorable Sorel boot also comes with an insulated vulcanized rubber shell and an outsole with a herringbone pattern that is specially reinforced for wet traction.

We are absolutely in love with this model of Sorel boot. It is rugged and yet cute, comfortable to wear and it keeps you sufficiently warm and dry in rainy, chilly months. What more could one possibly want!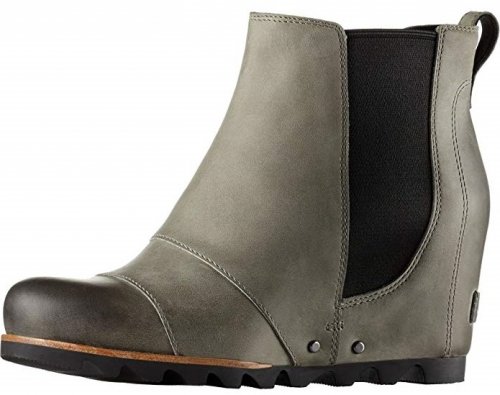 Step out in style in the chic, versatile Lea wedge bootie. Sorel as a brand is world-renowned for its sturdy, weatherproof designs which we have seen a lot of in this guide, but they also have an entire arsenal of fashionable, autumn-friendly footwear which is just dying to become a part of your everyday wear.
As most Sorel boots we've encountered, the Lea is also made out of waterproof full-grain leather for the upper which does more than its fair share of protecting you from the elements. There are classic Chelsea stretch panels in the sides for an elastic fit, and a pull-tab in the back to make it easy to slide in and out of these edgy Sorel boots.

When it comes to comfort, the Lea is one of the absolute best, with its removable EVA footbed with arch support and heel cup, and a molded rubber outsole. The outsole, in fact, has deep grooves in it which provide excellent traction and keep you on your feet anywhere you go.

The hidden wedge heel is a special feature of the Lea design, almost three inches in height for that elevated poise, but also comfortable, as it evenly spreads out your weight along the sole and takes pressure off of your joints.

In the Lea Sorel boot, you will look and feel like a fashion model just off the runway, while at the same time being protected from wet conditions and blessedly warm in mild winters.



With our fair share of Sorel boots meant for the most extreme of winters, we are now turning towards a more sensible world. The Emelie represents a design that is meant for everyday wear, a weather-ready ankle Sorel boot to keep you company in autumn and winter when you want something rugged and yet chic to go with most of your outfits.
The Emelie is made out of smooth, waterproof leather, with a seam-seal waterproof construction. It has a breathable canvas and synthetic lining and a die-cut EVA footbed with a microfleece cover.

It is true that this Sorel boot doesn't have any obvious closures to it, but it is still insanely easy to slip it on and off, thanks to the elastic side panels. These stretch out to accommodate the width of your ankle and the height of your instep, and you will have no problems getting in and out of this shoe.

Moreover, the Emelie comes with a one and a half inch leather-wrapped heel which is blocky in shape, providing you with all the stability as you take on the city streets.

In the Emelie, you will be fashionable, comfortable and safe from heavy rain. It is a Sorel boot that will quickly become your favorite, and you will have a hard time separating from these cute booties during winter time.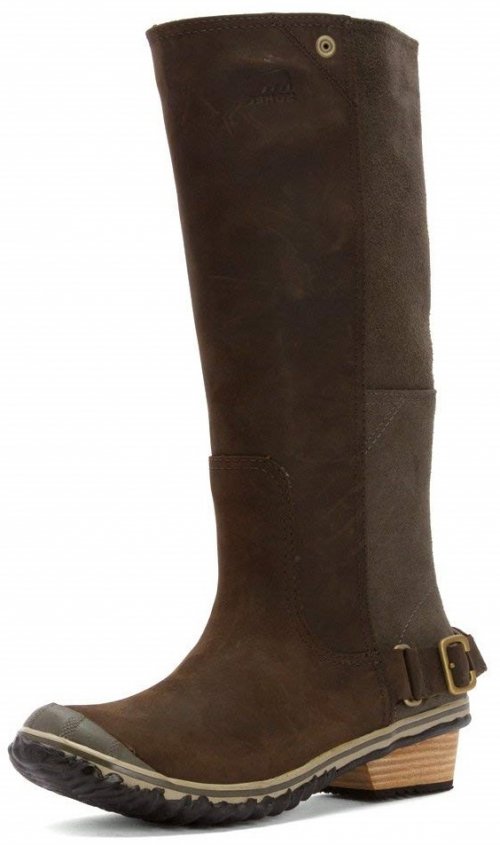 Embrace your love for Western-style silhouettes with the Slimboot! Not to be confused with the Slimpack II, the Slimboot is a knee-high Sorel boot that is an embarrassment of riches, as the brand itself declares. It is best used for casual wear, as well as short walks in the light rain.
This Sorel boot is made out of full-grain leather with oiled suede panels. This 'oiled' part gives the model that stylish, distressed look, as though it has been well-worn and well-loved over the years, despite being brand new. There is a textile knit lining on the inside, and a molded EVA footbed with arch support which helps you stay on your feet for as long as you'd like.

The Slimboot has a handcrafted vulcanized rubber outsole with a herringbone pattern, and a leather-wrapped heel of about one and a half inches in height. It is mostly a pull-on design, though it does have a half-zipper in the inner side to help with the entry.

We understand that such bulky silhouette may not be for everyone, but there is little doubt that the Slimboot will fit right into your wardrobe. It is solid, it is versatile, and it is a great casual Sorel boot for when you need a good knee-high design to complete your looks.

Subscribe to our Newsletter