Best Non-Skid & Slip Resistant Shoes Reviewed
In a Hurry? Editors choice: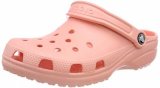 Test Winner: Crocs Classic

If you're worried about losing your footing on highly polished floors, need something to wear around the pool, or need a great pair of footwear for work, then your best bet is to invest in a great pair of slip resistant shoes. This type of footwear is made with a special outsole that prevents slips and falls, and will definitely prove to be a great weapon in your arsenal.

Non skid shoes are most often obligatory for people working in the foodservice industry, medical professionals, construction workers or lab employees. These jobs will often require your footwear to meet certain standards. However, you will find that a number of athletic footwear can provide you with slip resistance as well.

The list below looks at the top 10 non slip shoes made for both professional and casual use.
Standout Picks
Criteria Used for Evaluation
Outsole
The outsole of a pair of slip resistant shoes can be made out of a plethora of different materials. Some are excellent for reducing the risk of a slip or a fall, while others are pretty much guaranteed to encourage skidding across the floor. Hence sole material being one of the key aspects of a pair of slip resistant shoes.
Great Material for Slip Resistant Soles
Rubber
Polyurethane
Neoprene
Nitrile
PVC
TPR (ThermoPlastic Rubber)
Stay Away From Soles Made Of
Felt
Leather
Wood
 
When shopping for a pair of slip resistant shoes, you should consider a few things before making a purchase. The most important factor will be the surfaces you will need to walk on. Those who are expected to work on polished floors will do well with simple rubber, but wet, oily or highly abrasive surfaces require a higher level of slip resistance.
On the whole, you will find that most slip resistant shoes made for professional use have a label on the box that states the level of their slip resistance. If this is the type of use you're purchasing for, make sure you check regulations before spending your money.
Remember, a great pair of slip resistant shoes won't provide you with the required safety due to the materials used only - you will need to ensure you're purchasing adequate footwear for the type of surface and use. But, a little extra time spend on making a good decision is sure to pay off in the end.
Traction
The tread shape associated with slip resistant shoes plays a major role in providing you with the safety you require on a daily basis. However, the spacing and depth of tread are equally important. Shapes that are too close together can inhibit the movement of water to the outer edge of the shoe. When this happens, water can be trapped. Leaving a layer of water or grease between the bottom of your shoe and the floor. The same goes for tread depth; if there is not enough space between the bottom of the tread and the sole of the shoe, water will not be able to disperse as it needs to and can leave you vulnerable to slips and falls.
What should you be looking for to get the most out of your slip resistant shoes? The space between the treads themselves should be around two millimeters. This space allows water, oil, and grease to move easily through the tunnels of the shoe. Not only will it move the slippery element quickly it will disperse it evenly so, but you also won't have slippery patches on the sole of your shoe. The depth of your tread should be at least three millimeters, giving enough space for water or other slippery substances to pass through while providing enough depth to keep the grip against the floor.
It is important to note, as you wear your slip resistant shoes the tread will decline. Different feet cause different pressure points on a shoe and can cause uneven wearing of the tread. In dealing with slip resistant shoes, it is crucial to make sure all of your treads are performing at their best. If you wear the heel tread down, the front of your foot may stick, causing a fall. Likewise, wearing at the front or the sides may cause uneven balance and an increased probability of slips and falls.
Types of Traction Patterns
There are so many patterns in a tread that it is daunting trying to decide which will keep you sturdy and on your feet. You see squares, circles, hexagons, and more in all variety of patterns on the bottom of your slip resistant shoes. We have looked into what will truly keep you upright, and this is what we have found.
Each shape that you see offers some amount of slip resistance, but like most things in life, they are not all created equal. You want to avoid a walling effect. Too many flat edges may trap the water or oil making you more prone to go feet overhead.
Triangles, Squares, and Hexagons: All three of these may cause the walling effect and should be taken into consideration when looking at slip-resistant shoes. While there may be excellent grip and traction, in excess water or grease the build-up may not keep you standing tall.
Circular and Oval: These shapes are exactly what you want for superior slip resistant shoes. The circle or oval shape allows water to pass by without getting trapped and exacerbating slippery conditions. These shapes allow for immediate dispersion of water and oil.
Fit
Finding a perfectly-fitting pair of shoes can be like finding the holy grail; there are so many brands, styles, models and makes of shoes that it seems like it's next to impossible, especially when you are shopping online! Fear not, as we've ranked each product on our list for their fit and trueness-to-size to help guide you in finding the perfect match for you.
To come up with a score for fit of a shoe, we considered several factors to help boil down everything into one simple score. For example, Nike tends to make shoes that are true-to-size, meaning that you can buy a pair of 11s one year, and another pair of 11s next year in a different model and they will usually still fit (unless your feet have grown or shrunk). A brand like Nike will most likely have a high score when it comes to fit, but the other variables in play, such as make, model, and purpose, will also affect the overall score.
Consider that a running shoe, with its thicker midsole and synthetic sole, might fit differently than a flat shoe, with its thinner midsole and hypothetical leather sole. Each of these shoes, even if they are both from Nike, may have similar scores for trueness-to-size, but a size 11 in one might not be the same as an 11 in the other. What's a reader to do in this case? You must also consider the purpose and type of shoe it is. Knowing what kind of shoe you are buying, and for what purpose, will help you make a better decision. A running shoe might run smaller than a flat because it has thicker materials, so read customer reviews as well to arrive at the best decision for fit, in addition to just our overall score.
Another thing to consider when shopping for footwear is support.
If you're constantly in motion, you're going to need support. Just as important as staying upright physically, is staying upright in posture. Footwear that provides adequate support and balance improves posture and prevents back pain. This is crucial for those of us running around on sales floor, or in the back of house.
Working in restaurants, warehouses, and retail requires non slip shoes that properly support the ball of foot, arch, and heel. If the necessary support is lacking, your experience may end up being downright painful. Many of our picks have specific pressure points on the shoe to accommodate for the usual discomfort.
Slight heels and reinforced midsoles offer a great feel on your arch. If, however, you find yourself in need of more support, or even a greater level of shock absorption, you should purchase a pair of non skid shoes with a removable insole and replace it with your own custom orthotics. This way, you will not only get footwear that will keep you steady on your feet, but also footwear that is comfortable for long hours of wear, that you can put on without having to worry about experiencing pain at the end of the day.
Durability
To assess each of the slip resistant shoes on our list for durability, we not only read through thousands of customer reviews on our recommended products, but we also looked for some of the hallmarks of quality construction. From brand name reputation to their initial smell out of the box, there are a few ways of identifying a well-built, made-to-last product.
The Details: A zipper that doesn't zip or snaps? Poor threading technique? A smelly, chemical residue on the shoe when you open the box? All these details were looked for an evaluated when assigning a score for durability.
Materials: Certain materials last longer than others, even if that comes at the expense of a higher score in the "comfort" criterion. Materials that are synthetic, thicker and firmer tend to score higher on durability.
Product Purpose: A shoe made for running and high-impact sports will not likely last as long as a good pair of general activity shoes, and that's okay. Being aware of the shoe's purpose is critical for you as a reader and for us as a reviewer. Although shoes that will last longer score higher on this criterion, you might also see high scores to shoes with a more limited durability, if that product was specifically designed for certain purposes that involve high-impact and high-stress motions. We take into account the type of shoes you are trying to purchase when assigning scores to shoes in this criterion.
Brand Name: A product is a promise made, but a brand is a promise kept. A brand name is often a signal of quality and consistency in construction and durability from product to product. Although there are always exceptions to this rule, quite often brands that perform continue to perform. Brand names on our list tend to score higher in the durability score.
The final word on durability is that a higher score on this metric means the product will last longer than its competitors, given similar shoe purpose, type, age, and usage. Again, it never hurts to read some customer reviews before hitting the "buy" button.
Use
You will find that slip resistant shoes serve a variety of purposes. Not only do different settings and types of floor surfaces require different types of footwear, but the perfect pair may even be determined by the activity you want to spend time doing.
On the whole, slip resistant shoes are most often used for work. Professionals who work in environments with slippery floors will need to invest in footwear that will allow them to walk without having to worry about slipping and falling. Most often, these include foodservice industry workers such as kitchen and bar staff, as well as waiters. Furthermore, hospital staff, custodian workers, lab employees and a number of other jobs that are done on polished indoor surfaces require footwear that is non skid.
On the other hand, those working outside, such as construction workers will also require a pair of slip resistant shoes that can ensure proper grip on rough surfaces. Work boots often come with this type of outsole, and slip resistance becomes even more important in footwear made for jobs such as roofing.
If you're an outdoors fan, or tend to spend a lot of time near water, you will require slip resistant shoes made for this purpose. Water shoes and hiking boots or sandals are excellent choices, as they are designed with traction patterns to grip wet surfaces, including pool tiles or slick rock.
Last but not least, some athletes also require a high level of slip resistance. Though not labeled as slip resistant shoes, skateboarding sneakers, basketball and volleyball shoes often offer highly efficient traction patterns that can grip a variety of surfaces, including indoor courts or outdoor surfaces.
10 Best Slip Resistant Shoes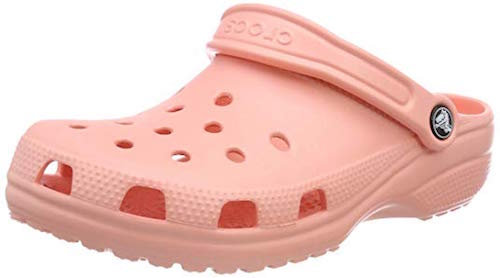 This model of slip resistant shoes has become a household name, and is used for casual and professional wear all around the world. The Crocs Classic clog is one of the most comfortable pairs of footwear you will ever own, and although it's not the most stylish, it does come in a huge variety of color and print options, allowing you to go with a look that's as muted or quirky as you wish.
The material that these non slip safety shoes are made of is Croslite, a rubber-foam compound that has exceptional shock absorbing properties, while remaining incredibly durable. What this means for you is that you get an upper that's roomy and perforated, with a material that is soft to the touch and doesn't cause rubbing, along with a highly supportive massaging footbed that will keep you properly aligned and pain free.
The outsole features effective traction patterns, and combined with the material its made out of, this pair of shoes ensures a steady step on all types of surfaces. This is one of the reasons it's often used by medical staff and those in the foodservice industry. To increase stability and support, you can use the pivoting heel strap, plus, the clog is buoyant, which makes it perfect for beach and pool wear.
These non skid shoes come at a low cost, and some colors can even be found on sale, making the Crocs Classic clog an excellent investment. It will feel great on your feet, and although it won't look great, it'll do a good job at protecting you from slips and falls.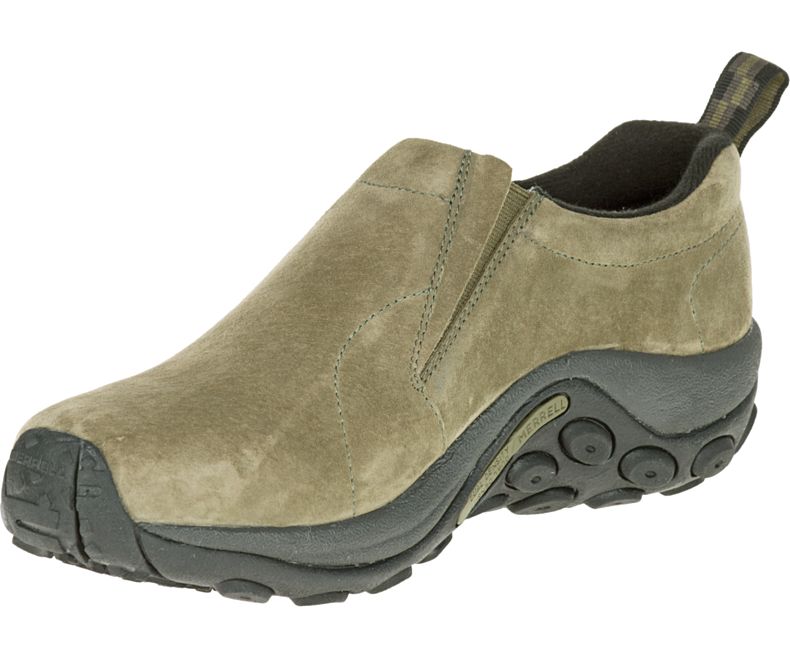 Merrell has grown from being a great boot company to an amazing shoe company that is now known for shoes that give you comfort, durability, design, and versatility. With the Jungle Moc, you will get advanced technology combined with the high performance and lasting design needed in non slip shoes. We live in a world of ever-changing terrains, and this model promises to transition easily from indoor to outdoor activities, showing the versatility of Merrell's Jungle Moc.
Running around all day can lead to seriously sore feet. The Jungle Moc offers two cushioning systems that ensure your feet will feel great, even after the longest days. First, it starts with an EVA compression molded foot frame. This foot frame gives you cushioning that makes your shoes feel like they are hugging your feet, even after extra long hours. Next, these non slip shoes have the heel equipped with Merrell Air Cushioning. This adds comfort, and support to your feet and gives you added stability while absorbing shock.
Wet shoes can cause all type of trouble whether on the inside of the shoe or the outside. The slip resistance of the Jungle Moc has you covered on the outside and M Select Fresh on the inside. Paired with breathable mesh lining and organic odor control these non skid shoes will keep your feet dry with less odor.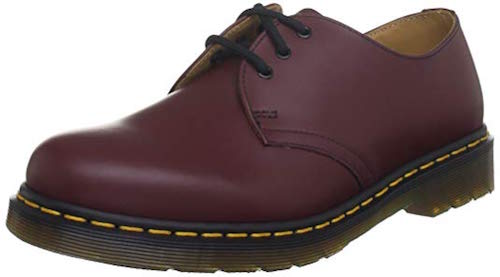 A classic pair of Oxfords is the perfect choice of non slip shoes for those who want to look great throughout the day. Inspired by its older sibling, the ubiquitous Doc Martens 1460 boot, this is a pair of footwear ideal for both work and play. In true Dr. Martens fashion, it comes in a huge variety of upper choices - from smooth leather, to vegan options, to designs embellished with embroidered flowers, studs or glitter.
The simple silhouette of this pair of slip resistant shoes makes it the perfect choice for everyday wear. You can easily pair these with jeans or a uniform, and they're highly comfortable even for daily wear. The Goodyear welted construction ensures water resistance (and the ability to replace the sole), and the classic air cushioned sole absorbs shock while offering slip resistance that works even on oily surfaces.
In terms of the upper, this model (usually) uses genuine leather, which will require some breaking in, but you'll find that it's highly durable and that it will mold to your feet perfectly. These shoes come with a classic lace closure to ensure the best possible fit, and the leather and textile lining gives wearers a breathable foot environment that will be warm enough for the colder months as well.
In terms of price, the cost of this pair of shoes depends on the version you decide to go with. While the classics rank slightly above average, you'll find that special editions get a higher price that may not suit everyone's budget. Nonetheless, with the 1461 you'll be getting a pair of non skid shoes that will last for a long time.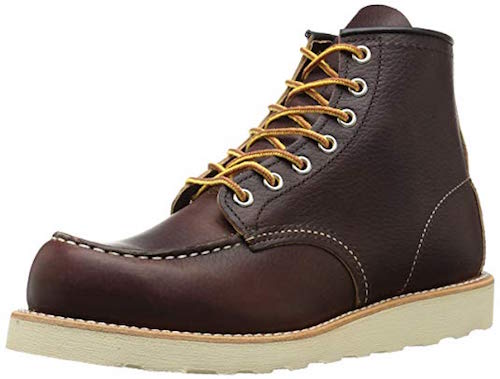 Nothing beats a boot with a rich tradition and this pair of shoes from Red Wing is definitely worth checking out. A classic work boot, originally designed to be used by athletes but quickly becoming popular among factory workers, the Classic Moc is a lifetime investment you'll be wearing for years to come. It can be purchased in several color options, all of which are built with premium leathers that will last you for years.
The outsole on these non slip shoes is made out of Tractor Tread rubber which is ideal for providing slip resistance on indoor surfaces, including polished floors. Being made in a light color, it won't leave marks, and the crepe sole has a zig-zag traction pattern that sticks well to surfaces (so well, that it's often used by ironworkers on tall buildings). It isn't abrasion resistant, and will be worn out if worn on asphalt, but it's great for gripping polished surfaces.
The upper of this pair of non skid shoes is made with oil tanned leather and it's constructed using a Goodyear welt which ensures flexibility and durability. The great thing about this type of welt is that the boot can be re-soled as many times as you want, so you can change the outsole after it's been worn out, and replace it with a brand new one, all without having to break in a new pair of boots. The welt also ensures water protection, so you'll be able to wear these boots in rainy weather as well.
In terms of cost association, this pair of shoes costs a lot - it's the most expensive pair featured on our list. Nonetheless, considering the premium quality, as well as the fact that it can be repaired and resoled multiple times, you really are looking at an investment for life.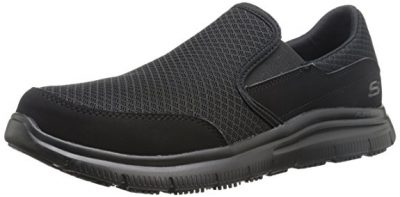 If you want a pair of non slip shoes that are durable, comfortable, breathable AND good-looking, then you're in the right place. The McAllen by Skechers is just one of the models by the brand that provides excellent quality at an affordable price. Plus, these slip resistant shoes were developed for the workplace, so you can rest assured you'll be making the right choice if you decide to go with them.
With its smooth and durable synthetic upper, with diamond-patterned mesh fabric to add breathability, and with its dual-side elastic fabric pieces for easy on and off, this upper unit is sure to please you. In addition to all this, the wearer even has the luck to have a padded collar for added comfort.
It's rarer to find a pair of slip resistant shoe that is so polyvalent. Because of their water-resistant feature, you can wear these outdoors during light rains, and because of their sporty look, you can slip these on with a pair of jeans for a day out with friends and family. The mesh fabric brings that shoe out of its competitors with their real and faux leather.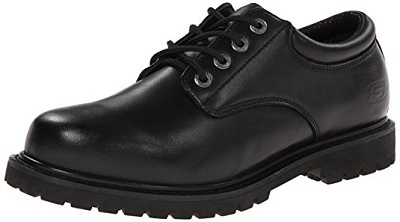 Skechers for Work is a line of shoes made specifically to be comfortable for a variety of jobs all day. In the case of the Cottonwood, the shoe is designed to be both comfortable and slip resistant. It's Oxford design is very professional looking and the shoe features a number of comfort features which will make you want to take that extra shift. No, really. Another 8 hours? That's nothing for you!
The insole in the Cottonwood is made of memory foam which will form to your foot and provide cushion all day long. However, it is also removable if you would prefer to wear your own custom insole or orthotic.
This pair of slip resistant shoes features a classic Oxford look with stylish stitching accents, a rounded, plain toe, and front, side and heel leather overlays that allow the shoe to work in a casual environment or one that is more formal. Work the wedding or the bar with equal, comfortable ease.

7

. Skechers Sure Track Trickel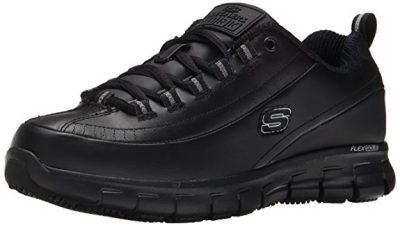 If you're looking for a pair of black shoes that can follow you anywhere and everywhere, then you're at the right place. The Skechers for Work Sure Track Trickel Slip Resistant shoes is perfect for work, for casual wear, for travel, and for workouts.
This pair of shoes being highly flexible means that you won't be fighting the shoe, and you'll remain comfortable all day long. These Skechers offer you a natural stance if you have to stand at the same place for hours, and they also give you a barefoot-like experience when walking. Seriously, what more do you need?
You need to be comfortable to work properly. If your feet hurt all day long, your attention will be down there and not on your tasks. Skechers offers the wearer a removable memory foam insole, just in case you're not the memory foam person. And because of its padded collar and tongue, this means that the general comfort goes from your ankles to your toes.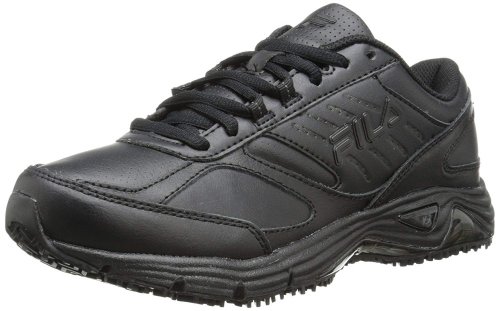 Let's all agree on something: we all want a pair of non skid shoes that can play the part well. And that's what the Fila Memory Flux does. They might not be the most stylish shoes, but with their mixed material of nylon and synthetic, you'll have a durable shoe to last you a long time. With the superior traction of the solid rubber outsole, you'll be solid on your feet on any surface.
That's the number one priority when buying a pair of shoes for work, where you have to stand up for hours a day. Don't you hate it when you wake up the next morning and your soles hurt so much you can barely stand up? Well, this pair of non slip shoes has a padded collar and tongue, added to the comfortability features of the Fila Memory Flux that are renowned for that. The memory foam sockliner and midsole add additional comfort to help you get through a long shift.
The other thing you want to look out for when buying a pair of slip resistant shoes is its material. We hate having to buy two to three pairs of shoes per year because they get used up too fast. Fila thought of it, of us. The upper of the shoe is made of a mixture of nylon and synthetic leather, so the clean-up at the end of the day is easy. The interior of the shoe is a natural cotton blend, which means that not only do you get all-day support, but it also means that it's a tough build.

9

. Reebok Work N Cushion 3.0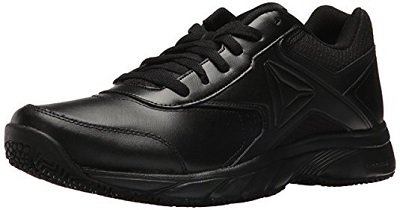 When you're on your feet all day, you need support and comfortability. With their leather design, flex grooves and oil+slip resistant outsoles, these shoes work as hard as you do. But they haven't been thought for just stand-up work. What's fun about these slip resistant shoes is that you can wear them during your workouts or to complete a casual outfit. Their black color helps them blend with anything you wear.
Slip resistant shoes are made with special outsoles that help you remain stable on less-than-ideal surfaces. In addition to this, Reebok added flex grooves to assist with the flexibility of the shoe for day-long comfort. A flex groove is a piece of nylon fabric placed between the outsole and midsole to add stability and stiffness without adding bulk weight. This helps you get a more natural, barefoot stride.
Some people might complain about faux leather, but there are qualities to buying a synthetic material shoe. Faux leather is usually more durable than real leather (but you have to maintain them properly). It tends to be more water-resistant (NOT waterproof – this isn't the same thing) than real leather, and it's designed to hold up against harsh weather and general working conditions. Obviously, because of the synthetic leather, these slip resistant shoes are cheaper than those made with real leather. And, if your environmentally friendly, then you're helping a few animals out there!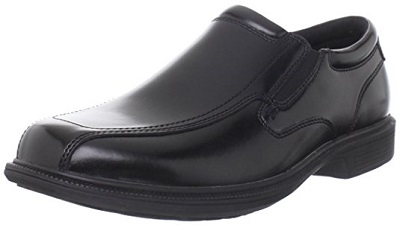 A very professional looking loafer, this shoe will also work for casual occasions. It is slip resistant, as all shoes on this list are, and will work well if you work in a kitchen, bar or other location where the floors and surfaces may be slick. This shoe is not designed though for heavy use on constantly slick surfaces. The shoe is very shock absorbent as well, with a midsole that will leave you comfortable all day.
The Bleeker features a dual density midsole that will provide excellent shock absorption and cushioning, leaving you very comfortable over long hours at work or play. There is also a gel-cushioned footbed for additional comfort.
This loafer features twin-gore elastic for a great fit in a slip-on shoe. The elastic goring at the sides ensure easy on and easy off use while keeping your foot securely inside while walking. These non slip shoes are priced at the lower end of the range relative to the list, which represents excellent value. You get a very comfortable shoe that will keep you on your feet, is easy to use, versatile and can go from casual to dressy with ease.

Subscribe to our Newsletter