Best Water Shoes for Kids Reviewed & Rated
In a Hurry? Editors choice: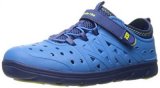 Test Winner: Stride Rite Made2Play Phibian

When summer rolls around, it's always nice to go out on
trips to the beach
or the lake with the entire family. However, things may get a little complicated
when you have a toddler
. They need a combination of protection and comfort, but in a pair of footwear made for wet conditions.
Water shoes provide features such as support, traction and protection that the flip-flop will not offer  - and it's these features that will keep your toddler comfortable and safe. On our list are ten of the best water shoes for toddlers ranging from sandals to sneakers so that you can find the perfect pair for your child.
Standout Picks
Criteria Used for Evaluation
Size
We all know from experience that regardless of a shoe's style, type, or material, what really makes them suit you will be their size. It doesn't matter how high-quality they may be - if they're not the right size, they can cause all kinds of problems ranging from blisters to hammertoes to ankle pain. It's the same for children. In fact, you'll need to take extra care to find the right-sized shoe for your toddler, as ill-fitting shoes can lead to even worse things such as bone and muscle problems when they grow up.
There are many sizing charts online that allow you to print them out and use them to measure your child's feet. However, if you don't have a printer, there are other methods as well. Simply place your child's foot on a piece of paper and draw a line behind their heel and in front of their big toe. Then measure the distance between the two lines using a ruler. You can then compare your measurements with sizing charts that can be found online.
In addition, there are some things you'll want to consider when looking for the right shoe size. It's a good idea to always leave around a 1/4" space in the toes to allow for extra room to wiggle and grow into. Also take into consideration the thickness of the socks your child might wear often with their shoes so that you can ensure there is enough room to accommodate that as well. Because toddlers can grow quickly, their feet should be measured every few months to ensure their shoes are still the right fit.
Materials
Unsurprisingly, one of the key aspects of a good water shoe is its resistance against water. Typical shoes will often retain water when wet, making them uncomfortable, heavy, and hard to dry. This can cause blistering, odor, and may even lead to mold growing on their shoes. But with water shoes, the material from which they are made renders them breathable and quick to dry.
Water shoes are generally made from synthetic fabrics or rubber, which are fabrics made using man-made fibers instead of natural fibers. When looked at under a microscope, it will appear like plastic spun into a fabric. Water shoes made of synthetic fabrics are lightweight, easy to dry, and easy to clean.  You can wear them in water, as they won't weigh you down, and you won't have to worry if they get covered in dirt, sand, or mud. However, one downside is that the manufacturing process of synthetic fabrics an sometimes cause harm to the environment, which renders them less eco-friendly than natural materials.
One common material in water shoes is neoprene, which is a synthetic rubber. The most outstanding benefit of neoprene shoes is their durability in a variety of different conditions. As the material is often used in protective gears, they offer protection against heat, chemical, and even ozone so that you can be sure that your toddler has maximum protection when out in the water. In addition, they are water resistant (which is obviously a must for all water shoes) and can provide great cushioning. They are also latex-free, so you won't have to worry about latex allergy in your toddler.
Traction
When doing activities such as fishing, kayaking,  or hiking on wet terrain, traction is crucial in ensuring safety for people of all ages. Not all shoes are suitable for slippery surfaces, and if you don't take care to choose the right pair, you may fall and cause serious injuries. It is especially easy for children to slip when they are still too young to be completely steady on their feet, and falling may lead to scrapes, sprained ankles, and lots of tears.
All water shoes are supposed to provide superb traction, as they are designed for use on slippery or wet terrain, and would ideally provide as much traction as on a high-quality hiking boot.  In order to know if a pair of water shoes will provide sufficient traction for your child, check the pattern and the depth of the grooves on soles of the shoe. Multi-directional lug patterns are great for traction, but as a general rule, the deeper the grooves,  the more likely it will provide good traction. Rubber outsoles are also crucial in providing traction. However, some toddler shoes or swim socks don't have a rubber outsole, and will instead have anti-skid dots that are effective in preventing slipping on smooth or wet surfaces. This keeps the shoe nice and light which is ideal when the feet are submerged underwater and will allow your toddler to move around freely. But keep in mind that these anti-skid dots provide much less protection compared to rubber outsoles, and likely won't be as effective at providing traction on surfaces such as rocky beaches.
Adjustability
Anyone who's ever tried to help a toddler get dressed knows how hard a task this can be. Not only do they have an opinion on what's appropriate footwear for what occasion, but they'll often refuse to cooperate, which makes it so much harder to simply put on their sneakers and be out the door.
When shopping for any type of shoes for your little one, be it boots, sneakers or water sandals, you will want to get a model that's easy to put on, and has been designed to make your life easier. This includes certain types of closures - you should always forego laces - but also stretch materials and pull tabs that make the job a bit less tiring.
Hook and loop closures, more commonly known as velcro, are a great way to ensure that the dressing process will go easy. They're completely adjustable, which won't create any problems with feet that are wide or narrow, and are easy to adjust if you find you've tightened them too much. The downside of velcro, however, is the fact that it can lose its ability to stick, either with time or if it gets wet. That's why, with water shoes, it's always better to have multiple types of closure, to ensure the safety of your little one.
Elastic is great alternative, as it's becoming more and more popular with the inclusion of stretch materials in all types of footwear. Whether it comes in the form of bungee-style laces, or as a simple strap, an elastic can be a great solution as it will allow enough give to make putting on easy, but should not be loose enough to prevent a secure wearing experience. It should also be more resistant to water exposure, making it a durable option.
Slip on styles are also popular for swimming shoes, as they eliminate the hassle of closures, and provide a snug fit that shouldn't slip off. They're great in terms of breathability, as there's no extra material that would take longer to dry, but their downside often includes fit and ease of putting on. For narrow feet, they may slip off, while chubbier feet often won't even fit in. If you're after a style such as this, be prepared to try a few models before you've managed to find a good fit.
Midsole
The midsole is designed to provide cushioning and shock absorption to the shoe, nestling the foot in comfort. Whereas running shoes tend to have thick midsoles, flats and thinner shoes not designed for high-impact activities often have thinner midsoles.
The reason for this is simple: you need more shock absorption and vibration dampening during high-intensity movements or activities to maintain comfort and prevent foot injury than you otherwise would with a regular shoe, flat or sandal. Midsoles are often made from EVA (ethyl vinyl acetate), a synthetic plastic also used to make insertable orthotics. A firmer type of EVA for the midsole will make the shoe heavier, but more durable; whereas a softer type of EVA, like those found in running shoes, improve shock absorption, but wear much quicker.
Although the midsole tends to wear first before other parts of the shoe, your child will most likely outgrow them before they wear-out. For this reason, look for a shoe with a midsole that is most comfortable and appropriate for your child and their level and frequency of activities. For a highly-active child, look for a thicker midsole, to provide more cushioning throughout the day.
Top Rated Water Shoes for Kids Reviewed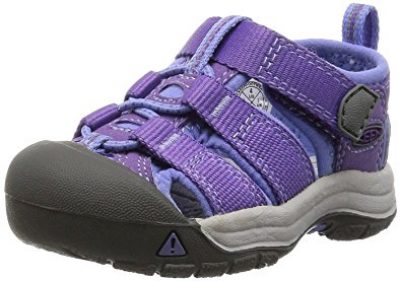 Number one water shoes for toddlers on our list is an adorable pair of sandals perfect for any little adventurer. Its footbed is designed to provide structural support that matches the natural curves of the foot, ensuring that your toddler's feet remain comfortable and healthy. In addition, their materials are all PFC-Free and feature a non-marking rubber sole, a quick-drying upper, and a mesh lining that prevents sweaty feet. They are also easy to wash and put on and come in a variety of colors.
Featuring an adjustable hook and loop strap on the instep, your toddler will be able to pull these on with minimal help.
Like all other KEEN water sandals, the materials of these shoes allows them to be machine washable. They will save you the time and effort it takes to wash them by hand, and renders them great for busy families of all kind.
2

. Stride Rite Made2Play Phibian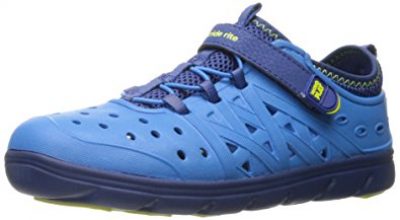 As the name states, the Stride Rite Made2Play Phibian Sneaker-Sandal features all the benefits of sneakers and sandals at the same time. They are comfortable, flexible, and offer structural support. Its lightweight EVA upper renders them breathable and easy to dry, while their outsoles provide extra grip that will prevent slips and falls. What's more, they are easy to put on, machine washable, and are 100% vegan-friendly.
What's great about these water shoes for kids is that they can be great for all seasons and occasions. Their outsoles provide grip like typical sneakers while their uppers are quick-dry and easy to wash. This makes them great for water parks or even just a typical summer day.
Made 100% without using animal products, these shoes allow you to provide your child the comfort and protection they need while also being generous to animals and our earth.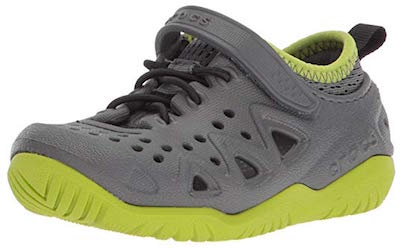 The Crocs Swiftwater Play shoe is the perfect mix of sandal, sneaker and water shoe, made for those little adventurers who like exploration, and refuse any setbacks. Perfect not just for beach use, but also for the pool, messy gardens, or rainy days, the Swiftwater Play Shoe offers the perfect amount of protection while still being extremely quick to dry, easy to keep clean, and featuring the brand's recognizable comfort technologies.
Crocs products are usually made with Croslite, a foam compound that's extremely lightweight, cushioned, yet highly durable, that won't absorb water, and will provide great traction on slippery surfaces. The fit of the Swiftwater is roomy, with enough space for even chubby feet to splay, a massaging footbed for great comfort, as well as a toe bumper for added protection against rocks and twigs.
To ensure that your little one's feet are not irritated, the collar and tongue of this play shoe is covered in padded mesh that's soft to the touch but dries quickly. A great fit is ensured by bungee-style laces that provide a good amount of flexibility, as well as a hook and loop strap over the instep, ensuring a secure fit.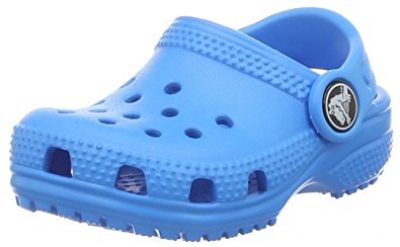 Crocs are a classic for a reason - they are light, durable, and convenient for all types of activities. The toddler water shoes version is just as great. Its design offers support to the foot and provides plenty of room for comfort. They have non-marking outsoles and include a heel strap that will keep them from slipping off. They are quick to dry, easy to clean, and great at preventing odor, and what's more, your child will be able to customize them however they like with compatible Jibbitz brand charms. These sandals are perfect for any summer day and definitely won't disappoint!
The shape of these shoes allows them to be comfortable while also offering room to wiggle without the shoes slipping off. It'll take much longer for your child to grow out of them compared to other shoes.
The classic foam material of all Crocs sandals means they are easy to wash and dry while also being light, comfortable, and supportive.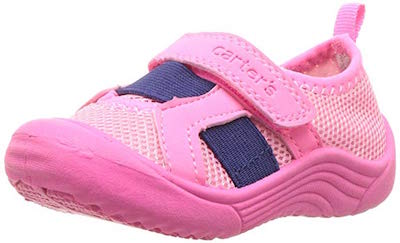 If you're after something with a substantial outsole, but soft on the inside, the Carter's Troop is a great option. Made with a rubber outsole and a padded mesh upper, including synthetic overlays for structure, it's an easy-on, easy-to-dry model, great for both play dates and warm rainy days. It comes in a limited number of color options, but both the pink and navy add a pop of style to any kid's outfit.
The closure on the Troop is an adjustable hook and loop strap that's been a favorite with both parents and kids forever. Not only is it easy to adjust, but it's also aided by an elastic strap just above the toes that replaces laces, providing a good fit without all the hassle.
For those who have to deal with finding footwear for chubby feet, a wide style is like a jackpot - and the Carter's Tropp is exactly that. Not only will it allow easy shoe entry, but it will also ensure that there's no rubbing on your little one's toes that would cause blisters in wet conditions.

6

. Native Jefferson Slip-On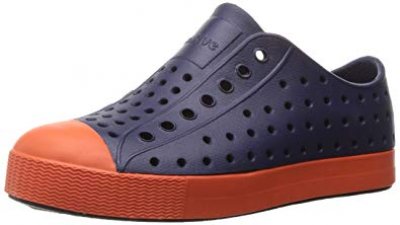 If sandals aren't the thing for your toddler, then consider these sneakers by Native. These toddler water shoes come in a wide range of colors and sizes for children of all ages. Its material keeps it light while its allover perforations keep the feet cool and dry. What's more, they are resistant to odor, have a rubber rand and toe, and have cushioning that renders them shock absorbent and comfortable for running around. The only downside of these shoes is their slightly higher price, but their high quality will definitely make up for it.
Made with ultra-lightweight EVA in the upper, lining, and sole, these sneakers are light, comfortable, and will allow your child to run around1 with ease. It also makes them great for wading in pools, beaches, or lakes, as they won't weigh them down in the water.
Ventilation holes in these shoes keep the feet nice and odorless. Their material renders them quick and easy to dry, preventing the accumulation of sweat, odor, or the growth of mold.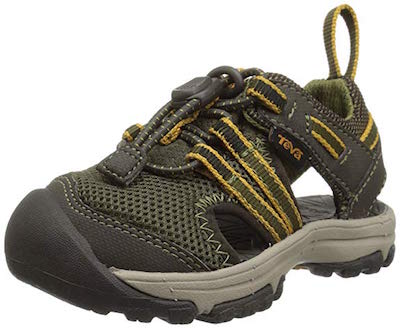 If you're an avid hiker and would like to start including your kids in adventures that often include mess and water, the Teva Manatee is the perfect choice. Available both for toddlers and kids, this is a rugged shoe model made for both protection and comfort, with breathable mesh uppers that'll dry quickly without soaking up water and becoming heavy.
As with most styles by Teva, the Manatee features an EVA foam footbed that's the perfect combination of cushioning and supportive, without creating any unnecessary weight that would lead to fatigue and crankiness. The outsole is made with rubber, including a toe bumper, ensuring a protected wear and great traction on all types of surfaces.
The pull tab on the heel is there for a couple of reasons. For one, it can make putting these shoes on a bit easier, while it can also serve as a great feature for when you want to hang up these sandals to dry. The bungee cord closure ensures a secure fit that won't slip off, giving you peace of mind when out and about.

8

. Speedo Surfwalker Pro 2.0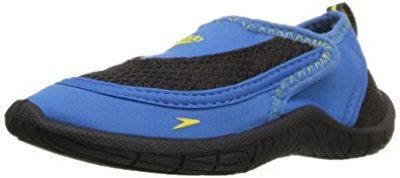 The Speedo Surfwalker Pro 2.0 has been a favorite among adults - and the toddler version is just as great. These feature a unique s-trac thermoplastic rubber outsole, which offers water management and flow dispersion. Thanks to this, your child is guaranteed to stay protected from sharp rocks or hot sidewalks when playing outside. In addition, the material and straps of these water shoes keep them flexible and comfortable.
These sandals are made of a durable four-way stretch upper and include an adjustable strap, which guarantees comfort and easy on-and-off for your toddler.
With air mesh insert panels, they allow air to flow throughout the shoe and renders them quick to dry. It also makes them great for hot summer days, as it allows sweat to dissipate instead of accumulating.

9

. OshKosh B'Gosh Aquatic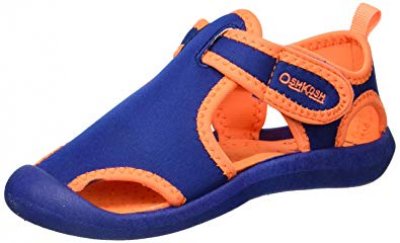 Another quality name brand for children's apparel and footwear, OshKosh B'Gosh brings the Aquatic to the market for a soft sandal water shoe. Easily adjusted with an ankle Velcro closure, perforated footbed and soft uppers to keep it breathable and lightweight, it makes for a great water shoe for all sorts of activities. Thick and sturdy synthetic sole helps keep these durable for running around, and the outsole wraps around to help protect the toes at the front.
The Aquatic comes in several color options and patterns for both girls and boys, from polka dot, to solids and camo. Breathable cut outs along the side of the toes, and foot, help give it breathability, and a soft upper keep it comfortable against sensitive skin, as well as ready for water related activities. Hook and loop closure is fastened with Velcro, giving adjustability to suit your child's growing needs.
At the base of the Aquatic lies a sturdy synthetic sole, giving durability for water activities, but also for wear during playtime out of the water and on the playground. Outsole wraps around the toe cap adding protection for the toes, and a patterned, plus small lugged sole helps maintain traction during wear. With soft uppers giving the top of the foot some protection from the sun, your child can wear these for the duration of the day.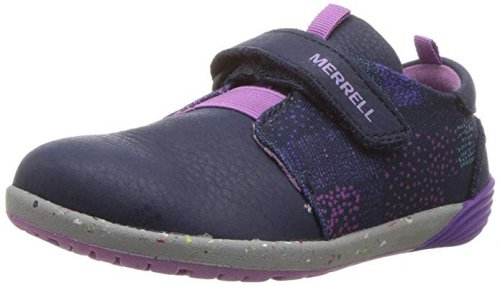 If you are looking for a great pair of water shoes for your child, check out the Merrell Bare Steps. A convenient strap closure system will be easy for your child to put on and take off, while keeping them secure in their step. Made from recycled materials, your kid can play in the ocean, while also helping to keep it clean and beautiful.
A rubber sole is essential for kids playing in the water, especially if rocks are present. One false step and your child could get hurt from a slip and fall. Merrell has taken the lead to stop that from happening, allowing you to enjoy your day at the beach and not worry about your kid getting injured.
The wide toe box of the Merrell Bare Steps are shaped to fit a child's foot shape. The M Select Grip and flexible grooves on the outsole of the shoe boost the aforementioned traction and grip, offered by the rubber sole. A great value in a wide selection of colors, the Merrell Bare Steps is one to pick up this Summer.

Subscribe to our Newsletter