Best Women's and Men's Hiking Sandals Reviewed & Rated
In a Hurry? Editors choice: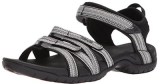 Test Winner: Teva Tirra

Hiking sandals make a great alternative to the traditional boot, which might get sweaty and unpleasant, especially in the hot summer weather. Fewer pressure points also mean that your feet are less likely to blister.

These sandals provide great ventilation, which when you're pounding the well-worn trails will give your feet the opportunity to breathe. If you need to cross a stream or river on your backcountry trail, a good pair of hiking sandals will dry quicker than most other types of footwear.

For all of these reasons, we decided to compile a list of best hiking sandals currently on the market! Sit back, scroll down, and take a look at the magnificent designs all these reliable brands have to offer. Enjoy!
Standout Picks
Criteria Used for Evaluation
Stability
Although initially perceived as an ineffective model, now hiking sandals are accepted as a wonderfully creative concept. With the advance of technology, we can enjoy high-quality designs that provide the stability and cutting-edge support of a full shoe.
How sandals fasten up is key to their stability, and it is down to preference as to which ones you buy. Many of the newer, better models tend to go for either a two-strap solution or a bungee lace-up system. If the sandal has a loop in the back, it's there to help you pull the sandal on or off, which is more useful than you'd think.
Research what is going on in the footbed of a sandal, as this can be invaluable; this is an area where your foot can take a lot of beating. If the sandal has some sort of shock absorbance technology built-in, this is a good thing, and good for your precious feet too.
Another aspect you may want in your next pair is a stability shank that'll not only protect your foot from the trail but will also somewhat limit the torsion of your feet, keeping you safer on uneven terrain. This is crucial for avoiding sprains and twists that could make finishing your hike excruciatingly painful.
Other important features include arch support, heel lock-in, as well as a secure fit across the toe area.
Comfort
Comfort is probably one of the most important considerations, especially if your summer activities are going to involve long hikes.
With traditional hiking boots and trail shoes, you are pretty much guaranteed a high level of comfort. However, with so many different designs and styles out there, you might have to think a bit more carefully, as some hiking sandals can fall short when it comes to comfort.
Many of those on our list come with microfiber lining to wick away moisture and have padded or supported footbeds for cushion and comfort levels. Thicker soles can always give a plushier step as well.
One advantage that hiking sandals have over shoes is ventilation. This is great because your feet are ultimately going to be cooler. It also means that if your sandals for hiking get wet, it's not such a big deal as they'll dry out much quicker than conventional shoes.
Adjustable straps can be your best friend when you're hiking on a long trail in the middle of nowhere, and if your feet tend to swell up. It may sound low tech, but an adjustable strap system is a great way to customize the fit to your foot.
Based on your personal preference, select wider straps for less rubbing in general, or more narrow straps if you prefer multiple straps to secure you properly.
Also important is to check how the straps are designed on the sandal. Most will cross atop the foot in some pattern and will have a heel and ankle feature to keep you in the sandal. Some models may also include a toe loop for closure around the front of the sandal, which is a great feature for those who have wider or more narrow feet than normal.
Durability
While it may seem like common sense to purchase a pair of durable shoes, how can you actually test them out? The more established brands such as those on our list, are generally very good – they've been around a long time and have put a lot of money into their design and technology.
However, even if you go with a less known manufacturer, you can get a pretty good idea of the quality of the make by looking at the following features:
Toe Bumpers – These add protection and durability to your sandal.
Tough Outsoles– They not only add traction but help keep the shoe intact.
Quality Uppers or Straps – Many synthetics, leather, and nylons in hiking gear now come with water resistance to keep your shoes going for longer.
Cushion – EVA footbeds are made to give you the cushion, but also to last over time so that cushioning doesn't fade.
Abrasion Resistance – Some sandals for hiking have uppers designed to prevent abrasions from tearing at the material and slowly damaging the sandal over time.
Replaceable Parts – Many companies that design hiking gear know that parts can break simply due to the environment they're used in. In that regard, they've begun to invest in making replaceable parts so you can simply fix your hiking sandals instead of throwing them away.
Traction
If you want to hike, then you're going to need good traction. It's a fact of participating in outdoor activities in general. If the sandals that you're considering for your summer activities look like they don't have good traction, it's definitely time for a new pair.
You need your hiking sandals to be able to handle everything a trail throws at them, from mossy strewn rocks to hiking up steep rocky paths.
Your sandals need to be able to handle a change in climate because if the trail suddenly becomes wet, you do not want to be slipping and sliding around. Get a pair that is going to stick to the path ahead, with a decent, aggressive tread pattern and a hardwearing rubber outsole.
For maximum traction, avoid smooth outsoles without any discernible patterns. The deeper the grooves or lugs on the outsole, the more pattern your hiking sandals will have.
Value
The price of any shoe can be a deal-breaker. When it comes to a specialty design, it's even more important to look at its value. That's part of the reason why footwear manufacturers invest time and energy into creating cost-effective technologies to incorporate into their shoes to make them durable, long-lived, versatile, and inexpensive.
Durability & Longevity
Footwear usually lasts more than a few months, because shoes that are going to fall apart after a few months of use aren't worth the investment of more than a few dollars. Leather and synthetic overlays can be used to make the shoes more durable without sacrificing flexibility. Firm leather or synthetic uppers provide durability and support.
Versatility
Great footwear can be used for more than one activity. Walking and running shoes, for example, can be used in some casual sports. Stylish athletic footwear could be used in informal work environments. Sandals can be used in casual and semi-formal settings. The more situations you can use the shoe in, the more value it offers for the price.
Maintenance
Good footwear is easy to maintain and clean. It doesn't require a lot of expensive treatments or time-consuming upkeep. Shoes that need a lot of effort, time, and money to maintain, don't sell as well as those which are easier and cost less to keep.
Cost
A hefty price tag can be a deal-breaker for people on a budget. That's why many of these hiking sandals can be found in the low-to-middle price range. They're affordable, and if they are priced a little higher than others, then they offer many features to make them worth the extra investment.
10 Best Hiking Sandals for Women and Men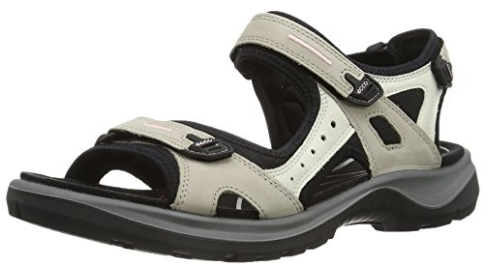 ECCO is well known for its comfortable, supportive sneakers and boots, and they've brought that same quality to their hiking sandals, ideal for outdoor activity. With its spunky coloring and unique closure webbing, you can have the best of ECCO's supportive features in an airy rugged sandal. The Yucatan makes its debut on our top ten list of hiking sandals because of its technical features and styling.
Comfort is found within the Yucatan's PU midsole foam and EVA footbed, giving cushioning that lasts from the morning into the evening. Stability and support are held in the RECEPTOR technology, made for dynamic movement during the gait cycle. Microfiber lines the webbing and footbed for an added plush feeling on your foot. A rubber sole inside these hiking sandals provides traction for rougher outdoor terrain.
An over-the-toe strap combined with a heel and ankle closure help to keep you from slipping out of these hiking sandals. The closures have several adjustment areas, designed for optimal fit and function, with an easy hook and loop closure. Nubuck uppers come in a variety of color combinations and hues so that you can step on the trail with a bit of personality.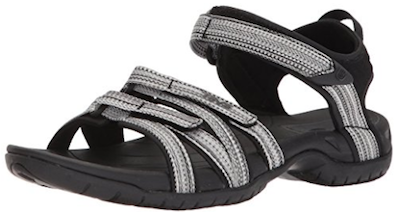 Looking for sporty hiking sandals that have firm, durable tread, but less bulk up top? The Teva Tirra was made for sports and the great outdoors in mind. Its rugged, durable sole and firmly cushioned support will keep you in action for the day, all while letting your feet enjoy the comfort of freedom. Water-resistant nylon straps inside these hiking sandals keep them placed firmly on your feet and easy to take on and off.
The Teva Tirra was made for all-terrain walking. With a rubber sole that encompasses a nylon shank for stability, you can stride confidently on or off-road. With its water-resistant design, it's ideal for wading in streams or creeks and has special water-channeling lugs on the outsole for added traction. Feel free to explore around that waterfall after a long hike!
Cushioning is found in the molded EVA midsole, providing compression spring with every step. The heel of these hiking sandals has a Shock Pad, which absorbs impact. Synthetic and polyester webbing keep your foot firmly secured with a sporty look to them, and the easy hook and loop closure allows for maximum adjustment.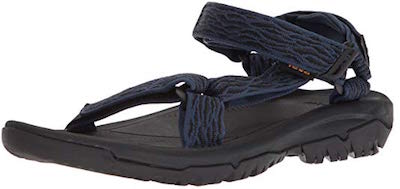 Made for all types of outdoor activity, the Teva Hurricane XLT2 hiking sandals are the second edition in this series, and they bring some pretty welcome updates in terms of traction and comfort. With a standard polyester webbing upper that's quick-drying and adjustable in three points, this shoe is easy to put on and off, and can offer a great fit, even if you find your feet have swollen from a full day of walking.
Depending on how often you go out in nature, you might find that your hiking gear takes a beating and has a lifespan that's not exactly long. The Hurricane XLT2 hiking sandals are made partially out of recycled PET, making them a better choice in terms of eco-friendliness. A great plus is a fact that the outsole is made with abrasion-resistant materials, giving it a longer lifespan, resulting in less footwear taking up space in landfills across the globe.
Though the straps are made with polyester and nylon, getting your feet wet makes the skin softer, thus more susceptible to blistering. The Hurricane XLT2 solves this problem with a soft heel-strap pad that doesn't let the materials cut into the back of your foot, making these less likely to cause problems, even with longer use.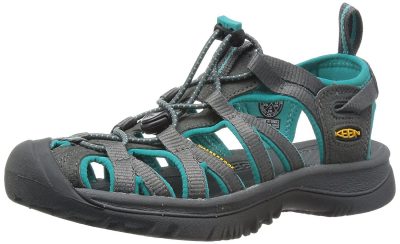 There's a lot to like about the KEEN Whisper. It has a rubber sole that provides extra grip on the backcountry trails and a bungee laces capture system that provides a secure fit for your foot. Not to mention that it is machine washable. These hiking sandals will be a loyal companion on your adventures and will provide excellent performance and great durability.
A lot of thought has gone into the toe protection of these hiking sandals, where the rubber outsole wraps up and over the toes, protecting your pinkies from painful stubs and blows. KEEN is known for its protective toe cap, which can be found in several makes and models of their hiking shoes and boots.
These hiking sandals are designed in a way that offers your foot excellent arch support. Cradling the natural contours, your feet experience comfort and support that translate to less fatigue and discomfort, even after hours of walking.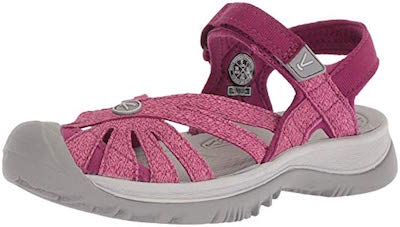 Combining style with functionality, the KEEN Rose is a great choice for those looking for versatile summer shoes that'll do just as well for casual outings, park walks, as well as nature hikes and camping. Featuring an intricate upper design, this is the style that stands out the most in terms of look, and it comes in beautiful colors that'll match great even with the more elegant outfit selections.
The Rose may have an open sandal design which gives you the sense of walking barefoot, but its rugged sole and toe bumper help protect you during rougher hikes or terrain. The sole inside these hiking sandals are marked with grooves for traction, and the uppers are made from leather and textile. Its sporty look may fool you to think it's for the pool only, but take it out for a test hike to be pleasantly surprised.
Support and comfort are noted in the EVA footbed, designed to cradle the natural contours of the foot. AEGIS Microbe Shield lining prevents any bacterial growth from prolonged periods of exposure to dampness. Its straps have hook-and-loop closures for an easy in and out, and the sandal is machine washable should you need to freshen it up.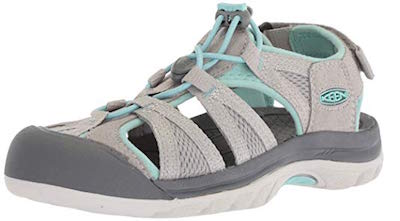 Perfect for both for nature treks and travel, the second edition of the KEEN Venice is a water sandal that is an excellent choice for anyone looking for a water-friendly design with all the brand's best-loved features. Featuring a metatomical footbed, like most of their similar styles, it is anatomically engineered to provide you with a good amount of arch support that translates to less pain and more hours spent walking and exploring.
Made with a polyester webbing and mesh upper, the Venice II H2 is completely water-friendly, breathable, and quick to dry. You'll be happy to hear that it's even machine washable, which means you can easily keep this shoe fresh and clean, regardless of what you've put it through. Another welcome addition is the Cleansport NXT™ treatment that prevents odors without using harsh chemicals.
The outsole on the Venice II H2 is made out of grippy, non-marking rubber that'll allow you to wear these wherever you wish. A protective toe bumper keeps your toes safe, even when wading through creeks, while a fully adjustable heel strap ensures a snug and secure fit.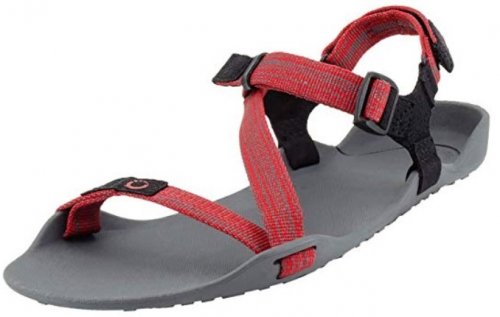 If you're a fan of minimalist footwear and favor that barefoot feel even when you go on hikes, then the Z-Trek hiking sandals from Xero Shoes are perfect for you. These are easy to wear both in water and on land and are able to flex and move along with your foot without any problems.
The Z-Trek has straps which are comfortable and maintaining just the right tension over your foot. They are incredibly lightweight - weighing 7.2oz on average, each. They feature a zero-drop sole, meaning that your feet are in an anatomically correct position and that there is no difference in height between your heel and your toes. Finally, the outsole of the Z-Trek is 5.5mm thick for great ground grip and lightweight feel.
Admittedly, the Z-Trek hiking sandals are not as protective as the other options on our list. They are water-resistant, but your toes are exposed and bear no protection against stubs or debris you might encounter. However, there is hardly anything that beats walking barefoot - or nearly barefoot - in nature, and for that feeling the Xero Shoes Z-Trek is the obvious choice.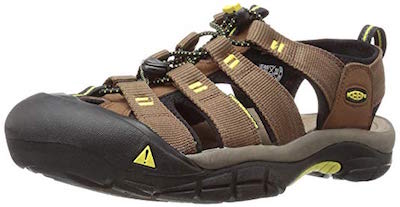 One of the most popular and best hiking sandals, the KEEN Newport H2 are ready for adventure. Combining the breathability and lightness of a water sandal with the protective features of a hiking boot, this is one of the best choices for nature walks out there. The lacing system is similar to other KEEN styles, featuring a capture clip that allows for easy adjustment on the go.
The outsole of the Newport H2 hiking sandals is made with rubber that features multi-directional traction lugs, giving you the best possible grip on any type of surface, wet, and dry. For added security, the rubber is razor-siped to further improve traction in wet conditions.
The upper is made with polyester webbing that won't hold onto moisture and water and the lining on the Newport H2 has great benefits. On the one hand, it serves to comfort the foot, with your skin being in contact only with the soft material of the lining. On the other hand, it helps moisture evaporate quickly, not only making these hiking sandals comfy in wet conditions but also wicking sweat away from the foot so that odors don't appear as quickly as with other shoes.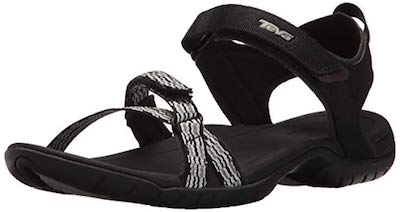 The Teva Verra hiking sandals are both practical and feminine, boasting a simple design that's become a recognizable staple of the brand. It's another water-ready sandal, made with materials that dry quickly and don't deteriorate with water use, which makes these a great choice both for nature walks, as well as for visits to the beach or pool. Despite a minimalistic upper, the sole of the Verra features a stabilizing nylon shank that protects the foot even on uneven terrain.
Featuring hook and loop closures on both sections of the upper, the Teva Verra allows the wearer to adjust the fit both in the metatarsal as well as the heel area. Not only does this allow for a better fit that can be tightened or loosened as needed, but is also a welcome feature for those with foot shapes that are slightly different than the norm.
Cushioned in all the right places, the Verra not only comforts the foot while walking but also cushions it to prevent any pain after a long day of walking. The shock-absorbing mechanism in the heel dissipates shock that happens during the impact phase of walking and allows for a more enjoyable wearing experience.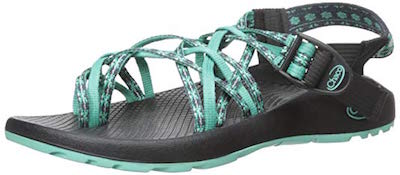 The latest edition of the Chaco ZX classic line brings a completely new outsole that is one of the brand's best-performing outsoles to date. Originally released in 1989, this is a hiking sandal that has become a favorite among those who like to combine comfort, performance, and style, and will do just as well for casual wear as it will for nature use. The jacquard webbing upper is made out of polyester for quick-drying properties, with the straps being thin enough to allow for a perfect fit.
Made specifically to support the female foot, this is a footbed that's been designed for durable cushioning. Made out of PU, it'll perform well near water, and won't pack as fast as similar foam materials, while remaining lightweight so that you don't get fatigued.
Specifically designed to improve traction in wet conditions, the new outsole on the ZX3 features 3mm lugs for excellent grip on both dry and wet surfaces. This means that these hiking sandals will be a great pair to wear on summer outings to the beach or lake, seeing that they'll dry fast and keep your footing steady.

Subscribe to our Newsletter