Best Trekking & Hiking Shoes Reviewed
When going out to explore the wild, taking a hike or going up a mountain, it is crucial that you have the
proper equipment
. Seeing that you will be putting a lot of stress on your feet, the most important part of this
equipment will be your footwear
. A proper pair of hiking shoes will not only ensure that you are not too hot or too cold, but it will also work to protect your from the surface underfoot, will keep your footing secure, and will ensure the proper support and shock absorption, so that you are comfortable and pain-free throughout your hike.
Standout Picks
Criteria Used for Evaluation
Style
When purchasing a pair of footwear for any specific activity, you need to consider what said activity calls for. Naturally, the same goes for the ones you're looking for here. While you may be tempted to go out in your comfy road running shoes made with a mesh upper, it is important that you know that they won't possess the qualities you require.
First, let's talk about different "cuts" in trekking shoes. There are the low-cut, middle-cut, and high-cut designs. The low-cut trekking looks very similar to running shoes; they are lightweight and can often be worn casually but aren't meant for long treks with large amounts of weight, as it can lead common ankle injuries. The cut in low-cut shoes generally doesn't reach over your ankles. The medium-cut shoes provide ankle protection from cuts, while also often feature metal lacing hooks at the ankle, allowing for tighter and more accurate fit. Mid-cut shoes provide far better protection but lack the ankle flexibility provided in low-cut shoes. Mid-cut shoes are ideal for regular trekking on uneven terrain. The cut for mid-cut shoes reaches slightly over the ankles.
Now, the last type of design is high-cut shoes. These shoes have very high cuts that provide excellent protection to your ankles and feet and are generally found shoes designed for mountain climbing or heavy off-trail trekking. The high-cut shoes are much heavier and the construction of the shoes are meant to give maximum support while also providing excellent protection. Most waterproof or weather resistant trekking shoes are high-cut because they are much thicker and sturdier.
Just like the types of shoe cuts, there are also different categories of trekking shoes; these categories are generally sorted into light trekking, backpacking, and mountaineering shoes.
Light trekking shoes are low-cut trail shoes that survive adequately on moderate terrain and are usually a good choice for trekking on moderate well-maintained trails. These shoes aren't meant for extremely rugged terrain and often don't offer the same amount of protection as other types of trekking shoes.
Backpacking trekking shoes are trekking shoes with a medium to high cut, providing increased durability and comfort, while also offering to sustain heavier weight—like that of a trekking backpack. These types of trekking shoes are also often called "off-trail" shoes and are noticeably heavier than light trekking shoes, allowing them to sustain in harsher terrain and conditions, remaining comfortable even under heavy weight.
The last type of specific trekking shoes are mountaineering shoes; these shoes are often used only to climb large mountains and provide a very high cut, making them uncomfortable for long treks on an even trail. Mountaineering trekking shoes are also designed to protect against the harshest of temperatures and weather, making them ideal as one of the most durable and enduring trekking shoes out there. These thick, protecting shoes offer tremendous ankle protection and are insulated from moisture and cold. Most mountaineering shoes are also compatible with crampons, which are traction attachments made for ice climbing.
A good pair will, first and foremost, be protective. This goes both for the upper and the outsole, as well as the stabilization features found in the shoes itself. Secondly, your chosen shoes need to be durable, able to withstand different weather conditions, and should offer the appropriate level of insulation – wearing shoes that are too hot in the summer may be uncomfortable, but wearing footwear that doesn't provide the desired level of warmth in the winter can have serious consequences.
In addition to all of this, your chosen hikers need to be comfortable and supportive – if you find that your feet hurt after an hour or two of walking, your shoes are probably the culprit. A good amount of cushioning can lessen the shock your joints and muscles have to withstand, while arch support and a good heel cup can help properly align your feet so that you don't feel the pain the next day.
Last but not least, you need to consider the fit. A well-fitted pair of footwear will go further than the latest tech features, so make sure that you pick the correct size and width, that the arch of your foot is well supported, that your toes have enough room in the forefoot and that your laces are tied securely, but not too tightly.
Durability
It certainly goes without saying that you don't want your shoes to be worn out after a few hikes and treks; that's why durability plays such a monumental role in quality trekking shoes because you don't want them to wear out ever—period.
Think dirt, rocks, rivers, snow, holes, uneven terrain, and enough hazardous objects to line a mountain twice. In this, there are plenty of reasons to consider your safety, and even more to consider the protection you need to provide for your feet. As casual footwear will not suffice on the trail, here are some of the aspects you should consider when purchasing your next pair of sneakers or boots:
Waterproofing/Water-resistance – This may come in the form of a GORE-TEX (GTX) lining or the lack of breathable mesh material used in the making of the upper. A trail sneaker will, generally, be less breathable than those made for casual, everyday use, as it will most likely be made with leather components. The compromise is necessary seeing that the activity is done in rough terrain that poses many dangers. If, however, you're going on a casual hike, you can get away with a more breathable (synthetic) mesh. If you are partaking in backpacking through unpredictable terrain, however, you want as much protection as possible; so, you will go with a leather-made design. You never know when you will encounter streams or rivers with no options other than to plow through. You will find other styles with either a full-bootie waterproof membrane or a pieced-together seam-sealed inner layer. If you want a fully waterproof design, chances are, your favorite pair is offered in a GTX version.
Thicker, heavier, and layered upper material – If you want lightweight, you are looking in the wrong direction. This type of footwear is made to withstand constant impact with rocks, corrosion that comes with moisture retention, and long miles through dust and dirt. This means you will, typically, find the proper style is comprised of a material that is heavier, more layered, and tougher than the standard athletic sneakers. One thing for sure is that you won't be seeing Flyknit or Primeknit uppers on these sneakers. You will find either synthetic or leather. The leather that you will find on them will, generally, be cowhide, as it has the best balance of durability and flexibility. Synthetic uppers do not contain animal products, but rather are either composed of durable nylon or polyester, or a combination of both. The leather is, generally, less breathable and more ideal for rougher terrains as it is tough; whereas, synthetic uppers are less in weight, more breathable, but do not offer as much protection; so, they are great for easy trails.
Leather Upper – Perfect for taking a beating and for rougher environments. Although, it is relatively heavy. Great for snow, or rocky terrain.
Synthetic Upper – Lightweight and breathable, but may tear easily if snagged on bushes or rubbed on rocks consistently. Great for hot weather.
Stiffer Sole/Thicker Sole – The most important component of any trekking or trekking shoe is its sole—or, specifically, "outsole"; a good, durable outsole can mean the difference between a lifetime shoe and a regrettable purchase, which is why knowing the aspects of a shoe's outsole should always be thought of when buying. In trekking shoes, the outsole should be the absolute last thing that wears down in the shoe.
A thick, protective outsole is crucial for going on the trail. The required level of protection will, usually, be achieved by using thicker, bulkier materials, which will help prevent any injury from stepping on sharp rocks or from walking on uneven terrain. Almost always, gear for hikers is made with a sole that's stiffer than that found in your every day sneakers. This not only adds to the longevity of the sole but gives more stability for carrying your equipment and backpack, as most hikers will carry from 30 to 40lbs, depending on the duration of the trip. If you're a backpacker and have 40+ pounds on your back, we recommend as stiff of a sole as they come. You will need the extra support and protection for the weight and long miles.
The technology of the outsole follows a few general rules; first off, a softer rubber outsole provides better traction underneath the foot, making trekking easier by putting less pressure on the foot and allowing for better grip, but a softer rubber outsole also wears out far faster and shorten the lifespan of the shoe. A harder outsole, on the other hand, can last a lot longer, but won't provide the maximum grip, making trekking in slippery conditions such as rain much more dangerous.
Polyurethane Foam – One of the more dense materials used in midsoles that are typically longer lasting than others but much less of a cushion.
Ethylene Vinyl Acetate – Arguably the most popular of midsole materials. EVA is extremely soft and cushioning, fairly durable (not as durable as PU) but much more pleasant to walk on.
Note: There are multiple components that make up footwear in general. These components include the upper, footbed, inner, insole, midsole, outsole, and sometimes an extra layer called the Topsole. Not every pair will include a pronounced outsole or Topsole. Some styles include one layer, although you will, typically, find most every layer included in the footwear. The quality of the shank, also, is important when considering sturdiness.
Steel Shank / Rock Plate – Just as you would see in industrial-grade work boots, some high-quality sneakers (and boots) have steel shanks integrated into them. With work boots, they protect against the penetration of external objects such as nails; and here they do the same, except the protection will be against sharp rocks (mainly) and other ground hazards, as there are many. Alternatively, the plate will be made with a hard plastic but serves the same purpose.
Weather Resistance
Like durability, weather protection should also be a keen point to keep in mind when looking for a pair of trekking shoes. Many ordinary shoes wear down quickly under the harsh conditions of rain, snow, dirt, or other factors in uneven, long hikes; trekking shoes, however, were made to resist these harsh conditions with specific technology aimed toward weather protection.
Weather protection is particular and needs to be covered in its own, although it goes hand-in-hand with the overall protection of proper footwear. Generally, footwear for the outdoors includes protection from harsh weather from the main components they may feature, such as Gore-Tex linings or other waterproofing material, and thicker layers to accommodate for extreme conditions if that's what you may find yourself in. But there's much more to weather protection than just the basics. In fact, there are too many different types of weather conditions for one type of solution to fit all. As such, you will need to consider every aspect of every specific situation or season you will be in.
Additional weatherproofing may come in the form of wax coatings on full-grain leather for the purpose of waterproofing if a GTX option isn't available for that particular style. For the same purpose, you may, also, find a hydrophobic DWR (durable water-repellent) finish or oil coating, depending on the manufacturer's choice for their footwear. A poorly made product with any weatherproofing method will still leak; so, you need to make sure to only obtain footwear from trusted, reputable brands, which we have listed.
There are three main types of waterproofing in trekking shoes; waterproof leather, waterproof constructions, and waterproof linings.
Waterproof leather, which is a waterproof coating of leather that protects water from reaching inside the shoe. These types may be more expensive, as leather isn't always a feature in trekking shoes, but can be useful in colder and wetter conditions, as leather is naturally resistant to water.
The second type is having a shoe with waterproof construction; this means that the shoe was inherently designed to be tight in stitching and may contain taping to prevent water from entering the shoe. These shoes are usually labeled with a "weather protection" or "waterproof" offer when marketed. There are also shoes that offer only "water protection" but not "waterproof", meaning that they can protect against water, but soaking the shoe for long periods of time in wetness can cause leaks to the interior. Many trekking shoes claim to be "water protected" or "water resistant", but keep in mind that these shoes can still allow water into the interior.
The third type of weather protection is waterproof lining, which is a fabric in trekking shoes that can be built in to prevent moisture from passing through the material; waterproof lining can be your best option in a weather protected trekking shoe, as they can completely keep moisture out of the shoe, while also offering to increase the durability.
Additional Points of Weather Protection to Consider
Dealing with the elements – Skip synthetic for cold, rockier, and harsh conditions. The leather is much more protective and durable. In scolding heat, synthetic will be your best friend, as you will need the airflow and breathability it provides.
Waterproofing is only one form of weather protection – Waterproofing comes in handy if you're in a wet setting saturated with streams, or find yourself in rain, although it is just one form of protection from the weather.
Consider if you will encounter snow on your hike (Usually, more prevalent at higher altitudes) – In snow, waterproofing is needed (go with leather), but you will, also, need extra insulation. In addition to more insulation, you want to consider crampons, micro-spikes, or even snowshoe attachments.
Consider Gaiters – Gaiters not only come in handy in the snow to keep the insides of your sneakers snow-free but they, also, keep everything else out. They are a worthy investment and a smart addition to your gear.
Hot weather – Cut down on the waterproofing material and go with a synthetic/mesh upper which will allow much more effective temperature regulation. Also, go with a low cut collared sneakers. There are plenty available.
Fit
In trekking shoes specifically, sometimes you shouldn't worry about fit but instead about prevention of pressure in the feet. Since trek shoes are generally heavier and more constricting, the worst thing you can do is to buy a pair of trekking shoes that are too small or have a clamped toe box that can cause discomfort or even long-lasting injury. It's never a bad idea to buy up a size when purchasing trekking shoes, as there are many resources that can help ensure that perfect fit.
One of those resources is socks. Buying a larger size and wearing trekking socks is always the smartest thing to do to make sure your trekking shoes fit properly. Choosing socks with a wider thickness can fill in that size gap and make trekking comfortable and effortless. There are also specific types of socks—cushioned trekking socks—that use modern technology to be precise in their fit in accordance with your trekking shoe. These can also add warmth to the shoe and help bolster water-resistance.
You, also, want more room in the toe box, as the activity itself can lead to aching toes from constant pressure put on them, and the extra space will prevent that. It's worth noting that the rugged of these designs has become somewhat of a fashion trend that some companies outside of the niche are capitalizing on. This means, there are styles out there that appear to be made for the trail but don't have the proper fit or support.
Benefits of properly fitting footwear
Sprained ankle prevention
Blister and excess rubbing prevention
Comfort through extended miles
Prevention from external debris
Prevention of pains in the toe area (should have extra toe room)
Provides additional support and overall steadiness
Also make sure that a proper, durable lace comes with your trekking shoe. Always make sure to first unlace and try on the shoe, assuring a proper fit, before using one of the three knots: the surgeon's knot, the window knot, or the toe-relief knot. The surgeon's knot is ideal for when your heel is loose and you find yourself slipping, while the window knot is if you feel pressure points on the top of your foot, and, lastly, the toe-relief knot helps create a stopgap to relieve pressure on the toe box.
Overall, the most one of the most important criteria when looking for trekking shoes are the comfort and fit, and knowing how to look for shoes that specifically shape your feet can always make for a better experience out in the wilderness. To restate, the heel of the shoe should always lock firmly, while the toe should have ample room to prevent it from hitting your shoe, while other factors such as traction and lacing can also be important.
Breathability
Breathability is important, but it's, also, a contradiction to some situations where a completely sealed sneaker will be more effective. Although, there will be instances where you will need a more breathable pair, and waterproofing won't be needed.
In a waterproofed sneaker, airflow will be at an all-time low, and temperature regulation will be minimal. Because of this, your feet will heat up quickly, which is why in hotter weather, a leather-based material is not recommended. Thick leather may lack airflow and is naturally water-resistant; so, along with your feet getting too hot to handle, moisture accumulation from sweating may occur. Only use a leather-based option in hotter weather if you must. This means a strenuous hike where you will need the extra protection that it offers. The same goes for Gore-Tex materials. There is no need for a GTX if you don't plan on walking through streams or snow. On another note, Gore-Tex is fairly breathable (for a water-resistant material, at least), but not relatively.
On a hot day where you won't need full protection and can compromise a little bit, go with a product made of suede leather/nylon if you still want a balance of protection with breathability. For optimal airflow and breathability, go with full synthetic. This means your sneaker will be comprised largely of mesh which will give ample temperature regulation and moisture management.
Choose wisely, and consider where you will be hiking.
10 Best Trekking & Hiking Shoes
This style by Altra is all about fit and superior traction. It's a pair of low-ankle sneakers that'll be more than comfortable out of the box, and that will serve you well on rough terrain, no matter the season. Made with leather and mesh in the upper, as well as a rubber outsole, the Lone Peak 4.0 uses all tried and tested technologies in order to give you one high-quality boot that's sure to keep you comfy and protected, no matter how long you plan on going.
Altra is a popular brand when it comes to outdoor gear, which means that their footwear is sure to come with innovations that are not just practical, but also what sets them apart from the competition. One of these features is the Energy Return compound found under the foot. This helps to reduce ground impact and gives an added spring to your steps.
The canted lugs that are positioned strategically beneath the metatarsals help provide traction at toe off. These shoes also help to place your heel and forefoot the same distance from the ground to help encourage proper low impact form while you're out on the trail.
2

. The North Face Ultra 109 GTX
The North Face Ultra 109 offers maximum underfoot protection along with subtle pronation correction. This waterproof Gore-Tex® design has a rigid Snake Plate™ under the ball of the foot for superior protection, along with an UltrATAC™ rubber outsole for strong traction on both dry and wet terrain.
Made from breathable mesh and PU-coated leather, this is a lightweight and airy design that's complete with a compression-molded EVA midsole and an ESS midfoot shank. Gore-TEX® is a waterproof, extended comfort range membrane that offers superior stability and delivers subtle pronation correction.
The Ultra 109 has a built-in protection TPU (thermoplastic polyurethane) toe cap to keep your toes protected from hazards of the trail so you can run at ease without worrying about injuring yourself. TPU is a mixture of plastic and soft silicone, making for a dense and smooth material.
3

. Merrell Moab 2 Ventilator
The Merrell Moab Ventilator can be used for a variety of activities, including workouts and walking. It's a low cut, lightweight shoe with plenty of performance features, and is a definite top contender when it comes to footwear for scaling mountains. Most of this sneaker is made of mesh and leather, making it quite breathable and appropriate for summer use. Furthermore, the Mother of All Boots is, arguably, one of the more comfortable products out there.
The Merrell Moab Ventilator has a good amount of padding around the top which creates a snug fit, making it both a comfortable and functional shoe. In addition, it's equipped with full-length, compression-molded EVA midsoles that supply all-day support and cushioning, preventing arch pain and muscle fatigue that inevitably come from a full day spent walking. Furthermore, the combination of Trek and Super Trek rubber compounds and Vibram Multi-Sport technology offers exceptional grip and durability, making it the best possible choice for your next hike.
The Merrell Moab Ventilator is highly functional, thanks to its exceptional design. It was made with the main purpose of allowing a good amount of airflow to your feet, which makes for a healthier wearing experience, seeing that it'll prevent the accumulation of moisture that could lead to blisters or bacterial overgrowth. Additionally, it's available in a number of color combinations, and will easily pair with a number of outfits, should you decide to wear them as a pair of everyday shoes.
4

. Salomon Ellipse 2 LTR GTX
Designed especially for women, the Salomon Ellipse 2 is a mid boot made to provide the best possible performance paired with the highest level of comfort available. It boasts a number of technical features, including an OS Tendon outsole that is usually found in running shoes, that has the advantage of allowing for a better roll-through motion of the foot, ensuring both better cushioning and higher energy return.
Made specifically for wear in rain and snow, the Ellipse 2 is lined with GORE-TEX Extended Comfort Footwear, a version of the material that's more breathable, and provides a higher level of water protection than its regular counterpart.
The shape of men's and women's feet vary, which is very rarely reflected in our footwear. However, to allow for the best possible performance, Salomon used gender-specific cushioning, lasts and collar shape, to avoid all preventable issues that may come with an ill-fitting pair of shoes.
Trail-ready, the Merrell Siren Edge is a pair of sneakers that was made with long-term wear in mind. It's perfect for prolonged periods of use, which means you'll easily wear the Siren Edge on the trail, as well as on pavement. Equipped with multi-directional lugs, it gives a good amount of grip during dry-to-wet surface changes, has an anti-debris tongue, and ghillie laces. Furthermore, the Siren Edge will help your feet to remain cool with the mesh lining and upper, plus, its technical features include an odor-fighting M-Select footbed.
A Vibram outsole helps you to keep your traction while traversing multi-terrain types. Great for light adventures, this product by Merrell is both trail-ready and provides decent traction in low dry-to-wet surface scenarios. Additionally, Vibram outsoles are rather durable, which means you'll be able to wear this pair of sneakers for months or even years to come.
No one wants pebbles digging into their feet while attempting to enjoy their day on the trails. That's why your footwear has a tongue, which is designed to keep all debris out. In more rough terrain, this part of your shoe will need to work a bit harder, however. A bellows tongue is completely attached to the shoe, minimizing any chance of a stray pebble entering your footwear when you're out enjoying yourself.
The Mantra 2.0 is a lightweight, flexible sneaker that is good for moderate terrain and light loads. It is worn best in cool and wet climates, thanks to the waterproof Nubuck leather upper, but will not sacrifice breathability either, as it features abrasion resistant mesh panels that help excess moisture evaporate from the inside of the shoe. It's a supportive and protective style, with just the right amount of flexibility to prevent you from getting too fatigued on your next trail walk.
The upper is made of soft Nubuck leather that comes in a 1.8mm thickness. It's a waterproof material, but what's more, it provides the perfect support over the top of the foot, preventing you from sliding around in your shoes. The speed lacing system allows for a high level of fit customization and even works for those with high volume feet who may struggle with other styles.
The Mantra 2.0 has a thick and wide outsole that provides great protection against stones and rocks on the trail. The Vibram Nuasi construction features a stability shank that is made with TPU, a molded polyurethane midsole that absorbs shock and cushions in all the right places, and a Vibram rubber outsole that gives you plenty of traction, regardless of the terrain and weather conditions.
The Keen Voyageur was made with several uses in mind - you can pick up these low tops if you're looking for something to work on your trips, or you can wear them on a daily basis as a pair of casual footwear that is durable, supportive, breathable and waterproof. It's a rather stable pair of footwear with a Torsion stability ESS shank and deep 4mm lugs for great traction, and with uppers carefully selected for their durability, so that you can be sure you're buying something that's going to last.
The Keen Voyageur is incredibly breathable while still offering you a good amount of protection should you find that the weather conditions are less than perfect. Using a combination of leather and mesh for the upper, it gives just the right amount of airflow to prevent overheating or moisture retention, and still providing you with the needed protection.
One of the best parts about any pair of Keen footwear is the fact that they are made with a footbed that's completely comfort-oriented. The Metatomical footbed found in the Voyageur is an internal support mechanism that was designed so as to give a high level of support in the arch area.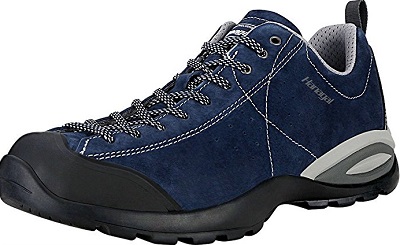 Are you looking for a pair of footwear that will work well on a hike but won't burn a hole in your pocket? The Hanagal Evoque II is an excellent low-budget option for this type of footwear, seeing that it's a protective, stable, flexible and comfortable model that's lightweight and functional for light trails. It'll allow you to get the perfect fit with a to-the-toe lacing system, and the soft leather upper that will feel soft and supple in contact with your feet.
On and off the trail, this toe bumper is in place to help protect you from any hidden rocks, branches, or roots you might encounter on your hike. Abrasion-resistant, the rubber is an ideal choice for those uncertain of the terrain they might be facing, as it will put up with a lot more than your regular every day sneakers.
This lacing system helps to provide a snugger fit, and as such, your feet will feel more comfortable and secure. Moreover, a snug fit means you will be safer because they do not slip around your feet, preventing any internal rubbing, chafing, or another movement that may lead to blisters or injury.

The second edition in the Targhee line offers a low profile and secure fit that many love. This boot is waterproof and features a lug, rubber outsole with rubber toe cap. Pulling on this low-level boot is a cinch with the pull tab located at the back of the boot. The lining is made of breathable leather which helps the overall durability of this shoe.
Easy to fit, however you like, this opening will be appreciated when what used to be a struggle is no longer a problem at all.
When your heel slides around in your boot it can lead to a number of problems. You could suffer from injuring your ankle to slipping and falling. The contoured heel in this boot will cradle your foot and help keep you secure. The lockdown feel will ensure you peace of mind no matter the adventure you find yourself on.
10

. Salomon X Ultra 2 GTX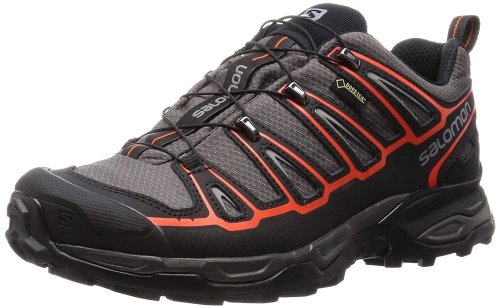 Trail-ready, the Salomon X Ultra 2 GTX can handle light-to-medium rocky terrains and is a great choice for longer hikes. It's equipped with an EVA midsole, premium level Contragrip traction, an abrasion-resistant toe cap, non-marking outsole, a leather and textile upper, and is made with waterproof bootie construction to keep you protected from the elements. In other words, the technology is present to allow you to enjoy your day traversing the trail wilds.
The outsole on the Salomon X Ultra 2 GTX is made with Contragrip rubber that will provide you with the right amount of traction you need on both dry and wet surfaces. Even more, it's a non marking material, which means you'll be able to wear this model even inside, without fear of damaging the floor.
The EVA midsole on the X Ultra 2 GTX helps to bring you a decent cushion. The quicklace closure system is a replacement for normal laces. They help to tighten your shoe with a single pull-tab so you don't have to spend time tying them. After you pull the tab you tuck it into a small pciket in the tongue.

Subscribe to our Newsletter