Best Hiking Socks Reviewed & Rated
last updated
Jul 16, 2019
If you're looking for hiking socks, you might be feeling a little lost. There are so many choices out there, it can seem impossible to pick the right one.
The two most important things to keep in mind when shopping for hiking socks are the material type and the material weight. You have to consider the temperature and general conditions of where you'll be planning your trips. The warmer the weather, the lighter the sock material should be.
We carefully researched a wide variety of options, and came up with this guide of best hiking socks money can buy. No matter what type of hiking you'll be doing, we hope these will help you in your future adventures!
In a Hurry? The test winner after 7 hrs of research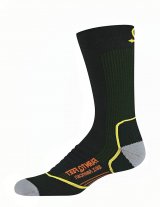 Farm to Feet Damascus
Why is it better?
Shields Against Debris
Reinforced Toe And Heel
Machine Washable
Compression Fit
Reduced Bulk
In a
Hurry? Editors choice: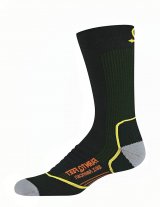 Test Winner: Farm to Feet Damascus

4
Researched Sources
1554
Reviews Considered
7
Hours Researching
10
Products Evaluated
Materials
Fit
Durability
Comfort
Weather Resistance
By Default
Our Favorites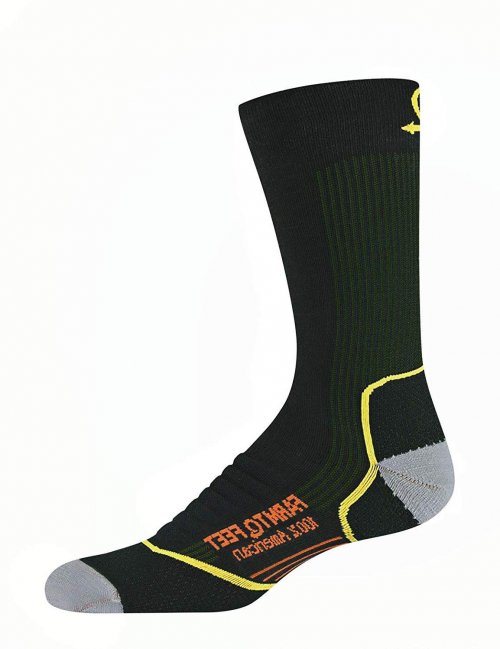 Shields Against Debris
Reinforced Toe And Heel
Machine Washable
Compression Fit
Reduced Bulk
This Farm to Feet merino wool model is made of a blend of merino wool, spandex, and nylon. When the cold weather knocks at your door, and you still want to go outside and enjoy the snow, these hiking socks are sure to surprise you in the most positive way. And you don't have to wash them by hand!
Read more
Farm to Feet really thought about this one, because the Damascus covers your ankle and calf, making your lower legs shielded from obstructions so your feet can stay warm. They are one of the most protective models and are highly recommended in tall, grassy areas. These hiking socks are reinforced at the heel and toe, extending their lifespan. So, don't be concerned about having to buy a pair every few months or so as they are made to last you years (as long as you take care of them!).

Will full-density cushioning, compression from the top through the arch, and superior knitting in the toe box, you won't be disappointed after wearing the Damascus out in the wilderness.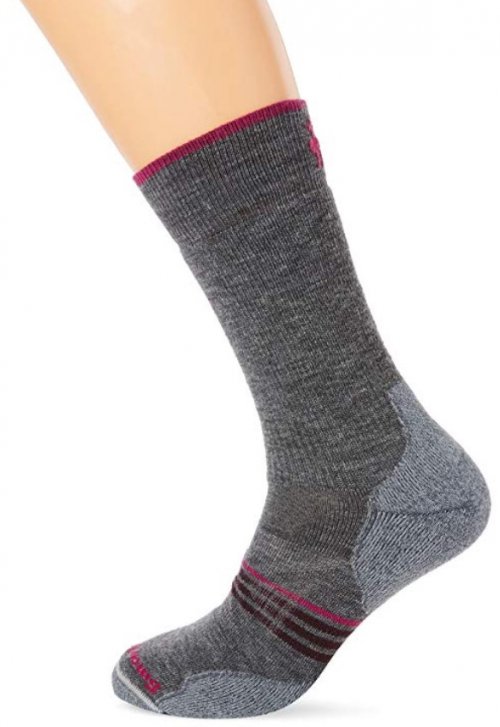 Ventilation Mesh Zones
Seamless Toe Construction
Medium Cushioning
Moisture Management
Temperature Regulation
SmartWool PhD collection is a line of hiking socks - or those meant for any type of high-impact activity, really - that is outfitted with only the best of the best when it comes to innovative technologies. It has mesh zones for breathability, a seamless construction and several different cushioning levels that you can choose from.
Read more
The PhD Outdoor is made from a combination of mesh, wool, and nylon. The mesh zones on this design improve ventilation and keep you on your feet for longer without soaking in your own sweat. The merino wool used here is of higher quality than in other socks, and it provides enviable softness and durability. The toe area of the PhD Outdoor is designed to reduce blisters and uncomfortable hot spots, no matter what activity you're engaging in.

The SmartWool PhD is a crew cut that you will love taking out on the trail. It is comfortable, it provides moisture management and temperature regulation, and its cushioning brings superior shock absorption. What more could we possibly need out of a pair of hiking socks such as these?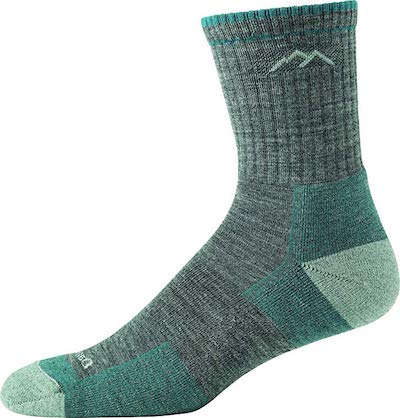 High Density Knitting
Merino Wool Blend with Lycra
Seamless Construction
Moisture-Wicking
Stretchy Fit
Made and tested in Vermont, USA, these hiking socks are made for cold weather and fun activities. Using a blend of wool, nylon and lycra spandex, you can rest assured that they will do everything you need them to. Available in both men's and women's versions, they're easy to size and offer excellent comfort for all-day wear.
Read more
The most important thing about the 1903 is the material they're made of. Each Darn Tough Vermont sock in constructed with 64% Merino wool, 33% nylon and 3% Lycra spandex. With the lycra spandex, you're sure not to feel squeezed after an hour or two, and because of the merino wool, these hiking socks are antimicrobial and moisture-wicking. You don't have to worry about unpleasant odors when you take your shoes/boots off after a long day outdoors. They also come in many colorways, to please everyone in the family!

The price of the Darn Tough 1903 is on the higher scale of the price range, but honestly, for everything that they have to offer, these are close to a bargain. If you have a little wiggle room in your budget for a good pair, then these are highly recommended.
4

. Icebreaker Hike+ Light Crew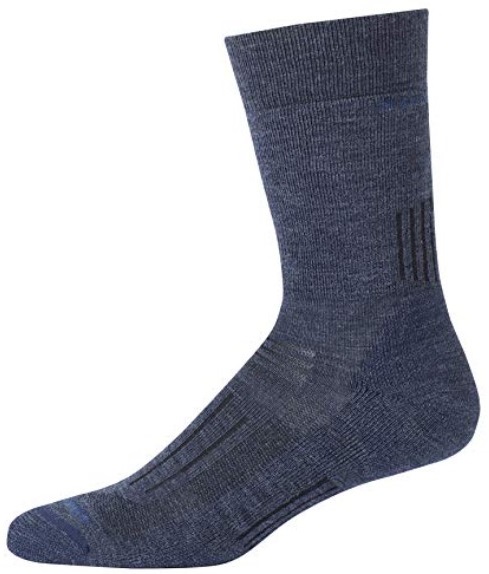 Anatomically Sculpted
Merino Wool, Lycra & Nylon
Light Cushioning
Odor-Resistant
Thermal Regulation
The Icebreaker specializes in performance gear, in clothing and footwear meant to keep you warm (or cool), comfortable and protected as you take on the challenges of the trail. The Hike+ Light Crew is a pair of hiking socks made from a combination of merino wool, lycra, and nylon that will improve your performance and catapult you to brand new heights of your adventuring.
Read more
This design has an anatomical fit that forms around the shape of your foot and leg for superior comfort. It is half-cushioned, meaning that it provides just enough padding for you to feel supported, but that it is still not bulky. The Hike+ Light regulates temperature and is also resistant to odors, so no matter how many hours you spend on the trail, you can be sure your feet won't smell bad after you take off your shoes.

The Icebreaker Hike+ Light doesn't come with any special technologies. Rather, it relies on the premium quality of its materials and anatomical construction to deliver the best hiking experience. If you're looking for a simple, uncomplicated option, you have definitely found it in this design.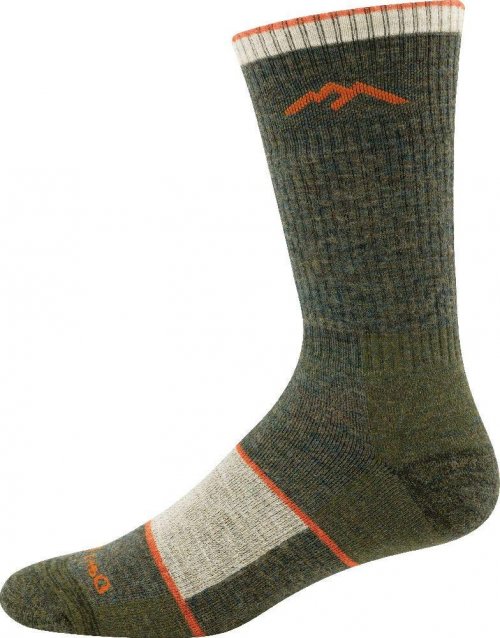 Crew Length
Thick Cushioning
Prevents Blisters
Impact Protection
Moisture-Wicking
Darn Tough, known for providing the ultimate protection, has created this thick cushioned sock. The 1403 model rises to a crew cut length that is able to support itself with built-in ribbed lining. Created with a custom blend of fabrics, these are clinically proven to reduce moisture, blisters and pain. Providing comfortable cushions in all the places that count, they are made to keep your feet relaxed during long walks and climbs.
Read more
Do your feet tire easily during a hike? A thick, cushioned sock may be a good solution. The padding built into the heel and ball area of the 1403 reduces impact and friction, which tend to be the main cause of blisters. Darn Tough has done heavy research on what fabrics are the best for moisture-wicking, support, durability, and comfort. When they couldn't find a specific material that accomplished all these features, they decided to create their own. Now used in all their models, Thorlon fibers are what make these hiking socks of such high quality and long-lasting comfort.

The Darn Tough 1403 is priced very fairly for the level of comfort it provides. They aren't too expensive compared to other models and will deliver long-term reliability.
6

. Wigwam Comfort Hiker F2322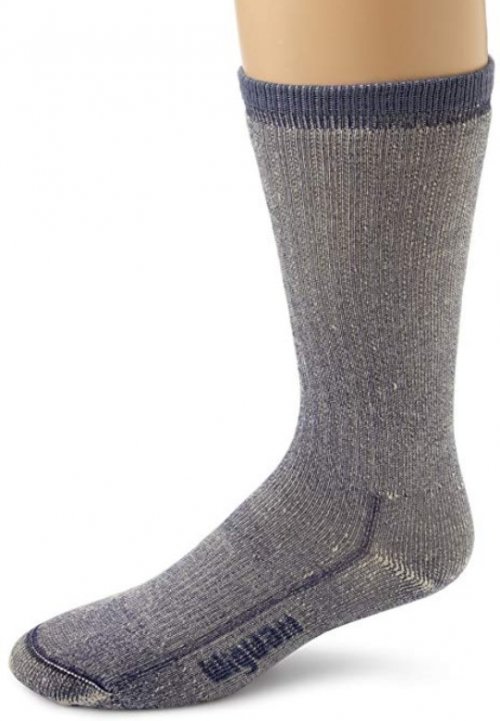 Lifetime Guarantee
Midweight Cushioning
Crew Cut
Custom Blend Of Materials
Retains Heat Well
Wigwam has been a leading brand in outdoor sports gear for multiple years, gaining trust and building reliability with their hiking socks. Thick and fully cushioned, the Comfort Hiker works well in cold conditions and is preferred by hikers who like extra cushion and support with their footwear. Featuring a flexible, ribbed arch and just the right amount of elastic, they will form to the shape of your feet and legs, not falling down or bunching in your shoes.
Read more
These Wigwam hiking socks are created with a blend of synthetic and natural fabrics to support the needs of hikers and extend the life of the sock. The brand has created the perfect combination of fabrics to ensure warmth, comfort and dry feet for every dedicated hiker. Also, sticking with the durable merino wool, you can expect the Comfort Hiker to be reliable at all times of the year. Its midweight cushion provides support and comfort throughout the entire fit without feeling too heavy.

Ranging from an average price compared to similar models, you'll feel like you're getting your full value with this pair. Not getting too specific in features but providing all the necessary support needed for hiking, you really can't go wrong when buying the Wigwam Comfort Hiker.
7

. Kirkland Signature Outdoor Trail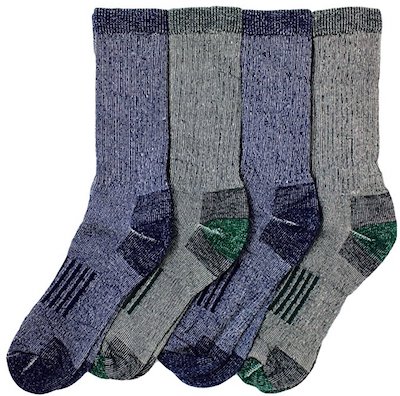 Wool Blend Material
Odor-Resistant
Reinforced Heel & Toe
Machine Washable
These hiking socks have so many fans that it's hard to point out just one positive characteristic. Kirkland gives us a pair that offers excellent quality for a cheap price, regardless of whether you buy them online or in stores. With them made from a merino wool blend, you can be certain that you'll remain comfortable throughout your trips, for months to come!
Read more
Walking for prolonged periods of time can build up quite a sweat, which, ultimately, can mean some serious foot odor. Fortunately, Kirkland made these hiking socks odor-free - giving you a fresh feel with every wear. Their merino wool blend is perfect, and it's no surprise it's found a place in our guide. This is a midweight model mainly worn in colder weather, but even if it is worn in warmer weather, your feet will remain comfortable and without any blisters.

The cost of the Signature Outdoor Trail is a bargain, and we can definitely recommend them as a top choice. Don't be afraid of having to replace these too often, seeing as they can last for literal years.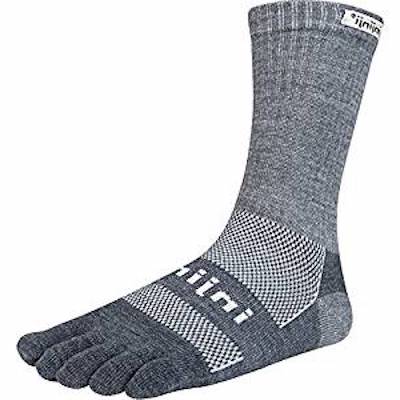 Breathable Panels
Crew Cut
Fits Around Toes
Ribbed Material
Midweight Cushioning
These funny looking hiking socks are actually great for support and a formed fit. The ribbed lining keeps them in place during movement, and also protects the skin from rough boots. They are created with a blend of fibers that makes them perfect for all types of weather conditions; keeping feet warm, dry and cool. The panels at the top of the foot create proper air circulation which prevents blisters and bacteria.
Read more
This five-finger style may seem strange at first, but it is beneficial. The Injinji 2.0 forms around the toes, creating the perfect sock fit that doesn't slide or move around in your shoes. This style creates a barefoot feel but with added support and comfortable materials. These hiking socks come with built-in ribbed lining in both the top of the sock and in the band around the arch. The ribbing secures the sock in place and forms around the foot. The material is flexible and can stretch to fit every individual. If you're tired of pulling up the pair you're wearing, this is a must-have feature.

The price of the Injinji 2.0 Outdoor is higher than of our other models but gives you a pair equipped with a more innovative style and support. If you are truly looking for a functional sock, you won't have to look any further.
Lifetime Guarantee
Anti-Blister Technology
Snug Fit
Wicks Away Sweat
Looking for a great no-show pair of hiking socks? Take a look at this option by Rockay. They are made from organic merino wool and provide a superior fit. Also, they help you avoid blisters and won't slip out of place.
Read more
Merino wool is amazing when it comes to keeping your feet at a comfortable temperature. With superior moisture wicking capability, you won't have to worry about uncomfortable, sweaty feet. Additionally, with reduced sweat comes reduced odor, which everyone can appreciate. The compression fit of the Accelerate hugs your feet and helps the socks stay in place. When you add the heel tab, you won't have to worry about blisters. It contours to the heel and ensures that these hiking socks stay in place.
The Rockay Accelerate is full of features to keep you comfortable and cool during your longest hikes, whether you are in warm or cold climates. Also, they will fit your feet in all the ways necessary to keep your feet in top running condition. These features also increase the overall value and are the reason why we love this choice by Rockay.
10

. Danish Endurance Merino Wool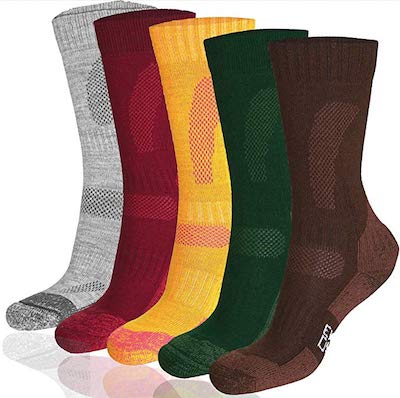 Wool Blend
Ventilation System
Padding For Heels & Toes
Odor-Wicking
Anti-Bacterial Features
Danish Endurance's models are all made in Europe, and they are recommended by former Navy Seal Erik B. Jorgensen to make sure you get the best kind of quality there is. They are perfect if you plan on trekking, walking, backpacking and traveling year-round. These hiking socks will keep your feet cool in the summer and warm in the winter, and the fact that they have a 100% money-back guarantee just shows you how serious Danish Endurance are with their products.
Read more
These are made with a wool blend, with 33% merino wool, 33% acrylic, 33% polyamide and 1% elastane. The merino wool will keep your feet at a regulated temperature, no matter the weather, while the polyamide has the highest resistance of all the raw textile materials. This means that they will not wear out quickly and will follow you on your trips for years to come. The acrylic is also a strong and warm fabric, so you don't have to worry about their quality and durability!

The price of the Danish Endurance model is comparable to many of the other options on our list. These hiking socks come in various colors, as well as a pack of 3 or just single items. This ensures you can make the choice that works for you.
Criteria Used for Evaluation


Materials
There are a variety of features you'll want to look for when choosing the perfect pair of hiking socks. While many features are optional and based on personal preference, there are also many key ones that make a reliable, long-lasting sock.
One very important aspect is the type of material they're created from. You probably already know by now, that merino wool is one of the best options on the market and that cotton is a material you'll want to stay away from. What you may not know is that there are a variety of other materials that wick away moisture and also provide warmth and comfort. Some of these materials are silk, spandex, polyester, and nylon.
You won't find many hiking socks made from only one material; nowadays they're usually created using a combination of multiple fabrics. Most importantly, keep in mind that synthetic materials are generally more durable than natural materials.
Going hand in hand with material types is the weight or thickness of the materials. Again, this can be a matter of your personal preference, but the weight of the sock can also change the features and physical feel.
Thin ones are good for warm weather and allow for more space in your shoes. While they don't provide as much protection, they still can work well for low-cut shoes. Thick hiking socks are better for keeping your feet warm, providing cushioning, support and protecting your skin from rubbing against your shoes.
Overall, the types of thickness and materials that are the best depend on the type of weather and climate of your environment. No matter what kind of climate you're in, always go for an option created with materials that will keep your feet dry.


Fit
The length of your hiking socks needs to be compatible with the type of shoes you're wearing.
Most models are going to rise above the ankle. Boots are usually made from tough materials and with thick ankle cushions; while these features are great for durability, they can also be tough on the skin, so it's important to have protective hiking socks that cover the area of contact.
While low-top footwear covers just the bare minimum, if you want to avoid getting blisters and feel comfortable, you'll want a crew cut length sock or higher. These will provide you with the highest level of protection against friction and irritation. Longer hiking socks are good for layering and can be worn with boots that cover the ankle.
Another good reason to wear crew cut or longer models is to protect your legs from the environment you're in. Whether it's itchy grass, ticks, poisonous plants or a variety of other pests, longer socks will protect your skin from being harmed by your surroundings. Sometimes we're moving too fast to see the hazards or the pests biting you are too small to notice at first glance, like a mosquito. Overall, it's better to over-prepare than to under prepare.
Knee-high hiking socks are another length option. These types are better suited for colder, icy weather. They can fully protect your calves and shins from any raw, outside contact. Usually made from a flexible ribbed top material, they not only stay up better, but they can also work as a lower grade compression sock. Compression socks should only be worn during physical activities and can help increase blood flow to the heart.
All in all, when choosing the length of your hiking socks, remember to consider these key elements: what kind of shoes will you be wearing? What is the climate like where you're going? And, what kind of protective measures are you looking to take?


Durability
This is a feature that, no matter where you go or what type of sock you choose to wear, is a must-have for long-term reliability.
Hiking socks need to be replaced as soon as they begin to show damage, so when spending a decent amount of money on a proper pair, you're going to want to make sure they hold up to the task.
Durability is found in all aspects of the sock, from the fabric to stitching. Padding and cushioning in the pressure areas of the sock can also add to durability. The heel and ball of your foot are constantly in contact with your shoes, and because of this, it is an area that tends to wear easily. Extra cushioning in these areas allows the material to last longer and avoid wear or tears.
To build their reputation and prove their quality, some brands will offer a money-back or a lifetime guarantee. If you've never purchased a specialized pair of hiking socks before, this is a great feature to take advantage of. Not only does it make the brand more trustworthy, but it also allows the user to find the perfect sock without continuously investing money in ones that don't work for the hike.
Durability is one of the most important features in any sock, but especially in hiking socks. It's a rough, strenuous activity that can put a heavy amount of pressure on your feet, so having durable and reliable socks is of the highest importance. A durable sock can also be better for your health too. The better your feet stay protected, the less chance you have of getting an exercise-related injury.


Comfort
While most people think about support and comfort having to do mainly with the footwear, there's ultimately no point in paying a high price for a quality shoe if you're going to pair it with thin cotton socks that have holes in them. The type of sock you choose to wear is just as important as the shoe, and it aids in the ultimate comfort of your hike.
Comfort can be found in various forms in the sock. The first, most obvious one would be the material. Cotton is too thin and will make your feet cold and sweaty, while regular wool may be too hot or itchy. We've mentioned above what types of materials are best for moisture control, warm/cold weather and air circulation. There are always going to be a variety of fabric options to meet your specific needs.
Another important aspect of comfort is alleviating pressure in the areas of the foot that support the most weight. Many models, but more specifically thick ones, are built with extra padding or cushion around the ball and heel areas of the sock. Less friction and pressure against your feet will allow them to feel better and perform for longer periods of time.
Along with comfort, comes support. Support can be found in the extra cushioning provided in various models, but it is also disguised as an elastic ribbed brand located across the arch of the foot. This is a great feature for those who need extra arch support but is also good for providing a form-fitting, flexible fit.
Lastly, support and comfort can both be found in the thickness of the sock. Thick hiking socks can prevent friction and your shoes from rubbing against your ankles. With a variety of ways to create a relaxing, beneficial feel, you'll be able to find the perfect pair for your tastes.


Weather Resistance
When choosing the best pair of hiking socks, considering the location and weather is very important. First, you don't want to be thrown off by unsuspected climates in the middle of the hike. Second, you're going to want to find a sock that will perform well according to your specific needs.
Icy, windy weather is extremely different from warm tropical temperatures, and they each require different types of socks. It's obvious you'll need warmer ones for cold weather and thinner ones for warmer weather; there are many features that provide these options and you'll want to make sure to choose the right ones.
As we've mentioned before, merino wool is a top choice for cold weather as it keeps your feet warm but also provides moisture-wicking to keep your feet cool and dry. Thick, long socks are also better because you can layer with them and they provide more of a full coverage against the harsh cold.
Of course, those features won't do any good in hotter climates. You need a thinner material that can adapt to moderate to hot temperatures and still provide a moisture-wicking feature. Choosing thinner wool hiking socks, with some synthetic materials added for more moisture-wicking and a lightweight feel, is your best bet during the hot months.
No matter where you choose to hike, you can always find a sock that fits the climate and your personal needs. Warm, cool, thin, thick; it's all here. Now the only thing you need to do is figure out where you're going, and you'll be sure to find the perfect companion sock.
Expert Interviews & Opinions
Most Important Criteria
(According to our experts opinion)
Experts Opinion
Editors Opinion
Users Opinion
By Default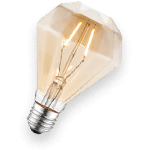 Hiking Socks Can Affect Fit
Remember that anytime you are going to try on hiking boots with intentions of purchasing a new pair, be sure to wear or bring along your hiking socks. Most times, the thickness of hiking socks can affect a boots feel and fit, and you want to be comfortable going the extra mile.
Blended Materials Provide Stretch
While most quality hiking socks that will keep your feet warm as well as breathable in your boots are usually made of merino wool, this material on it's own can tend to shrink if you wash and throw in the drier. Blended materials that incorporate wools and a stretchy component, such as lycra, can help cut down on this aspect, and provide a snug, yet forgiving fit.
Other Factors to Consider


Bottom Line
There you have it, the ten best hiking socks available for purchase. By considering what you prefer and following your budget, you are sure to find the one pair of socks that will work best for you.
The most important things to look out for are the materials, the weight (what's the temperature where you'll be hiking?), the length, the sock fit and the comfort, the wicking ability, as well the insulation and drying speed. If you're not sure about a pair of hiking socks, make sure that they are refundable before committing.
For even more information on how to shop for hiking socks, read our Frequently Asked Questions section which provides plenty of tips and tricks for a great purchase.
Frequently Asked Questions
q:

What kind of features should I be looking for in hiking socks?

a:

There are many features and combinations that genuinely make a good sock. These include materials, cushioning and support and, of course, the preference for comfort - while some prefer thin, short and cool hiking socks, others may feel better wearing thick and warm ones that go over the calf.
q:

Are long hiking socks better?

a:

The length of the design is usually just a preference. However, there are some added benefits of wearing a longer sock.

For hikers who like to wear thicker boots, the potential for blisters and shoes rubbing against their ankles becomes much higher. Wearing long socks can protect your skin from any friction.

For those who like to hike in areas that have tall grass and lots of wildlife, long designs can also be a good choice to protect their legs from ticks and poisonous plants. Overall, when it comes to being in nature, more protection is better.
q:

How can I prevent getting blisters in my boots?

a:

Blisters can occur from vulnerable, moist feet and friction or repeated rubbing against the skin. It's important to look at the styles of shoes you're wearing and how they come in contact with your skin.

If you're wearing low sneakers or thick boots, the back of the shoe may rub against your heel during movement. Wearing a longer sock can prevent this blister-causing friction. For soft, vulnerable feet, you'll want to find socks with moisture-wicking features to keep your feet dry and more resilient.

No matter what type of shoes you're wearing, make sure you find a companion sock that can protect your skin and you'll never have to worry about blisters again.
q:

Can't I wear everyday socks when hiking?

a:

This is not recommended. Everyday socks are usually made from a thin cotton material which isn't strong enough to protect your feet or keep them dry. Specialized ones need to be protective and supportive to compensate for all types of movements and terrain.

Uphill climbs, rocky roads, and muddy trails will turn your regular socks into a sweaty, uncomfortable mess. We recommend treating your feet to the ultimate padding and comfort they deserve for helping you go to all the places that make your life feel complete.
q:

Should I wear different types of hiking socks for winter and summer?

a:

You can choose to wear any type of sock you like, as long as it's protecting your feet. However, certain features work better for certain seasons.

For example, during the summertime heat, you may not want to wear thick cushioning wool designs that will create extra warmth; those types are usually better during the winter. For warmer weather, you'll most likely want to wear shorter, lightweight hiking socks made of moisture-wicking materials to keep your feet dry and cool.

Ultimately it's your personal choice of what to wear, but we recommend trying to match the materials to the type of weather.
q:

What type of cushioning is best for year-round hikers?

a:

Since temperatures and weather conditions can be drastically different during summer and winter, it's important to have a sock that isn't too thick in cushioning but still provides enough stability and support. We recommend light-medium cushioning that provides enough padding in the areas of support (like the ball and heel area of the foot).
q:

How often should I replace hiking socks?

a:

Any sock, in general, should be replaced as soon as you start to notice wear or damage. People may not think much of it, but a damaged sock can also be damaging to your health.

They are made to be a barrier to protect your feet against your shoes, so if there are holes or tears, your hiking socks can't provide you with the full coverage that you need. Worn out materials won't repel moisture so well and exposed skin can lead to blisters, irritation and other bacterial issues. Overall, it's recommended to wear socks only if they're intact and showing no signs of damage.