Best Socks for Summer Days Reviewed
In a Hurry? Editors choice: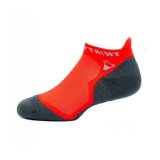 Test Winner: Thirty 48 Ultralight

Warm weather begs for footwear to be backless, strapless and hot! When sandals just don't make any sense and outdoor activities work better with a fashion or sporty sneaker sweat is part of the deal. In today's world, there is no need to feel embarrassed about sweaty feet. There is hope for those who would prefer a cool comfortable sock. Fabrics range from natural to synthetic and many people swear by socks that are alleviating. Modern
cooling attire
offers the absolute best technology to date.
Not only will many items be perfectly functional with dressier shoes but many will also offer support and
mesh
for extra air-flow. This is a truly freeing experience and many socks can even help when treating athlete's foot and other chronic conditions. Let's take a look at our 10-best socks for summer!
Standout Picks
Criteria Used for Evaluation
Water Resistance
Items that wick sweat are nothing new to the market but using titanium or copper in the fabric of footwear is mind-boggling. It's impressive the lengths manufacturers will go to provide the best experience for their customers. Copper actually prevents the growth of fungus and is anti-microbial. This gives feet a fresh feel. This is the best remix of old time remedies with a modern twist for a product people can trust.
The silver ions and titanium work much in the same way with slight differences. The construction of foot attire is just as important as the fabric. Thin materials can provide air-flow but may not be durable while some items will have a cushioned bottom with a mesh top. This is big news for those who need products that will provide for an array of needs. Favorite sneakers no longer need to be pushed aside and unworn all summer.
Comfort
Sweaty feet and hot weather are the perfect combinations for foul smelling feet. The odor can get stuck inside of favorite shoes running them and cause noses nearby to cringe. When the temperature is warmer this can become a bigger issue. When choosing apparel that is the best to keep feet dry it can be an arduous process. There are a couple of factors that can be evaluated to help choose the best item for sweat-free feet.
Metals in Fabric: There are metals in fabric that have been used more recently to help kill bacteria. Copper has actually been used in many items and this metal is known for killing bacteria and some claims have said this material even will help balance the Ph in the body. Titanium has also been used and titanium is widely used in the medical field because of its strength and ability to kill bacteria at impressive rates.
Ventilation: This is very important in attire that is made to cool feet. Usually, mesh on the top of the foot will allow air flow and help cool feet.
Fabric: There are many fabrics that make claims of being sweat wicking. A newer but environmentally friendly material that has been used is bamboo. Bamboo footwear has the ability to absorb three times more sweat than cotton. Polyester is man-made but has superior sweat-wicking abilities and strength. A lot of performance apparel uses this material. Wool is a seemingly strange material to think can wick sweat. It happens to be one of the best materials for wicking sweat. Merino wool is used in footwear because it does not feel itchy but instead will feel soft. This type of wool will actually pull sweat away from feet and evaporates it quickly.
Compression
To buy footwear that uses compression or that does not use compression that is the question. Performance wear typically uses compression bands around the arch of the foot. Compression bands at the right amount of tightness will help keep the arch supported and keep feet feeling energized. This band also works to increase blood flow which is good when being on feet all day.
Even with good supportive shoes if the sock does not have adequate support feet will tire quickly. In warm weather, it can be a huge benefit to have an item that will be supportive for feet. If this item has poorly placed compression bands, then it will not work as it's supposed to.
All of the socks on our 10-best list are there because they give comfort and support to the wearer. If it didn't, you wouldn't find it on our top 10 list!
Breathability
A sock that breathes is critical to providing the wearer a comfortable and healthy experience, especially when sporting a pair of trendy summer socks. A lack of breathability will create a wet and humid foot, leading to discomfort and possible fungal or bacterial infections that are painful and difficult to cure.
How does a manufacturer ensure their product will allow maximum airflow? There are several ways to achieve this, including using special fabrics in the construction of the product, lining the fabric with moisture-wicking technologies and finally, the good old use of a loose weave with many micro-holes throughout the product to let in fresh air.
If a product scores high on this metric, the buyer can rest assured that the manufacturer has used some or all of the above techniques to ensure the wearer a comfortable and dry wearing experience.
Style
While style is often a matter of personal taste, we've checked thousands of online reviews to see what people are saying about each of the products on our list. Some things, such as sleek design, cool colors and overall feel and shape of the sock, were common likes or dislikes among buyers of each product.
To evaluate style, we considered everything from the design, color, shape, weight, lines and overall construction of the sock in question. While no one wants to wear an uncomfortable sock, they also don't want a comfortable sock to be ugly on the eyes. We've selected all of those on our top 10 to be not only stylish, but also comfortable, true-to-size, supportive and durable.
10 Best Socks For Summer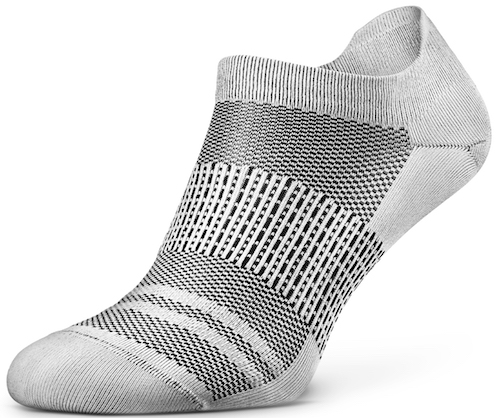 Nothing feels worse than having to spend a lovely summer day in shoes that are making your feet heat up and sweat. No matter whether you're spending your day in a pair of leather shoes that are appropriate for office wear, your running shoes while logging your daily miles, or in a stylish pair of boat shoes while on your vacation, you will find that a pair of socks that are lightweight and breathable goes a long way in increasing your comfort.
The Rockay Agile is an ultra-thin pair of athletic socks made specifically for people who either tend to sweat a lot or who spend long hours training in hot climates. This product is made with specially-developed materials that are thin, non-irritating, and most importantly, moisture-wicking, so you can count on it to keep you cool and dry, no matter the heat and humidity.
Unlike most athletic socks, the Agile doesn't feature any padding, which decreases the likelihood of bunching inside your shoes, and the toe is completely seamless so as to prevent rubbing or even blistering. The cuff will fit just below the ankle, with a great fit that won't allow sliding off, and which will provide a bit of compression in the arch that benefits circulation and overall comfort.
You'll also find that this is a great model to invest in if you're a fan of camping, or just hate having to do laundry, seeing that it uses a Polygene coating that helps maximize the time between washes. This coating prevents bad odors without putting you at risk from harsh chemicals that are often used to treat garments. As for cost, the Rockay Agile ranks slightly below average on this list and can save you even more money considering the fact that you won't have to throw it in the washer after every wear.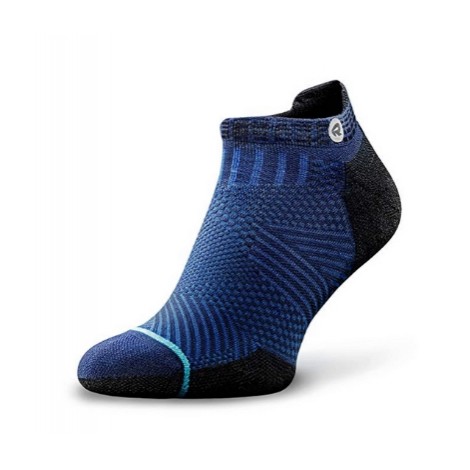 Did someone say organic? Yes, this footgear is made of organic Merino wool. Rockay is a company on a mission to protect the world we all live out our lives on. Since it's inception this company has become known all over the world for exceptional running socks. Their mission is to consistently provide the best running products this world has ever seen. They also have a green initiative, where any plastics used in their gear is sourced from plastic that is collected from the ocean. This is commendable since plastic harms sea life in ways that can't easily be undone.
Every runner or hiker for that matter has had the uncomfortable experience of blisters. Those little liquid filled bubbles burst and so do hopes of exercising comfortably that day. The most conspicuous area that blisters form is on the bottom of feet. Those in this area can cause pain that has a long healing period. This is why the anti-blister technology is so welcoming. Rockay achieves this is by constructing an item that offers compression and cushioning in high rubbing areas. This will keep feet happy and blister free.
Wool in footgear is actually very common. Wool holds moisture more effectively than cotton and is actually very quick drying. The use or organic wool is a new phenomenon. This ensures high quality through well cared for animals. The ventilated areas help to keep hot feet cool during outdoor activities. The cushioned areas are very soft and supple while the compression adds support for achy arches.
Splurging on a pair or four of effective items is something anyone can feel good about. These are pretty pricey for one pair but they have everything needed for a superior item. They also are very durable and do not wear out easily over time. The sweat-wicking capabilities are superior and this item is backed by a company that strives to protect the planet. The pricing is nominal compared to the benefits.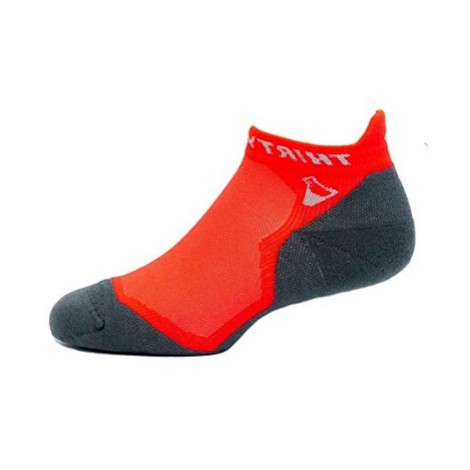 Runners need items that will wick sweat especially when it gets hot outside. Those marathons aren't going to stop even if the weather is hot and reliable items are a must. Performance attire needs to be able to be long-lasting and provide support for active lifestyles. This company focuses on marrying science and technology for an item that can withstand any activity while keeping feet dry and supported. These are very comfortable and stretchy for an amazing lightweight foot feel.
This item was created to anatomically fit feet. This isn't the only benefit, however. They not only offer a secure fit but a luxurious one as well. The fabric was designed with fibers that stretch for the perfect fit. An innovative fabric woven into this item is called wick poly. This is a very light feeling fiber that has the ability to wick sweat very quickly. The toe area has a seamless seam. The toe area is sensitive and if there is a seam it could cause blisters due to rubbing.
It may seem silly for socks to have the ability to be easy to put on and off but athletes may beg to differ. On particularly warm days a change of socks may be a necessity. After exercising quick changing may help to keep feeling fresher. Changing socks also will help to keep feet from getting fungal infections. This is why an easy pull-tap in the back and extra stretch may be important.
This pair is thin yet durable to resist wearing even after wearing many times. The quick drying materials are important for feet that sweat more than the average person would like to admit. This item makes short work of moisture and is so supple feet feel cloud-like. These have a very affordable price range and will fit the budget of even novice exercisers and leisurely individuals.

4

. Copper Fit Copper Infused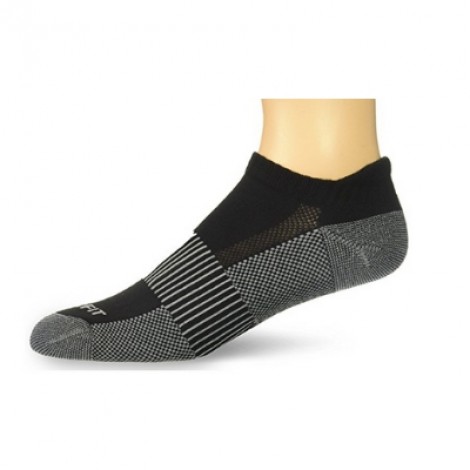 Copper has been a recent innovation a number of manufacturers are indulging in. These will benefit those who have particularly sweaty, smelly feet. Copper is highly conductive and was used before modern medicine to help stave off bacteria. Copper is known to have serious anti-microbial abilities and this keep odor to a minimum. This is a great item for those who need something that offers a little more in terms of dryness.
Sweaty, sticky socks that have to be peeled off feet doesn't exactly inspire the mind. Even for casual wear on hot days, performance socks have much more to offer in terms of sweat-wicking capabilities. These socks are made from a combination of polyester and copper fibers. Although polyester is a synthetic it has the ability to wick sweat quickly, be lasting and is soft. The copper element helps to keep odor to a minimum and bacteria from forming. The mesh incorporated into the design adds an extra measure of ventilation.
Those with uncharacteristically sweaty feet may feel tempted to purchase a very thin sock. This could be a very big error in judgment. Leading to a low-quality item that may rip after a few wears and may hold sweat against the foot. This footwear offers ventilation, moisture wicking fabrics, and odor eliminating properties. An added measure is that the bottom of the foot will have some cushioning for an uncommonly supple feel. This item still manages to wick sweat while offering important cushioning that will eliminate the formation of blisters.
Copper is a very new material in sports apparel. These have had people raving about them, however. Those who could not find a product that helped eliminate foot odor and keep feet dry will find this item to be excellent. The construction is supportive and resistant to wear and tear. The pricing is very competitive and the sweat-wicking capabilities are fantastic.

5

. MD Soft Antibacterial Bamboo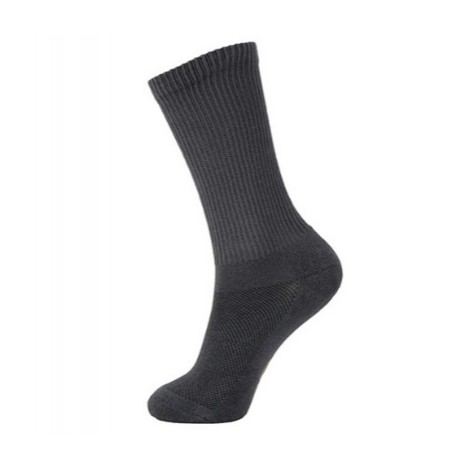 When contemplating world conditions, many come to the conclusion that the gentle thing to do is to love the world and protect it. This heart-on-sleeve attitude has lead many people to go vegan in recent times. Nothing feels better than knowing you are doing all you can to be the change you want to be in the world. This sock is socially responsible and uses bamboo as the fabric of choice, during construction. Bamboo is easy to grow, needs no pesticides or fertilizers and have the same yield as cotton.
When the weather is warm a variety of footwear is needed for various activities. Embarrassing odors should be kept to a minimum and comfort becomes a chief priority. This item provides a look that can even be worn at the office. These have a very classy mid ankle appeal which goes perfectly with a new pair of work or dress pants. These also have very precise ribbing to help keep socks from sliding down. The feel of this product is simply luxurious, making them very hard to take off.
Making the switch to bamboo foot-attire can feel very strange at first, especially in a world ruled by cotton. These socks can regulate foot temperature and hold up to three times its weight in sweat. This material also pulls moisture away from the skin allowing sweat to evaporate. This makes the foot feel cooled and comfortable. Bamboo is very supple on the skin. The bottom of this item is cushioned to create an even more luxurious feel.
The environmentally conscious individual will want a pair of these bamboo socks. These also are great for vegans that have a heart for our furry friends. Bamboo has anti-bacterial properties due to it's highly regarded absorption and wicking capabilities. Bamboo leaves behind a smaller carbon footprint and doesn't need any harmful fertilizers or pesticides to help it grow. These are very pricey for socks but they add value in numerous ways. Spending money on such a well-constructed item is well worth it.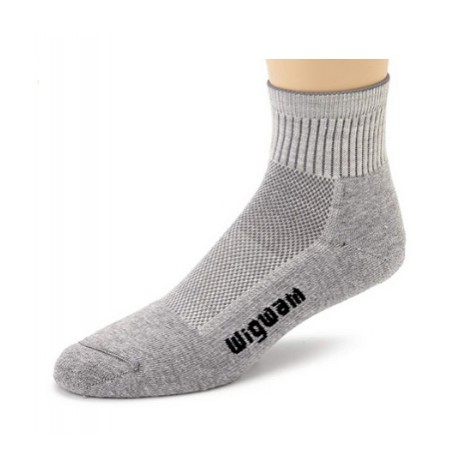 Wigwam is truly a company that has seen it all. They have been around since 1905 and the company has maintained the ability to reinvent itself even when the end was seemingly near. This company is based in Sheboygan, Wisconsin and proudly made in the USA. Wigwam strives to try it all and create products they can be proud to produce. These use an acrylic fiber blend which is not commonly found. Acrylic benefits the wearer by being comfortable but firm, very strong and keeps feet dry.
When new socks get holes quickly it almost feels as if money was thrown out the window. This is why an item that is abrasion resistant is so important especially for active individuals. Footgear with repeated rubbing will produce holes quickly. The acrylic in this item serves the purpose of being abrasion resistant, firm, and dry very quickly. This is a great sock for athletes and those who are on their feet all day. They have staying power that is generous.
The stitching of footwear can decipher the amount of comfort for some. If the toe area does not have seamless stitching weird strings can get stuck in between toes and seem impossible to get rid of. If socks are not wicking sweat well and the toe area has a seam footwear will rub and could cause blistering. This is why a seamless toe is so great for days that are active and the acrylic material is very durable while wicking sweat effortlessly.
When searching for attire that won't slip down and keeps feet feeling fresh all day. These don't offer the greatest amount of stretch but they are firm enough to stay in place all day. The pricing is incomparable for the quality of this item. They will easily fit into any budget, looking new after many washes. These feel very light on feet and offer superior durability. The Y stitching on the heel creates extra room and keeps socks from sliding down effortlessly.

7

. Imosh Titanium Antibacterial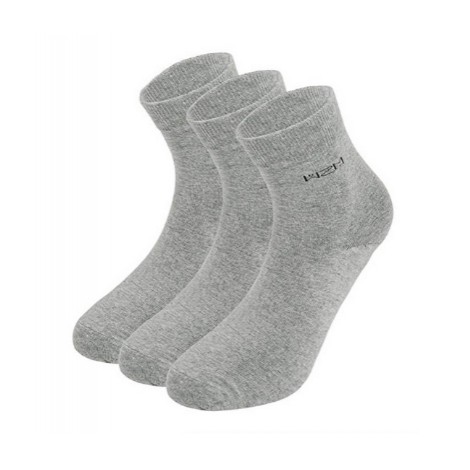 Isn't it strange to think a metal like titanium can have anti-fungal benefits? Before the age of antibiotics, naturally occurring metals were used to treat all kinds of diseases. Opening the mind to the possibility that feet can feel fresh even with oppressive footwear is life-changing for some. The ability of this well-constructed item to wick away sweat effortlessly and keep feet dry has given this item the reputation it deserves. Summers can be hot but that doesn't mean feet can't stay cool.
Titanium is one of the elements that is everywhere on earth. It's been used in the medical industry for hip replacements because of the strength this metal has. This metal also releases negative ions that improve the metabolism and improves the bodies ph. This helps to keep feet healthy and kill odor-causing bacteria. There is no side effect from having this metal be in contact with the skin because it is naturally occurring.
Nothing is quite like footwear that offers a supple luxurious feel. This item has a touch that stays dry and feels like a comforting hug. Cotton is one of the most widely used textiles. There are a number of ways this fabric can be processed to produce the softest fibers. This product uses combed cotton which produces only the strongest and most fine fibers for use. This material is also breathable and with the titanium woven into this fabric, feet will be dry and odorless effortlessly.
When the temperature is changing and becoming warm having a great pair of socks handy is the best way to ensure feet will remain dry. When proper socks are not worn this can lead to the growth of fungus and the unsightly yellowing of toenails. The titanium in the fabric works to keep the growth of bacteria at bay while balancing the body's natural PH.

8

. SmartWool PhD Run Light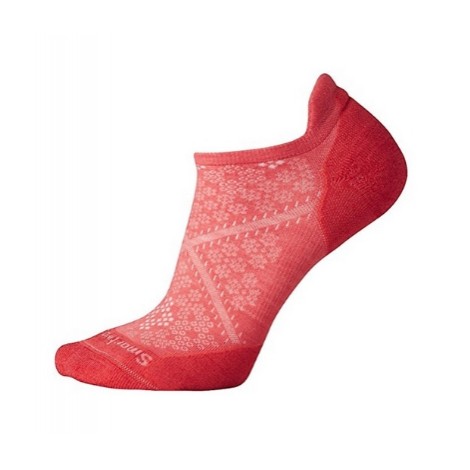 Any time of year those who enjoy sweating and improving their bodies will want items that can hold up during any physical activity. This product was designed to be the highest quality for those who need items that don't wear out easily and support the foot during strenuous activity. Wool is a fiber that is known because of the itchiness people feel when sweaters are made from this material. Merino wool, however, is a finer wool that does not feel itchy. Wool is a great material because of its ability to wick sweat quickly and absorb more moisture than other natural fibers.
When a sock is too thin it can feel unbearable all day even if shoes are well padded. When comfort is a must but sweatiness cannot be tolerated this is the best choice. This item has the ability to pull moisture away from the foot quickly. The bottom offers extra cushioning for a truly indulgent experience. This padding helps to soften impact in the ball and heel of the foot creating very comfortable foot attire.
It may be impossible to imagine attire could keep feet cool in the summer and warm in the winter. Most people have different socks depending on the season. These will be the only socks an individual will ever need. The merino wool has the uncanny ability to keep the temperature constant. The mesh ventilation makes this item even more ideal in environments that require physical activity. The percentage of nylon used in this footgear ensure a secure item that doesn't easily wear out even after miles of walking or running.
The unconventional can at times is the most practical approach. Some companies look to the materials nature has already provided to create superior items. This item offers light support and an elastic X over the top of the foot to ensure it does not move around even during vigorous activities. The merino wool is a perfectly versatile material that provides cooling and warming. In cold or hot environments this footwear will keep feet dry. The toe seam was designed to not rub feet annoyingly, as well.

9

. PowerSox Coolmax Cushion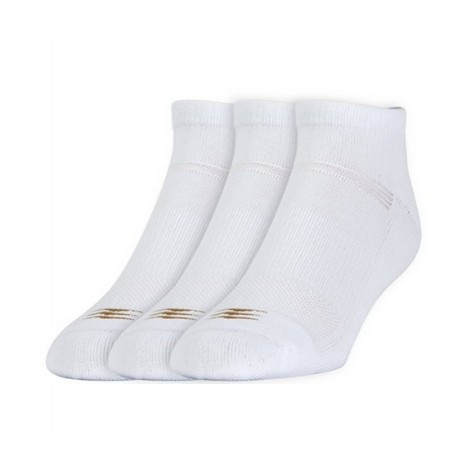 The mother company of the PowerSox brand is Gildan. Based in Canada this company began making children's apparel in 1964. Glenn J. Chamandy the president of this company and his brother in 1982 take control of the company and began to set the foundation for what would be one of the foremost sock and apparel companies today. The history behind PowerSox and the signature GoldToe brand is one of rags to riches. This item is one that will become a favorite rather quickly because of the high-quality fibers and experience this company has. This long-standing company knows what will uphold its reputation by consistently creating products people love. This has been the pillar of their success.
This is an item that belongs to a company with a very rich history. They have had the opportunity to make mistakes and find what will best suit people's busy lives. This item uses the very mysterious CoolMax technology developed by this company which is superior in terms of wicking moisture and controlling temperature. This sock also if fitted with a ventilated top for increased air flow.
Footwear that manages to feel lightweight but supply is a very elegant experience. A sock that manages to feel light on the foot but cushions to bottom is a very satisfying experience. This adds a layer of protection from shock. The Y stitching at the heel keeps the sock firmly in place. This is important for protection against chafing. The brace at the arch of this attire and comfort toe seams keeps socks in place for stability and ease.
This product has set an industry standard and the longevity they have with high customer satisfaction is proof of this items resilience. The CoolMax technology and special blend of fibers used insure the durable nature of this attire. This brand offers competitive pricing for an item that is sure to keep toes and budgets can comfortable.

10

. Under Armour Resistor III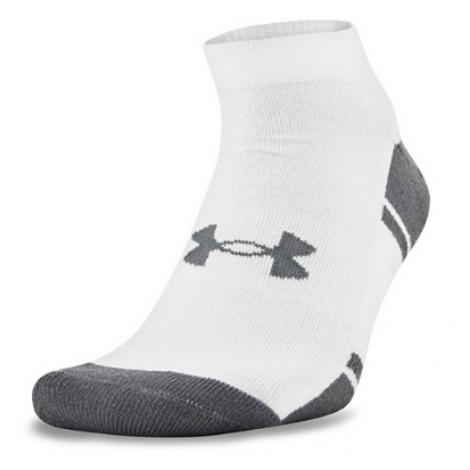 This brand has come into prominence in more recent times, this is a fairly new company being born in 1996. This brand has grown exponentially since then and it all started with a simple idea. Kevin Plank is the founder and former football player. He wanted to simply create a better T-Shirt for performance. This grew into all the apparel, including superior sockwear for performance. The Resistor lll has been born of a legacy of superior performance wear. These are an item that will absorb moisture and accelerate evaporation for exceptionally dry feet even when things get sweaty.
When workouts get long and strenuous it is best to choose attire that will keep the foot from feeling fatigued. There are a combination of factors that must come together in order to achieve this. The foot must be kept cool even when a high amount of energy is being dispatched. This is achieved by using fibers that wick and evaporate sweat. This item has that capability. The next pillar would be to use correct compression. Compression works to increase blood flow. When footgear is sized correctly compression will be stable around the middle and arch of the foot. This will energize feet for longer more intensely focused exercising.
Athlete's foot is an issue not only for athletes but for many people. Some individuals may have very sweaty feet naturally and some may have physically demanding jobs. If footwear traps moisture all day long fungus will form and bacteria will be able to fester. This item is woven with Armour Dri technology will keep feet from feeling moist all day. This item also is made to block odors with technology that prevents the growth of bacteria. This lessens the chance of bacteria forming and creating smelly feet long term.
When searching for footgear that will be able to handle any situation easily and keep feet dry there are many options available. This can become a daunting process. Choosing a brand that has a well-known history of creating superior products is important. The history and exponential growth of this brand has proven their quality products are in high demand. This footgear can be worn for daily life and for performance wear. The cost is more pricey but is made for longevity, dryness, and comfort.

Subscribe to our Newsletter