Best Mesh Shoes Reviewed For Superior Cooling
In a Hurry? Editors choice: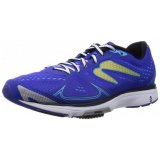 Test Winner: Newton Fate

Mesh is considered by many shoe designers to be the go-to materials for shoe designs. For years, a quality shoe upper appeared to only be made from the sturdier and less breathable materials such as canvas or leather. These materials allowed shoes to be both durable and stylish for long periods of time without opening them up to wear and tear. With the introduction of protectants, the durability they had only allowed them to be more durable than before. The introduction of this perforated material into the industry totally switched things up. This material was both lightweight and durable; it has all of the good qualities of the traditional materials but hardly any of the unwanted ones.
Standout Picks
Criteria Used for Evaluation
Breathability
While mesh is known for its breathability, it's still a proven fact that not all materials are created equally. Some knit materials are created in a way that doesn't allow them to really provide one with any level of breathability during use. This usually means that the material in question is a bit too thick and needs to be cut back on a bit. Finding that perfect balance between sheer thickness/durability and a thin, breathable material is rather difficult. With the shoes on this list, we've managed to effectively find and exploit that balance so as to provide you with the best of the best in regards to functional shoes.
Lack of overlays: This is probably THE most important part of this section. A shoe with overlays is a shoe that won't really provide one with what they need in terms of breathability. While the addition of overlays in the design of a shoe does work wonders to give one what they need in terms of stability, it takes away from the actual functionality held by the shoe; because of this, we felt that it was imperative to pay attention to the number of overlays present in the design of a shoe particular shoe. The fewer overlays present in a shoe's design, the easier it will be for it to provide any sort of airflow.
Comfort
When talking about shoes, I always make a point to also talk about comfort. It's incredibly important and can make or Break a purchase. After all, all of the fancy shoe technologies in the world are meaningless if the shoes aren't comfortable.
Mesh shoes are, for some people, more comfortable than other kinds of shoes. This is because the mesh uppers provide more breathability and temperature management than their non-mesh counterparts. However, comfort is about many things, not just breathability. Let's take a look at some of the other things that can influence comfort.
Fit: Everyone knows their shoe size, and for the majority of adults it's something that isn't likely to change. I've worn the same size shoes since I was in middle school, after all. But your shoe size only tells so much of the story. You also have to consider width, as well as the overall shape of your foot. A shoe in the correct size may still be uncomfortable if it is too narrow or too wide.
Shock Absorption: Your feet take a beating on a regular basis. Even something as simple as walking can put a lot of strain on your feet, with each step creating forces up to three times your body weight. This is why shock absorption and energy return are important, not only in terms of comfort. The right kind of shock absorption will also help prevent fatigue and injuries to your feet and legs.
Durability
Mesh is a material that isn't always considered to be the toughest. This material is known for having a thin cut which sometimes takes away from its ability to provide on with what they need in terms of functionality and longevity. With that being said, the shoes on this list all have designs which make use of a thicker cut of the material.
Type of mesh: We don't really consider the fact that the materials used are typically designed in a way that's much different than that which is typical. On this list, there are various different shoes by various different brands. Of these brands, there are different materials being used, each having different ways of giving one any level of longevity. Adidas has their Primeknit, Nike has their Flyknit, various other brands each have their different variations of the material.
The thickness of material: This is known to be a thin material. It sometimes doesn't provide the longevity that it needs to because of it's thin build. With that being said, there are various different styles that all work to give one what they need in order to keep the shoe in top shape. Something to make note of though, is that thicker materials, more tightly woven materials, tend to last much longer than various other thin ones.
Support
Support refers to how well the shoe holds and shapes to your feet. This is important for everyone, though more so if you have flat feet, high arches, or are on your feet all the time. A properly supportive shoe will reduce the risk of fatigue and injury, and make your shoes more comfortable. The support level of a shoe is dependent on the insole and the midsole. Let's take a look at both of these things in more detail.
Insole: This is the part of the shoe that Makes direct contact with your feet. As such, it plays a big role in support. Memory foam and Ortholite are some of the most popular insole materials, as these will gradually form themselves to the unique shape of your feet, and will accommodate you if you have an irregular gait.
Midsole: As you may have guessed, the midsole is sandwiched between the insole and the outsole. This part of the shoe works with the insole to provide support and works with the outsole for shock absorption. EVA Foam is the most common material used in midsoles, as it is lightweight and compressible while maintaining durability.
Weight
Weight is a major contributing factor to a shoe's being chosen for this list. The heavier a particular shoe is, the more likely it will be to contradict the feeling achieved by the mesh material. For this reason, we made sure to make note of the shoe's weight during the decision making process. No one wants a pair of shoes that are made of mesh but, don't have a design which allows them to provide one with what they need in terms of a lightweight feel while in use.
Surrounding materials: While the mesh itself does play a huge part in a shoe's weight, the brunt of this feature relies on the shoe's complimentary materials. Features such as the foam in the midsole and the thickness of the outsole are what decides whether or not the shoe will be heavy or not. Again, it also depends upon the shoe's use of overlays. A heavily overlaid shoe won't be able to really provide one with a lightweight feel either.
10 Best Mesh Shoes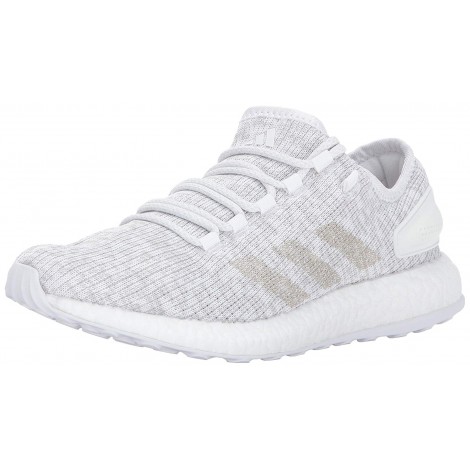 You don't know what heaven feels like until you place a pair of Adidas PureBoost on to your feet. These shoes incorporate the best of the best when it comes to Adidas Technology. For starters, they have both a Primeknit upper and Boost midsole; this is something that enables these shoes to provide wearers with what they need in terms of security and comfort when in use. These shoes simply had to be featured on this list because of both their Boost cushioning in the midsole and the EVA rubber in the outsole; they are pure beasts (much like their name).
Boost is basically the Lunarlon of Adidas. The cushioning provided by this material is another that's simply "out of this world". Since the inception of the Boost material into the designs of many Adidas shoes, the overall level of quality has gone up tremendously. These shoes are an example of that. A great thing about this material is that, due to its make, wearers don't have to worry about over-compression; it will feel amazing while on foot for a very long time. Another great thing is that it's lightweight and responds rather well to the needs of the wearer's foot as well; this is something that's completely necessary considering the use that one will likely put these shoes through.
EVA rubber is, much like it's foam counterpart, is relatively good at providing wearers with both grip and longevity while in use. The cool thing about the outsole on these shoes is that it's actually perforated; this means that it will move to the rhythm of the wearer's foot much easier than the standard shoe and, that it exposes the other materials in its design such as the midsole foam; alongside the exposed areas of the foam in the sole unit, there are also waffle portions which aid in the shoe's ability to dig into the surface it's being used on.
Surprisingly, for this shoe to be a Boost enhanced model, it doesn't sell for too high of a price; it's actually rather affordable. With that being said, the design of the PureBoost men's Adidas sneakers is one that makes use of features that many shoes simply lack. The lightweight feel, which stems from both the perforated and minimal upper, as well as the rubber in the sole unit, allows this shoe to be very enjoyable to the foot of the wearer. This is where this amazing shoe's added value stems from, the comfort provided by the technologies in it's design.

2

. Nike Lunarepic Flyknit 2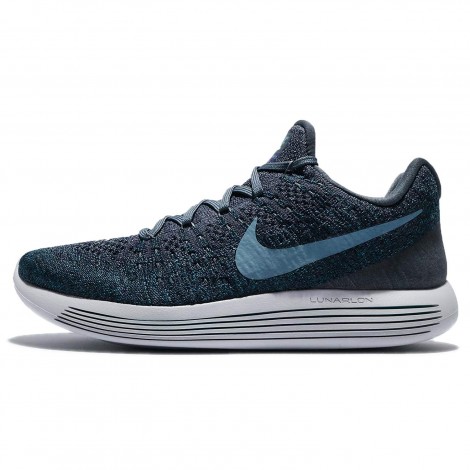 Nike is known for creating amazing shoes; that's without making any mention of their amazing technologies. The Nike Lunarepic Flyknit 2 is on this list because of the various technologies incorporated into its design as well as the fact that it's made of one of the best upper materials Nike's ever made, Flyknit. The features that we must make note of today, are the Lunarlon sole unit, as well as the Flyknit upper featured in the design of this shoe; it's simply amazing.
Flyknit is just one of those materials that shoes shouldn't go without. This material, when compared to various other types of mesh/knit shoe types stands out simply because of the high-tensile strength it has; it isn't very often one gets a shoe such as this that provides the level of security and stability that this one provides. Another cool thing to note about the Flyknit incorporated into the upper of this shoe is that it's pieced together in a sort of bootie shape which actually secures the foot even better than if it were various pieces put together.
Lunarlon foam is simply, for lack of a better word, amazing. This material actually does give one the feeling of being able to provide wearers with what they need in order to comfortably run for relatively long periods of time. When compared to the comfort and support provided by say an EVA midsole, this material does a relatively good job of conforming to the curves of the forefoot and the heel section; these are the most important parts of the foot when it comes to cushioning and this shoe manages to take care of them.
At the current price, these shoes can definitely be considered inexpensive; especially for a pair of Nike shoes. The way these shoes come together to provide wearers with the comfort that they need in order to function on the terrain of their choice is impeccable. In addition to the price of the actual shoe being relatively low, it also has features which enable it to provide wearers with what they need in terms of comfort and security while they are in use; these shoes are simply amazing and kind of worth every penny paid.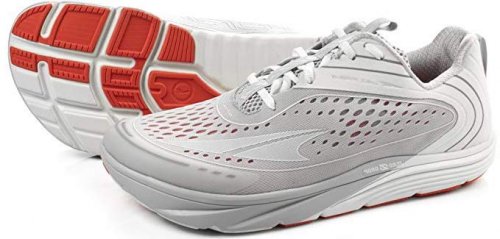 This shoe is known for, yes you guessed it, it's Torin. The Altra Torin 3.5 is one of Altra's newest shoe designs. It has the features to back it up. Of these features, the most prominent(and noteworthy) would have to be the incredibly designed A-Bound cushioning in the midsole, as well as the 360 degrees reflectivity of the upper; these features are what makes this shoe what it is and allow it to do what it does during a run at almost any time.
The cushioning works directly inline with the materials in the design as well as the name of the shoe. If the A Bound cushioning in the midsole of the Torin 3.5 isn't "smart," then I seriously don't know what is anymore. This A Bound foam allows wearers to have what they'd need in terms of cushioning simply because it makes use of anti-compression tech. If you've ever worn a Boost shoe then you likely understand the effect that this cushioning has on the longevity of the sho; it increases it tremendously.
Something that many shoes tend to lack nowadays is reflective upper materials; this is why I was kind of glad that Altra made sure to include their 3D reflective materials in the design of the upper of this shoe. The use of reflective materials provides wearers with an adequate level of security while they are making use of their shoes; this works very well when individuals are wearing their shoes in dimly-lit areas.
Here's the kicker about the Torin 3.5, it's kind of very expensive. With all of the technologies included, it makes sense for one to have to spend a decent chunk of money when it's purchased. With that being said, if you can afford to spend a higher than average amount on a shoe of the Torin 3.5's caliber, then you definitely won't regret it. The functionality that comes from the technology included allows this shoe to provide wearers with what they need in terms of usability and longevity when purchased.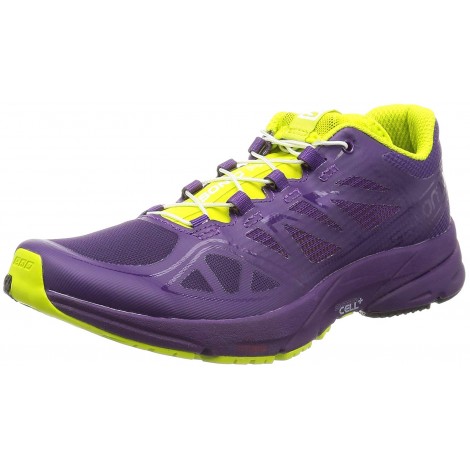 The famed trail running shoe designer Salomon has actually been in the business of designing regular, neutral running shoes for quite some time. With that being said, it's about time we introduce the Salomon Sonic Pro. Salomon decided to do some cooky (yet functional) things with this running shoe; they gave it the traditional hiking laces as well as their famed Contragrip outsole. This shoe is simply full of pleasant surprises. Things such as the Contragrip outsole and their amazing use of sock-liners are what make this shoe the beast that it is; they also qualify it for this list.
Contragrip is, yes you guessed it, a material of Salomon's own design; they did a very good job with it too. This material allows the Sonic Pro to have excellent longevity simply because of the thick nature it has. In addition to the added longevity it provides the shoe with, (as its name suggests) these shoes provide wearers with an excellent level of grip during use; the ridged outsole allows wearers to really stick to the surface the shoe is being worn on.
Adding a sock-liner to the design of any shoe is bound to increase the overall comfort of the shoe overall; that's exactly what it does with this shoe. The design of the Sonic Pro makes use of a sock-liner on the inner portion of the shoe, allowing it to provide a moisture-wicking feature to its design as well. The moisture-wicking feature this shoe has is allowed simply by the fact that the design of the sock-liner makes use of an absorbent fabric; this fabric does a great job of soaking up the sweat excreted by the foot of the wearer.
One of the best thing to make note of with this particular shoe is that it isn't at all expensive; in fact, it can actually be considered quite inexpensive. The low price of this model is honestly all that one would need in order to obtain a decent level of value from its purchase; this goes along well with other features present in the design of the Sonic Pro. With all things being considered, this is yet another model that one would likely not want to miss out on purchasing, it's a steal.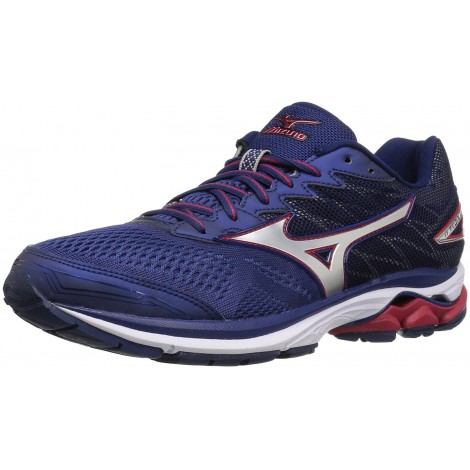 It's probably best we start this guide off with a bang. First, we have the Mizuno Wave Rider 20; the shoe that stemmed from 2 decades worth of work put in by their creators. This shoe has it all, the comfortable ride, the stylish design, it even has the lightweight feel. For the most part, all these features are made possible through the use of mesh in its design. Aside from the mesh materials in the shoe's design, there are also various other things (that are little known) which make this shoe the utter beast it is today. Of these features, the most important is the U4IC midsole and the Cloudwave tech in the outsole.
One of the most noteworthy features of this shoe is the outsole featured in its design. The heel of the outsole features the Mizuno Cloudwave technology which allows the shoe to provide wearers with what they need in terms of responsiveness when in use. The responsiveness stems from the curved section in the heel of the shoe which allows it to provide a natural transition; this natural transition works in tandem with the other materials of the sole unit to provide wearers with what they need in terms of comfort during longer runs, thereby reducing fatigue of the foot.
There is really no technology quite like the U4IC midsole tech incorporated into the midsole of this shoe. This cushioning foam is incredible at cushioning one's ride in the shoe; it may come as a surprise to many but this feeling is one that actually makes runs in this shoe a bit more enjoyable. Unlike the feeling received by a shoe with a midsole made of say, EVA, this cushioning actually manages to reduce the level of compression undergone when one places their full weight onto this shoe; it's one that allows for an insane level of comfort for a relatively long length of time.
When it comes to high-end running shoes, prices tend to stay in the higher end of the spectrum; luckily, with these shoes, they are about average. This means that when one goes to actually purchase a pair of these fantastically designed shoes, they can expect to pay a price that is nothing short of reasonable. Another plus with the Mizuno Wave Rider 20 is that, while the price is reasonable, they are higher end shoes; meaning they hold a higher level of quality and comfort than typical running shoes. The value of this particular pair of shoes actually stems from that inconsistency; one purchases a higher end shoe for a price that's relatively affordable.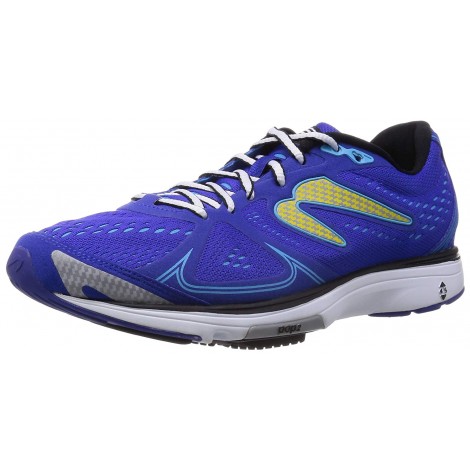 I just had to end this guide with a brand that is both innovative and unique; Newton is the brand for both the young and the old alike. Their use of creative branding as well as unique features ensure that wearers are kept on their toe. The shoe that had to be mentioned on this particular list is their Newton Fate. The Fate is again, for lack of a better word, awesome. The design specs of this shoe are simply out of this world; with things such as their Antibacterial lining materials and Biomechanical Sensor, plate are what will help end this list with a bang.
Have you ever heard of a Biomechanical sensor plate being included in the midsole of any shoe on the market today? No? I didn't think so. To improve the energy return or bounce provided by this shoe, Newton included a plate in its design which would allow it to provide wearers with a responsive feel. While this would usually make the midsole of the shoe kind of stiff, it doesn't with this shoe, which is a pleasant surprise. This plate also somewhat dulls the shock of running along a road of any type, which is a plus, especially for reducing foot fatigue.
Well, an antibacterial lining can do two things for a shoe; it can improve the moisture-wicking ability that it has and also enable it to reduce the accumulation of smells in the design. The anti-bacterial lining found in the design of this particular shoe allows it to do both of these things. If you've ever worn a shoe without socks for any length of time, then you likely understand exactly what it is that this material does for the foot.
Here's the good thing (or one of the good things) about this shoe, it's inexpensive. To buy this shoe, one would spend an amount that could easily be replaced. The price of these shoes is so low that one would likely be able to replace the shoes themselves if they were to come into any unforeseen circumstances. With that being said, the value of this model stems from both the low price and the various features that it has present.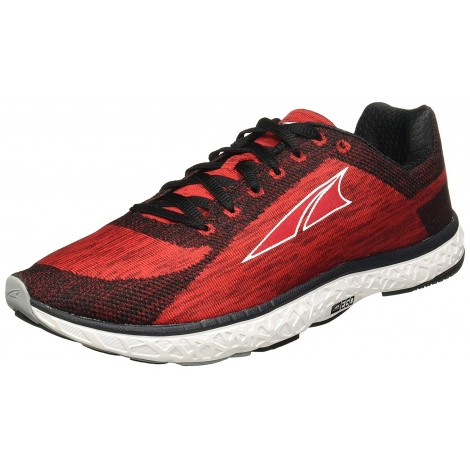 Altra is a brand that can be considered one of the brands that can be considered "high end". If you run in a pair of Altra sneakers on a regular basis, then you're running in amazingly comfortable and quality shoes. For this reason, it's imperative to make note of the Altra Escalante in this guide; the thin mesh upper and amazing functionality provided makes it something that simply can't be passed up. The reasons why this shoe had to be featured on this list are Altra's use of EGO cushioning in the shoe's design as well as the lightweight design that it has.
Running shoes that are lightweight immediately best shoes that are not; it's just a rule that has managed to stand for a very long time. With that being said, these shoes have a design which enables them to be relatively lightweight due to the use of the various lightweight materials incorporated into the design. For instance, the design of the sole makes use of their state of the art cushioning system while the upper is made of a thin mesh material; these features come together to give wearers an amazing feel while these shoes are being worn.
Every brand appears to have its signature foam material; EGO appears to Altra's. While many of the materials that are other shoe midsoles are made of tend to come from a standard foam material, this EGO "foam" doesn't feel like it does. This has to be said because of the bouncy, somewhat springy, feel these shoes have; when these shoes are worn, wearers understand that their feet will feel a level of cushioning they haven't felt from various other shoes. Also, it's somewhat important wearers make note of the lack of compression that the midsole of these shoes tend to go through while they are worn; this is a sign that the cushioning provided by these shoes will last.
With great comfort, comes a relatively greater price. One must be prepared to spend a decent sum of money if they are to buy a pair of shoes such as these. Again, while the price of these shoes may be kind of high (as with any Altra shoe) one will be buying a shoe that will last for a time long enough to justify its purchase; this model holds(and adds) value because of this and the various other features that it has.

8

. Skechers GOmeb Razor Run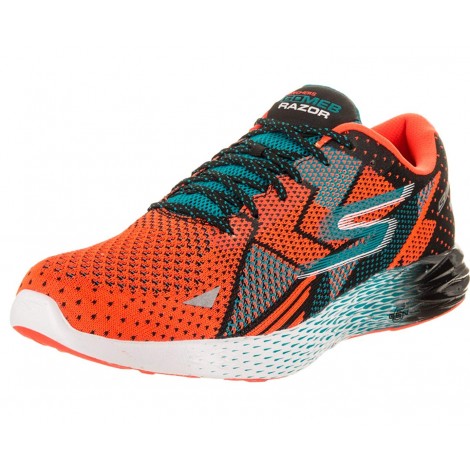 Skechers simply had to be featured on this list; the combination of old-school(legend) branding as well new-school technology ensures that the creators of these shoes stay on top for the very foreseeable future. Now you understand why the Skechers GOmeb razor was featured on this list, it's created by one of the best brands currently on the market. The addition of 5GEN cushioning and their famous GoKnit mesh is what makes these shoes something to pay attention to; they add all that's necessary for one to take full advantage of their road of choice.
Now obviously the upper on these shoes is designed from a mesh material; that much can be inferred simply by looking at the title of this buying guide. The thing that switches things up though is the fact that the shoe makes use a material that is inherent to Skechers' brand is rather lowkey, GoKnit mesh. This material conforms to the foot and allows wearers to have what they need in terms of comfort by doing so. In addition to this, the fact that the mesh material is rather thin also allows it to be both breathable and lightweight; these are a better pair of running shoes because of the addition of this material.
5Gen cushioning is a cushioning material that's unlike no other. It provides both support and protection from impact through its use of the various levels of foam included in its design; it's relatively unique in this way. In addition to the midsole and its use of this material, it also provides wearers with what they need in terms of responsiveness (with a bit of help by the drop featured in its design). Running in these shoes can be likened to running in a pair of rather thing clouds; it's amazing.
The cost of these shoes can be considered, low; that's about other brands of shoes. In comparison to the Skechers line as a whole, the cost of this particular model can be considered rather high; that's only because of the specialized nature of the shoe itself. With that being said, the shoe isn't the most expensive shoe by a long shot; allowing it to immediately provide patrons with a level of value. The different levels of features in the design of this particular model also allow it to provide wearers with what they need in terms of value and security.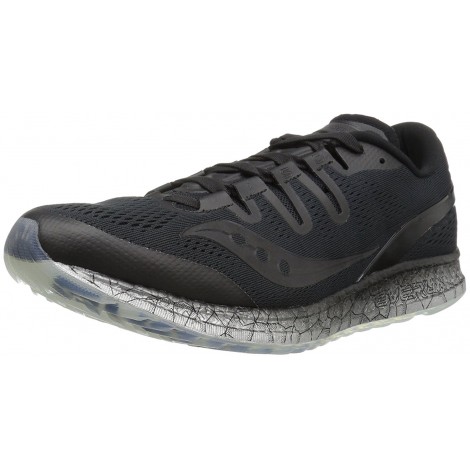 The Saucony Freedom Iso is a shoe for those daring individuals who enjoy trying and doing new things. Saucony is known for being innovative and coming out with shoes that test the limit of what exactly can be considered a quality shoe. With that being said, the Saucony Freedom ISO is one of those shoes that give wearers all they would need in terms of both speed and cushioning; this is actually why this shoe made this list, it has features which enhance the overall experience that one has while the shoe is in use. These features are that it has an ISO-Fit upper and their well-known EVERUN midsole cushioning; these ensure that wearers have what they need regarding comfort while they are in use.
To have an upper made with Saucony's ISO-Fit design is to have an upper that's meant to provide all of the comfort and security one could need while the shoe is being worn. The ISO-Fit design of this shoes upper means that it wraps around the foot and provides all the support one would need to fully function on say, a road, or other multi-level terrain. The various layers in the shoe's design also do a great deal to aid in reducing the overall weight of the shoe itself when in use.
Everun cushioning is Saucony's version of Adidas' Boost or Nike Lunarfoam; this material is simply amazing. The way it cushions the heel and various other contours of the foot as well as the support it provides works wonders for the wearer's foot overall. The great thing about the cushioning the sole unit of this shoe provides is that it works incredibly well with the features of the ISO-Fit upper; these two materials come together to make a relatively amazing overall shoe design.
Here's the one shocker about this shoe; it's kind of expensive. The Freedom ISO sells for a price that may just well cause individuals to run and hide. The cool thing about the price of the shoe is that it is very well-justified by the various materials incorporated into the design of the shoe itself. With that being said, the value of this item stems from the materials and technologies incorporated into its design. There are very few shoes like it, and there will likely be few like it in the coming years.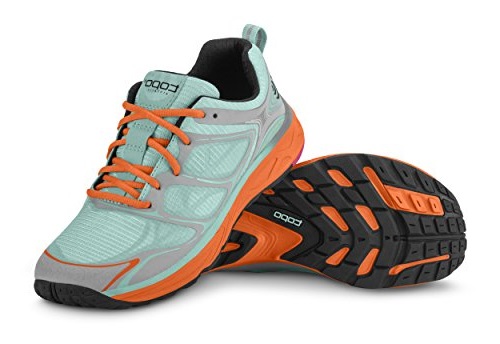 If you've never heard of the brand Topo, then you're missing out. They're known for creating pure beasts when it comes to running shoes. Their blend of both functional and stylistic elements allows their shoes to provide wearers with the cushioning they'd need to function during their runs as well as the drop one would need in order to make solid strides in their shoes; this means they perform best for those who would like to move for those who run at steady paces for longer distances. The reason these shoes made this list is because they have both a lower than normal drop and a relatively lightweight.
When one purchases a shoe of the Fli-Lyte 2's caliber, they expect to get a shoe with a relatively large drop. This is the main reason why the drop on this shoe is somewhat surprising. The Fli-Lite 2 features a relatively insignificant drop of around 3mm; this means that the stack height for this shoe (or the difference between the height of the heel and the toe box is minuscule). A shoe with a low drop is great at providing wearers with what they need in terms of ease of movement and, due to the cushioning which supports this drop, of being fairly comfortable.
Although the design of this shoe appears to be somewhat bulky, it weighs very little (in comparison to its size and usage). These shoes weigh roughly 8.4 oz's, which implies that wearers will experience several things when the shoe is actually on foot. One of the most important things that one will experience while these shoes are on foot is less fatigue during movement. This means wearers won't have to worry about the shoe "dragging them down" when worn; during the longer runs, this is very helpful.
The price for these bad boys, much like the price of the previous pair is honestly, not bad. They sell for a price which allows them to be very affordable and, due to their being fairly durable won't worry wearers as to whether or not they'll break down after a few wears in them. This is one of the areas in which the value of this pair of shoes stems from; you won't have to worry about constantly purchasing shoes and, they are incredibly comfortable to boot!

Subscribe to our Newsletter