Best Adidas Boost Shoes Reviewed & Rated
last updated:
Mar 19, 2021
When it comes to product type, Adidas' focus on Boost technology gives the company an edge over the current running shoe concept. Boost is a TPU based technology. At the time of its release - only five years ago - it was nothing short of revolutionary, and it led to a sea of change in the way that running shoe companies utilized foam EVA, and to massive advances in EVA cushioning present today.
Even if you're not a runner, you are sure to enjoy the depths of comfort that Adidas Boost shoes offer. This list before you is here to help you choose the best model for you, and we hope that you will enjoy scrolling through it!
This is the best product on our list that is currently in stock: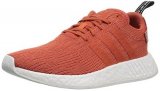 NMD_r2
Why is it better?
Primeknit and Suede Upper

Single Boost Component

Great Stability

Breathable

Flexible
In a
Hurry? Editors choice: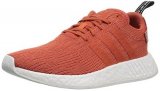 Test Winner: NMD_r2

4
Researched Sources
3,000
Reviews Considered
7
Hours Researching
10
Products Evaluated
Features
Comfort
Fit
Breathability
Durability
By Default
Our Favorites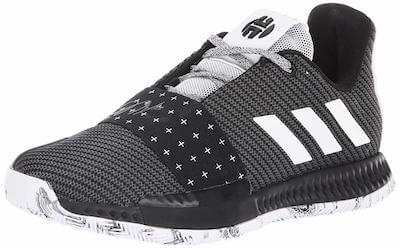 Leather or Knit Upper
Herringbone Traction Pattern
Stability Overlay
Propulsion Plate
Great Fit
Better for Clean Courts
Runs Narrow
The newest edition of the Harden was inspired by MVP James Harden and is the best choice for players who make quick stops and changes of direction. Featuring all the best tech found in the brand's basketball shoes, it's a great go-to if you're looking for something simple that will definitely work. Available both in leather and knit versions, you'll find that these Adidas Boost shoes offer excellent lateral stability, and run true to size, which eliminates the hassle that's often involved in purchasing a newly released model.
This is a shoe that's been called one of the best fitting models available. Some of this comes down to the synthetic overlay over the forefoot that keeps your foot in place, while the surrounding knit provides excellent flexibility for performing at your peak. In addition to the full-length Boost cushioning you'll find in the Harden Vol.3, you will also benefit from a propulsion plate that aims at providing addition springiness, making you jump higher without having to use as much force.
Slightly more expensive than their other newly released model, the Harden is a great shoe both for professional basketball players, as well as for those looking for some great everyday style. Not only do these Adidas Boost shoes have all the right features, but they also come in a choice of knit or leather uppers, allowing you to go with what works best for you.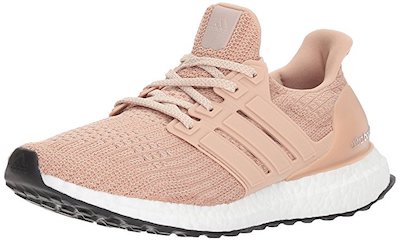 Primeknit Textile Upper
Continental Rubber Sole
Boost Cushioning
Torsion System
Assists Proper Gait
Initially marketed as the "Greatest Running Shoe Ever", the Adidas Ultraboost was first released in 2015 and designed by none other than Stella McCartney. This premium neutral running shoe contains most - if not all - of Adidas' proprietary technologies, from the Primeknit upper, over the Boost cushioning, right down to the Continental rubber outsole. In the running community, these Adidas Boost shoes have been replaced with newer and better-performing models, but they still remain a fashion statement and more than fine casual, everyday sneakers.
The upper of the Ultraboost is made with Primeknit technology - meaning that it is a one-piece upper constructed out of knit material. It is soft, flexible, won't rub your foot the wrong way, and it will ensure the perfect fit for a foot of any size and width. In association with Continental Tires, Adidas came up with Continental rubber outsoles, which provide superior traction and are highly durable. You can expect the outsole of the Ultraboost to last at least as long as the shoe itself does.
Whether it is worth buying the Adidas Ultraboost is a matter of personal tastes. In the running community, this shoe is considered to be too much of a good thing, overloaded with bells and whistles and fancy graphics. It is a great lifestyle shoe, however, fashionable and beyond comfortable, and if you're willing to part with a sizeable amount of cash, you can enjoy these Adidas Boost shoes for quite a long time.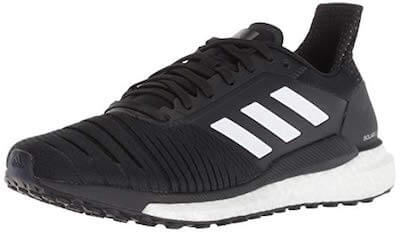 Engineered Mesh Upper
Padded Collar & Tongue
Stretchweb Outsole
Full Length Boost
Torsion System
Some Friction Inside the Shoe
Runs Large
The brand's highest-rated running shoe, this is a neutral, road running model with a 10mm heel to toe drop, perfect for daily use and recovery days when you just need a bit more protection from impact. The model combines the energy-returning cushioning with a great outsole made for all weather conditions, while in the upper these Adidas Boost shoes remain highly comfortable and easy to fit.
The engineered mesh upper is a great choice for almost anyone - in addition to being incredibly lightweight and breathable, it's been updated with FlexFold sections that allow the foot to move naturally, while printed-on overlays ensure stability and a higher level of durability. The outsole on the Solar Glide was developed to allow the foot to move naturally, while still using a Solar Propulsion rail to ensure proper placement. The Continental rubber ensures great traction in both dry and wet conditions and doesn't degrade too quickly.
One of the more expensive models listed here, the Solar Glide is a good choice for those who need a winner running shoe, or who appreciate cushioning in their everyday footwear. These are Adidas Boost shoes that are easy to fit and will work with different foot shapes. However, it doesn't come in a wide version, which may pose a problem for some.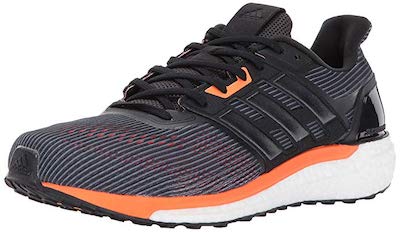 Molded Heel Cup

Snug Heel Fit

Responsive Cushioning

Custom Support

Lightweight
If you look up the definition of the word 'cushioning' in the dictionary, there's a high chance that you will find a pic of the Adidas Supernova next to it. Sure, like all other Adidas Boost shoes, this one has Boost technology in the midsole, but this time it is amped up to the maximum. The toe box is breathable, and the toe down design looks great. This shoe is beautiful, functional, and has all the right curves.
What separates the Supernova from other Adidas Boost shoes on our list is that it takes maximum advantage of the Boost technology. The Boost midsole is supported by a semi-rigid web to keep it in shape and less sloppy, and these shoes provide truly a plush, responsive ride. The TPU plastic heel cup of the Supernova provides structure, and an open spine keeps the heel stable without rubbing. A flexible cage is there to lock the arch down securely and prevent any unnecessary movement during the run.
The Adidas Supernova is reasonably priced. More so when you take into account everything you get for it - a highly cushioned neutral running shoe that is a hybrid of cushioned models and stability-centered soles. It appeals to those who want comfort without a block heel, and who want a secure fit with plenty of room in the toe area. Really, you won't go wrong with getting yourself a pair of these Adidas Boost shoes as soon as possible.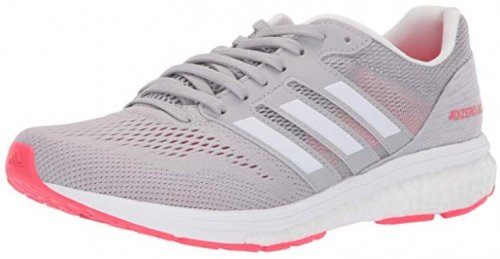 Soft Tongue

Snug Midfoot Fit

Wide Toe Box

Supportive and Responsive Ride

Durable Outsole
The Adidas Adizero Boston 7 is great for runners who are looking for something lightweight and flexible. It has an upper designed for breathability and flexibility which moves with the runner's foot, and just the right amount of cushioning as well. These Adidas Boost shoes have a good fit and high comfort levels. At the end of the day, it is a neutral shoe best used for fast-paced daily training and half to full marathon distances.
What is unusual about the outsole of the Adizero Boston 7 is that it is made out of two types of rubber. The heel area is made from a durable material, while the forefoot is crafted out of Continental rubber for excellent traction. Not only is the upper of the Adidas Adizero Boston 7 constructed out of breathable mesh and knit materials, but it also has an inner Coolever lining with moisture-wicking properties which keeps the foot dry and cool even after long-distance runs.
The truth is that it is hard to find a flaw in the Adidas Adizero Boston 7, and so its middle-range price seems too good to be true. Runners will get their usual mileage or even slightly more thanks to the durability of the outsole, and all of Adidas' technologies - Boost, the Torsion System and Continental rubber are utilized in the best possible ways in these Adidas Boost shoes.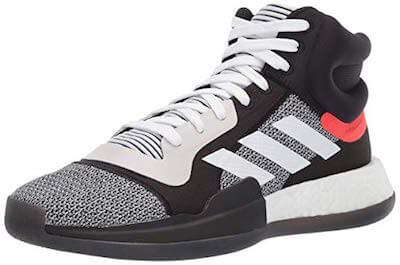 Mesh, Knit and Textile Upper
Full Length Boost
Herringbone Traction Pattern
Durability for Indoor Courts
Good Support
Heel Slippage
Not for Dusty Courts
Announced by Adidas as the most comfortable basketball shoe available, the Marquee Boost is a great addition to anyone's gear bag. It features some of the best cushioning out there, coupled with a mid-top upper that's both comfy and provides a good lock-in. These Adidas Boost shoes are available in a low top version as well, and, as you can expect from the brand, they come in great color options, from monochrome black to stand-out reds that allow you to show off your style.
This model makes use of the tried and tested herringbone pattern that works well both indoor and outdoor. However, if the indoor court you're playing on isn't well-maintained, you're looking at a lot of wiping, while it could do better in terms of durability outdoors. The best part about the cushioning in the Marquee is that it gives amazing energy return in the heel section. In the forefoot, however, its use is more focused on providing shock absorption, preventing fatigue and joint pain.
This is a great pair of Adidas Boost shoes for anyone looking for basketball models. Whether you decide to wear the Marquee Boost for training sessions or as an everyday sneaker entirely depends on your lifestyle preferences. What you'll notice is that it hardly shows wear, which sneakerheads will love. Also, its price is quite affordable compared to similar flagship models, making it a good choice for a lot of people.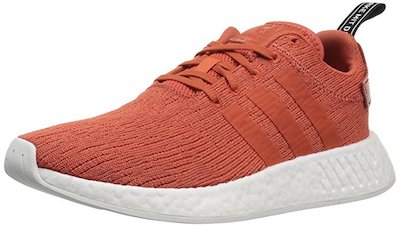 Primeknit and Suede Upper

Single Boost Component

Great Stability

Breathable

Flexible
Insufficient Arch Support

Pricey
The Adidas NMD_r2 features a sock-like slip-on upper made with Primeknit. It has ultra-comfy Boost cushioning and is actually a supreme combination of fashion and comfort. These Adidas Boost shoes have been designed with the nomadic urban dweller in mind and work for all types of activities - running, walking, heading out to dinner with friends. It may not be for improving personal records or conquering the race track, but the Adidas NMD_r2 is a stylish, attractive shoe, which is also comfortable due to its Boost technology.
As opposed to the previous version, the NMD_r1, the Adidas NMD_r2 comes with only one Boost midsole component, a single large block in the midfoot area. This cushioning flares out slightly at the rear for an added degree of stability as you go about your day. The upper of the Adidas NMD_r2 is breathable and flexible, made out of Primeknit for that stretchy foot-hugging fit, and suede-lined for luxurious comfort. There are no plastic eyelets, adding even more flexibility to the construction.
These Adidas Boost shoes are exquisite, both stylish and comfortable, and all the materials involved in their construction are of the highest quality. You would have difficulty finding a fault in this shoe, except maybe its cost. For the same, or even less amount of money you can get an equally good shoe even from this same list and brand.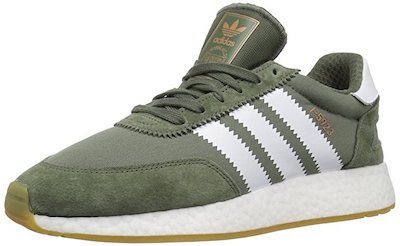 Full-length Boost Midsole

Breathable Mesh

Textured Suede

Rubber Outsole

High-end Lifestyle Shoe
The I-5923 is a high-end lifestyle sneaker created to be a casual running sneaker. These Adidas Boost shoes are a perfect blend of fashion elegance and sports functionality. It features Boost technology, an upper made out of mesh and suede, and is inspired by the 70s. The rubber outsole is great for traction.
The Adidas Originals Run I-5923 is constructed out of only the highest-grade materials. The mesh is soft and cushy and the suede is luxuriously buttery in texture, taking on the shape of your foot over time and ensuring only the utmost comfort of the sneaker. Within the fashion world, the Adidas Originals was one of the most talked-about models from the iconic Boosts. With its attractive silhouette and clean, versatile design, this shoe is effortlessly stylish, a true combination of casual refinement and everyday sophistication.
The Adidas Originals I-5923, compared to other Adidas Boost shoes in this guide, is competitively priced. Enjoy a positive ride, lux aesthetics and plush comfort. A complete package!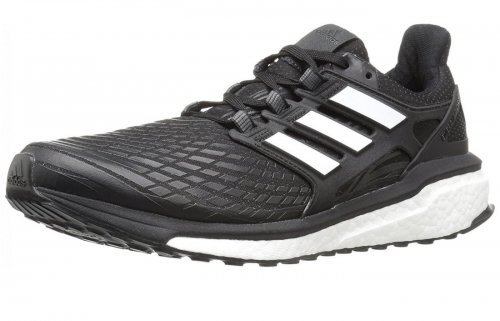 Mesh Upper
Thin Tongue and Collar
Non-Marking Rubber Outsole
Great Lock-In
Perfect for cross-training, as well as a bit of running, the Energy trainer is a great choice for those looking for versatile athletic footwear with great cushioning. Only available in multiple color options, this may not attract those looking for comfy fashion Adidas Boost shoes, but it'll definitely do a great job at offering you everything you need for short city runs and visits to the gym.
In addition to the traditional lace-up closure featured on this model, it also offers a supportive ankle strap that will completely lock your foot in, ensuring that there's no unnecessary movement while you're training. The light rubber outsole is non-marking, thus appropriate to use on all indoor surfaces. Nonetheless, it'll also do well outdoors, and the traction pattern will provide sufficient grip in dry conditions.
Average in price, these are Adidas Boost shoes that are inspired by simpler models, but with the addition of everyone's favorite cushioning. The knit upper will breathe well, the rubber outsole will provide the necessary grip on varied surfaces, and you'll find that the slightly wider toe section will ensure excellent stability that's often difficult to find in training gear.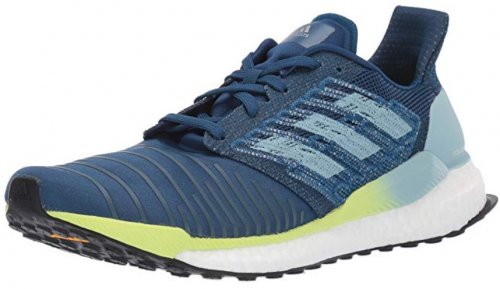 Molded Heel

Lightweight Midsole

Great Traction

Structured Upper

Padded Tongue
Poor Arch Support

Foot Slides Forward
What is different about the Adidas Solarboost is that its upper isn't made out of knit material, as in some other Adidas Boost shoes. Rather, it is a three-piece 'tailored fiber' upper which delivers stay-put support without making the shoe too bulky. In addition to that, the Solarboost has a lightweight fabric midsole, and a construction to secure the heel. The outsole provides outstanding traction even on snowy or slushy roads, keeping you safe and preventing falls or injuries. Based on its qualities and performance, it is a solid, cozy running shoe.
Even though the upper of the Solarboost isn't soft, it is still supportive without being too thickly layered. Its ultra-padded tongue packs on the sock-like coziness by protecting the top of your foot from the laces. Most Adidas Boost shoes come with a rigid midfoot cage, but the Solarboost has a lightweight fabric designed to keep the foot locked in place. Its molded heel also helps the Achilles move freely and focuses the runner's energy forward.
The Adidas Solarboost is a refreshingly middle-range priced shoe. It is an impressive model with its springy, lightweight protection from the harsh pavement, and it will serve as a fine running shoe. However, those who prefer a harder sole might find it to be more on the squishy side and would be better off investing their money elsewhere.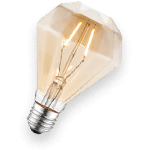 What Is Adidas Boost Technology?
Boost is a TPU based technology. At the time of its release - only five years ago - it was nothing short of revolutionary, and it led to a sea of change in the way that running shoe companies utilized foam EVA, and to massive advances in EVA cushioning present today.
A Softer Ride Comes From Established Experts
Most Adidas running shoes have rubber outsoles designed together with Continental Tires and containing Continental rubber compounds.
Frequently Asked Questions
q:

Which materials are Adidas Boost shoes made of?

a:

Adidas emphasizes sustainability and recycling and this extends to the materials used to create their shoes.
They typically use various recycled materials, and you can rest assured that Adidas doesn't source any raw materials from any endangered or threatened species, nor leathers from animals which have been inhumanely treated, whether wild or farmed.
q:

How do I clean my Adidas Boost shoes?

a:

Cleaning your Adidas Boost shoes is not difficult at all.

The first step would be to remove excess dirt from the surface of the shoe, as well as the sole. Use a soft brush, like a toothbrush.

Then gently wash stains with a laundry detergent mixed into some warm (not hot) water. 

Always allow your shoes to air dry, and avoid the use of a dryer or heater. If the interior is excessively wet, you can fill it with newspaper or paper towels which will absorb the extra liquid.
q:

Can I wear my Adidas Boost shoes for multiple purposes?

a:

Yes, you can; however, be mindful that certain Adidas Boost shoes on our list were designed for a specific purpose, meaning you may not get optimal performance when trying to use one shoe for a different activity or sport. Also, wear and tear from any activity will decrease the lifespan of the shoe, so it might make sense to have a specific shoe for each activity or sport.
q:

How long should my Adidas Boost shoes last?

a:

On average, your Adidas Boost shoes should last anywhere from 300 - 500 miles. This is only a rough estimate; if you drop your heels hard, pronate or supinate heavily, or if you are a heavier build, they may not last as long.
q:

What types of shoes come with Boost?

a:

The most common sneakers to feature Boost cushioning are those made for running. You will also find that a number of basketball shoes feature this technology, but it may also be found in lifestyle sneakers.
Subscribe to our Newsletter