Best Adidas Sneakers for Men Reviewed for Style & Performance
In a
Hurry? Editors choice: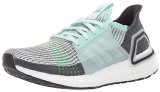 Test Winner: Ultraboost 19

Adidas sneakers for men hold a special place thanks to their high-quality materials, superb design, and excellent comfort features. What makes Adidas footwear stand out today is the fact that it's a brand which stays true to the principles of German-engineering which are precision, performance, and an unbeatable drive to be better than anyone else. With fun collaborations with artists such as Stella McCartney, Raf Simons, Pharrell Williams, RUN DMC and most famously Kanye West, fans are always looking forward to the latest releases, which have been known to sell out in record time.

You'll find below the best Adidas sneakers for men we've researched for 2019, some of which include collaborations with famous artists and athletes. Regardless of your fashion and style sense, we're certain you'll find Adidas sneakers here you'll love!
Standout Picks
Criteria Used for Evaluation
Style
Between unique designs, modern spins on classic silhouettes and limited-edition colorways, you are bound to find a style that fits your personal aesthetic.
One of the things Adidas sneakers are known for is the fact that they are unique looking and appealing, greatly contributing to the image of the person wearing them. They transcend function and provide the wearer with a style that not only looks good, but reflects a dedication to quality, precision, and high performance.
You will find with a lot of Adidas collections that feature limited-edition releases, slowly rolled out colorways, and numerous collaborations with celebrities, companies, brands, and shops. What this means for you as the consumer is that you are investing in a shoe that has had a lot of thought put into its looks.
All Adidas footwear, from classics to moderns, feature the brand's signature three stripes on the side, marking them as part of the Adidas family. While this one feature will be the same across the board, everything else is frequently changing and being upgraded to give all of their designs a very new and current appearance. Adidas loves to be ahead of the trends, and you will find that the newer lines tend to have a more futuristic vibe, often featuring large midsoles and irregular shapes.
One thing that people love about Adidas sneakers for men is that they frequently pull out designs from their archive and breathe new life into them by redesigning them to appeal to the more modern masses. This is a beautiful way of keeping their history alive while allowing themselves to improve upon some of their best shoes.
Usually keeping within the '80s and '90's feel, you will often see that these classic styles have new technological upgrades, such as the addition of PrimeKnit or BOOST to make the shoes more functional and attractive looking overall.
As mentioned previously, Adidas colorways are one of the factors that make their footwear highly sought after, and give them a unique and personalized feel. Often released months apart, you will find that an initial shoe drop tends to come in one color, then as the months pass, more colors and patterns will be released. Brands and companies such as BAPE, Opening Ceremony, and even Disney have all collaborated with Adidas to put their spin and style on classic shoes like the Stan Smith.
Not only do collaborations change the colors and patterns, but some change the entire make of the shoe for a one of a kind choice that can't be found elsewhere. When BAIT teamed up to have their go at the Stan Smith, they changed the fabric to an all hemp-based, while also using a heat press to make for a very special shoe and vibe.
Celebrities have also gotten on board with Adidas; Kanye West is one of the most notable with his line of Yeezys. These types of collaborations lead to a lot of hype and end up with lines of Adidas footwear that is not only limited edition but also very exclusive. For those who want a pair of shoes that stand out and aren't seen on the streets often, Adidas has numerous options that, if you're lucky enough to get your hands on, will give you a fresh and prized appearance.
Materials
Consider whether you need a design made from genuine leather, synthetics or Adidas' own PrimeKnit material.
Depending on what you plan on using your Adidas sneakers for men for, the type of material used on both the upper and the sole is going to have a significant impact.
For those who want a more tight-fitting design that feels secure yet personalized, the newer PrimeKnit models will meet your expectations.
Then there are those who seek stability and durability, leaving them to opt for a leather design that will hold up better over time. With a variety of different material options available, it's important to break each one down and look at where they excel versus where they may fall a bit short.
Midsole
Polyurethane (PU): Polyurethane midsoles are one of the more expensive options, so you are only going to find this material used in higher-end brands and models. PU midsoles are highly sought after because they tend to be the most durable and can be compressed over and over again without flattening. Even after multiple wears, shoes that have a PU midsole will still have the same amount of bounce, support, and comfort that they did when you first purchased them. The downside with this choice is that it is more expensive to produce and thus will drive up the cost of the shoes.
EVA (Ethyl Vinyl Acetate): Easily the most common midsole that is around today, EVA is a standard foam choice that really stands up well and offers great results. Since the midsole is meant to absorb shock and distribute weight, compression EVA does an excellent job at this as it is fairly soft and very flexible. The reason behind EVA being one of the most common midsole materials is that fact that it is far cheaper than a lot of the other materials available. While this helps keep the cost of the shoe down, the downside is that it tends to flatten fairly easily over time.
Adidas BOOST: Using a material known as TPU, BOOST offers a unique and enhanced midsole that really does give the wearer a much-added boost. Similar in appearance to tiny, styrofoam pellets, BOOST midsoles have looked at the science behind the material in order to produce something that excels in a number of categories. Originally only seen in running shoes, BOOST is now making an appearance in almost every facet of the Adidas world, and older models are now being redone to include this newly styled midsole.
Upper
Leather: Many of the classic Adidas shoes featured a leather upper, which was buttery soft and timeless in appearance. One of the more common leathers that you will see is shoes that feature a suede upper. Suede has the advantage of being durable like traditional leather while still remaining softer and more flexible.

While suede is more soft and flexible, the downside with suede is that it is far more difficult to keep clean, and tricky to wash. Suede is soft and fuzzy in texture and has less thickness than other types of leather. Suede generally should not get wet, and so you will be limited to what time of the year you are able to wear your suede footwear.

Synthetic: While real leather certainly has its advantages, synthetic leather can be a cheaper and more attainable way to emulate the same look that a leather-bound design offers. More lightweight, and oftentimes far easier to clean, synthetic materials are very commonly seen nowadays. What almost all synthetic materials have in common is that they tend to be far more lightweight and flexible than things like leather, which is a somewhat stiff and rigid material to work with.
Knit: The two major players in the knit game are Adidas and Nike, with both claiming that their versions of the knit upper are superior. While there are many similarities between the two, there are a couple of differences that people find they prefer. The focus here will be on the Adidas PrimeKnit, as we look into what it is, how it works, and what it offers in terms of bettering a design.

Knit uppers are exactly what they sound like: an upper that is made of knitted material instead of a singular piece of fabric. What makes knit uppers interesting is that they are more lightweight, have far more breathability and airflow, and can give the wearer a more customized and snug fit that other uppers might not be able to offer.

Adidas refers to their knit uppers as PrimeKnit, not to be confused with Flyknit which is the Nike design. Ultra-lightweight, flexible, and snug, PrimeKnit gave runners the shoe that they had been hoping for in order to perform better. With PrimeKnit being such a hit with runners, Adidas slowly started moving this upper towards different types of shoes and found that the market loved it.
Advanced Features
Get to know more about all the innovative technologies Adidas incorporates into their designs.
When selecting the best of the best Adidas designs, one of the main components has to be the technology implemented into the footwear. Patented and unique technologies are what makes each shoe stand out, and what separates Adidas from the crowd.
Each technology developed is meant to enhance the footwear, either making it more comfortable, breathable, orthotic, supportive or any number of factors that people want when they put a pair of men's Adidas shoes on their feet. While Adidas is always coming out with new things and ideas, there are a few key technologies that we will look at that have revolutionized their footwear.
BOOST: BOOST has been around for a very long time, but it has gone through many generations and upgrades to get it to what it is today. While very few models saw the addition of BOOST in the past, we can see this technology being added to designs more often today, mainly thanks to its energy-returning properties.

Originally designed for runners, BOOST has one of the highest energy returns of any midsole on the market, a fact that has made it such a desired feature for both runners and everyone else. Energy return is how much bounce a shoe gives you when you step down, helping propel you into your next step.

Not only is BOOST better at energy return, but it is also significantly more heat resistant than any other midsole material currently used. The benefit here is that it will stay consistent no matter how much you use it, giving you much more return and long-lasting results.
adiPrene: With a very high degree of impact absorption, adiPrene is one of Adidas' top technologies for the midsole and footbed of a lot of their casual, every day sneakers. With the ability to provide exceptional comfort and support, adiPrene cushions the heel as well as the forefoot, with the majority of the padding located in the heel area.

While many different materials are good at impact absorption, what makes adiPrene stand out is that it can absorb up to as much as five times the weight of your body. Regardless of how much pressure you are bearing down on your foot and shoe, adiPrene can remain supportive and offers a more energy-efficient take off with each and every stride.
Formotion: For those who over or underpronate, you know what it means to not have your footfall in the most natural of positions. This can cause a lot of issues over time, especially for runners, so being able to adjust the foot each time you land is extremely beneficial.

Adidas sneakers for men have the Formotion technology to address this very issue, and it has been effective at helping runners and everyday wearers have a more natural gait and smoother step every time. By incorporating horizontal plates in the midsole, they have managed to achieve a system that repositions your foot after every strike down.
Ortholite Sockliner: While this is not one of Adidas' creations, it was a certainly a feature that was looked at when selecting the best designs for this list.

OrthoLite is a master at moisture management and has the ability to wick it away with ease. All of the heat and sweat that your foot produces is countered by an OrthoLite liner, as it works by moving any moisture away from your foot and towards the exterior of the shoe. In breathable footwear, this means that none of the moisture will stay and your foot will remain cool, dry, and odor-free all day long.
PrimeKnit: The reasoning behind why PrimeKnit has become such a sought-after upper is because of how breathable, lightweight, and comfortable it is.

The material stretches perfectly, and it offers up a very snug fit that is almost sock-like. When you put on a pair of Adidas shoes with this upper, you will find the fabric molds to the shape of your foot, and you feel quite secure with or without any lacing. No matter how you use your shoes, they should not slip, slide, or fall off your foot as this material will hold them securely in place.

Now, you may be wondering how durable is a bunch of knitted fibers going to be? Well, the answer is surprising, very. To double down on highly used areas, such as the toe region, the Primeknit is heated to the point where the fibers meld together, creating a very tight and solid bond. This doesn't mean that these Adidas sneakers for men are indestructible, but it does mean that they will hold up while you run or play sports, and you don't need to worry about ripping a hole in them.
Comfort
Despite Adidas sneakers being one of the most comfortable types of footwear out there, make sure to pay close attention to the fit.
After we looked at style, materials, and all the high-tech features that this brand offers in their footwear, we have to dedicate a brief moment to comfort. After all, what good is a stylish, innovative construction if you're not feeling comfortable in it? No amount of fashion, coolness, and sporty-chic will make up for cramped toes, painful soles and tired feet at the end of the day.
So, what exactly makes a sneaker comfortable?
Well, you're in luck, because sneakers are generally one of the most comfortable types of footwear out there. They have flat soles to keep your feet in a natural position, they don't come with any straps that dig into your skin, and are usually outfitted with cushioning materials and systems which keep you going for as long as you want to.
This is especially true of Adidas sneakers for men, as we have established in our previous sections. Thanks to their original technologies such as BOOST, adiPrene, and Primeknit, comfort is not something that you should be worrying about when it comes to these designs.
Nevertheless, make sure to pay attention to fit. Know your exact footwear size and don't settle for models which are too wide or too narrow. Your sneakers should fit you snugly, shouldn't be slipping off your heel and also shouldn't be cutting off your blood flow.
Additionally, keep in mind that just because your friend or family member finds a pair of sneakers comfortable, they don't have to be the same for you. We all have unique feet and unique needs when it comes to our footwear; make sure to choose only what works for you. That way you will be able to enjoy your brand new Adidas sneakers for men for a long time to come!
Value
Value is not only about the price tag.
In our last criterion, we will discuss value of a pair of Adidas sneakers for men. What is important here is to first establish that value isn't only about the price tag. In fact, many other factors go into determining the value of a pair of shoes - their cost, their durability, their comfort levels, even how stylish they are and if they will be fashionable next season or not.
All of these little - or not so little - things speak of how valuable a design is.
If you are paying a lot for a pair of sneakers, you expect them to be of high-quality. For that kind of money, they should last long, be comfortable and you should be able to wear them with any outfit you wish. So, even though that particular design costs a lot, it is still high in value because you get a lot from it in turn.
In the same vein, if you opt for a cheap design which then falls apart in record time and you end up having to replace your footwear again - just because that pair of sneakers was low in cost, it was also low in value, because it didn't actually serve you well.
The best option would, of course, be a combination of both; a relatively cheap design that is high in quality and has all the important features that we want.
To discover which of our designs have the highest value, don't hesitate to sort the items on our list according to this criterion and choose off the top. That way, you'll surely get your money's worth!
10 Top Rated Adidas Shoes for Men in 2020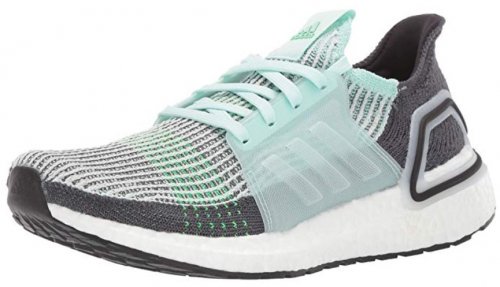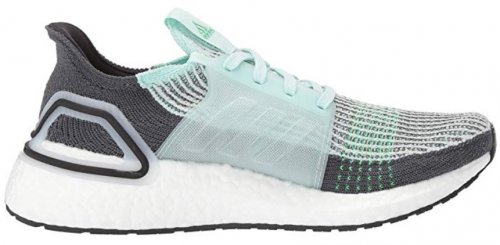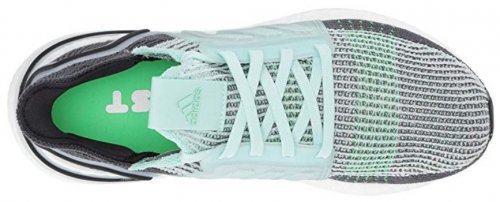 This list wouldn't be complete without the ultimate brand best-seller - the one and only Ultraboost. It doesn't matter if you're a runner looking to up your game and beat your personal best, or if you're a fashion fiend who wants to achieve that perfect sporty-chic look; the Ultraboost 19 is here to make you look great, feel great, and perform great.
The upper on this design is made from Primeknit 360, with a specially engineered fit that moves along with your feet no matter what turns you're taking. It has extra Boost cushioning on the medial side for a comfy, smooth experience, and there is a Torsion Spring in the midsole. This Spring provides support while you're walking and running, and increases your stability.
The Ultraboost 19 Adidas walking shoes feel like a second skin on your feet, and you won't be able to wrap your mind around the comfort levels, the light weight and the modern street look of these sneakers. They're designed for every walk of life, from the classroom to a fun date with friends to a casual weekend with the family - the Ultraboost 19 won't let you down.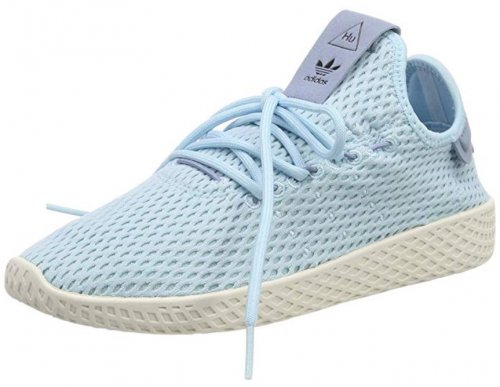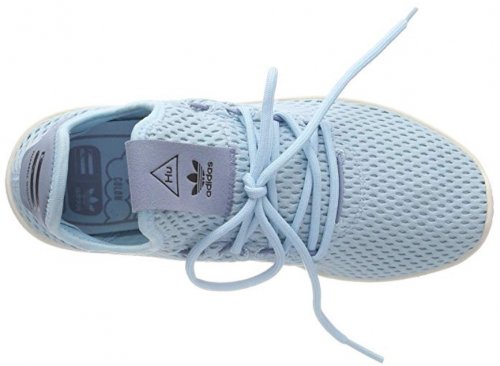 This isn't the first time we've seen Pharrell Williams collaborate with Adidas to bring about cool looking Adidas sneakers. From beach slip-ons to NMD reboots, and even a clothing line, the artist has had some great impact on the overall aesthetics of the brand. The Pharrell Williams Tennis Hu brings together some of Adidas' best technologies with Pharrell's funky personality to create a design that looks unique, feels great, and will easily stand out in a crowd. The goal was vibrancy, and they achieved that with a colorful Primeknit top paired with a thick, marbled midsole. Hu references the different hues of people that exist in our world, and this message is prominently displayed via the equality symbol on the shoe's heel.
Using one of Adidas' best technologies, these feature a full PrimeKnit upper. The material is woven in a way that allows for larger holes in the knit, giving ample airflow and breathability. The slip-on design is easy to wear and offers a sock-like feel as it conforms and shapes to your foot's every move. This is a pair that will provide a snug and stable feel with a customized fit.
Pharrell went all out in trying to represent the variety of hues that exist, and the Pharrell Williams Tennis Hu comes in a wide variety of colorways, with new iterations released every season. There are monochrome options, along with designs that have a brightly-colored upper and a contrasting marble midsole. The sockliner is equally exciting with its graphics while remaining functional when paired with the reflexology insole.
The comfort combined with the vibrancy makes these a great pair of shoes to have in your rotation.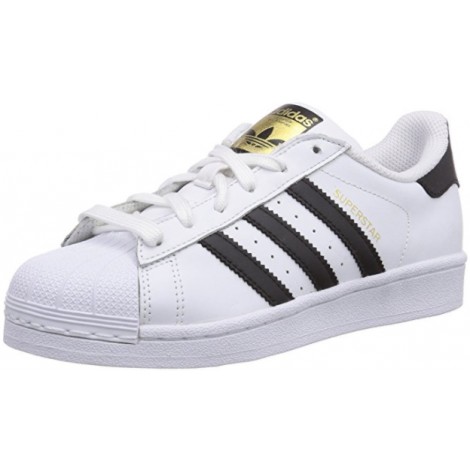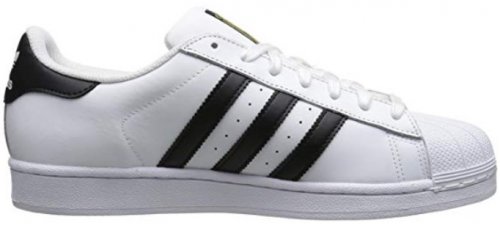 The Superstar Adidas sneakers for men were created for the tennis court in the 70s but have since gone on to become an ultimate street fashion icon. A design which was not only the no. 1 most sold item in 2016 but ranked among the 5 top-selling sneakers of 2017 and going strong in 2019, it's gained a strong following among sneaker fans worldwide. You can get them in a huge variety of versions - from slip-on to 80s inspired models to those with Boost soles - you're bound to find a pair that will suit your style of fashion. And the best part is, they will look great no matter what you pair them with.
Part of the reason for the Superstar's popularity is attributed to the sneaker styling and flawless Italian design. Featuring a classic rubber shell toe, these have a low cut that is comfortable to wear and that lends itself to a minimalistic look that can either be toned down or kicked up, depending on the colors you choose. With almost endless options available, the Superstar does work with anything, from jeans to athletic wear to even a suit or dress.
The Superstar has been designed not only to look great but also to perform. With a full-grain leather upper that is both durable and flexible, and an ultra-soft leather lining designed to comfort the foot as well as impart a "heritage" vibe, you will find that all versions of the Superstar feel and wear exceptionally well. The herringbone-patterned hard-wearing rubber outsole provides great traction on all surfaces and gives you a completed Adidas design that will last for quite some time. If you are looking for similar Adidas model with good ankle support then the Adidas Pro Model is your best choice.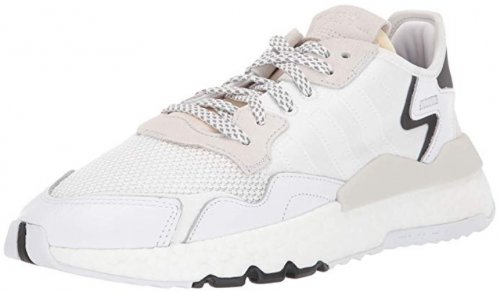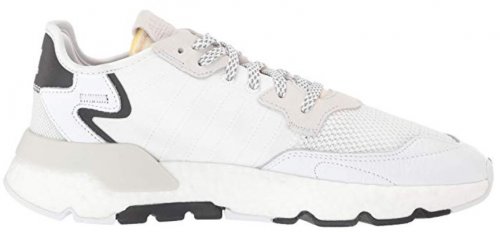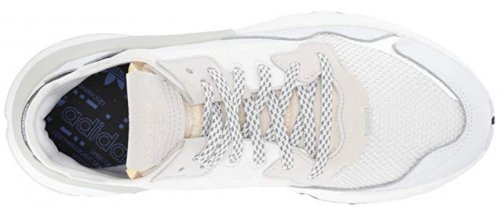 The original, first release of the Nite Jogger was all the way back in 1980, if you can believe it. This design is as retro as they come, with all the reflective details that made it such a hit with recreational runners at the time. However, the current Nite Jogger comes with Boost cushioning so that your energy levels don't dip while you're on the move, and with an OrthoLite sockliner for outstanding comfort.
The Nite Jogger has an upper made from ripstop nylon for durability and exceptional wear and tear resistance. This nylon is combined with leather and mesh for support and proper ventilation, respectively. The Boost cushioning is there for energy return that the technology is famous for, and the OrthoLite sockliner provides even more cushioning and impact absorption. OrthoLite is also moisture-wicking, which means that it reduces sweating and the development of bad odors.
When you look at the Nite Jogger, it is no wonder that Adidas decided to bring it back - it has all the lines, all the shapes of what's currently on trend, and it comes with amazing innovations to boot. If you're looking for something either for casual running or casual everyday life, this option is the perfect fit.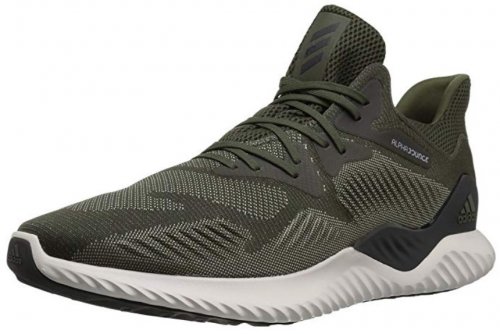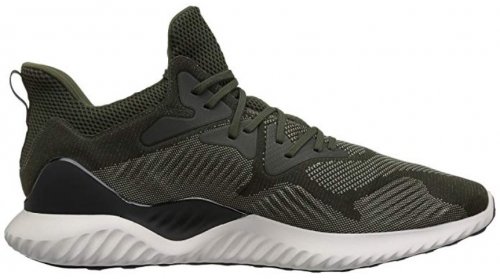 Designed for athletes who need a lot of support, whether at high speeds or during lateral movement, the Alphabounce Beyond is a pair that will catch your eye. Flexible in the upper, cushioned on the inside and boasting a wide platform at the forefoot and the heel, these Adidas sneakers for men will provide you with a fit perfect for gym training, H.I.I.T., everyday walking or even long runs. No matter what activity you use them for, you will love the fact that they look modern but straightforward, and that they come in three colors which are all very easy to pair with any outfit.
These men's Adidas shoes feature an upper made out of Zoned Forgemesh which provides the right balance between flexibility and support. Though it's bulkier than PrimeKnit, it is more suited for weightlifting and cross-training thanks to the zones which provide support in key places. A molded heel cup is placed on the outside of the shoe to give you the support and secure feel you will need during your training sessions.
These feature a flexible midsole that has Bounce cushioning, which makes them a great choice for running and walking. A 10mm heel drop ensures a better foot position for gaining speed, while the Continental rubber outsole provides great traction, whether you're planning on wearing these inside or outside, in the sun or rain.
The Adidas Alphabounce Beyond is an excellent choice for anyone who needs an all-around pair of sneakers. You'll find that they're an excellent alternative to Yeezys, seeing that they look similar but cost just one-third of the price. You can wear them both as casual footwear, or for your training, and you'll find that they do great for both uses.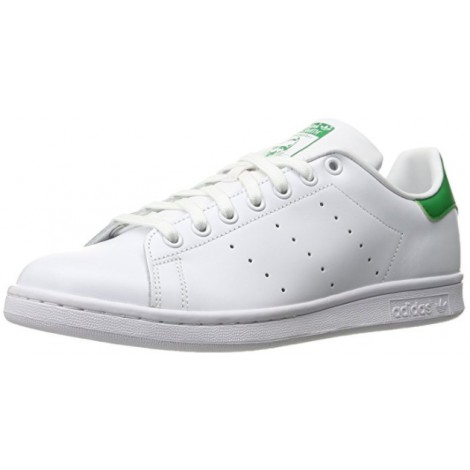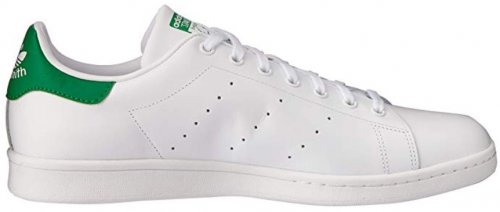 For a completely pared down minimalistic style, make sure to check out the classic Stan Smith - a low profile silhouette that any sneaker fan will easily recognize. This model was first launched in the '70s and is exactly what you would imagine a tennis shoe designed in the '70s would look like - a softer, lighter, tennis-court version of the Superstar. The Stan Smith is not only visually streamlined but even more, it is a comfortable choice of everyday footwear you will be happy to wear all day long. It's versatile and durable, and is a crowd favorite, receiving consistently high marks, with a staggering 60+ renditions (including men's, women's and kids' models) which are in production at the moment.
What makes the Stan Smith such a recognizable pair is the smooth and clean leather upper which is all white with minimal embellishments (the only pop of color is at the heel tab). These are low-cut, inspired by tennis players, and it allows for easy foot movement which you will appreciate even if you only want to wear them to casual dates or the office.
These may look amazing, but they also feel great on your feet, which is, in part, why they have been so popular for over 40 years. The tongue is padded to ensure you feel no pressure from the lacing, the collar is cut low so as not to irritate the ankle or Achilles, and the inside is lined with genuine leather to give you a soft and breathable feel.
The Stan Smith offers excellent value if you're looking for a classic, retro-looking pair of sneakers. They come in a few color variations, most based on white with a pop of color at the heel, and can easily be paired with any outfit. They feature an OrthoLite sockliner which makes them a superior option regarding comfort, enabling you to have a pair you can wear almost anywhere.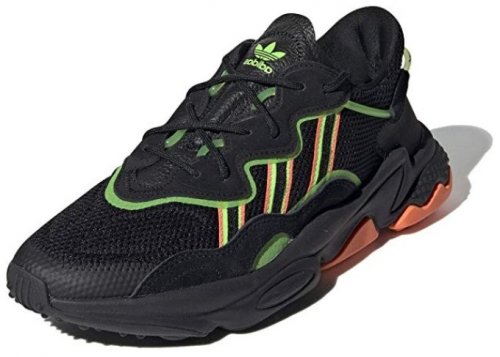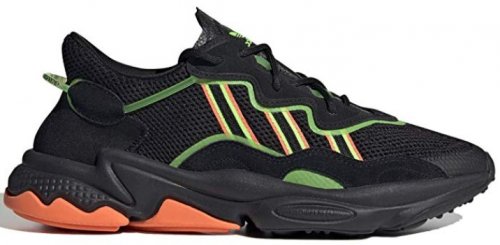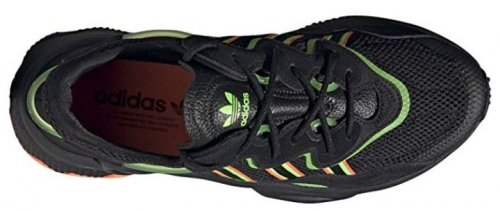 The original Ozweego design dates back to 1998. This option belongs to one of those silhouettes that the brand brought back to life in recent years but has also updated it with all the latest material combos and technologies it developed in the meantime. The Ozweego is a chunky sneaker that comes with Adiprene+ for comfort and an EVA midsole for shock absorption. It may not be an option for sports, but it is one hell of a fashion design.
The upper of the Ozweego is made from a combination of mesh for breathability, suede for plush texture and TPU for support. There is Adiprene+ in the front area for an easy stride and even more of the technology in the heel to absorb shock on impact. What makes the Ozweego stand out from the other designs on this list is its retro vibe with distinct futuristic elements that make it all the rage this fashion season.
You can choose to wear Ozweego to all of your casual events and be sure that you'll be the best-dressed person there. These chunky sneakers fit perfectly with the trends of the last couple of years, and you can pair them up with jeans or shorts, or even slacks for a fun take on the classic looks.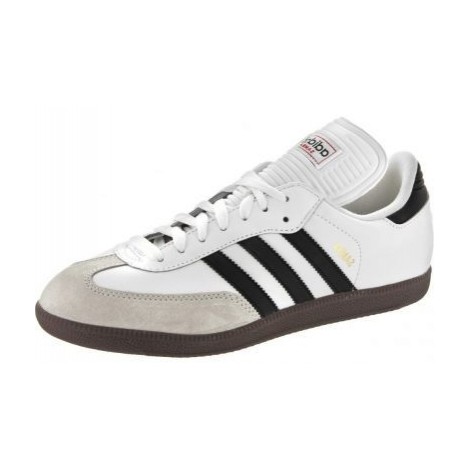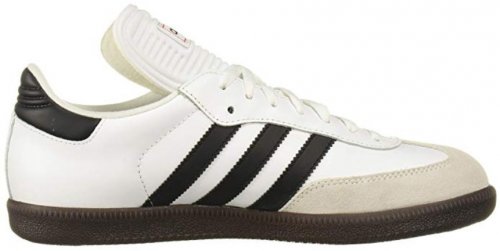 When you think men's Adidas footwear, chances are you'll think of this pair. Originally made in 1950 for soccer players to play on frozen outdoor pitches, this pair is still widely popular with those playing indoors. With a leather upper that is soft and flexible, a suede toe for better grip of the ball and a lightweight rubber outsole that provides excellent traction, these are just as much performance-oriented as they are stylish for everyday casual wear. And the best part is - they're reliable and will last you a long time.
The upper is made out of genuine leather which is perfect if you're looking for a durable shoe. The suede toe overlay is there to improve your contact with the ball, but what you will find is that it will also prevent your shoes from showing too many scuff marks and other signs of wear. The extra-long tongue can either be folded over the laces to give you a better feel of the ball, worn high or even cut to give you a more customized fit.
These shoes have a gum rubber outsole that is perfect for playing on indoor pitches, seeing that it is non-marking and will give you plenty of traction. Even more, thanks to this outsole, these can be worn for more than just indoor soccer - you can use them for all types of indoor sports, but also outside for lighter activities such as walking or just as everyday shoes. The insole is lined with cushioned textile, and you will love these if you prefer a lot of arch support.
The Samba Classic is an excellent investment, seeing that you will be getting a pair that will do well at what they're intended for, and will allow you the right amount of flexibility for other uses as well. Whether you opt for the white, black or special Russian edition which boasts red stripes, you will get a classic look with the Samba that will look great even as a pair of everyday sneakers.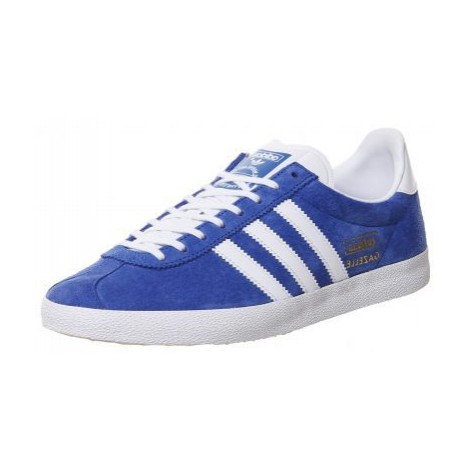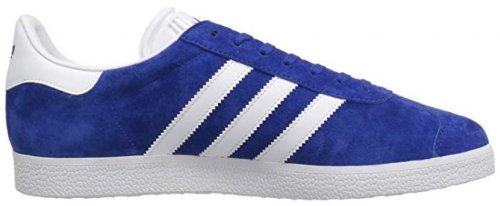 The Gazelle was one of Adidas' original training shoes, with roots embedded in Olympic history. They have been around since the mid-60s, and have always been one of the brand's most performance-driven shoe, featuring a colorful suede upper that has inspired so many of the brand's later shoes. Available in several colors, the most recognizable is the Collegiate version, constructed in an electric blue plush velour offset by white leather trimming, completely modeled after the early 90s version which still resonates with sneaker fans almost 30 years later.
The Adidas Gazelle features a thick rubber outsole originally with non-slip and non-marking properties that were intended for maximizing performance during training and handball games. The sole that is found on the shoes today is thick enough to give you plenty of comfort and stability while walking or running errands and will do well on all types of surfaces.
The basic version of the Gazelle comes in three classic color choices - gray, black and royal blue with a contrasting white tongue, heel tab and the legendary Adidas stripes. However, if you prefer something a bit different, you can go with mint green, white with blue or even all-red.
With a pigskin leather upper and a synthetic leather lining, these are sure to provide you with a comfortable wearing experience whether you use them occasionally or as an everyday shoe.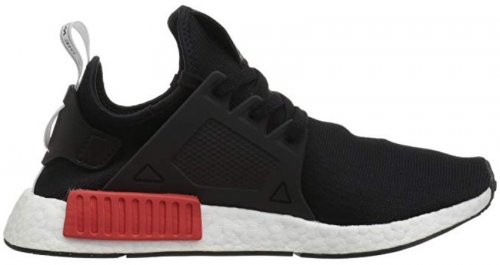 Updated from a previous NMD version, the R1 features a Primeknit upper that can be worn all day while still remaining comfortable. The sole has great grip, can be used with orthotics, and can be worn in a variety of different situations.
The upper of the NMD_R1 is made out of perforated Primeknit that allows excellent breathability to prevent overheating and sweaty feet that come with an active lifestyle. Flexible and easy to mold to any foot shape, these will do great for almost any activity you set your mind to.
The R1 features an innovative rubber outsole that is curved, sloping thinner towards the toe. This gives this shoe has a profile that is distinctive, featuring a small toe guard for added durability, and offering excellent flexibility and range of movement. The inside of has an OrthoLite insole which not only cushions but is also removable to accommodate custom orthotics.
The Adidas NMD_R1 is less expensive than many options on our list. However, this shouldn't detract from its great features and performance. With the minimalist form and packed features, this shoe should definitely be an option for you.

Subscribe to our Newsletter