Best Hemp Shoes Reviewed & Rated
In a Hurry? Editors choice: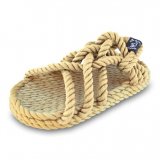 Test Winner: Nomadic State of Mind JC Sandal

Hemp shoes are for those who would like to walk around while not making a large impact on the earth. Before we had much of the modern technology that we do now, we had to make do with using hemp for medicinal and rudimentary clothing purposes.

We weren't able to fashion this biodegradable material into something that could be worn on our feet, at least not comfortably. Now, we have the technology necessary to manipulate this material into any type of footwear that we want. Not only are the designs in this category great for the environment, but they can also be a great addition to your style collection.
Standout Picks
Criteria Used for Evaluation
Breathability
Hemp is a naturally breathable product.
With that in mind, the added materials that go into a design may sometimes take away from this natural ability to provide adequate airflow to the feet. To make sure that you are choosing only from the breeziest of products, we saw to it to carefully pick through the currently available models and find ones that fulfilled a few specifications. These include:
Thin Upper:
Some of the models on this list are designed with uppers that are incredibly thin. The hemp that they are constructed from is cut in such a way that wearers are able to move easily and get a level of airflow that is more than enough to limit sweating.
Balanced Cushioning:
Then there are designs that just can't have thin uppers; they must have some sort of cushioning to provide a bit of protection when the wearer is out and about. If this is so, the footwear must find a balance between the cushioning level and the level of breathability it delivers.
Lining:
Some footwear that just can't find the balance between excessive cushioning and an outer layer, has a lining placed inside. This lining is often made of mesh and is there to wick the sweat away. Mesh materials, in general, are porous and as breathable as hemp, and thus they help control the level of moisture inside any given design.
Materials
This is a list for hemp footwear, so it makes complete sense for the amount of hemp that's found throughout the design to be a major contributing factor into whether or not they make the list. Some options that are said to have this material in their design only have it in a key area, such as the toe box or around the sole unit; while others may have it all throughout the upper.
In this case, it was imperative to find footwear that had the material in place all throughout the design or in the majority of the design rather than in a single area. If the material is found all throughout the design, it receives higher priority when it comes to making the list, though of course, there are other contributing factors as well. You can find footwear made with this material in just about every variety you need or want in life.
Other than the key material in this guide, some others that are featured in our list include:
Leather: As another natural material, leather (and suede) is incredibly breathable, durable and comfortable. It takes the form of your foot over time for a tailored type of comfort, and it enables proper air circulation in and out of the design. With minimal care and effort, leather footwear lasts for years.
Mesh: We've already mentioned how mesh is breathable, almost as much as hemp. Mesh is also comfortable, soft and easy on the skin, and if an entire upper is constructed out of it - or even only some key parts of it - you can be sure that the design will fit you like a sock.
Rubber: Rubber is usually used for the construction of the sole. The reason for this is that rubber is incredibly durable - there is very little that it can't withstand - and also slip-resistant. Thanks to numerous rubber compounds, and even some formulas such as vulcanized rubber, you can be sure that you won't be losing your balance when your out and about no matter the surface you're walking on.
When it comes to selecting the right type of materials for yourself, consider the following: what type of weather you want to wear the design in, whether it is important for you to have all-natural footwear, whether or not you need it to last long, and how big of a budget you have. Typically, leather and natural-material footwear is far more expensive than that made of synthetics, as it is higher in both quality and durability.
Style
Style a major determinant of whether or not someone will be willing to wear a design when they are out and about. The style also determines what the shoe can be effectively used for in terms of activity. For example, a skate shoe can be used for skating but can will it work effectively if one seeks to wear it on a trail? Probably not.
Here are some styles that you can find in our list.
Trail:
Trail footwear is designed from thicker materials and is meant to be durable enough to withstand the trail environments quite easily. It is not built for fashion, but for function, and when you're looking at a trail design, definitely seek out its specifications for the best performance on the trail.
Skate:
Skate shoes are known for having relatively thin uppers. Their designs are meant to make skateboarding a fairly simple task for any individual who decides to partake in it. They usually have outsoles that deliver more grip as well.
Slip-on:
The slip-on design is of the more comfortable variety. It is meant to make putting on your footwear and taking it off a much simpler task. The slip-ons featured on this list are all on the thinner side of the spectrum and make wearing the actual footwear a breeze.
Sandal:
Finally, we can't talk about this lightweight, natural material without talking about summer. Since breathability and ease of wear is a priority here, it is natural that we have quite a few open-toed options in our guide. They are essential when the temperatures rise too high and when you can't bear to put on your usual confining footwear. Let your toes wiggle free in sandals made from this lovely natural material!
Durability
No one likes to buy a design that falls apart as soon as it's purchased, or even a few weeks later. This is why we made sure to find footwear that would consistently provide wearers with more than enough usage before it was time to say goodbye to it.
Stitching:
In this case, stitching refers to both the actual materials that are used to piece the design together as well as other materials that keep the sole unit together.
The uppers on most of these options are designed with a thick fabric that works to keep the design intact when you're wearing the shoe. In many cases, the design is handmade with the intent of delivering efficient quality.
The sole unit's ability to stay intact with consistent wear is also something of great importance. Many wearers find that with inexpensive footwear the sole unit separates quite easily; that isn't the case with the items on our list.
Quality:
The quality of the actual material that the upper is made of is also a major contributing factor to its durability. Obviously, the uppers on the options of this list are designed from hemp, but there are varying levels of the material quality. That was why we made sure to place great care on how well the design was built and performed in its respective environment.
Comfort
Comfort can encompass quite a few things in terms of footwear. Depending on your unique shape and foot size, there are a few main points you can look for to help evaluate whether or not a design could be extremely comfortable or something that simply looks pretty, but wears horrible, leaving it as a decoration in your closet.
Toe Box
The width of the design is mainly down to the shape of the toe box, and for some, it can be quite a challenge. If you have wider feet, any kind of option with a tapered or pointed toe in your normal size will most likely feel restrictive and painful. Sizing up in this kind of footwear helps alleviate the restrictiveness and provides some comfort. Alternatively, if you have narrower feet than most, rounded or square toe shapes in your footwear may feel extremely wide, leaving more room than needed, and can cause in-footwear slippage or blistering.
Insoles and Cushioning
Most designs have built-in insoles that either have molded EVA materials, or utilize some kind of memory foam footbed. These aspects give support and structure to the design, as well as pad your footfalls. When selecting a pair for comfort, be sure to see if they have EVA midsoles or insoles, or additional cushioning built into the footbed. If not, you can always find a simple solution with insertable insoles, which provide an extra layer of cushioning should you need it.
Sole
One of the last things to look for when choosing something comfortable is the sole of the footwear. Many times the best materials to look for in soles are made from rubber or synthetic in vegan designs, which can add some padding and shock absorption to your footsteps.
Our Favorites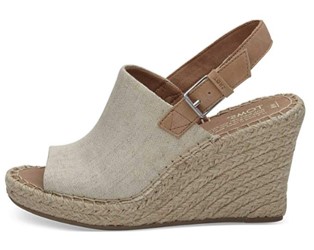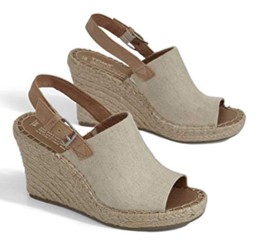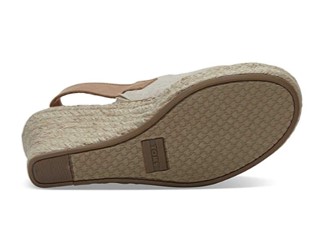 This adorable little wedge from Toms is the embodiment of hemp comfort in a beautiful design, and comfortable too! Cotton twill insole helps provide a softer feel on the foot but also helps fight against bacterial build up in the shoe, while its open airy design allows for better ventilation. Hemp uppers cover the foot with an open peep toe front, and a thicker leather strap with buckle closure wraps around the back of the heel to help secure you firmly in place. This is one espadrille that can be versatile for work or casual settings and is worth a closer look!
Toms is a brand well known for their casual, comfortable flats which are breathable and lightweight, and the Monica Wedge is a model that takes their flat to new heights. It's 3-inch wedge heel wrapped in rope brings a pleasant natural texture to the design, while giving a boost in height. With wide widths available, you'll find a pair suitable for your particular foot shape and won't feel pinching from the toe box. Uppers have a textile lining which creates a better, softer feel on the foot when wearing, and a cotton insole adds to better breathability and fights against dampness from sweat.
The base of the Monica is a rubber sole, making footfalls padded and helps to absorb shock. A patterned tread provides better traction on slippery surfaces like tiled floors or wet streets. A thicker leather heel strap wraps around back to help create a secure fit and has a buckle closure which provides a bit of adjustability. And, like many other of the brands footwear, when you purchase a pair of Toms, they'll give back by giving a free pair to a child in need. It's an option that will make both your feet, and your mind, feel good about purchasing!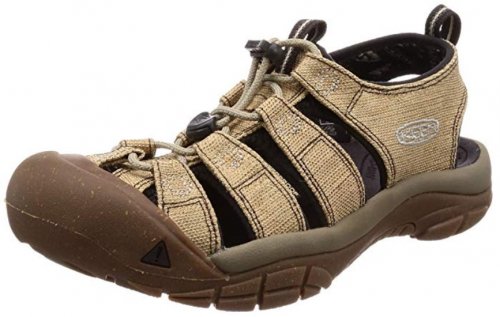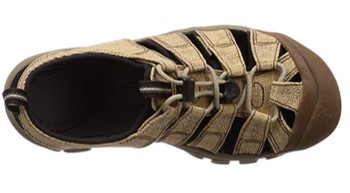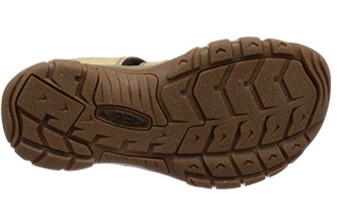 Keen meets all of our outdoor sandal needs, and the Newport is their bestselling design to date. It is an option meant for adventure, for exploring and discovering uncharted terrain, and now it comes in a version that is made from natural materials, at least in the upper. On top of that, the Newport keeps you comfortable with its metatomical footbed and odor-controlling interior.
This is a closed-toe sandal with a lace-capture closure to keep you secure inside the design. It is easily washable and features a footbed that is anatomically engineered for maximum arch support and for cradling the contours of the foot. The interior is treated with Cleansport NXT for odor resistance, and the outsole of the Newport has a lug pattern for slip-resistance in every direction.

If you're the type to spend a lot of time outdoors, you absolutely need the Newport in your collection. It is perfect for hot weather and unknown territory, for when you need something cushioned and molded to support you through an entire day of trekking. It doesn't get much better than Keen!

3

. Nomadic State of Mind JC Sandal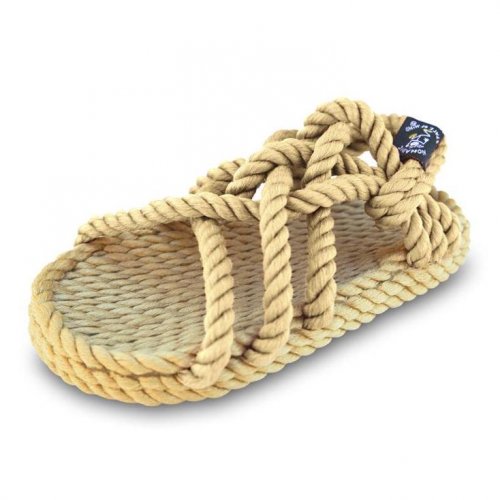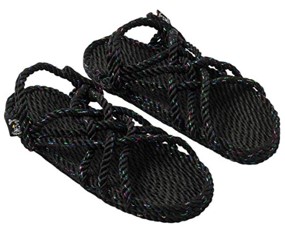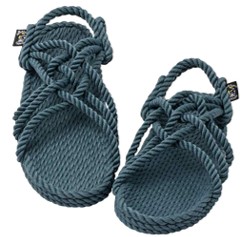 Nomadic State of Mind's JC Sandals are probably your typical style when you think of this type of footwear. This rope sandal might be exactly what you're looking for, given how nature-friendly it is and also so easy to wear. Whatever you feel about them, these inexpensive sandals are comfortable and durable, so you would be at a loss if you don't at least give them a try.
These sandals are handmade, which gives them a rustic feel. Add the fact that they're vegan and you won't have any misgivings about purchasing them. The JC sandals are as comfortable as can be. They can be adjusted to fit your specific foot shape and you won't have any issues with comfort.

The JC Sandal is moderately priced; not too high and not too low. It doesn't have the highest number of features but, it makes up for that with its versatility, unusual design, and a rustic, back-to-nature feel.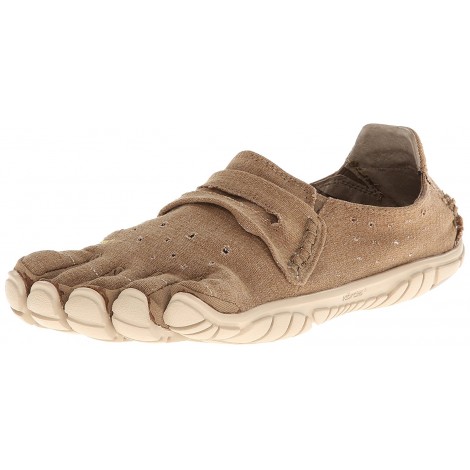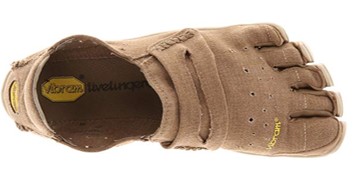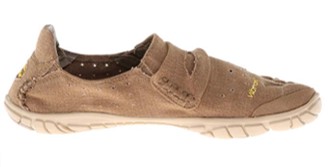 Have you ever worn footwear that moves in the exact way that your feet move? For most, the answer to that question is probably no. Well, say hello to the Vibram CVT. Here is a minimalist pair with the five fingers that makes movement an utter breeze. In addition to this, these also have a thin upper which allows them to be extremely breathable.
The design of the CVT is definitely something to pay attention to. The upper has a toe splay design which makes wearing these quite an enjoyable experience. In addition to this, the toe splay allows for easy transitions for those who would like to wear them for a more hardcore activity, like jogging. The upper of the CVT is designed in an incredibly minimal way. This means that the upper has very little cushioning. That isn't to say that the CVT doesn't provide comfort. The naturally porous design makes for an incredibly easy level of air flow to seep into the design and deliver the comfort that you need.

The Vibram CVT is designed to provide immense levels of comfort when you are out and about. The material on the outsole protects the majority your foot while the rest functions to ensure that you are as comfy and as cushioned as you can be.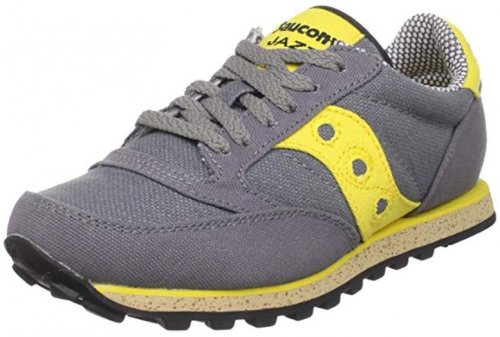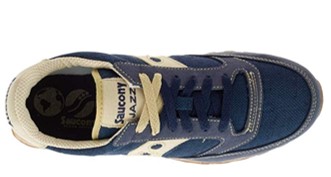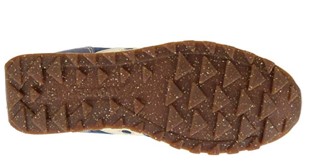 Saucony is a brand well known for its sports footwear, mostly related to running. However, with the vegan version of the Jazz Low Pro, they are jumping on the retro lifestyle wagon, and coming forth with a design that makes us nostalgic, but also glad that there's something so stylish and yet so technologically advanced to wear day in and day out.
The Jazz Low Pro has an upper made from canvas and hemp. It contains no animal materials or ingredients and is completely environmentally-friendly. The collar and tongue on the sneaker are padded for extra comfort, and there is a cushioned insole. This option has a shock-absorbing midsole as well, made from EVA, and the outsole comes with special traction. This traction is called the XT-600 and includes triangular lugs for that perfect grip on any surface.

Unlike other Saucony designs, the Jazz Low Pro vegan version is not meant for hard-hitting sports. However, that doesn't mean you can't enjoy this retro, relaxed sneaker when you're out and about, as it will definitely spice up your urban style!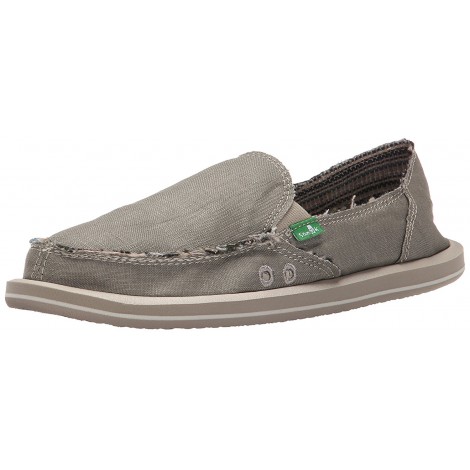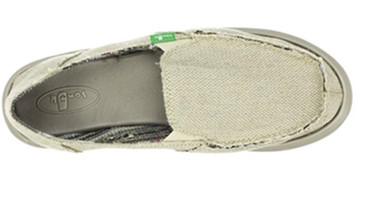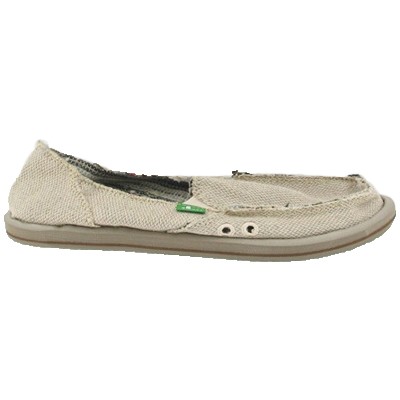 The Sanuk Donna is of the simpler variety. It is yet another slip-on, however, the kicker is that it is much more minimalist than many other models. The upper is a thin sheet of natural material, making these a perfect pair for any who would like to walk across the beach or surf. The sole unit is also perfect for this task. It is designed from a thick layer of rubber which allows the Donna to be both incredibly comfortable and water resistant.
The sole unit on the Donna is designed from a foam material. Sanuk had a great idea in mind when they decided to use a material such as this in a beach option. The foam is perfectly paired with the intended environment and, if one would like, would make for a perfect material to use on a surfboard. Besides that, the foam is also great for cushioning the underfoot, which is never a bad thing. The upper on the Donna is of a much thinner variety, which allows this design to be incredibly comfortable and provides you with all that you'd need in terms of comfort and airflow.

The material in the upper of the Donna keeps the feet nice and cool while the sole unit is well-cushioned, and you will have an absolute blast showing these off on your next beach trip!

7

. Rainbow Sandals Single Layer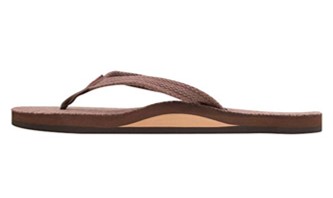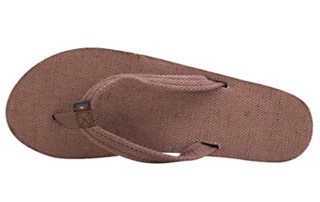 While it may not be the most stylish, the Single Layer design from Rainbow Sandals is that standard, simple flip flop design that we all need come summer. The bonus here is that it is made from durable natural fabric such as hemp and that it comes with more arch support that you would expect out of a model of this type.
The top of the footbed and the narrow strap of the Single Layer are made from our focus material, while the stitching is from bonded nylon to make sure the design doesn't fray or fall apart. The midsole of this option has arch support and a special stitch pattern at the toe post for maximum comfort. The Single Layer comes with a Rainbow outsole for slip and skid resistance even in wet conditions.

You can take it to the store, to the beach or the pool, even to a lazy stroll around town - the Single Layer can really do it all! This laid-back sandal is easy to pair with both jeans and shorts and skirts and dresses, and you shouldn't hesitate to reach for it when the days get hot!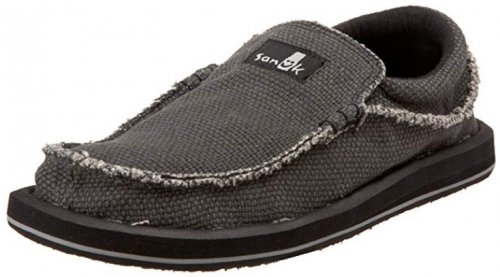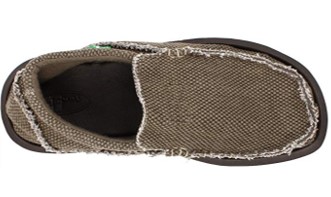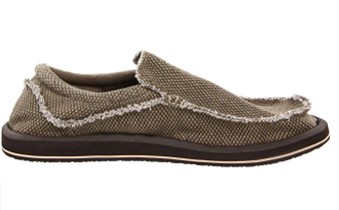 Another Sanuk classic, the Chiba is what the brand calls a Sidewalk Surfer. It is wide in profile and made from quality materials with quite a lot of fray around the edges for that relaxed summer vibe. The foam footbeds make the Chiba so comfy that you have to try it out to Chiba-lieve it. The joke is Sanuk's, okay, we had nothing to do with it.
The upper of this option is thick for durability, with a canvas lining that is soft and chafe-free. The footbed on the Chiba is the key element here, molded to fit the forms of the foot for maximum comfort. It is also treated with an antimicrobial agent to reduce foul odors and the risk of developing a bacterial or fungal infection. Finally, the Chiba comes with a sponge rubber outsole for slip-resistance and durability while maintaining the light weight at the same time.

Similar to the other Sanuk design on our list, the Chiba is meant only for the most casual of situations. It is that perfect warm weather option, when you don't feel like exposing your toes, but want something easy breezy to wear. It is versatile, it is comfortable, and it will keep your feet happy!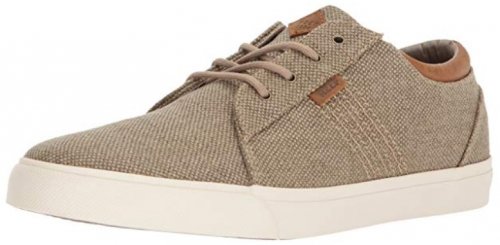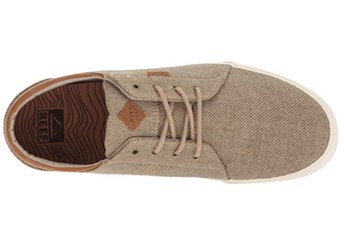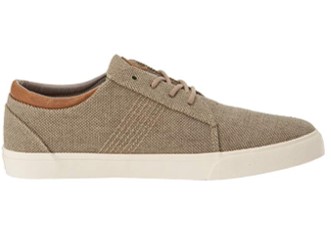 The Reef Ridge TX is one of those options that can't help but stay in style. It has the skater cut and is fully-fashioned from the natural material that is the focus of our guide. The upper, as well as the colors that this model comes in, are what makes it stand out so well. The upper has a quilted pattern and a level of padding that just doesn't go unnoticed. When someone slips their foot into the Ridge, they are immediately comfortable as they possibly could be.
The entire design of the Reef Ridge is one that is incredibly comfortable. This is primarily because of the cushioning incorporated into both the upper and the sole. For instance, the upper has a quilted pattern with each individual section filled to the brim with padding. This makes wearing the sneaker a breeze. The Ridge also features a hightop design that really stands out from its competitors. It serves to support your ankle and keep you looking cool and urban no matter where you go.

The Reef Ridge features a simple design, albeit one that will provide a comfort level that is very much above that which many other options provide. With that being said, the value of this model comes from the comfort that it delivers with the entirety of its design.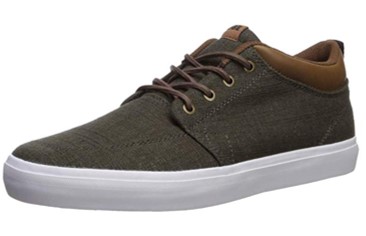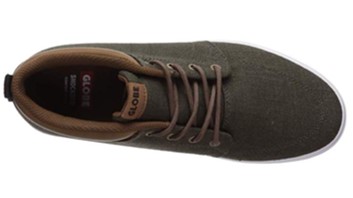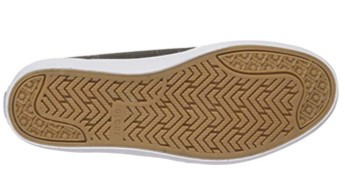 The Globe GS Chukka is one simple, sleek-looking design. The upper only manages to bring out the style levels and along with that, is has the Global S-Trac outsole, which makes all tricks while on the actual board as secure as they can reasonably be.
The GS Chukka makes sure to provide security through a shortening of the tongue and the addition of extra cushioning. The extra cushioning makes sure that the wearer experiences a comfortable ride and gives a bit of protection. The shortened tongue and snug lacing allow a more secure fit than normal.

The S-Trac outsole makes skateboarding in the Globe GS Chukka quite a safe adventure. This outsole design mainly incorporates a multi-directional pattern which means that the wearer is able to get all the grip that they need when they're out on the board. The fact that the outsole is rubber also helps with getting that perfect amount of traction.

Of course, it goes without saying that you absolutely do not have to be a skater to enjoy these cool kicks. If you wish for something easy and laid-back to complete your everyday style, don't hesitate to go for these! Their simple design and great traction make them an incredible investment.

Subscribe to our Newsletter