Best Sanuk Sandals Reviewed & Rated
In a Hurry? Editors choice: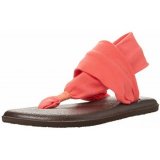 Test Winner: Yoga Sling 2

When summer rolls around, with its sticky heat and unrelenting sunshine, we can't wait to get out of our sneakers and boots and into something
far more comfortable
. We want footwear which
frees our feet
, helps them breathe, which doesn't make us sweat, and which, hopefully, looks fashionable at the same time.
Enter this California based company, founded in 1997 by people who love spending time
outdoors
as much as anyone. The name of the brand itself comes from the Thai word for fun, and their slogan is, "Smile – pass it on!" From this, you can come to the conclusion that this is a label which embraces the carefree parts of life, which encourages laughter and joyfulness and a healthy curiosity about the
world around us.
Standout Picks
Criteria Used for Evaluation
Upper
One of the key features of their most popular design for women – the Yoga Sling 2 – is that its upper is made out of fabric. This is a stretchy material, meaning that it will easily accommodate your foot, no matter how wide it is or how high your instep is. It is gentle and forgiving on the skin, not causing any abrasions or blisters.
However, that is not to say that it doesn't offer its fair share of support. Despite the stretchiness, a fabric upper can still keep your foot in place in the sandal, and prevent it from sliding around. What's more, the fabric material is water-friendly. Not ideal for swimming or consistently walking in puddles, but if it does get wet in a sudden summer downpour, nothing will happen to it. It will preserve its shape and be ready for the next adventure as soon as it dries off.
In addition, many of the sandals have uppers made of suede. Suede is essentially napped leather; the delicate, fuzzy underside which is beautifully soft on the skin. It is a natural material that can be quite durable, depending on its thickness. It has a brushed face and gives that plush, luxurious feeling. The strange thing about the use of suede here is that the brand actually uses this material as a lining. A layer on top of the footbed. This is not common practice in shoes, but can you imagine just how addictively soft suede must feel under your bare soles? Additionally, suede as a natural material is malleable. It changes shape the more you wear the shoe, meaning that it will mimic the contours of your foot, providing you with amazing, customized comfort.The downsides of suede are that it is an expensive material, obviously not animal-friendly and that it can become dirty quite quickly.
Midsole
The midsole is designed to provide cushioning and shock absorption to the shoe, nestling the foot in comfort. Whereas running shoes tend to have thick midsoles, flats and thinner shoes not designed for high-impact activities often have thinner midsoles.
The reason for this is simple: you need more shock absorption and vibration dampening during high-intensity movements or activities to maintain comfort and prevent foot injury than you otherwise would with a regular shoe, flat or sandal. Midsoles are often made from EVA (ethyl vinyl acetate), a synthetic plastic also used to make insertable orthotics. A firmer type of EVA for the midsole will make the shoe heavier, but more durable; whereas a softer type of EVA, like those found in running shoes, improve shock absorption, but wear much quickly.
EVA
EVA is short for ethylene-vinyl acetate, a synthetic material with all sorts of different uses, one of which is that it's a common component of footwear, as an insole, midsole, and outsole, depending on the design.EVA has outstanding shock-absorbing properties, making it a go-to material for sports sneakers. It is also highly water resistant and corrosion resistant and has good insulation. Their sandals use hardened EVA as an outsole, which offers lightweight, flexible traction. EVA is an artificial material, it is also vegan-friendly, meaning that no animals were harmed in its making.
Outsole
Nylon
Nylon is a synthetic polymer with excellent abrasion resistance. It is a long-lasting material, strong and durable, used for things such as seatbelts, tie cords, ballistic cloths and similar. It is resistant to heat, but also to fungi, molds, mildew, and chemicals.
If you think that with all of this nylon is also an uncomfortable material, then think again. While it has many military applications and great specific strength, nylon is also used in fashion. You have seen nylon stockings countless of times, wearing them even, and they are like second skin, aren't they? In this brand's footwear specifically, nylon is used as one of the many materials to construct the upper and the little part of the flip-flop which goes between the toes. With nylon's strength, you can be sure that your footwear won't fall apart any time soon.
Neoprene
Similar to nylon, neoprene is resistant to pretty much everything – heat, chemicals, oil, ozone, sunlight, water, sand, dust, you name it. This is mainly why neoprene is used to make such products as orthopedic braces, swimwear, wetsuits, camera bags etc.It is popular to use in footwear, especially as an upper material for various styles, including sandals, because neoprene is a tough material which offers protection as well as cushioning.
Its water-resistant properties make it perfect for wet conditions such as by swimming pools, lakes, and the seaside, and it is also latex-free. If anyone is allergic to latex by any chance, they should definitely go for footwear made out of neoprene.
Rubber
The benefits of rubber as a sandal outsole lies in the fact that rubber is extremely slip-resistant. This is important when we think about how often we wear summer footwear when walking on wet surfaces, such as by the beach and the pool. These outsoles help us keep our balance and prevent falls and injuries. Rubber soles are also light and don't need to be broken in. Your feet won't be weighed down as you explore beach destinations, and you won't feel any discomfort even if you wear your new shoes for the first time that same day.
Comfort
The most outrageous, unexpected and yet somehow weirdly 'why didn't anyone think of that before' material that this brand utilizes is definitely the yoga mat footbed. And it's exactly what it says it is – a yoga mat.If you ever stepped on a yoga mat, you know how comfy it feels under your bare feet. Sure, it's thin, but it's cushy, molding to your foot as memory foam would, and evenly spreading your weight along the sole.
It does the same as a footbed – the yoga mat material doesn't put extra pressure on any one part of your foot, and thus reduces foot fatigue, no matter how long you decide to walk for.
Style
While style is often a matter of personal taste, we've checked thousands of online reviews to see what people are saying about each of the products on our list. Some things, such as sleek design, seamless construction and overall weight and shape of the sandal, were common likes or dislikes among buyers of each product.
To evaluate style, we considered everything from the design, color, shape, weight, lines and overall construction of the product in question. While no one wants to wear an uncomfortable sandal, they also don't want a comfortable sandal to be ugly on the eyes. We've selected all of those on our top 10 to be not only stylish, but also comfortable, true-to-size, supportive and durable.
The higher the score on the "style" metric, the more fashionable we and the community of buyers we surveyed deemed the product to be.
Top 10 Picks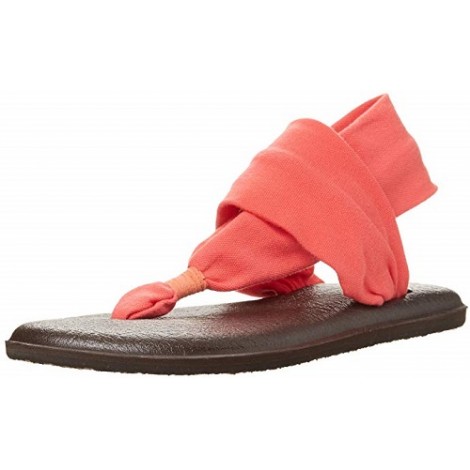 This list would not be complete without the brand's bestseller - the unique, the innovative, the effortlessly uncomplicated - Yoga Sling 2! This design has a stretchy fabric upper which works well for all foot sizes and widths, with a wrapped toe post. The Yoga Sling 2 is a trailblazer in terms of materials used, as it has a yoga mat footbed - yes, you read it right - which brings extra padding to the sole. The outsole of this sandal is made out of Happy U rubber, which is spongy and yet providing you with much-needed traction on slippery surfaces. We could go on gushing about this model, but you simply need to experience its creative comfort and stylishness first hand.
Fabric Upper
The advantage of an upper made out of such soft, stretchy material is that it is incredibly gentle on the skin. In the Yoga Sling 2, you won't experience any discomfort in the form of hotspots or blisters no matter how long you wear it for.
Yoga Mat Footbed
We have yearned for a footbed as comfortable as this one. It takes on the shape of your foot as you walk, but it springs back into its previous form when the pressure lessens, making it a great shock absorbing material. It is ideal even for those who suffer from plantar fasciitis!
Cost and Value
We are tempted to say that no price would be too high for the legendary comfort that is the Yoga Sling 2, but fortunately, that isn't necessary. This design is one of the least expensive ones we have looked at, and we're not sure why you're still hesitating to get your hands on it. Go for it!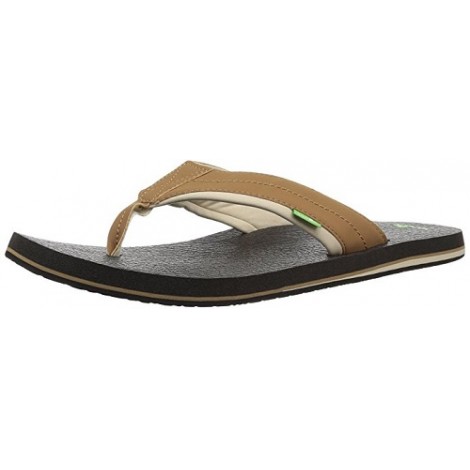 The Beer Cozy 2 is another design which has reached sky-high popularity within the brand. This clean, simple flip-flop with a manly name has an upper made out of synthetic leather, with neoprene lining. The toe post is made out of nylon webbing and the footbed is real yoga mat material, what this label is famous for. There is an added arch cookie for extra support for that all-day wearability. Crack open a cold one, lean back into your favorite beach chair and relax, knowing that your feet are comfortable and supported.
Neoprene
Neoprene lining in the Beer Cozy 2 is there to provide refreshing, ultralight comfort. It is a material resistant to pretty much anything - from water, sand, dust, direct sunlight, to extreme things, such as chemicals and oils - and it is one that enables you to enjoy that soft, cozy feeling in this sandal.
Casual and Comfortable
Let's be real - most guys don't care much about fashion. They want their clothes and footwear to be reliable, practical, and comfortable above all else, especially if they'll be spending a lot of time in them. Fortunately, with the Beer Cozy 2, they can get all of that, and still look summer-appropriate.
Cost and Value
If we line it up against other designs in the same style category, the Beer Cozy 2 - as well as most of their footwear - seems somewhat pricey. However, it is a sandal in its own league, one that can't be matched in terms of comfort and functionality, while still looking clean and decent, and we feel that it is absolutely worth the price.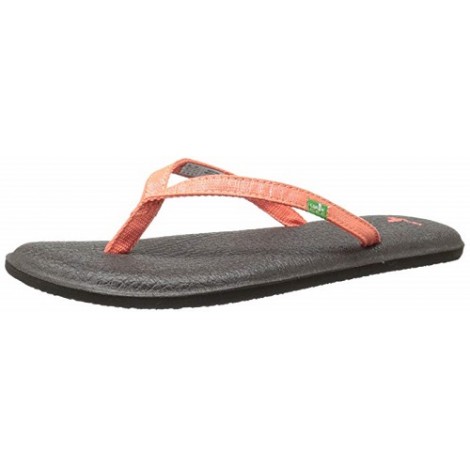 Okay, yes, we can accept the fact that on the outside, the Yoga Spree 2 doesn't look like much, or at least not any different than regular flip-flops. However, this effortless, delicate sandal comes with synthetic straps which are slim in design for a touch of femininity and soft webbing lining. The footbed of the Yoga Spree 2 is the standard yoga mat footbed, and the outsole is rubber. These come in several color choices, including the standard black, white and brown, and this refreshingly vibrant coral. Thanks to its breezy, slender lines, the Yoga Spree 2 can be worn both on the beach and for a lengthy shopping trip around town. Casual and versatile!
Feminine
The straps of the Yoga Spree 2 are slim, making the entire design appear romantic and delicate. This means that these flip-flops go well with a dress or a skirt, as well as skinny jeans and fashionable shorts. You can pair them up with anything for that cute, girly summer look!
All-day Wearability
You will hardly find a flip-flop more comfortable than the Yoga Spree 2. Whether it's a long sightseeing tour, a day running around the beach or even something physically demanding as a summer music festival - these sandals can handle it all! Your feet will feel cushioned, supported, and pain-free.
Cost and Value
The Yoga Spree 2 is one of the lowest-priced models in this guide. It might not offer much in terms of features and original materials - except for the yoga mat footbed - but it is a staple type of footwear which will easily fit into your shoe closet and which will make an amazing addition to your summer outfits.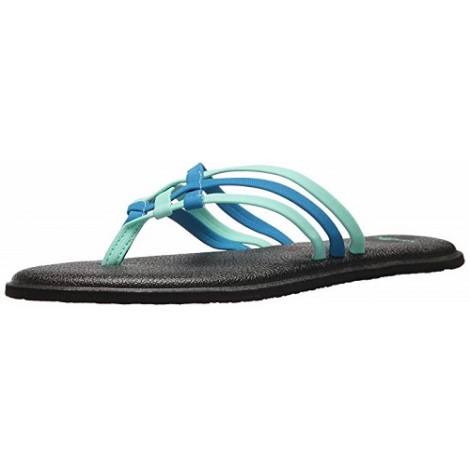 If you're going to the beach, you will need a sandal to match your bikini, and what better design to do that than one which is actually made out of bikini material! That's right, the Yoga Salty, a fashionable, criss-cross strapped flip-flop is made out of 95% nylon and 5% spandex, or rather the material that swimsuits are made of. It comes in different color combinations, from classic black to all kinds of tropical, so that you can easily find the one to match what you're wearing. Of course, the Yoga Salty has that iconic yoga mat footbed, with a sealed edge and light texture design. Flirty, fun and practical at the same time!
Bikini Material
The great thing about the Yoga Salty is that its straps won't dig into your skin, or cause any cuts or lacerations. Even better is the fact that if these get wet - and they most surely will, by the sea or by the pool - they will dry quickly and completely, exactly like your bikini does!
Texture
When you're around water a lot, the risk of slipping, falling and injuring yourself is a very real one. This is why the Yoga Salty comes with a textured footbed, one that will prevent your foot from sliding in the flip-flop. You won't have to worry about hurting yourself when you're out to have fun with your friends and family.
Cost and Value
If we look at other designs on this list, the Yoga Salty falls in the middle-range when it comes to price. It looks simple, but it offers the benefit of not worrying about whether your sandals will get wet, and if they do, whether something will happen to them until they dry out. In these gorgeous flip-flops, you can be safe in the knowledge that you can walk around in wet conditions for as long as you'd like.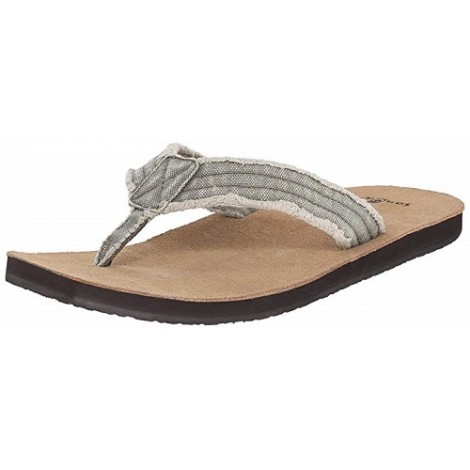 At first glance, the Fraid Not flip-flop may look like your standard, run-of-the-mill flip-flop. It has a canvas upper frayed at the edges for that casual, worn look, a Happy U rubber outsole, and a high rebound EVA footbed. However, what sets the Fraid Not apart from other shoes of its type is the suede liner layered over the footbed. We were a bit surprised as well, but now we can't help but marvel at the ingenuity of putting such a soft, natural material as lining and amping up the comfort levels of this design to the maximum.
Suede
While admittedly not animal-friendly, suede is a natural material that can't be challenged in terms of comfort. It has that plush, luxurious feeling, and over time it changes shape, accommodating the contours of your foot and ensuring that you are comfortable and supported every step of the way.
EVA
EVA is a material often used in running shoes, because of its exceptional ability to absorb impact. This reduces stress on the heel of your foot, and evenly distributes pressure across the sole, minimizing foot fatigue.
Cost and Value
The Fraid Not design is quite expensive. It isn't so surprising given that genuine suede is one of the materials that go into the construction of this sandal. And while it is truly unparalleled in comfort and feel, bear in mind that Fraid Not is not suitable for environments where it can get into contact with water, and factor that in when you're deciding on a purchase.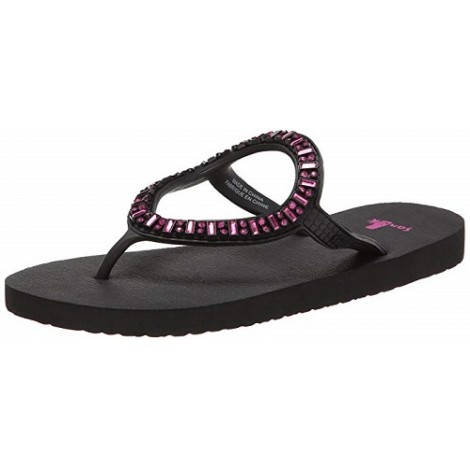 As its party and luxury inspired name suggest, the Ibiza Monaco is a special design. With it, we are stepping outside the world of practical and beachy into something more embellished, more fashionable. The Ibiza Monaco features a circular rubber strap with rhinestone accents all over it and a squishy rubber footbed. It is made completely out of synthetic materials and is a sandal that you can wear to the beach if you are so inclined, but it is much better suited for a fun night out on the town, matched with a sexy mini dress and bright lipstick. In the Ibiza Monaco, you will have the time of your life, being stylish and yet undeniably comfortable at the same time.
Design
We are enchanted by the flirty, interesting design of the Ibiza Monaco. It is not an average summer flip-flop, but rather one that will elevate your style, that will make you party-ready without any of the usual pain and discomfort that comes with wearing high heels. Comfort and trendiness all wrapped up in one!
Vegan
The Ibiza Monaco is made out of entirely synthetic materials, and no animal products were used even in the adhesives and glues which keep this design together. It is an entirely vegan model, and we can't be more thrilled about the fact.
Cost and Value
When we look at the cost, yes, the Ibiza Monaco is a bit expensive. For a summer sandal you may think that it is too much - especially when other designs from the same brand are lower in price - however, we can assure you that it is not. After all, you can't put a price tag on a pair of flip-flops which look this gorgeous and still provide you with all the cushioned comfort the brand is renowned for.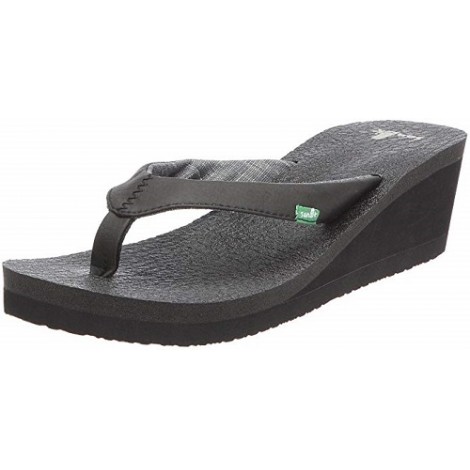 From flat and thin soles to a wedge heel - things just got a lot higher with the Yoga Mat Wedge! This design puts a spin on the classic flip-flop by adding a two-inch heel and a half an inch platform under the front of the foot. The footbed is still made from yoga mat material, while the wedge itself is made from high-density EVA. The outsole is rubber, and the upper is synthetic leather lined with patterned textile. If you're someone who wouldn't be caught dead in flat shoes, who prefers to have a boost in height even on the beach or a casual stroll around town, then the Yoga Mat Wedge is just the option for you!
Wedge Heel
Despite the two inches in height, the wedge heel is one of the most comfortable types of heels. It evenly spreads your weight over the footbed of the sandal, reducing pressure in the ball of your foot and enabling you to enjoy these beauties from day to night.
Cushioning
Everything about the Yoga Mat Wedge footbed and sole - from the padded yoga mat material, over the EVA sole, right down to the spongy, lightweight Happy U rubber outsole - is designed to provide you with ultimate comfort. We have yet to see a more supportive flip-flop wedge on the market.
Cost and Value
The price of the Yoga Mat Wedge is leaning towards the high range. It is a stylish sandal with a popular type of heel and a well-known design, one that will serve you well as you take on the warm summer weather. If you don't mind the boost in height and are comfortable with the added inches, then nothing should stop you from treating yourself with these!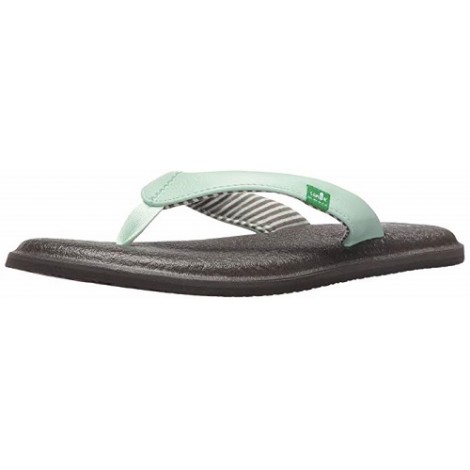 The Yoga Chakra speaks of simplicity, the ease of summer and ocean waves. It is a simple flip-flop, one that you just throw on with your favorite pair of shorts and a t-shirt, or with a simple sundress, and you're ready to take on the beach! The upper of the Chakra is constructed out of synthetic materials with a nylon toe and jersey lining. The footbed is has a sealed edge constructed with yoga mat, and the outsole is Sanuks' patented Happy U rubber. The minimalist design is made interesting with tons of cute color choices, one of which is this gorgeous mint we can't take our eyes off of.
Happy U Rubber
Rubber is a material which provides good traction, slip- and skid-resistance, which is essential when one finds themselves walking on water-splashed surfaces. Not only that, the Happy U rubber technology makes the footbed spongy and padded, providing next level comfort.
Go-to Design
Yes, it is very nice to have a pair of special summer sandals which you wear to a party or a date in warm summer evenings, but you also need something simple, something easy, which you can just throw on and walk out the door without a second's thought. The Yoga Chakra is perfect for that - an uncomplicated design which will support you no matter where you decide to go.
Cost and Value
Compared to other models in this guide, the Yoga Chakra is only a teensy bit less expensive. It is a fine sandal, one that we can't find a fault in, but it is still lacking in some of the originality and innovation other designs have. Nevertheless, if your style is calling for something quick and easy, then this flip-flop is perfect for you.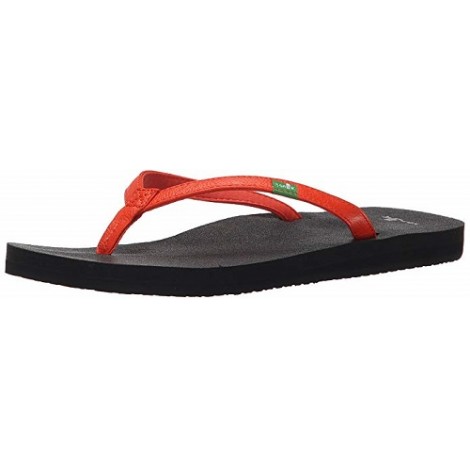 Unlike some other designs in this guide, the Yoga Joy closely resembles a classic flip-flop. This simple, versatile model has an upper with a jersey lining and a logo patch on the side, as well as a toe post made out of nylon. The yoga mat footbed is contoured, with special attention paid to the arch area. The Yoga Joy comes in several color options, from simple black and simple white, over brown, to red. If you are looking for something standard, a straightforward flip-flop to get you through the worst of the summer heat, then there is nothing more standard in appearance and yet still advanced in comfort, than this minimalistic design.
Sturdy
The fact that the upper of the Yoga Joy is made out of nylon - with a jersey lining - makes it an extremely sturdy design. You can be sure that the straps and the toe post on this flip-flop won't break off any time soon, no matter how long you wear it for.
Contoured Footbed
We love a yoga mat footbed because it cushions your every step. However, having contours as well is a nice addition, especially since that ensures that your arch is supported, too. Arch support is vital in preventing foot, ankle, knee and even lower back pain.
Cost and Value
The Yoga Joy is neither expensive nor cheap. It is a solid flip-flop, albeit a bit uninspired when it comes to visual appeal. However, its comfort is undeniable, as well as its ability to make you feel supported and secure every step of the way. We feel that its price truly reflects its quality.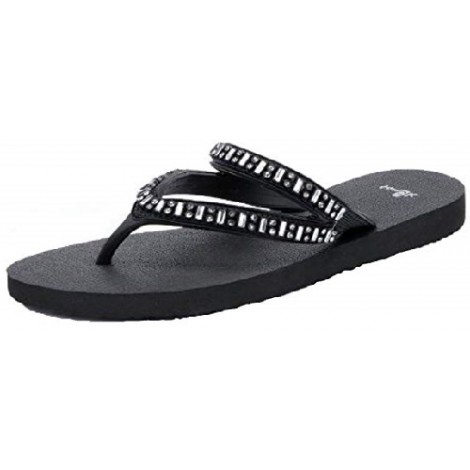 Similarly to another more glammed up design on this list, the Selene Crystal has two rubber straps which are embellished with crystals and rhinestones. It comes with a foam rubber outsole for a flexible, lightweight feeling, and has a logo stamp on the footbed. While this sandal is a flip-flop, essentially, its sparkly accents make it more dressed up than usual, and you won't have any problems pairing this beautiful model with a cute, preppy outfit for an outing with friends.
Rubber
The fact that both straps and the outsole of the Selene Crystal are made of rubber makes us think of two things: first, that this design is water-friendly, and can be worn in settings where you expect to get splashed, and two, that it is unbelievably sturdy and long-lasting.
Versatile
The Selene Crystal can be a great touch of glam to your bikini look, for a princess-on-the-beach vibe, but it can also work for everyday wear. Whether you're throwing these on for a run to the store or are carefully combining them with an outfit designed to impress the people around you, the Selene Crystal can do it all.
Cost and Value
We see it as a potential downside that the Selene Crystal is as pricey as it is. While it is not outrageously expensive, it does not have a yoga mat footbed, nor does it promise the comfort of some other designs in this guide. It is fashionable and stylish, but we're not sure if it's really worth its price.

Subscribe to our Newsletter