Most Cushioned Shoes Reviewed & Rated
In a
Hurry? Editors choice:

Test Winner: Clarks Breeze Sea

Shoes are essential; they protect your feet from the elements, and they give you support to prevent injury. However, many shoes are painful to wear. They lack cushioning and padding and, as such, you step on a rock
while you're hiking
and agony lights up your foot. Or you step on something hard in your office shoes and you really wish that the universe conspired to make better padded shoes. Fortunately for all of us, the universe did conspire to make better, more cushioned shoes.
Standout Picks
Criteria Used for Evaluation
Use
The environment that you are walking, running or working in matters when you are considering what kind of cushioned shoe would be best for your current situation. Not all situations call for running or athletic shoes. Some situations, such as working in an office, going for a casual walk, or taking a trip, would require less cushioning than running and other athletic pursuits.
So be sure to consider where you intend to be wearing the cushioned walking shoes that you need to buy before you make a selection. Some work environments allow only closed-toe dress shoes due to safety concerns while others allow sneakers and athletic shoes and others allow open-toed shoes.
Comfort
Cushioning in shoes can take many forms. Generally, it's a type of foam or a type of gel, but these aren't the only forms cushioning can take. Cushioning can also be found in the outsole material when the material used can absorb shock and disperse it properly so that the force from each footstrike doesn't painfully jar your feet.
Foam Cushioning – There are many different types of foam cushioning out there. They are all great for shock-absorption, but some are better than others. Some commonly used examples of foam cushioning include memory foam, polyurethane (PU), and ethyl vinyl acetate (EVA).
Gel Cushioning – Instead of foams, some manufacturers use gel cushioning. Usually, gel cushioning doesn't take up the entire length of the foot but is rather used in specific areas to add cushioning in high-impact areas. Such high-impact areas include the rearfoot and forefoot areas.
Hybrid Cushioning – Some manufacturers use combinations of more than one type of foam cushioning in the insole or midsole, to maximize the cushioning potential of both materials. However, others use gel-infused foam compounds that combine the best foam and gel materials to provide excellent shock-absorption and cushioning.
Rubber – Rubber can be firm, but with modifications, it can be flexible enough to absorb shock very well. Rubber provides protection and shock-absorption to a shoe, making it a commonly used material in shoes of all types.
Cushioned Regions
Cushioning can be found in four regions of the shoe: the upper, insole, midsole, and outsole regions of the shoe. While insoles are commonly associated with cushioning and comfort, midsoles as cushioning units are less well-known and outsoles are generally not associated with cushioning.
Padded Upper – Padding in the upper can absorb shock from bumps and scrapes, acting as a protective barrier between the top of your foot and the outside world. Padding in the upper can come as padded linings, padded tongues, and padded collars. Shoes without this small layer of protection between your foot and the firm outside of a leather shoe, for example, would be abrasive and could cut into your Achilles tendons or your feet!
Insole – Insoles are the location where most cushioning is expected to be found. Insole cushioning can come as foam footbeds, heel pads, cushioned forefoot regions, and others. Generally, most shoes use foam insoles and insole pieces, but sometimes manufacturers use gel compounds and components.
Midsole – Midsole foams and gel cushions are the real secrets behind a comfortable, well-cushioned shoe. This is the area of the shoe that has the most effective cushioning components. To increase the longevity of the midsole foam and gel units, manufacturers wedge the midsole between the insole and outsole. The insole is exposed to your foot more and can wear down more quickly. The outsole, naturally, is on the outside and is the part that always hits the ground and wears down more quickly. As such, the midsole is where manufacturers put their best cushioning technologies.
Outsole – The outsole, as previously stated, is not commonly associated with cushioning. The outsole is the first line of defense between your foot and the outside world. It protects your foot from rocks, abrasive surfaces, thorns, and many other such threats to your feet, but it also protects your foot from shock! Rubber and synthetic materials are the most commonly used materials in the outsoles of the best-cushioned shoes. They easily absorb and disperse shock!
Flexibility
Flexibility is important in a shoe for a number of reasons. It improves the comfort of your feet by allowing the shoe to move with your foot for a good fit and to reduce painful rubbing of your foot against the shoe. Flexibility also contributes to shock-absorption. Flexible shoe materials disperse and absorb shock to prevent that shock from jarring your ankles, legs, and back. Flexible materials also prevent shock arising from your foot pounding against the shoe. Flexible materials can be synthetic or textile and can be found everywhere in the shoe from the upper to the outsole.
Mesh Uppers – Many of the shoes on this list don't have mesh uppers, but some do. Mesh uppers have many benefits, but flexibility is one of the most important of them. Meshes act like nets which can be stretched and pulled in different directions to allow movement. Sometimes mesh uppers come with synthetic or leather overlays to provide some upper support, as meshes are so flexible that they don't offer any support on their own.
Midsole – The midsole of a shoe can sometimes consist of more than one layer or more than one component. Midsole materials are almost always flexible, as they need to be to keep from counteracting the flexibility features of the rest of the shoe. Some, however, are optimized for flexibility, so do some research into the shoe you are considering purchasing to see what kind of flexibility features the midsole contains.
Flex Grooves – An overly firm or a solid piece of rubber or synthetic material used in an outsole isn't usually especially flexible, which inhibits the material's natural shock-absorbing and cushioning properties. As such, shoe manufacturers cut grooves and lugs into the bottom of your shoe to promote flexibility and traction.
Support
Support is an important aspect of a shoe that needs to be considered, even though support doesn't contribute that much to shock-absorption. However, it does contribute to your shoe's shock-absorbing capability. It just isn't quite as important as cushioning and flexibility.
How Support Contributes to Shock-Absorption
Everyone needs at least a little support. Without the right amount of support, someone could easily roll an ankle or their foot, which would result in injury. However, support also reduces the shock generated by each footstrike, as it corrects pronation and supination problems and promotes normal foot motion. Support features include foam wedges beneath the arch, heel, midfoot, and full-foot TPU shanks, and supportive overlays. Over and underpronation put more strain and stress on your feet and reduces the natural ability of your feet to absorb injury and pain-inducing shock.
Value
Ultimately, the cost-effectiveness of the shoe, or it's overall value, depends mainly on cushioning, flexibility, and support, but also relies on their durability, convenience, ease of use, maintenance, and their actual price.
Durability
You want and need a shoe that won't fall apart right away. A shoe that wears down too quickly cannot protect your feet from injury and cannot properly absorb shock. Every region of the shoe needs to be durable from the upper to the outsole. Fortunately, manufacturers have come up with ways to increase the longevity and durability of their shoes by creating high abrasion compounds and interlocking units in the outsole. They have also come up with special foam and other cushioning compounds that last longer than many early foams used in shoes. Always check the reviews and the technologies used in the shoe you are looking to buy to confirm that the shoe is durable and won't fall apart in a week or two.
Convenience and Ease of Use
Many of the shoes on this list are slip-on shoes while others are lace-up or hook-and-loop shoes. The slip-on shoes are the most convenient, as you can just slip them on and go, but the lace-up and hook-and-loop shoes also have convenience features, such as pull tabs, velcro straps, and heel loops to make it easier to pull the shoe on and secure them with a proper fit.
Maintenance
A time-consuming maintenance routine is inconvenient and can really devalue any product. We live fast, busy lives and we often barely have time for everyday activities, let alone have the time to treat and re-treat and clean, polish, and dry shoes every time you wear them somewhere. So, look for shoes that are easier to maintain and clean. Shoes that are easier to maintain and clean are also less expensive over time, as they don't require a lot of materials to maintain them.
Cost
The actual price of a shoe matters, too. The best-cushioned shoes don't have to cost a lot of money! Most of them can be found for a very reasonable price, so always shop around if it looks like the shoe you have decided on is going to cost you an unreasonable amount. Someone, somewhere, will probably be selling it for less!
Advanced Features
Cushioning, flexibility, support, and value are the most important features of a shoe to consider, but there are other details you should think about before you make your final decision about which cushioned shoe you want to purchase for yourself.
Traction
A slick bottom or outsole with thin, narrow grooves is a safety hazard. You need to consider the type of outsole material and the tread and lug patterns before you make a purchase. For traction, the best materials are rubber and synthetic materials. Always avoid crepe and leather outsoles in a cushioned shoe unless you won't be walking or running around in them much or the environment you are in won't be slippery at all.
Temperature Management
No one wants stinky feet, but sometimes this is unavoidable. What is avoidable, however, is stinky shoes. Temperature management features can reduce the development of odors while also keeping your feet cool and dry. Odors in shoes develop when microbes and bacteria start to grow. Shoes are oftentimes the best possible home for these microbes and bacteria because the inside of a shoe can be hot, dark, and damp. Temperature management features in shoes often include breathable mesh uppers, moisture-wicking insoles and linings, and ventilating perforations in the upper of the shoe. These features allow airflow and pull moisture away from the foot to keep it dry and cool. If you have cool, dry feet, you'll have cooler, drier shoes. An additional benefit to temperature management features is a reduction of the occurrence of blisters, as dry feet are less likely to develop blisters.
Your Medical Conditions
Before you invest in a new pair of shoes, you need to consider your own health and medical conditions. Oftentimes, people with specific medical conditions, such as diabetes, need special shoes to help protect their feet. If you have chronic back, hip, or foot pain, then it would be to your benefit to investing in a more supportive shoe. Supportive shoes can also have plenty of cushioning!
Your Pronation and Supination
Knowing whether or not you over or underpronate is essential to choosing a good shoe that will be comfortable for you in any environment. A shoe that has the most cushioning and padding available can still fail to absorb shock and result in pain and discomfort if they do not support your feet and arches properly to correct any pronation and supination problems. To determine whether or not you have a pronation or supination problem, find an old pair of your shoes that are well-worn. Look at the bottom of your shoe.
Is there more wear on the arch side of your shoe?
Is there more wear on the outer side of your shoe?
Is the wear spread out evenly?
If there is more wear on the arch side of your shoe, then you likely overpronate. You probably need to invest in shoes that correct overpronation problems. If there is more wear on the outer side of your shoe's outsole, then you likely underpronate. This means you probably need to invest in shoes that correct underpronation problems. If the wear is spread out evenly across the outsole of your shoe, then you probably have normal pronation, which means shoes which aren't designed for pronation problems will be fine for you and your needs.
However, there are some cases when these guidelines may not apply. If wearing certain shoes causes you pain and it's not from the shoe being too tight or narrow or from it not offering enough cushioning, then you could benefit from a visit to a podiatrist or your general physician to assess your gait for pronation and supination problems.
Your Shock-Absorption Needs
Finally, before you make your final decision and invest in your new pair of cushioned shoes, you need to consider your specific shock-absorption needs. These needs will vary from person to person and not everyone will be comfortable in every type of shoe. Your gait and pronation problems are the first thing to consider, as pronation and supination problems can reduce the effectiveness of your foot and shoes to absorb shock. You also need to consider how heavy your average step is. Not everyone walks lightly by default. Some people stomp around naturally. You need more cushioning if you have a heavier step. If your footstrikes are too heavy, though, you might still injure yourself even if you have ample cushioning, so it's worth considering lightening your step to reduce the force generated by your footstrikes.
Similarly, the speed you will be traveling in will also matter. If you will be walking around or standing around all day, you need a different amount of cushioning than someone who is going to be running long distances, because the force generated by walking or standing is less than the force generated by running. That doesn't mean that an uncushioned shoe would be comfortable if you were going to be walking or standing, especially if it would be for a long period of time, but you would need less cushioning if you are walking or standing.
10 Best Cushioned Walking Shoes



Who better to top our list of the best cushioned shoes than Clarks? The Breeze Sea Flip Flop, although a sandal, has received rave reviews for its cushioned sole and open feel. And in the heat of summertime, it's one of the best options around whether you're sitting by the pool or strolling around the lake. An adjustable strap ensures you get the best fit possible, and a lightweight EVA footbed and midsole help to make it one of the most cushioned sandals you'll ever own.
The midsole of the Breeze Sea Flip Flop was designed with EVA to offer firm, yet cushioned support. A soft EVA footbed leaves each step feeling padded and plush, all while keeping the shoe lightweight to help alleviate foot fatigue. It's the Clarks comfort the brand is renowned for, all wrapped into a sporty sandal for summertime wear.
Along with its great cushioning features, The Clarks Breeze Sea Flip Flop embraces the thong style sandal to help make your strides even more comfortable with an open design. Synthetic straps keep it water resistant and soft against the top of the foot, while an adjustable hook and loop closure allows you to fit the sandal to your liking. With numerous options for colors and a great footbed pattern, they are a stylish flip flop option!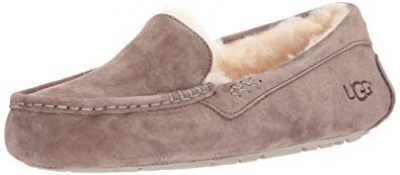 Nothing says comfort like having your feet wrapped in soft, plush, warm material. UGG created the Ansley Moccasin to embody the best of quality materials constructed for cushioned comfort. Soft UGGpure wool hugs your feet with a warmth and feel unlike any other, while exterior uppers combine pig leather and dyed sheep fur for different color options and style. Best for winter or cooler weather, they will have you curled up by the fire enjoying your next new novel, or lounging about the house in foot bliss.
Soft, plush, and cozy, UGGpure wool lines the inside of this slipper to wrap your foot in warmth comfort. Water resistant uppers from Silkee suede make it easy to clean by simply blotting out stains or dirt with soap and water. A snug fit keeps them firmly on the foot but doesn't restrict when standing. All the classic comforts of UGG brand shoes wrapped into a luxurious feel.
The UGG Ansley Moccasin has a molded rubber outsole, which does allow for both outdoor use as well as indoor use. Easy to pair with skirts, shorts, or pants, several color options make it simple to pair to any attire. The UGGpure wool lining will keep you cushioned with each step, and once on, you may not want to take these off.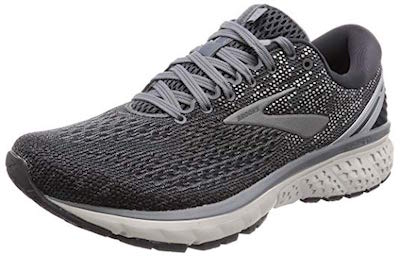 It may not look like much, but the Brooks Ghost 11 has state-of-the-art cushioning technology and protects your feet with a segmented crash pad. The tapering effect on this shoe supports natural foot motion and the soft fabric lining provides a gentle embrace. The rubber outsole helps cushion your feet as you run or walk. It's stylish and sleek too.
Brooks's MoGo cushioning technology boasts increased cushioning compared to other synthetic soles, but the BioMoGo midsole in this shoe has the added benefit of being environmentally friendly because it's biodegradable. The tongue and collar of this shoe are soft and plush, giving your ankles and the top of your feet extra padding. This prevents injuries to your vulnerable Achilles tendons.
The Ghost 11 is in the middle-to-high price range, but you are getting a respected brand and a comfortable running shoe. The Ghost 11 balances excellent cushioning with lightweight support.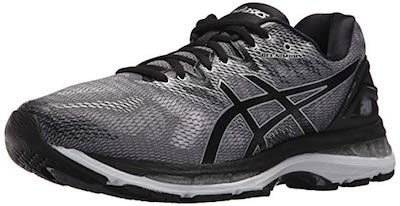 The Gel Nimbus is a long-running model of padded shoes from ASICS, which means they've had a lot of time to figure out the best balance between cushion and support. Its padding is superb. The seamless construction protects your toes from rubbing against an abrasive seam. It comes in a variety of colors, too. This shoe is the best choice for maximum comfort.
The FluidRide Midsole cushions your feet and gives you some bounce back to make your walk or run more comfortable. This midsole was also designed to be lightweight and durable. ASICS's GEL Cushioning of the shoes absorbs the shock from running and walking, which gives the shoe a walking-on-air feel. The cushioning in this shoe gives protection to your heel and your toes.
The Gel Nimbus 20 is in the middle-to-high price range, but you are getting the best deal by purchasing this high-quality shoe. It also bears a stylish and eye-catching design.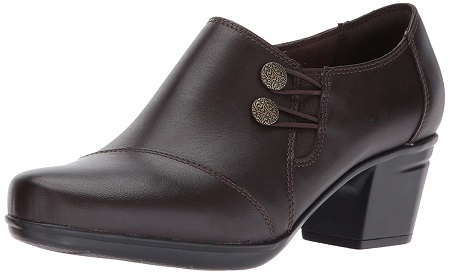 Style and comfort don't have to be mutually exclusive, and the Emslie Warren from Clark's is a great example of this in action. These loafers feature a 100% leather upper and button trims for extra style points, as well as a block heel and Ortholite insole for comfort. Sizes range from a US 5-12, including half sizes and additional width options. They are also available in three colorways: black, brown, and navy.
Leather is one of the oldest materials used in the making of shoes, dating back thousands of years. A leather shoe was found in modern-day Armenia that was dated to be older than Stonehenge! Leather is prized for its strong durability and natural water resistance, as well as its classic stylistic appeal. The Emslie Warren features a 100% leather upper, giving it the durability you need with the style you want.
I love talking about the various technologies that go into the making of shoes, and Ortholite is a personal favorite. This unique open-cell foam works similarly to memory foam int hat it gently contours to the shape of your foot, providing customized comfort and support.This open-cell design makes it much more breathable than traditional memory foam and gives it a low long-term compression rate, ensuring that the insoles will last a long time.

6

. Rockport Style Leader 2 Bike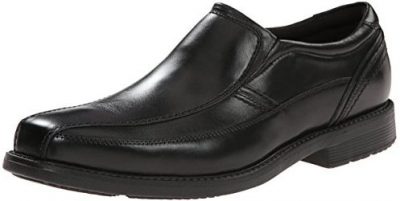 The Rockport Style Leader is a dapper looking loafer, which is perfect for any office environment. The cushioning in this shoe protects your feet and prevents pain during those long days at the office. It comes in a few colors and the sleek design of the shoe will help you make a strong impression on your coworkers, boss, and clients.
The Sponge EVA footbed conforms to your foot, like memory foam. It is durable and comfortable and offers your feet protection from the shock of briskly walking through the office. The synthetic sole's grooves make the shoe more flexible. It gives the shoe a secondary layer of cushioning and shock absorption, which in turn reduces foot fatigue, improving your workday.
The Rockport Style Leader 2 Bike is in the middle-to-upper price range. Wearing these shoes will prove to you, your boss, and your coworkers that comfort can be stylish, too.

7

. Skechers Sure Track Trickel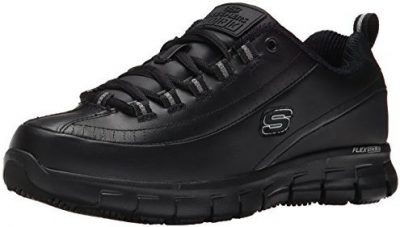 The Sure Track Trickel is great for office work environments that don't require loafers or dress shoes. It has a clean design, doesn't draw undue attention to itself, and the cushioning is superb. Skechers is a well-known brand with a lot of experience in making the finest shoes. This shoe even professes to have some electrical hazard protection built in!
Memory Foam is some of the softest materials used in mattresses and bath rugs, and now it's in your shoes! Memory foam conforms to your feet to provide maximum comfort. The FlexSole Shock Absorbing Midsoles in these shoes offer you added comfort and protection. The shock absorption can prevent injury and cushions your feet as you walk, run, or jog.
The Sure Track Trickel is in the low-to-middle price range. The price makes it great for someone looking for a reliable, sturdy, and nice-looking work shoe on a limited budget.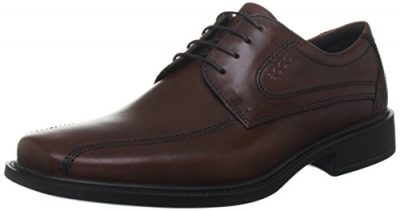 This stylish Oxford comes with padding and a foam insole to provide shock-absorption and comfort, but these are just the beginning of this shoe's great features. The polyurethane sole provides extra shock-absorption and cushioning while the bicycle-style toe provides ample toe space for your toes to spread out naturally. The stacked heel also provides added shock-absorption properties to this Oxford.
ECCO's New Jersey Lace Oxford has a responsive, leather-covered foam insole which provides ample cushioning and great breathability features to help manage the temperature in the shoe as you walk. The lightly padded collar in this stylish loafer offers some protection against painful rubbing and minor bumps. It's also lined with a soft fabric to add to your overall comfort.
This dapper ECCO loafer can be found in the middle-to-upper price range, which can be quite affordable for the shock-absorbing polyurethane sole, high-quality leather, and AGION antibacterial and antimicrobial treatment.



Clarks hits the list again with the Annadel Eirwyn Wedge, an elevated dressier style of footwear, but not lacking in comfort. Packed with Clarks classic cushioning and quality make, this wedge is perfect for nights out on the town where you don't want to sacrifice style for comfort. And, with plenty of colorful options to consider choosing, you can pair these with just about any outfit!
Wrapping the foot are two stylish intertwining thick Nubuck leather straps, helping to secure the shoe to your foot, but soft to the touch. An adjustable hook and loop closure wraps around the backside of the ankle above the heel so that you can get the perfect fit. And with a nearly three-inch heel, this little wedge accentuates the foot and calves, making it great to pair with dressier skirts and sundresses.
Cushion soft comfort technology makes up the construction of the Annadel Eirwyn, so each step feels padded and soft. An Ortholite footbed adds superior cushion and shock absorption to your feet, and the design of the wedge itself helps contribute to an even better feel. Made from cork, the wedge helps absorb impact, and with a bit of a rocker design, it promotes proper foot gait from heel to toe.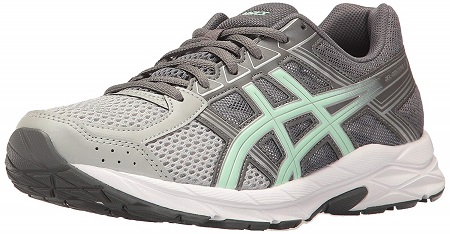 Asics is a household name when it comes to running shoes. Their high-quality products are often at the forefront of innovation, featuring a wide range of features and technologies designed to make an already great product even better. The Gel Contend 4 features the brand's iconic Rearfoot Gel Cushioning technology along with a breathable upper made of fabric and mesh. This shoe is available in 21 colorways, and sizes range from a US 5-12, including half sizes and additional width options.
Even if you don't plan on using your running shoes for running, breathability is still very important. Being active or wearing your shoes all day can make them feel warm, and if this warmth has no way to escape the shoe it can cause discomfort and sweat, which can lead to irritation and conditions such as athlete's foot. The Gel Contend 4 features a hybrid upper made of fabric and mesh panels that are designed to properly regulate the temperature inside of the shoe, making sweat and discomfort a thing of the past.
While we love the insole and the cushioning system in the Gel Contend 4, we understand that it isn't for everyone. Everyone's feet are different, and as such, they will have different needs. This is where custom orthotics can come in, accommodating for the unique shape of your feet and providing the exact support level you need. The insole of the Gel Contend 4 is removable, which allows for these sort of orthotics to be used.

Subscribe to our Newsletter